An elegant spin on the classic pumpkin pie, this Pumpkin Miso Tart with a Black Sesame Crust is guaranteed to impress your holiday guests. The pumpkin pie filling is rich and creamy yet light and airy, and thanks to a few secret ingredients, it'll be the most flavorful pumpkin pie you'll ever try! Vegan, Gluten-Free, Refined Sugar-Free.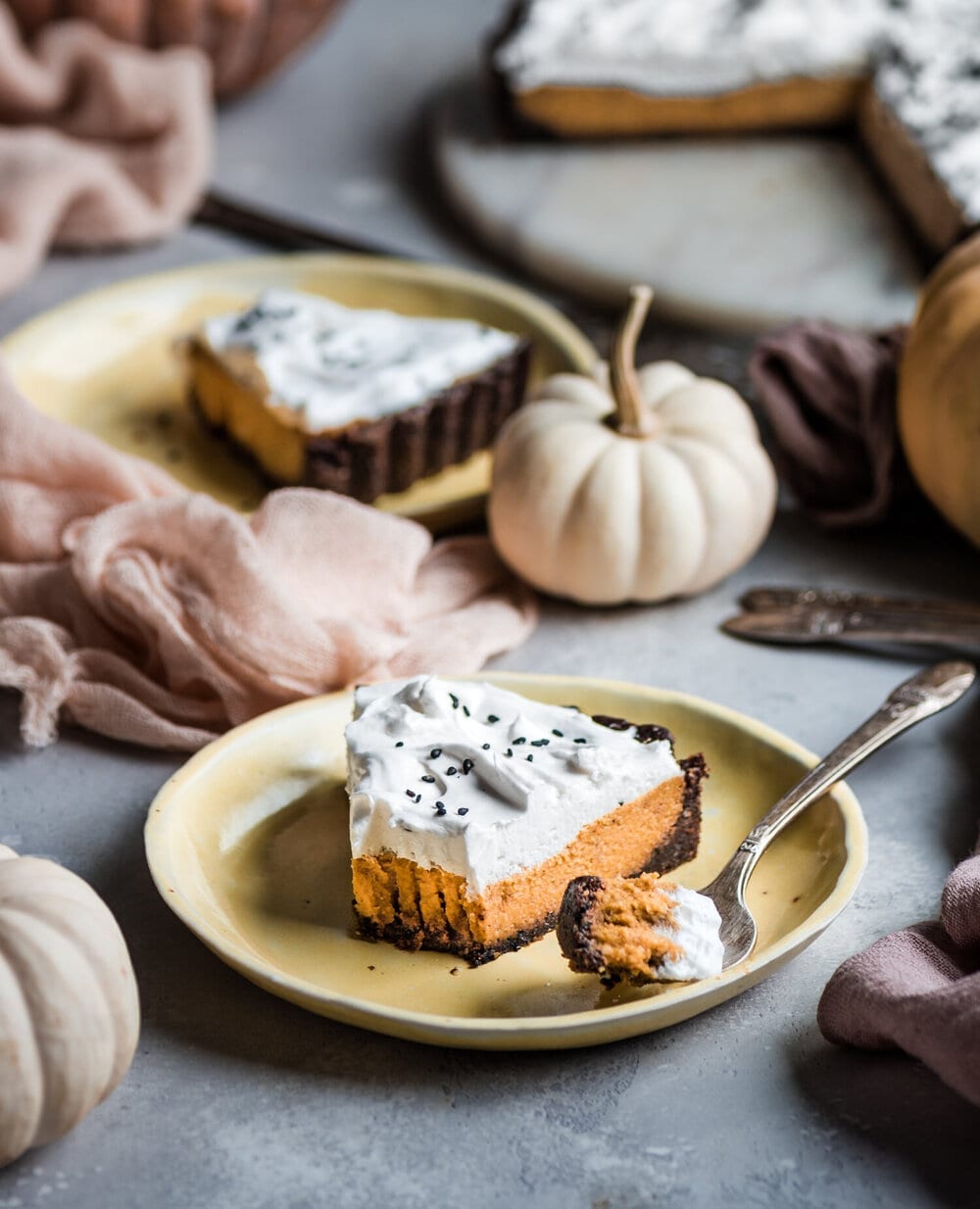 While pumpkin might be traditional for Thanksgiving, you can never go wrong with a classic chocolate dessert. This Baked Vegan Chocolate Cheesecake is a crowd-pleasing dessert that everyone loves at the holidays. It's rich and dense and creamy, just like traditional cheesecake! Vegan, Gluten-Free.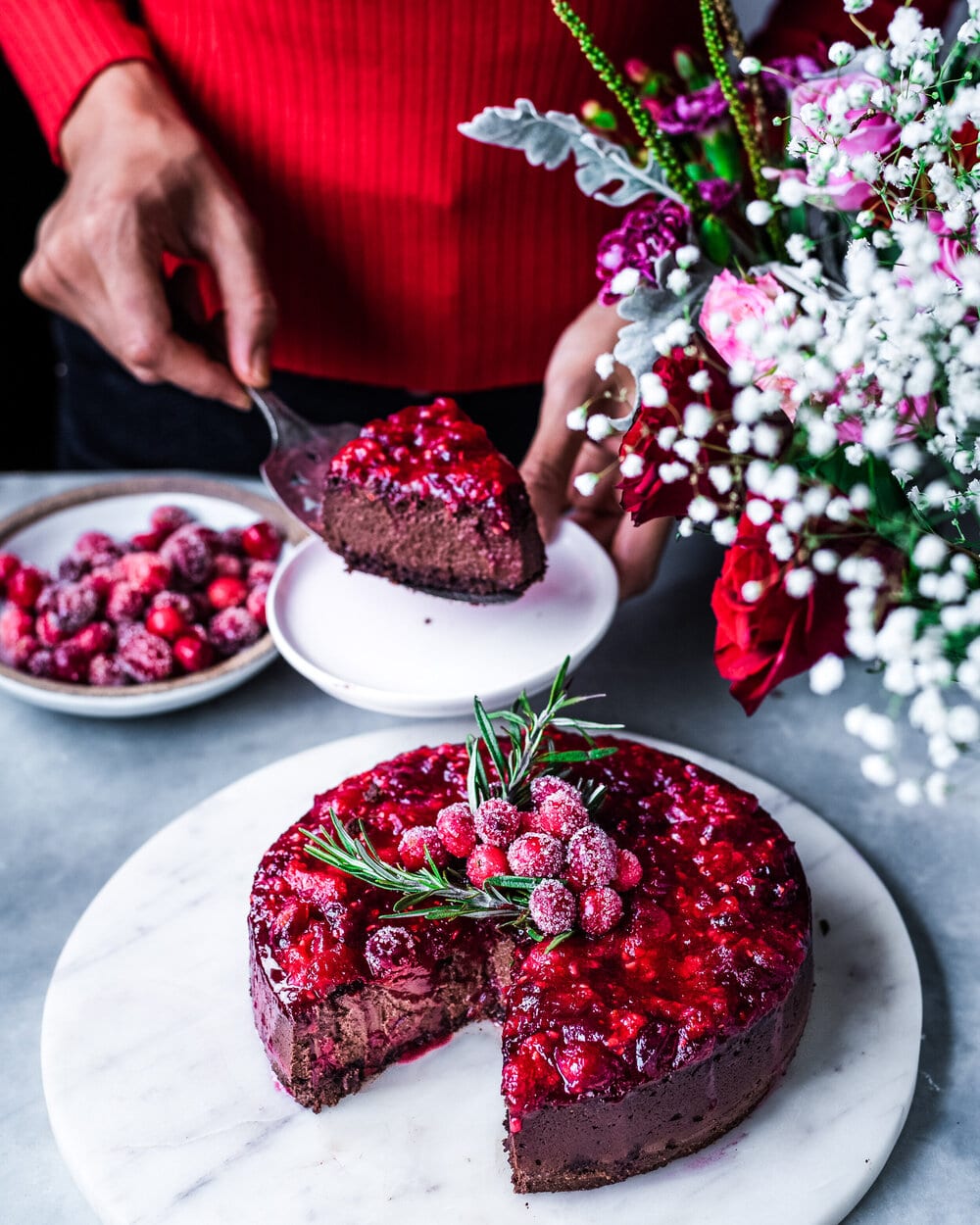 Apple pie might be a favorite at Thanksgiving, but if you don't have the time (or skills) to make pie crust, an apple cinnamon-spiced cake is your next best bet! This cake is so incredibly soft and moist yet light and airy – the best of both worlds! With warm cinnamon apple flavors, it's a perfect easy yet impressive cake for the holidays. Vegan, Soy-Free.
An elegant sunken pear cake meets a warming gingerbread cake in this vegan Poached Pear Gingerbread Cake. It's an absolute showstopper that will wow your friends and family at the holidays! Vegan, Soy-Free, Nut-Free.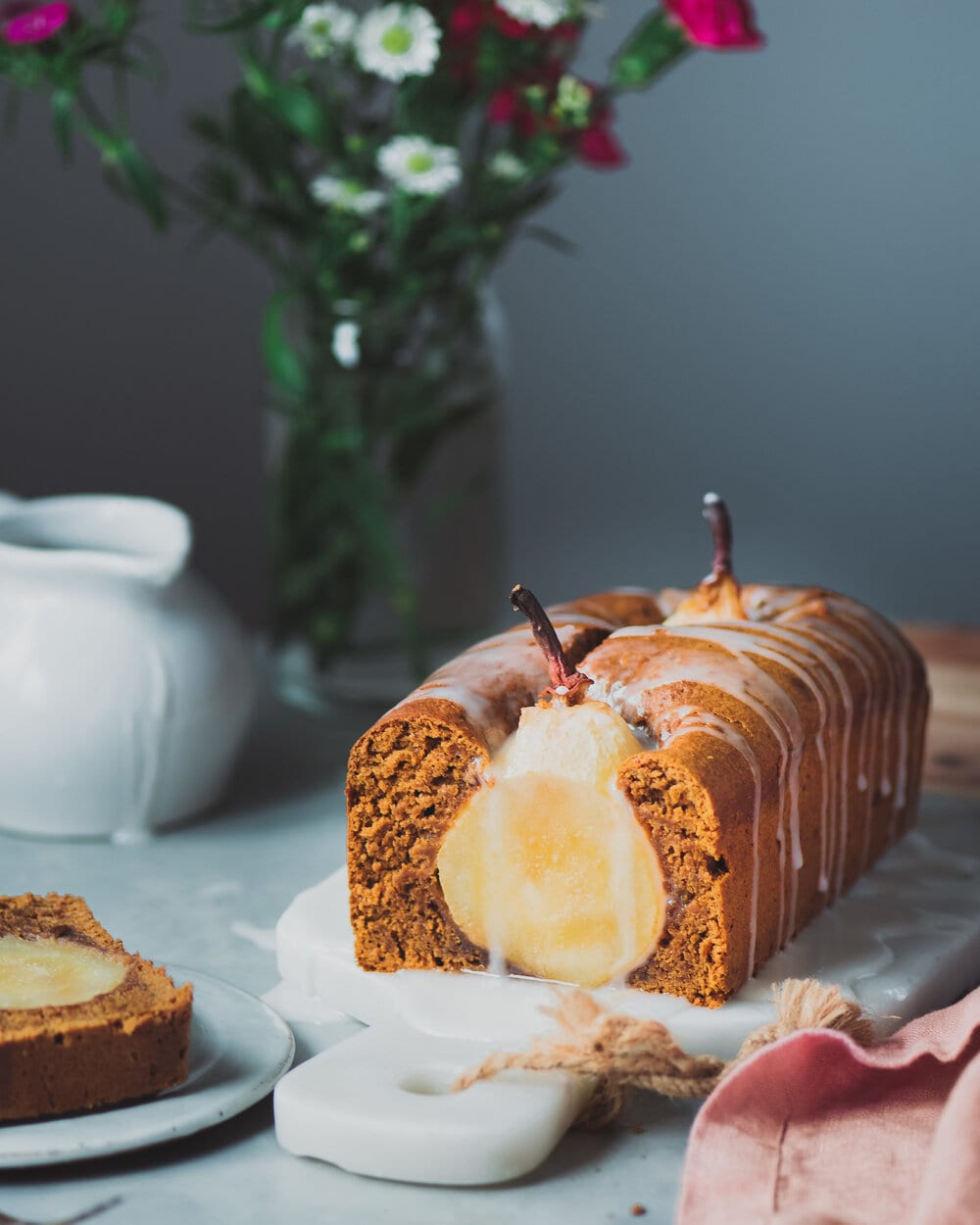 This Vegan Gingerbread Bundt Cake is full of warming winter flavors and gingerbread spices, which pair beautifully with the tart-sweet pomegranate glaze. If you want to impress your family and friends over the holidays, this is the cake to make! Vegan, Nut-Free, Soy-Free.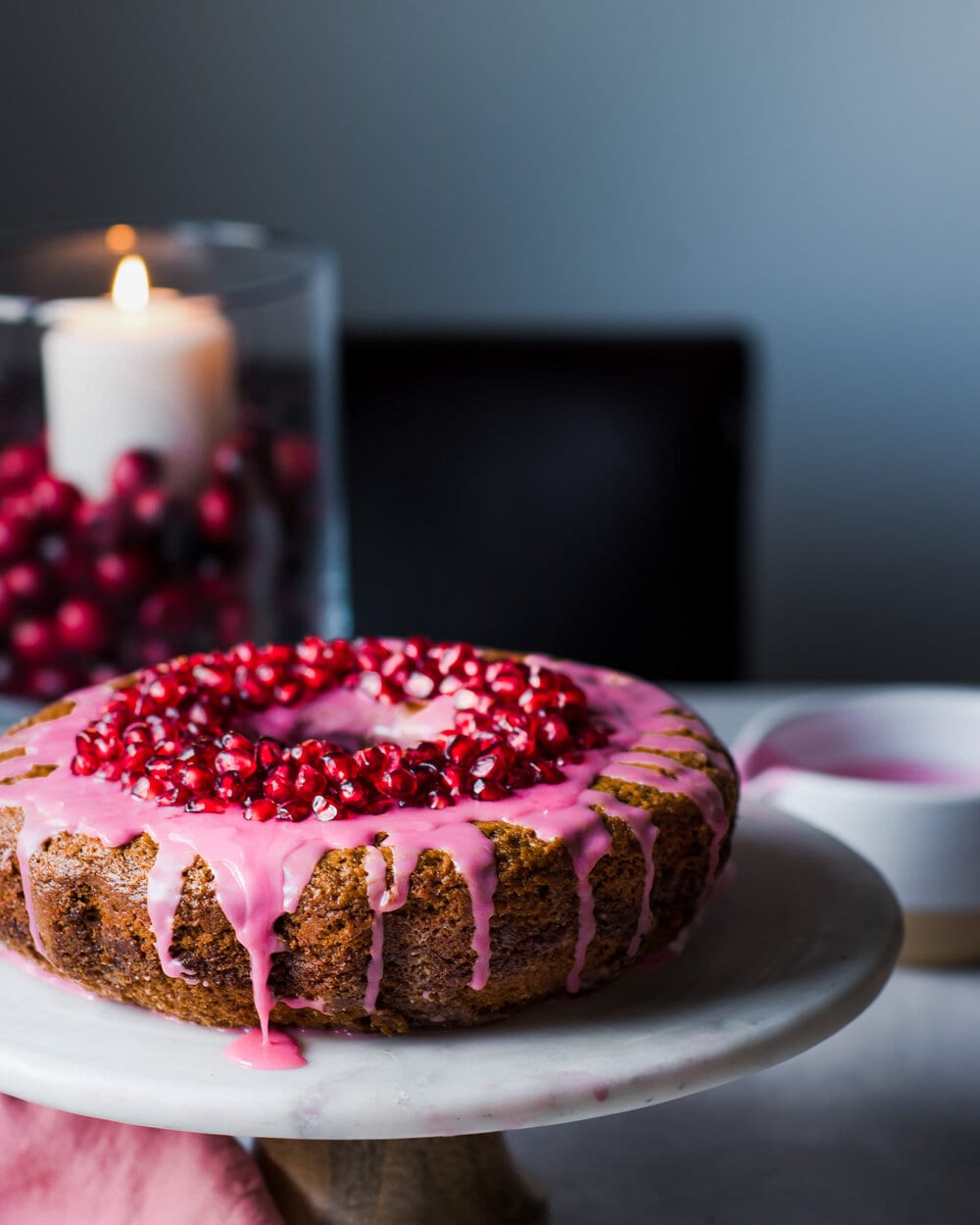 These Baked Vegan Pumpkin Cheesecake Bars have the rich, creamy, and decadent texture of traditional cheesecake but without the dairy and cholesterol. With a gingery, chocolate crust and a creamy pumpkin swirl filling, these are a must-make during fall. Vegan and Soy-Free.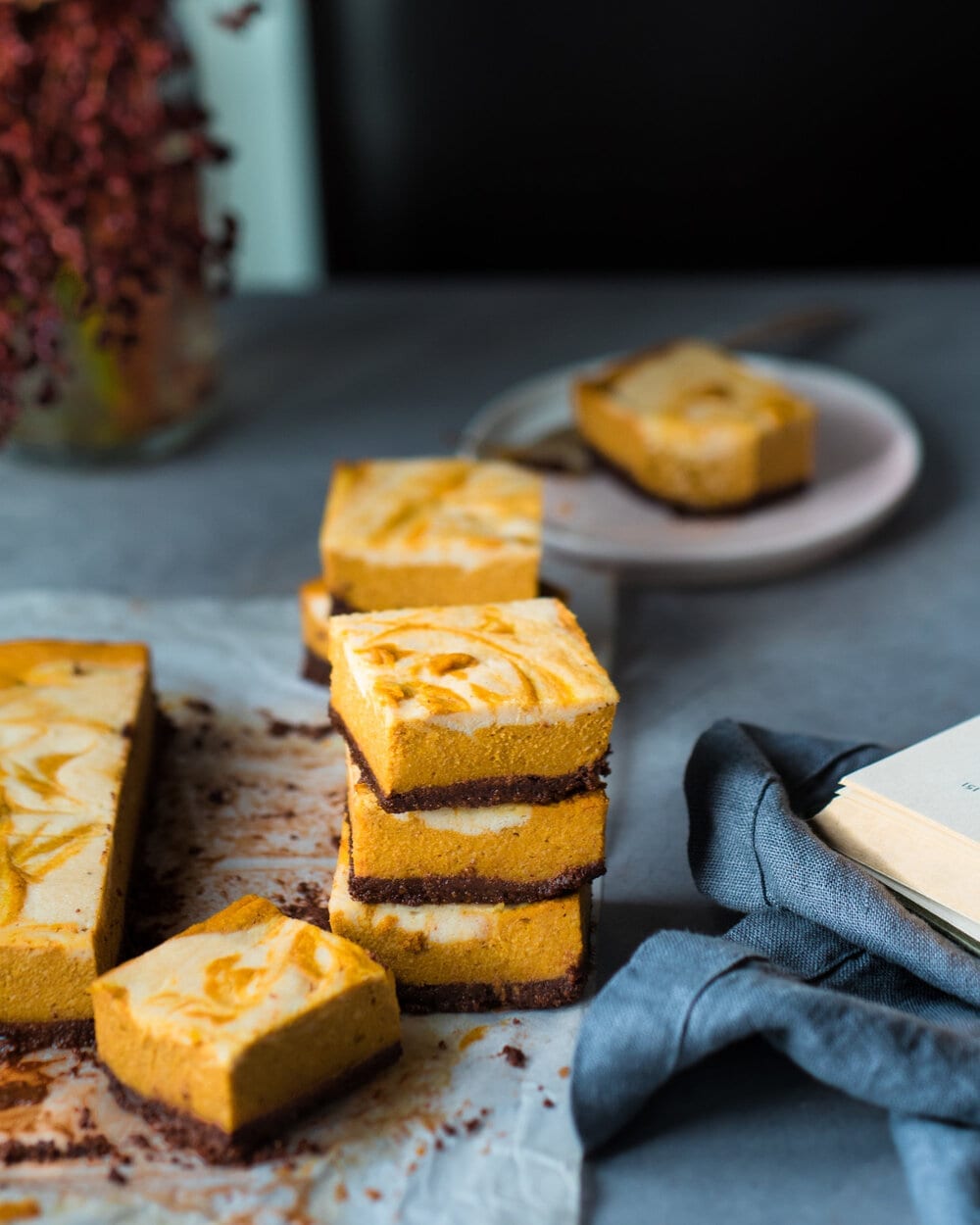 This is the BEST vegan pumpkin spice bread you'll try, and is reason enough to have it at your holiday table! While it might feel a bit casual for a holiday table, it's a great idea for smaller Thanksgivings this year and it's guaranteed to please everyone at the table. It's incredibly moist and tender, uses simple ingredients, and features a homemade pumpkin spice blend that takes the flavor over the top. Vegan, Soy-Free, Nut-Free.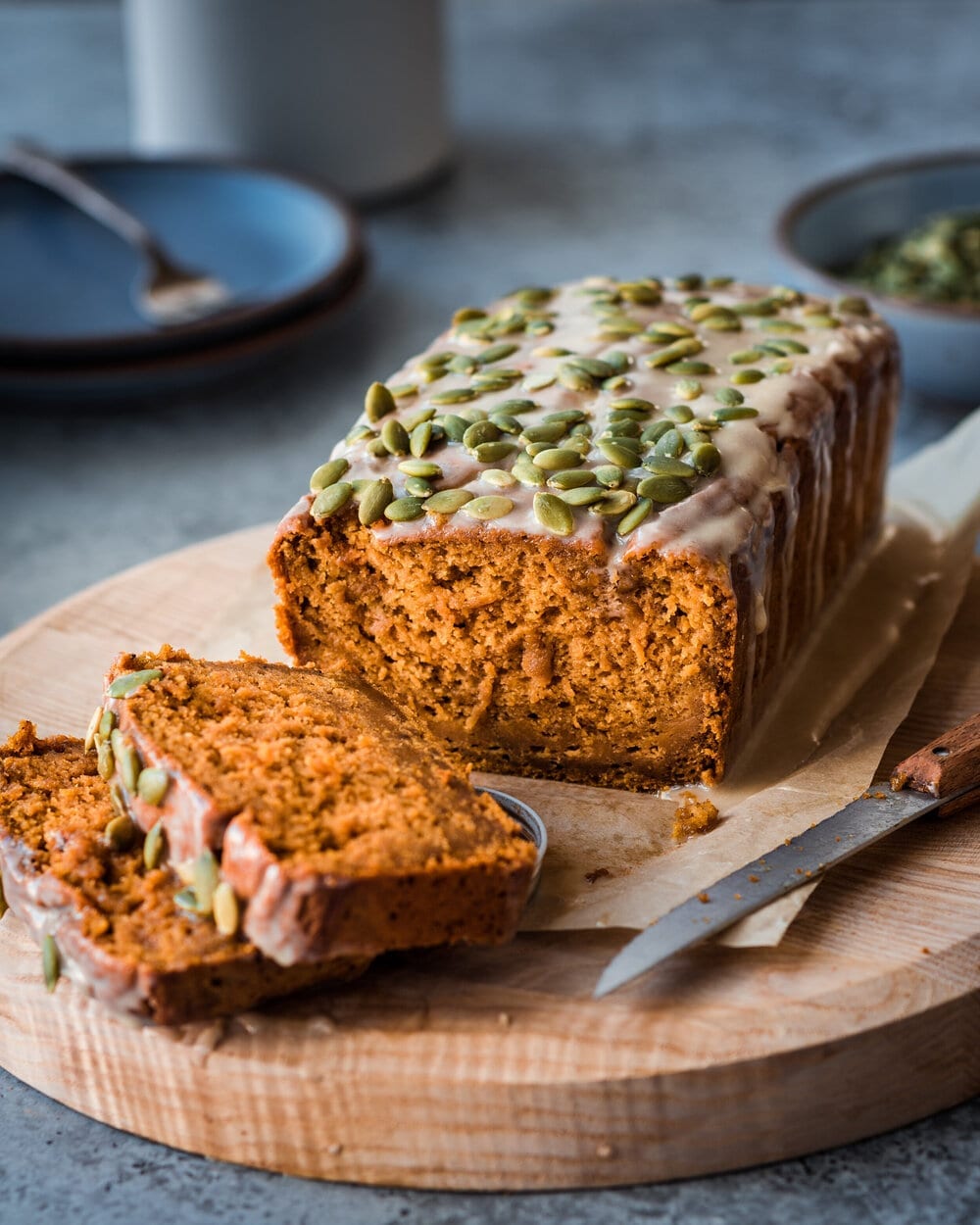 If you're like me, making an entire Thanksgiving meal is stressful, so take some stress out of the equation by opting for this incredibly easy no-bake chocolate tart that can be made several days in advance. It features a no-bake brownie base and a creamy salted chocolate filling, it's incredibly rich and creamy but made with wholesome ingredients. Vegan, Gluten-Free, Soy-Free.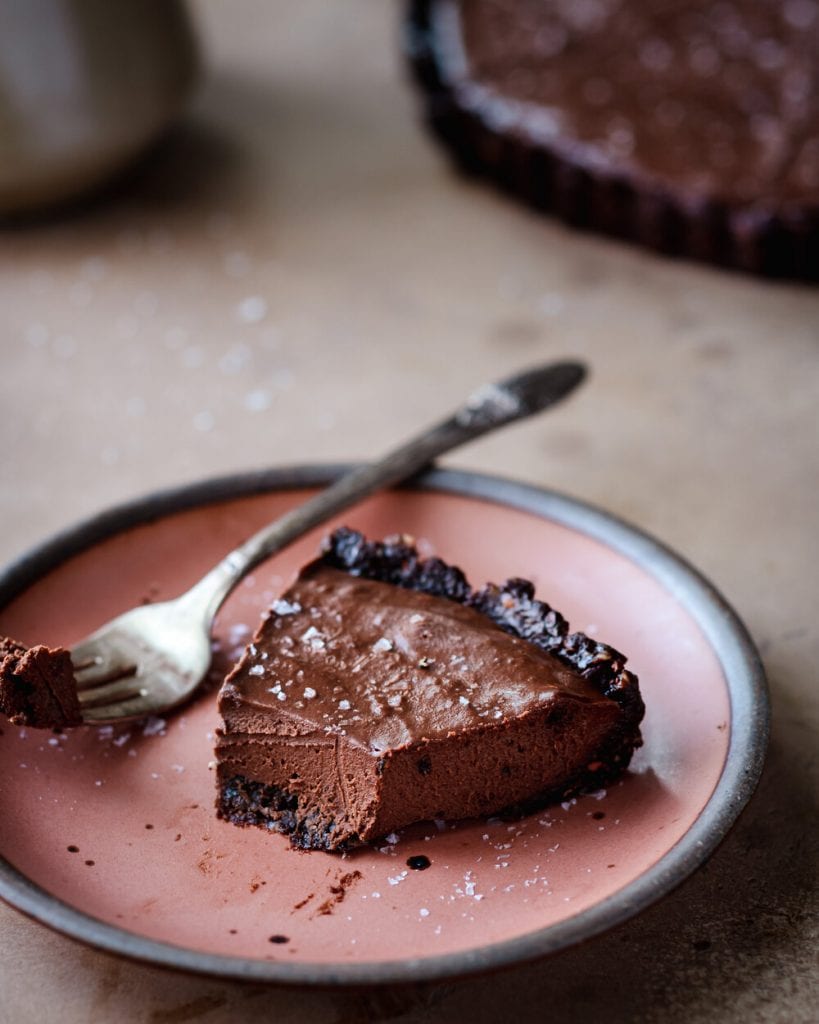 A creamy vegan pumpkin tart that's much easier to make than pumpkin pie! Healthy but indulgent, your family will never guess it's vegan! Plus it's easy to make-ahead, which is great for a stress-free holiday meal! Vegan, Gluten-Free, Soy-Free, Refined Sugar-Free.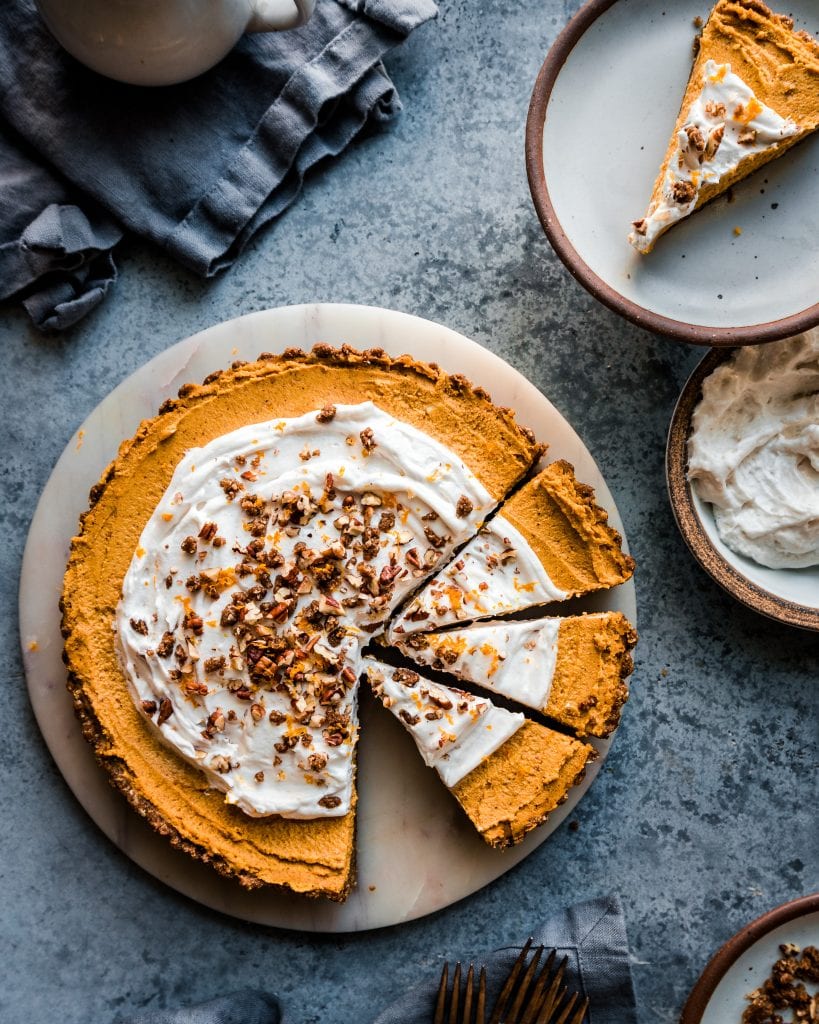 If you're looking for another non-traditional Thanksgiving dessert, you must try this one because it's the BEST vegan gingerbread cake you'll try! It's incredibly fluffy and tender, uses simple ingredients, and features a homemade gingerbread spice blend and vanilla cream sauce that take it over the top. A must make during the holiday season! Vegan, Soy-Free, Nut-Free.