Sadly, I don't make savory tarts nearly as often as I would like. BUT, it's a new year and a new year means new changes, so cheers to more savory tarts in 2019, including this Cheesy Kale and Winter Squash Tart.
I wanted to make a savory tart that tasted indulgent but was still relatively healthy. Accordingly, this tart features copious amount of vegetables balanced out by copious amount of vegan cheese. Did I mention it's also gluten-free?
I was inspired to make this tart when I found the cutest carnival squash at Whole Foods. Carnival squashes are orange-and-green speckled winter squashes that are shaped like an acorn squash. (They are a hybrid of the acorn squash and sweet dumpling squash…can we talk about how cute the name SWEET DUMPLING SQUASH is???) When it come to taste, carnival squash is a bit nutty, sweet, and buttery; texture wise, it's tender and soft.
If you can't find carnival squash, you can substitute a similar winter squash. My preferred favorite would be delicata squash (though it might be hard to find them this time of year), acorn squash, or, obviously, SWEET DUMPLING SQUASH. I like to cut the squash into cute half moon shapes, but that's purely for presentation.
You could even use a larger winter squash like butternut squash, kabocha squash, or red kuri squash. Depending on your knife skills, you can cut the squash into thin round slices.
The other vegetables in this savory tart are three of my all-time favorites: kale, onions, and mushrooms. I prefer using Tuscan kale (a/k/a lacinato or dinosaur kale) because it's more tender and cooks down more easily than curly kale.
Since the veggies get cooked before going into the tart, you could even use roasted winter squash to add even more flavor. And while I think the combination of winter squash + kale + onions + mushrooms is particularly delicious, you can get creative and use your favorite vegetables (e.g., replace winter squash with sweet potatoes, kale with Swiss chard, etc.).
Regarding the crust, I adapted my wildly addictive crust from my Fig Tart with Coconut-Cashew Cream to turn it into a savory crust. It's made from a trio of flours—corn, almond, and oat. I'll say what I said in that post: this crust is crumbly and slightly crunchy and it's so good that you can eat it on its own. It's like a cross between a flaky pie crust and a shortbread cookie, except imagine the shortbread cookie is part cornbread.
You'll need to pre-bake the crust before adding the fillings so that it firms up nicely. If you forget to pre-bake the crust and just add the toppings and bake it all together, it will crumble into a sloppy (but extremely delicious mess). Trust me, I know, I did this the first time I made this tart. It was sticky and fell apart, but the mouthfuls I shoved down my throat and into my stomach didn't notice the difference.
And for the final and arguably the best part, the CHEEZE! Technically, it's not the final part because the cheese gets layered on top of the crust and below the vegetables, but I hope you don't mind. (You don't, do you?)
You have two options when it comes to the cheese: you can use store-bought shredded vegan cheese or my homemade Tofu Ricotta cheese. For the former, there are lots of great options in most supermarkets these days, though I have to say the nut cheese from Parmela Creamery is my favorite. (The mozzarella flavor would go best in this tart). Their cheeses are available in some Whole Foods, Wegmans, and lots of smaller, natural grocery stores.
And if you're interested in the homemade route, you can find the Tofu Ricotta recipe over on the blog post for my Brussels Sprouts and Mushroom Lasagna (another veggie-forward dish that's pure comfort food)!
That's about everything I have to say for this delicious, unique Cheesy Kale and Winter Squash Tart, so I hope you give it a try and enjoy!
Cheesy Kale and Winter Squash Tart (Vegan, Gluten-Free)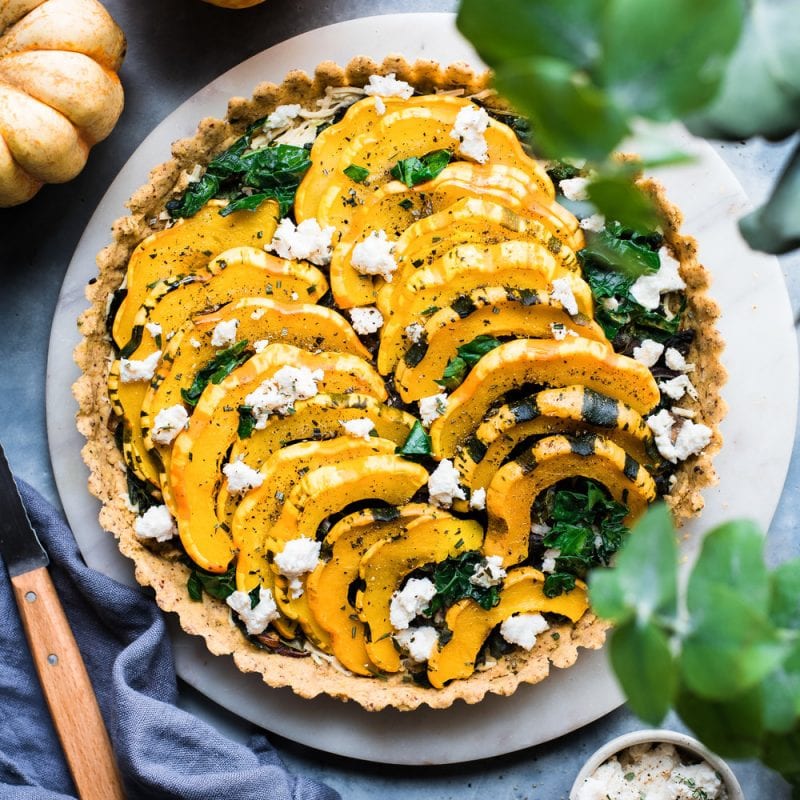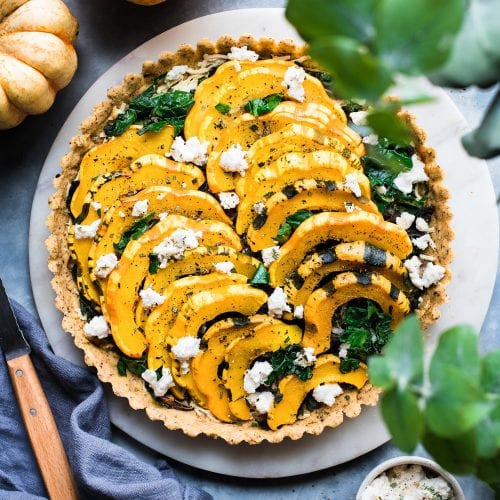 A savory tart made with kale, winter squash, and vegan cheese, this recipe is vegan and gluten-free but tastes indulgent. It's feel good comfort food at its finest. It's the perfect vegan Thanksgiving or vegan holiday recipe to impress your guests.
Ingredients
CRUST
1/2

cup

gluten-free oat flour

1/2

cup

cornmeal or corn flour

1/2

cup blanched almond flour or almond meal

2

tablespoons

arrowroot powder

(or cornstarch)

1/4

teaspoon fine sea salt

1

teaspoon

fresh rosemary leaves,

finely minced

6

tablespoons

cold vegan butter,

cut into 1/2-inch cubes
FILLING
3

carnival squash

(delicata squash or small acorn squash, sliced into 1/2-inch thick slices)

1 1/2

tablespoons

olive oil

1

small bunch Tuscan

lacinato kale, ribs removed and sliced into strips

1

small red onion,

thinly sliced

1

large portobello mushroom cap,

cut into small cubes

1/2

teaspoon

fresh rosemary leaves,

finely minced

3

large cloves garlic,

minced

¼

teaspoon

sea salt

Freshly ground black pepper to taste

2

cups

vegan cheese: shredded vegan cheddar or mozzarella cheese

(or homemade Tofu Ricotta Cheese)
Instructions
Make the CRUST: In a medium bowl, whisk together the oat flour, corn flour, almond flour, arrowroot powder, rosemary and sea salt. Scatter the cold vegan butter pieces on top. Using an electric handheld mixer, mix on low speed just until the dough comes together in clumps, about 2-3 minutes. Alternatively, you can do this step in a stand mixer with a paddle attachment.

Preheat the oven to 350°F (~175°C). Grease a 9-inch round tart pan with a removable bottom with olive oil. Add the dough to the tart pan with and press evenly into the pan, starting with the sides and then the bottom. Freeze the crust until it is firm, about 20-30 minutes.

Place the tart pan on a baking sheet and bake in the preheated oven until it is golden-brown, about 25-30 minutes. Cool completely before adding the filling.

While the crust is freezing and baking, prepare the FILLING: Bring a large saucepan of salted water to a boil. Carefully place the sliced squash in the boiling water and simmer gently until they are just fork tender but not falling apart, just 2 minutes. Drain the squash slices and rinse with cool water to stop the cooking. Set aside to dry on layers of paper towels.

Heat the 1 1/2 tablespoons of olive oil in a large skillet over medium heat. Once the oil is shimmering, add the red onion and cook until soft and golden, stirring occasionally, for 5-7 minutes. Add the chopped mushrooms, garlic, and rosemary, and cook for 3 more minutes. Add the shredded kale, 1/4 teaspoon sea salt, and black pepper to taste, along with 1 tablespoon water. Cook, until the kale is wilted and bright green, about 3 minutes, stirring frequently. Remove from the heat and allow to cool slightly.

To assemble the tart, sprinkle the vegan cheese over the tart crust. Top with the cooked vegetable mixture. Layer the delicata squash slices on top, overlapping until the tart is fully covered. Brush the squash slices lightly with olive oil and sprinkle with salt and pepper.

Place the tart on a baking sheet and bake in the preheated oven until it the cheese has melted and the filling is warmed through, 10-15 minutes.
---
Calories:
373
kcal
|
Carbohydrates:
42
g
|
Protein:
8
g
|
Fat:
21
g
|
Saturated Fat:
5
g
|
Polyunsaturated Fat:
3
g
|
Monounsaturated Fat:
5
g
|
Trans Fat:
1
g
|
Sodium:
516
mg
|
Potassium:
886
mg
|
Fiber:
6
g
|
Sugar:
5
g
|
Vitamin A:
6096
IU
|
Vitamin C:
63
mg
|
Calcium:
144
mg
|
Iron:
3
mg