Are you lazy? Do you like chocolate? Do you like to be lazy on the couch while eating chocolate? If you answered YES to any of the above questions, then this is the perfect recipe for you.
For those of you unfamiliar with a mug cake, it is a cake inside of a mug. You're welcome. For those of you requiring a further explanation, a mug cake is like a cake but in miniature form. It uses the same ingredients as a traditional cake, but instead of pouring the batter into a cake pan, you pour it into a coffee mug. And instead of popping the cake into the oven and waiting an ungodly amount of time while you foam at the mouth, you just pop this into the microwave for one or two minutes. Perfect for us lazy sugar addicts!
Another great thing about this recipe is that it's grain-free so you can be lazy and still be healthy-ish. I don' think grains are "unhealthy" per se (everything in moderation, the experts say!), but if you're gluten-intolerant or limiting grains, you can still have your (mug)cake and eat it too.
To make this cake, all you need is a blender or a food processor, a microwave-safe mug, and a microwave. And if you don't use a microwave, I've included instructions for the oven below. Regarding the ingredients, most of these are commonly found ingredients, but if you have a sudden urge for something sweet and you don't have, say, tahini on hand, you can just use more peanut butter. Or almond butter. Or cashew butter! Whatever nut or seed butter you have on hand will do.
This recipe couldn't be simpler, so I'll stop blabbing and just get right to the good stuff!
Grain-Free Chocolate Mug Cake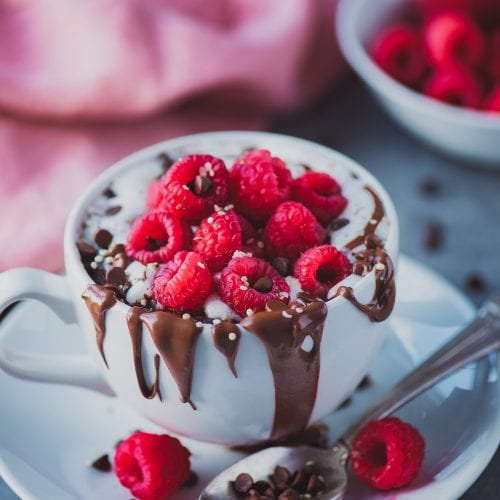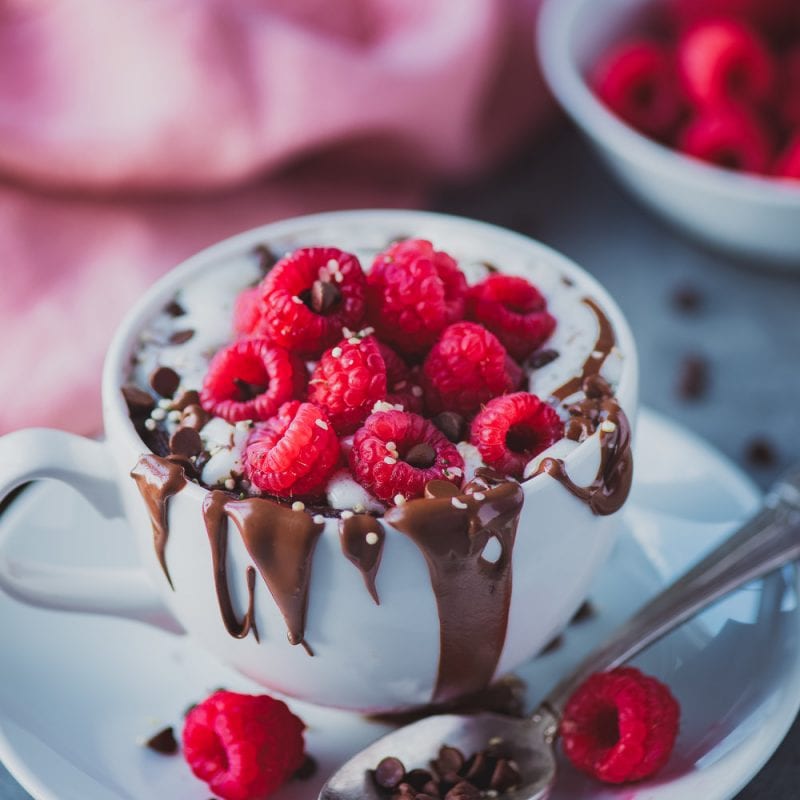 A vegan chocolate mug cake that's rich, indulgent, and delicious! It's also gluten-free, soy-free, oil-free, and Paleo-friendly but doesn't skimp on flavor so you can satisfy your chocolate cravings in just a few minutes.
Ingredients
2

very ripe medium bananas

2

tablespoons

creamy peanut butter

2

tablespoons

tahini

4

tablespoons

almond flour,

or finely ground almonds

4

tablespoons

unsweetened cocoa powder

1/2

teaspoon

pure vanilla extract

1/2

teaspoon

baking powder

1/8

teaspoon

sea salt

4

tablespoons

vegan chocolate chips or finely chopped dark chocolate

Optional garnishes: coconut whipped cream and fresh berries
Instructions
Place the bananas, peanut butter, tahini, almond flour, cocoa powder, vanilla, baking powder, and sea salt in a blender or food processor. Blend until you have a smooth, creamy texture.

Transfer the chocolate mixture to two small microwave-safe mugs. Microwave for 60-90 seconds or until the cake is cooked through.

1. NOTE: To make this in the oven, preheat the oven to 350ºF and bake for 10-12 minutes or until a toothpick inserted in the center comes out clean.

Top the warm mug cake with the chocolate chips and garnish as desired.
---
Calories:
573
kcal
|
Carbohydrates:
56
g
|
Protein:
15
g
|
Fat:
37
g
|
Saturated Fat:
12
g
|
Polyunsaturated Fat:
6
g
|
Monounsaturated Fat:
11
g
|
Trans Fat:
1
g
|
Cholesterol:
1
mg
|
Sodium:
339
mg
|
Potassium:
964
mg
|
Fiber:
13
g
|
Sugar:
24
g
|
Vitamin A:
97
IU
|
Vitamin C:
11
mg
|
Calcium:
157
mg
|
Iron:
7
mg