I'm often asked what I eat/cook on a regular basis, so I decided to share My Vegan Pantry Essentials and Staples in my vegan pantry. Today we're talking strictly condiments, but you can find more of my pantry staples in Part II and Part III of this series.
For more great tips on how to stock and organize a vegan kitchen, check out this post from Redfin that I contributed to!
And if you want to see what I eat on a regular basis, I made a Youtube video featuring the five meals I eat nearly every week + a Youtube video featuring the 10 meals I buy and eat each week!
1. Tahini
If you asked me for a list of my five favorite foods, tahini would definitely be on my list. Tahini is simply sesame seed paste. It has a somewhat similar texture to peanut/almond/cashew butter but without any sweetness and with a bit of sharpness.
It's also nut free, so it's a great option for those who have nut allergies or live with those who have nut allergies. And it pairs incredibly well with both savory and sweet dishes. Here are some of my favorite ways to use tahini.
Sauce/Dip/Spread
I use tahini as a sauce/spread for all kinds of savory meals. I drizzle it on grain bowls, salads, and obviously falafel. You can lather it on pita bread and toast or use it as a spread on sandwiches and wraps. It's also great drizzled over beans, lentils, and cooked vegetables.
One of my go-to 2-minute meals is toast (or a baked sweet potato) topped with hummus, salad greens, chickpeas, and hemp seeds, with tahini drizzled on top.
And I would be remiss if I didn't mention that tahini is an essential ingredient in everyone's favorite dip, hummus! You can find a 5-minute hummus recipe in this lentil and grain bowl blog post.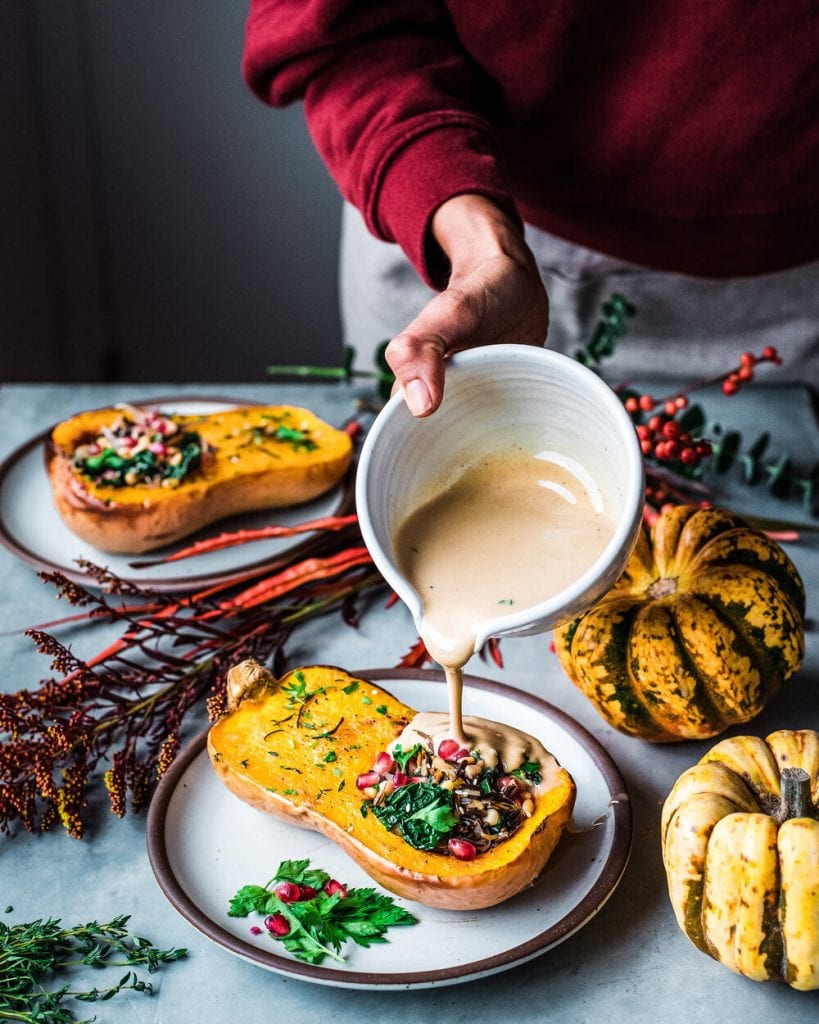 Desserts
You can use tahini in all kinds of desserts from brownies and blondies to cookies and muffins (try these healthyish Vegan Tahini Brownies). And because I love you, I'll even share my two-minute lazy girl dessert with you. You can thank me later.
Mix 2 tablespoons of tahini + ½ tablespoon cocoa powder + ½ -1 tablespoon maple syrup + a pinch of cinnamon + a tiny pinch of sea salt. Stir until it has a spreadable consistency and serve with frozen banana slices.
Or, for a community favorite dessert that couldn't be easier, try these No-Bake Cookie Dough Bars (they're gluten-free, no added oil, and even nut-free thanks to tahini!)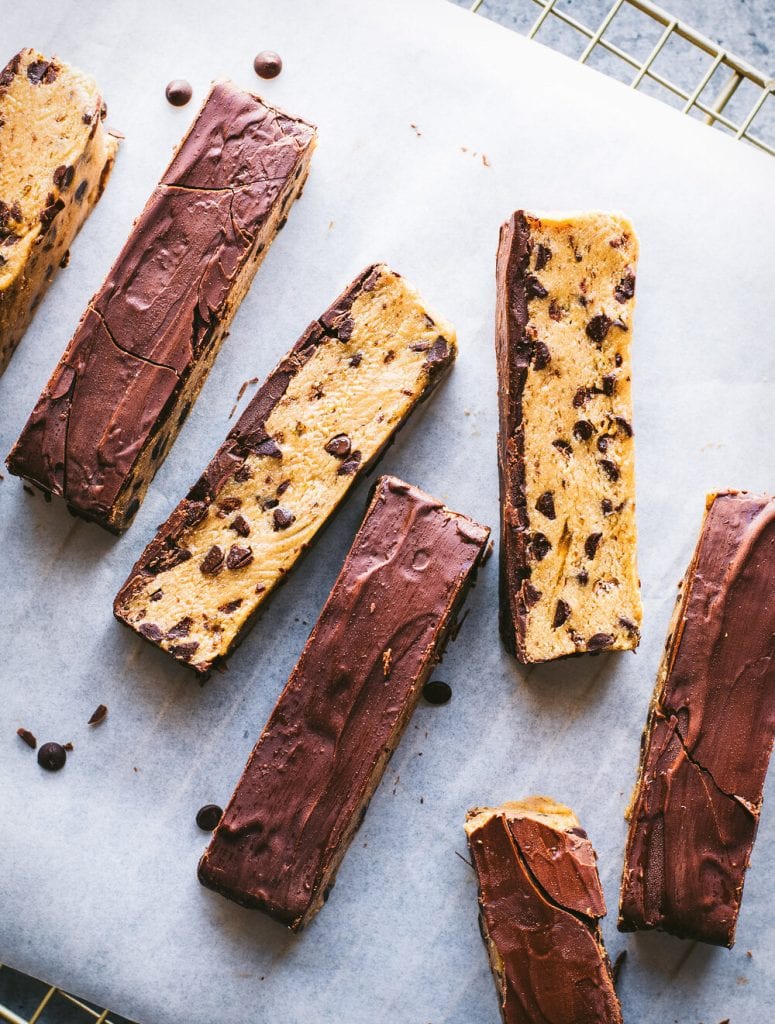 Salad Dressing
I often use tahini to to make a creamy salad dressing. I typically combine tahini with lemon juice or apple cider vinegar (but you can use red wine vinegar or balsamic vinegar), a tiny bit of coarse grain mustard and maple syrup, some crushed garlic, and salt & pepper to taste. Add a few spoons of warm water to thin it out from a thick sauce to a pourable dressing.
2. Nutritional Yeast
Nutritional yeast is the granddaddy of vegan condiments, acting as the secret ingredient in so many veganventions (i.e., vegan inventions) like cashew cream and vegan lasagna. It yields a savory, umami, almost cheesy like flavor, making it the perfect ingredient in vegan cheese recipes.
So what is nutritional yeast exactly? It's deactivated yeast that grows on a food source and is then harvested and dried. It is typically sold in yellow flakes and has a nutty, cheesy flavor. You can find it in natural grocery stores, though it is has become increasingly mainstream and is available in many standard supermarkets as well.
And the added bonus? Nutritional yeast boasts a healthy dose of complex B vitamins. It also happens to be one of those rare foods that's gluten-free, soy-free, dairy-free, salt-free and sugar-free but isn't water. Here are some of my favorite ways to use nutritional yeast.
Cashew Cream
Cashew cream is my favorite easy condiment and takes just five minutes to pull together. It imparts a rich creaminess to every dish, and I always have some in the fridge.
If you want to make this yummy cashew cream but you're worried about the price of cashews, Trader Joe's has the cheapest raw cashews (and most other nuts) that I've found in stores and online.
Check out this in-depth blog post on how to make the best cashew cream with flavor variations.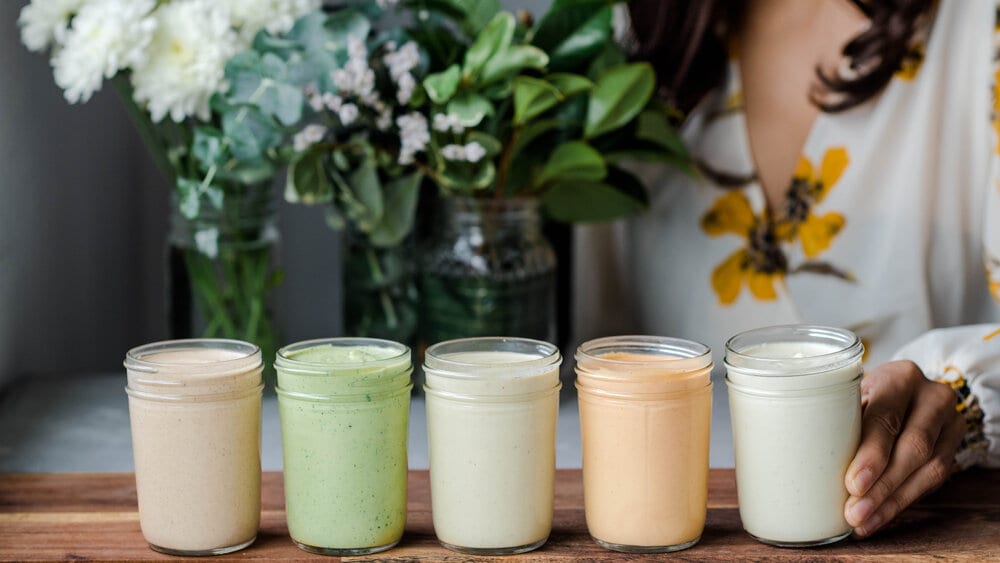 Vegan Cheeses
If you want your homemade vegan cheese and cheese sauces to have that cheesy mouthfeel, you gotta use nutritional yeast. I mean, how good does this creamy vegan mac and cheese look?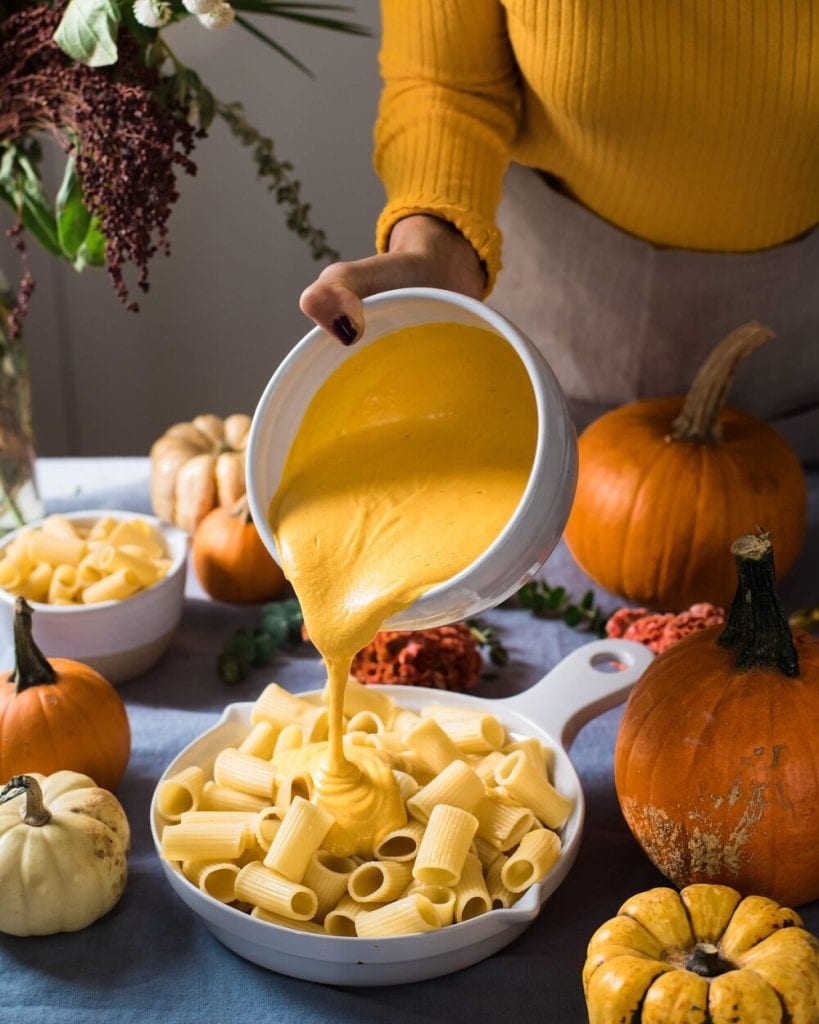 Soups and Salads
You can sprinkle nutritional yeast flakes on top of soups and salads for a cheesy taste and slightly crunchy texture. Or, for blended or pureed soups, add some nutritional yeast towards the end of cooking and blend it together with the rest of the ingredients.
3. Tamari and/or Soy Sauce
Tamari is gluten-free soy sauce. I love keeping it on hand because it has a slightly more balanced flavor than soy sauce and can keep certain dishes gluten-free if needed. Both tamari and soy sauce are a potent source of umami, and you'll find them used in my recipes quite frequently.
Here are some of my favorite ways to use tamari and/or soy sauce.
Crispy Tofu
I LOVE crispy tofu. I can't get enough of it. For an easy way to make your own crispy tofu at home, simply do the following.
Press a 14- or 16-ounce block of extra firm tofu for 20 to 30 minutes to remove the water (lay the tofu on a cutting board, top with lots of paper towels, and then top with a heavy book or pot and let it sit for 20-30 minutes.
Chop the tofu into cubes and toss them with 1 ½ tablespoons tamari or soy sauce + 1 tablespoon neutral-flavored oil + crushed red pepper flakes + 1 ½ tablespoons cornstarch or arrowroot powder

, and toss to coat.

Spread the coated tofu cubes out on a parchment paper-lined baking tray. Bake at 400°F (204°FC) for 25 minutes until crispy and golden on the outside, tossing halfway through.
For my addictive crispy sesame tofu, try this recipe!
Dipping Sauce
I also use tamari or soy sauce to make a dipping sauce for noodle bowls or rice paper rolls. Like in this Sesame-Cashew Soba Noodle Salad.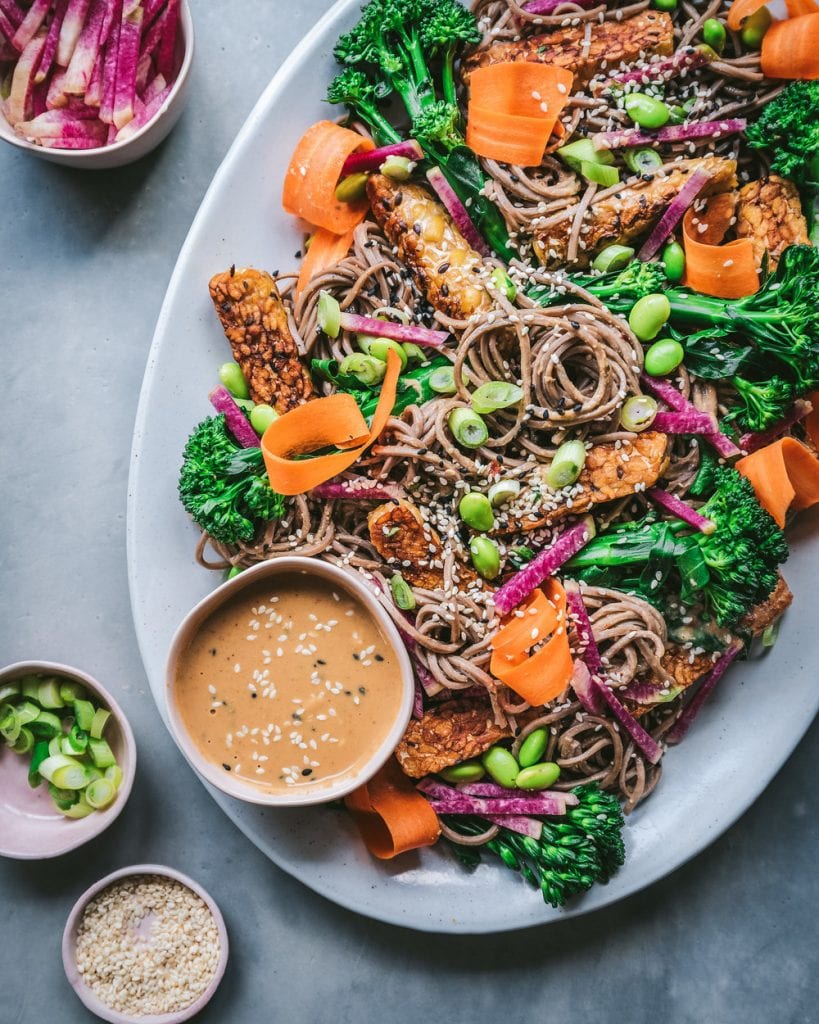 4. Apple Cider Vinegar
Apple cider vinegar has a variety of applications. I sometimes use it in vinaigrettes in lieu of red wine vinegar. And splash in a bit at the end of cooking beans, soups, or vegetables for a punch of acidity. And I often use it as an aid to leavening in baking.
5. Pesto
Is there anyone out there who doesn't love pesto? Unfortunately, most store-bought pestos contain parmesan cheese and therefore aren't vegan. Luckily, making pesto could not be easier, particularly if you have a food processor.
Traditional pesto is made with basil and pine nuts, but it's fun to experiment with different herbs (cilantro, Thai basil, parsley) and nuts/seeds (walnuts, cashews, pumpkin seeds). You can even make pesto out of greens like kale, spinach, or arugula.
Click here for my classic vegan basil pesto, or check out this post for other pesto variations.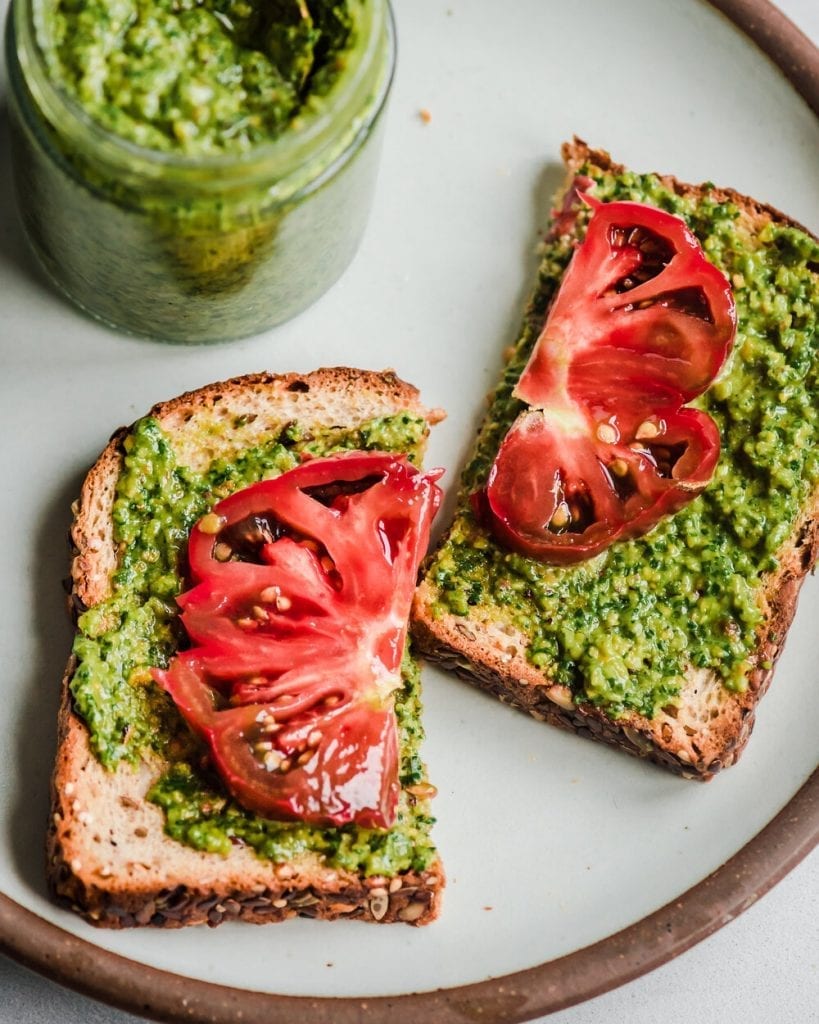 I hope you found this roundup of pantry staples helpful!