These Vegan Chocolate Glazed Donuts are the perfect treat when you're in the mood for an indulgent dessert (or a really indulgent) breakfast! They're also so fun to make with your partner or even your children.
I hope that luscious chocolate glaze in these photos sold you on these donuts, but in case they didn't, there's more! Since it's Valentine's Day, I added a little pink flair to these donuts by adding rose bud tea.
I just crushed up whole rose buds (be sure to use the culinary kind) and sprinkled them on the glazed donuts. Not only did it add a beautiful festive flair, but it also brings a unique, slightly floral aroma to the chocolate donuts.
I typically do not like rose flavor in my food (especially rose water, which I hate), as I find the flavor to be too overpowering. But just the lightest sprinkle of rose bud tea adds such a lovely and light flavor contrast to the richness of the double chocolate in these donuts.
If you're wondering how much rose bud tea to use, for reference, I removed a considerable amount of the rose bud leaves seen on these donuts when it came time to serve them (as a food photographer, of course I used more garnish than actually called for in the recipe).
Regarding the actual recipe, these vegan chocolate donuts are incredibly easy to make and use simple, readily available ingredients, like flour, sugar, cocoa powder, and vanilla extract. The glaze is my favorite part of my donuts, as the combination of melted dark chocolate and coconut oil meld together to form a glossy shine that eventually hardens into an almost magic-shell texture.
Since the glaze is a critical component of the donuts, be sure to use a high-quality dark chocolate for the best results. You can also use vegan chocolate chips instead of the dark chocolate, but the glaze will be a bit sweeter. These donuts are not too sweet though, so it shouldn't be a problem.
If you want to make these donuts a bit healthier or tailored to your dietary needs, you can substitute the all-purpose flour with a gluten-free flour blend (I have had the best results with Bob's Red Mill 1:1 Gluten-Free Baking Flour).
You can also substitute the organic cane sugar with an unrefined sugar replacement, such as coconut sugar or maple syrup. If you use a liquid sweetener, you may want to use a bit less than the 2/3 cup called for (about 1/2 cup). Finally, for the glaze, I used a dark chocolate with 72% cocoa content, but of course you can go really dark, like 85-90%, if you want to reduce the amount of sugar.
If you make these Vegan Chocolate Glazed Donuts for Valentine's Day, make sure you tag me on Instagram so I can see your beautiful creations!
Vegan Chocolate Glazed Donuts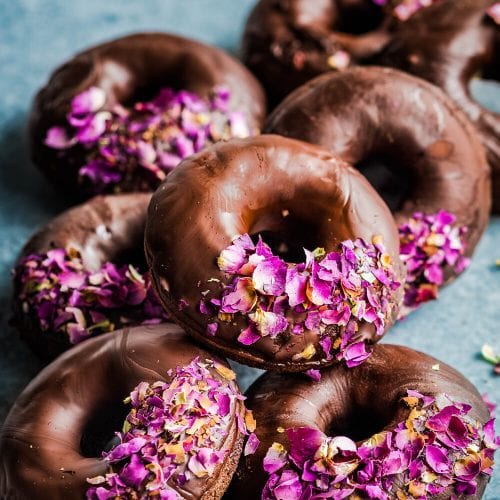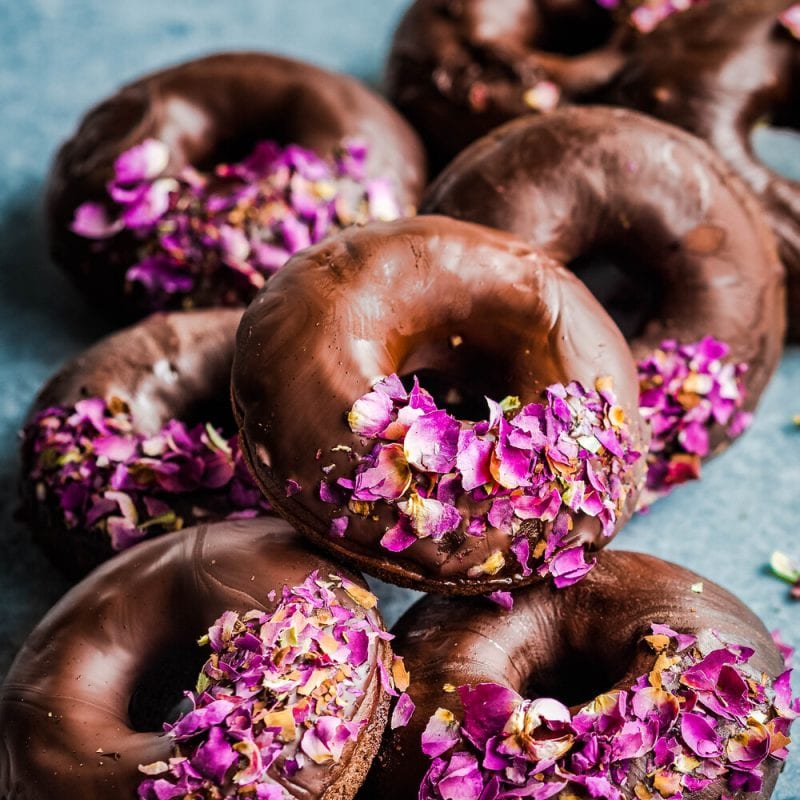 These Vegan Chocolate Glazed Donuts are easy to make and use simple, everyday ingredients. They get a major upgrade with a glossy chocolate glaze that requires just 2 ingredients!
Ingredients
1

cup

+ 2 tablespoons

(~265mL) almond milk or other nondairy milk (use soy milk for a nut-free option)

1/2

tablespoon

apple cider vinegar

2/3

cup

(~128g) organic cane sugar

1/3

cup

(~80mL) refined coconut oil, melted (or a neutral oil like sunflower oil)

1 1/2

teaspoons

pure vanilla extract

¼

cup

+ 2 tablespoons

(~36g) unsweetened cocoa powder

2

cups

(~240g) all-purpose flour (can substitute a gluten-free flour blend)

1/2

scant teaspoon fine sea salt

½

teaspoon

baking soda

2

teaspoons

aluminum-free baking powder

Topping: culinary rose bud tea,

lightly crushed with your fingers
Dark Chocolate Glaze
4

ounces

(~115g) 70-80% dark chocolate, chopped (can substitute vegan chocolate chips but the glaze will be sweeter)

1

tablespoon

refined coconut oil
Instructions
Preheat the oven to 400°F (204°C). Grease two 6-cavity donut pans with melted coconut oil or a nonstick cooking spray.

In a medium bowl, whisk together the almond milk, vinegar, sugar, melted coconut oil, and vanilla extract until well combined.

In a large bowl, sift the cocoa powder. Then add in the flour, salt, baking soda, and baking powder.

Pour the wet ingredients into the dry ingredients and use a wooden spoon to mix until just combined, taking care to not over mix.

Spoon the donut mixture into a pastry bag fitted with a tip (or into a large resealable bag with a hole cut in the corner). Pipe the donut batter into each donut cavity, filling a little more than 3/4 full.

Bake the donuts for 10 minutes in the preheated oven or until a toothpick comes out clean. Transfer the donut pan to a wire rack to cool for 20 minutes. Once cooled, flip the donut pan over onto the wire rack and lightly tap each cavity to pop out the donuts.

While the donuts are cooling, prepare the Dark Chocolate Glaze. Add a few inches of water to a saucepan and bring to a simmer. Nestle a heatproof glass bowl that sits on top of the saucepan without touching the water to create a double boiler. Add the chocolate chips and coconut oil to the bowl and allow to melt, stirring occasionally with a silicone spatula or spoon until the mixture is smooth and glossy. Alternatively, you can melt the chocolate and coconut oil in intervals.

Dip each donut into the chocolate glaze, then sprinkle on just a little bit of the crushed rose bud tea leaves. Allow the glaze to set for 10-15 minutes.
---
Calories:
289
kcal
|
Carbohydrates:
39
g
|
Protein:
4
g
|
Fat:
14
g
|
Saturated Fat:
10
g
|
Polyunsaturated Fat:
1
g
|
Monounsaturated Fat:
2
g
|
Trans Fat:
1
g
|
Cholesterol:
1
mg
|
Sodium:
247
mg
|
Potassium:
146
mg
|
Fiber:
3
g
|
Sugar:
16
g
|
Vitamin A:
4
IU
|
Calcium:
104
mg
|
Iron:
3
mg