This post is sponsored by Country Crock® Plant Butter. All opinions and recipes are my own.
Baking has always been a relaxing exercise for me. I find calm and peace in sifting flour, weighing ingredients, folding batters (and taste-testing batters, obviously).
And during challenging times like these, baking is truly therapeutic. And while I know most of you are looking for pantry-friendly dinners (I've rounded up a list of 15 pantry-friendly recipes here), I also know that some of you are looking for some comforting treats that you can bake while we're isolating ourselves and our families at home.
I wanted to keep this dessert both easy and uncomplicated but also indulgent and rich. I wanted these cookies to be something you might be able to whip up without having to run to the grocery store. But I also wanted these cookies to truly satisfy those chocolate cravings. There is a time and a place for healthy, gluten-free, refined sugar-free, oil-free cookies, but this is not one of those times (at least for me, it is not).
Right now, what I want is pure chocolate decadence, which is why today I'm sharing my recipe for Dark Chocolate Blackout Cookies.
Why you'll love these Vegan Dark Chocolate Blackout Cookies
7 main ingredients. Okay, I'm not counting salt and one optional ingredient. But yeah, 7 main ingredients, yay!
Pantry-friendly. With 7 main ingredients and no fancy ingredients, this is a weekend baking project that doesn't require an extra trip to the grocery store.
Pure decadence. Imagine biting into a chewy, rich brownie but it's in cookie form. Yep, that's what these are!
Fridge-friendly. If you want to treat yourself but not eat all the cookies in one sitting (I've been there, it happens), these cookies store remarkably well in the fridge. Just be sure to hide them behind all your veggies, fruits, nut milks, and the like ;)
Ingredient Rundown
Country Crock Plant Butter 
As I mentioned, I wanted these cookies to be extra rich so that's why we're using my favorite vegan butter, Country Crock Plant Butter!
I love how the Plant Butter gives these cookies a dense, chewy, and moist texture (almost like brownies), along with an irresistible buttery taste. It brings that universally loved rich taste to baked goods but is 100% vegan!
The recipe calls for bringing the Plant Butter to room temperature. But we're not going to cream it. Creaming butter is great when you want a baked good with a light and fluffy texture (hello, cake), but melting butter (and then cooling it) is better when you want a chewy texture.
And for these blackout cookies, we want a chewy texture! Bringing the butter to room temperature (when it's semi-solid and spreadable) is helpful when you melt it with chocolate in a double boiler, as we do in this recipe. The chocolate will be at room temperature, so the butter should be as well.
To melt the butter, I combine either chopped dark chocolate or dark chocolate  chips and softened Plant Butter in a double boiler and melt gently over low heat/simmering water. You can melt the chocolate and butter in the microwave (instructions to do so are in the recipe), but I prefer to be safe and prevent any possibility of burning by using the double boiler method.
Dark Chocolate 
We are going to be using *a lot* of chocolate in this recipe. Basically, a 12-ounce bag of dark chocolate chips. Or, 9 ounces of dark chocolate + 3 ounces of chocolate chips. Your call. The latter is easier since you can just one entire bag and not worry about constantly snacking on all the leftover chocolate chips.
I recommend using at least 60% dark chocolate; otherwise, these cookies will be too sweet. If you can't find 60% or higher dark chocolate, use a bit less sugar.
I typically use Whole Foods 365 brand of dark chocolate chunks or Guittard 63% dark chocolate chips. But I also used Enjoy Life Foods mini chips for the topping at the end (I always have a bag of those in the freezer!).
Flax Eggs 
When I want a baked good with a chewy texture, my go-to egg replacement is a flax egg. I think it works perfectly in this recipe to create a cookie that has chewy edges but slightly gooey, soft centers.
Coconut Sugar or Brown Sugar
I like using brown sugar in cookies (and brownies) because they make for a moister, chewier cookie than white sugar. BUT, I couldn't find any brown sugar in my pantry. And I have a 4 pound bag of coconut sugar so I went with coconut sugar and it worked out beautifully.
All Purpose Flour
Just a little flour (½ cup) is all you need! Cookies with more flour are usually lighter and cakier, but that is the opposite of what we're going for with these cookies.
Full disclaimer: I have not tried making these gluten-free because I haven't had the best experience baking similar cookies with gluten-free flour. If you are gluten-intolerant and use all-purpose gluten-free baking flour, I can't guarantee how they'll come out (but please leave your feedback below!).
Espresso Powder 
This is the optional ingredient. I say optional because I know everyone doesn't have espresso powder at home, but if you have strongly brewed coffee at home, you can use that (instructions are in the recipe).
Coffee is known to magically enhance the taste and flavor of chocolate, which is why I often add espresso powder or a splash of coffee to my chocolate desserts.
Salt: two kinds 
The batter needs some salt, obviously. But i also *highly highly highly* recommend sprinkling some flaky sea salt on top of these cookies as soon as they emerge from the oven. It makes for that divine sweet-salty-chocolate combination that is truly irresistible. If you don't have flaky sea salt such as Maldon sea salt flakes, just use more sea salt.
Tips for making this recipe 
1. Start by removing the Plant Butter from the fridge so it can come to room temperature. Then make the flax egg and let it rest in the fridge for 15 minutes.
2. The batter needs to rest in the fridge for an hour, so there's no need to preheat your oven while you prepare the cookie dough. And yes, the batter does need to chill in the fridge. You'll notice when you're done mixing the batter, the dough is quite loose and runny, more like a brownie batter than a cookie batter. If you try to scoop the cookies now, it'll be a hot mess.
3. The raw cookie dough might taste very sweet, almost too sweet. This did not stop us from eating the dough, but don't worry – the baked cookies will taste significantly less sweet than the raw batter.
4. Once the dough is refrigerated, scoop 6 large cookies per pan. No more than 6 cookies per half sheet pan, please! These cookies spread like nobody's business.
5. Once the cookies have been scooped onto the pan, return the pans to the fridge if you have the space. If you don't have the space, make sure you scoop quickly. I found that the cookies that were slightly more chilled before going into the oven ended up baking better than those that were a bit warm when they went into the oven.
6. As soon as the cookies get out of the oven, sprinkle them with flaky sea salt and a few extra chocolate chips or finely chopped pieces of dark chocolate. You'll watch the chocolate melt into the cookies, which is visually satisfying as well as delicious.
If you give this recipe a try, be sure to tag me on Instagram with your recreations and please comment with your feedback below!
Sending you all positive thoughts, warm wishes, and hugs from a safe 6-foot distance!
Vegan Dark Chocolate Blackout Cookies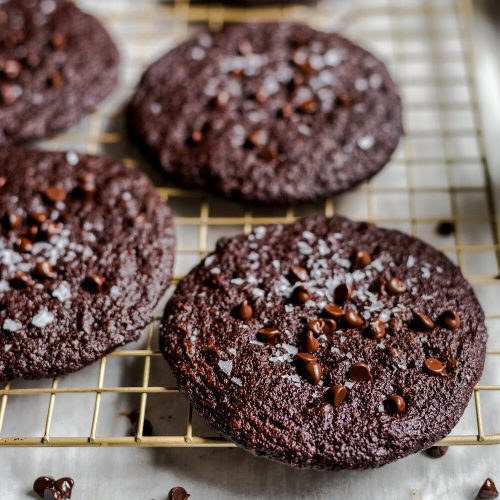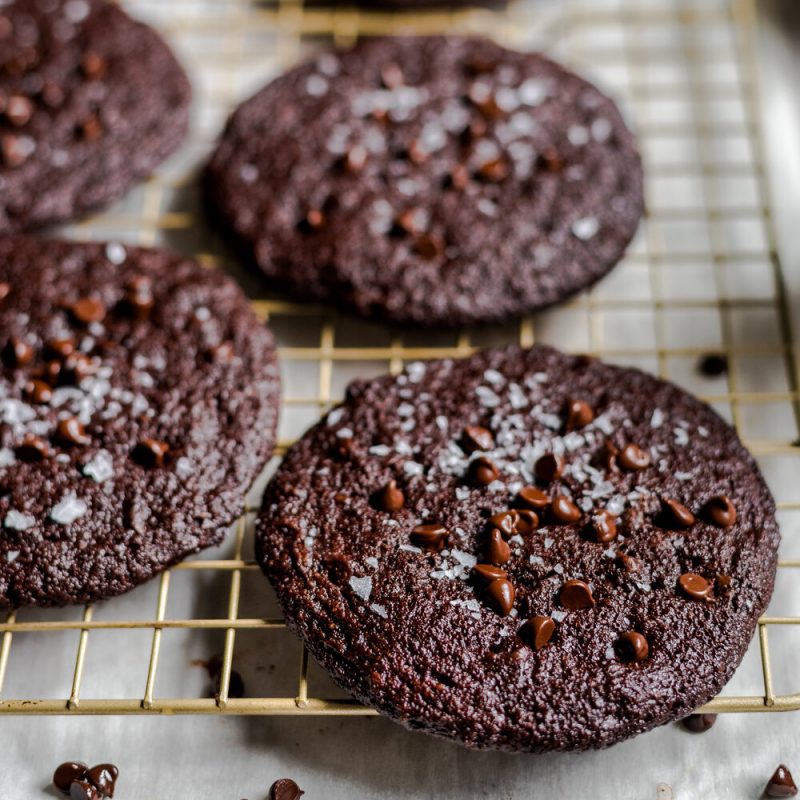 These Vegan Dark Chocolate Blackout Cookies are chewy, dense, rich, and indulgent. They're kind of like a  mashup between a brownie and a cookie and you'd never guess that they're 100% vegan and require just 7 main ingredients!
Ingredients
2 1/2

tablespoons

(18g) ground flaxseed meal

11-12

ounces

(325-340g) 60% or higher dark chocolate*, divided

6

tablespoons

(84g) Country Crock's Plant Butter, at room temperature

1

teaspoon

espresso powder**,

optional

3/4

cup

(110g) coconut sugar or brown sugar, loosely packed

1

teaspoon

pure vanilla extract

1/2

cup

(60g) all-purpose flour

3/4

teaspoon

baking powder

1/2

teaspoon

fine sea salt
Topping
Flaky sea salt

Reserved chocolate chips or pieces of chocolate
Instructions
Remove the Plant Butter from the fridge to come to room temperature. Whisk together the flaxseed meal with 6 tablespoons (85mL) water until well combined. Place in the fridge for 15 minutes to help it gel and set. This is your "flax egg."

Meanwhile, prepare a double boiler to melt the chocolate and butter. Add a few inches of water to a saucepan and bring to a simmer. Nestle a large heatproof glass bowl that sits on top of the saucepan without touching the water to create a double boiler. Once the water is simmering, add the softened Plant Butter and the 9 ounces or 255g of the dark chocolate chips or chopped dark chocolate to the bowl. Stir frequently with a spatula until the mixture is just melted. Take off the heat and allow it to cool to room temperature.

Alternatively, you can melt the chocolate and Plant Butter in a microwave-safe bowl and melt in 30 second intervals, stirring after each interval.

While the chocolate is cooling, whisk together the espresso powder with 2 tablespoons of water. Or, if using coffee, measure out 2 tablespoons very strongly brewed coffee.

Once the chocolate-butter mixture is cooled to room temperature, add the diluted espresso, sugar, vanilla, and flax eggs. Whisk until well combined.

In a medium bowl, mix together the flour, baking powder, and sea salt.

Using a fine mesh sieve, sift the flour mixture into the chocolate mixture, stirring until just combined. The batter should be relatively thin, like brownie batter more than cookie batter. Using a silicone spatula, fold in *almost* all of the remaining chocolate chips or chopped chocolate. Reserve a few pieces of the chocolate for the topping after the cookies have been baked.

Cover the batter and refrigerate it for 1 hour (or longer) to firm up. When you remove it from the fridge, allow it to rest at room temperature for 5 minutes before scooping.

Preheat the oven to 325°F/163°C. Line two half-sheet pans or large cookie trays with parchment paper. Use your hands to form large uniform-sized balls, about 4 tablespoons per cookie. Space them apart on the two sheet pans, no more than 6 cookies per sheet.

NOTE: I made 12 large cookies, though we could have probably made 1 or 2 more cookies (we ate some batter).

If you can, return the pans to the fridge for 15-20 minutes. This prevents them from spreading as much when they're baking.

Bake for 13-14 minutes, or until the edges look set but the center still looks a bit gooey. Remove from the oven and immediately sprinkle with flaky sea salt and the reserved chocolate chips or chopped chocolate. Allow cookies to rest for 5-10 minutes before transferring the cookies to cool completely on wire racks.
Notes
* You can use dark chocolate bars and/or chocolate chips. I typically use Whole Foods 365 brand of dark chocolate chunks or Guittard 63% dark chocolate chips. If you use bars, use a serrated knife to chop the chocolate into small pieces. You will melt 3/4 of the chocolate (9 ounces or 255g) with the vegan butter in step 2; reserve the remaining 1/4 of the chocolate (3 ounces or 85g) to fold into the batter.
** If you don't have espresso powder, you can omit it or use 2 tablespoons of *very* strongly brewed coffee.
---
Calories:
254
kcal
|
Carbohydrates:
24
g
|
Protein:
3
g
|
Fat:
16
g
|
Saturated Fat:
8
g
|
Polyunsaturated Fat:
2
g
|
Monounsaturated Fat:
5
g
|
Trans Fat:
1
g
|
Cholesterol:
1
mg
|
Sodium:
183
mg
|
Potassium:
206
mg
|
Fiber:
3
g
|
Sugar:
12
g
|
Vitamin A:
277
IU
|
Vitamin C:
1
mg
|
Calcium:
38
mg
|
Iron:
3
mg