I have been wanting to update some of my old content for awhile, and one of them is my vegan Dutch baby. For those of you who are confused as to whether I am rearing a tiny human of Dutch origin and strangely refer to it as "my content," a Dutch baby is an oven-baked pancake that is kind of a hybrid between a pancake, popover, and a crepe. It's also referred to as a German pancake or a Dutch puff, and typically contains eggs, flour, butter, milk, and sugar.
It took me five recipe tests to get this Dutch baby to where I wanted it, so I am now a very proud parent of this particular baby.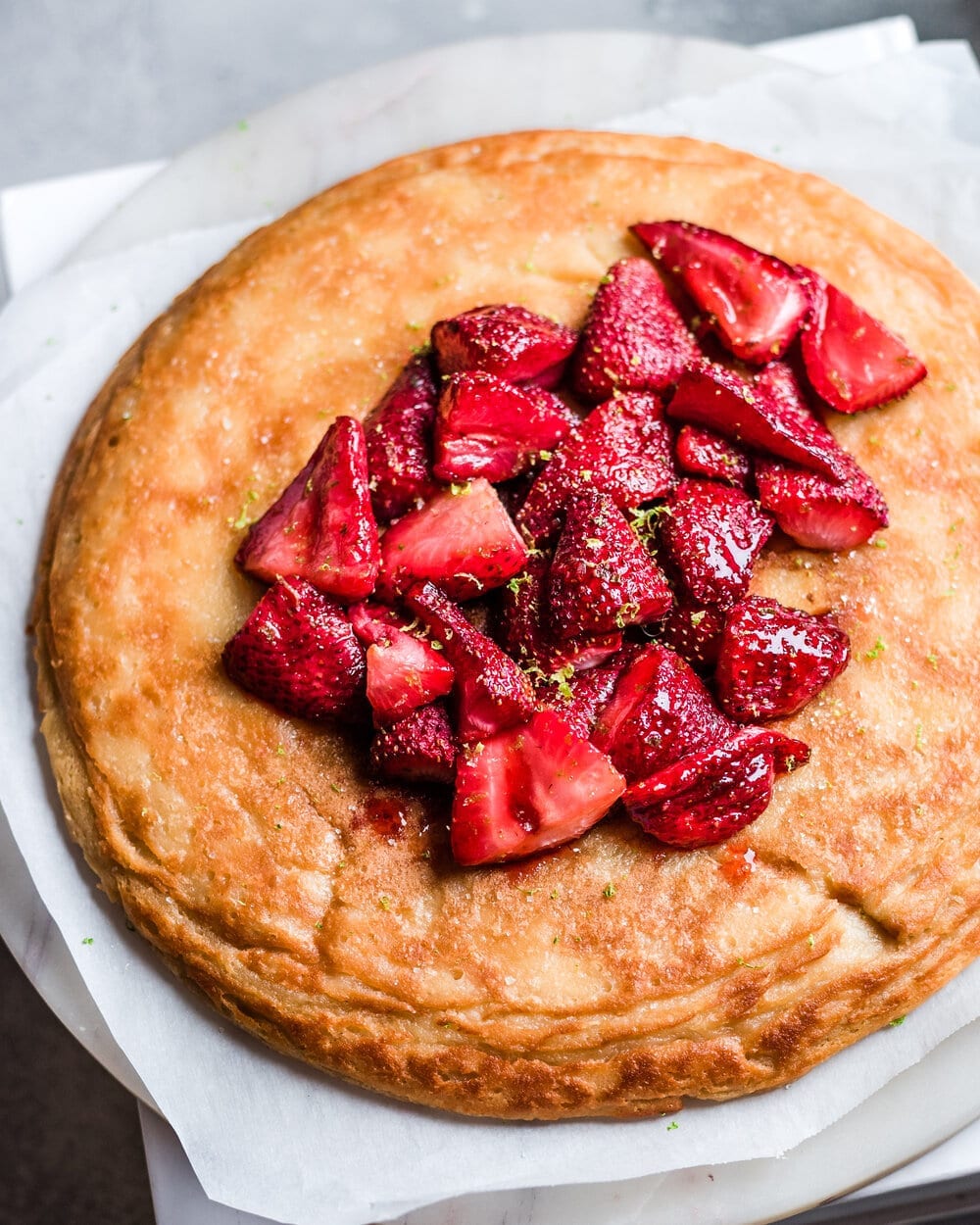 Why you're going to like this recipe
Surprisingly easy. A Dutch baby seems like it would be difficult to make, but they're actually quite easy. The batter gets whizzed up in a blender, and then you get to bake a giant pancake in the oven until it's crispy golden brown. No need to flip or wait for bubbles to appear.
Irresistible texture. The combination of vegan butter and aquafaba make the texture of this pancake irresistible crispy and flaky. You can literally hear the edges of the pancake snapping because it's so crispy. Very ASMR. The interior is chewier and less flaky, so it's a wonderful play of contrasting textures.
Light yet indulgent. This pancake is light enough that you can eat the whole pan yourself and not feel weighed down (I am guilty of doing that), but it's still indulgent enough to satisfy all of your decadent brunch cravings.
Low-effort, high reward. This is a pancake that'll impress your family, presentation-wise and taste-wise. But as I mentioned earlier, it's simple to make! Plus, the strawberries get roasted at the same temperature and for roughly the same time as the Dutch baby, which is the kind of multi-tasking I love.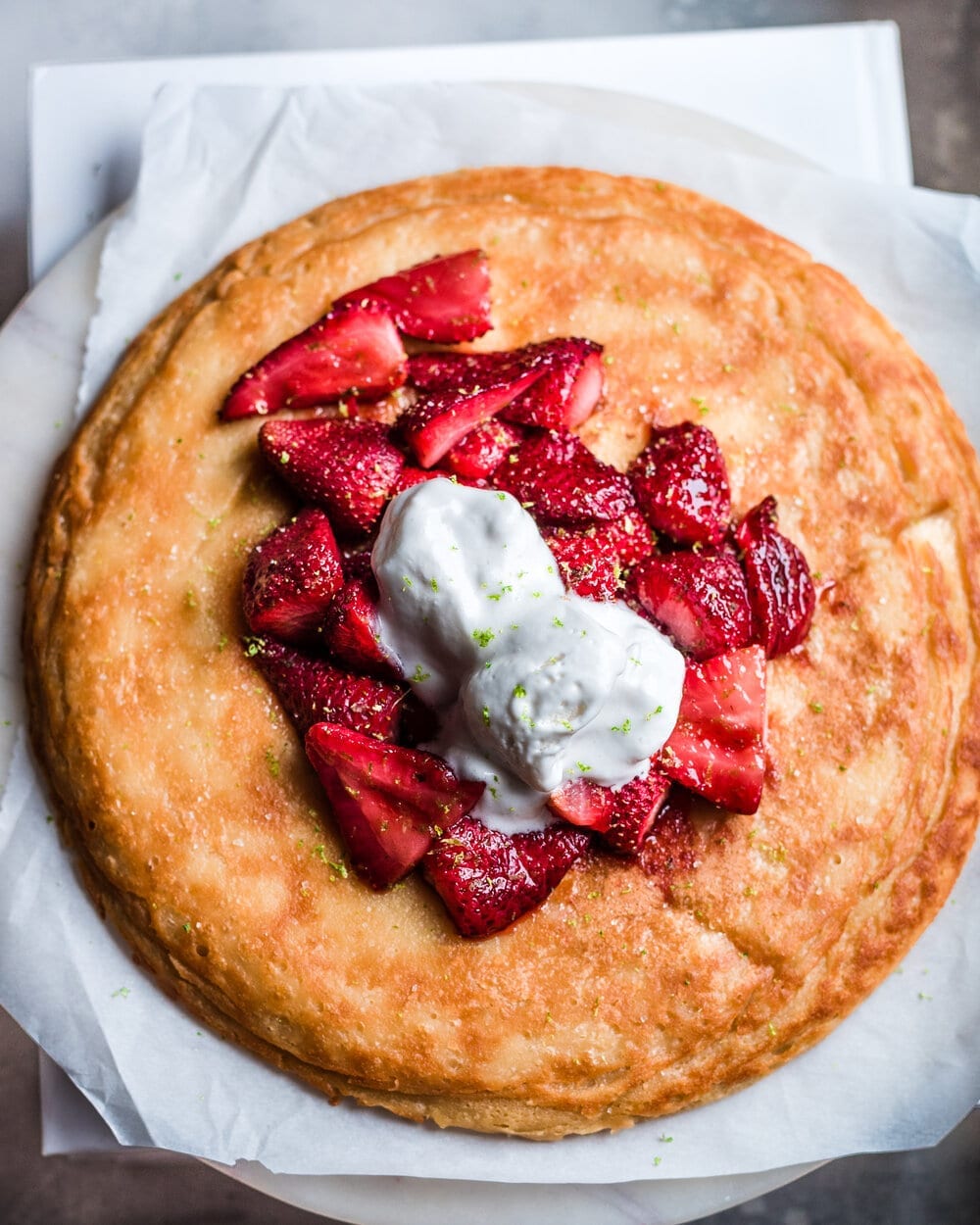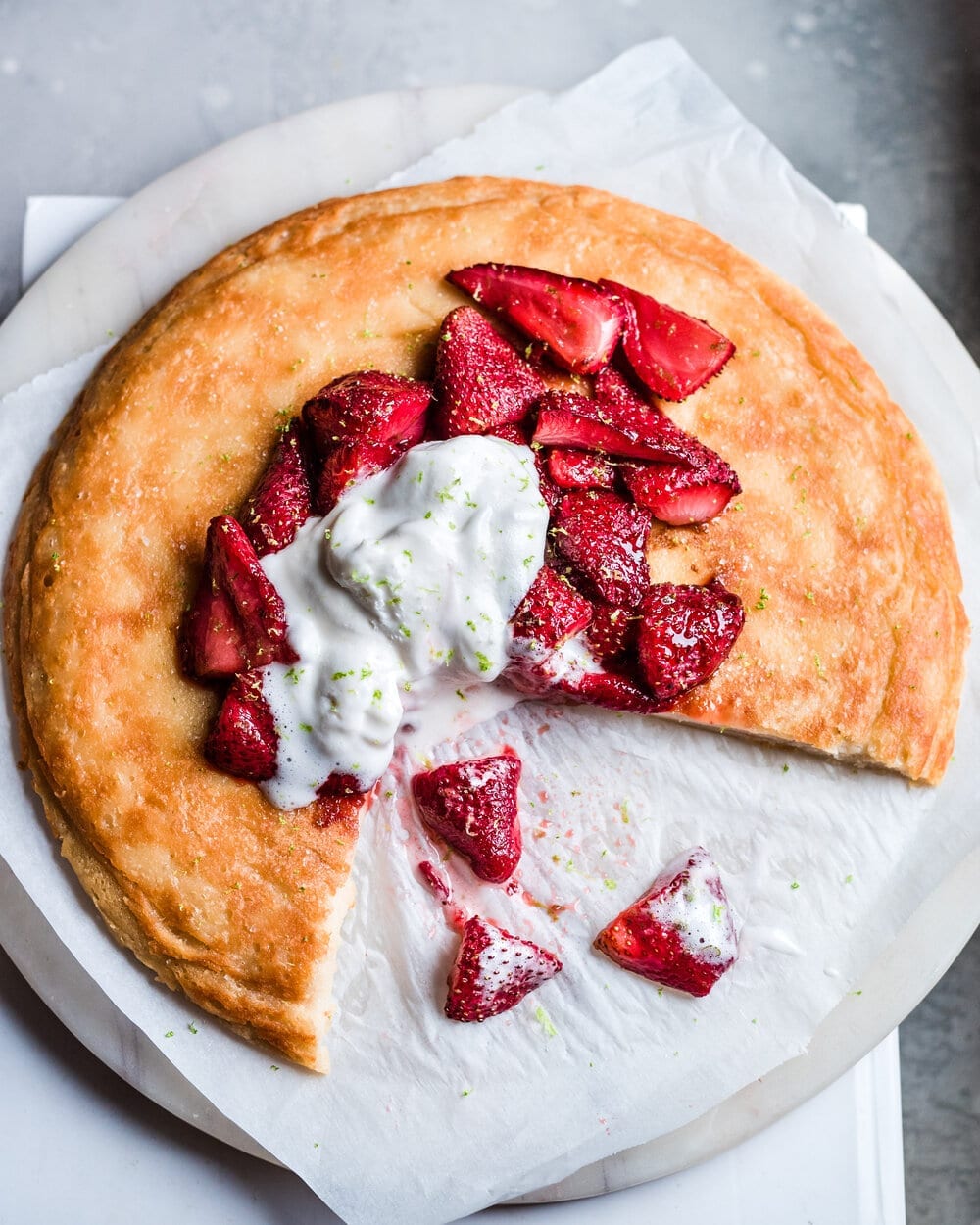 Tips for Making a Dutch Baby
When making a Dutch baby, there are a few things to keep in mind.
First, the batter should be airy. To achieve that, I recommend using a blender whenever making the batter. In this recipe, it's rather essential since the recipe includes silken tofu, and you need more than a whisk to get that completely smooth.
Also, resting the batter for 10-120 minutes helps air out the batter. According to the Kitchn, the resting period allows the proteins and gluten in the flour to develop, which means your batter can stretch without breaking and also helps the batter rise in the oven.
Second, the pan used to cook the Dutch baby needs to be very hot. Also, your oven needs to be hot enough, so I usually give my oven an extra 10-15 minutes to preheat (as it runs on the cold side). Another reason to invest in an oven thermometer!
During my first few recipe tests, I simply heated the cast iron skillet up on the stove for a few minutes. In my later recipe tests, I placed the skillet in the heated oven for at least 10 minutes to heat up (while the batter is resting). I noticed a difference in the amount of rise and crispiness in the batters – the winning method was heating the skillet up in the oven.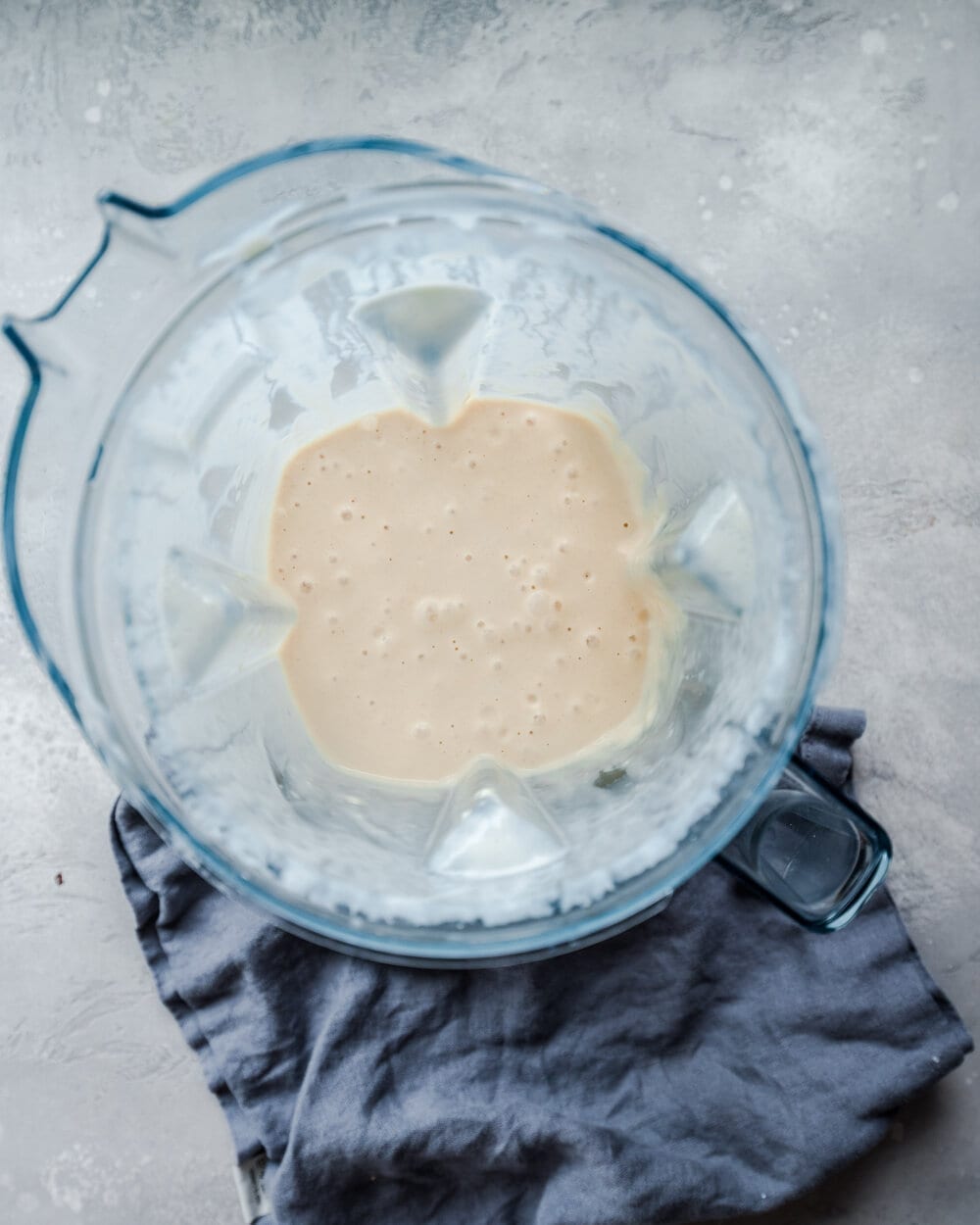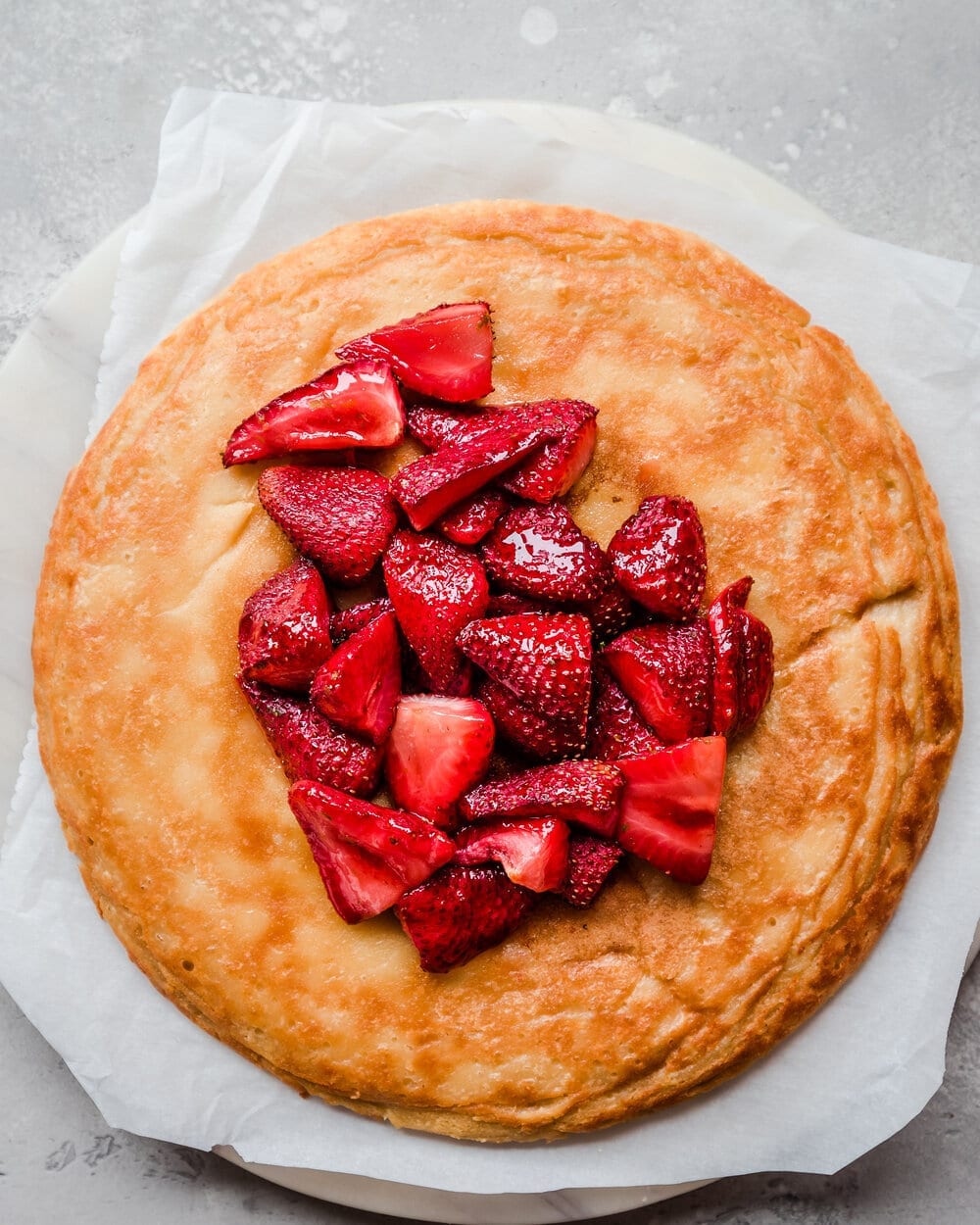 How to Make a Vegan Dutch Baby
First things first, I need to tell you something. A vegan Dutch Baby is not going to puff up as much as a traditional dutch baby (the eggs do a lot of lifting). Sorry.
But, traditional Dutch baby pancakes collapse and deflate pretty quickly, so it's really not that disappointing in the grand scheme of things, especially because the taste and texture are what matters, and they are both amazing in this recipe!
Since traditional Dutch baby pancakes are made with eggs, I use two vegan egg substitutes in this recipe: aquafaba and silken tofu. And to replace the customary use of dairy-based milk, I use oat milk. And for the butter, I just use vegan butter!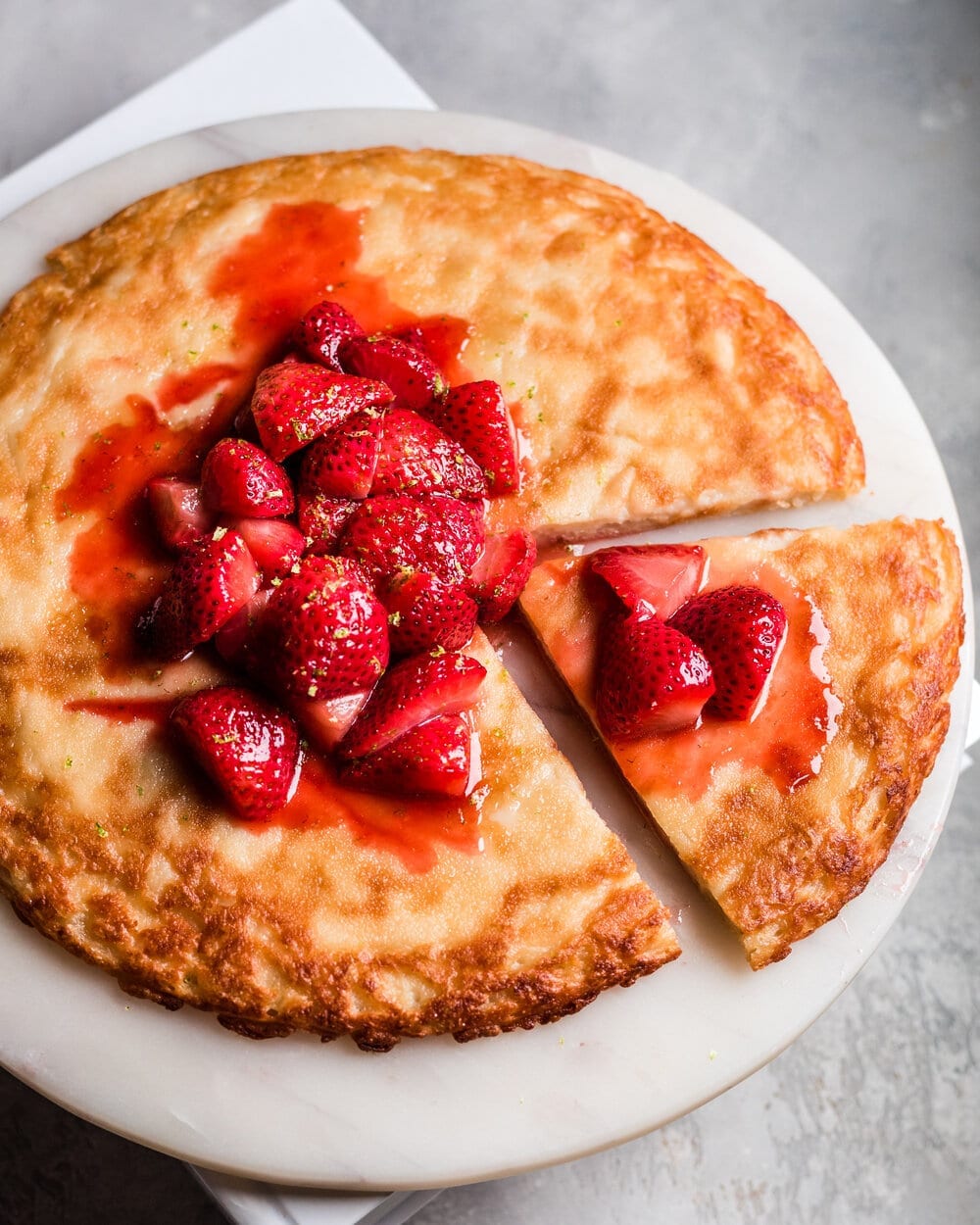 Ingredient Rundown
Aquafaba. This is simply the liquid from a can of chickpeas! If you've made any of my dessert recipes, you know that I am mildly obsessed with aquafaba. It is such a fabulous egg replacer in so many recipes, such as my fan favorite banana bread and this incredibly fluffy lemon cake.
Since eggs are a key ingredient in Dutch baby pancakes, I use a generous amount of aquafaba to substitute for the eggs. I blend the aquafaba in the blender before adding the rest of the ingredients (for just 15-20 seconds). When you lightly whip/beat/blend aquafaba, as is done in this recipe, it turns foamy and light, which then helps to create a light and fluffy texture and gives a nice lift to baked goods, such as this Dutch baby.
Silken Tofu. Another good vegan egg substitute. Silken tofu is very soft, and brings that classic soft and chewy texture found in traditional Dutch baby pancakes.
Plant-Based Milk. Typical Dutch babies use full-fat dairy milk, so I like to use a thick, creamy milk to replicate the texture as much as possible. I use full-fat oat milk in this recipe.
I have also tried this recipe using 2 parts oat milk to 1 part sparkling water (1/2 cup oat milk to 1/4 cup sparkling water). I decided to try this method after remembering that some crepe recipes use sparkling water to achieve a bubbly batter and fluffier texture. To be honest, I didn't notice much of a difference, so I leave it up to you whether you try this technique or not.
Vegan Butter. As you can see in these photos, this Dutch baby has a beautifully golden crispy exterior. This flaky texture comes, in part, from the vegan butter. I highly recommend using vegan butter and not substituting it with oil.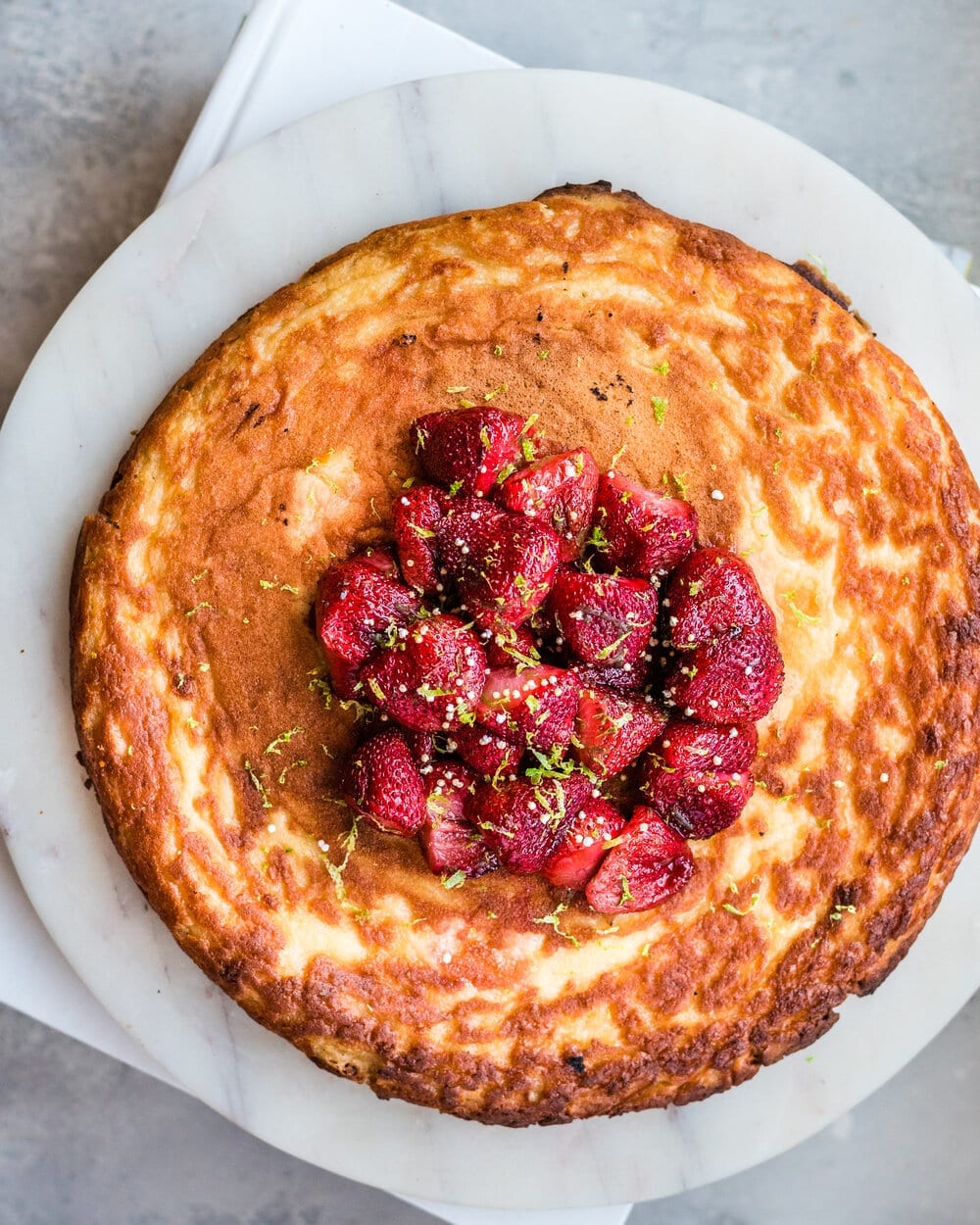 Flour. Another classic ingredient in a Dutch baby, the flour provides the structure in this recipe, but you don't need much – just 3/4 cup. ANd before you ask, no I have not tried making this with gluten-free flour lol. I suspect it will turn out dense and not light/flaky.
Baking Powder
Leavening agents are not traditionally used in Dutch baby recipes, as the eggs and hot oven do all the lifting. Since we're not using eggs (which are a powerful leavener), a little baking powder helps lift the batter. It's not essential and I've made it without the baking powder, but I noticed a small difference in the amount of rise.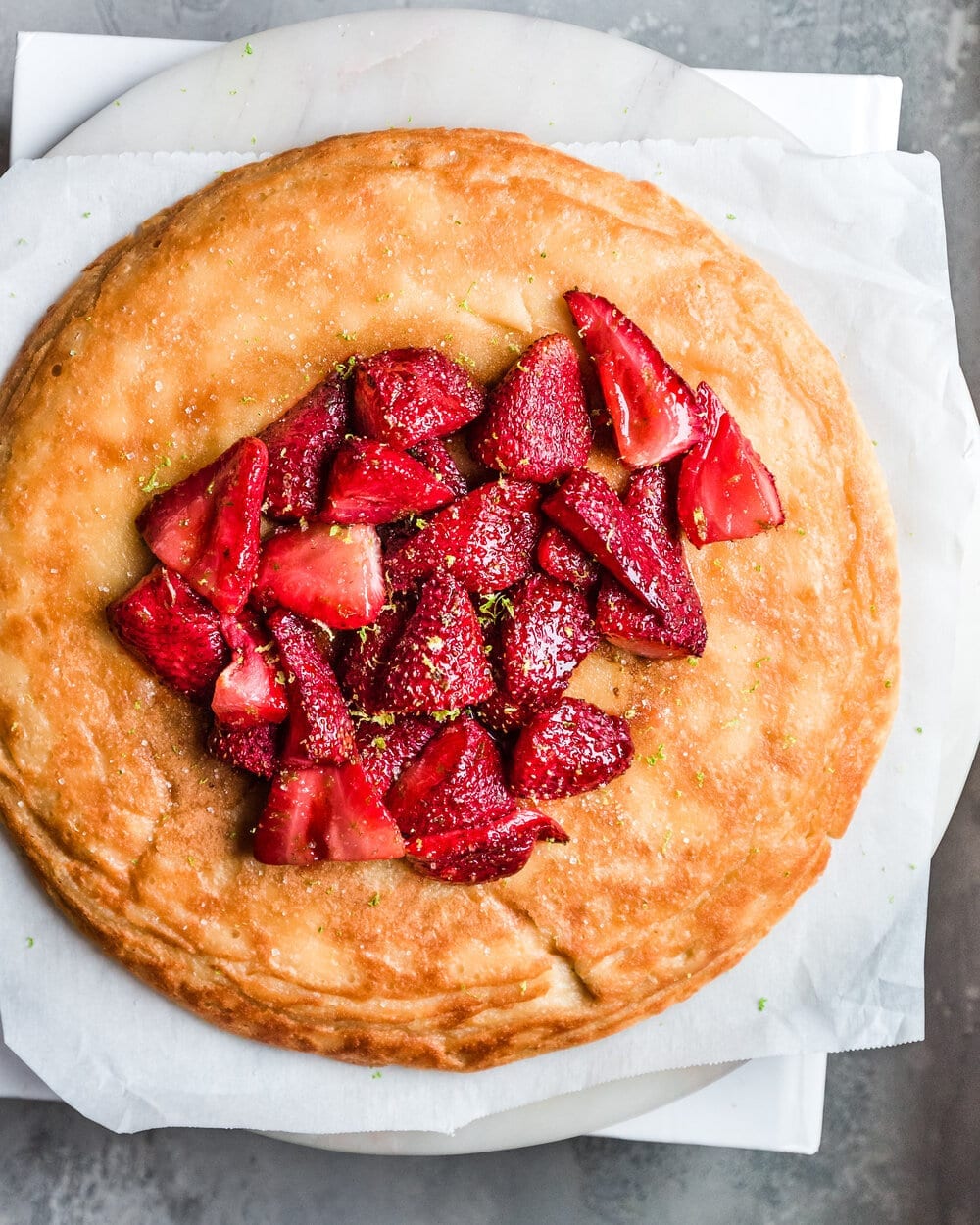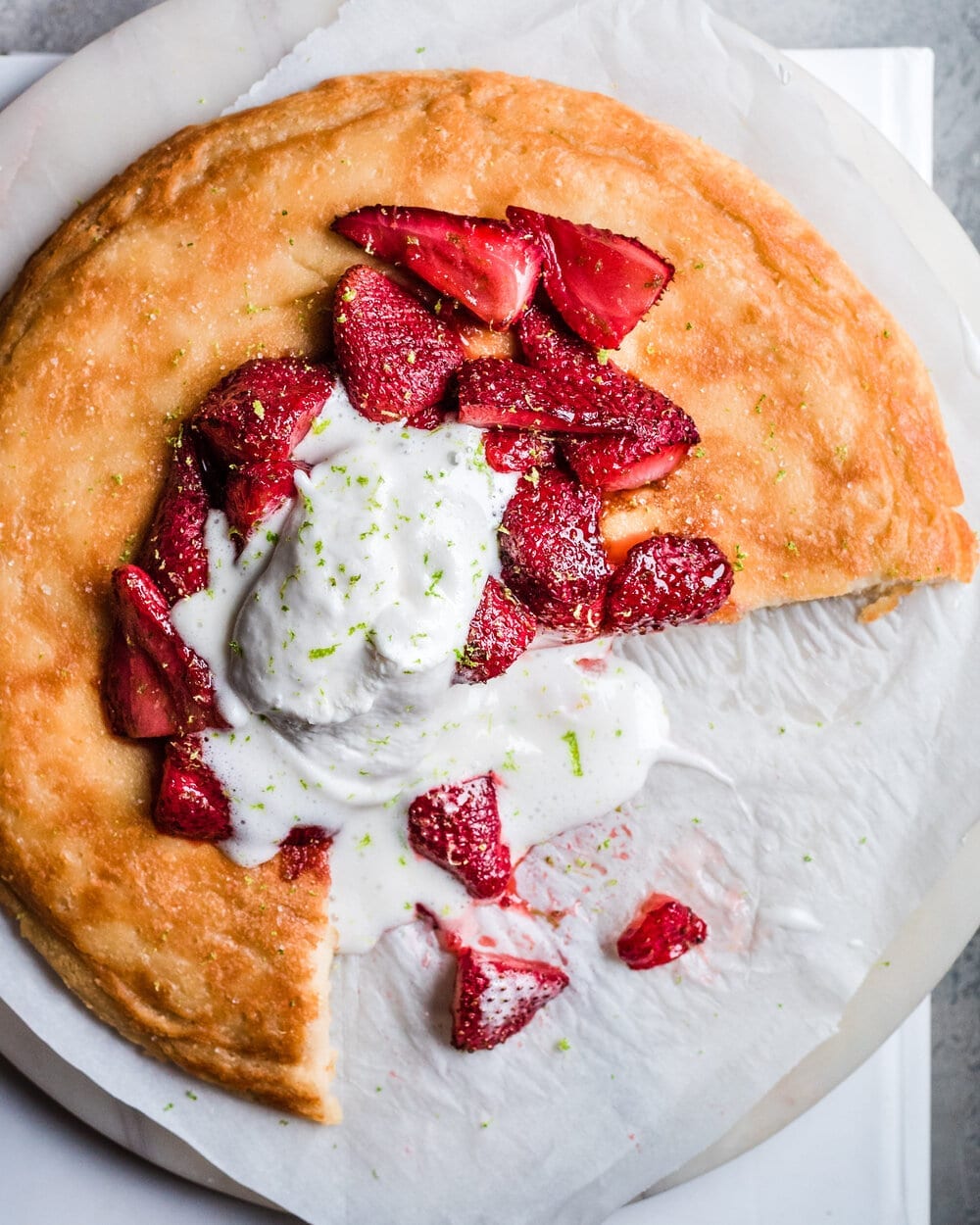 How to make Roasted Strawberries
What I love about this recipe is that the Dutch baby and the topping (roasted strawberries) cook in the oven at the same temperature and for roughly the same time. And all you need to do is hull some strawberries; toss them with maple syrup, vanilla, and salt; and spread them out on a baking sheet. You can do this while the pancake batter is resting.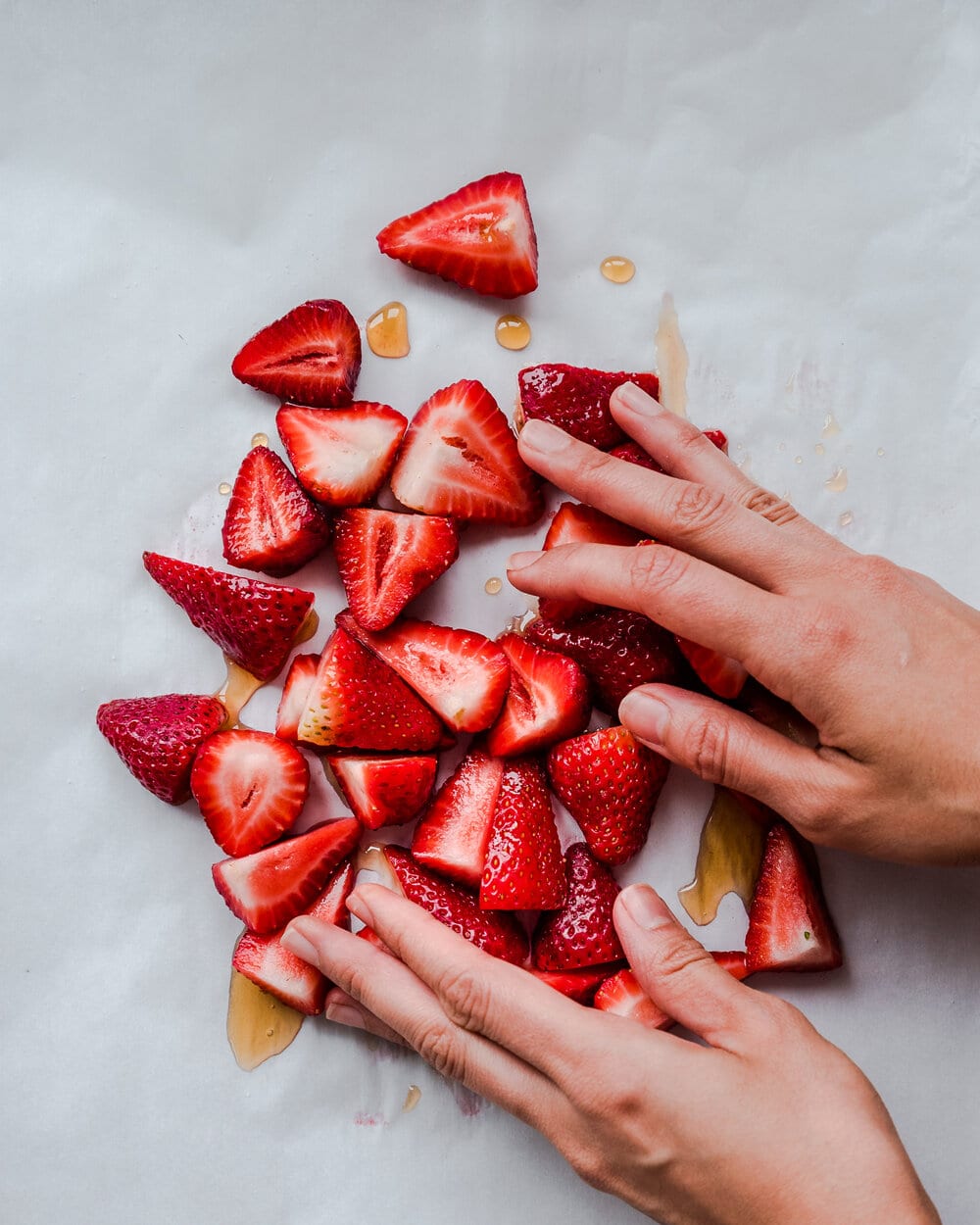 When the strawberries are roasted, their juices turn bubbly and they soften up nicely. The baking process also enhances natural sugars found in strawberries, and the addition of a few tablespoons of maple syrup means you don't need to serve this Dutch baby with any additional maple syrup. I do sprinkle some lime zest and a squeeze of lime juice on top to give the roasted berries a fresh kick.
I love the contrasting texture of the soft, tender strawberries and the flaky pancake, but if you don't have strawberries, you could serve this pancake another way. You can roast other types of berries, or you could serve sauteed apples or pears on top. Or, just plain old maple syrup.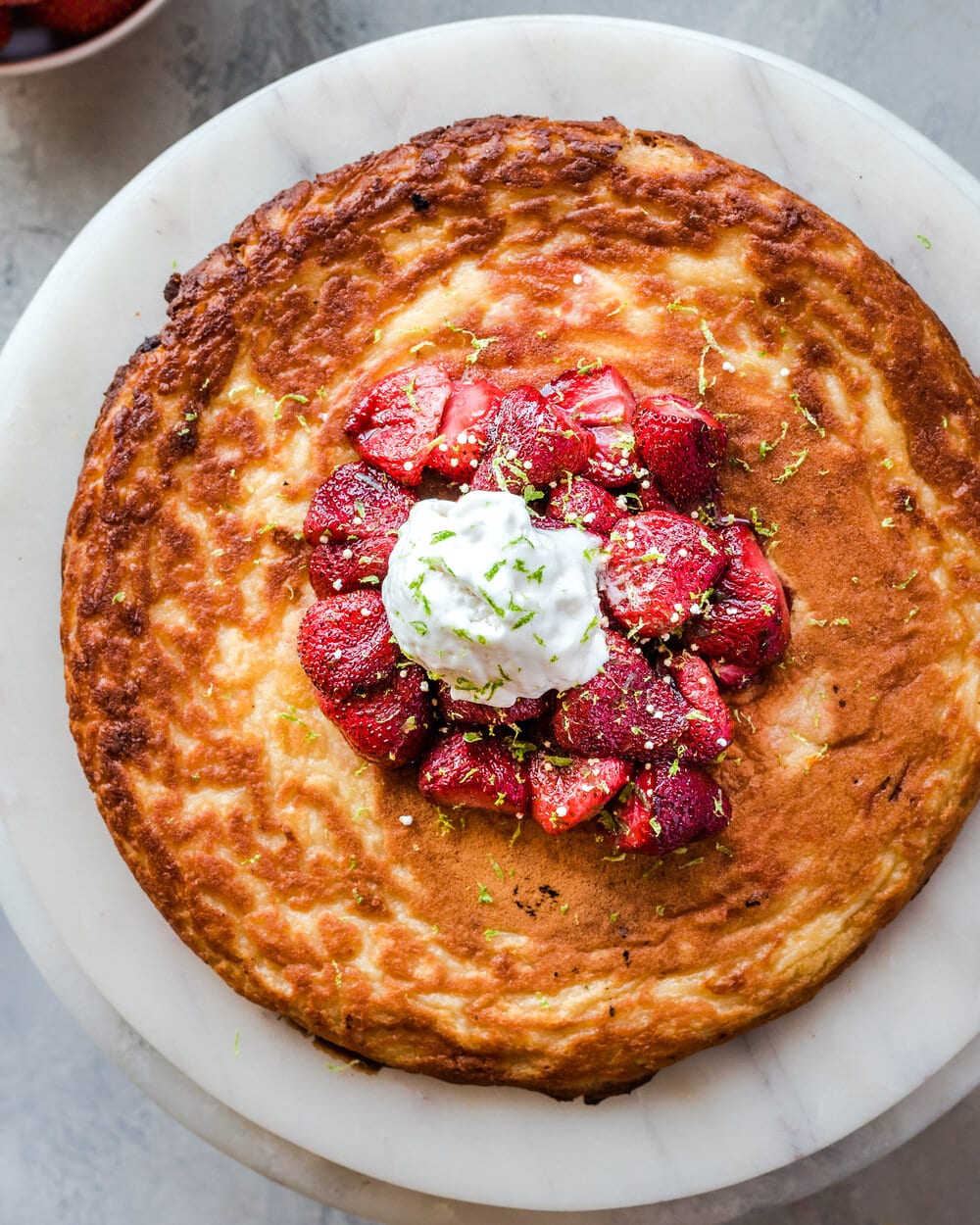 Tips for making this recipe
I recommend using a cast-iron skillet for this recipe, as it conducts heat incredibly well, which is important in a Dutch baby. That said, if you don't have a cast-iron skillet, you can try a 9-inch or 10-inch round metal cake pan.
After the skillet has heated in the oven and it's time to add the batter, be sure to swirl the pan several times to cover the bottom and sides of the pan with the batter.
After the Dutch baby is done baking, if you want the top to get golden and a little more crispy, you can turn on your oven broiler and broil the Dutch baby for a minute or two.
For serving, you can serve the Dutch baby in the skillet (as in the first photo below), but I prefer to flip the pancake onto the other side (second photo). The bottom gets beautifully golden brown and is the more impressive looking side (as you can see in most of these photos). Since the bottom of the skillet has been greased with a generous amount of vegan butter, it should be fairly easy to remove the pancake from the skillet with a spatula.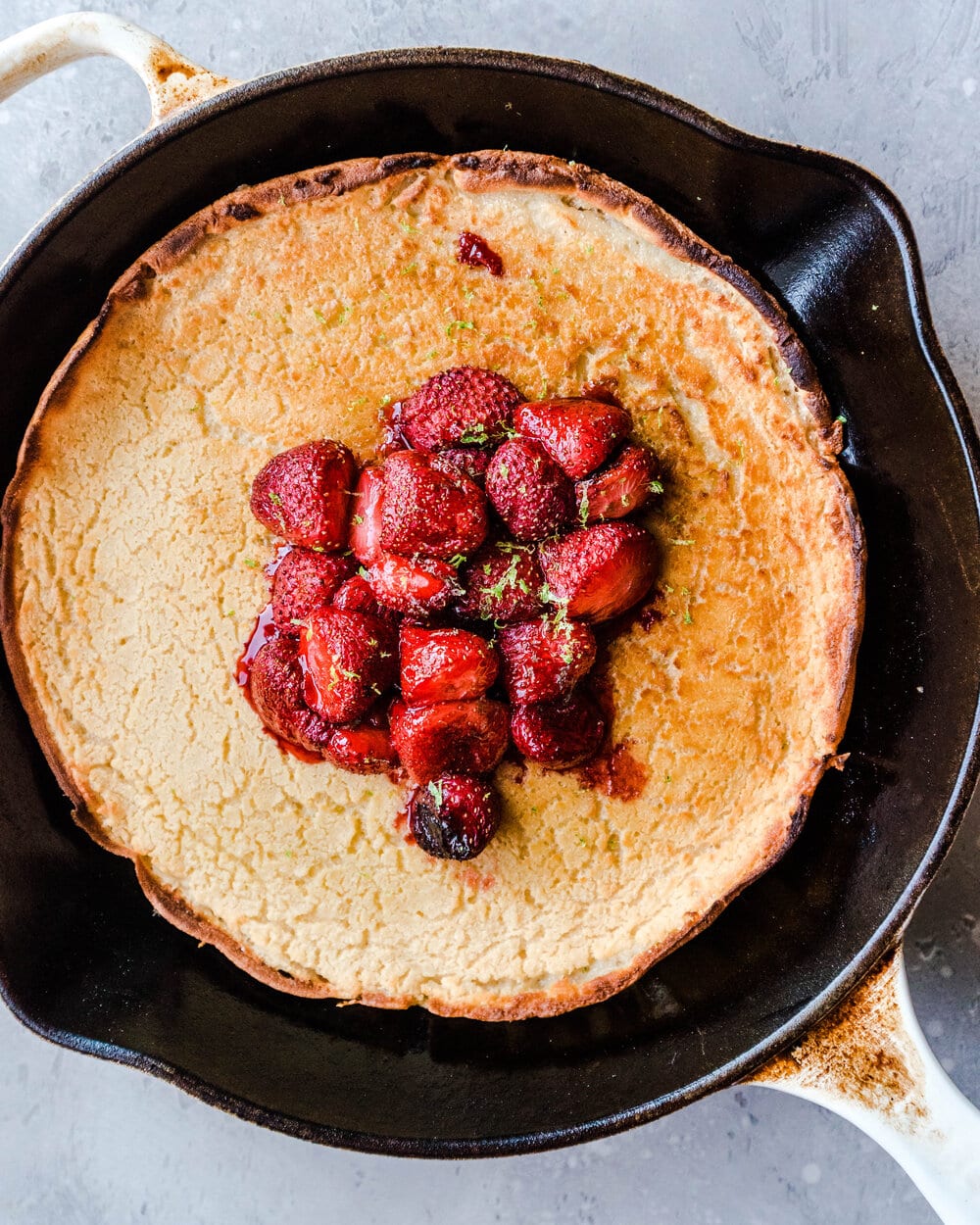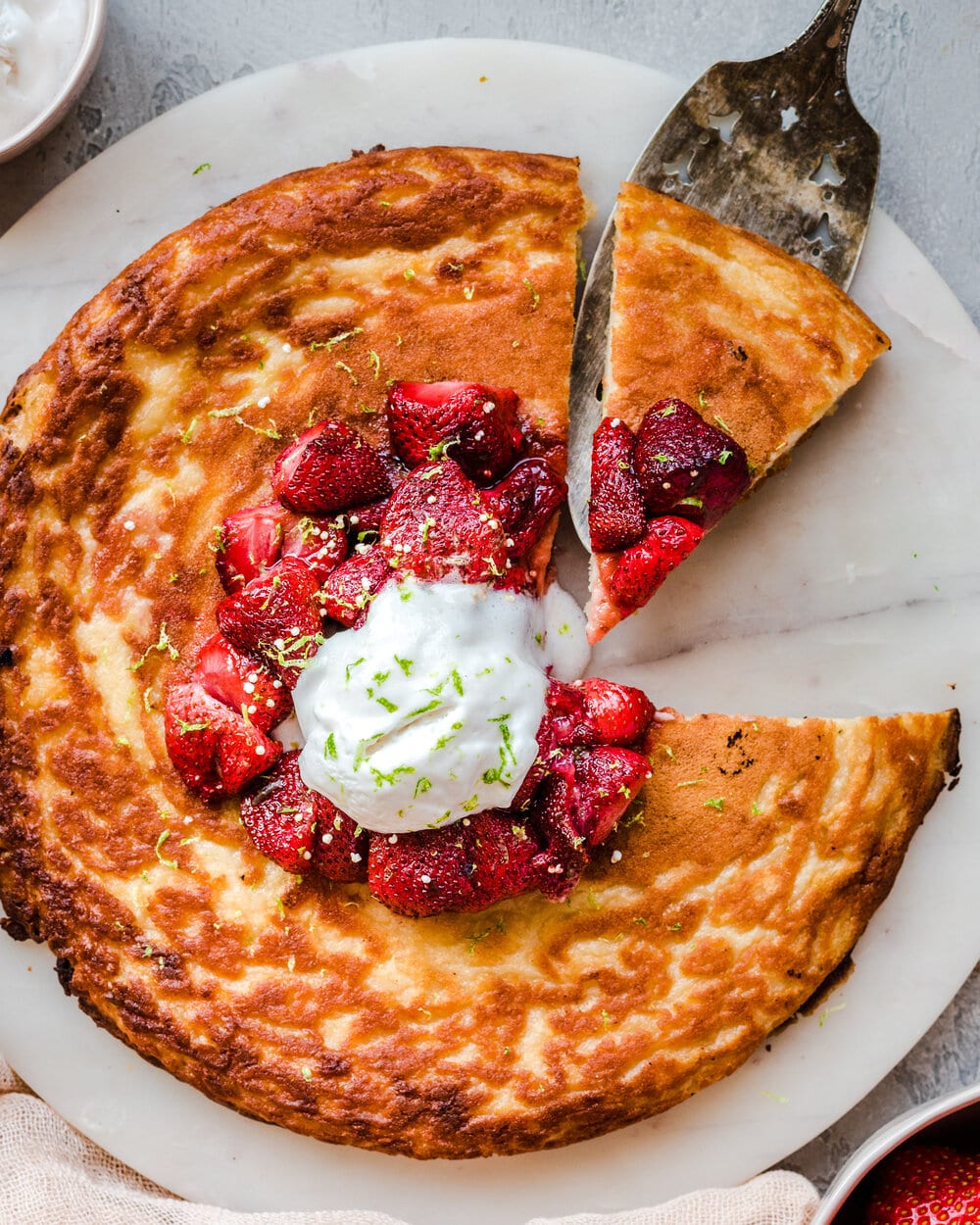 If you give this Vegan Dutch Baby with Roasted Strawberries recipe a try, be sure to tag me on Instagram with your recreations and please comment with your feedback below!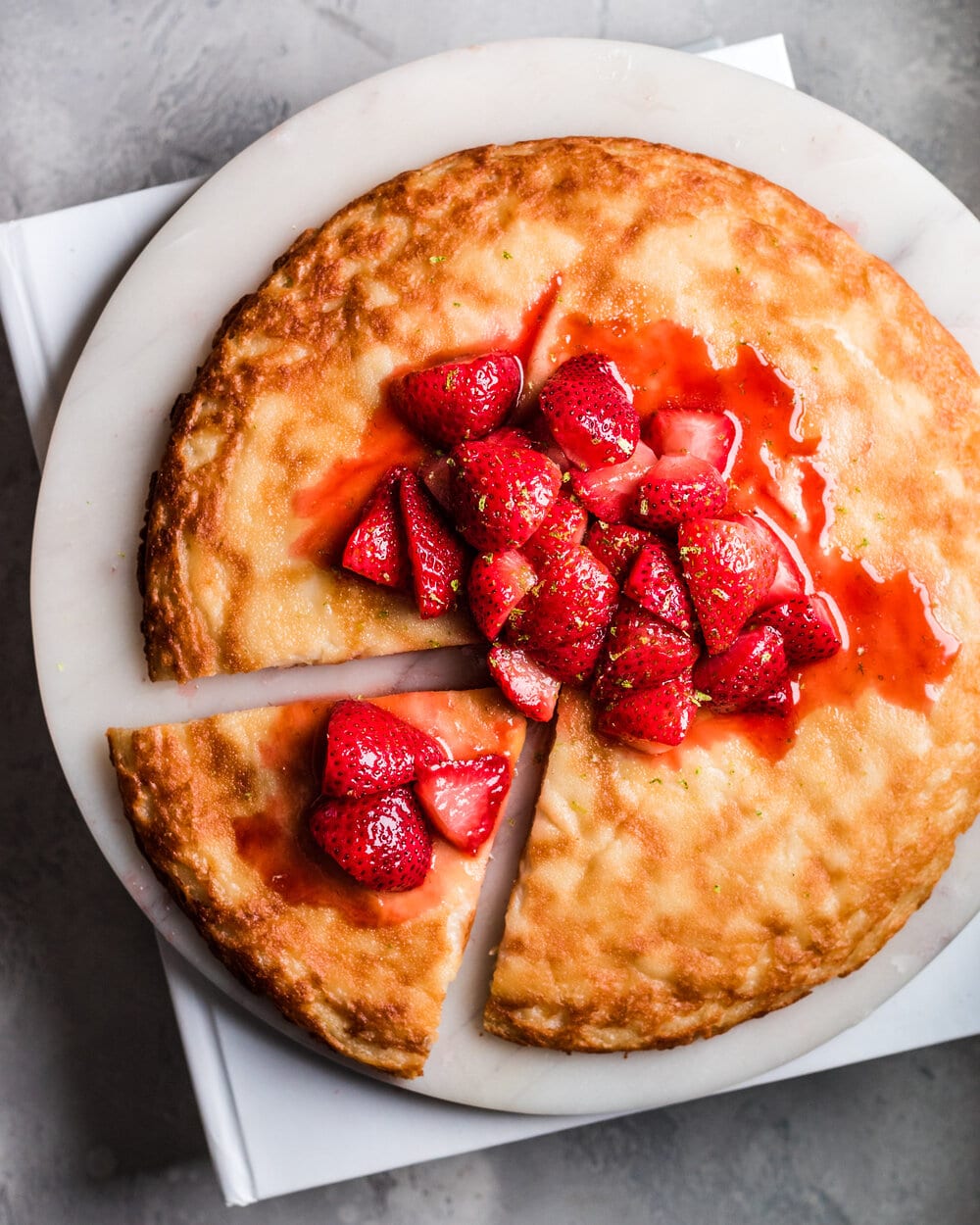 Vegan Dutch Baby with Roasted Strawberries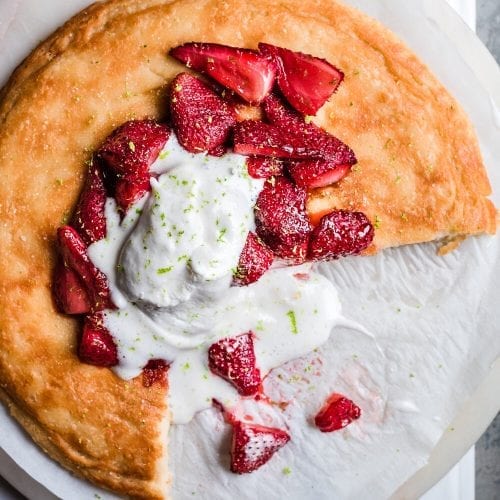 Inspired by a classic Dutch baby but made healthier and vegan, this crispy and flaky baked vegan pancake is the ultimate weekend brunch! Maple strawberries get roasted at the same time, making this an easy weekend brunch idea.
Ingredients
Dutch Baby Ingredients
8

tablespoons

(120 mL) aquafaba (liquid from a can of chickpeas)

3

tablespoons

vegan butter,

divided in half

3/4

cup

(180mL) plant-based milk (I use oat milk)

1/4

cup

(56g) silken soft tofu

2

tablespoons

(30mL) pure maple syrup

1 1/2

teaspoons

pure vanilla extract

1

tablespoon

fresh lime juice

3/4

cup

(90g) all-purpose flour

1/8

teaspoon

sea salt

1/2

teaspoon

baking powder

1/4

teaspoon

ground ginger
Maple Roasted Strawberries Ingredients
2

cups

fresh strawberries,

stems removed; keep whole, or cut large berries in half

2

tablespoons

pure maple syrup

1/2

teaspoon

pure vanilla extract

1

pinch

sea salt

A squeeze of lime juice and a bit of lime zest
Instructions
Dutch Baby Directions
Preheat the oven to 350°F or 175°C.

Melt 1 1/2 tablespoons of vegan butter in the microwave. Set aside the other 1 1/2 tablespoons of vegan butter.

Add the aquafaba to a blender and blend until the mixture is very foamy, 15-20 seconds

Pour the melted vegan butter into the blender with the aquafaba. Add the plant-based milk, silken tofu, maple syrup, vanilla extract and lime juice. Blend on medium-high speed until smooth and creamy.

Then add the flour, salt, baking powder, and ginger to the blender. Blend until well-combined and no lumps remain. Allow the batter to rest in the blender for at least 10 minutes (I usually let it rest for 20 minutes).

While the batter is resting, place a 10-inch cast iron skillet in the heated oven for 10-15 minutes.

Once the batter has rested, give it a final whir in the blender. Then remove the hot skillet from the oven and add the remaining 1 1/2 tablespoons vegan butter. Once the butter is melted and sizzling in the skillet, pour the pancake mixture into the pan and swirl the pan several times to cover the bottom and sides of the pan. Transfer the skillet to the pre-heated oven and bake for 35-40 minutes, until the top and sides are lightly golden brown and slightly puffed up. Mine takes exactly 35 minutes.

1. If desired, turn on your oven broiler and broil the Dutch baby for a minute or two for an extra golden, extra crispy crust.

Once done baking, carefully invert the pan onto a cutting board, or use a thin spatula to remove the Dutch baby from the skillet. Serve immediately with the roasted strawberries on top.
Maple Roasted Strawberries Directions
Line a rimmed baking sheet with parchment paper (for easy cleanup).

Add the strawberries to the lined sheet pan; then add the maple syrup, vanilla, and salt, tossing to coat all the berries.

Roast for 30-35 minutes, stirring halfway through (if possible) until the strawberries are very soft and juices are bubbling. Once out of the oven, squeeze just a little bit lime juice and sprinkle some lime zest on top of the berries.
---
Calories:
263
kcal
|
Carbohydrates:
43
g
|
Protein:
4
g
|
Fat:
8
g
|
Saturated Fat:
2
g
|
Polyunsaturated Fat:
2
g
|
Monounsaturated Fat:
3
g
|
Trans Fat:
1
g
|
Sodium:
228
mg
|
Potassium:
241
mg
|
Fiber:
2
g
|
Sugar:
20
g
|
Vitamin A:
504
IU
|
Vitamin C:
43
mg
|
Calcium:
136
mg
|
Iron:
2
mg