I spent the last 10 days eating my way through Europe, and while I thoroughly enjoyed it (my jeans are feeling much more snug), I kept thinking about all the pumpkin treats I wanted to make when I got back home. Like this Pumpkin Chocolate Chip Skillet Cookie!
I actually made this giant cookie before I went to Europe, but my plans to edit the photos and write the blog post while on vacation were overly ambitious. For one, I decided that a mostly work-free vacation was the healthy thing to do (yay!).
And even if I had wanted to get some work done, it would have been literally impossible. We walked 20,000-30,000 steps a day (not in proper walking shoes or sneakers, I might add), so by the time I returned to our Airbnb each night, I barely had enough energy to change into my pajamas, let alone write a blog post.
In sum, I am delivering this recipe to you a week later than my arbitrary, self-imposed deadline, but now that it's here, I hope you enjoy it!
Why you'll like this Pumpkin Chocolate Chip Skillet Cookie
Wholesome. This skillet cookie is vegan and gluten-free and made with wholesome ingredients like almond butter, pure maple syrup, coconut sugar, almond flour, and oat flour.
But Indulgent! Despite the wholesome ingredients, it tastes incredibly decadent! It's gooey and rich and has that perfect pumpkin spice flavor that everyone loves during fall. It's the best of healthy indulgence!
Easy to Make. This cookie skillet is simple to make and pretty foolproof. It needs just 25-30 minutes in the oven and you need wait only 10 minutes before digging into this deliciousness.
Part Cookie, Part Cake. This is a mashup between a giant cookie and a cake and, if you are like me, you can shove spoonfuls down your mouth while standing over the stove. If you are civilized, you can serve it on a plate.
Fall Perfection. Pumpkin and chocolate are the best fall baking duo. I could eat pumpkin chocolate anything – brownies, cheesecake bars, cookies, muffins, blondies, cake, pie…you name it! Bonus: it's sooo good served warm with a scoop of vegan vanilla ice cream!
Ingredient Rundown
Pumpkin. Naturally, there is pumpkin in this pumpkin cookie skillet. Be sure to use canned pumpkin puree (the only ingredient should be pumpkin), not pumpkin pie filling. I've been told that canned pumpkin can be hard to find outside of the U.S., so you can substitute cooked, mashed sweet potato or butternut squash/pumpkin.
But, homemade puree can be a bit more watery, so be sure to add your homemade puree to a fine mesh sieve to get rid of any excess water.
Coconut Oil. I tried to keep this recipe entirely free of added oil, but the texture ended up being significantly better with a bit of coconut oil (though the recipe still uses a relatively small amount of oil – just 1/4 cup).
I use refined coconut oil so that there's no coconutty taste that interferes with the pumpkin or chocolate flavors. If you don't have coconut oil, you can use any other oil (sunflower seed oil, grapeseed oil, or even a mild olive oil).
Almond Butter. This is the primary source of liquid fat in the recipe and the reason you don't need too much oil. Be sure to use a smooth and creamy variety (not a chunky or crunchy one), and don't think about using the dried almond butter bits from the bottom of the jar (save that for overnight oats!).
You could easily use cashew butter instead, or even try it with tahini!
Aquafaba: Aquafaba is simply the liquid leftover from cooked chickpeas, or the liquid in a can of chickpeas. Lightly whipping the aquafaba with an electric mixer, as is done in this recipe, acts as an egg substitute.
Almond Flour: This is one of the two alternative flours that helps keep this recipe gluten-free. I use a store-bought superfine almond flour, but it can be pricy, so here's a guide on how to make your own almond flour if you prefer.
Oat Flour: As with almond flour, you can make your own oat flour simply by grinding up rolled oats in a food processor until they are very finely ground. Luckily, store-bought oat flour is pretty inexpensive. Just be sure to use a certified gluten-free variety if you or anyone eating this is strictly gluten-free (while oats are naturally gluten-free, there might be some cross-contamination if not labeled certified gluten-free).
Pumpkin Pie Spice. I make my own pumpkin pie spice (the recipe is below), but this is the season for stocking up on pumpkin pie spice! Trader Joe's pumpkin spice is inexpensive, as is Whole Foods' 365 brand.
Vegan Chocolate Chips or Chunks. You can use dairy-free vegan chocolate chips or just take a bar of chocolate and chop it up into bite-sized chunks. I reserve a few extra tablespoons to sprinkle on the top before popping the cookie skillet into the oven. Because extra chocolate is always a good thing (and it aids with the presentation).
Tips for making this Pumpkin Chocolate Chip Skillet Cookie
Since this cookie skillet does not contain any real flour (only almond flour and oat flour), it's not going to have the same texture as a traditional cookie. It's more cake-like, with a soft, fluffy texture. When you take it out of the oven, the top should look pretty firm and a little golden, but when you dig into the cookie skillet, you'll see that the texture is still quite soft and gooey (those chocolate chips will practically melt into the batter)!
I used a 10-inch Le Creuset cast iron skillet, but any oven-proof 10-inch skillet should work. If you only have a smaller skillet (say, 8- or 9-inch), you'll want to bake the cookie skillet for a bit longer (perhaps 5 extra minutes) because it will be deeper.
This cookie skillet is best served warm. It's gooey and the chocolate chips practically melt into your mouth. This means it would be the perfect dessert to serve when you have a dinner party or guests over (or just a lot of mouths to feed). Of course, you can always warm up a slice in the microwave.
That's all you need to know about this Vegan Pumpkin Chocolate Chip Skillet Cookie, so happy baking, my friends!
Pumpkin Chocolate Chip Skillet Cookie (Vegan, Gluten-Free)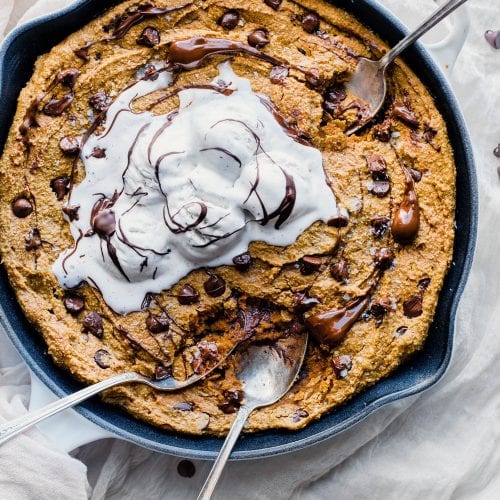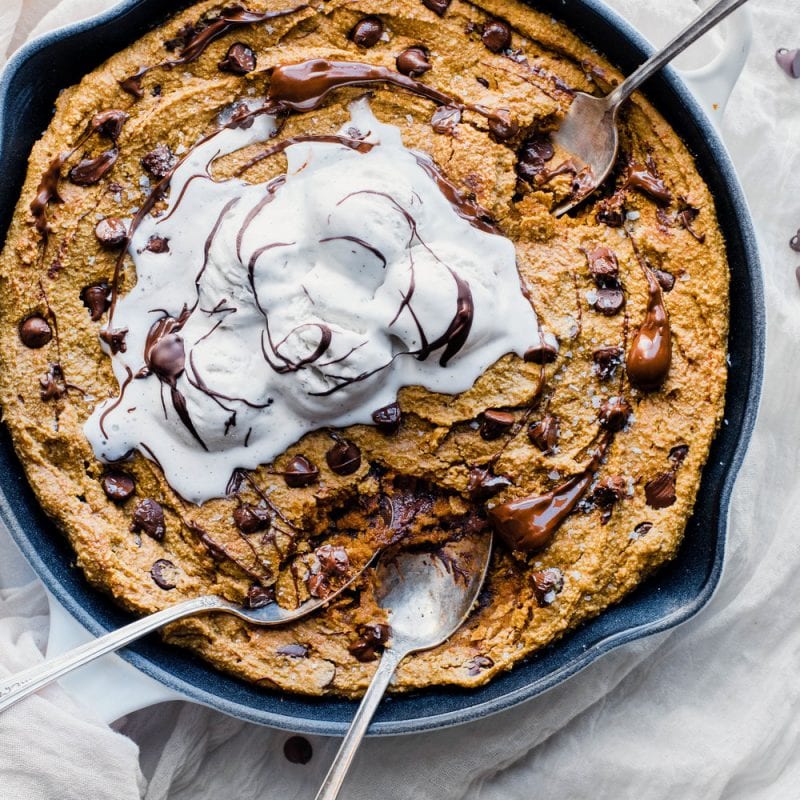 This vegan and gluten-free Pumpkin Chocolate Chip Skillet Cookie is basically a giant gooey pumpkin cookie. It's made with wholesome ingredients but tastes decadent, making it the perfect treat for fall baking and entertaining!
Ingredients
1/2

cup

creamy,

smooth almond butter or cashew butter

1/4

cup

refined coconut oil,

melted

1/3

cup

coconut sugar

(can substitute brown sugar)

1/3

cup

pure maple syrup

1/2

cup

aquafaba

(the amount in one 15-ounce can of chickpeas)

3/4

cup

canned pumpkin puree

(not pumpkin pie filling)

1 1/2

teaspoons

pure vanilla extract

1 1/2

cups

(168g) almond flour or almond meal

1 1/2

cups

+ 2 tablespoons

(150g) oat flour

1

tablespoon

pumpkin pie spice

(store-bought or homemade recipe below)

1/2

teaspoon

baking soda

1

teaspoon

baking powder

1/2

teaspoon

fine sea salt

1

cup

+ 2 tablespoons vegan chocolate chips,

divided (or 6 ounces dark chocolate, chopped into bite-sized pieces)
For serving
Flaky sea salt

Vegan vanilla ice cream
Pumpkin Pie Spice
1 1/2

teaspoons

ground cinnamon

1/2

teaspoon

ground ginger

1/4

teaspoon

ground cloves

1/4

teaspoon

ground allspice

1/2

teaspoon

ground nutmeg
Instructions
Preheat the oven to 350°F (175°C). Generously grease a 10-inch cast iron skillet or other oven-proof skillet with coconut oil or other cooking oil.

In a large mixing bowl, add the almond butter, coconut oil, coconut sugar, maple syrup. Using an electric mixer, beat until just combined, about 20 seconds.

In a small bowl, add the aquafaba and beat on medium speed for 60 seconds, or until it starts to get foamy. Add the aquafaba, along with the pumpkin and vanilla to the almond butter mixture and beat until just combined.

In another bowl, whisk together the almond flour, oat flour, pumpkin pie spice (store-bought or homemade), baking soda, baking powder, and salt. Switch to a wooden spoon and stir the dry ingredients into the wet ingredients until just combined, taking care to not over mix. The batter will be thick and soft.

Using a silicone spatula, fold in 1 cup of the chocolate chips. Transfer the cookie dough to the greased skillet. Top the cookie skillet with the remaining 2 tablespoons of chocolate chips.

Bake the cookie skillet for 25-30 minutes, or until the top is mostly firm on top. Allow the cookie to rest for 10 minutes before serving. The texture inside will be soft inside but don't worry, it is thoroughly cooked!

Sprinkle flaky sea salt on top and serve warm with vegan vanilla ice cream.
---
Calories:
447
kcal
|
Carbohydrates:
42
g
|
Protein:
11
g
|
Fat:
28
g
|
Saturated Fat:
11
g
|
Polyunsaturated Fat:
2
g
|
Monounsaturated Fat:
5
g
|
Cholesterol:
1
mg
|
Sodium:
258
mg
|
Potassium:
345
mg
|
Fiber:
6
g
|
Sugar:
18
g
|
Vitamin A:
2865
IU
|
Vitamin C:
1
mg
|
Calcium:
191
mg
|
Iron:
3
mg