One of my all-time favorite pasta sauces is Puttanesca. It's salty, spicy, chunky, and packed with umami, making it the perfect complement to any form of pasta (or gnocchi)! Traditional Puttanesca sauce, unfortunately, is not vegan, as it's made with anchovy fillets. The anchovies bring a strong umami punch, and since umami is my favorite taste to experiment with, I was excited to develop an umami-rich Vegan Puttanesca Sauce.
Another reason I wanted to develop a vegan Puttanesca sauce is that my partner decided to try a ketogenic diet last year. Luckily it didn't last too long (I say luckily because there's not a ton of overlap between vegan and keto diets), but I was inspired to develop vegan-keto recipes that we could both eat.
Oh, and the final reason I wanted to create a vegan Puttanesca sauce? There's a scandalous Italian fable behind this dish that makes me laugh but also makes me curious. According to some historians/tale-tellers, this sauce was created by Italian ladies of the night ("puttanesca" roughly translates to "lady of the night") who used the sauce's heavenly garlicky aroma to lure in customers. Other versions allege that it was a quick and easy enough dish for the women to cook in between visiting clients (that sounds weird) or that the women would prepare it for the clients to enjoy while waiting their turn at the brothel (also weird). Unclear what the actual story is, but how could I not want to recreate a dish with such storied history??
Now that we've covered the history, let's talk ingredients. As I mentioned, Puttanesca sauce is traditionally made with anchovies, along with capers, olives, tomatoes, garlic, and red pepper flakes. My version has all of those ingredients, minus the anchovies (obviously). To achieve the intensity of flavor found in anchovies (one of the richest sources of umami), I use a trio of ingredients: nutritional yeast, miso paste, and seaweed.
If that last ingredient threw you/confused you, don't worry – you don't have to collect some seaweed from the beach. I am talking about dried seaweed. I used Nori, but you could also use Dulse flakes if you have them. Nori is sold as thin sheets of a dried greenish-blue seaweed (usually edible red algae). It has a really long shelf life in the pantry and is available in Asian grocery stores, shops like Whole Foods, online, and is increasingly available at standard grocery stores. Dulse is another variety of seaweed and is commonly sold in dried flakes. It is salty and almost smoky (another umami superstar)! If you substitute dulse flakes for the Nori, use 1/2 tablespoon, taste, and add another teaspoon as desired.
The reason I add seaweed to this dish (just a little, btw) is because it adds those briny, fish-like umami notes that anchovies bring in the traditional version. While miso and nutritional paste also pack a hefty umami punch, only seaweed can bring the saltwater, fish taste. Of course, if you can't find Nori or Dulse flakes, feel free to omit them and follow the recipe as written. I have made the sauce without seaweed and it is still delicious and incredibly savory.
Aside from the strong, savory flavors in this dish that will excite your tastebuds, I also love this dish because it is easy and quick to make. Boil some water for gnocchi or pasta, and while the carbs are cooking, prepare the sauce. Dinner will be ready in 35 minutes!
One final note on the recipe: the amount of salt needed will depend on (a) if you use olives and (b) how salty they are. I recommend adding just a small amount (1/4 teaspoon kosher salt) and tasting along the way and/or seasoning at the end with additional salt as needed.
If you try out this Vegan Puttanesca Sauce, be sure to leave a comment below with your feedback!
Vegan Puttanesca Sauce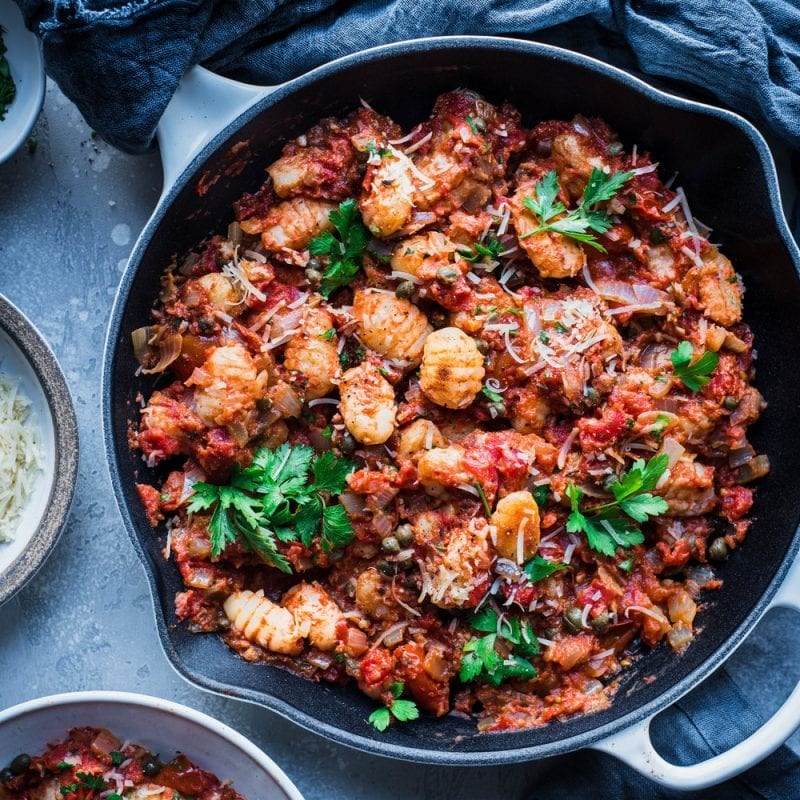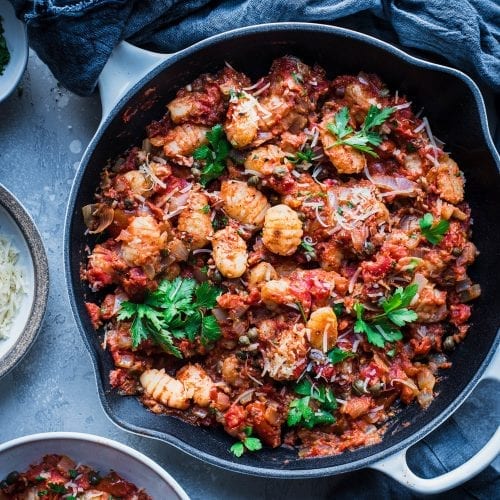 A vegan Puttanesca sauce that's just as savory and flavorful as the original, but without the anchovies.  It's also quick and easy, making it the perfect pasta sauce for a fuss-free weeknight meal.
Ingredients
1

tablespoon

olive oil

1

small yellow onion,

diced

4

garlic cloves,

minced

1

teaspoon

crushed red pepper flakes

(add more or less to taste)

1

tablespoon

chopped fresh thyme leaves

(or 1 teaspoon dried thyme)

1 1/2

teaspoons

dried oregano

1

cup

cherry tomatoes or grape tomatoes,

sliced

1/4

– 1/2 teaspoon kosher salt

1/2

teaspoon

freshly cracked black pepper

1

(28-ounce) can crushed tomatoes, preferably San Marzano

1/4

cup

capers + 1 tablespoon caper brine

(the liquid in a bottle of capers)

1/2

cup

olives,

sliced (if omitted, add a bit more salt)

2

tablespoons

mild white or yellow miso paste

1

tablespoon

nutritional yeast

1

large Nori sheet,

crumbled (optional)*

For serving

(optional): vegan parmesan, chopped Italian flat-leaf parsley
Crispy Gnocchi
1

17-ounce package potato gnocchi (check ingredients to ensure it's egg-free)

1

tablespoon

olive oil
Instructions
Heat up the olive oil in a Dutch oven or a large skillet over medium high heat. Once the oil is hot, add the onion and cook for 5 minutes, stirring occasionally, until softened. Add the garlic, pepper flakes, thyme, and oregano, and cook for 1 minute, stirring frequently.

Add the sliced tomatoes, salt, and black pepper, and cook until the tomatoes are starting to soften, about 2 minutes.

Pour in the crushed tomatoes, capers, caper brine, olives, miso, nutritional yeast, and crumbled Nori (if using). Bring the mixture to a boil. Then reduce heat to medium-low and simmer for 10-12 minutes until the sauce has thickened. Remove from heat and season to taste.

Serve the sauce over the crispy gnocchi (or cooked pasta), and top with vegan parmesan cheese and chopped parsley, if desired.

To cook the Crispy Gnocchi, bring a large pot of salted water to a boil and cook the gnocchi for 2 minutes (or the time indicated on the package instructions). Drain well and pat dry with a clean dish towel. Heat up the olive oil in a large skillet over medium heat, and once the oil is hot, add the cooked gnocchi in a single layer. Allow to sit undisturbed for 4-5 minutes, or until crispy and lightly browned in some spots. Flip the gnocchi and cook for another 5 minutes.
Notes
*See blog post for substitute options
---
Calories:
370
kcal
|
Carbohydrates:
66
g
|
Protein:
11
g
|
Fat:
9
g
|
Saturated Fat:
2
g
|
Polyunsaturated Fat:
1
g
|
Monounsaturated Fat:
5
g
|
Sodium:
1530
mg
|
Potassium:
784
mg
|
Fiber:
9
g
|
Sugar:
11
g
|
Vitamin A:
729
IU
|
Vitamin C:
32
mg
|
Calcium:
135
mg
|
Iron:
8
mg