While you might have tried a strawberry rhubarb pie or crumble, my favorite rhubarb combination is actually with raspberries. That's because both raspberries and rhubarb are quite tart, so even when paired with a generous amount of sugar, they make for a not-too-sweet dessert pairing. I also really love rhubarb with vanilla and almond, which is why I use both extracts in this cake recipe.
As for this cake, I'd describe it is a coffee crumb layer cake with a jammy filling. It's sweet but a little tart, tender and moist, and has wonderful textural variety. It starts with a simple vegan coffee cake, followed by a brown sugar crumb layer, and finally a perfectly tart-sweet raspberry-rhubarb compote.
If you don't have a lot of mouths to feed, you could easily cut this recipe in half and just serve it as a single layer cake. But then again, you'd be missing out on half the fun because there's nothing better than a big ol' fluffy slice of cake!
This coffee cake is quite simple to make – there's nothing particularly difficult about this recipe as long as you have a basic background in baking. It does call for a bit of vegan sour cream or yogurt, so be sure to bring that to room temperature (if you use cold sour cream or yogurt, it will be difficult to whisk up a smooth batter).
I used two 8-inch cake pans, but if you are using 9-inch cake pans, the cakes will be a bit thinner (more surface area), so you will likely need to bake them for a few fewer minutes than indicated in the recipe. Also, to get perfectly even cakes, I eyeball most of the cake batter into each pan, and then I put each cake pan on my kitchen scale to weigh them, allotting the remaining batter into each pan until they weigh the exact same weight.
And as for the crumble topping, it couldn't be simpler. Just mix together flour, brown sugar, salt, and cinnamon, and then cut in your source of fat. I used solid coconut oil for this recipe, but you can easily substitute vegan butter (if your kitchen is very warm, you may need to refrigerate your coconut oil in order to get it to solidify). I like to use a pastry cutter to cut in the coconut oil, but your fingers will work just fine if you don't have a pastry cutter.
The most difficult part of making this cake is getting the cakes out of the pans and onto a cake stand so you can assemble it (as is the case with any layer cake). That is, unless you have a cake lifter!
I recently purchased a cake lifter, and it has made it so much easier to bake and assemble layer cakes. I used to rely on pure luck and pray that my tiny rubber spatula would be sturdy enough to lift up and transfer an entire cake. At best, I ended up with cracks in my cakes; at worst, I cried over my completely broken, destroyed cakes.
If you bake cakes even a few times a year, a cake lifter is one of the few single-use kitchen gadgets that's well worth it.
Finally, for the raspberry rhubarb compote. Like this cake recipe, it's very simple to make. All you need to do is dice up some trimmed rhubarb and add it to a saucepan with frozen raspberries, lemon juice, and the sweetener of your choice. After 15 minutes of simmering, your compote will have thickened and be perfectly sweet but tart. You can use fresh raspberries if you prefer, but frozen raspberries work just as well here (maybe even better). Plus, fresh raspberries aren't cheap, so save those babies for the topping!
if you make this Vegan Raspberry Rhubarb Crumble Cake, be sure to leave me a comment below and tag me with your creations on Instagram!
Vegan Raspberry Rhubarb Crumble Cake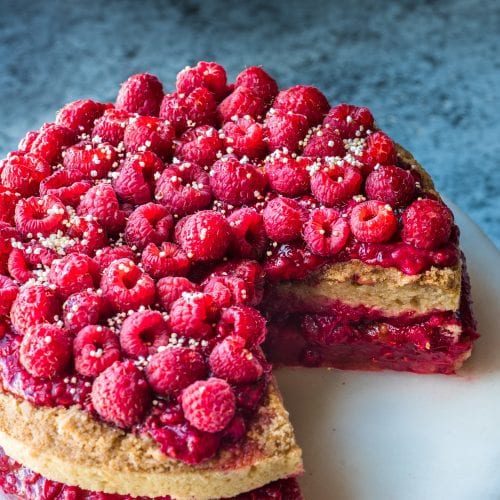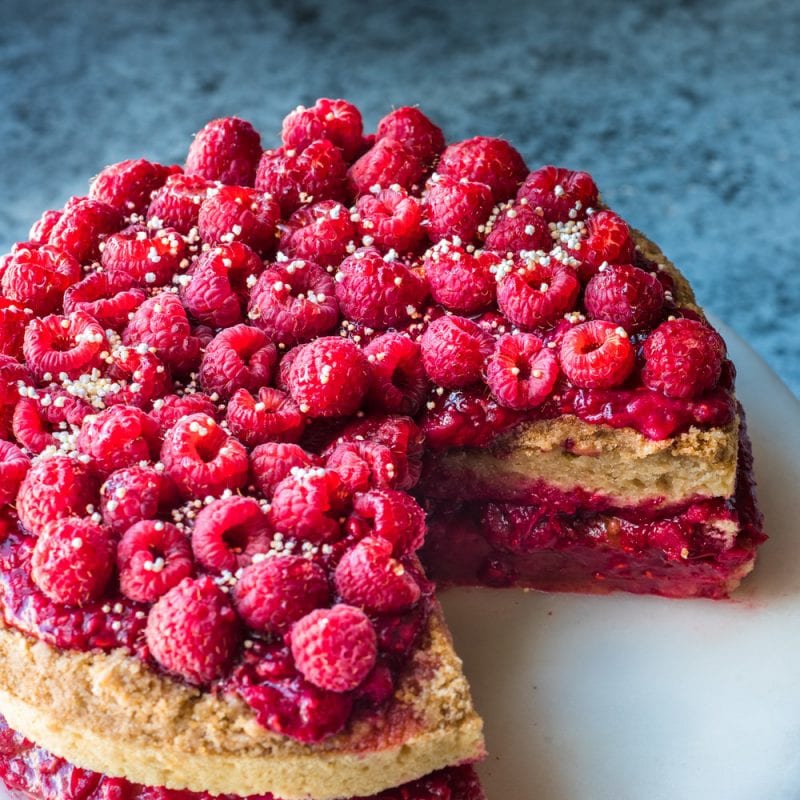 It's officially rhubarb season so it's time to make this Raspberry Rhubarb Crumble Cake! In case you're not familiar with rhubarb, it looks like celery, but celery that has been painted a beautiful shade of reddish-pink. Technically, rhubarb is a vegetable, but it's usually used as a fruit. It's quite bitter and sour, which is why you'd probably never eat it raw. And when cooked, it is very tart, so it's almost always paired with sugar in varying quantities (also the leaves are poisonous, so don't eat those).
Ingredients
Cake
3

cups

(~380g) unbleached all-purpose flour

1 1/2

teaspoons

baking soda

1

scant teaspoon fine sea salt

3/4

cup

(~140g) organic cane sugar

1/2

cup

(~96g) organic light brown sugar

1

teaspoon

ground cinnamon

1 3/4

cups

(~415 mL) unsweetened almond milk

1

tablespoon

+ 1 teaspoon apple cider vinegar

1/4

cup

vegan sour cream or vegan yogurt,

at room temperature

1/3

cup

extra virgin olive oil

2

teaspoons

pure vanilla extract

A few drops almond extract

(optional but recommended)

For topping: 1 cup fresh raspberries

(optional)
Crumble Topping
1

cup

(120-125g) unbleached all-purpose flour

2/3

cup

(~128g) organic light brown sugar (use 1/2 cup for a slightly less cake)

1/2

teaspoon

fine sea salt

2

teaspoons

ground cinnamon

1/4

cup

refined coconut oil

solid, at room temperature
Raspberry Rhubarb Compote
1

cup

diced rhubarb

1

cup

frozen raspberries

2

tablespoons

fresh lemon juice

3

tablespoons

organic cane sugar or pure maple syrup
Instructions
Preheat the oven to 350°F (175°C). Grease and line two 8-inch round cake pans (or 9-inch round cake pans) with parchment paper to make removal easy.

Combine the almond milk with the apple cider vinegar and set aside until it curdles like buttermilk.

Combine the flour, baking soda, salt, cane sugar, brown sugar, and cinnamon in a large mixing bowl.

In a medium mixing bowl, pour in the curdled almond milk, sour cream or yogurt, olive oil, vanilla, and almond extract (if using). Whisk together until smooth.

Pour the wet mixture into the dry ingredients, using a large wooden spoon to mix the batter, just until the ingredients are combined and no flour pockets remain. Avoid over mixing the batter, as it can cause the cake to become denser in texture.

In a medium bowl, make the Crumble: Mix together the flour, brown sugar, salt, and cinnamon and mix well. Add the solid coconut oil and mix it in with your fingers or a pastry cutter until well distributed and crumbly.

Pour the batter evenly between the two pans (I use a kitchen scale to weigh each pan to evenly distribute the batter). Sprinkle the Crumble evenly over both cakes.

Arrange the cakes in the middle rack of the oven and bake for 30-35 minutes until the center is set, and a toothpick inserted comes out with only a few moist crumbs.

Remove the cake pans from the oven and allow to cool for 10 minutes in the pan, then transfer the cakes to a wire rack to cool completely before inverting them onto the cooling rack.

While the cakes are cooling, make the Raspberry Rhubarb Compote. Combine the rhubarb, raspberries, lemon juice, and sugar or maple syrup in a medium saucepan over medium heat. Simmer, stirring occasionally, for 15 minutes until the compote is bubbly and thickened.

To assemble the cake: Spoon half of the compote over one cake layer, then place the second cake on top and spoon the remaining compote on top. If desired, top the cake with fresh raspberries.
---
Calories:
397
kcal
|
Carbohydrates:
71
g
|
Protein:
5
g
|
Fat:
12
g
|
Saturated Fat:
5
g
|
Polyunsaturated Fat:
1
g
|
Monounsaturated Fat:
5
g
|
Sodium:
444
mg
|
Potassium:
129
mg
|
Fiber:
2
g
|
Sugar:
37
g
|
Vitamin A:
16
IU
|
Vitamin C:
5
mg
|
Calcium:
91
mg
|
Iron:
2
mg