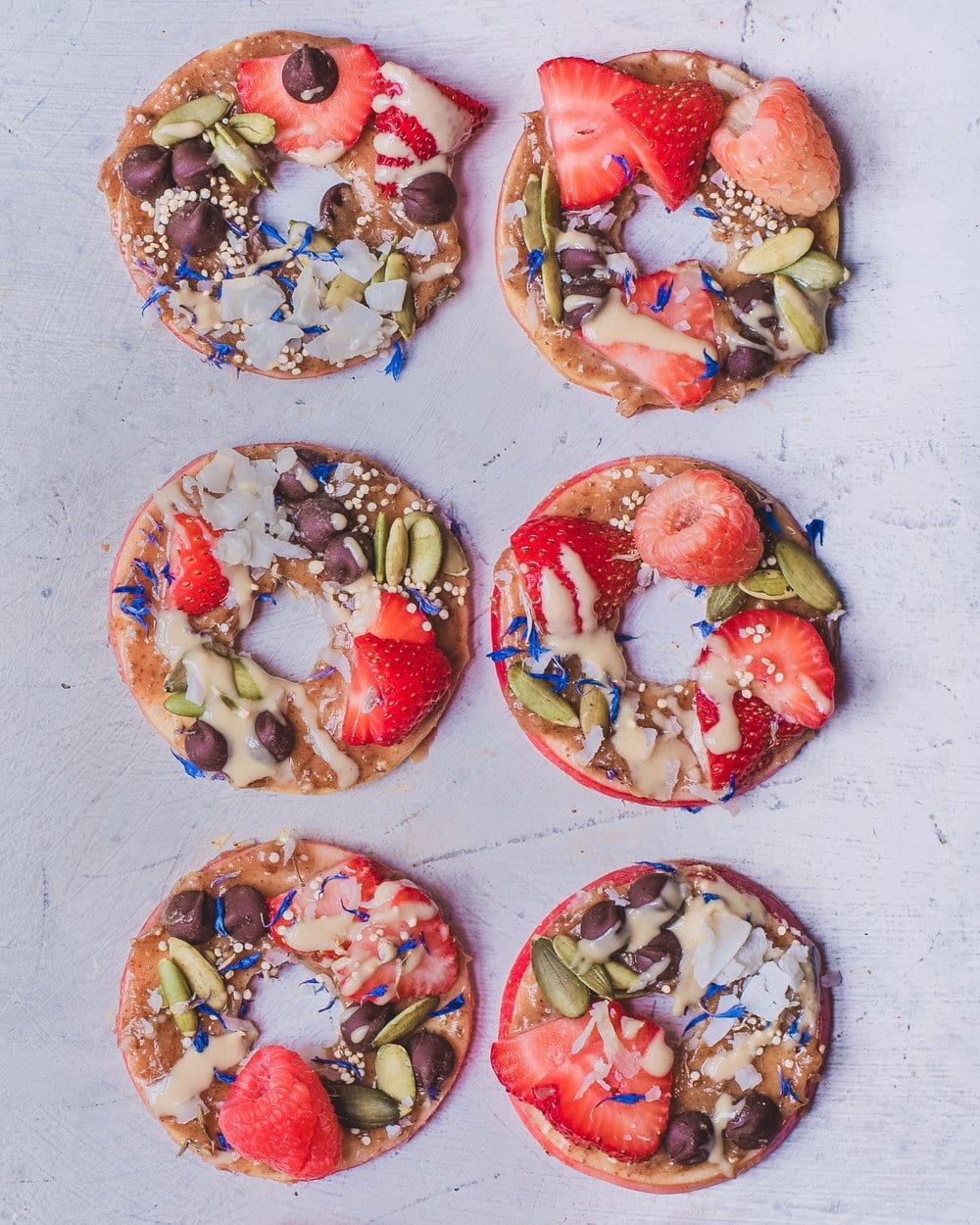 And second, I want to mention that, yes, I am fully aware that these aren't actual donuts, particularly given my storied history of traditional donut consumption. But, these apple slices are shaped like donuts and lend themselves quite well to sugary toppings, just like old fashioned donuts, so we will be calling them apple donuts.
To make perfectly round donut slices out of apples, I use this inexpensive apple corer that I bought on Amazon. Admittedly, my knife skillz aren't the best, so there's no way I'd be able to delicately core an apple without this tool. I've tried, and I basically ended up with chunky apple blobs (appetizing, no?), but if you have more delicate hands, you may have more success.
And for the caramel sauce, I'm happy to report that it's completely raw and requires nothing but a food processor. If you really want to make it even more decadent, you can heat it up on the stove for a few minutes before serving. In addition to lathering this sauce on apple donuts, I recommend you use it as a dessert dip for berries or any other fruit, as a replacement for maple syrup when you're eating pancakes or waffles, and as a topping for all kinds of ice cream. I am 100% confident you will love it.
Bon Appétit!
Salted Caramel Apple Donuts
Raw Vegan, Gluten-Free, Paleo
Ingredients
1 cup Medjool dates (if you don't have a high speed food processor, you may need to soak your dates for 10 minutes to soften them)

1/2 cup raw coconut nectar (I use this brand)

1/3 cup coconut milk

1/4 cup almond butter

1 teaspoon vanilla extract

Large pinch of sea salt

3-4 organic apples (I prefer really crisp apples like Fuji, Granny Smith or Pink Lady)

1-2 lemons, juiced

Toppings of choice: strawberries, raspberries, shredded coconut, crushed walnuts, pumpkin seeds, vegan chocolate chips, tahini, vegan whipped cream (some of these toppings are not Paleo – modify to suit your dietary needs).
Directions
In a high-speed food processor, add the dates, raw coconut nectar, coconut milk, almond butter, vanilla extract and sea salt. Blend on high until the mixture is smooth, creamy and thick. You may need to scrape down the sides as you go. Taste for salt and additional salt to your taste.

If desired, heat the salted caramel sauce in a saucepan over medium-low heat until warmed through.

For apple donuts, remove apple core using apple corer or a paring knife. Then slice into rounds that are approximately 1/4 – 1/2 inch thick.

Soak the apples in a lemon juice water mixture to prevent them from browning. Use 1 tablespoon of lemon juice for every 1 cup of water that you need. Soak the apples for 10 minutes and then pat dry with a paper towel.

Dip the apples into the salted caramel sauce. Then add your desired toppings. Place in the refrigerator for 10-15 minutes in order to firm up before enjoying.