When I used to live in California, I could eat strawberries any time of the year, and I did just that. Sadly for those of us on the East Coast, strawberry season is fairly short, which makes it all the more important to really enjoy them while they last.
Over the last two weeks, I have bought a basket (or two) of strawberries every time I've been remotely near a farmer's market (for reference, I am within walking distance of a farmers market at least four times a week). Unsurprisingly, I have ended up with a surplus of strawberries in my kitchen because I can only eat so many in a day. And that's how I decided to make this Strawberries and Cream Tart! And then I decided to make a cheesecake with fresh strawberry sauce! And I'm also planning to make some strawberry muffins later this week!
Now that I've raved all about strawberries, let's talk about this recipe, shall we? It starts with a simple but delicious tart crust made with oat flour and almond flour. If you don't want to purchase either of these flours or cannot find them in stores near you, you can make your own! For oat flour, simply place 3/4-1 cup of rolled oats in a food processor and blitz until the oats have been pulverized into a fine powder (then measure out the 3/4 cup flour called for in the recipe).
To make almond flour, I'll let you check out this helpful guide.
This crust is made with naturally gluten-free ingredients, but if you are or someone you are feeding is very intolerant to gluten, be sure to use certified gluten-free oat flour.
The remaining ingredients for the crust are fairly straightforward and the method is incredibly simple. Just add all of the ingredients (minus the coconut oil) to a food processor and blitz, and stream in the oil with the motor running until your dough slightly sticks together.
If you don't want to get the food processor dirty, you can instead stir all of the ingredients together in a bowl using a wooden spoon. But you will need to use the food processor for the cream filling, so you'll be doing some dishes with either method.
For the crust, you will need a tart pan with a removable bottom. I used my 14×4 inch rectangular tart pan, but you can easily use a round 9-inch tart pan instead. To press the crust into the tart pan, I find it helpful to first press it into the fluted sides of the pan before moving onto the bottom of the pan. This exercise can take 10-15 minutes if you want the crust to look even and pretty.
While the crust bakes, you can get started on the cream filling. The cream filling is light and creamy and full of lemony pizazz! And when paired with fresh strawberries, it is the perfect taste of summer in one bite!
The only prep work required for the filling is to soak the cashews in boiling water for 1 hour. This step is essential to soften the cashews, which helps create that ultra-smooth and creamy texture. You can, of course, soak the cashews in room temperature water for 8 hours or overnight, but the quick boiling soak method works well too.
The cream filling is as easy to make as the crust. Just add a handful of ingredients to a food processor and blend until creamy. To get an ultra creamy yet light texture, I pair raw cashews with silken soft tofu. If the sound of tofu in a dessert sounds weird to you, I promise you won't be able to tell you're eating tofu! The taste is completely neutral, and when the tofu gets blended up, it has this lovely silky texture.
To sweeten the filling, I used agave nectar instead of maple syrup (my usual go-to sweetener). This is because agave has a neutral taste and its light flavor is the perfect complement to the zingy lemon. In contrast, maple syrup's robust flavor might slightly overwhelm the lemon and strawberries. And second, if you care about appearances, maple syrup is dark enough that it might change the color of your filling from white to light brown. If you're only concerned about taste and want to go with the healthiest option, then go ahead and use maple syrup and you'll be just fine.
Finally, to help thicken up the filling, I add a slurry of arrowroot powder with plant-based milk. Typically, you would add this kind of thickener to a hot mixture, but the slurry does add some thickening power to cold mixtures like this, especially after the tart has chilled for several hours. And if you don't have arrowroot powder, you can use cornstarch.
Once the crust has cooled, you'll add about half of the cream filling to the tart shell and then freeze the tart to help set it (it should take about 45 minutes). Once the filling has set a bit, addd a layer of sliced strawberries on top, followed by the remaining cream filling and the remaining strawberry slices. Then the tart goes back into the freezer (or in the refrigerator) until it is fully set. If you freeze the tart, it will have a firmer texture, almost like an ice cream cake. If you refrigerate it, it will have a softer, smoother texture and will be a bit more loose.
This is a strawberries and cream tart because, well, it's strawberry season and strawberry and lemon go phenomenally together, but if you want to get crazy and add some different types of berries, you can totally do that as well!
If you make this tart, be sure to tag me on Instagram so I can see your recreation!
Vegan Strawberries and Cream Tart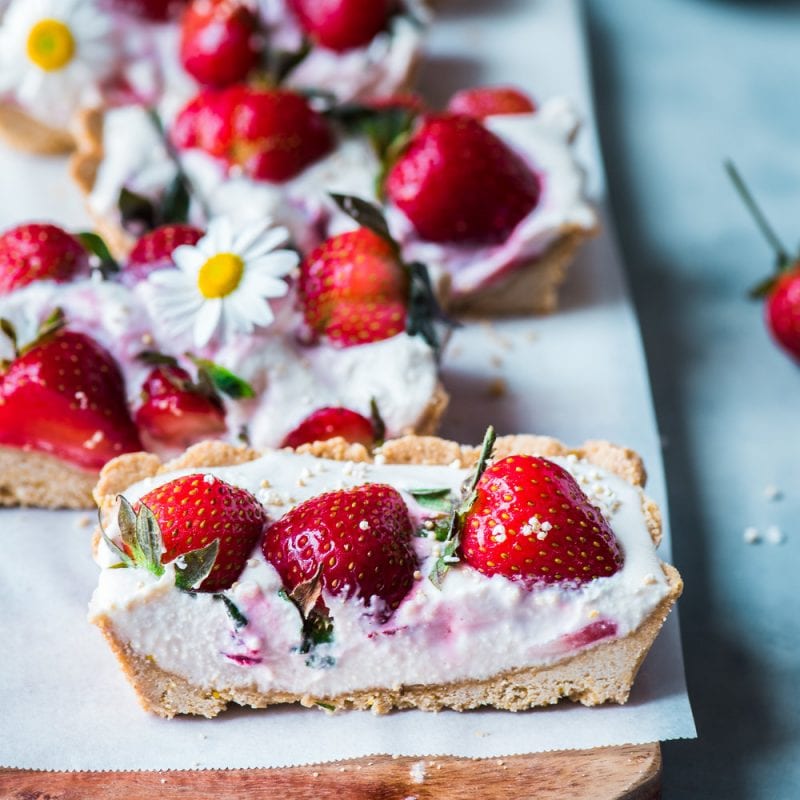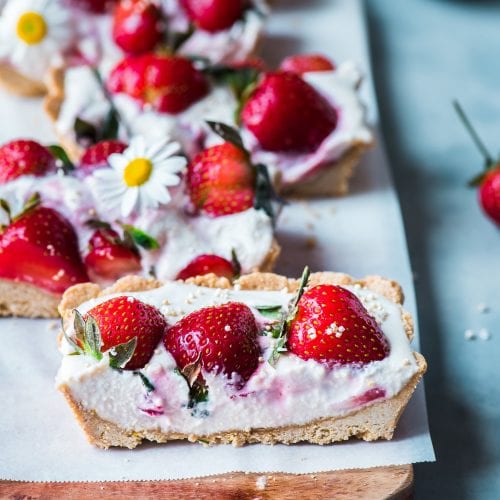 Strawberry season has finally graced us and I am so excited to be sharing the first of several strawberry desserts with you! This Vegan Strawberries and Cream Tart is light yet creamy, refreshing yet indulgent, and is the perfect easy summer treat!
Ingredients
Crust
Coconut oil or nonstick cooking spray for greasing the pan

3/4

cup

gluten-free oat flour

3/4

cup

blanched almond flour or almond meal

1/4

cup

corn flour

(optional but I like the texture it adds; you can substitute more oat flour)

2

tablespoons

arrowroot powder

(or cornstarch)

2

tablespoons

pure maple syrup

1/4

teaspoon fine sea salt

3

tablespoons

melted coconut oil

(use refined if you don't want a coconutty taste)

1

teaspoon

pure vanilla extract

Few drops almond extract

optional but adds a nice cherry-like flavor
Cream Filling
1

cup

raw cashews

(soaked in boiling water for 1 hour (or soaked in room temperature water overnight))

1/2

cup

silken soft tofu

1

small lemon,

zested

1/3

cup

lemon juice

(about 2 lemons)

1/2

cup

agave nectar

(or pure maple syrup, but will have a less neutral taste)

1/8

teaspoon

fine sea salt

1

teaspoon

pure vanilla extract

1

tablespoon

arrowroot powder

1

tablespoon

almond milk or other plant-based milk + more as needed
Topping
2

cups

fresh strawberries,

hulled and sliced
Instructions
Soak the cashews in boiling water for 1 hour, then drain.

Preheat the oven to 350ºF (175ºC).

Prepare the crust: In a food processor, add all of the ingredients except for the coconut oil and pulse to combine. Pour in the coconut oil with the motor running, adding more as needed until the crust comes together and is slightly moist so that it sticks together when you press it with your fingers.

Lightly grease a rectangular (14"x4") tart pan with a removable bottom (or a 9-inch round tart pan with a removable bottom) with coconut oil or cooking spray. Press the crust mixture into the sides of the tart pan and then move onto the bottom of the pan, smoothing out with your fingers or a flat-bottomed glass. Place the tart pan on a baking sheet and bake in the preheated oven until it is golden-brown, about 22-25 minutes. Cool completely before adding the filling.

To make the cream filling: Drain the soaked cashews and add them to the food processor. Add the tofu, lemon zest, lemon juice, agave nectar, salt, and vanilla, and blend until smooth and creamy, scraping down the sides as needed.

Stir together the arrowroot and the almond milk to make a slurry. Add the slurry to the cream filling and blend to combine.

Pour a little less than half of the cream filling into the tart shell, using a rubber spatula to smooth out the surface. Place the tart in the freezer to set, about 45 minutes. Refrigerate the remaining cream filling in the meantime.

After the tart has set, top the cream filling with a layer of the sliced strawberries. Pour the remaining cream filling on top of the strawberries and top with the remaining strawberries. Chill the tart (either in the fridge or the freezer, depending on your desired texture – see notes above) until it is firm enough to slice, at least 2 hours, or overnight.
---
Calories:
347
kcal
|
Carbohydrates:
39
g
|
Protein:
8
g
|
Fat:
19
g
|
Saturated Fat:
6
g
|
Polyunsaturated Fat:
2
g
|
Monounsaturated Fat:
5
g
|
Sodium:
118
mg
|
Potassium:
259
mg
|
Fiber:
3
g
|
Sugar:
16
g
|
Vitamin A:
6
IU
|
Vitamin C:
27
mg
|
Calcium:
55
mg
|
Iron:
2
mg