Last week, I mentioned that I am trying to be more budget-conscious with my grocery shopping. And one of the methods I'm starting to implement is reducing my food waste. Just as it's not easy being a food blogger on a grocery budget, it's also not easy being a food blogger who produces minimal food waste. Food waste comes from recipes that don't work, testing too many recipes and having too much food around, losing ingredients in an overstuffed fridge and pantry only to repurchase them later.
But reducing food waste is not impossible! There is plenty of inspiration on the interwebs, including two friends of mine whose work I really recommend checking out: Christine of @consciouscooking, who has started an inspiring movement to reduce plastic usage, and Sara of @shisodelicious, who started a minimal waste challenge a few months and is still going strong.
Having access to wonderful farmers markets in New York City is definitely a blessing and will undoubtedly help my mission to reduce food waste. First, at a farmers market, you'll find very little, if any, packaged food (packaged foods are often unnecessary purchases that I buy because, well it seems nice to have them). Second, when you buy locally grown, seasonal food, it's almost always going to taste better than traditional produce that's been grown thousands of miles away and then shipped in refrigerated cartons to grocery stores. For me, at least, this knowledge makes me more excited to use up that produce than to let it go to waste.
Finally, at most farmers markets, you can buy lots of vegetables and fruits in bulk that might not be sold individually at grocery stores, and farmers never wrap their produce in plastic packaging, as many grocery stores do. Of course, you have to remember to bring your own reusable produce bags and totes to the market so you don't pack your produce in the plastic bags offered at most stalls. I have started getting in the habit of putting a few reusable produce bags inside my tote and carrying that in my larger purse. It barely takes up any space!
On a recent trip to the Union Square green market (which is possibly the best farmers market in the country!), I bought a load of fresh veggies without any idea of what to do with them. I often don't have a clear idea of what recipes I want to try when I go to the farmers market, but instead let the produce I find inspire me. In contrast, when I go to the grocery store, I always walk in with a list and usually have a clear picture of the recipe(s) I am going to make.
I came back from this recent trip with an assortment of greens, rainbow carrots, baby potatoes, Easter radishes, shallots, and my favorite spring treasure—asparagus.
After bringing home the veggies and lining them up together, I settled on making a spring salad that would be perfect for a picnic. Light but not insubstantial. As I was peeling the carrots and cutting the radishes, I realized that the beautiful carrot and radish tops would be much better off in a pesto than in the trash. So I also made a carrot and radish top pesto to dress the salad!
At first, I was a bit skeptical about using greens that are typically discarded for this pesto, but I was pleasantly surprised by how delicious this pesto came out. In case you don't already know this, carrot tops are quite delicious, even if you're not a mission to reduce food waste. They have a sweet, earthy flavor (not surprising since carrots have the same flavor)!
Radish tops have a more pungent, peppery flavor and add a nice dimension to this pesto. Since radish greens don't stay fresh for long, maximize their freshness by separating them from the roots as soon as you bring them them home and wash/store them as you would other salad greens.
Thanks to the avocado (the only vegetable in this salad that doesn't come from the farmers market), the pesto gets incredibly creamy and lush. To minimize waste, half of the avocado goes into the pesto, and the other half gets sliced up for the salad. Plus, the addition of fresh mint gives this pesto a sprightly and fresh coolness that helps balance the pungency of the radish greens.
This pesto features both lemon juice and lemon zest for an extra zippy, bright spring flavor. And while lemons are not locally grown in New York, I did use all of the zest and all of the juice of the lemon so there was zero waste.
The salad itself is quite simple. The main ingredients are boiled baby potatoes and steamed asparagus, the latter which helps make this salad feel a bit more substantial. Toss the potatoes and asparagus in the pesto until they're well coated (you'll have leftover pesto). Then mix the potato-asparagus salad with the remaining ingredients: carrots, which I shave into beautiful ribbons; radishes, which I slice thinly; a generous serving of salad greens (you can use any variety you like); the remaining avocado; and fresh mint leaves.
If you try out this recipe or make something zero waste from your local farmers market, be sure to tag me on Instagram or leave a comment below!
Healthy Picnic Salad with Carrot Radish Top Pesto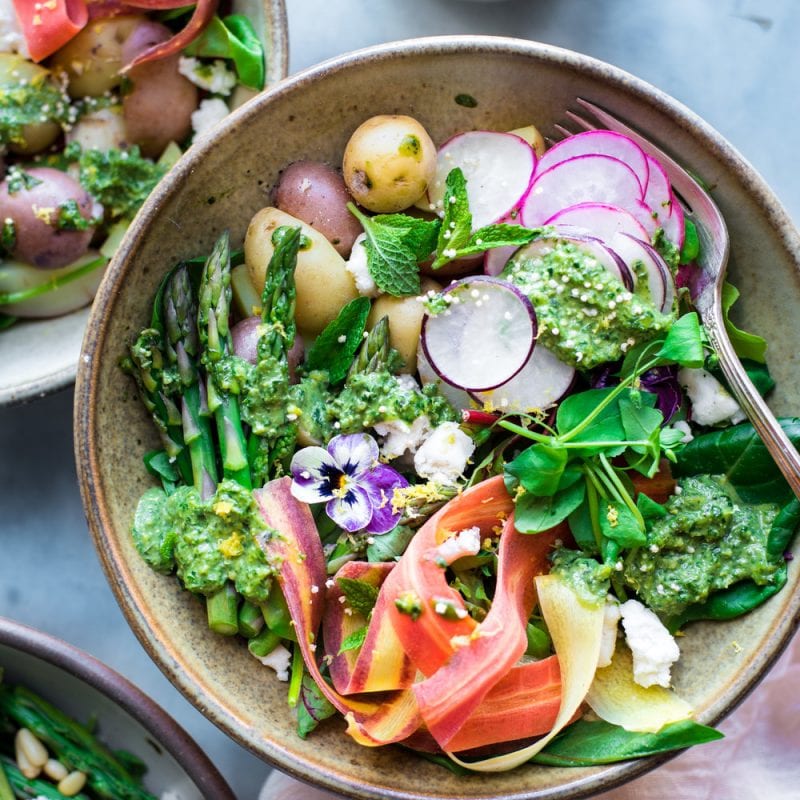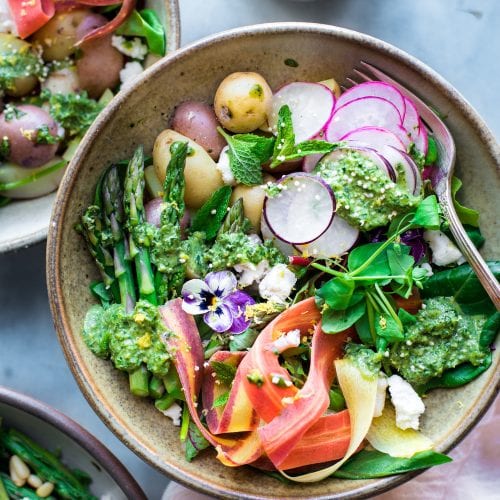 This Healthy Picnic Salad with Carrot & Radish Top Pesto is a light and refreshing salad that's perfect for picnics! Boiled baby potatoes and steamed asparagus get paired with pesto made of carrot and radish tops, making for a healthy zero-waste meal.
Ingredients
Spring salad
1

pound

baby potatoes or fingerling potatoes

1

bunch of asparagus

Greens of choice

(I used a mix of greens from the farmers market)

1

small bunch of radishes

(reserve the tops for the pesto)

1

small bunch of carrots

(reserve the tops for the pesto)

1/2

of a large avocado

(reserve the other half for the pesto)

1

small bunch of fresh mint,

leaves only (reserve a bit for the pesto)
Carrot and Radish Top Pesto
Tops from one small bunch of carrots

Tops from one small bunch of radishes

Leaves

from 3-5 fresh mint sprigs

1/2

cup

pine nuts,

or other nuts of choice

1

small shallot,

peeled and roughly chopped

1/2

of a large avocado

A few pinches of kosher salt and black pepper

1

small lemon,

zested and juiced

1/4

cup

extra virgin olive oil
Instructions
Fill up a medium or large saucepan with the potatoes and add enough water to cover them. Place over medium-high heat and bring the potatoes to a boil. Once boiling, reduce the heat to and simmer the potatoes until they are just tender, about 14-16 minutes. Use a slotted spoon to transfer the potatoes to a cutting board to allow to cool slightly. Reserve 1-2 inches of the cooking water and drain the rest. Prepare an ice bath (a large bowl of water with ice).

Trim the asparagus of its woody, bitter ends. I like to snap them below their natural snap point to waste less of the vegetable. Bring the water back to a boil and place a collapsible steamer inside the saucepan (make sure it fits the saucepan you're using). Place the asparagus in the steamer basket, cover, and steam until crisp-tender, about 4 to 5 minutes. Transfer the cooked asparagus to the ice bath to prevent them from overcooking. Drain the asparagus.

While the potatoes and asparagus are cooking, prepare the rest of the vegetables. Use a wide Y-shaped vegetable peeler to shave the carrots into ribbons. Thinly slice the radishes and the avocado. Add the carrot ribbons, radish slices, avocado, and fresh mint leaves to the salad greens.

To make the pesto (I make it while the potatoes are cooking), place all of the ingredients except for the extra virgin olive oil in a food processor and blend until a paste starts to form. With the motor running, drizzle in the olive oil until a creamy, smooth texture comes together. It should be slightly thicker and creamier and less oily than traditional pesto. If you want it a little thinner, you can add a spoon or two of water (or more olive oil).

Toss the cooked potatoes and asparagus with the pesto until well-coated (you will have leftover pesto). Serve the pesto potato-asparagus salad on top of the salad green mixture and serve. Store the remaining pesto in a airtight glass jar in the fridge for 5-6 days.
---
Calories:
469
kcal
|
Carbohydrates:
42
g
|
Protein:
9
g
|
Fat:
33
g
|
Saturated Fat:
4
g
|
Polyunsaturated Fat:
8
g
|
Monounsaturated Fat:
18
g
|
Sodium:
97
mg
|
Potassium:
1397
mg
|
Fiber:
12
g
|
Sugar:
9
g
|
Vitamin A:
15178
IU
|
Vitamin C:
49
mg
|
Calcium:
89
mg
|
Iron:
5
mg