This post is sponsored by ALDI USA. Thank you for supporting the brands who help make my work possible!
I have never been one for New Year's resolutions. For one, they are typically unrealistic (e.g., cut out sugar forever) and lack clarity (e.g., does sugar include fruit? Is it refined sugar only? There must be exceptions for birthday cake, right??).
And two, the ease and speed with which most of us break these resolutions points to their very problem. They are unreasonable and demanding and make us feel crappy about ourselves once we don't meet those inherently unmeetable expectations.
Instead of resolutions, I prefer to create attainable intentions about how I want to evolve and improve a few areas in my life (e.g., physical health, friendships, work). For instance, instead of "I resolve to eat healthy this year," I might say "My intention is to eat something green at least once a day" and "My intention is to spend 1-2 hours every Sunday meal prepping for the week."
And if you're one of the many millions of people who intends to eat healthier in some form this year, you should be aware of some of the hurdles that will pop up along the way and how you can overcome them.
First there's time, or lack thereof. Who has time to cook a healthy meal from scratch every night after a long day at work?? And two, there's planning, or lack thereof. Ordering in a pizza seems much easier than figuring out how to prepare that giant celery root you bought on a whim.
Of course, there's also the temptation of seeing those giant glazed donuts every time you pass by the office kitchen, but that's an obstacle for a whole different blog post.
Luckily, there is one strategy that can consistently help you overcome those two stumbling blocks, and that's the subject of today's post: MEAL PREP!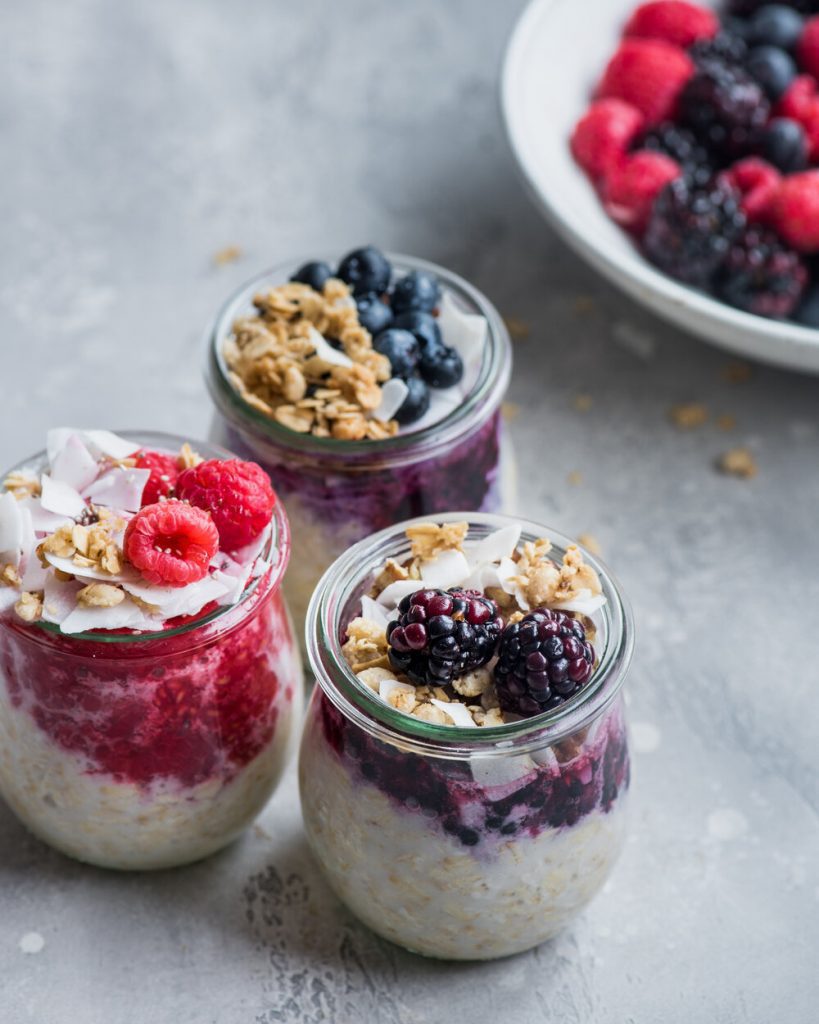 Sure, meal prepping does take time, but it doesn't have to take that much time. Just a couple hours on a Sunday afternoon that would otherwise be spent scrolling the gram or watching Netflix is enough time. Plus, those few hours you spend on Sunday mean you can quickly throw together healthy meals in 0-10 minutes during the week.
Below you'll find some easy vegan meal prep ideas that will not only help you eat healthy throughout the week but also give you back time on those busy weeknights. So you can watch Netflix, guilt-free. Or, you know, do something noble, like spend more time with your kids or work on those rock hard abs.
But before you do the meal prepping part, you gotta do the planning part. And that involves taking a trip to the grocery store and deciding how you're going to prep those ingredients.
Grocery Shopping and Stocking a Plant-Based Fridge
Before you even get to the grocery store, I recommend making a grocery list (studies show that those who make grocery lists tend to eat a healthier diet).
I like to break up my list into categories based on the major food groups I tend cook with (e.g., vegetables, fruits, proteins, grains, condiments, etc.) and then build it out from there with specific items under each category (e.g., spinach, butternut squash, cauliflower, potatoes, etc.).
Here's a look at what I stocked my fridge with when I visited my local ALDI grocery store. When I posted a sneak peek of my fridge to my Instagram Stories a few weeks ago, I got so many replies that said "fridge goals!"
To turn your fridge into fridge goals with lots of wholesome, organic products that won't cost a fortune, be sure to head to your local ALDI (yes, even the organic produce is affordable)!
I will let my beautifully stocked fridge do most of the talking, but here's a bit more about some of the items from my grocery haul.
Produce
Simply Nature Organic Chopped Kale. If you know me and/or watch my Youtube channel, you know I eat a lot of kale. Since it's one of the vegetables regularly on the Environmental Working Group's Dirty Dozen list, I always prioritize buying it organic.

Cara Cara oranges. Winter is the peak season for citrus fruits, and my favorite is the Cara Cara orange (very sweet, slightly tangy), so I was excited to snag these!

Organic blackberries, raspberries, and blueberries. ALDI has an incredibly affordable selection of organic berries, which is why you see four baskets of berries even though it's midwinter and every other store is selling them for $6 a pint.

Organic apples. One of my go-to healthy snacks is an apple (a day) with some nut butter and cinnamon. As with kale, apples are always on the Dirty Dozen, so I choose organic.

Bell peppers. I roasted these and added them to a big ol' bowl of pasta.
Condiments
Simply Nature Organic 100% Pure Avocado Oil. I love the subtle nutty flavor and buttery texture that avocado oil brings. The fact that it's loaded with heart-healthy monounsaturated fats and has a high smoke point (520ºF!) are extra bonus points.

Simply Nature Organic Creamy Peanut Butter. The organic creamy peanut butter from Simply Nature is made with just peanuts and sea salt (no oils or sugars) so when you eat it by the spoonful, don't feel guilty—you're doing your heart a favor.

Simply Nature Organic Coconut Oil. I add a bit of coconut oil to my golden milk lattes (the fat helps activate the curcumin found in turmeric, making it more bioavailable for your body to absorb). I also regularly use it in my baked goods and curries.

Chef's Cupboard Vegetable Stock. Essential for all those soups, stews, and curries I make to keep warm during winter.

Simply Nature Organic Tomato & Basil Pasta Sauce. Did I mention I love pasta?

Simply Nature Organic Extra Virgin Olive Oil. My go-to oil in the kitchen, my main squeeze, my ride-or-die, a pantry essential I can't live without. And while EVOO can be pricy, this organic extra virgin olive oil from Simply Nature is one that won't break the bank.
Once your fridge is loaded with healthy fresh ingredients and you've stocked up on some everyday pantry staples, it will be much easier to come up with delicious, even creative ideas for your weekly meal prep. To get you started, here are some fuss-free ideas for incorporating a healthier vegan meal prep into your life this year.
Healthy Meal Prep Ideas
Vegetables 
Kale
For cooked kale, I like to sauté a big batch and use it to round out a variety of quick meals. I picked up a giant 12-ounce bag of organic chopped kale at ALDI, which means I will be eating lots of greens this week (and more greens means I get to eat more chocolate, right?).
To sauté kale, I heat up a frying pan with a bit of olive oil and sauté sliced garlic cloves and red pepper flakes. Then I add in chopped kale and a bit of salt, cover the pan until the kale is bright green and tender, and then uncover the pan until the liquid cooks off. Once cooled, store in an airtight container in the fridge for up to 5 days.
For salads, remove any tough stems or ribs. Then massage the leaves in a very small amount of extra virgin olive oil or lemon juice for a minute or two. This helps tenderize kale's tough cell structure and gives it a softer texture that is easier to digest.
Store in an airtight container or zip-top bag in the fridge and it should stay crisp for at least 5 days. Just be sure to not use too much oil or lemon juice or over massage it to the point that it wilts—if you do, you can eat it immediately but it won't stay crisp in your fridge.
During the winter, I tend not to eat as many salads, but I do love eating grain bowls or what I call "grains and greens." It's much easier to eat raw greens when you pair them in a bowl full of hearty, warming grains.
Try this: For a quick and hearty lunch idea, mix together sautéed or steamed kale with quinoa (or your favorite grain), add some roasted veggies and pickled veggies (I like the variety in tastes and textures that different forms of vegetables bring), a generous dollop of hummus, and a couple spoons of nuts and seeds for healthy fats.
Tomatoes
Since tomatoes aren't at their peak right now, I prefer them cooked to raw. I roasted these medley tomatoes from ALDI and paired them with grain bowls and pasta dishes throughout the week, as well as on top of avocado toast (so good!).
To roast tomatoes, spread them out on a baking sheet and rub with some olive oil and a generous amount of salt and pepper. For extra flavor, add a few sprigs of fresh thyme (or your favorite herb) and some whole garlic cloves.
Roast at 400ºF for 25-35 minutes, or until the skins soften and the tomatoes begin to burst. Store them in the fridge for 3-5 days, but to keep them longer, submerge them in extra virgin olive oil and refrigerate them for 1-2 weeks.
Winter Vegetables
"Winter vegetables" is the generic/lazy term I use for vegetables that seem wintry. These include (but are not limited to) butternut squash and any variety of winter squash ("winter" is in the name, after all), cauliflower, carrots, sweet potatoes, Brussels sprouts, beets, and other root vegetables.
I roast a big batch of these "winter vegetables" almost every week and then use them to round out my weekly meals. Cut your vegetables into roughly even size (but keep in mind that vegetables like carrots and beets take longer to cook than say, cauliflower or sweet potatoes) and toss to coat with olive oil or avocado oil, salt and pepper (add fresh herbs and garlic for extra flavor). Roast at 400ºF or 425ºF for 25-35 minutes, tossing halfway through, until browned in spots and tender.
Lately, I've been pairing roasted sweet potatoes, butternut squash, and cauliflower over a bed of warm millet or farro, topped with chickpeas, and a big scoop of tahini. Like a really big scoop. Comforting yet healthy, my favorite kind of food.
Try this: Use any leftover roasted veggies to make soup. Puree them with vegetable broth, a bit of creamy coconut milk, and seasonings of choice, and then heat over the stove. Soup doesn't get any easier than this!
Fruits 
Berries
Berries are the most nutrient-dense fruits, so I'm always looking for ways to incorporate them into my weekly meals.
If you bought a large haul of berries, freeze some and add them to smoothies. Save time by preparing a smoothie bag (i.e., put all of your smoothie ingredients, minus any liquid, in one bag in the freezer) and dump it into your blender with plenty of plant-based milk in the morning.
Or, use berries that are past their prime (mushy but not moldy) to make a healthy berry chia jam! Spread the jam on whole grain bread or use it as an oatmeal topper for breakfast. Store in a glass jar in the fridge for 1-2 weeks.
 Make a big batch of overnight oats (the essential ingredients are rolled oats and your preferred plant-based milk, but you can also use some plant-based yogurt, add in some chia seeds or flax seeds, sprinkle in some cinnamon and ginger, etc.). Store the overnight oats in separate jars for each day, and when you're ready to eat, top with fresh berries (I like to mash some of the berries into the oats for natural sweetness).
Bananas
Buy a big bunch of bananas at the grocery store and set aside half to ripen and use the other half for snacks. When I used to work in an office, I kept rice cakes and nut butter at my desk, and I would serve them with sliced bananas on top for a satisfying afternoon snack.
Once the other bananas are ripened, peel and slice them into large chunks and spread them out on a baking sheet. Place in the freezer, and once frozen, you can transfer them to a container or ziptop bag (the first step ensures the bananas don't all stick together). Then you'll have frozen bananas throughout the week for breakfast smoothies or for dessert (hello, nice cream)!
Try this: Mix together 1-2 tablespoons cocoa powder with1-2 tablespoons peanut or almond butter, cinnamon, and a splash or two of maple syrup, stirring together until you have a paste. Spread this chocolatey spread over frozen bananas for a healthy post-dinner treat.
Condiments and Pantry Staples  
Extra Virgin Olive Oil 
I already professed my love for EVOO, so I'll just give you a quick rundown of how to use it in your meal prep.
Use it to massage chopped kale (as outlined above).
Whisk together with Simply Nature's Apple Cider Vinegar, as well as salt and pepper and a bit of Dijon or whole-grain mustard and a tiny splash of maple syrup. This makes an easy yet delicious vinaigrette for salads.
Drizzle a little EVOO on to top of almost any savory meal to finish. It adds a subtle richness (and good-for-you monounsaturated fats) that your taste buds (and heart) will appreciate!
Avocado Oil 
When I want to bring a bit of a buttery flavor to my food or I want an oil that can stand up to high heat (e.g., roasting a big batch of those winter vegetables at a high temperature), I reach for avocado oil. And if you're the kind of person who likes to make their own condiments, avocado oil is excellent in homemade vegan mayo and hummus.
And if you're thinking that cold-pressed, non-GMO avocado oil sounds too pricy, think again because ALDI has you covered with the most affordable avocado oil I've ever seen!
Apple Cider Vinegar  
Use it in vinaigrettes for salads or to quick pickle veggies. I love having pickled veggies in the fridge because it adds a tart, acidic crunchiness that livens up cooked meals from noodle bowls and tacos to sandwiches and veggie burgers.
My favorite vegetables to pickle are radishes, cabbage, carrots, and beets, but the possibilities are endless! All you need to do is heat up equal parts water and apple cider vinegar in a saucepan, along with a bit of salt and sugar (I used just a tablespoon or two of sugar for 1 large bunch of radishes, and you can use maple syrup in lieu of sugar) until the sugar is dissolved.
Add flavorings of your choice such as whole seeds (celery, caraway, cumin, mustard, or fennel), fresh herbs (dill, thyme, or oregano) or dried herbs, fresh garlic cloves or ginger slices, red pepper flakes, or black peppercorns.
Pack your sliced radishes (or any other vegetable) into wide-mouth glass jars and pour the brine over the top. Cool to room temperature, and then store in the fridge for a month (they may last even longer).
Nut Butter 
If you know me well, you know that I LOVE nut butter and eat it religiously. Sure, it's often by the spoon, but it's also great for incorporating into your meal prep.
Use the Simply Nature Organic Creamy Peanut Butter (made with just peanuts and salt!) to take your overnight oats to the next level, or stir into a savory curry or stew for some extra richness and healthy fats.
Try this: For an easy, satisfying snack or dessert to enjoy throughout the week, combine peanut butter with dates, rolled oats, and vegan chocolate chips in a food processor until sticky. Roll into bite-sized balls and store in the fridge.
Hummus
Another food I eat almost every day is hummus. And while I love making my own hummus from scratch, store-bought hummus comes in handy for those busy weeknights.
Add a generous scoop of hummus to your next salad or grain bowl for some healthy indulgence, use it as a lightened-up sandwich spread in lieu of mayo, or you can even turn it into a pasta sauce (just hummus with some pasta cooking water, lemon juice, lemon zest, and seasonings, and stir into hot cooked pasta).
Try this: Jazz up your plain hummus by pureeing it with sundried tomatoes, pickled jalapenos, roasted bell peppers, or cooked veggies such as beets or carrots.
Grains and Legumes
Whole Grains
I love mixing up the whole grains I eat so that my meal preps have variety from week to week. Whether it's quinoa, brown rice, millet, or farro, I always make a big batch and use it as the base for various meals throughout the week.
I already mentioned two ideas for meal prep. First, the "grains and greens" concept, which is a satisfying lunch idea, especially in the winter when the idea of eating "just a salad" seems sad. Second, pair cooked grains with roasted winter vegetables and a protein (e.g., chickpeas, baked/fried tofu) for a comforting yet healthy meal. If you've prepped a few different cooked vegetables and proteins, you can come up with multiple combinations every day.
If you have leftover grains, you can also turn them into a breakfast porridge. Simply heat up leftover grains with plant-based milk and a little maple syrup and cinnamon on the stove. For extra creaminess, add a mashed banana and cook until the porridge is creamy and thick, about 10 minutes.
Beans and Lentils 
No vegan meal prep would be complete without some beans or lentils! Whether you use the canned variety or cook them from scratch (I highly recommend getting an Instant Pot for this), there are so many meal prep options to choose from.
Chickpeas: Great in "greens and grains" or hummus bowls; pan-fry them in olive oil and salt until blistered and crispy for extra texture and flavor; or roast them in the oven with spices for a savory afternoon snack you can pack for the office.
Black beans: Use black beans to plan out several nights of Latin-themed dinners. Stock up on bell peppers, onions, avocados, salsa, and tortillas in different sizes (and if desired, vegan cheese and sour cream). Then you can enjoy tacos, burritos, and enchiladas throughout the week!
Lentils: Green and brown lentils are great in salads and "greens and grains." Use red lentils to thicken up and pack protein into your favorite pasta sauce.
Pasta: Pasta's not a bean or legume, you might say! And you would be right. But, bean-based pasta is, and I recently found this organic soybean pasta at ALDI that is a game changer! There's a whopping 24 grams of protein per serving and the single ingredient is soybeans (all of Simply Nature's products are organic and non-GMO-verified)! Plus, it cooks in just 4-5 minutes, so it's a great weekday option for a quick meal.
I hope you enjoyed this guide on how to stock your fridge with a healthy and affordable vegan meal prep in mind! If you did, drop me a comment below and be sure to visit your local ALDI so you can stock your fridge with wholesome goodness this year!