Recently, the most popular requests I've received for new recipes + content revolve around pumpkin. That should come as no surprise because it's October and every basic B is sipping on a pumpkin spice latte right now. But, the next most popular requests were for simple and quick meals and vegan meal prep ideas.
If you're on #TeamPumpkin, not to worry… I have more of those recipes coming your way (and lots of older pumpkin recipes on the blog for you to enjoy). But for now, let me show you how easy (and affordable) it is to make flavorful and nourishing vegan meals.
I recommend watching the corresponding Youtube video so you can some handy tips and a visual for what the prep and meals looks like, but the full recipes are written out below.
For this vegan meal prep, I'm taking just 10 ingredients that are everyday vegan staples—nothing exotic or crazy expensive—and showing you how to (a) use them in an easy, quick meal prep and (b) use your prepped items to make quick and simple vegan meals throughout the week.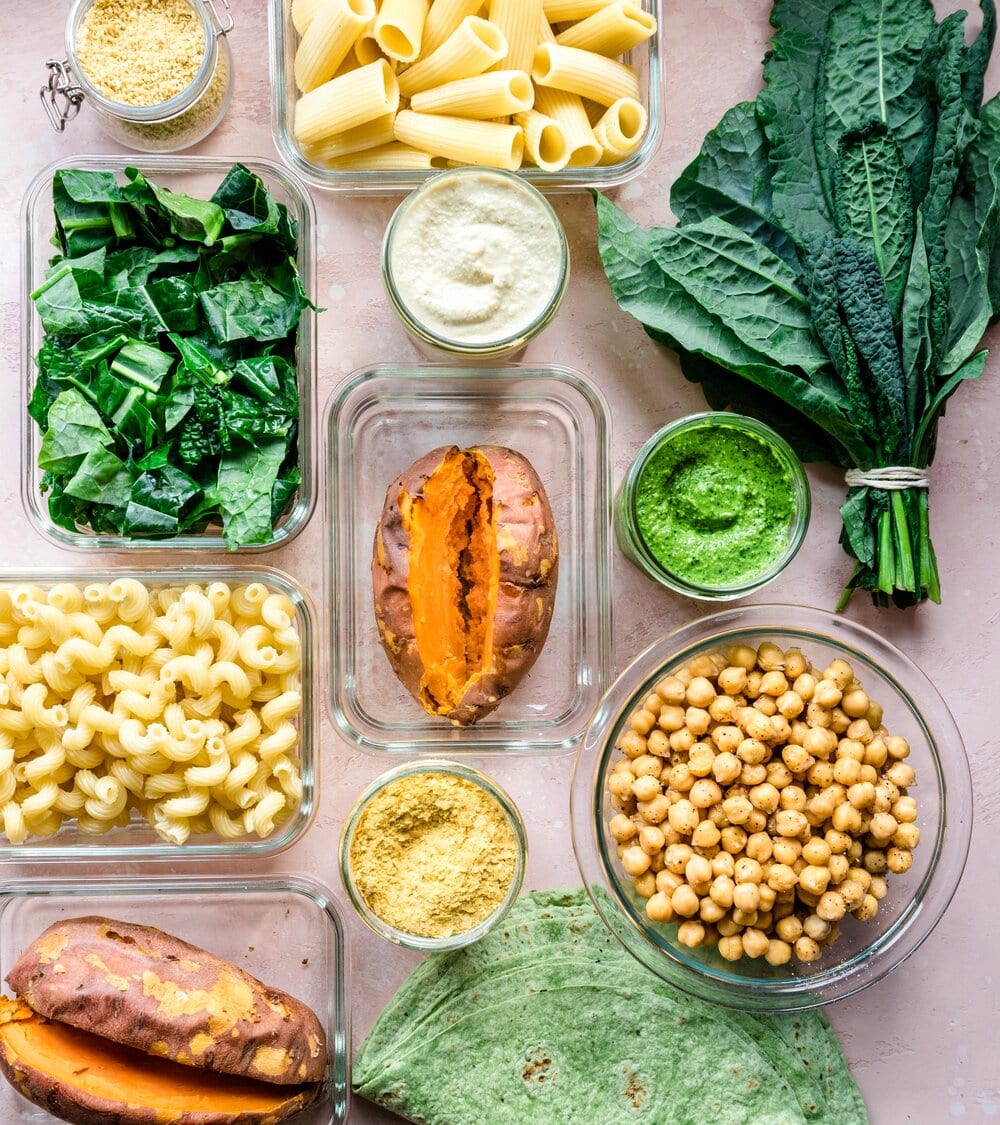 Below you'll find a list of the 10 ingredients, along with helpful notes about the ingredients and suggested quantities.
Ten Ingredients + Grocery List
Sweet Potatoes
As you can see in the video, mine are behemoth in size, which means they make for more filling meals!

I bought 4 large sweet potatoes, which enabled me to make 3 stuffed sweet potatoes, and I sliced up the fourth potato to include in my wraps. If you want to have stuffed sweet potatoes twice during the week and are cooking for 2 people, I'd recommend buying 5 or 6 sweet potatoes (the extra 1 or 2 potatoes are for including in the wraps).
Kale
I use Tuscan/lacinato/dino kale. I prefer it to curly kale because it's less tough and less fibrous.

I bought 3 large heads of kale, and that was enough to include in 3 large stuffed sweet potatoes, 4 wraps, 4 servings of pasta, and lots of extra kale for salads or smoothies.

Three large heads sounds like a lot, but it's the main vegetable in this meal prep. If you get tired of kale, you can use half kale and half baby spinach.
Garlic
Garlic adds flavor to everything, and I love it. That's all.

I recommend 2 heads of garlic for this meal prep (but garlic has a relatively long shelf life, so you can always buy more while you're at the grocery store).
Lemons
I always have lemons on hand because I use them every day, but I'd estimate you'd want about 4 lemons for this meal prep and the meals.
Basil
Basil is one of my favorite ingredients to use because it adds such a nice fresh aroma and fragrance to cooked meals.

I used one bunch of basil for this meal prep.

To keep basil fresh, trim the stems and place in a jar of water on the counter, just like you would with flowers. You can leave it exposed or loosely cover the basil with a plastic bag. Change the water every few days for maximum freshness.
Pasta
Pasta is the base of one of the three meals, and you can use any pasta shape and variety you like. I used plain old flour pasta, but gluten-free or lentil/bean-based varieties are a great wholesome alternative.

Buy as many boxes of pasta as you think you'll want to eat throughout the week. For 1 or 2 people, one 16-ounce box of pasta is sufficient if you plan to eat pasta a few times during the week. Again, pasta has a really long shelf life, so you can really just buy as many boxes as you want (provided you don't have #nyckitchen problems like I do)!
Cashews
I use raw cashews (I usually buy cashew pieces instead of whole cashews since it's cheaper) in three different ways. First, I toast the cashews for the pesto. Next, I leave them raw for the cashew "parmesan". And finally, I soak the cashews to make the cashew cream. These are three superstar condiments that will bring lots of flavor and pizzaz to our meals.

I used a little under 2 cups of cashews across these three condiments, but if you are feeding more than 1 or 2 people, you might want to double the pesto or cashew cream and therefore buy more cashews. Both the pesto and cashew cream make about 1 cup.
Chickpeas
Chickpeas are our main protein source in this meal prep and I love how versatile they are. We'll cook and prepare them in different ways in each of these meals so you won't get bored.

I buy dried chickpeas in bulk (as with all of my beans and lentils) and I cook them in my Instant Pot. If you want to know how easy it is to cook beans in the Instant Pot, I made a whole video on this topic! Plus, beans cooked from scratch taste better and are significantly cheaper than canned beans.

I bought 1 pound of dried chickpeas (which makes 7 cups of beans) for $1.35. If I were to buy canned beans, I'd need 4 cans and that would cost me a minimum of $4 here in NYC, but depending on the store or brand, could cost me upwards of $8. If you need to buy canned beans, you can totally do that. But I eat beans almost every day, so I save quite a bit of money by buying dried beans.
Nutritional Yeast
Nutritional yeast is one of my vegan essentials and I add it to so many different kinds of savory food to boost that umami factor. In this meal prep, we'll use it in all three condiments— the pesto, the cashew "parmesan," and the cashew cream.

If you're buying nutritional yeast by the bottle, 1 bottle will be plenty. If you can find it in bulk, you'll need 1/2 cup of nutritional yeast.
Tortillas
As with the pasta, I used plain old flour tortillas (that's what's on sale!), but use a whole grain wrap for a more wholesome alternative. If you want to keep your meals light and gluten-free, you can try using a collard green wrap.

As with the pasta, buy as many packages of tortillas depending on how many times you want to eat wraps and how many people you're feeding. For 1 or 2 people, 1 package of 6 or 8 large tortillas is enough to make a few wraps throughout the week.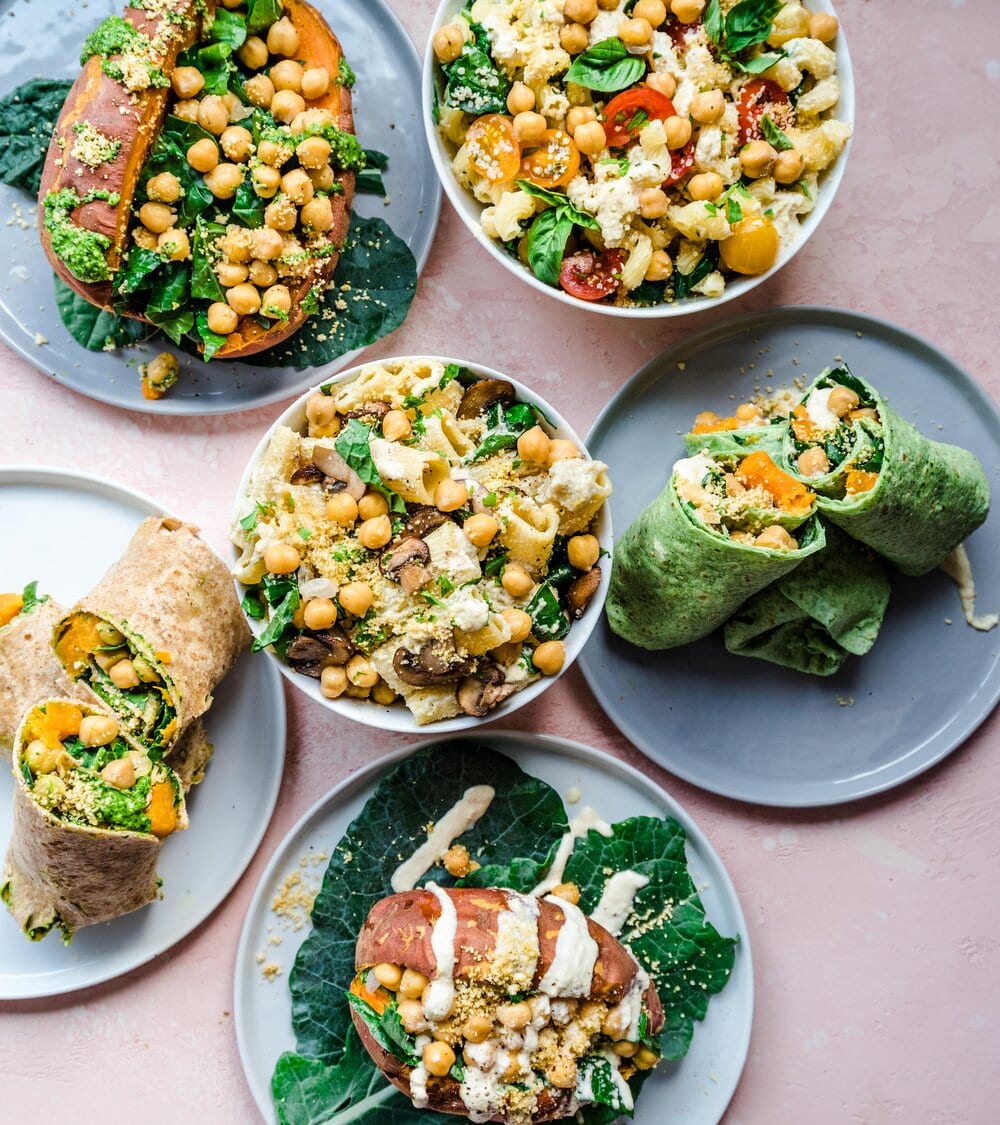 Below you'll find the recipes + steps for the meal prep you need to get done (below that are the actual recipes you can make with your prepped food). I've indicated, approximately, how much each of the condiments make so you can adjust based on how many people you are feeding.
Cook the Chickpeas
Instant Pot

1 pound of chickpeas
Method 1 (soaked chickpeas): Soak the chickpeas in cool water for 8 hours. Drain and rinse and cook the chickpeas in 5-6 cups of cool water + 2 – 2 1/2 teaspoons kosher salt (1 1/4 – 1 1/2 teaspoons sea salt) for 8-10 minutes at high pressure. Allow a natural pressure release.
Method 2 (unsoaked chickpeas): Cook the chickpeas in 5-6 cups of cool water + 2 – 2 1/2 teaspoons kosher salt (1 1/4 – 1 1/2 teaspoons sea salt) for 35-40 minutes at high pressure. Allow a natural pressure release.
Stovetop

I never do this so I will leave you with some instructions posted from another website.

Canned Chickpeas

They're already cooked…skip this step!
Make the Cashew Cream
Makes 1 heaping cup
The cashews need to be soaked for either (a) 8 hours in cool water or (b) 1 hour in boiling water. I usually start my meal prep by soaking the cashews in boiling water, and work on other items while the cashews are soaking.
Ingredients
1 cup raw cashews, soaked (see note directly above)

½ cup + 2 tablespoons plant-based milk

2 garlic cloves, roughly chopped

1/2 teaspoon sea salt + more to taste

Freshly cracked black pepper to taste

2 tablespoons nutritional yeast

2 tablespoons freshly squeezed lemon juice
Directions 
Blend the cashews in a food processor or high-powered blender until they are broken down. Add the remaining ingredients and blend on high speed until smooth, thick and creamy. This will take 3-4 minutes in a food processor or 1-2 minutes in a high-powered blender like a Vitamix.

Transfer the cashew cream to a glass jar and store in the fridge for up to a week.
Bake the Sweet Potatoes
Once I've soaked the cashews, I start baking the sweet potatoes since they take the longest.
Ingredients
Large sweet potatoes (as many as you want)
Directions
Preheat oven to 425°F/220°C. Line a large baking tray with parchment paper.

Scrub the sweet potatoes and then prick them all over with a fork. This enables the steam to escape from the potatoes so they cook evenly and don't burst.

Bake the sweet potatoes until tender, 45 to 60 minutes (depending on the size of your potatoes). If possible, rotate the pan 180 degrees during baking for the most even cooking.

Once cooled, transfer the cooked sweet potatoes to an airtight container and refrigerate for 3-5 days or freeze for up to 3 months.
Prepare the Kale
We'll be using raw and cooked kale in this meal prep.

For raw kale

Slice the kale into thin strips, removing the tough stems, and then wash and dry it in batches using a salad spinner.

To store raw kale, simply transfer it to a ziplock bag or an airtight container. You can also massage it with lemon juice or a bit of extra virgin olive oil to make it more tender. Store it in the fridge for 5-7 days.

To steam the kale

Chop the kale into bite bite-sized pieces, removing tough stems, and wash in the salad spinner.

Fill a saucepan or large pot with 1-2 inches of water and place over medium-high heat.

Place the kale in a steamer basket and place it over the simmering water. Cover the pan and steam until cooked through, 5-7 minutes, tossing halfway through.

Remove the kale using a slotted spoon or tongs, leaving behind excess water. Season with salt and pepper and freshly squeezed lemon juice.

To sauté the kale

Heat a large skillet over medium heat. Once hot, add a bit of olive oil and sauté some chopped garlic (and red chili flakes, if desired) for 2 minutes, or until the garlic just begins to brown.

Add the kale and toss to coat in the olive oil. Cover and cook for 5 minutes.

Uncover and season with salt and pepper and continue cooking as needed to remove any remaining moisture. Squeeze some fresh lemon juice on top.
Make the Kale-Basil Pesto
Makes 1 heaping cup
We're making a kale-basil pesto that is delicious and nutritious! To ensure the pesto stays vibrant green throughout the week and doesn't turn brown, it's essential to blanch the basil.

Typically, extra virgin olive oil is what's used to bring the pesto together, but if you want to minimize the amount of oil used, stream in some oil first, and then stream in some water.
Ingredients
¼ cup cashews

1 cup basil leaves

2 cups Tuscan kale, stems removed and shredded

4 cloves garlic

¼ cup nutritional yeast

1 teaspoon lemon zest

2 tablespoons lemon juice

½ teaspoon kosher salt

3-4 tablespoons extra virgin olive oil
Directions
Toast the cashew (optional): Heat up a skillet over medium heat, and spread out the cashews in an even layer. Shake or stir the cashews often, for about 5 minutes, until they're fragrant and lightly browned.

Blanch the basil: Bring a large pot of salted water to a rapid boil. While the water is coming to a boil, fill a bowl with cold water and several ice cubes. Set aside. Add the basil leaves to the boiling water and cook for 15 seconds. Immediately remove the leaves from the boiling water (I use tongs) and place the basil leaves in the ice water bath for 15-30 seconds, or until cooled down. Squeeze the leaves to remove all excess water and lay them on a paper towel to dry.

Make the Pesto: In a food processor, add the toasted cashews, blanched basil, kale, garlic, nutritional yeast, cashews, lemon zest, lemon juice, and salt. Mix until a loose paste forms. Gradually stream in the extra virgin olive oil while the machine is running, and scrape down the sides as needed. Stream in some water (or more olive oil) until you reach your desired consistency.
Make the Cashew Parmesan
Makes about 3/4 cup
This is one of my favorite condiments to make. It requires just 4 ingredients and takes 2 minutes. Sure, it doesn't taste 100% like traditional parmesan cheese, but it does add a nice savory, umami-rich, nutty taste and slightly crunchy texture to any savory meal.
Ingredients 
1/2 cup raw cashews

2 tablespoons nutritional yeast

1/2 teaspoon kosher salt

1/2 teaspoon extra virgin olive oil
Directions
Combine all of the ingredients in a food processor and pulse repeatedly, until the mixture has a fine, crumbly texture, similar to grated parmesan.

*Make sure you pulse, not blend, or you'll end up with cashew butter.
Three Easy Vegan Meal Prep Recipes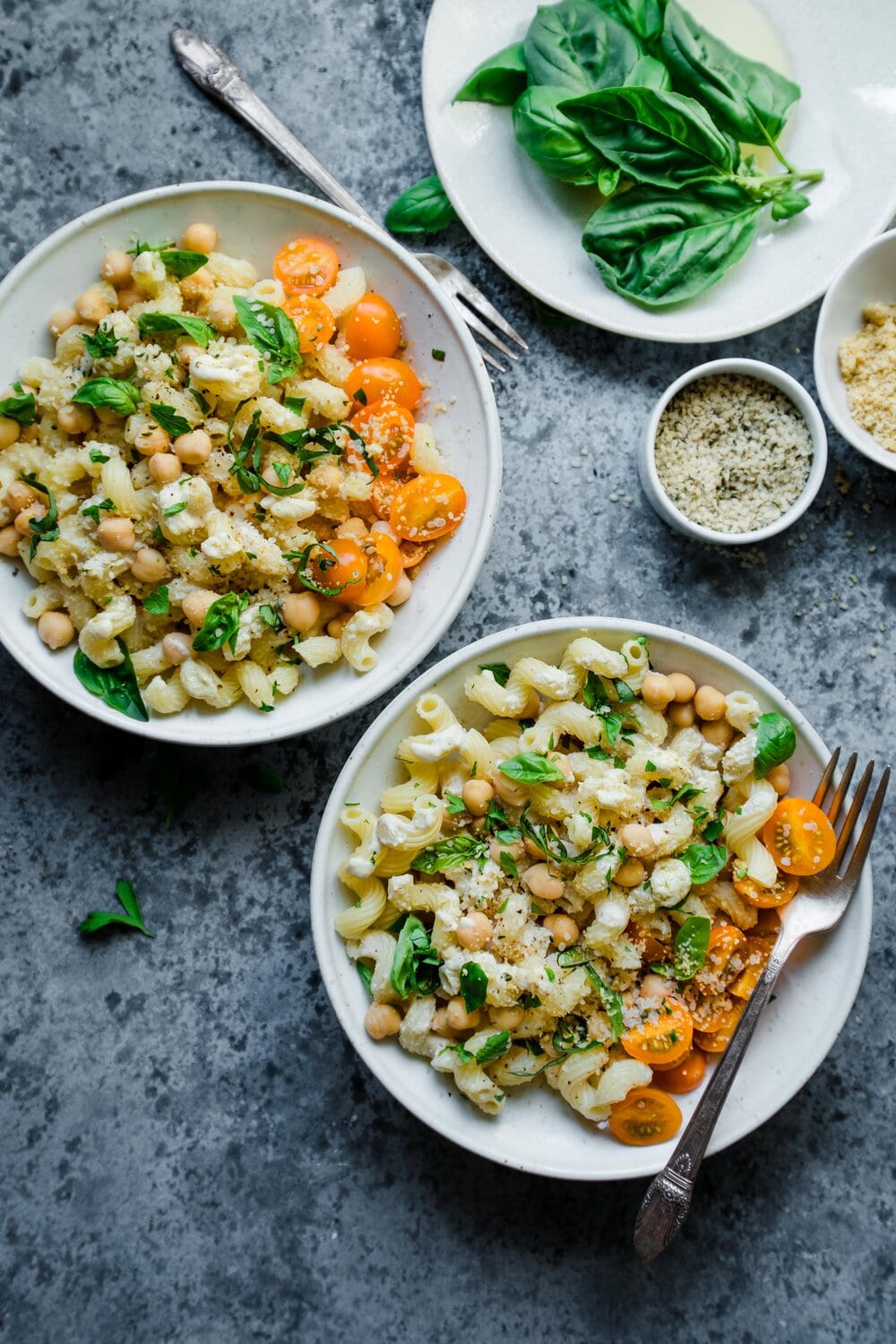 Meal #1: Cashew Cream Pasta with Chickpeas
Cashew Cream Pasta with Chickpeas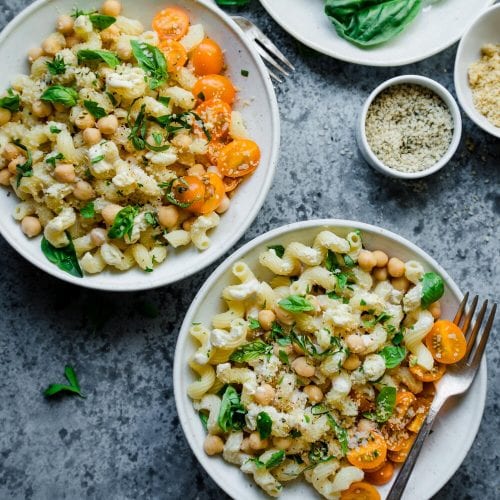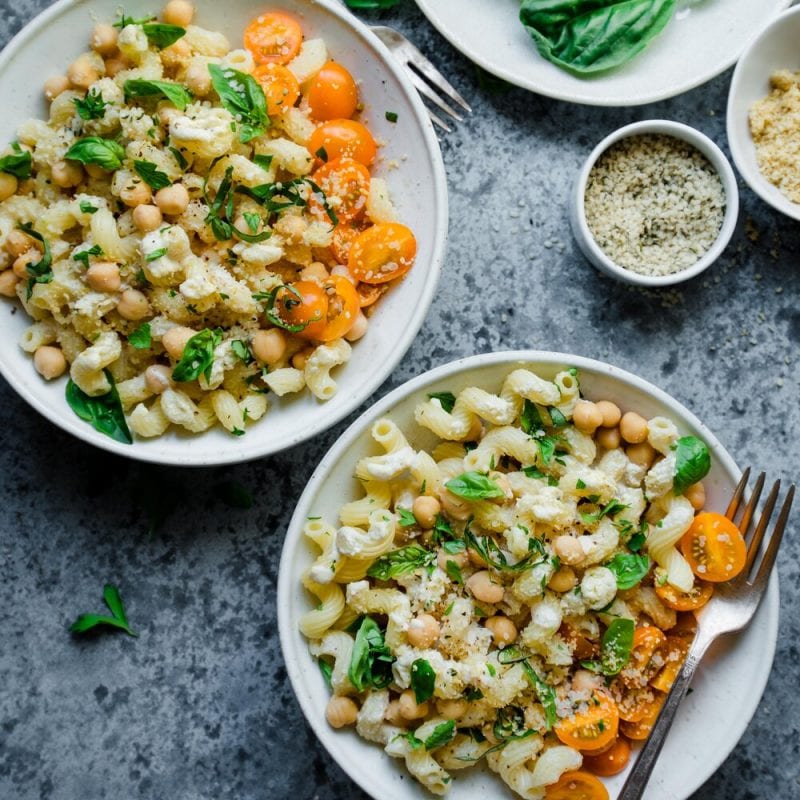 This delightful cashew cream pasta with chickpeas is a great lunch option to have in your backpocket!
Ingredients
6

ounces

of cooked pasta

(can use gluten-free pasta)

1/3 - 1/2

cup

Cashew Cream

2- 3

cups

steamed or sautéed kale

1 1/2 - 2

cups

cooked chickpeas

1/2

cup

basil leaves,

thinly slivered

2-3

tablespoons

Cashew Parmesan

Sea salt or kosher salt to taste

Black pepper to taste
Optional Ingredients
Cherry tomatoes

Sautéed mushrooms

Frozen peas

Hemp seeds

Toasted almonds or walnuts
Instructions
Toss together hot cooked pasta with the Cashew Cream and toss to combine, making sure to coat all of the noodles.

Add in the cooked chickpeas, slivered basil, Cashew Parmesan, and any optional ingredients and toss to combine. Season to taste with salt and pepper.
---
Calories:
670
kcal
|
Carbohydrates:
106
g
|
Protein:
31
g
|
Fat:
16
g
|
Saturated Fat:
2
g
|
Polyunsaturated Fat:
5
g
|
Monounsaturated Fat:
6
g
|
Sodium:
345
mg
|
Potassium:
1210
mg
|
Fiber:
22
g
|
Sugar:
13
g
|
Vitamin A:
11418
IU
|
Vitamin C:
108
mg
|
Calcium:
404
mg
|
Iron:
9
mg
Meal #2: Stuffed Sweet Potatoes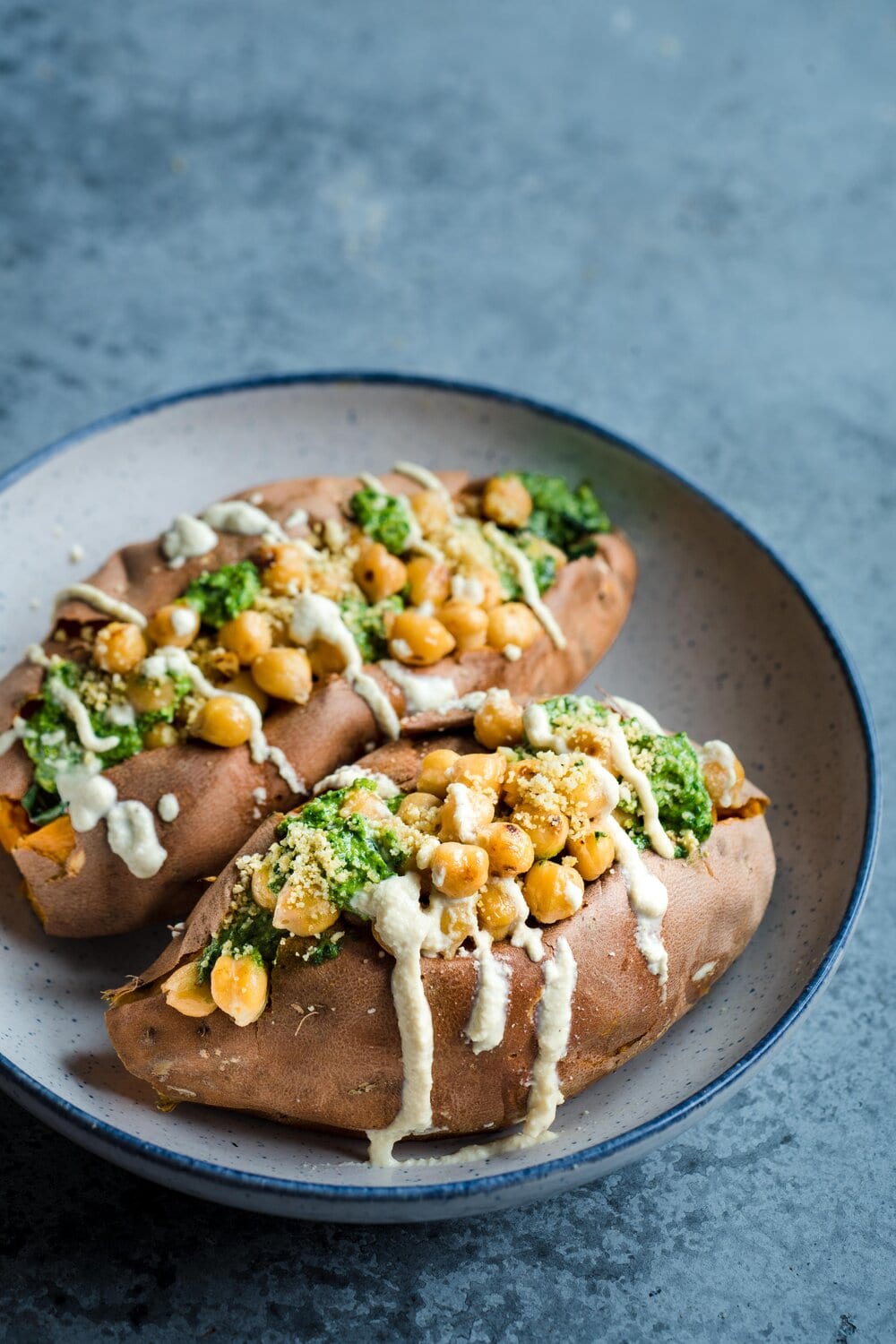 Stuffed Sweet Potatoes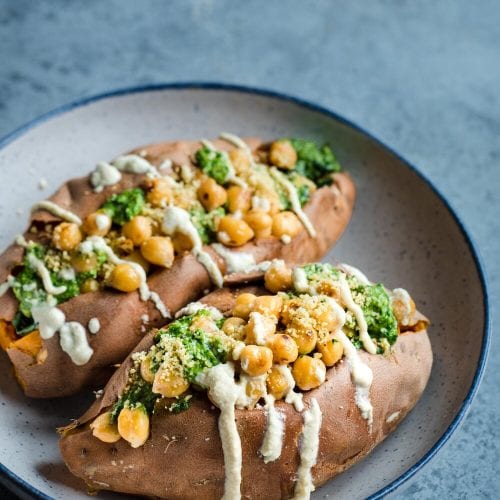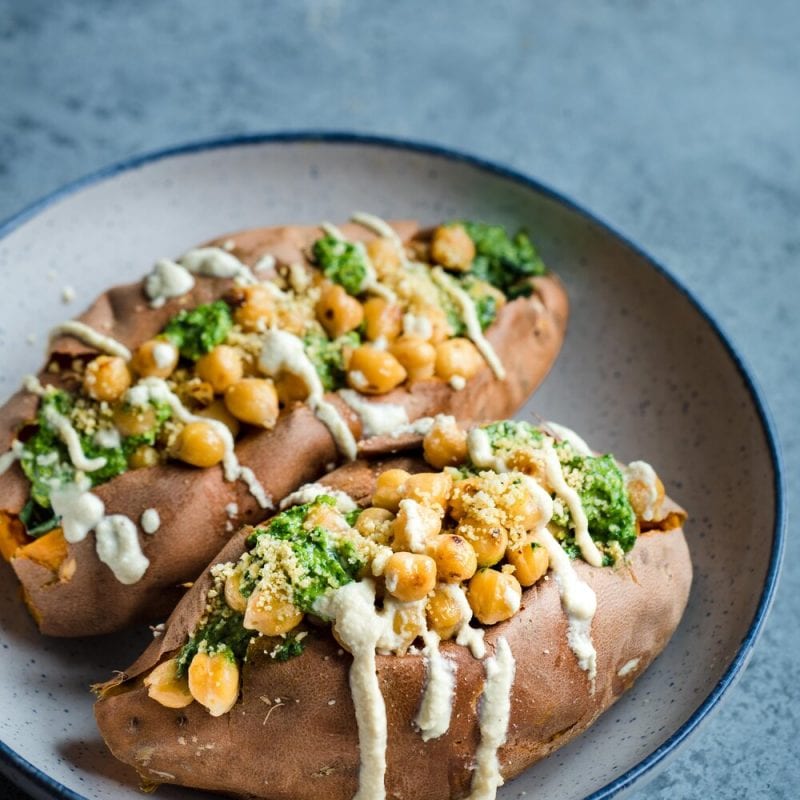 Ingredients
3

extra large sweet potatoes,

baked according to the directions above

2 -3

teaspoons

olive oil

3

cloves

garlic,

minced

1 1/2

cups

cooked chickpeas

Sea salt or kosher salt to taste

Black pepper to taste

Juice of 1/2 lemon

1 - 1/2

cups

steamed or sautéed kale

4-6

tablespoons

Kale-Basil Pesto

1

tablespoon

Cashew Parmesan

2

tablespoons

Cashew Cream,

optional
Instructions
Heat the olive oil in a large (12-inch) skillet over medium-high heat, and ensure that the entire pan is entirely coated with the oil. Add the minced garlic and cook for 1-2 minutes, stirring frequently to prevent burning. Add the chickpeas in small handfuls and spread them out in a single layer. Let the beans cook undisturbed for 3 minutes. Use a spatula to flip the beans and cook for another 3-5 minutes, or until the beans are browned and blistered. Add a pinch or two of sea salt and squeeze the lemon juice over the chickpeas, stir to combine, and then remove from the heat.

Make a long cut along the top of each sweet potato, but don't slice them entirely in half.

Dollop a spoon or two of the Kale-Basil Pesto into each sweet potato. Then stuff the potatoes evenly with the steamed or sautéed kale, followed by the crispy blistered chickpeas. Sprinkle each potato with a bit of the Cashew Parmesan. If desired, dollop a bit of Cashew Cream on each sweet potato.
---
Meal #3: Smashed Chickpea Wraps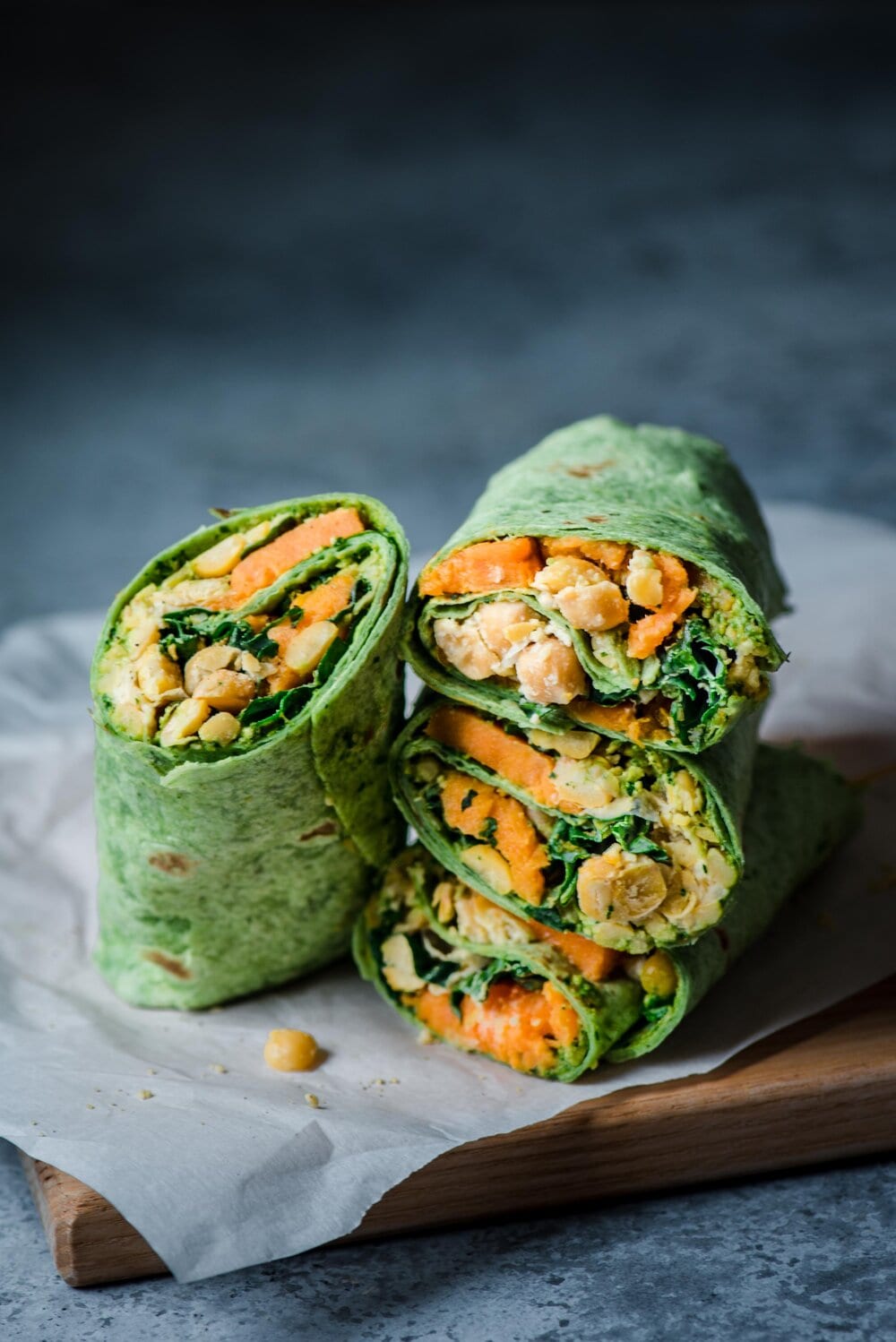 Smashed Chickpea Wraps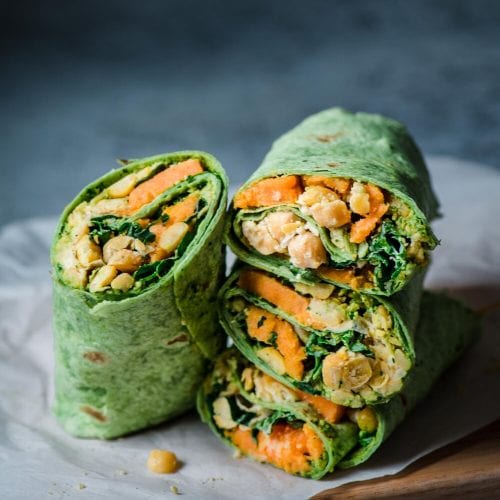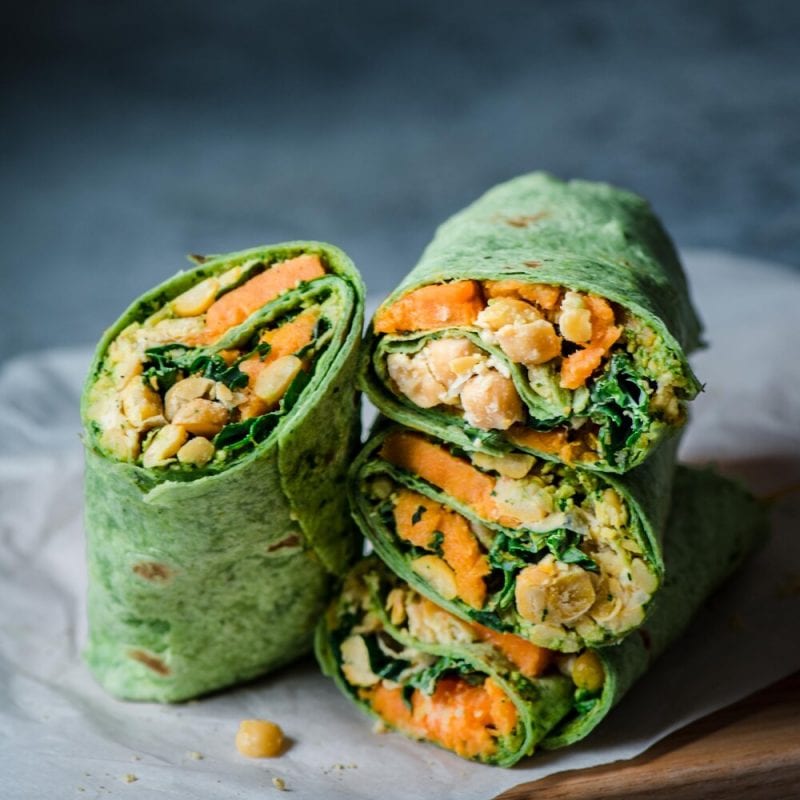 Ingredients
2

cups

cooked chickpeas

2

tablespoons

lemon juice

1/4

cup

Cashew Cream

A few pinches of sea salt or kosher salt

4

large burrito-size wraps,

can use gluten-free wraps

1/2

cup

Kale-Basil Pesto

1

extra large sweet potato,

peeled and thinly sliced

2

cups

raw kale,

thinly sliced or shredded
Instructions
Place the chickpeas in a medium bowl and squeeze the lemon juice on top. Add a few pinches of salt and the Cashew Cream. Using a fork, mash up the chickpeas, but leave a few chickpeas whole.

Spread 2 tablespoons of the Kale-Basil Pesto onto each wrap, leaving at least a 2-inch border. Top the pesto with the smashed chickpeas, sweet potato slices, and shredded kale.

Fold the bottom edge of the wrap towards the center. Move the bottom of the wrap over the top of the filling, and then pull back on the wrap to tuck your filling inside.

If desired, serve the wraps alongside some Cashew Cream as a dip.
---