In New York City, brunch is an institution. Every weekend, people of all stripes descend on the city's thousands of restaurants, ravenous for hangover food and cocktails (yes, a hungover brain is silly enough to think that another cocktail is a good idea). As I've gotten older, however, three-hour-long boozy brunches are increasingly rare in my life. I don't like waiting in long lines to try out trendy restaurants that are almost always overrated, and I really don't like not eating until 1 p.m. even though I've been up since 6 a.m. Yes, I'm old, I know, thanks.
Plus, brunch is so heavily focused on eggs, even at some of the more plant-forward restaurants, so my usual options are a salad (boring) or a smoothie (also, boring). Don't get me wrong, I love salads and smoothies, but they're not a great match for a Bloody Mary or a mimosa.
As you can see, brunch and I don't make a great match. So that's why I started bringing brunch to me! My friends love it too because they get to skip the long lines and overpriced fare and still enjoy hangover food and good company. And when I'm making brunch for others, especially non-vegans, my motto is go big, or go home. Well, I'm already at home, so maybe that phrase doesn't work as well as I'd like, but you get the point.
This Pumpkin Stuffed French Toast is the perfect example of decadent brunch done right. It's one of those recipes that you should save for when (a) you are starving and/or (b) sharing with others. Because it is incredibly indulgent. It would be an ideal dish for a holiday brunch or a potluck brunch where there other dishes to balance out the richness of the meal. Maybe some salad and smoothies?
If I haven't lost you yet with all this talk about decadence, let's talk about the ingredients. For the bread, I used French bread, but any thick, crusty bread will do. The key is to using a sturdy, hearty bread—soft sandwich bread slices will simply fall apart and turn into a sad soggy mess, and no one likes a sad soggy mess.
Next comes the cream cheeze filling. My favorite vegan cream cheese is from Tofutti—I swear it tastes just like traditional cream cheese, but better. If you are soy-free, Kite Hill Foods makes an almond milk-based cream cheese. Be sure to bring your cream cheese to room temperature for about 20-30 minutes so it is soft enough to spread.
To stuff the bread, cut the loaf of bread into thick slices and then use a paring knife to cut from the top of the crust to the middle to create a pocket through the crust. Then carefully spread some filling into each pocket.
And now for the custard. It's made with pumpkin because, after all, it's pumpkin season. The nutritional yeast and chickpea flour help give the French toast a slighty "eggy" flavor without being overwhelming. If you don't have chickpea flour or cannot find it, you can substitute all-purpose flour or whole-wheat flour.
Finally for the toppings. A little pure maple syrup works perfectly, but I really love adding cranberries for a true holiday treat. I use dried cranberries and then rehydrate them by soaking in boiling water for 10 minutes, so they became nice and plump. Another fabulous option would be cranberry compote.
The next time you're in the mood for a decadent brunch or entertaining weekend guests, I hope you try this Pumpkin Stuffed French Toast!
Vegan Pumpkin Stuffed French Toast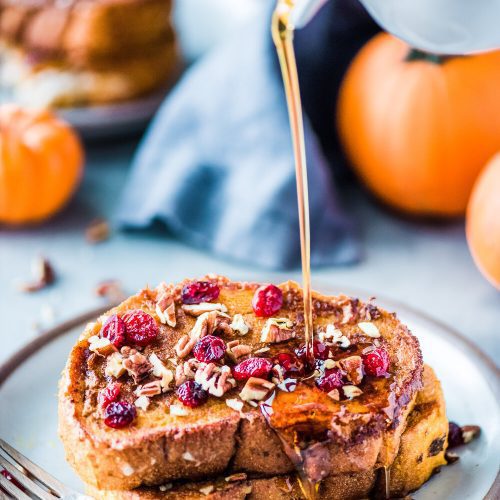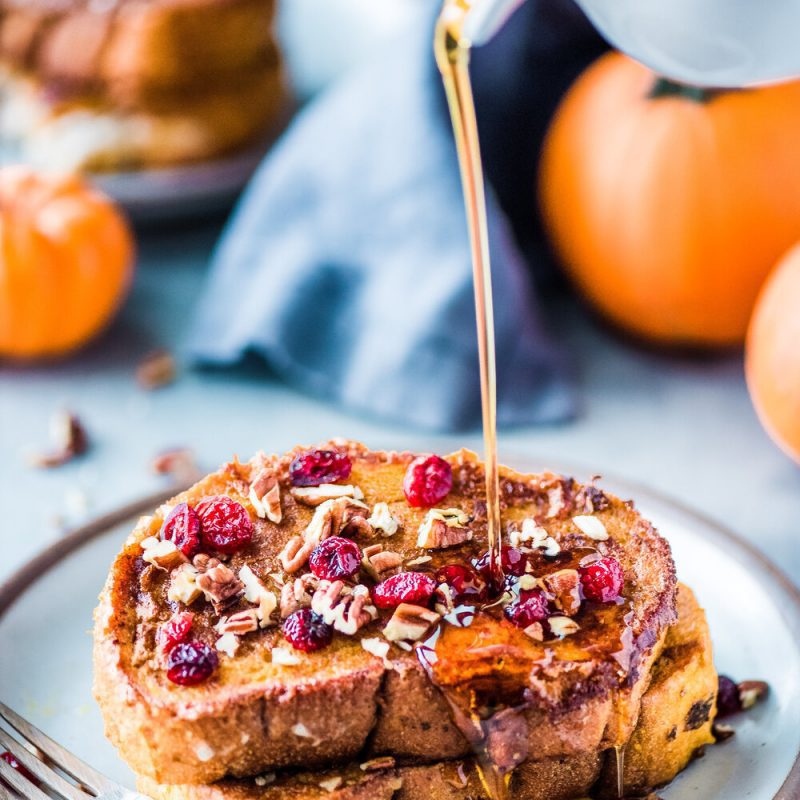 This Vegan Pumpkin Stuffed French Toast is so decadent that no one will know it's vegan! It's stuffed with a pumpkin-cream cheese filling and is the perfect indulgent weekend brunch!
Ingredients
8

thick slices of French Bread

(or other crusty bread)

3/4

cup

about 6 ounces vegan cream cheese*, softened to room temperature

1/4

cup

pecans.

chopped

2

tablespoons

coconut sugar

(or brown sugar)

3/4

cup

canned pumpkin purée

1 1/2

cups

plant-based milk of choice

1/4

cup

chickpea flour

2 1/2

tablespoons

nutritional yeast

2

teaspoons

ground cinnamon

1/2

teaspoon

ground ginger

1/4

teaspoon

ground cloves

1/4

teaspoon

nutmeg

1/4

teaspoon

sea salt

2

tablespoons

pure maple syrup + more for serving

1

teaspoon

pure vanilla extract

1/2

cup

dried cranberries

(rehydrated in boiling water for 10 minutes)

Vegan butter or coconut oil for cooking
Instructions
Take each slice of bread and slice from the top of the crust to the middle to create a pocket through the crust.

Place the softened cream cheese in a bowl and using a rubber spatula, fold in the pecans and the brown sugar or coconut sugar until well incorporated and the mixture is spreadable.

Gently smear a bit of the cream cheese mixture inside a bread pocket, then gently push the bread down to seal. Repeat with each slice of bread.

In a medium bowl, whisk together the pumpkin purée, plant-based milk, chickpea flour, nutritional yeast, cinnamon, ginger, cloves, nutmeg, sea salt, 2 tablespoons maple syrup, and vanilla extract until smooth. Pour the pumpkin custard into a pie plate or other shallow bowl.

Heat a large skillet over medium heat and coat with vegan butter or coconut oil. Test to see if the skillet is hot enough by splashing a few drops of water in the skillet – if they sizzle immediately, the skillet is hot enough.

While the skillet is heating, dunk a stuffed slice of bread into the pumpkin custard and coat well on both sides, letting the excess custard drip off.

Add the soaked bread to the hot skillet and fry for 2-3 minutes on each side, or until golden and crisp on both sides. If your pan is large enough, you can fry two slices at once, but be sure to not overcrowd the pan.

Top the French Toast with the plumped cranberries and serve with pure maple syrup.
Notes
* I recommend Tofutti cream cheese (not soy-free) or Kite Hill Foods (soy-free, contains almonds).
---
Calories:
345
kcal
|
Carbohydrates:
54
g
|
Protein:
11
g
|
Fat:
11
g
|
Saturated Fat:
3
g
|
Polyunsaturated Fat:
2
g
|
Monounsaturated Fat:
2
g
|
Sodium:
612
mg
|
Potassium:
234
mg
|
Fiber:
6
g
|
Sugar:
16
g
|
Vitamin A:
3580
IU
|
Vitamin C:
1
mg
|
Calcium:
125
mg
|
Iron:
4
mg