I will be serving this Ginger-Orange Baked Vegan Cheesecake at Christmas dinner this year, but of course I had to test run it in advance. After serving myself two slices, I packed the leftovers for my boyfriend to take to his office. I pack him with treats fairly often, and he always reports back "everyone loved it, got rave reviews."
But this time, I got to meet his coworkers at their office holiday party, and everyone did in fact report that they loved it very much. One person might have said it was the best cheesecake ever. #justsaying.
Bottom line: you should be making this cheesecake for your Christmas/New Year/other holiday party! I promise it's a crowd pleaser that everyone in your life, whether vegan or omnivore, will love.
It's rich and dense and creamy, just like traditional New York style cheesecake. And the sweet/tart/spicy combination of ginger and orange really take this one over the top!
Oh, and the poached pears? That's if you want to make your cheesecake even fancier and impressive!
Gingersnap Crust
The crust for this cheesecake could not be easier. Just four ingredients (three if you don't count salt) and all you need is a food processor.
The gingersnap crust, of course, complements the ginger cheesecake filling, which uses both fresh ginger and crystallized ginger. This is the brand of ginger snap cookies I use. I have also used the Whole Foods 365 brand, and another option are the ginger snaps from Nabisco. All varieties are vegan-friendly.
You do want to ensure that you pulverize the ginger snap cookies into fine crumbs before adding the other ingredients; otherwise, you might end up with larger chunks of cookie in the crust and/or the crust won't adhere as much during baking.
Ginger-Orange Cheesecake Filling
I've done a fair share of cheesecake recipe testing over the last few years, and my go-to filling consists of three main ingredients: raw soaked cashews, coconut cream, and store-bought vegan cream cheese.
Raw Cashews. These babies need to be soaked in order to soften them up and make them all creamy. You can soak them overnight in cool water, or if you forget, cover them with boiling water for 1 hour. Either option is totes fine.
Coconut Cream. This is the thick white cream from a can of full-fat coconut milk. You want the cream to be solidified, and in order to do that, I recommend storing your coconut milk in the fridge for 24 hours – this will give it ample time to solidify.
A few points. This recipe calls for 1 cup of coconut cream. This is slightly more cream than you'll find in a standard 13.5-ounce can of coconut milk, so I recommend either (a) buying 2 cans and saving any excess coconut milk/cream for another use; or (b) buying a can of coconut cream. There will be more cream in a can of coconut cream than there will be in a can of coconut milk.
Vegan Cream Cheese. When I make cheesecake, the brand of cream cheese I love using is Tofutti. It tastes just like traditional cream cheese, which helps this cheesecake taste just like traditional dairy-based cheesecake!
If you can't find vegan cream cheese, you can omit it and use more cashews and coconut cream. You will need to increase the amount of each of those ingredients: use 2 1/4 cups raw cashews (instead of 1 1/2 cups) and use 1 1/2 cups coconut cream (instead of 1 cup). The measurement equivalents in grams are in the Recipe Notes below.
Here are a few notes on the rest of the ingredients in the cheesecake filling:
Lemon Juice. Along with the vegan cream cheese, this brings the tart, tangy flavor you associate with cheesecake. The lemon juice also helps mask the taste of cashews. Be sure to use freshly squeezed lemon juice, as it will notably affect the taste if you use those plastic bottles of lemon juice.
Arrowroot Powder The arrowroot powder helps to thicken and set the cheesecake filling. You can use cornstarch if you don't have arrowroot powder.
Crystallized Ginger. This is one of the star ingredients and I love the taste and texture it brings. If you can't find crystallized ginger, simply omit it, but it does have sugar, so you may want to increase the amount of sugar in the filling from 1/3 cup to 1/2 cup.
Fresh Ginger. This is a ginger-orange cheesecake, after all, so there are three forms of ginger—the gingersnap cookies in the crust, the crystallized ginger, and freshly grated ginger.
Orange Zest: The orange juice brings the most perfect sweet, bright flavor to balance the pungent spiciness of ginger!
Now that you know everything about the ingredients, here are a few tips for baking this vegan cheesecake.
Advanced planning. You will need to do some advance planning, primarily by refrigerating the can of coconut milk for 24 hours to solidify the coconut cream. If you forget to soak the cashews for 8 hours overnight, you can always soak them in boiling water for 1 hour.
Size of springform pan. I used an 8 inch springform pan, but you could also use a 9-inch springform pan if that's what you have. The cheesecake will be a bit thinner, so you might want to check in on it 5 minutes before the suggested bake time.
Water bath. I wrap the bottom of the springform pan in aluminum foil and bake it in a water bath, which is the recommended method for baking traditional cheesecakes to ensure even cooking and prevent cracks. Usually, eggs are the culprit behind a cracked cheesecake, and since this is an egg-free cheesecake, the water bath might feel a bit unnecessary, but I like to be safe and it doesn't add too much work.
This cheesecake is PLENTY delicious on its own, but if you want to turn your cheesecake into a show stopping holiday dessert, then why not top them with some poached pears?? Also, pear and ginger is a fabulous flavor combination.
As for pear variety, I recommend Bosc or Anjou varieties; Bartlett pears tend to get mushy when cooked. I also love Bosc pears because they have a slender neck that lends a certain elegance.
For the poaching liquid, I use a combination of white wine, water, freshly squeezed orange juice, and sugar, and I flavor it with cinnamon sticks, fresh ginger slices, and orange peel.
If you do not consume or serve alcohol, you can simply use more water, and perhaps double the amount of orange juice for a little extra flavor.
Once the pears are done poaching, you'll reduce down the poaching liquid until it's slightly syrupy. When you're ready to serve the cheesecake, pour a bit on top as a glaze and serve with the poached pears on top.
That's all you need to know about this fabulous Ginger-Orange Baked Vegan Cheesecake with Poached Pears ! I hope you give a try this holiday season, and if you do, be sure to tag me on Instagram with your recreations and leave a comment below!
Wishing you all a wonderful, safe, and love-filled holiday!
Poached Pears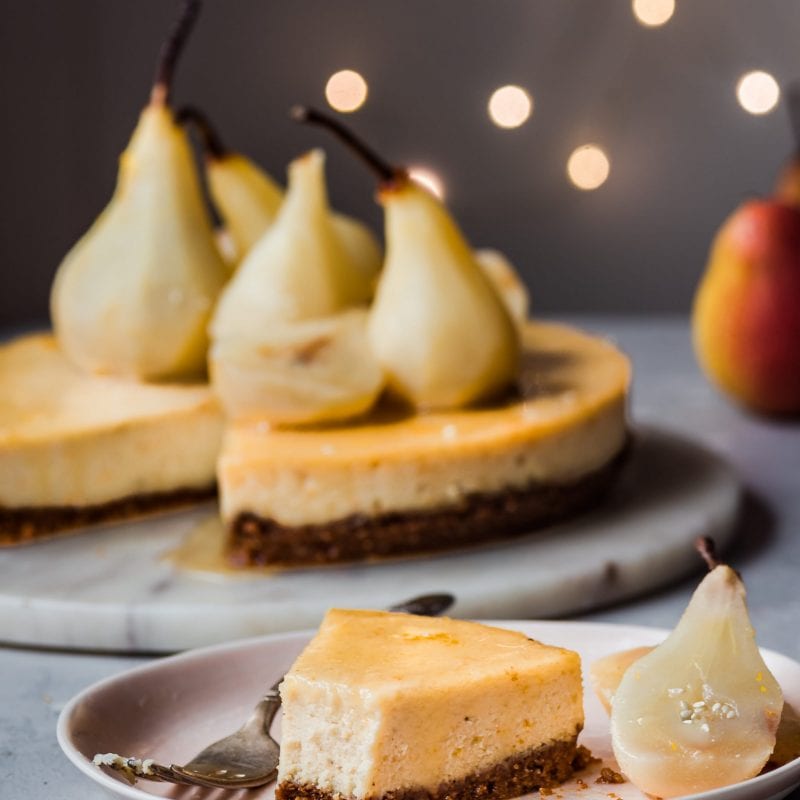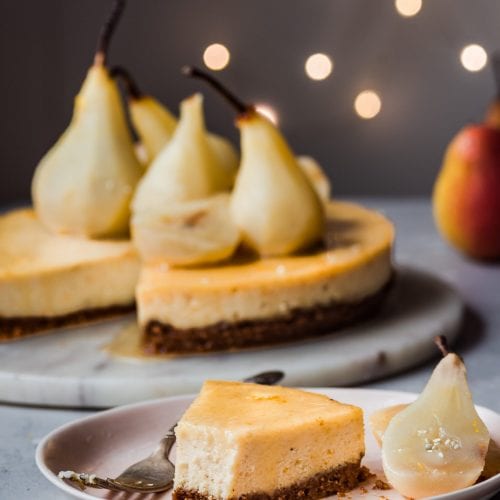 Ingredients
4

firm but ripe medium-sized pears

(I recommend Bosc or Anjou varieties; Barlett tends to get mushy)

2

cups

(480 mL) dry white wine, such as Sauvignon Blanc or Pinot Grigio

2-3

cups

(480-720 mL) water

2

long strips of orange peel

1/3

cup

(80 mL) freshly squeezed orange juice (about 1 large orange)

1/3

cup

(~65g) organic cane sugar

1

cinnamon stick,

broken in half

6

thin slices fresh ginger
Instructions
Peel the pears, leaving the stems intact. Slice off a tiny bit of the bottom of each pear to help them stand upright.

To a small saucepan, add the wine, water, orange peel, orange juice, sugar, cinnamon stick and ginger slices. Bring the mixture to a boil over medium-high heat, stirring until the sugar is dissolved.

Carefully place the pears into the liquid and reduce the heat to a simmer. Cover the pan and cook for 15 to 25 minutes, or until the pears can be just pierced with a fork.

Gently remove the pears using a slotted spoon and set aside. Increase the heat to high, and cook until the poaching liquid reduces and turns a bit syrupy but not brown in color, about 15-20 minutes. Remove from the heat and discard the orange peel, ginger slices, and cinnamon stick.

To serve, slice the cooled pears into wedges. Pour a bit of the poaching syrup on top of the pears and/or directly onto the cheesecake. Serve the pears on top of the cheesecake.
---
Calories:
67
kcal
|
Carbohydrates:
12
g
|
Protein:
1
g
|
Fat:
1
g
|
Saturated Fat:
1
g
|
Polyunsaturated Fat:
1
g
|
Monounsaturated Fat:
1
g
|
Sodium:
2
mg
|
Potassium:
68
mg
|
Fiber:
2
g
|
Sugar:
9
g
|
Vitamin A:
23
IU
|
Vitamin C:
5
mg
|
Calcium:
8
mg
|
Iron:
1
mg