Okay, okay, I know. I have an obsession with puff pastry. Can you blame me, though? It's a light, flaky, buttery crust that rises into golden perfection when baked. In this peaches and cream tart, the outer crust shatters and crunches in the most satisfying way, and as you bite your way inwards, your taste buds meet a tangy-sweet-creamy filling, ripe peaches, and juicy blueberries.
Also, I only recently learned that most puff pastry sold at the grocery store is naturally vegan (hooray!), which explains my recent infatuation. While I deeply admire the art of traditional pie-and pastry-making, most days, I do not have the patience (or sadly, the time) to mix dough from scratch, wait for it to rise, roll it out, wait for it to chill, and roll it out again. Did I miss a step?
Store-bought puff pastry is not only ridiculously easy to work with, but it also means you can serve up an elegant and delicious dessert in less than an hour, making it the perfect, low-stress dessert to make for a dinner party. Your guests will be wowed and assume you spent hours slaving away in the kitchen (even though I know you used those extra three hours to binge watch reruns of The Office and stalk your ex on Instagram).
Now that I've professed my love for puff pastry, let's move on to the filling, shall we? The filling mimics the sweet yet tangy flavor of cheesecake (without any of the dairy) and is simply irresistible. I highly recommend using the Tofutti brand of dairy-free cream cheese, as it has the most authentic cream cheese flavor. Be sure to remove your cream cheese from the refrigerator about 30 minutes before using it to soften it. Otherwise, you'll end up with cold blocks of unspreadable cream cheese that will inevitably break your pastry dough.
While this is a peaches and cream tart, if peaches are no longer in season where you live, you can easily customize this tart based on the seasons. Sliced plums would be fabulous, as would apples or pears. The same goes for the blueberries. You can substitute any berry you like or omit them altogether if they're not available. If you want to use frozen berries, be sure to thaw them and remove all of the excess liquid.
There's really not much to say about this tart except that it's the perfect combination of flaky, buttery, cheesy, creamy, and sweet, so you should really make it.
Peaches and Cream Puff Pastry Tart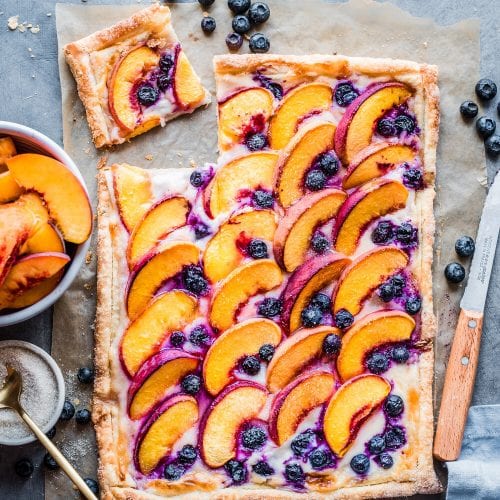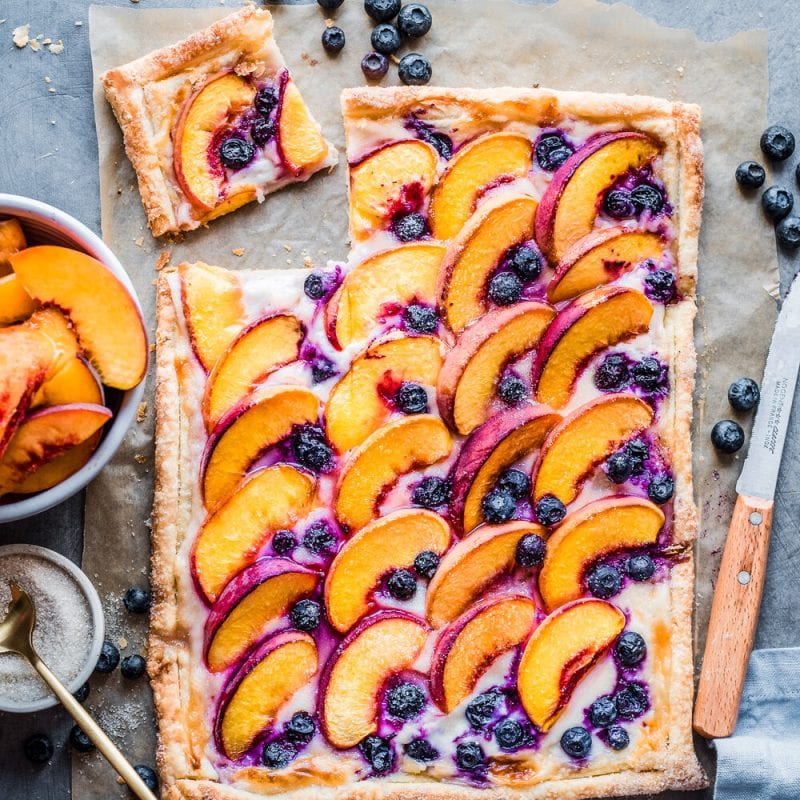 This vegan Peaches and Cream Puff Pastry Tart is an easy delicious summer dessert idea, and the perfect use for seasonal peaches. Made simple with store-bought puff pastry vegan cream cheese.
Ingredients
1

sheet of puff pastry,

thawed

1

(8-ounce) container of Tofutti dairy-free cream cheese, softened

1-2

tablespoons

light agave nectar

(organic cane sugar, or pure maple syrup)

1 1/2

teaspoons

pure vanilla extract

1-2

teaspoons

vegan butter,

melted

1-2

tablespoons

organic cane sugar

2

cups

peaches,

sliced (but not too thinly)

1/2

cup

fresh blueberries
Instructions
Thaw the sheet of puff pastry at room temperature for 30-40 minutes or according to the package directions. Soften the cream cheese by letting it sit at room temperature for 30 minutes.

Line a baking sheet with parchment paper and preheat the oven to 400ºF.

Using an electric handheld mixer, beat the softened cream cheese with the agave nectar (or sweetener of choice), and vanilla extract on medium speed until whipped and smooth.

Once thawed, place the puff pastry on a floured surface and use a rolling pin or a chilled bottle of wine to roll it into a 13"x9"rectangle. Using a paring knife, thinly trace a 1 inch border around the dough, but don't slice through. Use a fork to prick the center of the pastry all over (but not the border). Brush the border with the melted vegan butter and sprinkle on the cane sugar.

Carefully transfer the puff pastry to the parchment paper-lined baking sheet. Spoon the cream cheese mixture onto the pastry and spread it out evenly using a rubber spatula or a frosting spatula, leaving the border uncovered. Top evenly with the sliced peaches and then dot with the blueberries.

Bake the tart in the preheated oven for 25-30 minutes or until the crust is golden brown and lightly puffed.

Once slightly cooled, cut into squares and devour.
---
Calories:
194
kcal
|
Carbohydrates:
17
g
|
Protein:
3
g
|
Fat:
14
g
|
Saturated Fat:
4
g
|
Polyunsaturated Fat:
1
g
|
Monounsaturated Fat:
5
g
|
Trans Fat:
1
g
|
Sodium:
127
mg
|
Potassium:
67
mg
|
Fiber:
2
g
|
Sugar:
6
g
|
Vitamin A:
103
IU
|
Vitamin C:
2
mg
|
Calcium:
16
mg
|
Iron:
1
mg