*For a roundup of 30 vegan Thanksgiving recipes to try this year, check out this blog post!*
The first time I made a pumpkin tart was Thanksgiving circa 2002. I say pumpkin tart and not the more traditional pumpkin pie because I think a tart is a much better vehicle for a pumpkin pie filling (when the filling is done right, of course).
I have had my fair share of pumpkin pie over the years, and I've honestly never tasted a pumpkin pie that blew my mind. And that's saying something because I LOVE pumpkin flavors (a quick perusal of my recent recipes will indicate as much).
Here's why I don't like typical pumpkin pie:
The crust is often heavy and dense, not light and flaky. That's because you're essentially baking a custard pie in a pie shell, according to America's Test Kitchen

.

And the crust often gets soggy on the bottom because pumpkin pie filling (traditionally made with cream and eggs) is so thick and dense.
Oh, yeah, pumpkin pie filling can be really thick and dense. And sometimes the filling is even grainy. This usually happens because the pie gets overbaked in an attempt to ensure that the sky-high custardy filling gets fully cooked through (and doesn't give anyone salmonella). Or sometimes the filling is lumpy because the eggs were not cooked properly when mixed together with the pumpkin puree, sugar, and cream. This can cause curdling, which is obviously gross.
And pumpkin pie filling is often fairly one-note in taste. It's just pumpkin, milk/cream, sugar, pumpkin pie spice, and eggs. It's good but it's not amazing and has the potential to be so much better!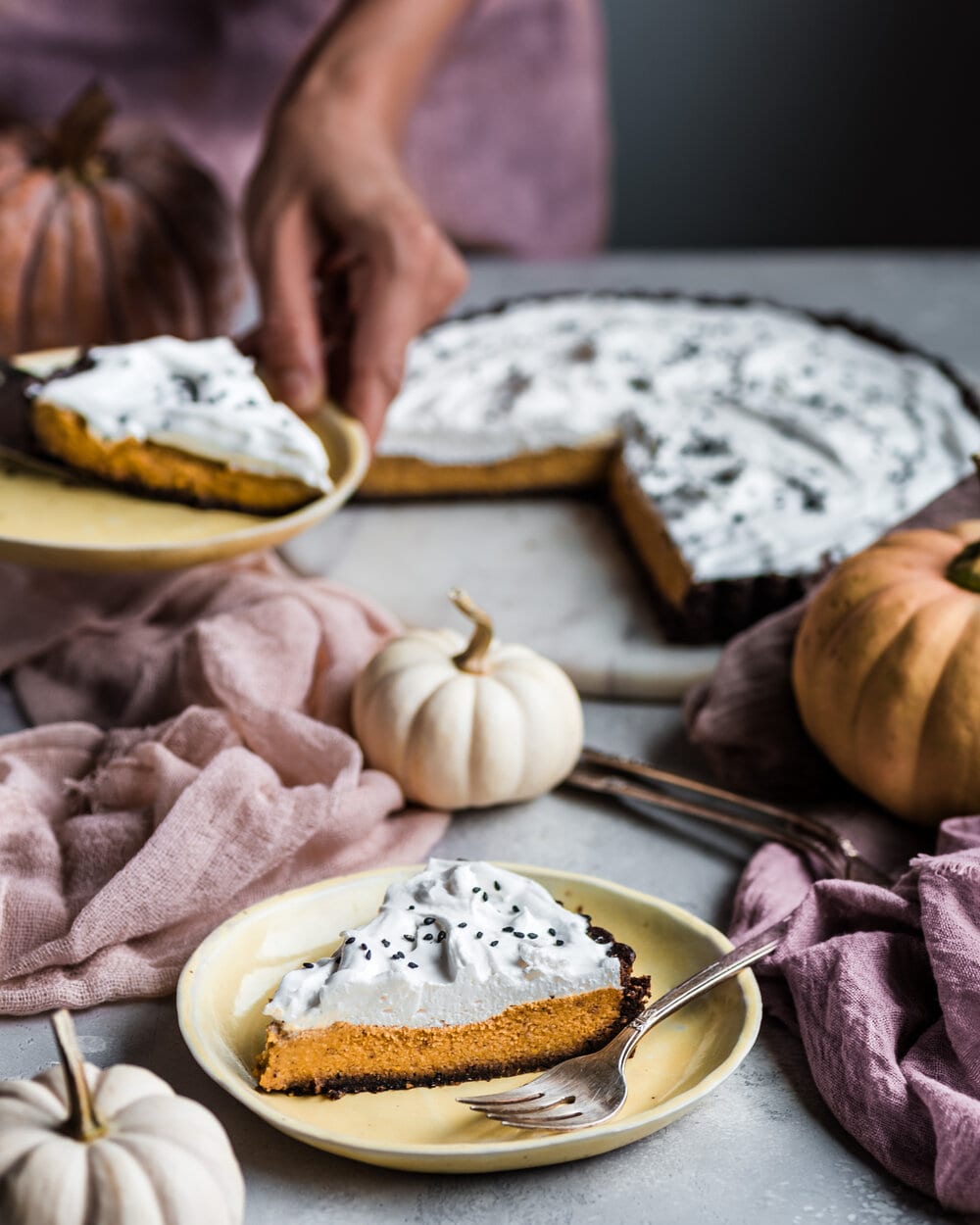 Here's why I love pumpkin tarts in contrast to pumpkin pies.
Tarts, in contrast to pie shells, have shallow sides and thin bottom crusts. This means they bake more evenly and make it far less likely that you will overbake the pumpkin pie filling.
Tart crusts are also incredibly simple to make and don't require you to roll out the dough or wait for it to rest. Since you're likely busy cooking lots of other dishes around the holidays, this shortcut is very convenient.
Tart crusts are more flavorful. Pie crusts, when done well, are all about texture – that light flakiness is the holy grail (but most pumpkin pies do not have such crusts, as I mentioned earlier). Pie crusts, however, are not flavorful. They're just a vessel for the filling, whether it's pumpkin, apple or blueberry. In contrast, tart crusts are very flavorful – you get a little bit of saltiness and sweetness and nuttiness, depending on the ingredients you use. And a good tart crust contains ingredients that are specifically tailored to that tart's filling. For instance, a chocolate brownie tart crust makes perfect sense with a creamy chocolate filling

, but that same tart crust would be absurd with an apple tart!

This is a personal opinion, but tarts feel a bit more elegant and dainty than pies, which are more rustic and homey (and often overfilled to the brim). And I like to bring a little elegance to the holiday table to delight and surprise my guests.
Now that I've exhaustively covered why I prefer pumpkin tarts to pumpkin pies, let's talk about how to make pumpkin pie filling taste better. I don't think traditional pumpkin pie filling tastes bad, per se, but it's really not that special.
So here's how I fancify my pumpkin filling and infuse it with lots of complex flavors.
Homemade pumpkin puree

: Okay, this one is actually not required, but I do think using homemade pumpkin puree improves the flavor a bit more than using canned pumpkin puree. I made this tart twice in one week: the first time with canned pumpkin puree and the second time with homemade pumpkin puree. I also tasted both purees plain. While eating plain canned pumpkin puree was kinda gross, the homemade one was pleasant (and smoother in texture). Both finished tarts were delish, but the one with homemade puree was tastier. Granted, I have been dubbed a "super taster" by my boyfriend so it may well be that most people won't notice the difference.

So, it's not essential to use homemade pumpkin puree. But if you have a pumpkin lying around and a little bit of time, I think it's worth it.
To make homemade pumpkin puree, slice a sugar pie pumpkin in half and scoop out the seeds and stringy bits. Place the pumpkin halves, flesh side down, on a parchment-paper lined baking sheet. Bake at 400°F for 40-60 minutes (depending on the size) until the flesh is fork tender and is pulling away from the skin.

Miso Paste: This is one of the secret ingredients in this tart. You might be used to seeing miso in only savory foods, like miso soup or sauces, or even in my Miso Butter Mashed Potatoes! But miso paste can also lend a helping hand in certain desserts. This is because salty and umami flavors enhance sweet flavors and vice versa. This is why nearly every baked good contains a bit of salt, why everyone is obsessed with salted caramel, and why salted pretzels dipped in chocolate are so damn good.

While salt brings only saltiness, miso paste brings both saltiness and a rich umami flavor. This introduces a complex depth of flavor to the pumpkin pie filling that pumpkin pie almost never has.

I use white miso paste from Miso Master, which is my favorite brand for miso paste.

Orange Zest and Orange Juice: The pungent sweet aroma of orange zest and juice bring out the pumpkiny flavor of pumpkin (and pumpkin spices) and impart a much-welcomed pop of freshness to pumpkin pie. I learned this combination from my childhood idol, Ina Garten and you'll often see a bit of orange zest or juice in my pumpkin recipes, like in my Pumpkin Sheet Pancakes.

Homemade Pumpkin Spice

: If you have store-bought pumpkin spice, feel free to use that, but I always find that my homemade blend packs in a lot more punch and flavor. I especially recommend using

freshly grated nutmeg

if you have whole nutmeg. The freshly grated stuff brings an indescribably sweet yet spicy aroma that lingers on the tongue after each bite.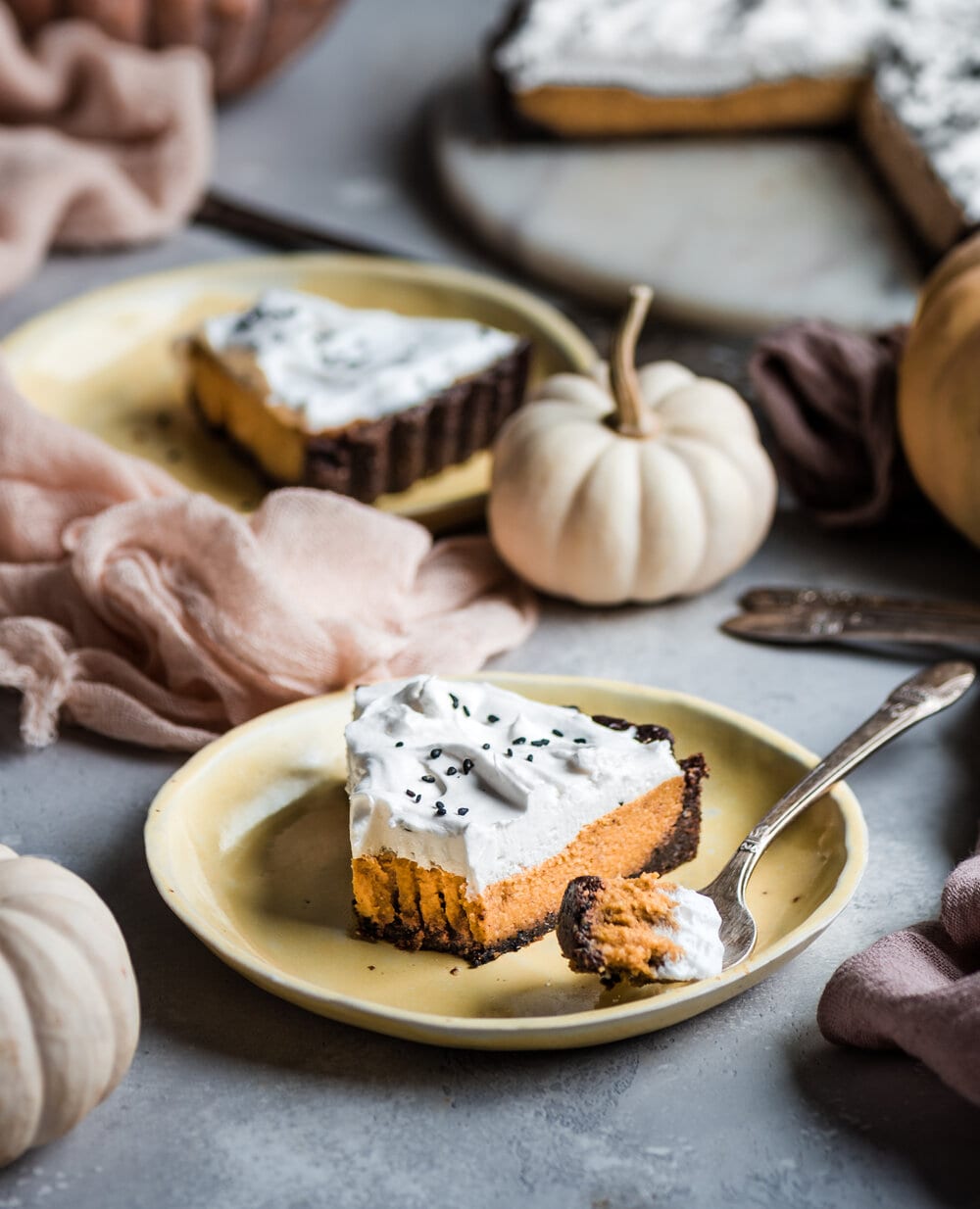 Now let's briefly talk about the texture of this pumpkin pie filing. I would describe it as creamy and rich yet light and almost airy. Definitely not dense, like traditional pumpkin pie filling. To achieve that creamy richness without using dairy or eggs, I used raw soaked cashews (vegan superstar ingredient) and So Delicious organic Coconutmilk creamer. I like it because it's vegan, gluten-free, soy-free, and sugar-free (basically it's just coconut), but you can substitute "lite" coconut milk or another nondairy creamer if you want.
And to help the filling set so it's not wobbly or jiggly (two of my least favorite words), I use cornstarch. While this filling is edible when raw (yay, no eggs!), I don't recommend eating it because it'll have that raw flour taste due to the cornstarch. Not to worry, however. That taste will wear off during baking. I have not tried this particular recipe with arrowroot powder, but I have made a similar recipe using arrowroot powder instead of cornstarch and believe it should work.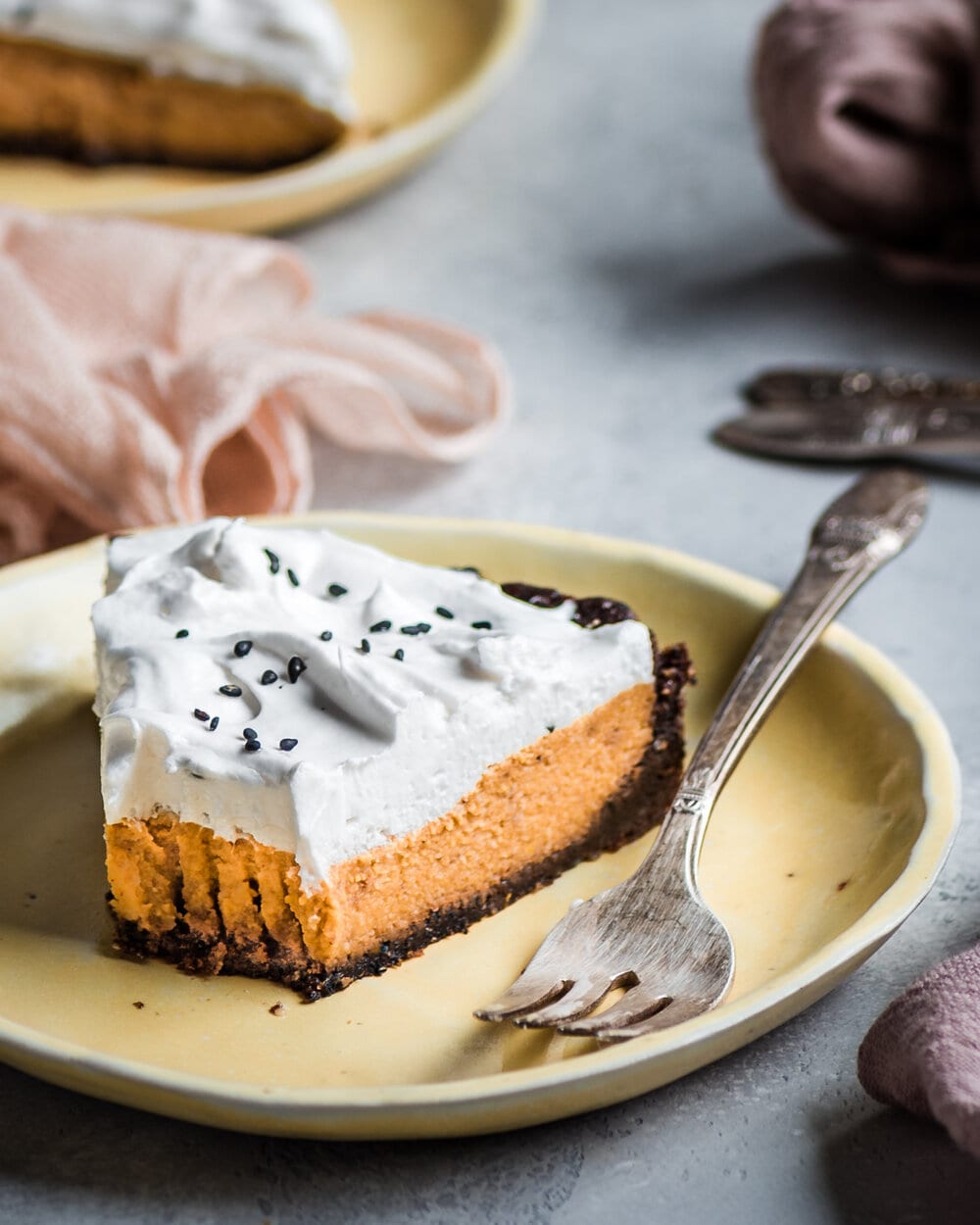 Finally, let's talk about this Black Sesame Chocolate Crust because it is ADDICTIVE! It's made with just a handful of ingredients but is so flavorful! First, black sesame seeds. I absolutely love black sesame seeds in desserts. I first learned that this was "a thing" when I backpacked throughout Asia and had the pleasure of tasting steamed dessert buns stuffed with black sesame paste, black sesame pudding, and even black sesame coconut milk ice cream.
The black sesame seeds bring a nutty, rich earthiness (in a good way) to this dessert and play off the addition of miso paste. I think they also bring elegance, sophistication, and flair to an otherwise homey, traditional dessert.
The crust also contains walnuts, ground ginger, sea salt, maple syrup, and cocoa powder. The walnuts bring another subtle source of umami to this complex tart, while the ginger brings a bold sweet-spiciness. And the cocoa powder adds another layer of richness. Plus, pumpkin and chocolate are such a delicious combination! And since there's no flour involved, the crust is simple to make and is naturally gluten-free.
You will need a device to crush the sesame seeds. I use a mortar and pestle, but you could also use an electric spice grinder, coffee grinder, or even one of those tiny compact food processor choppers that are good at crushing things (I do not have one).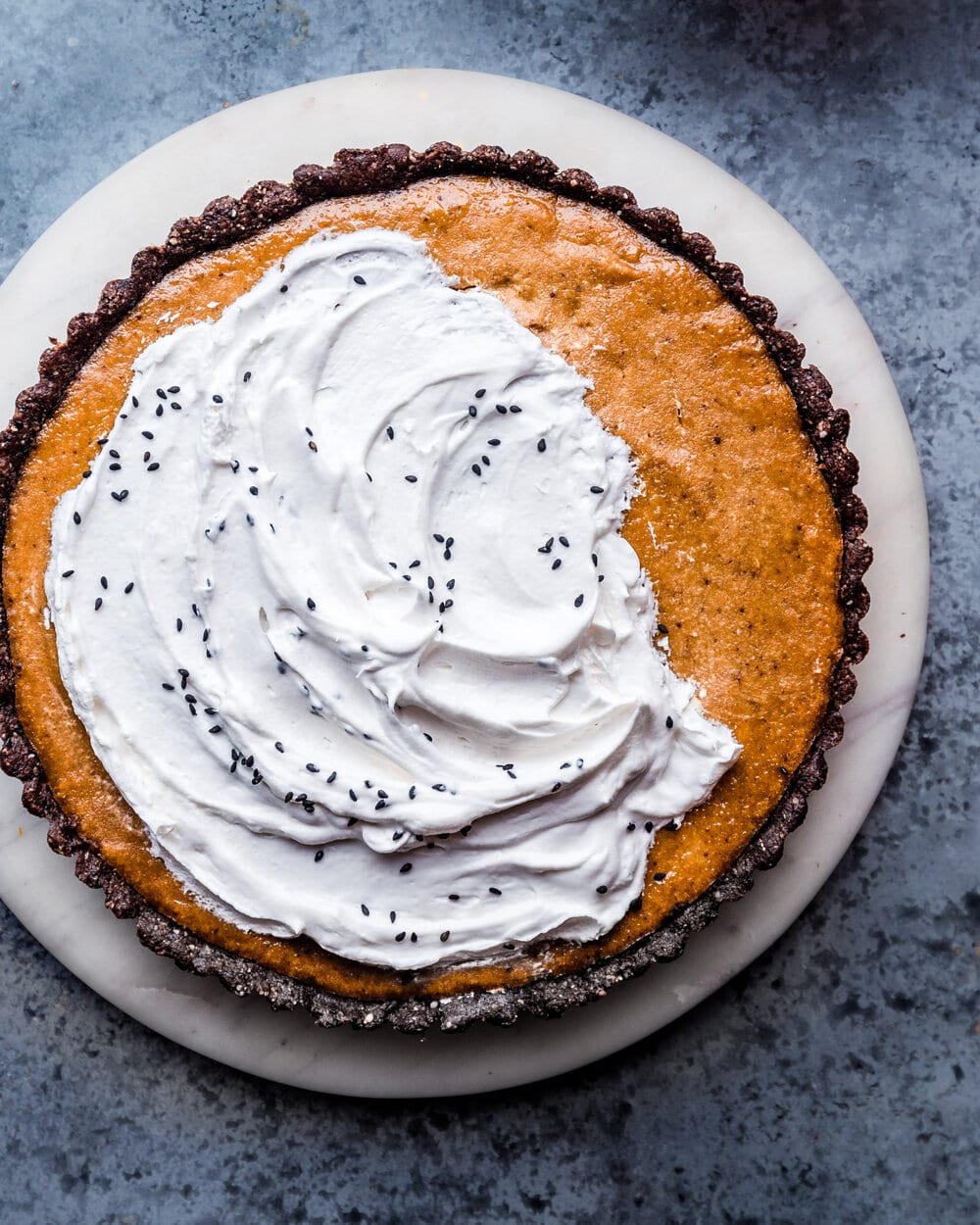 I think that's about all you need to know about this Vegan Pumpkin Miso Tart! I hope you give this recipe a try at the holidays this year! If you make it, be sure to leave a comment below with your feedback and tag me on Instagram with your recreations!
Pumpkin Miso Tart (Vegan, Gluten-Free)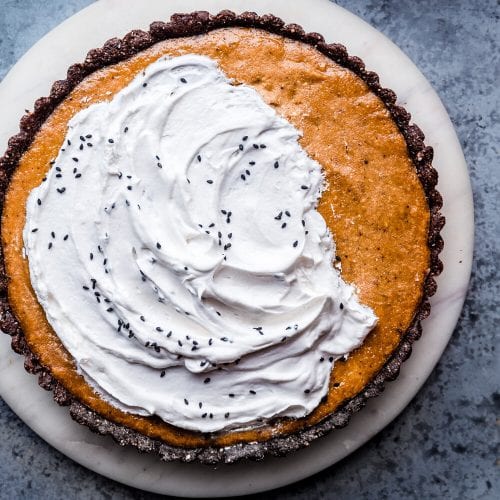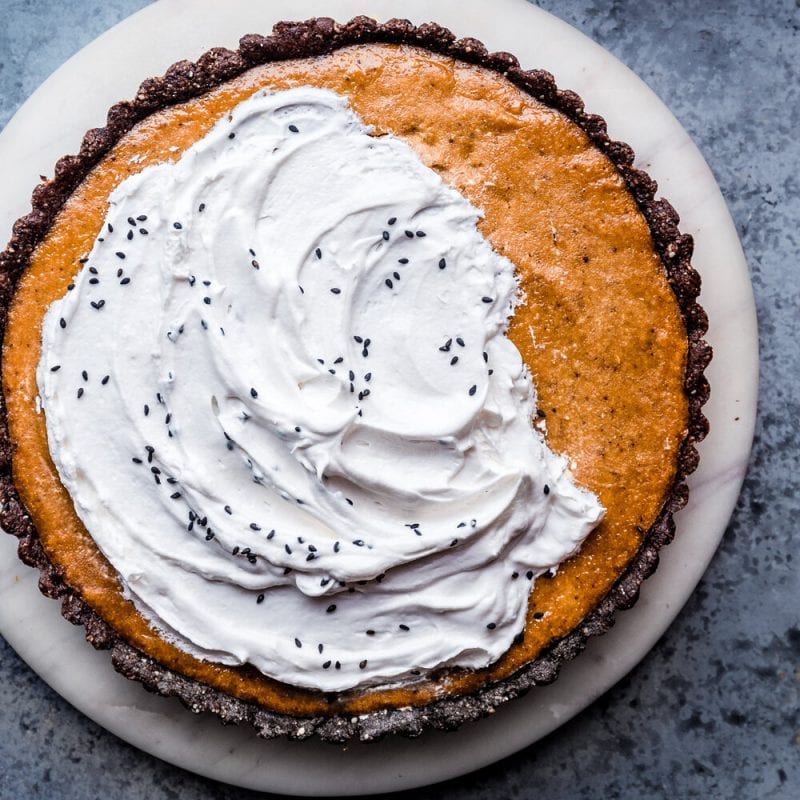 An elegant spin on the classic pumpkin pie, this Vegan, Gluten-Free Pumpkin Miso Tart with a Black Sesame Crust is guaranteed to impress your holiday guests. The pumpkin pie filling is rich and creamy yet light and airy, and thanks to a few secret ingredients, it'll be the most flavorful pumpkin pie you'll ever try!
Ingredients
Crust
1/3

cup

(~48g) black sesame seeds

1 3/4

cups

(~196g) raw walnuts

5

tablespoons

(75mL) pure maple syrup

Heaping 1/2 teaspoon fine sea salt

1/2

teaspoon

ground ginger

1/4

cup

(20-25g) unsweetened cocoa powder or cacao powder
Tart Filling
1 1/4

cups

(140-150g) raw cashews, soaked in boiling water for 1 hour *

1/2

cup

So Delicious organic Coconutmilk creamer**

2

tablespoons

(16g) cornstarch

1/2

cup

(120mL) pure maple syrup

1 ½

cups

(~360g) pumpkin puree (homemade or from a can)***

1 1/2

tablespoons

mild white or yellow miso paste
Homemade Pumpkin Pie Spice****
1 1/4

teaspoons

ground cinnamon

1/2

teaspoon

ground ginger

Scant 1/2 teaspoon nutmeg

(I recommend freshly grated, if you have whole nutmeg)

1/4

teaspoon

ground cloves

1/4

teaspoon

ground allspice

A pinch or two of fine sea salt

1

teaspoon

orange zest

3-4

teaspoons

freshly squeezed orange juice

1

teaspoon

pure vanilla extract

Optional Toppings

Black sesame seeds

Coconut whipped cream or frozen nondairy whipped topping
Instructions
Preheat the oven oven to 350°F/175°C.

Make the crust: Finely crush the black sesame seeds using an electric spice grinder, coffee grinder, or mortar and pestle.

In a food processor, pulse the walnuts until they are finely ground. Add the ground black sesame seeds, maple syrup, salt, ginger, and cocoa powder and blend until well combined and the dough sticks together when pressed between your fingers.

Press the dough evenly on the bottom and up the sides of a 9-inch or 10-inch tart pan. Place the pan in the freezer to set while you make the filling.

Make the filling: Drain the soaked cashews and give them a rinse. Add the cashews to a high-powered blender or food processor and blend them until they start to break down and blend together. Then add all of the remaining filling ingredients including the homemade pumpkin pie spice, and blend until the filling is very smooth and creamy, scraping down the sides as needed.

Pour the filling on top of the chilled crust and smooth out with a silicone spatula. Tap the pan against the counter a few times to release any air bubbles.

Bake the tart in the preheated oven for 45-50 minutes until the filling is set and no longer jiggly or loose. Allow the tart come to room temperature. Then refrigerate for at least 2 hours before serving.

When ready to serve, if desired, serve each piece of the tart with a dollop of coconut whipped cream or frozen whipped topping and a sprinkle of black sesame seeds.
Notes
* You can also soak the cashews in cold water for 8 hours or overnight.
** You can substitute this with "lite" coconut milk or with another dairy-free creamer
*** To see how I make homemade pumpkin puree, watch the video starting at 02:12 or see the notes above in the blog post. If your homemade pumpkin puree seems watery, strain it over a fine mesh sieve and discard the water.
**** You can use an equivalent amount of store-bought pumpkin pie spice if you want, though I find those mixes to be less flavorful than my homemade blend.
---
Calories:
454
kcal
|
Carbohydrates:
43
g
|
Protein:
10
g
|
Fat:
29
g
|
Saturated Fat:
4
g
|
Polyunsaturated Fat:
15
g
|
Monounsaturated Fat:
8
g
|
Sodium:
308
mg
|
Potassium:
504
mg
|
Fiber:
6
g
|
Sugar:
25
g
|
Vitamin A:
7166
IU
|
Vitamin C:
4
mg
|
Calcium:
152
mg
|
Iron:
4
mg