There is no shortage of mashed potato recipes on the internet. However, I have come across many vegan mashed potatoes recipes that purport to be "the real thing" but, let's be honest, potatoes + almond milk ≠ mashed potatoes. Sorry, it's not the same at all!
Which is why I am going to teach you how to make the BEST vegan mashed potatoes. They're going to be silky and light and fluffy yet creamy and rich, the best of both mashed potato worlds, IMO. Plus, I'm sharing my secret weapon for the most flavorful mashed potatoes as well as LOTS of tips for making stellar mashed potatoes every time.
Watch! How to make Perfect Vegan Mashed Potatoes
For a visual on how to make the best mashed potatoes, be sure to watch the Youtube video!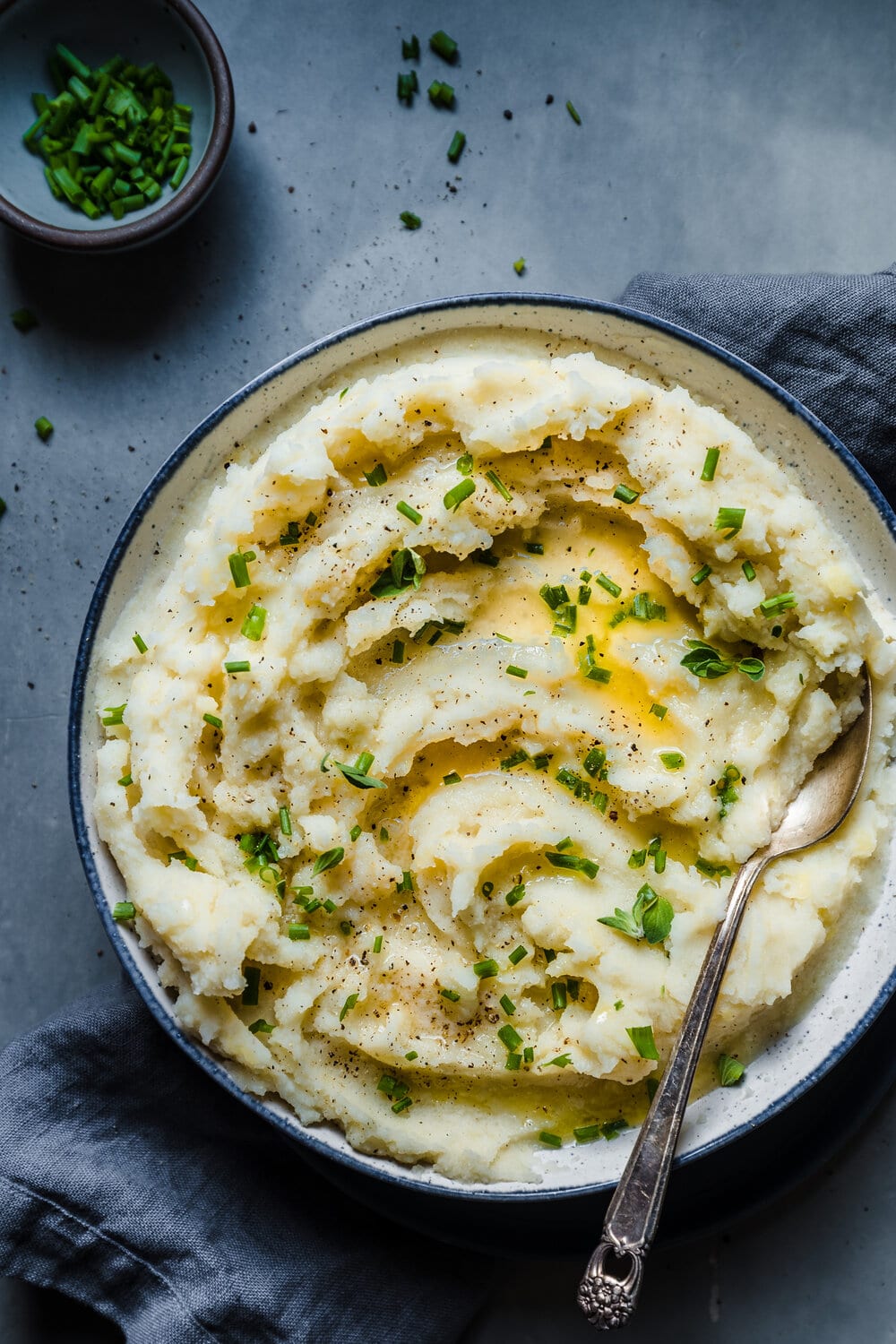 What variety of potato is best for mashed potatoes?
First, let's talk potato variety, which is crucial for making great mashed potatoes. In the 17 years I've been making mashed potatoes (yes, 17 years! I made my first batch for Thanksgiving in 2002), I've tried making mashed potatoes with every possible of potato variety–yellow, white, red, mini, large, etc.
And what I've learned is that the best mashed potatoes contain a combination of two types of potatoes. First, Russet potatoes, which are those big ol' brown-skinned potatoes that you can find at literally every grocery store. And second, Yukon Gold potatoes, which are golden-fleshed yellow potatoes.
There's a bit of science behind this magic, so let's get nerdy. First, russet potatoes are a high-starch potato, which means they'll bring the light, fluffy texture that you love about mashed potatoes. It also means they'll easily absorb the vegan butter, vegan milk, etc.
Yukon Gold potatoes, on the other hand, are a medium-starch potato. They have less fluffiness than Russets, but they do have a lot more potato flavor than Russets, which are pretty flavorless. Plus, they're naturally creamy, so they're going to make the mashed potatoes rich and creamy. If you can't find Yukon Gold potatoes, substitute another yellow-skinned potatoes. But I don't recommend using red-skinned potatoes, which are waxy and make for dense, gummy mashed potatoes.
So if you agree that the best mashed potatoes are simultaneously fluffy and creamy, you're gonna want to try this potato combination! I use equal parts of both potatoes in this recipe.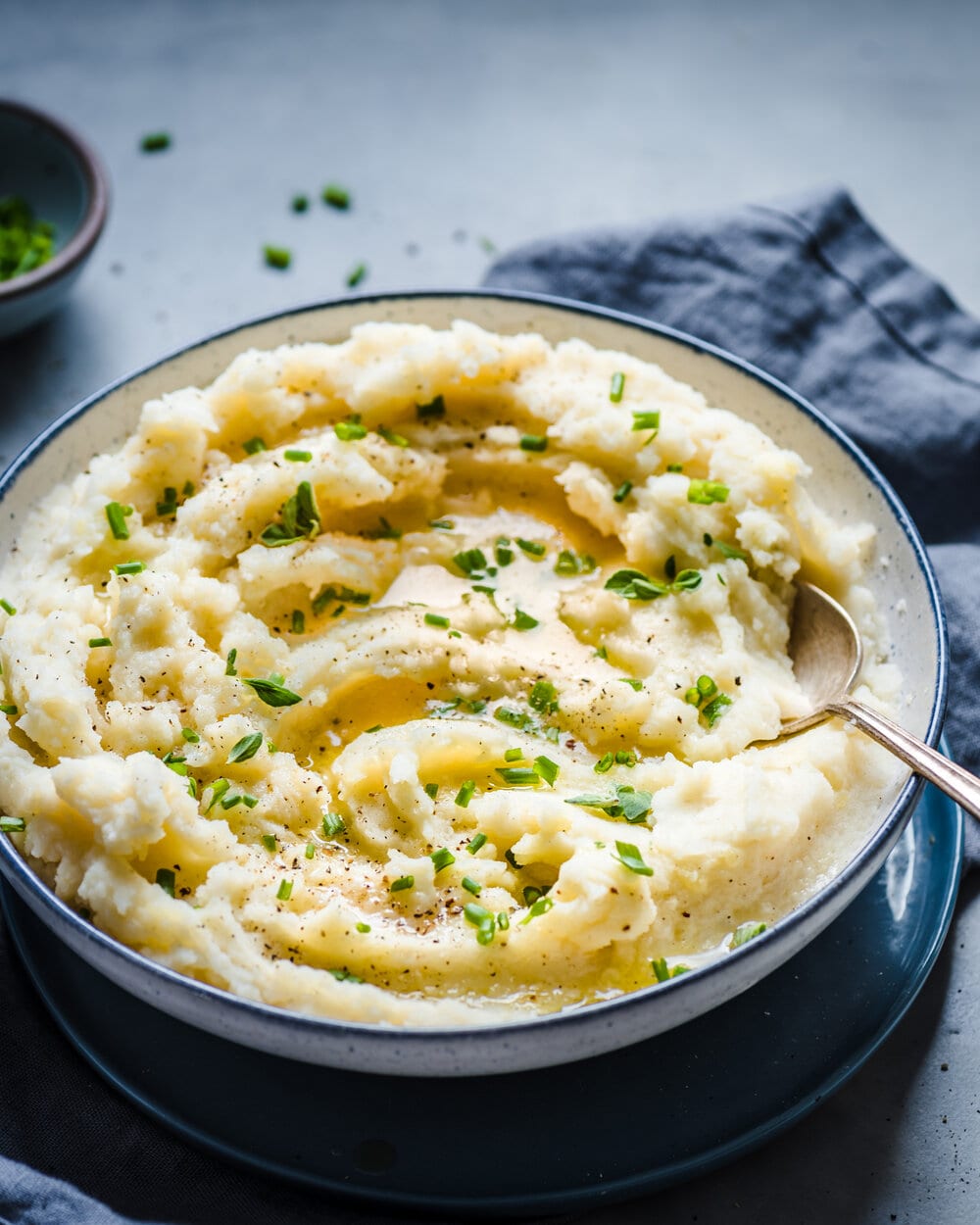 How to cook the potatoes
First things first, wash them potatoes because potatoes are dirty AF. They are literally crawling in dirt because they grow in dirt. I first peel the potatoes and then wash them because there is often dirt lurking under the relatively thin skin.
Then, chop up your potatoes. Nothing too small, but I prefer to cut my Yukon Gold potatoes into fourths and the Russets into eighths if they're very large. If the Russets are more on the medium size, you can cut them into fourths since they tend to get softer a bit quicker than the Yukon Gold variety.
Next, place the potatoes in a large saucepan and cover with cold water. I learned this tip from my guru Ina Garten back when I was a teenager. If you add potatoes directly to boiling water, they're more likely to cook unevenly than if you start with cold water.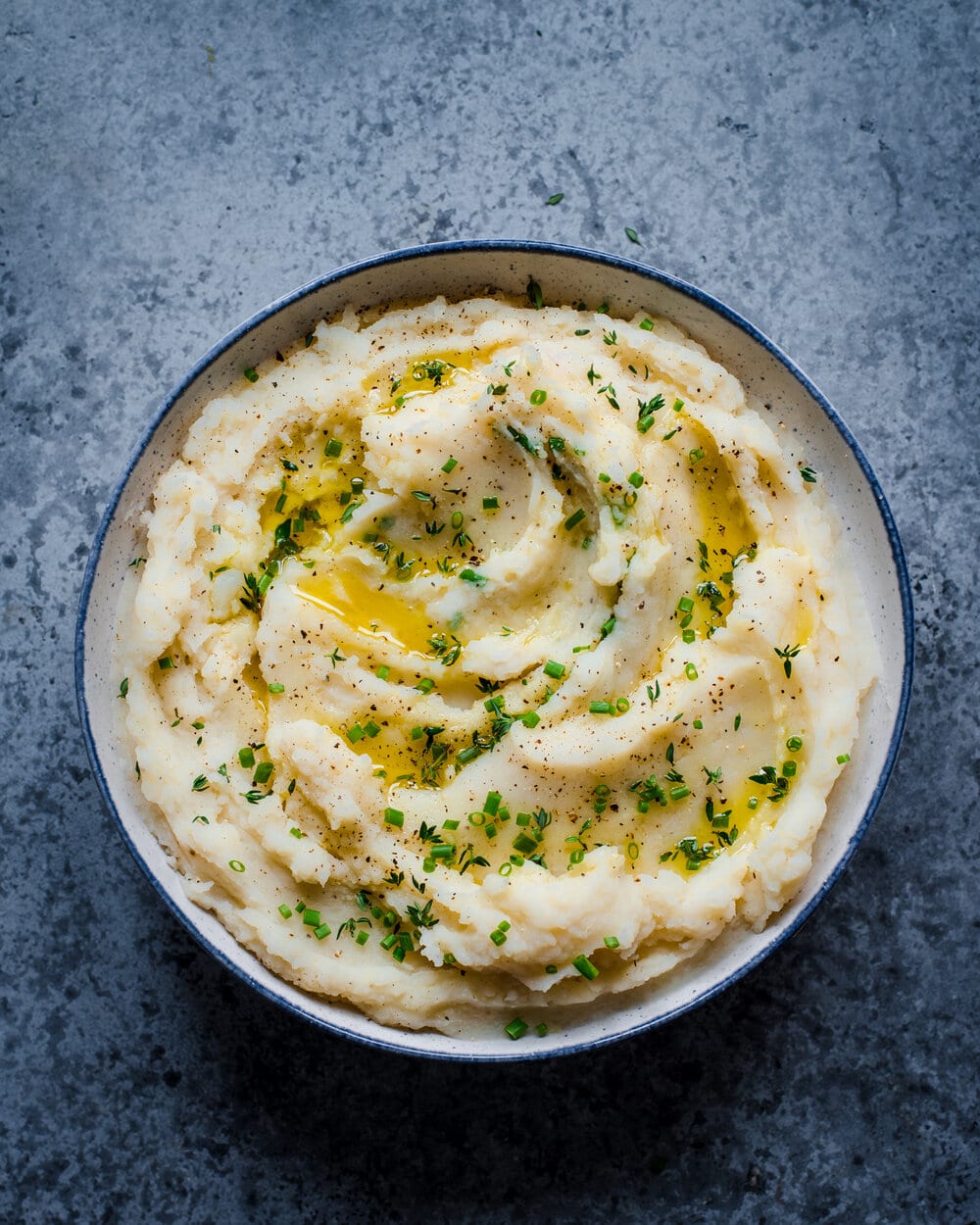 Once you cover the potatoes with water, please be sure to generously salt the water! I know some people are wary of salt, but if we're being honest, the vast majority of sodium in our diets comes from processed foods and dining out. So unless you have a specific health condition such as hypertension, you don't need to avoid salt in home cooking. And frankly, you shouldn't, because salt is what makes food tastes like it should.
If you don't salt your potato cooking water, your mashed potatoes just won't taste as good. Again, it comes down to science. When you salt your cooking water, it infuses flavor directly into the potatoes, which makes them taste more flavorful in the end. And you can't replicate that depth of flavor by just sprinkling on some salt on top of the mashed potatoes at the end.
I prefer to use Diamond Crystal kosher salt in most of my cooking, including here, because it has this nice light flaky texture. And I have never over-salted my food when using kosher salt because it is less salty, by weight, than table salt and sea salt (in contrast, I have definitely over-salted my food when using sea salt). Plus, it's cheaper than sea salt, which I reserve for desserts or when I otherwise need a fine grain salt.
Once your (salted) water is boiling, the potatoes should take about 15 minutes to soften (20 minutes at the most). To test them, insert a fork or metal skewer into a potato. There should be no resistance. The potato should be very soft and almost but not quite falling apart.
Finally, drain the potatoes, but that's not it. If you just quickly drain the potatoes in a colander, they'll still have some moisture. And that means your mashed potatoes might be a little watery. And watery mashed potatoes can be soggy (and sad). I recommend draining the potatoes and then adding them back to the pot you cooked them in (no water). Turn the heat to low and let the heat dry up the excess moisture from the pan. Stir occasionally to prevent the potatoes from sticking.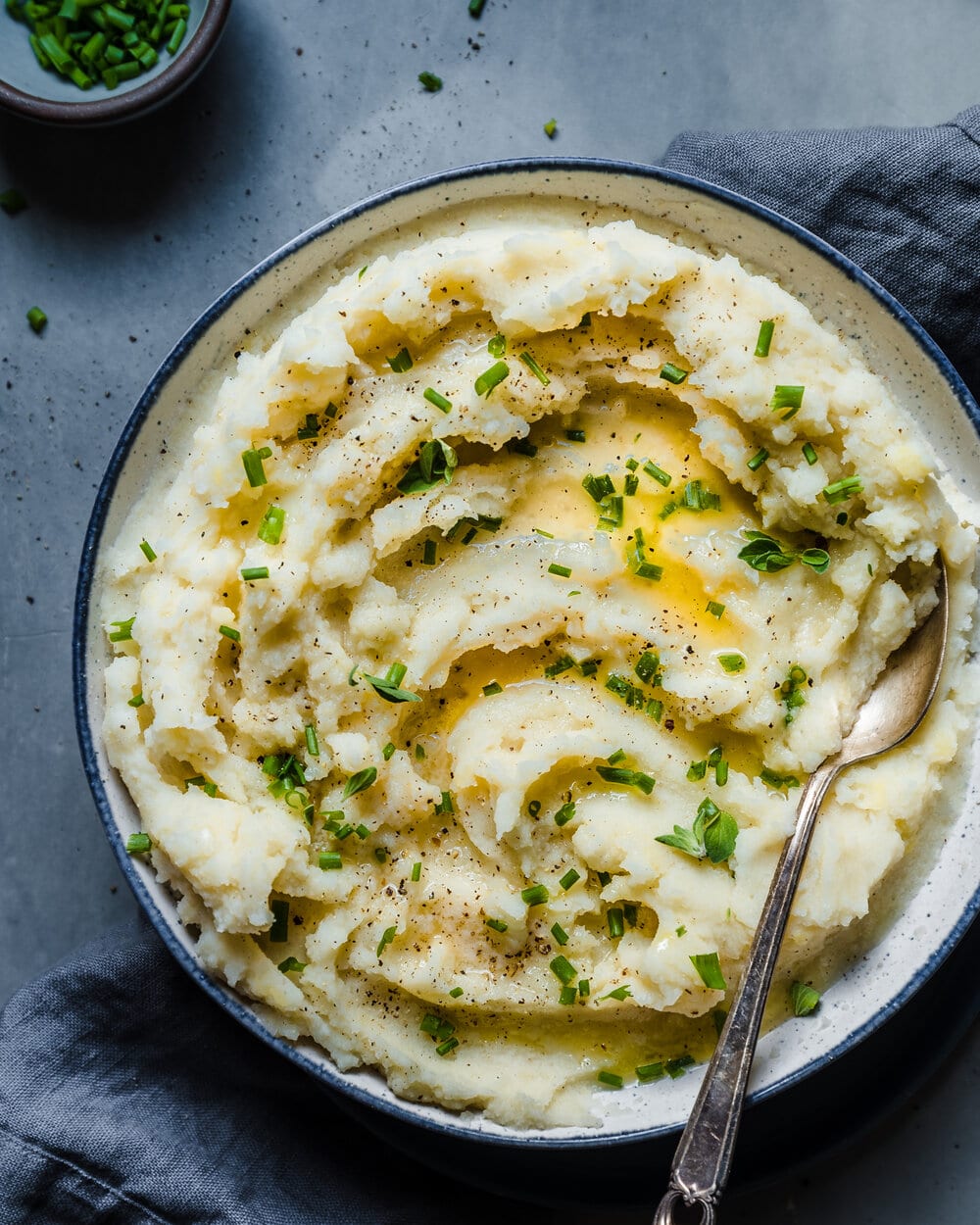 The secret ingredient for vegan mashed potatoes 
I've seen (and made) traditional mashed potatoes with half and half, heavy cream, whole milk, butter, sour cream and parmesan cheese.
So to make up for all that creaminess and rich flavor, we have to add a few key ingredients to our vegan mashed potatoes, and my secret weapon is miso butter! It adds such a complex, rich, savory taste to these mashed potatoes.
To make the miso butter, I simply cream together vegan butter and mild miso paste to make the most flavorful butter you will ever taste! I use Country Crock's Plant Butter because it works just like traditional butter (trust me, I used to use a lot of dairy-based butter in my pre-vegan Thanksgiving menus). And these vegan butter sticks soften just like traditional butter! I like to take a stick of the Plant Butter (you need 6 tablespoons for this recipe) out of the fridge before I start cooking the potatoes so it's fully softened when I'm ready to mash the potatoes. Depending on how warm your kitchen is, it can take 30-60 minutes to fully soften. To speed up the process of softening the butter, you can always slice the butter into small pieces. If you want to see what the texture of the miso butter should look like, be sure to watch the video.
When you cream the butter together with the miso paste, it becomes the most delicious tasting concoction. You might want to make a larger batch of it, form it into a stick, and store it in the fridge. It'll come in handy when you want to slather it on a toasted baguette or stir it into risotto (it is sooo good this way).
In case you're not familiar, miso paste is made from fermented soybeans and it's a really concentrated form of umami. I love incorporating plant-based sources of umami into my savory recipes as often as possible because it brings that rich mouthfeel and flavor that everyone craves.
The best way to mash potatoes 
I grew up seeing my mom mash potatoes with contraption that I have never seen anywhere outside of india. It was a handheld, windup device that was part electric mixer, part potato masher.I took that to mean that I could make mashed potatoes with an electric mixer, and for awhile, I did. And they were good.
But my mashed potatoes became great when I started using a ricer. A ricer is the best tool I've used for mashing potatoes, and I've tried all the tools–various potato mashers, an electric mixer, a food processor, and the above mentioned utensil from India. And you get the fluffiest potatoes, by far, when you use a ricer.
You can get a ricer at a kitchen store or on Amazon for $15-25. If you're not sold yet, just check out the video to see how cool a ricer is in action. If you don't have a ricer, you can also use a food mill. And If you don't want to buy a ricer, I'd recommend using a potato masher. If not, then an electric handheld mixer (low speed only). Whatever you do, do NOT use a food processor. Unless you like gooey, dense, gummy mashed potatoes. Potatoes are full of starch, and starch doesn't like to be jostled around and handled so heavily. Avoid the food processor!
Before you add in the miso butter or any of your creamy ingredients, mash the potatoes up (or rice them if you're using a ricer). Then pour in your ingredients. Make sure you've kept your add-in ingredients warm. If the miso-butter or vegan milk are cold, it will cool down the potatoes and it will be difficult to incorporate them into the hot potatoes.
For this particular recipe, I heat the miso butter in a saucepan until it's almost melted. Then I pour in some "lite" coconut milk and whisk to combine. I keep it on the lowest heat to stay warm until I'm ready to use it, but you don't want it to boil.
Once your potatoes are mashed/riced, pour in the warm miso-butter-milk mixture and fold in gently with a wooden spoon or silicone spatula. You want to be gentle because, again, starches like to be handled with care.
And serve as soon as possible because mashed potatoes are always best served immediately. Of course, if you have leftovers, they'll still be good. If they're too thick for your liking, add them to a saucepan with a bit of nondairy milk and heat until they're a bit looser and warmed through.
I hope you enjoyed this tutorial on How to Make The Best Vegan Mashed Potatoes! If you found it helpful, be sure to leave a comment below or over on Youtube!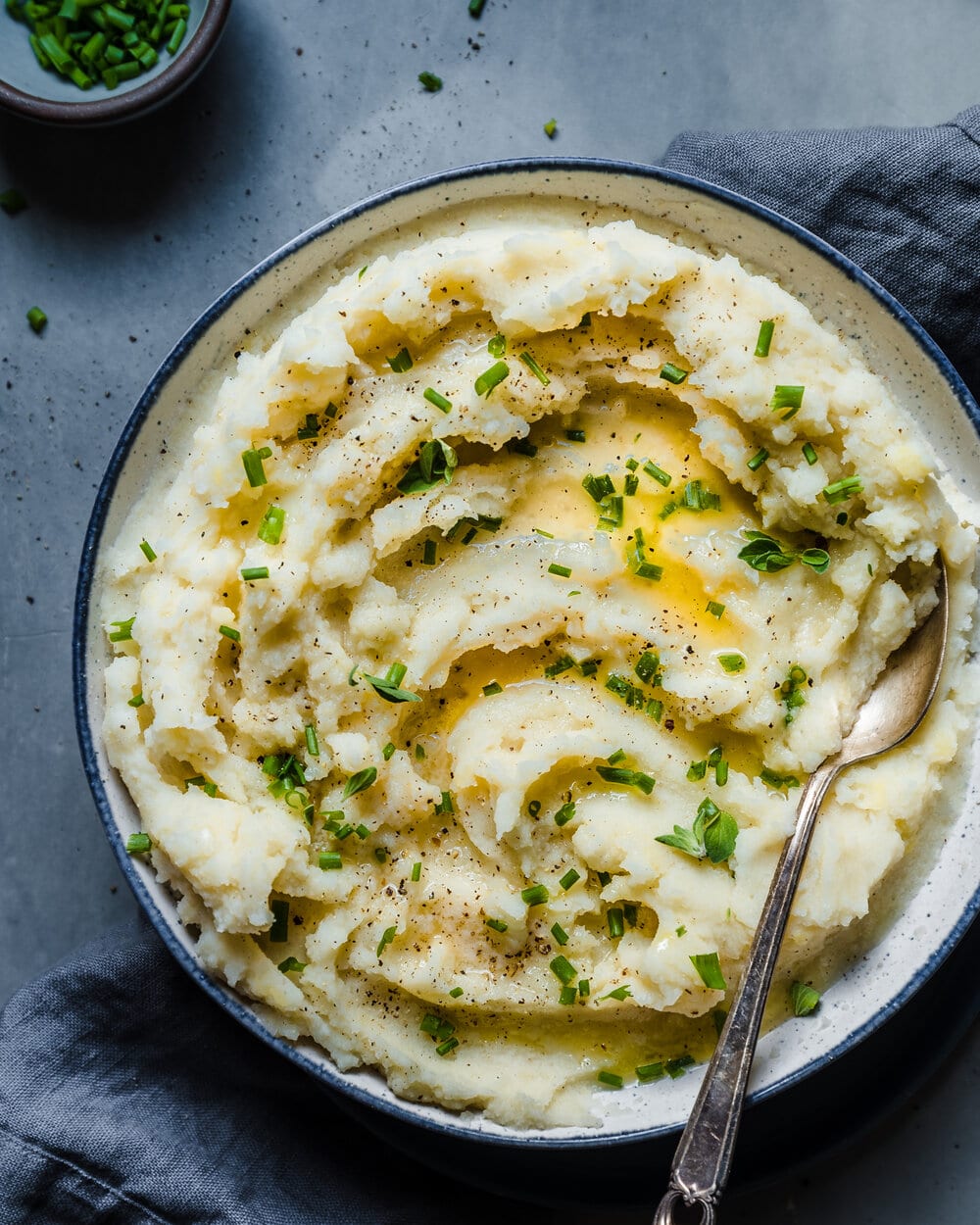 The Best Vegan Mashed Potatoes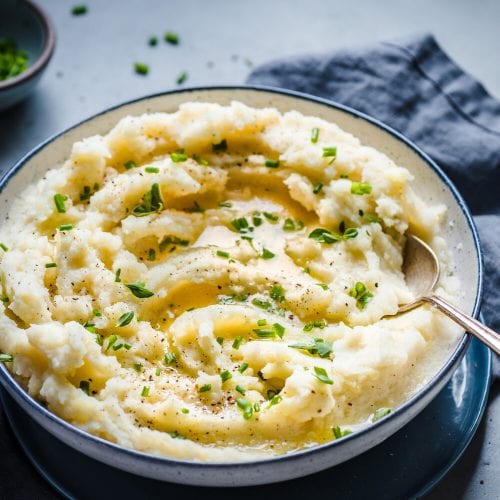 Making a plant-based Thanksgiving but don't want to miss out on mashed potatoes? Read on for an in-depth guide on How to Make The Best Vegan Mashed Potatoes, including how to achieve fluffy yet creamy mashed potatoes and my secret weapon for taking your mashed potatoes over the top!
Ingredients
1

garlic head

(optional)

Olive oil for roasting garlic

(optional)

2 ½

pounds

potatoes

(I use half Russet and half Yukon Gold potatoes)

1 ½

teaspoons

kosher salt + more to taste

3/4

cup

"lite" or reduced-fat coconut milk

6

tablespoons

Country Crock's Plant Butter

(I use the olive oil variety), softened

2

tablespoons

white miso paste*

Freshly cracked black pepper to taste

Chopped fresh chives,

for serving
Instructions
If you want roasted garlic mashed potatoes, follow this step. Remove the outer layers of the garlic head and then slice off a thin layer off the top to expose the skin of the cloves. Rub the exposed cloves with a bit of olive oil. Wrap in parchment paper and then in foil to make a packet, and then place in the oven at 400°F/200°C for 35-45 minutes until soft and tender and lightly golden.

Meanwhile, take the Plant Butter out of the fridge to soften.

Start preparing the potatoes. Peel the potatoes and then rinse them in cold water. Chop the potatoes into fourths (or into eighths if you have large Russet potatoes). Place the potatoes in a large saucepan or Dutch oven and add enough water to cover them. Add 1 1/2 teaspoons of the kosher salt and stir to combine. Bring to a boil, and then cook until the potatoes are fork-tender and and very soft when poked, about 15-20 minutes.

Drain the potatoes in a colander. Then return the potatoes back to the saucepan. Heat over low heat for a few minutes, tossing the potatoes around to prevent them from sticking. This removes any remaining moisture in the potatoes.

Once the Plant Butter is softened, place it in small bowl and add the miso paste. Using a fork, cream them together until well combined.

Heat a small or medium saucepan over medium-low heat. Add the miso butter and stir to combine. Once it's almost melted, pour in the lite coconut milk. Whisk often to combine and stir until melted. Add a bit of freshly cracked black pepper. Keep the mixture on low heat to stay warm until you're ready to add to the potatoes.

Grab a large bowl. If you are using a ricer, add the potatoes to the ricer and pass them through into a large bowl. If you are using a potato masher or an electric handheld mixer (on low speed), mash the potatoes. Then squeeze the roasted garlic into the potatoes (if adding garlic) and add the warm miso butter-coconut milk combo. Fold gently with a silicone spatula or wooden spoon. Taste for seasonings and add a bit more kosher salt, as needed, and freshly cracked black pepper to taste.

Garnish with fresh chives and serve warm.
Notes
* If you want a more pronounced miso flavor, you can add a bit more of miso paste. I recommend no more than 2 1/2 tablespoons. Otherwise, the mashed potatoes taste very much like miso.