There is a reason that I have only one other pancake recipe on my blog. It's because I loathe making pancakes. I know, that sounds a bit extreme, but I really do hate standing around the stove, flipping one pancake after another. It is SO time consuming. I suppose it's not as bad if you have a griddle pan that can fit multiple pancakes, but I live in a compact New York City apartment, which means ain't no room for a griddle in my apartment!
Enter sheet pancakes, which are oven-baked pancakes that get cooked all together at once!
Here's what's amazing about these vegan sheet pancakes!
No:
Flipping required
Testing the pan to see if it's hot enough
Need to grease the pan (this recipe if actually oil-free)
Waiting for bubbles to appear on the pancake surface
Throwing away the first pancake because it's inevitably undercooked and overcooked at the same time
Standing by the stove waiting for each pancake to cook before making the next one
Sticking your pancakes in the oven to prevent them from getting cold while your family asks "Can we just eat the pancakes already?!?

"
Table of contents:
1. Why you'll love this recipe
2. Ingredient notes
3. Tips for making this recipe
4. Watch! How to make this recipe
5. Recipe card with notes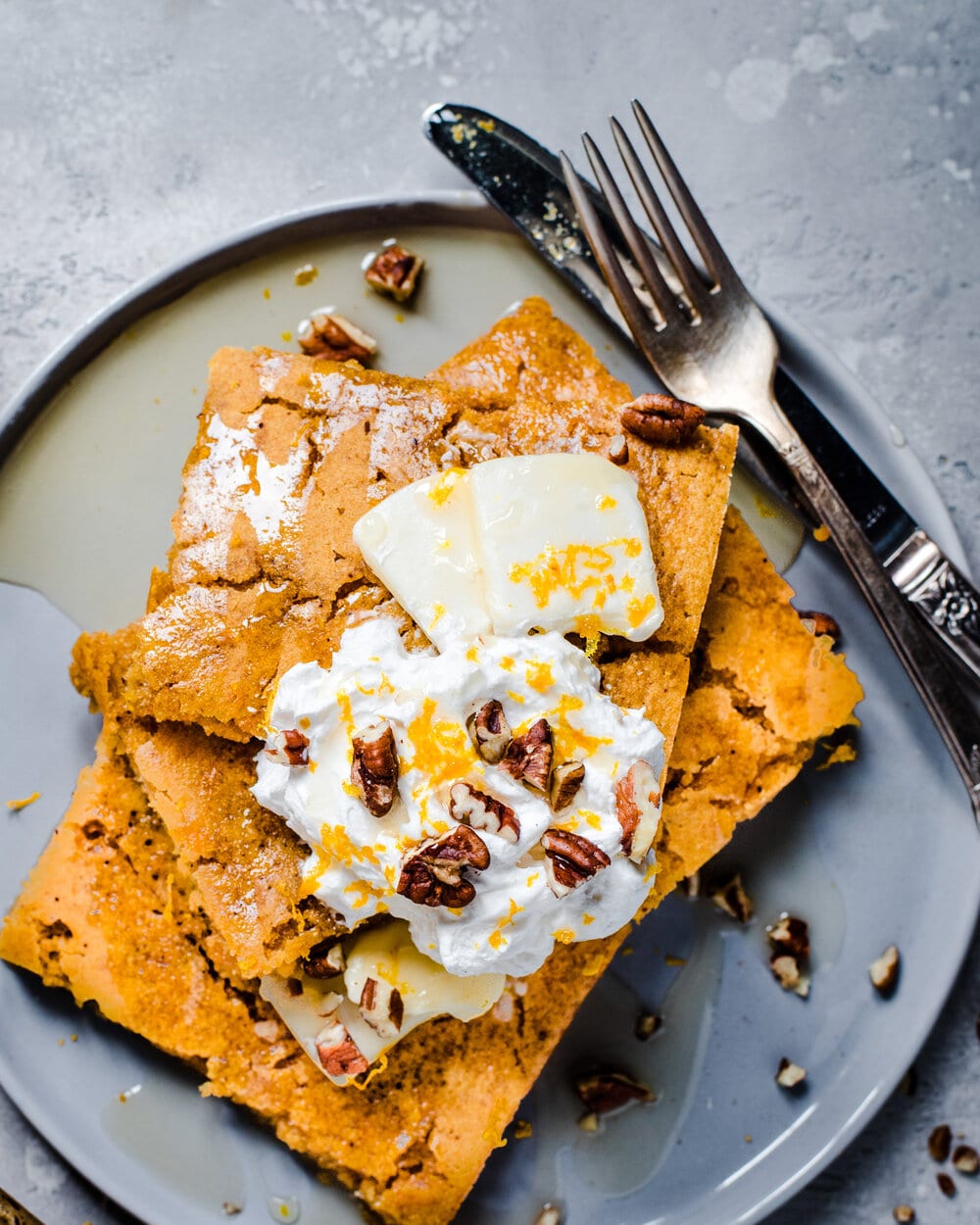 Why you'll love this recipe
Wholesome. These pancakes are vegan, have no added oil, are refined sugar-free, and contain no highly processed ingredients! If you want to keep them that way, don't include the chocolate chips (sorry)! But if you love chocolate and are okay with some refined sugar, go ahead and add them in.
Delicious AF. Pumpkin-spiced pancakes that are light and tender and have a fresh zippy brightness from orange zest. What's not to like??
Easy. In case you missed it, these are the easiest pancakes to make!
Brunch-Friendly. Sheet pancakes easily feed a crowd with minimal work, and unlike traditional pancakes, everyone's pancakes are ready at the same time so you can all eat together!
Leftovers. If you have leftovers, they are just as delicious. Just pop them on a sheet pan or baking tray and bake for 10 minutes at 300°F (150°C).
Customizable Add-Ons: Don't have chocolate chips? Try adding chopped walnuts, pecans, or pumpkin seeds! Or even banana slices!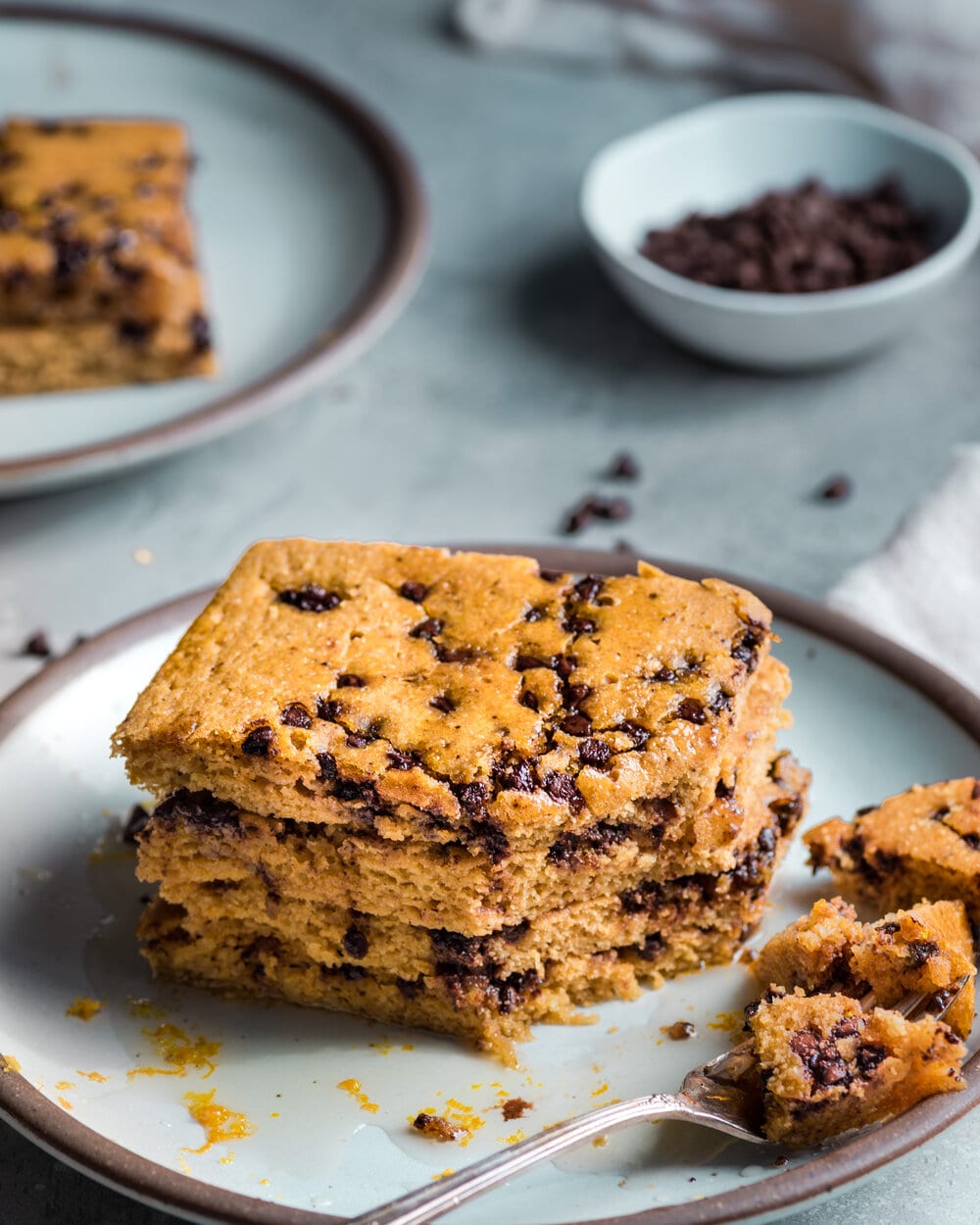 Ingredient notes
All-purpose flour: I wanted to keep these pancakes light and not dense, so I steered away from gluten-free flours. But if you are gluten-free, I would try substituting the all-purpose flour with a 1:1 gluten-free all-purpose baking flour (affiliate link). Or, you could try buckwheat flour, which I've found to work quite well in pancake recipes.
Almond flour: I like using almond flour in a 1:2 ratio with all-purpose flour because it lends a light, cake-like texture and subtle rich flavor to baked goods, including these pancakes. If you don't have almond flour, feel free to just use another cup of all-purpose flour.
Baking powder: This recipe calls for a generous amount of baking powder—2 tablespoons to precise—so don't be alarmed. You'll notice that when you combine the wet and dry ingredients, the batter still start to get puffy and bubbly. That's the baking powder reacting with the vegan "buttermilk" (see below), which enables the pancakes to become fluffy and light despite being baked in a relatively thin layer.
Vegan Buttermilk. I make my "buttermilk" by combining almond milk with freshly squeezed lemon juice and stirring together until it's curdled, similar to the consistency of traditional buttermilk. The acid in lemon juice helps tenderize baked goods that contain gluten.
If you don't have a lemon, you can use apple cider vinegar instead, though I find that lemon juice works a bit better. Since lemon juice is a bit more acidic than apple cider vinegar, it reacts more strongly with the baking soda.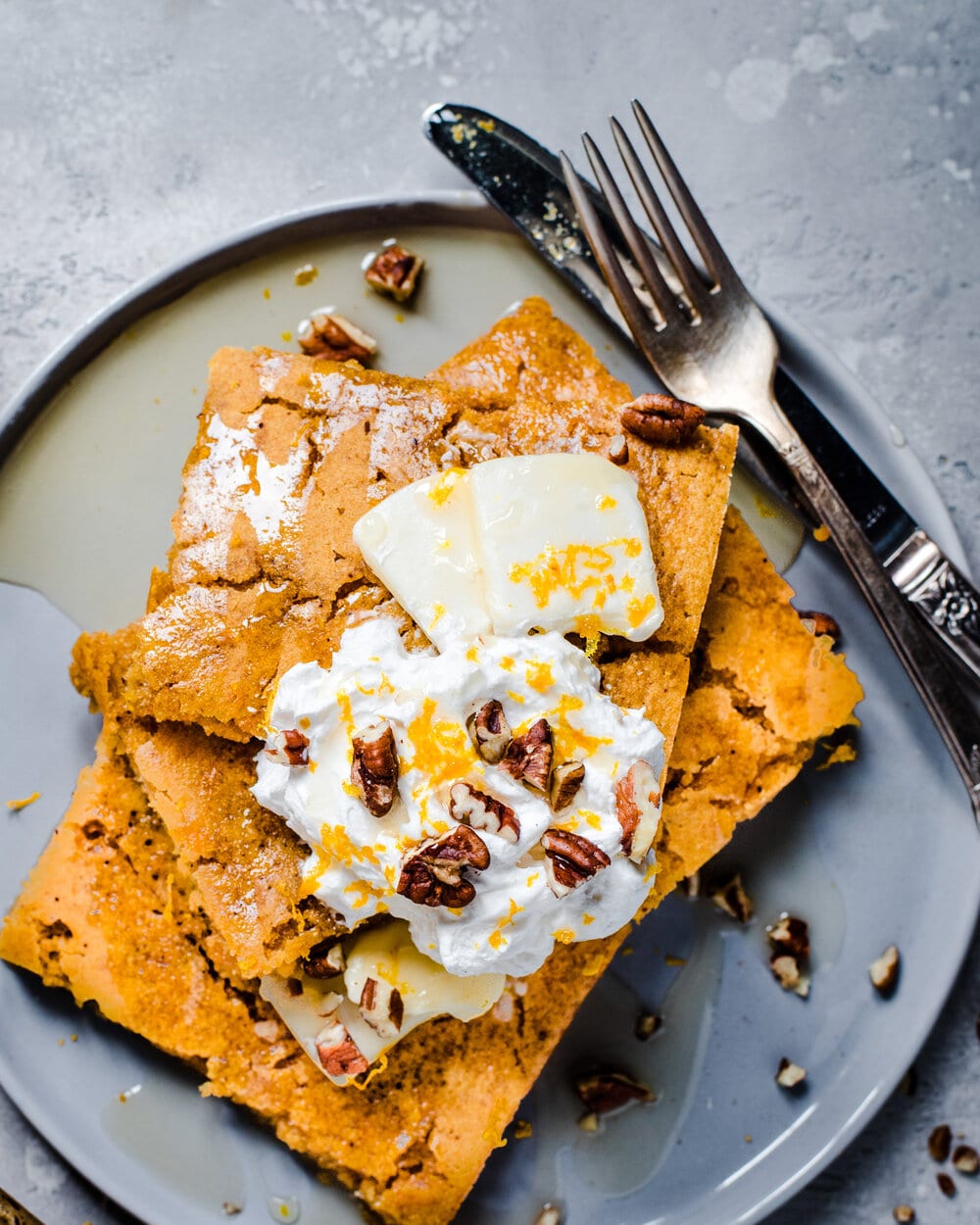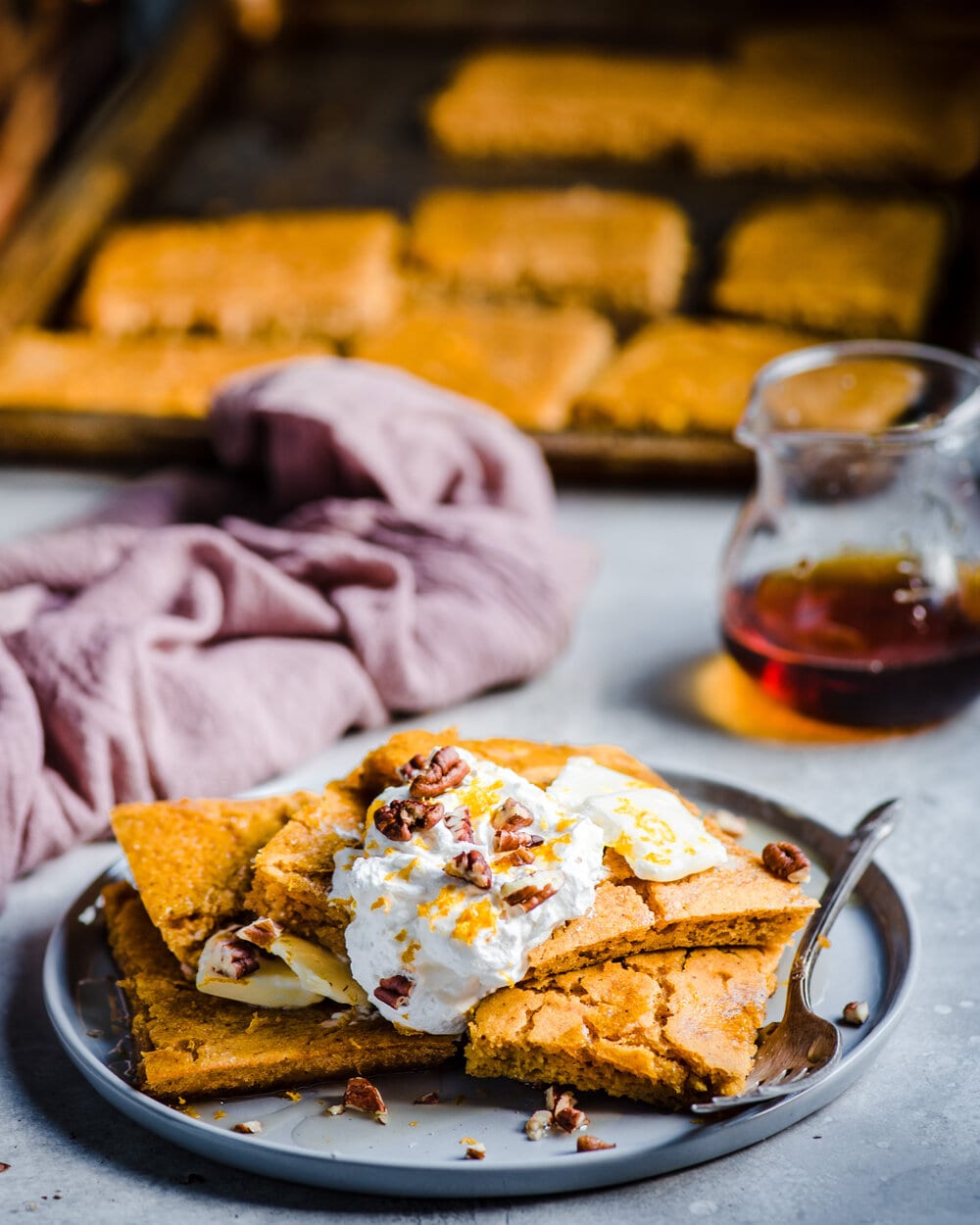 Pumpkin Puree. Kinda obvious, since these are pumpkin pancakes! I have tried these with both store-bought canned pumpkin and homemade pumpkin puree, and both work. If you are using homemade, be sure that you've strained out any excess liquid.
Pumpkin Spice. I use a generous amount of cinnamon and 1/2 teaspoon each of nutmeg, cloves, and ginger. If you have allspice, go ahead and throw in a 1/2 teaspoon of that too. You could also use store-bought pumpkin pie spice in an equivalent amount (4 teaspoons).
Maple Syrup. Since there is maple syrup in the batter, these pancakes are somewhat sweet on their own, meaning they don't need much syrup for the topping. And if you add the optional chocolate chips, they're sweet enough that you don't need to serve with syrup at all (though, of course, you can).
Orange Zest. The orange zest is actually the secret ingredient in this recipe, so please don't skip it! The strong, pungent sweet aroma of orange zest brings out the pumpkiny flavor of pumpkin. I learned that trick from my childhood idol, Ina Garten!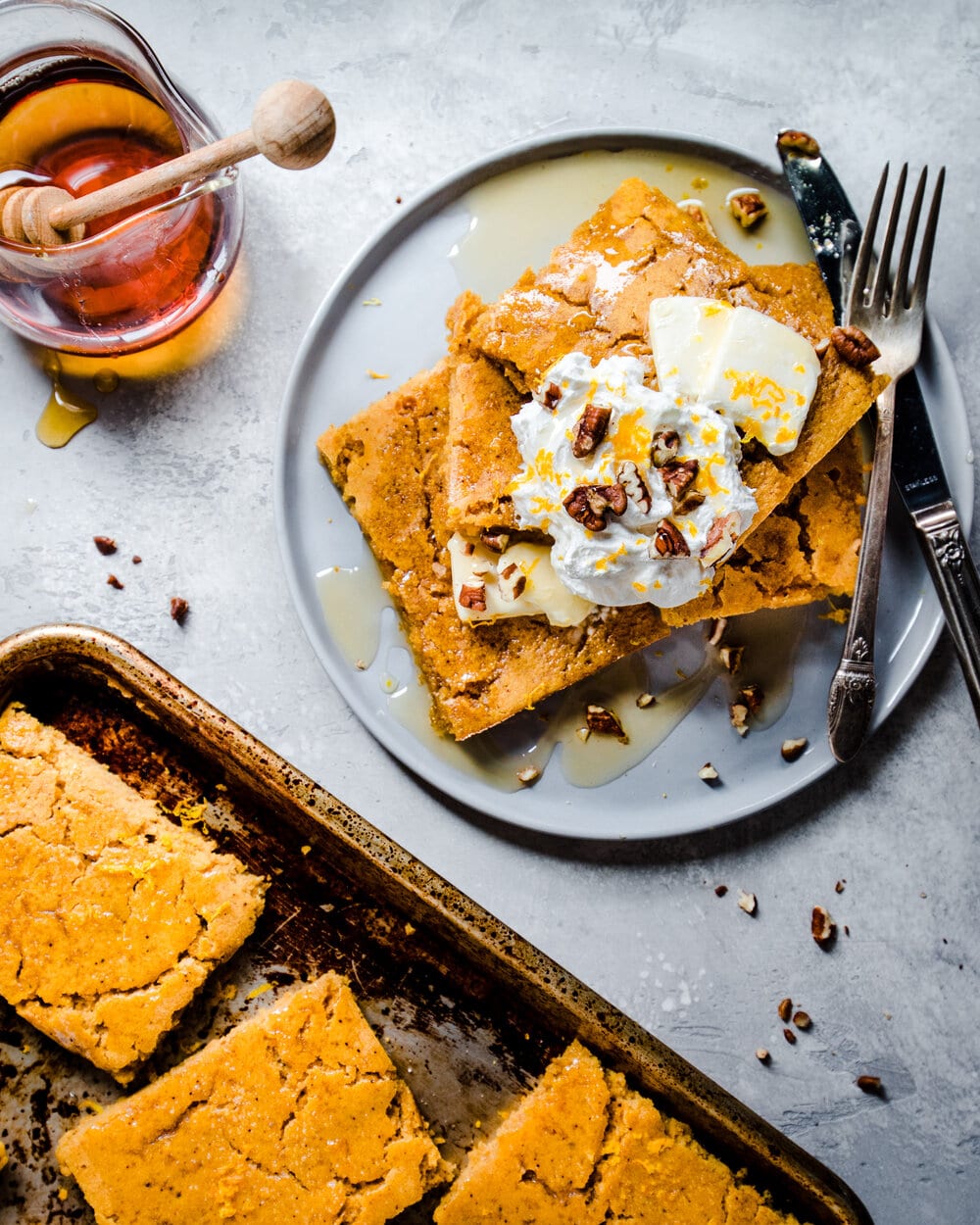 Tips for making this recipe
Weigh the dry ingredients. I've gotten into the habit of weighing dry ingredients – I find that it's the most accurate way to ensure consistent results with baked goods. Since everyone has a different set of measuring cups and there are different methods of measuring ingredients like flour and sugar, I've started to weigh everything on a digital kitchen scale, down to the gram.
This is the digital kitchen scale I use (affiliate link). Granted, pancakes are a bit more forgiving than say, cakes or cookies, but if you have a kitchen scale, I suggest using it.
Let the batter rest. The recipe calls for allowing the batter to rest for 5-10 minutes before adding it to the sheet pan. That gives the baking soda and baking powder some time to react with the acid in the recipe, and you'll notice that the batter will rise and become super fluffy. Fluffy batter = fluffy pancakes.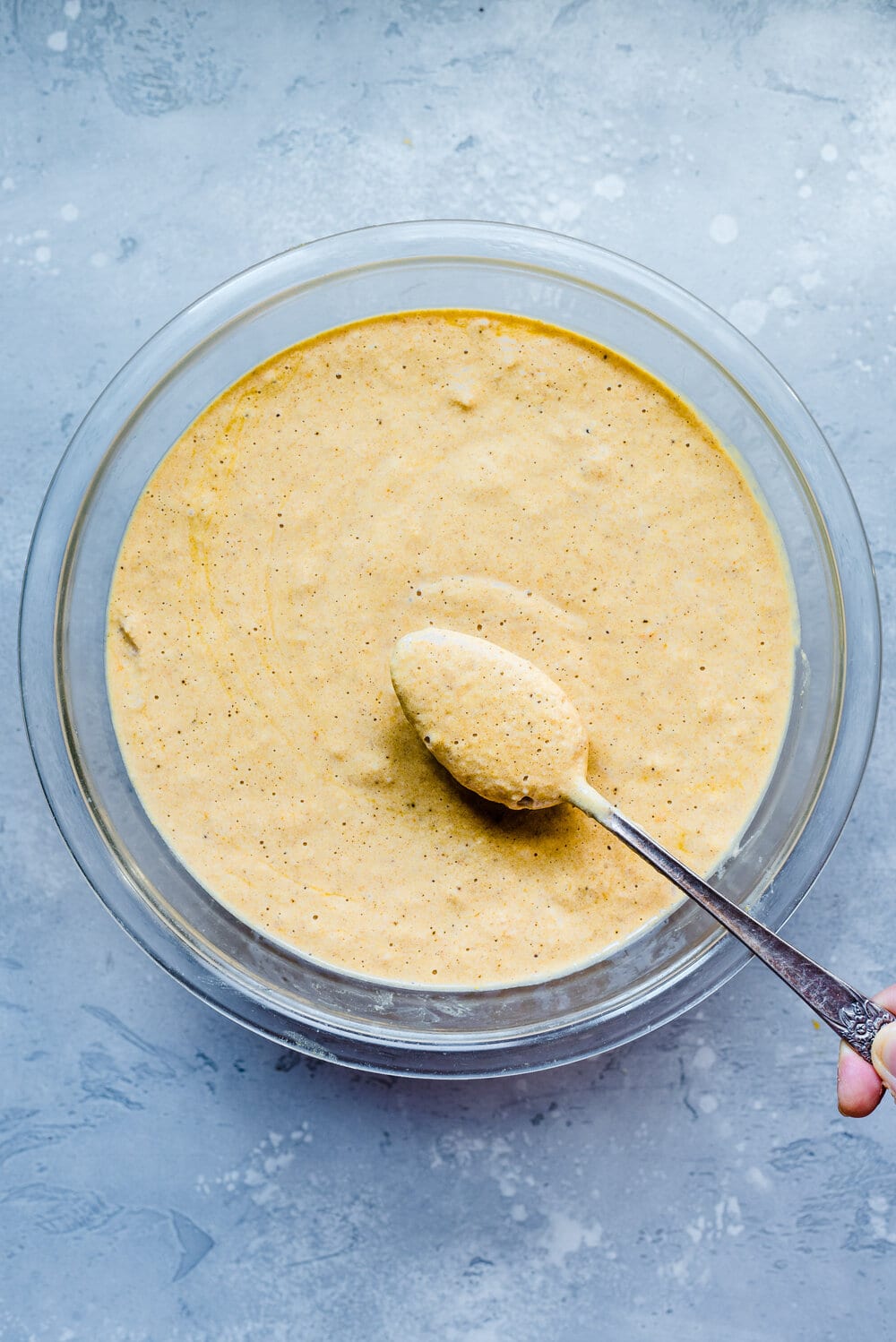 Use the correct-sized pan.
The pan I use is a half sheet pan. I've seen it referred to online as both an 18×13 inch pan and a 16×11 inch pan. The 18×13 dimensions refer to the entire width of the pan, including the rim; the 16×11 dimensions refer to the actual size of the sheet you can add ingredients to. This
pan
is an example of the correct size.
Use parchment paper. I highly recommend lining the sheet pan with parchment paper before pouring the batter onto the pan. This parchment paper prevents sticking and makes for an easy cleanup, and the pancakes slide right off when you're ready to serve.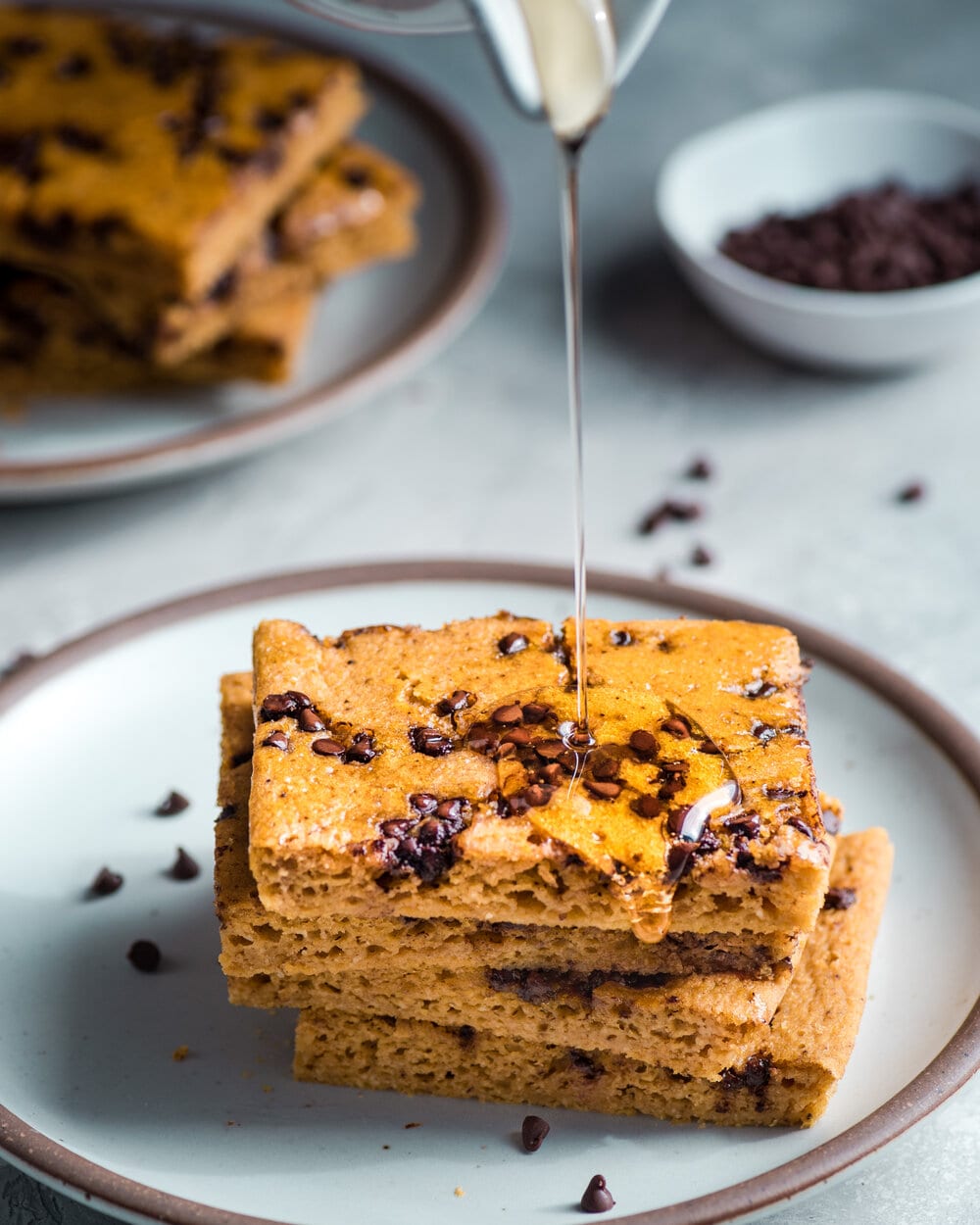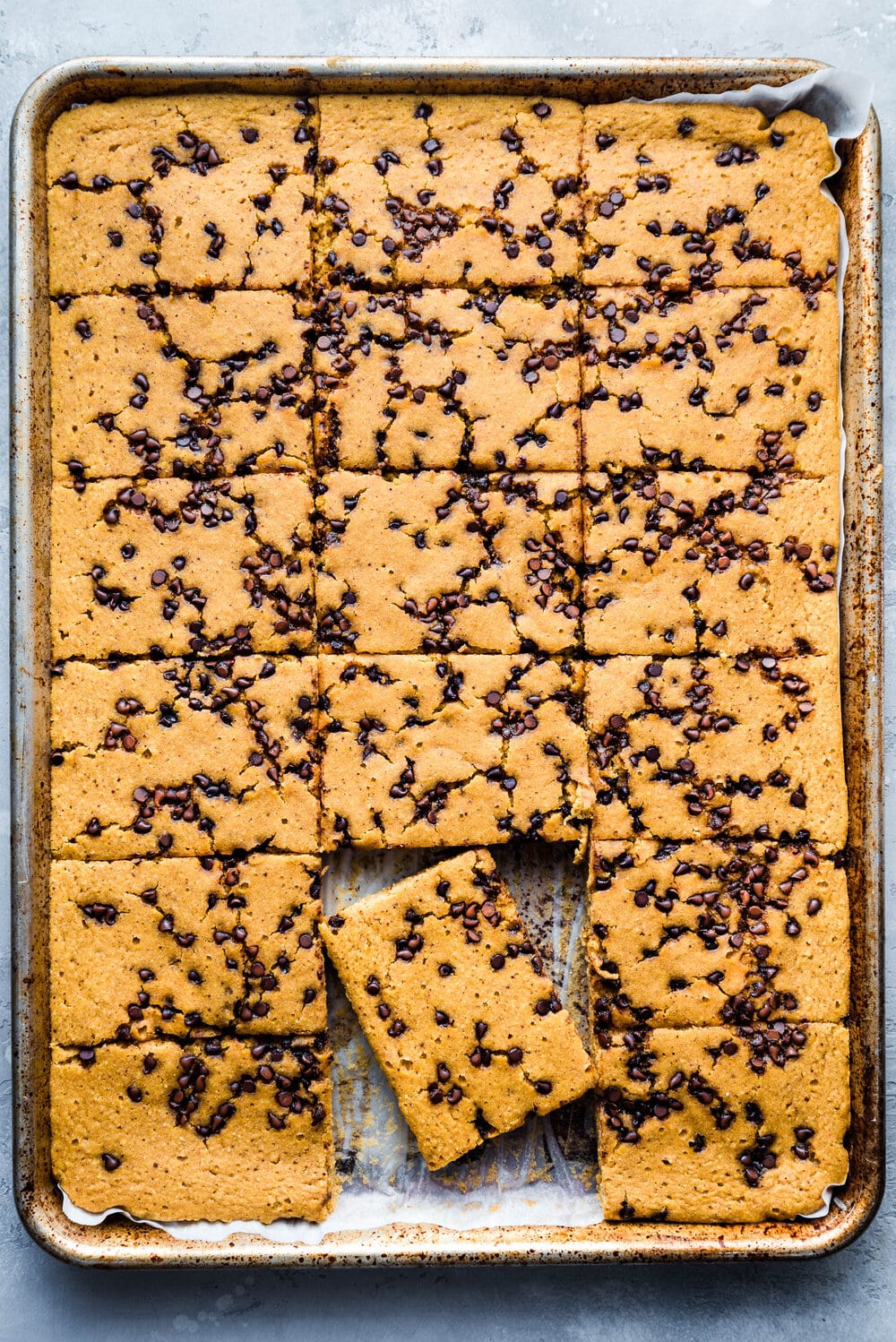 Watch! How to make this recipe
If you want to know even more about making sheet pancakes and get some flavor variations, be sure to watch the Youtube video!
That's about it for these easy Vegan Pumpkin Sheet Pancakes! I hope you give the recipe a try – if you do, be sure to leave a comment down below!
Vegan Pumpkin Sheet Pancakes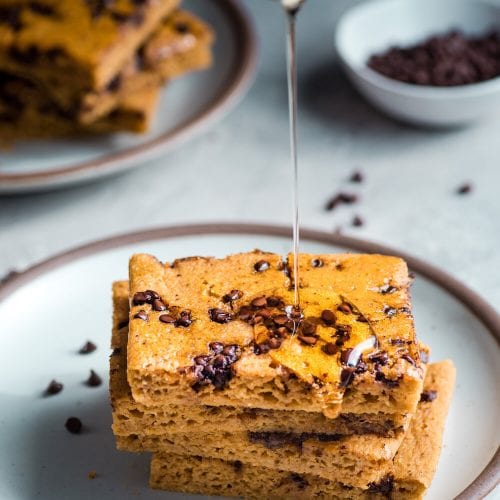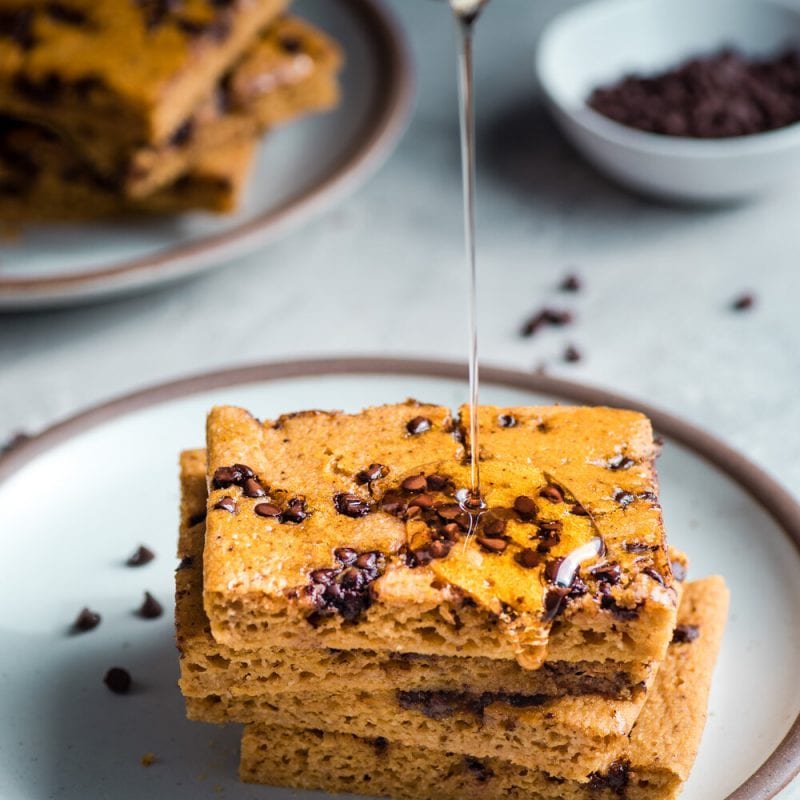 Light and fluffy vegan pumpkin pancakes in a fraction of the time and effort as traditional pancakes! These vegan pumpkin sheet pancakes allow you to make pancakes for a crowd without standing in front of the oven all morning!
Ingredients
2 1/4

cups

almond milk*

1 1/2

tablespoons

fresh lemon juice**

2

cups

(240g) all-purpose flour

1

cup

(~100-110g) almond flour***

2

tablespoons

baking powder

1/2

teaspoon

baking soda

Scant 1 teaspoon fine sea salt

2

teaspoons

ground cinnamon

1/2

teaspoon

ground nutmeg

1/2

teaspoon

ground ginger

1/2

teaspoon

ground cloves

1/2

cup

(120 mL) pure maple syrup

1

cup

(240g) pumpkin puree (homemade or from a can)

1/2

tablespoon

pure vanilla extract

1/2

tablespoon

orange zest

1/2

– 3/4 cup

(~75-115g) vegan chocolate chips (optional)

For serving: pure maple syrup,

coconut whipped cream, orange zest, chopped walnuts
Instructions
Preheat oven to 425°F (218°C) and position an oven rack in the middle.

Stir together the almond milk and lemon juice in a medium bowl and set aside to curdle. This is the vegan "buttermilk."

In a large bowl, mix together the flour, almond flour, baking powder, baking soda, salt, cinnamon, nutmeg, ginger, and cloves.

To the buttermilk, whisk in the maple syrup, pumpkin puree, vanilla and orange zest until well combined. Gradually pour this mixture into the dry ingredients, whisking together until well combined.

Allow the batter rest for 5-10 minutes. This helps it rise.

Meanwhile, line a half sheet pan (18×13 inch pan, also referred to as a 16×11 inch pan) with parchment paper.

After allowing the batter to rest, pour the batter into prepared sheet pan and smooth out with a spatula. If using chocolate chips, scatter them on top of the batter.

Bake the pancake tray for 15 minutes. If possible, rotate the the pan 180° halfway through baking to allow for even baking. The pancakes are done when they're slightly golden on top and a toothpick inserted into the pancakes comes out clean.

Allow pancakes to cool for 5-10 minutes, then slice the pancakes into squares or rectangles. Serve with pure maple syrup and with optional toppings.

To reheat leftover pancakes, preheat the oven to 300°F (150°C) and place the squares on a sheet pan lined with parchment paper. Bake for 10 minutes.
Notes
*I recommend using a relatively thin plant-based milk, such as almond milk. If you use a thick milk such as coconut milk or oat milk, the batter can be a bit too thick. If all you have is a thick milk, mix in a bit off water into the milk to thin it out.
**You can use apple cider vinegar instead of lemon juice.
***You can make these pancakes without almond flour and just use more all purpose-flour, but the almond flour adds a nice light and fluffy texture.
---
Calories:
255
kcal
|
Carbohydrates:
40
g
|
Protein:
7
g
|
Fat:
8
g
|
Saturated Fat:
1
g
|
Polyunsaturated Fat:
1
g
|
Monounsaturated Fat:
1
g
|
Sodium:
714
mg
|
Potassium:
137
mg
|
Fiber:
4
g
|
Sugar:
11
g
|
Vitamin A:
4769
IU
|
Vitamin C:
3
mg
|
Calcium:
325
mg
|
Iron:
3
mg