As much as I love making gourmet recipes and challenging my culinary skills, I also love simple meals like this Creamy White Beans with Kale and Wild Rice. When I'm not eating leftovers from recipe testing (which, to be honest, is very often), I gravitate towards fuss-free meals like this.
Plus, this meal is healthy, vegan, gluten-free, and has no added oils, but it's still creamy and flavorful. Best of both worlds!
Oh, and if you are into beans more generally, be sure to check out my round-up of 40 fantastic bean recipes from around the internet.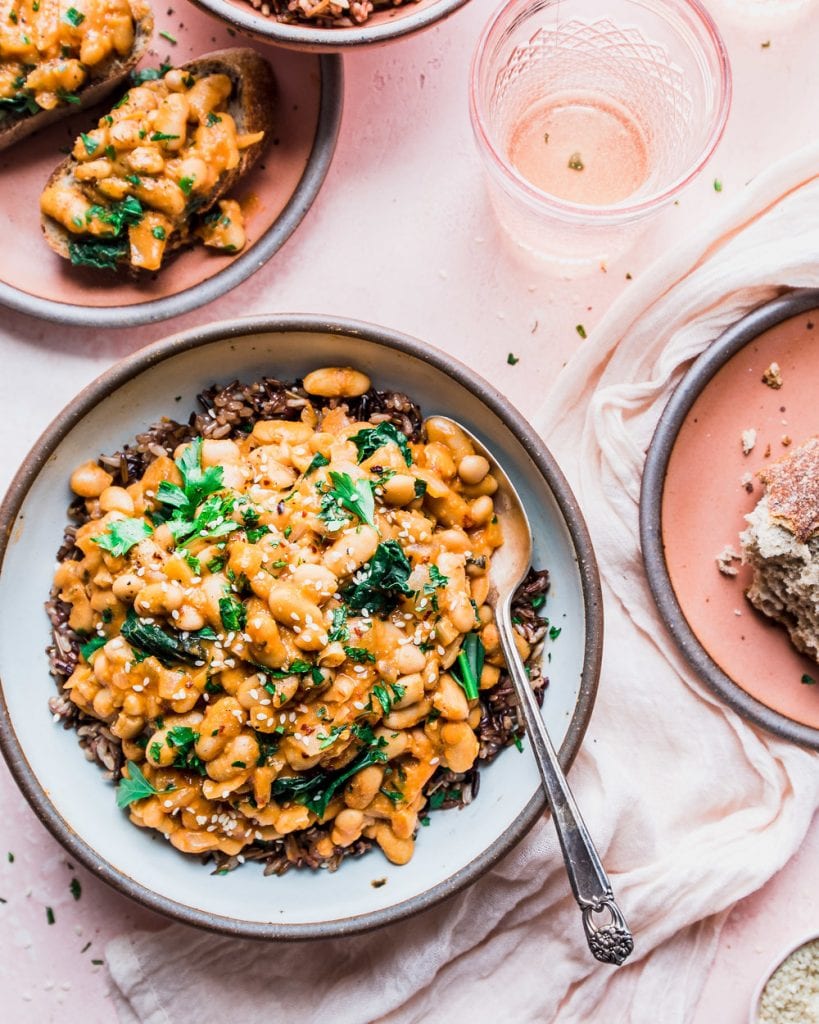 Why this recipe will become your new go-to weeknight dinner 
Easy. This recipe is so easy to make that even the most beginner cook can make it! Plus, you likely already have most of these ingredients in your pantry!
Quick to make. Including prep time, the beans and kale take about 30 minutes total. And during that time, you can have the wild rice cooking. You can easily cook the wild rice in your Instant Pot or on the stove before starting on the beans and kale.
Wholesome. This recipe is packed with plant protein and fiber, and is vegan, gluten-free, and has no added oils. It's the kind of nourishing meal you can eat every day of the week!
Creamy. Despite being wholesome, these beans get so creamy and dreamy, so it feels like a comforting hug in a bowl.

Ingredient Rundown
Cannellini Beans. They are one of the creamiest beans that are widely available in canned form. I absolutely adore them. If you cannot find them, you can substitute another white bean, but the end result won't be as creamy.
If you also love cannellini beans, my Creamy White Bean and Kale Soup with Gremolata is a must-make!
Aromatics. I opt for my go-to onion + garlic combination, and the softened onions pair nicely with the creamy sauce. I also add fresh thyme, which brings a subtle woodsy yet floral, sweet yet peppery taste.
Lite coconut milk. The lite coconut milk enhances the natural creaminess of the cannellini beans and turns this into a delightfully saucy dish.
Miso paste. A little white miso paste goes a long way towards boosting the savory flavors in this dish. Typically, I rely on building a lot of flavor in savory dishes through sautéing aromatics in oil, but since this recipe is oil-free, I wanted to amp up the flavors in another way.
Tomato sauce and tomato paste. The tomato sauce helps thicken the sauce up a bit, while the tomato paste brings a concentrated tomato flavor. Both ingredients also help tame the coconut flavor of the coconut milk, so that this recipe doesn't taste like coconut (I promise!).
Lacinato / Tuscan Kale. To bring in some extra nutrition, I throw in a generous amount of shredded kale. If you find it hard to incorporate leafy greens into your diet, this creamy dish is a great way to "sneak" them in.
Wild Rice. I serve the creamy white beans and kale over wild rice, and wild rice's earthiness is a nice complement to the creaminess of the beans. Plus, the heft of the wild rice gives this plant-based dish a substantial feel, making it feel like a hearty main course.
How to make Creamy White Beans and Kale 
If you follow my recipes, you know that I am definitely not oil-free, as I think oil is often necessary to achieve the right texture and to bring out certain qualities in food. For instance, it's crucial in browning vegetables, as well as creating light and fluffy cakes.
That said, I am totally open to experimenting with oil-free cooking where possible. And I made a special effort to keep this recipe oil-free because I get a fair amount of requests for oil-free recipes.
Typically, I would sauté the aromatics (in this case, onion, garlic, and thyme) in a bit of olive oil, but here the use of a nonstick pan + salt + water to make oil unnecessary.
First, dice the onion and mince the garlic and fresh thyme leaves.
Then heat a deep nonstick pan over medium heat. Once the pan has heated up, add the diced onion (no oil) and cook for just a minute. Add a bit of salt to help release the natural moisture (and flavor) from the onions. Then, to prevent onions from burning, add in the water. That way, the onions get cooked in a hybrid sauté/steam method.
Typically, I do love to get some browning on the onions to maximize flavor, but there is plenty of flavor in the rest of this dish that I felt comfortable with this method. Of course, if you prefer to cook with oil (or don't have a nonstick pan and are worrying about it burning), I've included a modification in the recipe.

Substitutes for this Recipe
Wild Rice. As mentioned above, you can serve the creamy white beans over any grain you like, but I really liked it over wild rice. If you want to use wild rice but it's a bit too earthy for your taste, try a blend of wild rice and brown rice.
Coconut Milk. If allergic to coconut, you can try another creamy plant-based milk, such as cashew milk or oat milk. Just be sure to use the unsweetened + plain variety.
Miso paste. If you don't have miso paste, you can add a tablespoon of nutritional yeast and/or a teaspoon of tamari with a tablespoon of tahini.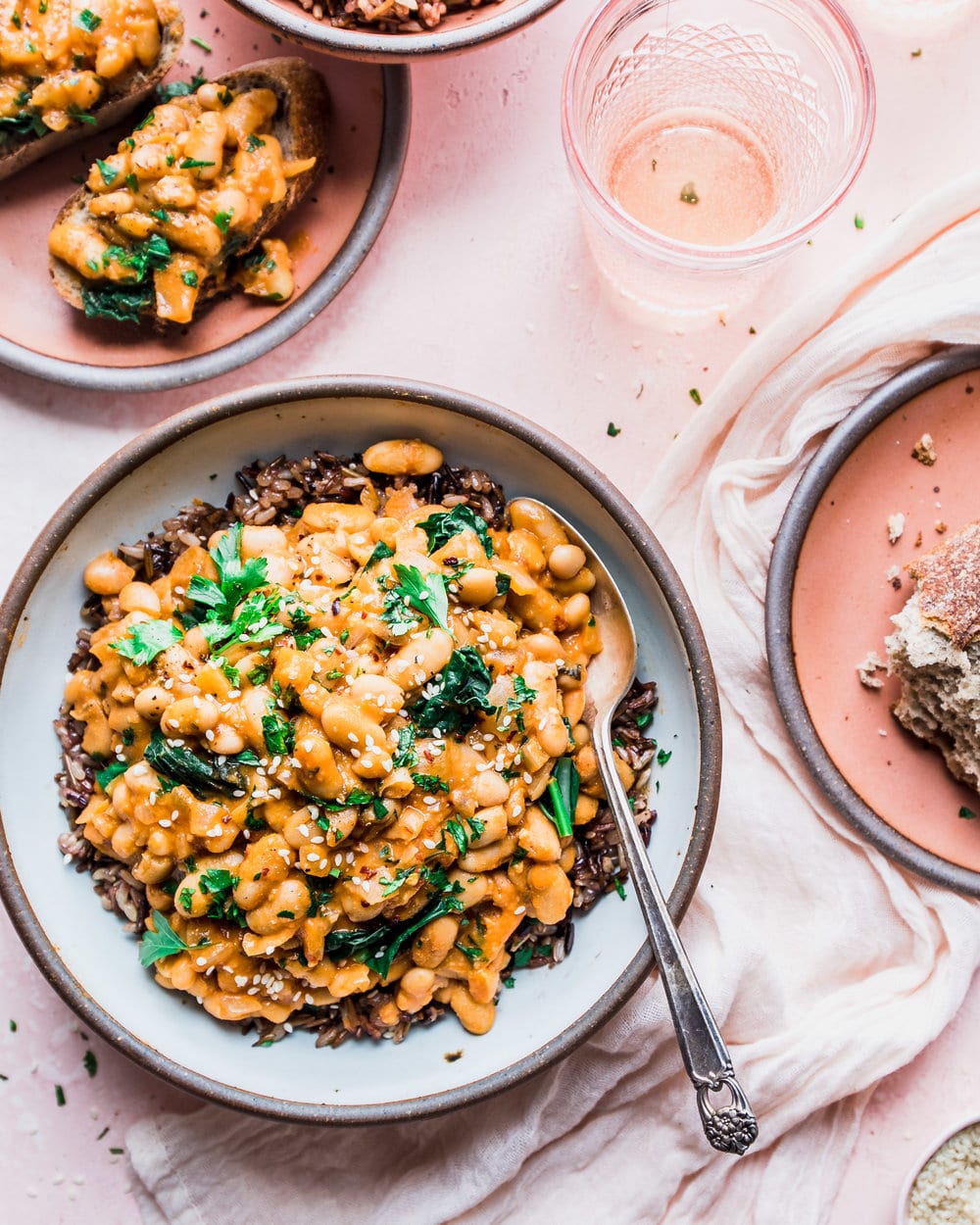 That's all I have to say about this easy yet flavorful recipe for Creamy White Beans with Kale and Wild Rice, so I hope you'll enjoy it! If you make it, be sure to leave me a comment below with your feedback and tag me with your recreations on Instagram!
Creamy White Beans with Kale and Wild Rice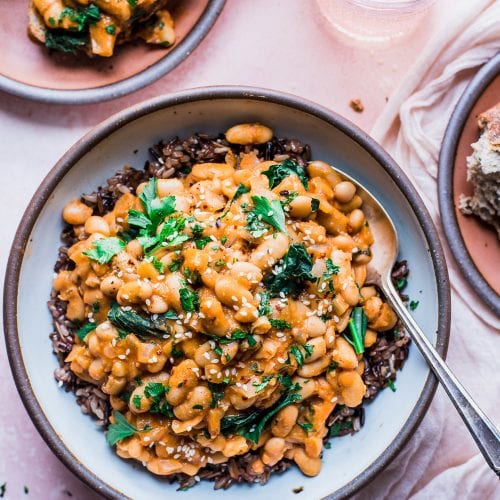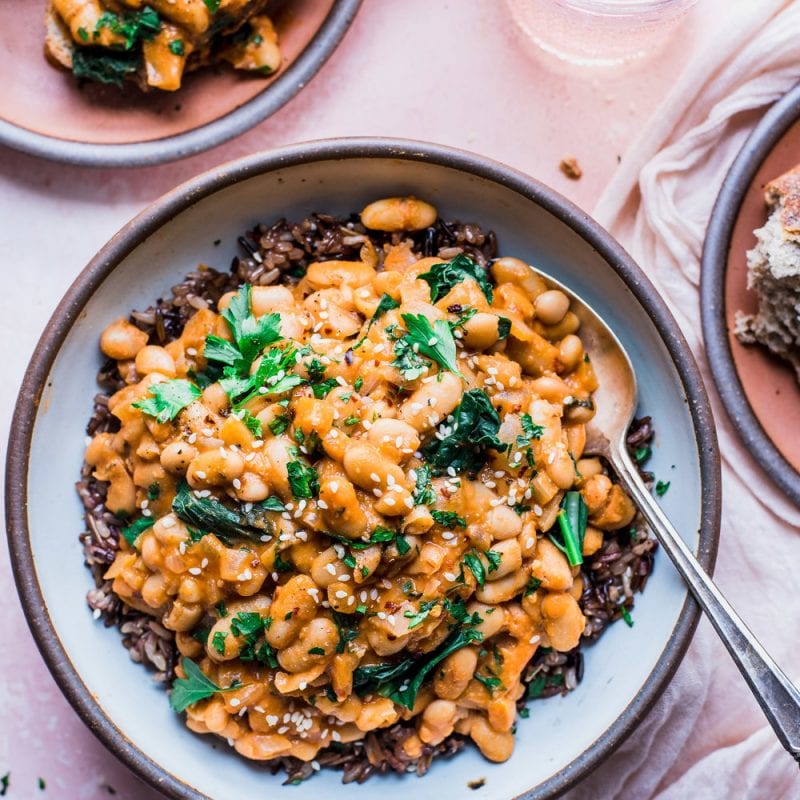 Creamy White Beans with Kale and Wild Rice - a simple yet flavorful meal for those busy weeknight dinners. Made with wholesome everyday ingredients, this recipe is vegan, gluten-free, and oil-free but doesn't skimp on flavor.
Ingredients
1

cup

(~180g) wild rice (I used a wild rice + brown rice blend)

1 1/2

cups

(360 mL) vegetable broth or water for Instant Pot method (use 3 cups (710 mL) vegetable for stovetop method)

1

yellow onion,

diced

1/3

cup

(80 mL) water*

6

cloves

garlic,

minced

1

tablespoon

fresh thyme leaves,

minced

1

(13.5-ounce/400 mL) can "lite" or reduced-fat coconut milk

1

tablespoon

white or yellow miso paste

1/4

cup

(60 mL) tomato sauce

3

tablespoons

tomato paste

2

(15-ounce/440g) cans cannellini beans, drained and rinsed

1

teaspoon

ground cumin

1

teaspoon

hot or sweet paprika

(not smoked)

1/2

teaspoon

red chili flakes

(add more to taste if you want it spicy)

1

teaspoon

kosher salt + more to season

Black pepper to taste

6-8

cups

(400-540g) shredded Tuscan (lacinato) kale, tough stems removed
Instructions
Make the Wild Rice (Instant Pot method):Add the wild rice and 1 1/2 cups vegetable broth to the inner pot of the Instant Pot. Secure the lid and select the Pressure Cook/Manual setting for 25 minutes. Allow a natural pressure release and drain off any remaining liquid.

Make the Wild Rice (Stovetop method): Place the wild rice and 3 cups of vegetable broth in a saucepan over medium-high heat. Bring to a boil, then turn the heat down and cover. Simmer for 40-45 minutes, or until the kernels have burst open. Drain off any remaining liquid.

While the rice is cooking, make the Creamy White Beans and Kale. Heat a deep nonstick pan over medium heat. Add the diced onion and a pinch of salt and stir together for 1 minute. Then add the water and bring the mixture to a simmer. Cook for 5 minutes, or until the onion softened and the water is mostly evaporated.

Add the garlic and thyme leaves to the pan. Stir frequently for 2-3 minutes to prevent the garlic from burning.

Stir in the coconut milk, miso, tomato sauce, tomato paste, cannellini beans, cumin, paprika, pepper flakes, salt, and pepper. Stir to combine and coat all the beans in the sauce. Then add the kale and stir again to incorporate.

Bring the bean mixture to a simmer. Continue to cook at a simmer for 10 minutes until it has thickened and is creamy.

Serve the beans and kale on top of the cooked wild rice.
Notes
*If you don't have a nonstick pan or want to sauté the aromatics in oil, heat 1 tablespoon of olive oil in the pan, and once hot, add the onion. Cook until it has softened and is lightly browned.
---
Calories:
577
kcal
|
Carbohydrates:
100
g
|
Protein:
28
g
|
Fat:
9
g
|
Saturated Fat:
7
g
|
Polyunsaturated Fat:
1
g
|
Monounsaturated Fat:
1
g
|
Sodium:
478
mg
|
Potassium:
1924
mg
|
Fiber:
15
g
|
Sugar:
5
g
|
Vitamin A:
10662
IU
|
Vitamin C:
130
mg
|
Calcium:
355
mg
|
Iron:
10
mg