These vegan breakfast cookies are for all the times you wish you could eat cookies for breakfast and not feel bad about it (which is most of the time for me).
These cookies are made with wholesome ingredients like oats, almond butter, and seeds, and they're not only vegan but also free of refined sugars, gluten, soy, and added oil! If you love the sound of these cookies, you're absolutely going to love these similarly wholesome Chewy Chai-Spiced Oatmeal Cookies.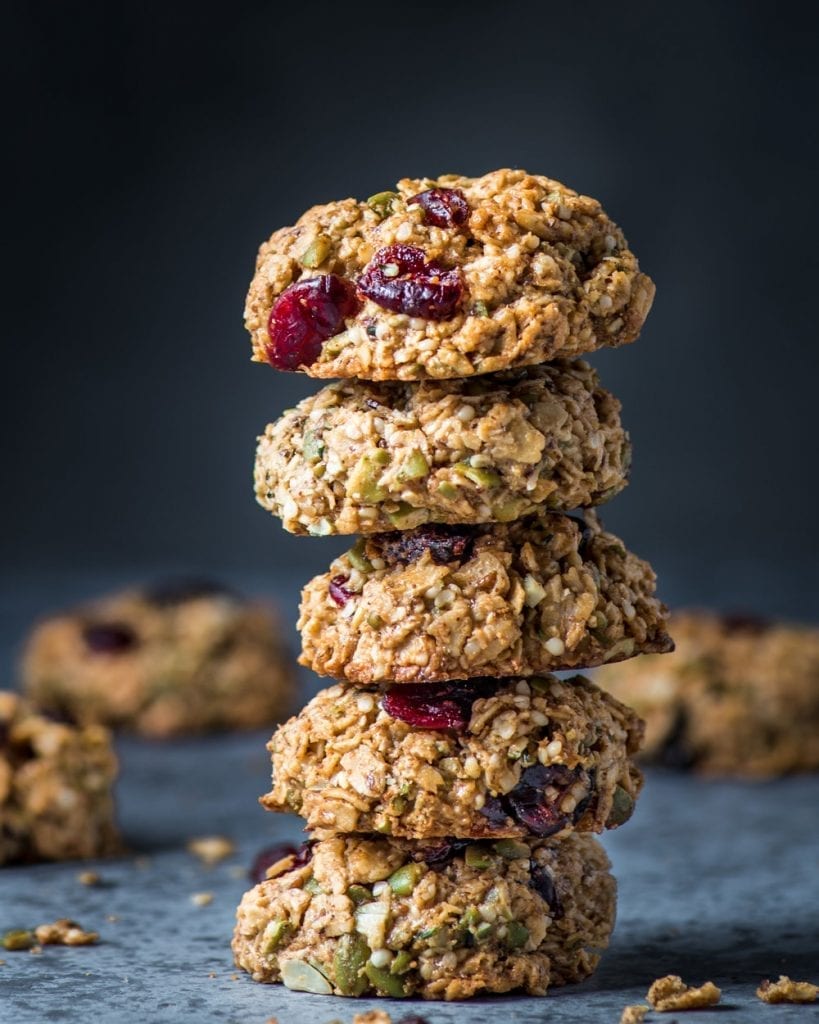 Why you'll love these vegan breakfast cookies
Delightfully chewy. If you're like most people, you like chewy cookies. These cookies are incredibly chewy with crunchy bites of seeds and even more chewy bites from the dried fruit.
Wholesome. These are cookies you can feel good about! They're made with ingredients that are perfectly acceptable for breakfast, which means you can happily eat cookies for breakfast. They're vegan, gluten-free, refined sugar-free, soy-free, and have no added oil.
PS: if you are looking for more traditional cookies that are not as "healthy" but crazy delicious, definitely try these Chocolate Chunk Pantry Cookies.
Deceptively delicious. Healthy breakfast cookies might sound like they taste meh, but these are cookies you'd actually want to eat.
Versatile. Not only can you eat them for breakfast, but they're also a great post- or pre-workout snack. My athletic friend Joanne of The Korean Vegan (she runs marathons…yes, multiple marathons) said these cookies fueled her for a long run around Central Park. Oh, and of course, you can also eat them for dessert.
Easy to customize. Feel free to get creative with this recipe and mix and match your favorite ingredients. Customization ideas are in the next section!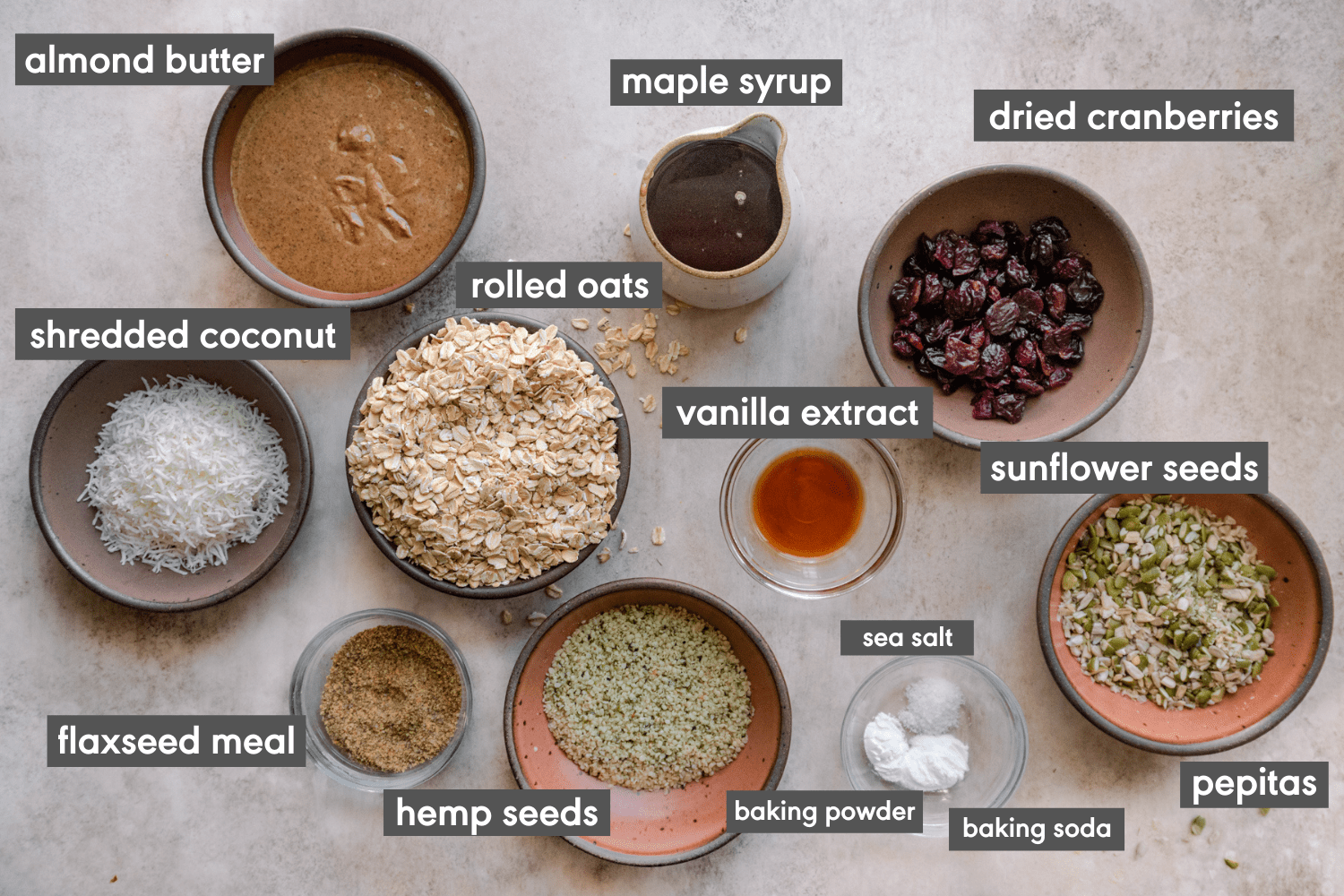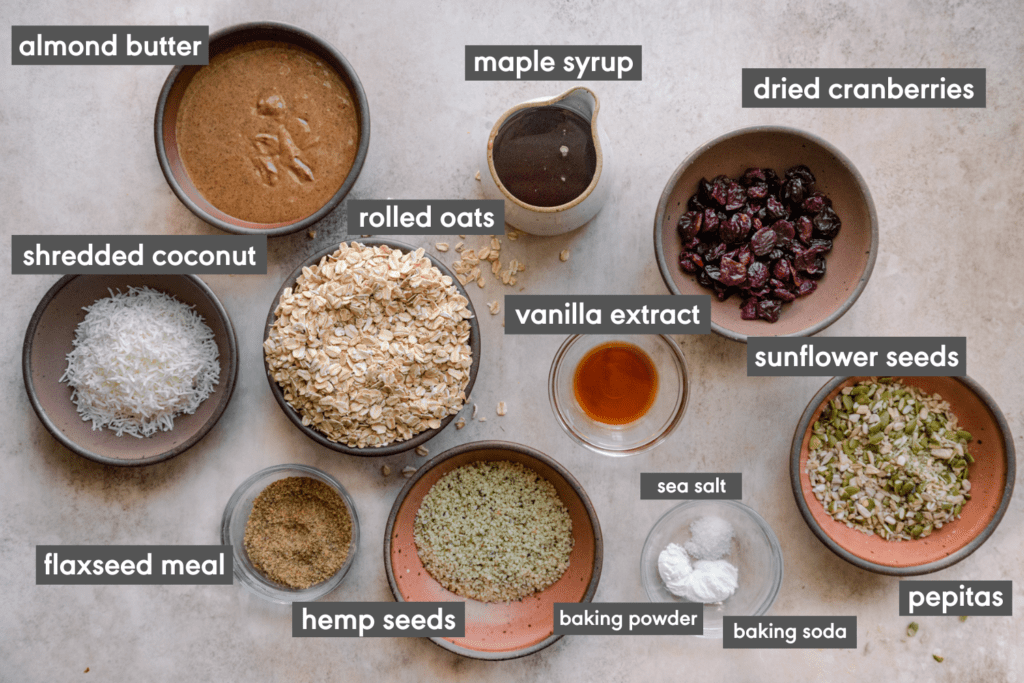 How to make vegan breakfast cookies (video)
How to customize these breakfast cookies
Not a fan of coconut? Omit the shredded coconut and just add more oats!
Allergic to almonds or don't have almond butter? Use any nut butter you like, such as cashew butter or peanut butter. Just be sure to use a smooth, not crunchy, variety, as the nut butter is the replacement for oil in this recipe.
For a nut-free version, try tahini. You'll need to use a smooth, non-bitter variety and stir well. I love Soom Tahini and Seed + Mill, and the Whole Foods 365 brand is pretty decent. Or you could try Sunbutter sunflower seed butter. It will likely tinge your cookies green (that's what happens when you bake with sunflower seeds) but the taste will be great.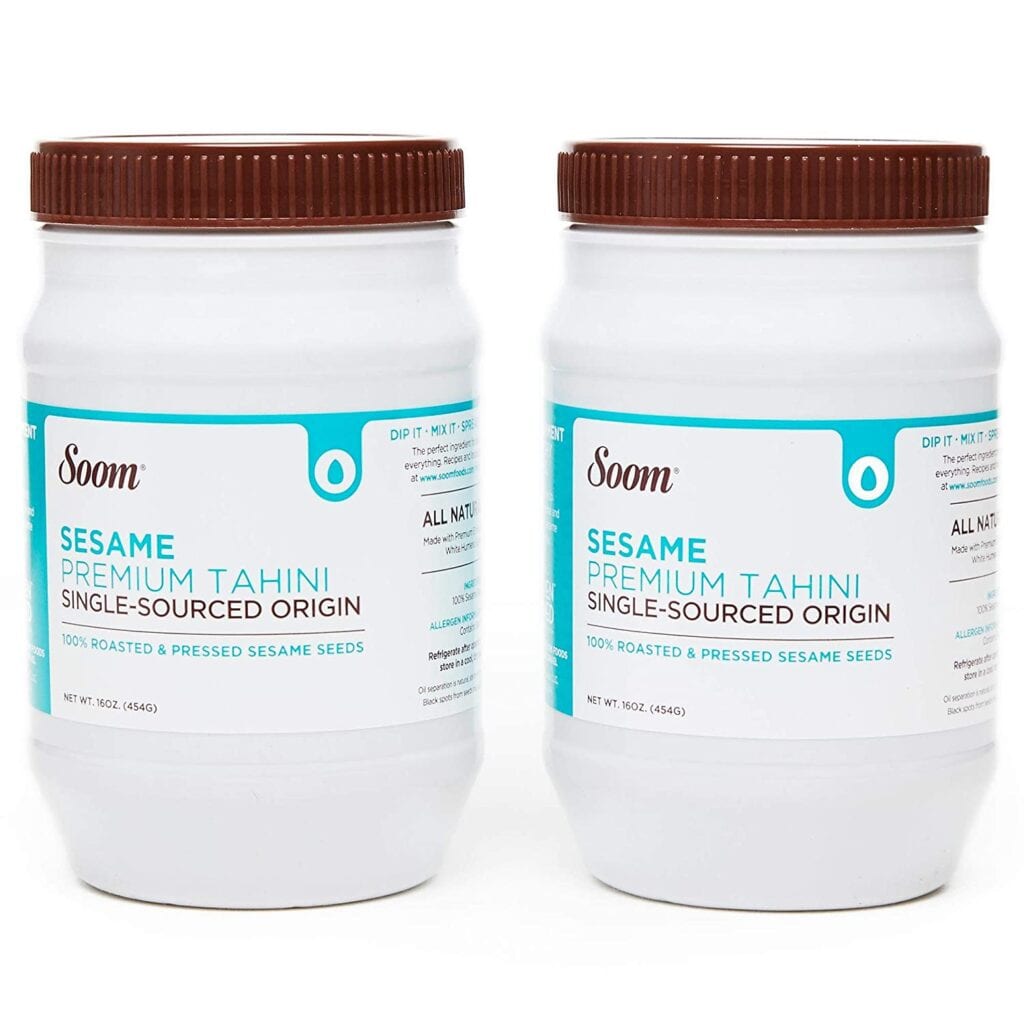 A fantastic quality tahini. It's smooth, nutty, and not at all bitter. It's also a woman-owned, family-owned business :)
For the dried fruit, you could really use any variety you like. I have used raisins, currants, finely chopped apricots, finely chopped dates, and dried cranberries (use juice-sweetened cranberries to avoid refined sugar).
And if you're not a fan of dried fruit at all, feel free to substitute with dairy-free chocolate chips. I love the chewiness that dried fruit brings, but you can also never go wrong with chocolate! Many readers have made these with chocolate chips and loved them (my partner also prefers them with chocolate chips, but that's no surprise since he hates dried fruit lol).
And if you don't have pumpkin seeds or sunflower seeds, you can use chopped nuts. Finely chopped walnuts, pecans, almonds, pistachios – they all work!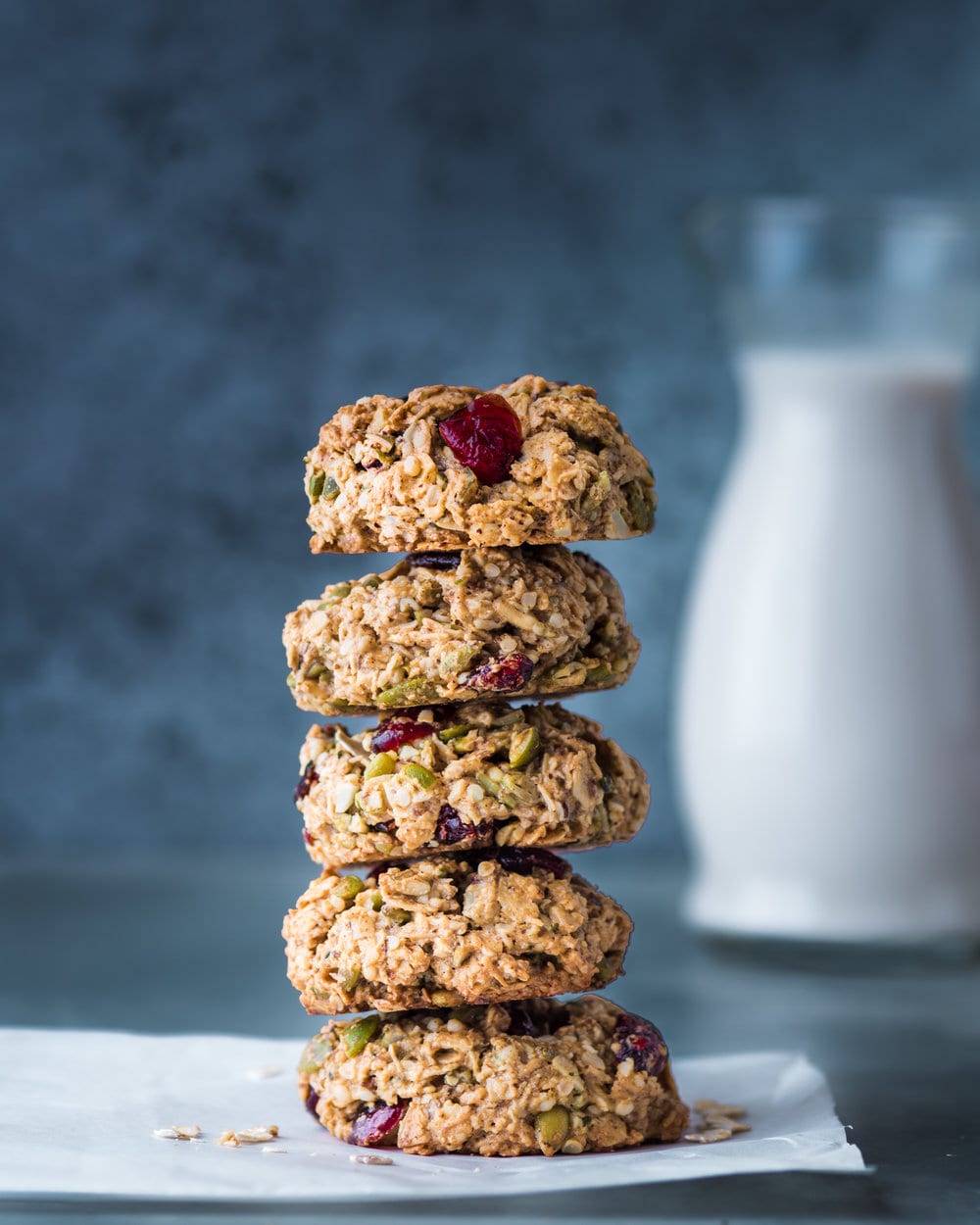 These vegan breakfast cookies are really easy to make, so there's not much else you need to know! If you give this recipe a try, be sure to tag me on Instagram with your recreations and please rate and review with your feedback below!
Healthy Vegan Breakfast Cookies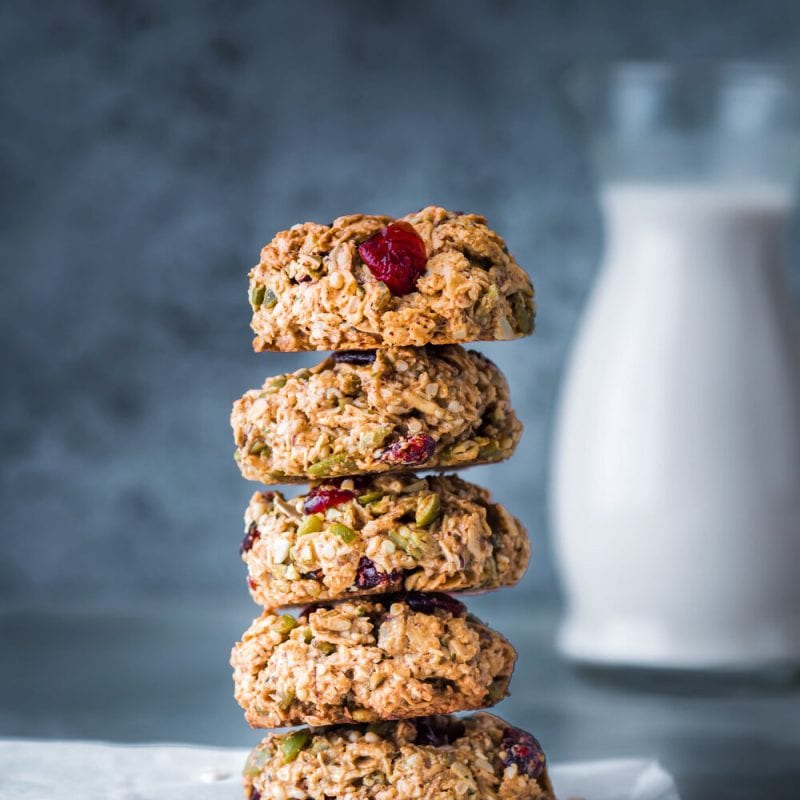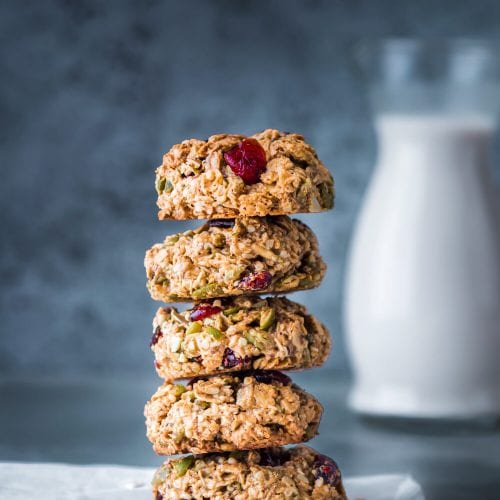 These Vegan Breakfast Cookies are healthy enough to eat for breakfast or a post-workout snack! Made with oats, seeds, and almond butter, these cookies are deceptively delicious and are vegan, gluten-free, oil-free, refined sugar-free, and soy-free!
Ingredients
2

tablespoons

ground flaxseed meal

2

cups

rolled oats

(certified gluten-free, as needed)

1/2

cup

unsweetened shredded coconut

1/2

teaspoon

baking powder

1/2

teaspoon

baking soda

1/2

teaspoon

fine sea salt

3/4

cup

smooth, creamy variety of almond butter

(can sub cashew butter)

1/2

cup

pure maple syrup

1 1/2

teaspoons

pure vanilla extract
Mix-Ins
1/2

cup

dried fruit,

such as cranberries, currants, or chopped apricots

1/2

cup

(60g) pepitas and/or sunflower seeds,

chopped

1/3

cup

(50g) hemp seeds

(also called hemp hearts)
Instructions
Prepare the flax eggs. Combine the ground flaxseed meal with 5 tablespoons water. Stir and let sit for 15 minutes to gel together.

Preheat the oven to 350ºF/175ºC. Line two large baking sheets with parchment paper.

In a large bowl, mix together the dry ingredients: oats, coconut, baking powder, baking soda, and salt.

In a medium bowl, mix together the wet ingredients: almond butter, maple syrup, vanilla, and prepared flax eggs. Whisk until smooth and thick.

Pour the wet mixture into the dry ingredients, using a silicone spatula to mix everything until the mixture resembles a cookie dough. Fold in your desired mix-ins (dried fruit, pumpkin/sunflower seeds, and hemp seeds) using the spatula.

If the dough is too sticky to handle, refrigerate it for 10-15 minutes to firm up slightly.

Use an ice cream scoop or large spoon to scoop about 3 tablespoons of dough onto the prepared baking sheet, spacing them about 1/2 inch apart. Alternatively, measure out 3 tablespoons and shape the dough into a round using your hands. Lightly flatten the top of each cookie with your hands or a fork.

Bake the cookies for about 18-20 minutes. After 5 minutes, use a spatula to carefully transfer them to a cooling rack. Store leftover cookies in an airtight container on the counter for 5 to 7 days.