If you've seen my recent healthy vegan meal prep video, you know that the way I meal prep a little differently. I cook and prep different types of ingredients–plant proteins, grains, vegetables, greens, sauces and condiments–and store them separately. Then, I combine them into mix and match meals throughout the week. And today's recipe for a Mediterranean Grain Bowl is the epitome of this style of cooking.
Not only does this provide more variety in my diet, but it also takes just 0-10 minutes to throw together healthy, delicious meals during the week.
But, in order to earn a blog post, these bowls have to be more interesting than your standard weekday "mix some quinoa with raw veggies and plain lentils" kind of bowl. And they are!
They're packed with delicious and fresh Mediterranean flavors and are so satisfying. Satisfying from a taste/texture perspective, but also from a nutrient perspective, as they're loaded with protein and fiber.
Watch! How to make a Mediterranean Grain Bowl
The grain bowl recipe begins around the 6:21 mark.
Why you're going to like this recipe
Pantry staples. And all the ingredients used in this recipe are pantry staples (i.e., you might already have all the required ingredients in your pantry).
Budget-friendly. Since these bowls are made with everyday pantry ingredients, they're very budget-friendly!
Mix and match. While there are four components in the recipe, you don't have to make them all. You can make just two or three (or even one) of them and pair them with your weekly meals.
Surprisingly easy. While four components might sound like a lot, you can cook everything simultaneously. The pickled onions and hummus take 5-10 minutes to make, and the farro and lentils are pretty hands-off.
Meal prep friendly. As mentioned, all of these items are great for meal prep, and when stored separately, everything should stay good for 4-5 days.
Wholesome. As with many lentil recipes, this grain bowl is totally wholesome and something you'll feel good about eating.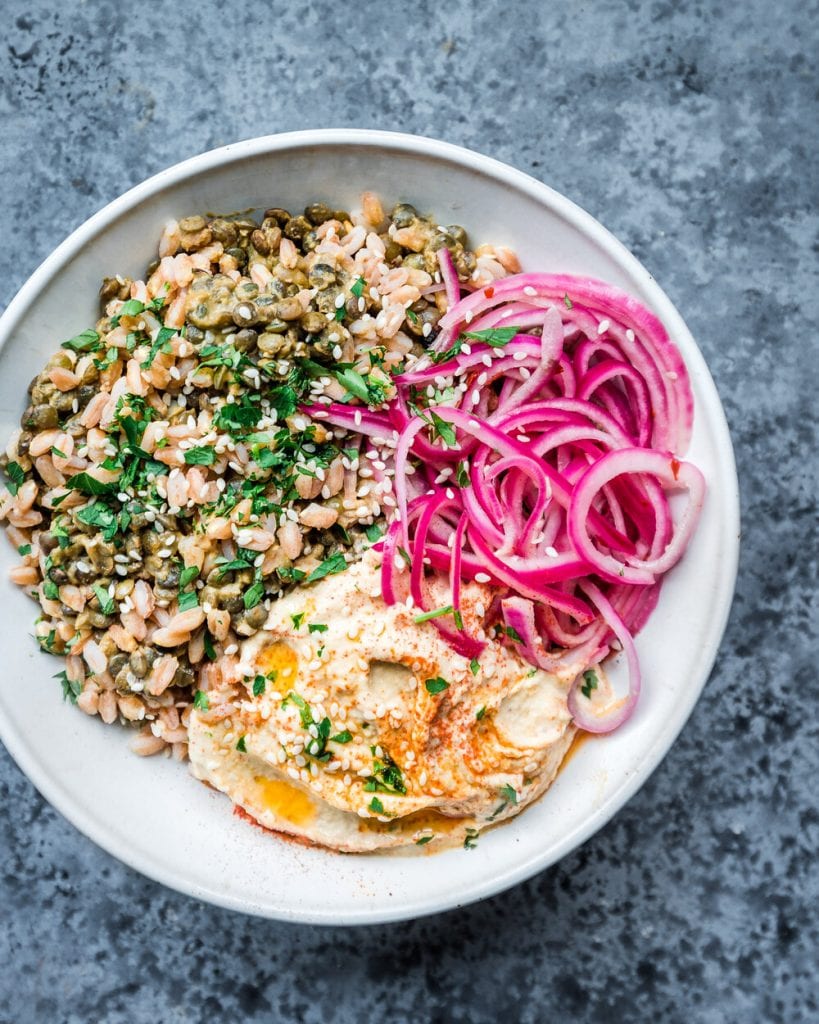 Components of a Mediterranean Grain Bowl
Pickled Onions 
If pickling onions sounds too artisanal or time consuming for you, you'll be happy to know that these are quick-pickled onions and they take all of 5 minutes. All you need are four basic ingredients: a red onion, apple cider vinegar or white vinegar, maple syrup or sugar, and salt.
I add some flavor with black peppercorns and red pepper flakes for flavor. You can omit them, or get fancy and add more flavorings like coriander seeds, chopped garlic, or fennel seeds!
Hummus
As with pickled vegetables, homemade hummus has gotten a reputation for being complicated and time-consuming. Luckily, it's not! All you need are a few pantry staples, a food processor, and 5-10 minutes.
While I prefer using dried chickpeas cooked from scratch (and cooking them in my Instant Pot, as in the Restaurant-Style Hummus in my cookbook), canned chickpeas also work perfectly fine in this recipe.
If you want the creamiest, smoothest hummus that's not grainy, take a few extra minutes to remove the chickpea skins. You don't have to remove the skins one by one. Just place the chickpeas on a clean dish towel or a few paper towels, cover, and rub gently. You'll see that many of the skins slip right off.
And if you can't get all the skins off, it's not a big deal.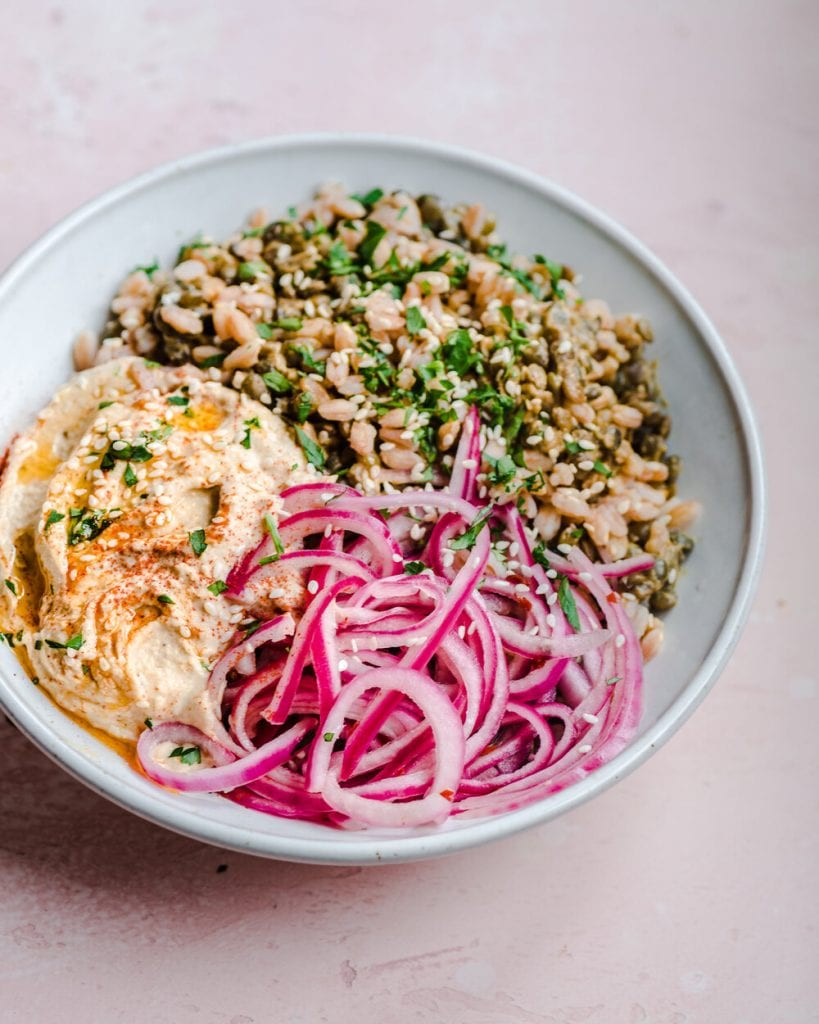 Lentils
Lentils are one of the staples in my diet, so I always have at least a few dried varieties in my pantry. This recipe uses French green lentils, which retain a bite and don't get mushy. I prefer using them or Black Beluga lentils when I'm making a side dish such as this (as opposed to a soup, dal, stew, curry, etc.) But if you can't find them, regular green or brown lentils are fine too.
Lentils are best known for being a health food, and they certainly are. But they can also taste really indulgent if you know how to cook and flavor them well.
These lentils get extra flavor from aromatics–cumin seeds and garlic–and being cooked in vegetable broth, instead of water. After cooking, they get hit with more flavor from tamari (gluten-free soy sauce) and then creamified from tahini.
Farro
Farro is my favorite grain. I love it's chewy bite and nutty taste. It does contain gluten, so if you're gluten-free, substitute with quinoa, millet, or brown rice.
Instead of cooking farro in plain ol' water, I season the water with salt, pepper, garlic, and bay leaves. Again, we're building flavor!
Most store-bought farro is pearled or semi-pearled, and cooks quicker than traditional farro, which can take 45 minutes. Pearled usually takes only 15-20 minutes; semi-pearled 20-30 minutes.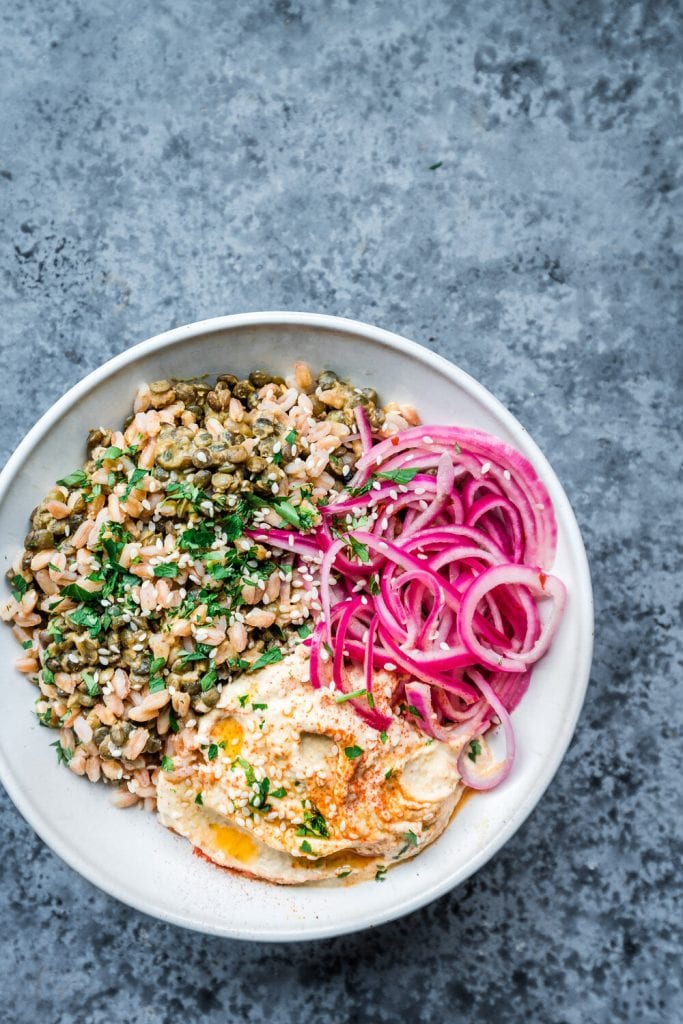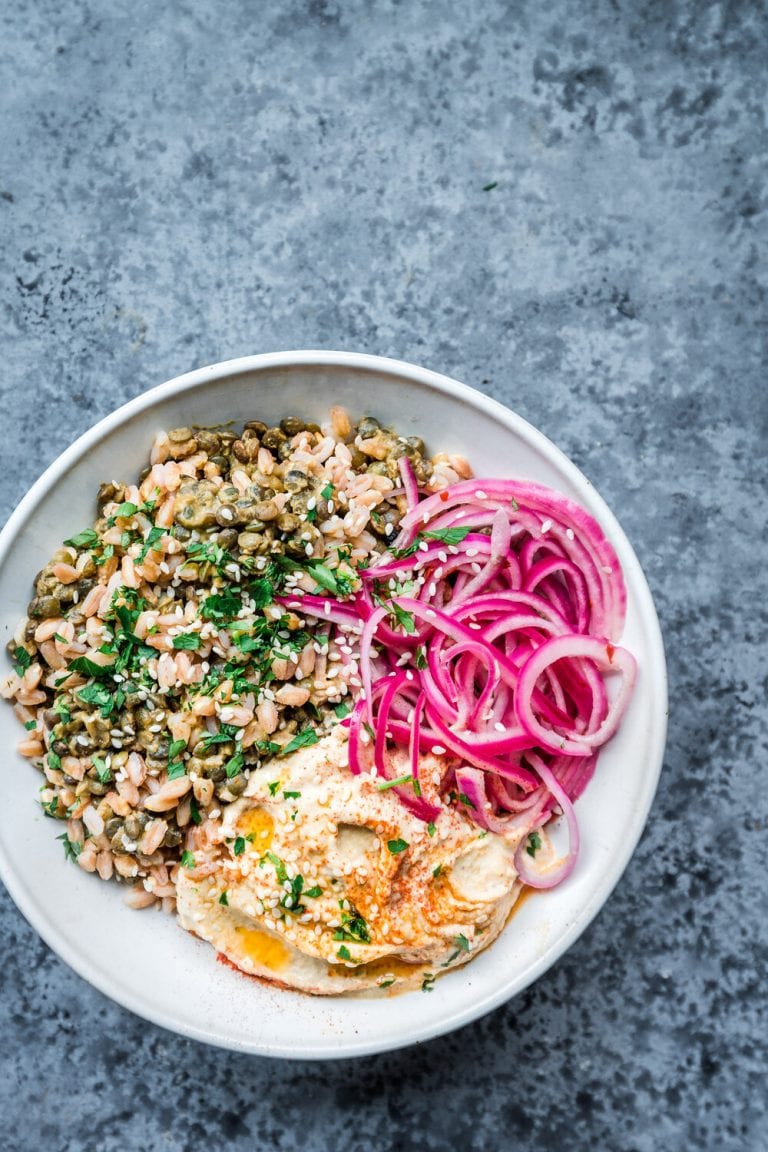 That's all you need to know about these easy, budget-friendly Mediterranean Lentil and Grain Bowls. If you give this recipe a try, be sure to tag me on Instagram with your recreations and please comment with your feedback below!
Mediterranean Lentil and Grain Bowls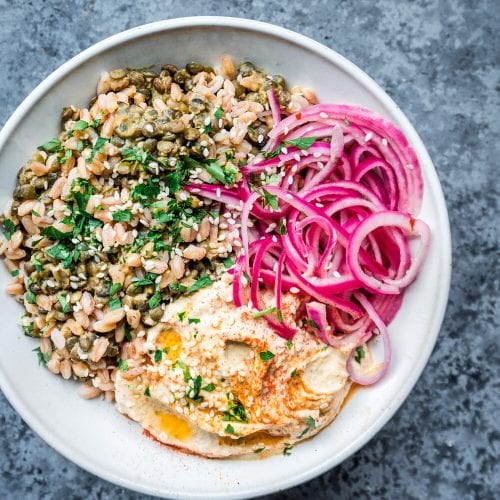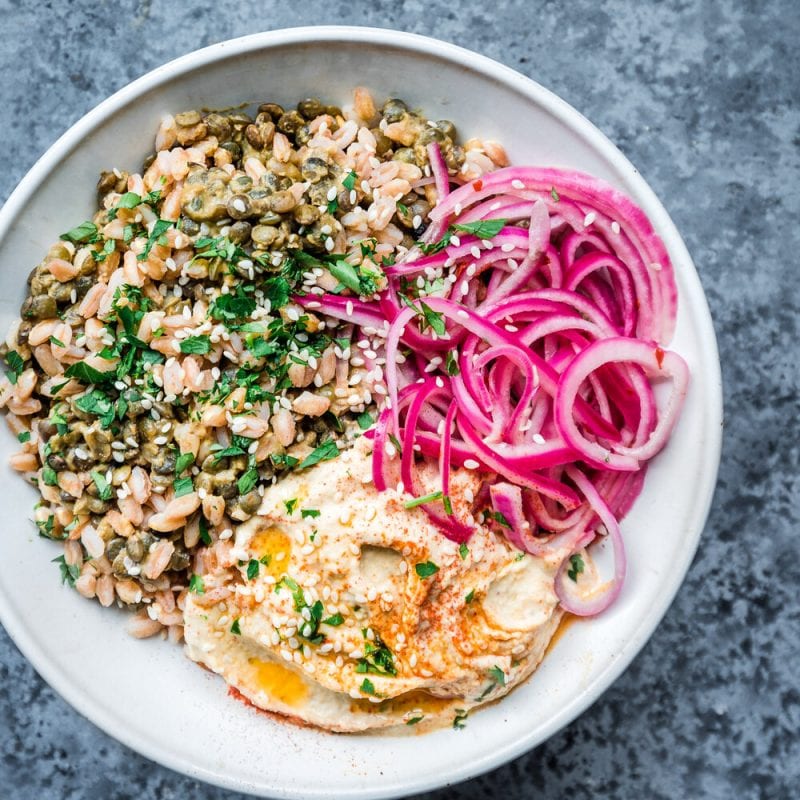 Gourmet but easy to make, these Mediterranean Lentil and Grain Bowls are packed with fiber and protein and are great for weeknight dinners as well as meal prep.
Ingredients
PICKLED ONIONS (Makes 1 large jar of pickled onions)
Ingredients
1

medium red onion

3/4

cup

(180 mL) water

1/2

cup

(120 mL) cup apple cider vinegar or white vinegar (or a mixture of both)

1

tablespoon

maple syrup

(or organic cane sugar)

1 ½

teaspoons

fine sea salt

1/4-1/2

teaspoon

red pepper flakes

(optional)

1/2

teaspoon

whole peppercorns

(optional)
CREAMY MEDITERRANEAN LENTILS (Makes about 2 1/2 cups cooked lentils)
Ingredients
1

tablespoon

olive oil

1

teaspoon

cumin seeds*

6

garlic cloves,

minced

2 ⅔ - 2 ¾

cups

(640 - 660 mL) vegetable broth

1

cup

(180g) French green lentils

Kosher salt or sea salt to taste

Freshly cracked black pepper to taste

2

tablespoons

tahini

2-3

teaspoons

tamari

(depends on how salty your vegetable broth is)
FARRO (Makes about 2 1/2 cups cooked farro)
Ingredients
1

cup

(180g) farro, pearled or semi-pearled (can sub any gluten-free grain, such as quinoa, millet or brown rice)

2 ½

cups

(600 mL) water

Kosher salt or sea salt

2

bay leaves

(optional, for seasoning)

Freshly cracked black pepper

(optional, for seasoning)

2

garlic cloves,

sliced in half (optional, for seasoning)
CLASSIC HUMMUS (Makes about 1 1/2 cups hummus)
Ingredients
1

(15-ounce / 440g) can chickpeas, or 1 ¾ cups (260-280g) cooked chickpeas

1/3

cup

(75g) tahini

1

medium lemon,

juiced (about 3 tablespoons)

2

garlic cloves,

chopped

1/2 - 1

teaspoon

ground cumin

1

teaspoon

kosher salt,

plus more to taste

Freshly cracked black pepper to taste

4 - 6

tablespoons

ice water

For serving: extra virgin olive oil,

chopped flat-leaf Italian parsley, paprika.
Instructions
Pickled Onions Directions
Bring the water to a gentle boil, using a kettle or on the stove. Slice the onion very thinly. Place the onion slices in a large mason jar.

Mix together the hot water, vinegar, maple syrup, salt, red pepper flakes, and peppercorns. Stir to combine until the syrup or sugar is dissolved. Pour the pickling liquid over the sliced onions in the jar.

Allow to cool to room temperature, at least 30 minutes. You can serve now, but I prefer to refrigerate them for a more developed flavor.
Creamy Mediterranean Lentils Directions
Heat a large, deep nonstick frying pan or a Dutch oven over medium heat and add the olive oil. Once hot, add the garlic and cumin seeds and cook, stirring frequently, until fragrant, 1-2 minutes.

Pour in the vegetable broth to deglaze the pan, then add the lentils. Bring to a boil and then reduce the heat to maintain a rapid simmer for 25-30 minutes, or until most of the liquid has been absorbed and the lentils are tender but still al dente.

Turn the heat to low and add the tahini and tamari, and stir well into the lentils. Taste for seasonings, and season with salt (as needed) and freshly cracked black pepper.
Farro Directions
Add the water to a medium saucepan, season with salt, and bring to a boil. Add the farro and seasonings, then reduce to a simmer and cook until al dente-- tender yet chewy. For pearled farro, it should take 15-20 minutes; for semi-pearled farro, 20-30 minutes.

Once al dente, drain the farro through a sieve and discard the aromatics. If you have the time, spread the farro out on a sheet tray to cool and dry out--this helps prevent it from getting mushy.
Classic Hummus Directions
Add the chickpeas to a food processor and blend for 2 minutes until you have a thick paste-like puree, scraping down the sides with a silicone spatula as needed.

Add the tahini, lemon juice, garlic, cumin, and 1 teaspoon salt. With the motor running, stream in the ice water, a little at a time, until the hummus is thick yet smooth and creamy. Taste for seasonings and add more salt, lemon juice, garlic, or cumin as needed. If the hummus is still too thick for your liking, add a tablespoon or two more of ice water.

Transfer the hummus to a serving bowl and cover with plastic wrap to keep it from drying out. Ideally, let it rest for 30 minutes before serving.

When ready to serve, drizzle with extra virgin olive oil, parsley, and paprika.
Notes
* If you don't have cumin seeds, use 1/2 - 3/4 teaspoon ground cumin along with the lentils.
---
Calories:
551
kcal
|
Carbohydrates:
88
g
|
Protein:
25
g
|
Fat:
13
g
|
Saturated Fat:
2
g
|
Polyunsaturated Fat:
5
g
|
Monounsaturated Fat:
6
g
|
Sodium:
732
mg
|
Potassium:
851
mg
|
Fiber:
28
g
|
Sugar:
4
g
|
Vitamin A:
112
IU
|
Vitamin C:
20
mg
|
Calcium:
118
mg
|
Iron:
7
mg