As you may know, I don't make bold New Year's Resolutions or try drastic things like "eat no sugar for the entire year." Instead, I try to focus on (a) creating more positive in my life, whether it's working smarter or eating more nourishing foods I enjoy (like these superfood-packed cookies) and (b) small actionable steps that help me achieve my goals.
That's why I decided to create some simple tools to help you live your best, happiest, and healthiest 2019! For the first 7 days of 2019, I'm sharing a new healthy lifestyle template over on Instagram. These templates cover topics like goal-setting and gratitude and provide you with easy and actionable ways to feel better and happier this year.
All you need to do is take a screenshot of the template(s) you'd like to use and then fill it out with your own goals and intentions. I recommend looking at your filled-out template twice a day to remind yourself of your goals and ideas. Regular review of your goals has been shown to increase the likelihood that you manifest those goals into reality! I would also love it if you posted your responses to Stories so I can see them and share!
Once the week is over, I'll be posting all 7 of the templates on the blog so you can print them out. Leave them next to your desk or hang them above your bed to remind yourself of what's important to you this year.
Okay…now let's get to these Spiced Breakfast Cookies! These aren't your ordinary cookies because they're vegan, gluten-free, free of refined sugar, and packed with superfoods and antioxidants. They are so healthy that you can enjoy them for breakfast, guilt-free!
This recipe started out as a clean-out-my-pantry experiment, and accordingly, the ingredient list is quite long because I had a lot of pantry ingredients to use up. But these cookies are easily customizable, so you can use whatever you have on hand (i.e., you can use only dried apricots instead of both apricots and cranberries; you can replace the shredded coconut with more oats or oat flour, etc.). If you use almond flour instead of oat flour, the consistency will be slightly crumblier but they will still be super delicious.
I love using dried apricots because there's nothing like biting into a chewy sweet piece of dried apricot. I also use dried cranberries, but if you are completely avoiding refined sugar, be sure to buy juice-sweetened dried cranberries (many store-bought cranberries are sweetened with sugar). And if you are oil-free, you can swap out the oil with a mixture of bananas and avocado (thanks to Hope, one of my readers, who made this swap and loved the results!).
My recipe includes pumpkin seeds because they are a nutrition powerhouse (rich in magnesium, protein, iron, and antioxidants), but feel free to use sunflower seeds or your favorite nuts (chopped almonds would be delicious). Probably my favorite ingredient in these cookies are the raw cacao nibs. If you've tasted cacao nibs, you might be confused because they are pure cacao and thus quite bitter (and not sweet). However, when you bake with cacao nibs, the heat really brings out the rich chocolatey flavor and the nibs actually taste like finely chopped bittersweet chocolate. Plus, they're incredibly healthy and an amazing source of antioxidants.
I like to store these cookies in a container on my kitchen counter and then grab a few on my way to work. But of course, if you have the time, pair them with your favorite creamy plant-based milk or a latte! If you try these cookies out (or fill out one of my New Year's templates), be sure to tag me on Instagram! Happy 2019, friends!
Spiced Breakfast Cookies (Vegan, Gluten-Free)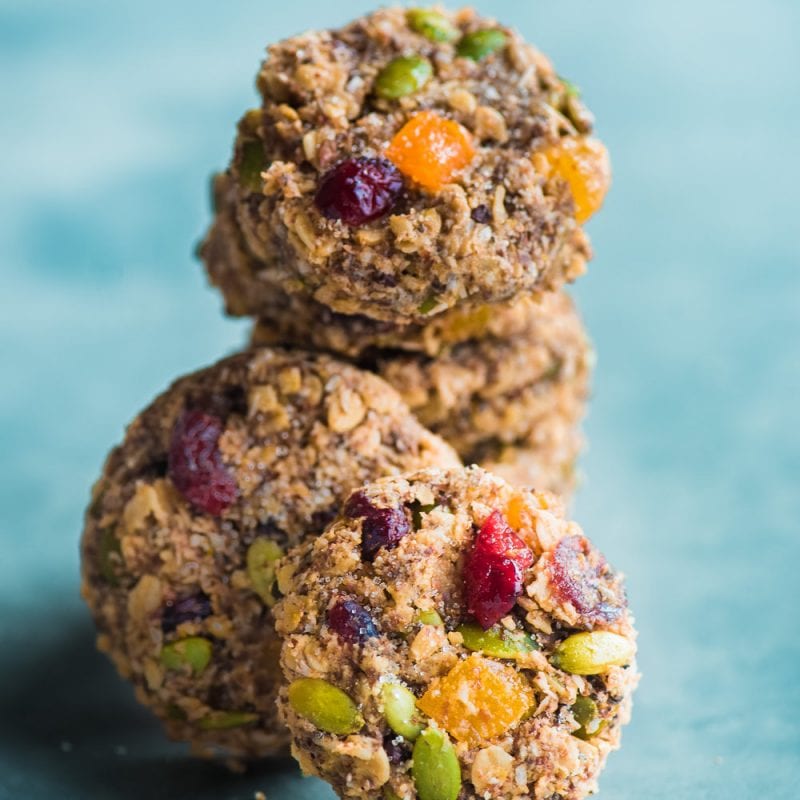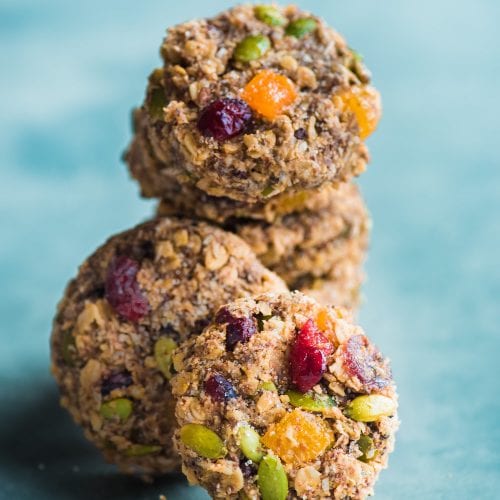 These Spiced Breakfast Cookies are healthy enough to eat for breakfast and make a great afternoon snack. These cookies are packed with superfoods and antioxidants and are vegan, gluten-free, and refined sugar-free.
Ingredients
3/4

cup

gluten-free oat flour or almond flour

1 1/4

cups

gluten-free rolled oats

1/2

cup

unsweetened shredded coconut

1/3

cup

flaxseed meal

2

tablespoons

chia seeds

3

tablespoons

raw cacao nibs

1/2

cup

raw pumpkin seeds

1/2

teaspoon

ground ginger

1/2

teaspoon

ground cloves

1/2

teaspoon

ground nutmeg

2

teaspoons

ground cinnamon

1

teaspoon

aluminum-free baking powder

1/2

teaspoon

kosher salt

1/3

cup

chopped dried apricots

1/2

cup

dried cranberries or currants

1/4

cup

melted coconut oil*

3/4

cup

unsweetened applesauce

1/4

cup

pure maple syrup

1 1/2

teaspoons

pure vanilla extract

3

tablespoons

creamy almond butter or tahini

1/4

cup

almond milk

(or other plant-based milk)
Instructions
Preheat the oven to 325ºF. Line two large baking sheets with parchment paper.

In a large bowl, stir together the oat flour (or almond flour), oats, coconut, flaxseed meal, chia seeds, cacao nibs, pumpkin seeds, flaxseed meal, ginger, cloves, nutmeg, cinnamon, baking powder, and salt. Fold in the dried apricots and cranberries (or currants).

In a medium bowl, whisk together the melted coconut oil, applesauce, maple syrup, vanilla, almond butter, and almond milk until smooth. Pour the wet ingredients over the dry mixture, stirring to combine with a wooden spoon or rubber spatula until the dough sticks together. Allow the dough to rest for 10 minutes – this gives the flaxseed meal a chance to thicken the dough.

Scoop about 3 tablespoons of the dough into your hands and shape into a round. Arrange the cookies on the baking sheets, spacing them about 1/2 inch apart (about 12 cookies per sheet). Lightly flatten the tops of the cookies with your hands.

Bake the cookies for about 20 minutes, or until they are slightly firm and hold their shape. After 5 minutes, use a spatula to carefully transfer them to a cooling rack.

Store leftovers in an airtight container.
Notes
*To make these cookies oil-free, use 1/2 of a ripe banana and the flesh of 1/2 of ripe avocado instead of the coconut oil (they might be a bit soft in the middle).
---
Calories:
136
kcal
|
Carbohydrates:
12
g
|
Protein:
3
g
|
Fat:
9
g
|
Saturated Fat:
4
g
|
Polyunsaturated Fat:
2
g
|
Monounsaturated Fat:
1
g
|
Trans Fat:
1
g
|
Sodium:
68
mg
|
Potassium:
111
mg
|
Fiber:
3
g
|
Sugar:
6
g
|
Vitamin A:
69
IU
|
Vitamin C:
1
mg
|
Calcium:
52
mg
|
Iron:
1
mg