As you may have noticed, I really love turmeric. I include it in many of my dishes, including this Anti-Inflammatory Golden Tonic, this very popular Red Lentil Almond Curry, and in many other recipes. And if you follow me on Instagram, you may have seen some of my Stories where I share quick and easy ways to add more turmeric to your diet.
I already talked at length about the health benefits of turmeric in this post, so I won't bore you again. Just know that you should be adding more turmeric to your life because it boasts a variety of health benefits.
This week I decided to add turmeric to one of my favorite condiments: cashew cream. Since going vegan, I have discovered many ways to replace familiar comfort foods, and cashew cream just might be my favorite. Technically, cashew cream doesn't replace one specific food or condiment, but it's incredibly versatile and, more importantly, it's insanely delicious. Its rich, creamy texture lends decadence to whatever you're eating but is balanced nicely by its savory, umami flavor. Did I mention it's also really healthy? Made with raw cashews and simple ingredients like water or vegetable broth, lemon juice, and garlic, cashew cream offers the best of both worlds: indulgence and nourishment.
Since the turmeric cashew cream is doubly healthy (turmeric + cashews), I figured I had to pair it something a little less healthy. Hello, pasta.
I used linguine in this recipe, but you can use any type of pasta you have on hand. Stick to whole grain pastas or bean-based pastas if you're looking to keep things on the healthy side.
To give this dish a little meat (without adding any meat, obvi), I add pan fried mushrooms. I used a variety of wild mushrooms and cremini mushrooms because I prefer their richer, more intense flavor to button mushrooms, but feel free to use any mushrooms you can find. I also prefer cooking wild mushrooms because most of these varieties contain less water than button mushrooms and therefore emit less liquid when cooked.
Before you slice your mushrooms, be sure to clean off the excess dirt with a damp paper towel and make sure they're dry before cooking. And to ensure they don't shrivel up, don't slice them paper thin. Once your skillet is really hot, cook the mushrooms a handful at a time so that they can sit in a single layer without overlapping. Spreading the mushrooms out will give make them crispy and browned instead of soggy and wet.
That's about all you need to know, so don't waste any time and go make this healthy yet indulgent recipe! And be sure to tag me on Instagram @rainbowplantlife if you make any of my recipes.
Spicy Turmeric Cashew Cream Pasta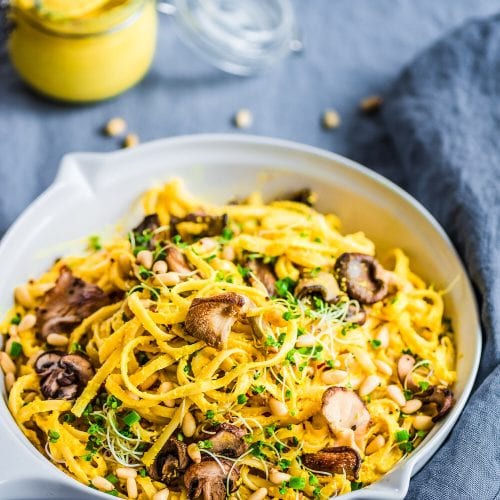 Creamy pasta usually doesn't sound healthy, but this one is packed with antioxidants (turmeric, chili peppers, wild mushrooms) and healthy fats (cashews). Serve alongside crispy chickpeas or your favorite protein source for a full, balanced meal!
Ingredients
1

cup

raw cashews

(soaked for 8 hours in cold water or for 1 hour in boiling water)

8

ounces

wild mushrooms

(cleaned and sliced 1/2 inch thick)

2/3

cup

vegetable broth

2

cloves

garlic

1/2

teaspoon

sea salt + more to taste

1/4

teaspoon

freshly cracked black pepper + more to taste

1/2

habanero pepper,

diced

1 1/2

teaspoons

ground turmeric

2

tablespoons

nutritional yeast

1

tablespoon

lemon juice

8-10

ounces

linguine

(or gluten-free pasta of choice)

1

tablespoon

olive oil

Garnishes

(optional): pine nuts, chives, crushed red pepper flakes, vegan parmesan
Instructions
Cook the pasta. Bring a large saucepan of salted water to a boil. One the water is boiling, add the linguine and cook according to the package directions.

Cook the mushrooms. While the pasta is cooking, heat a large, heavy skillet over medium high heat with the olive oil until it's just barely beginning to smoke. Add the sliced mushrooms in a single layer and let cook, without touching, for 3-4 minutes until the bottom side is golden brown. Season with salt and pepper to taste, then toss the mushrooms, and cook for another 5-7 minutes, tossing frequently, until golden brown all over.

Make the turmeric cashew cream: Drain the soaked cashews thoroughly and place them in the bowl of a food processor or in a high-powdered blender. Add the vegetable broth, garlic, habanero pepper, turmeric, 1/2 teaspoon salt, 1/4 teaspoon black pepper, nutritional yeast, and lemon juice. Blend until you have a smooth, creamy and thick sauce. If you would like a thinner consistency, add a spoon of vegetable broth (or water) and repeat as needed until you reach your desired consistency. Taste for seasonings. If you can tolerate more turmeric, feel free to add a bit more now and blend until combined.

Once the linguine is done cooking, drain over a colander resting on top of a bowl and reserve 1/4 cup of the cooking water. Return the drained pasta to the saucepan and pour in the turmeric cashew cream, tossing to coat. If the mixture is too thick, add in a bit of the reserved cooking water to thin the sauce.

Add the pan-fried mushrooms to the pasta and toss to combine. Garnish as desired.
---
Calories:
454
kcal
|
Carbohydrates:
57
g
|
Protein:
17
g
|
Fat:
19
g
|
Saturated Fat:
3
g
|
Polyunsaturated Fat:
3
g
|
Monounsaturated Fat:
10
g
|
Sodium:
458
mg
|
Potassium:
628
mg
|
Fiber:
5
g
|
Sugar:
5
g
|
Vitamin A:
96
IU
|
Vitamin C:
5
mg
|
Calcium:
30
mg
|
Iron:
4
mg