I'm a firm believer that a lot of the magic in a vegan kitchen happens in the pantry, and this Lentil Bolognese is a prime example. It's a fantastic example of how to leverage budget-friendly, shelf-stable ingredients into a comforting, tasty meal. In fact, some of my other favorite pasta dishes are made entirely out of pantry ingredients but they never sacrifice on flavor (think vegan caramelized onion pasta, Italian white bean and pasta stew, or creamy pantry pasta).
A bit more on bolognese. I used to enjoy a good bolognese (a lot). After going vegan, I tried quite a few vegan bolognese recipes, but they fell flat (or terribly). They mostly tasted like vegetables in marinara sauce.
So I challenged myself to come up with a plant-based spin that delivered the same flavor and texture profile as traditional bolognese. And this version delivers – it's meaty but in a wholesome vegan way, packed with umami goodness, and oh so rich and thick. Plus, it requires just 10 main ingredients (all pantry staples), so you can almost always make it at a moment's notice.
Table of Contents
1. Why you'll love this recipe
2. Tips for making this recipe
3. Frequently Asked Questions
4. Common substitutions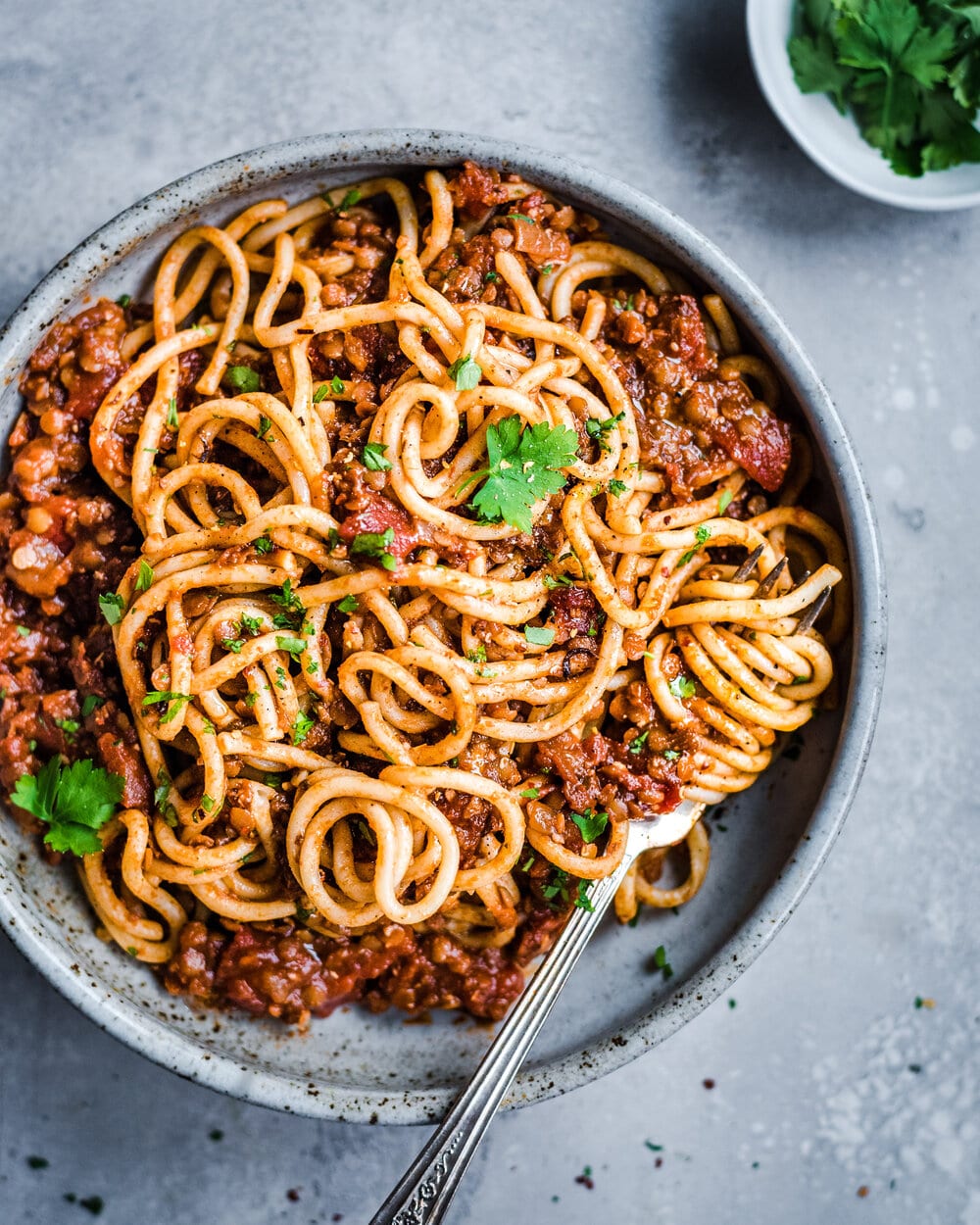 Why you'll love this lentil bolognese recipe
10 main ingredients. Okay, not counting water, oil, salt and pepper. But yeah, just 10 main ingredients!
Pantry staples. And all of these ingredients are pantry staples (i.e., you might already have all the required ingredients in your pantry).
Budget-friendly. With just 10 main ingredients that are all pantry staples, this recipe is also budget-friendly! I was able to make this recipe for $9-$10, and at six servings, that's about $1.50 for a meal.
Comforting and hearty. It's hearty and meaty but not in-your-face meaty. And it's packed with umami, thanks to an entire tube of tomato paste and walnuts. It's rich, thick, and sticks to your ribs. Hello, comfort food pasta!
Wholesome and healthy. The bolognese sauce is made entirely with wholesome ingredients like red lentils and walnuts. Feel free to make it even more wholesome with whole wheat pasta.
Tips for making this recipe
1. Soak your red lentils before you start on anything else. You'll need to soak them in cool water for 30 minutes, but you can soak them for up to 1 hour. This helps soften them up. If you don't soak the lentils, the will take closer to 45-60 minutes to soften.
2. To crush the walnuts, the easiest/quickest method is a food processor or spice grinder. But if you want to wash fewer dishes, just chop them very finely with a large knife. You want to chop them really finely; otherwise, you'll end up with hard bits of walnut. Not terrible but not great.
3. If you're using crushed tomatoes, you might need to add a bit of water as you cook the sauce to prevent the mixture from drying out or burning. You should not need to if using diced tomatoes.
4. I like to finish my red sauces with a splash of good-quality balsamic vinegar. The acidity balances the richness of the bolognese, and the slight sweetness pairs nicely with the tomatoes. However, if you don't have a good-quality balsamic vinegar, I recommend omitting it, as an inexpensive everyday balsamic vinegar won't add much (and might make it worse). If your bolognese is a bit too sour for your taste, add in a teaspoon of brown sugar or coconut sugar at the end instead of the balsamic vinegar.
Frequently Asked Questions about Vegan Red Lentil Bolognese
How do I store leftover bolognese?
If you're planning to eat only some of the pasta on the day you cook, the leftovers will stay best if you store the bolognese separately from the pasta. That said, the combined leftovers are still very tasty and should last 3-4 days in the fridge. This red lentil bolognese sauce stored separately will last a bit longer, about 5 days.
Can I freeze bolognese?
Yes! The bolognese sauce (without pasta) freezes quite well. Just thaw completely in the fridge before reheating.
Can I substitute the red lentils?
Sort of. I recommend red lentils because they cook down the softest out of the common lentil varieties (and also take the least amount of time to cook). If all you can find is brown or green lentils, you can use those (some readers have done so), but you might need to increase the cook time. Also, keep in mind, the texture might have more bite to it.
What's the best pasta shape to serve with lentil bolognese?
Traditionally, in Italy, bolognese is served with egg-based tagliatelle, but since I'm vegan, that's obviously a no-no. A thick, long pasta or a ridged pasta shape is ideal for holding this hearty, chunky sauce. Think fettuccine (similar to tagliatelle), pappardelle, or linguine, as well as rigatoni or fusili, or even gnocchi!
How else can I serve bolognese?
Aside from pasta, you can also serve the bolognese over zucchini noodles or sweet potato noodles for a lighter option. You can also use this filling as a vegan sloppy joe filling or dollop it over nachos for a spin on "chili cheese nachos."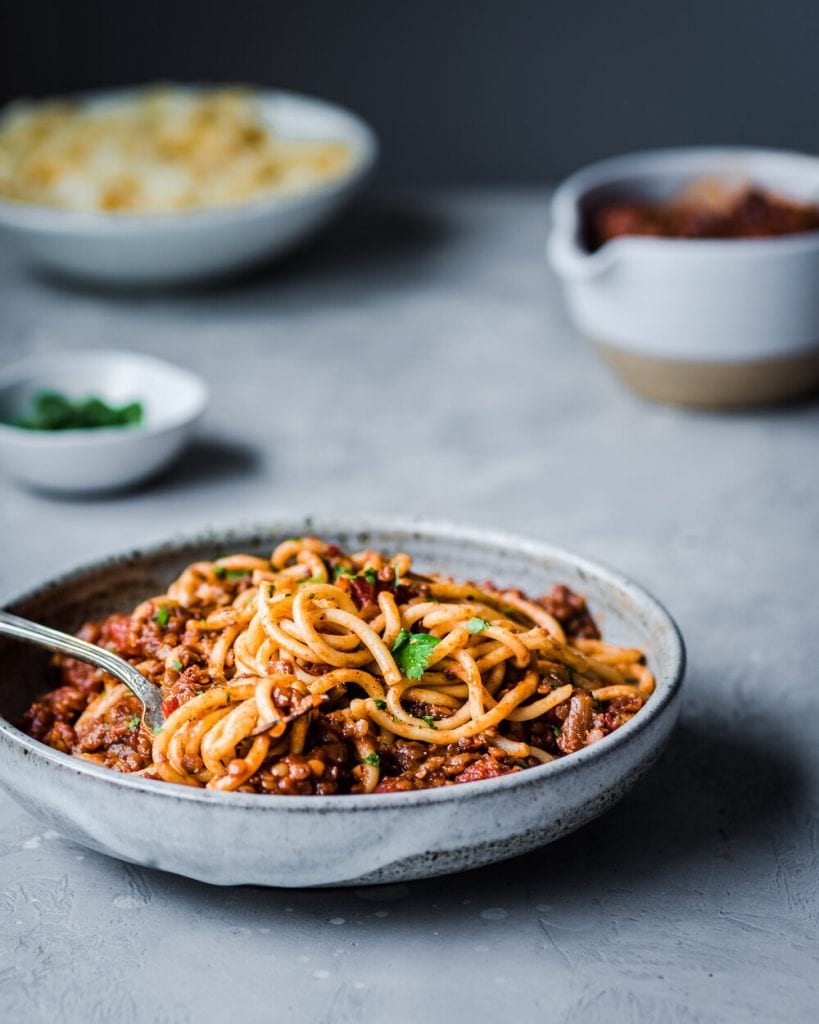 Substitutes for this Vegan Red Lentil Bolognese
In the event you don't have all the exact ingredients on hand, here are some substitutions to try.
No onions? Shallots work just great.
Gluten-free? Use gluten-free pasta! The bolognese sauce itself is gluten-free.
No vegetable broth. You can use water, but you'll want to add more salt for a bit more flavor. Or, you can try using a vegetable broth powder like this! This particular is very flavorful and packed with umami.
No walnuts? Pecans work just fine!
No red lentils? Green or brown lentils have a longer cook time but can still work (many readers have used these instead). Just check them along the way – they might need 5 to 10 minutes more.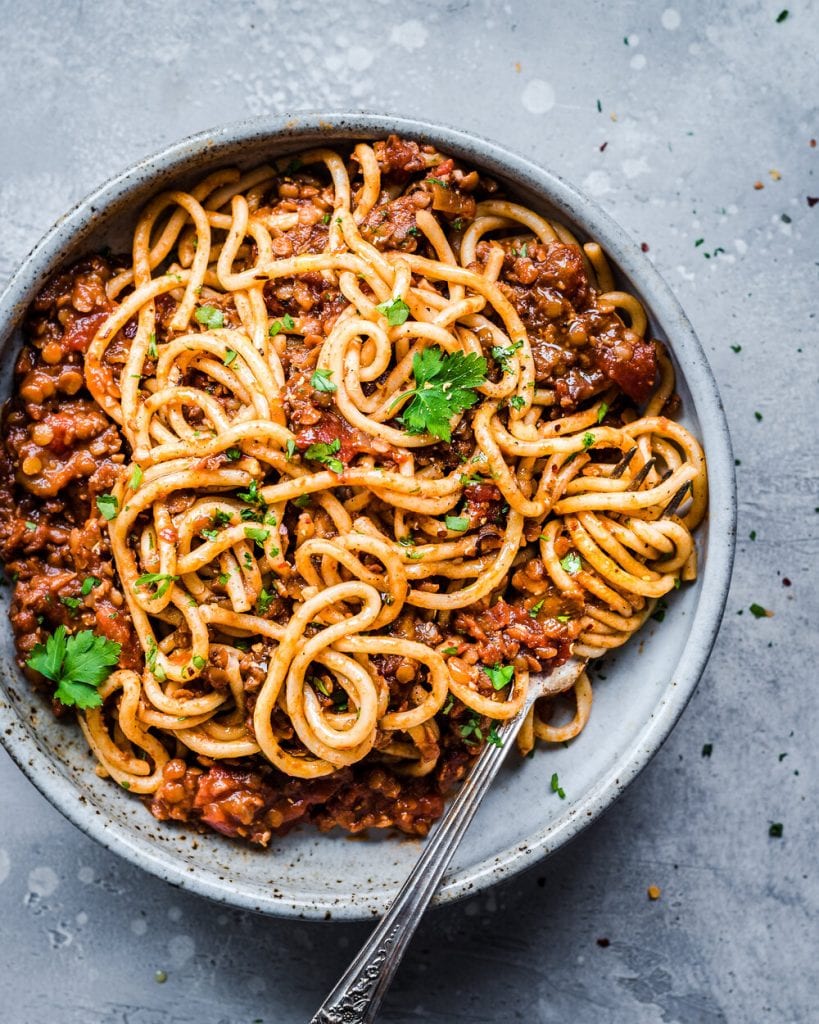 And if you give this recipe a try, be sure to tag me on Instagram with your recreations and please comment with your feedback below!
10-Ingredient Vegan Red Lentil Bolognese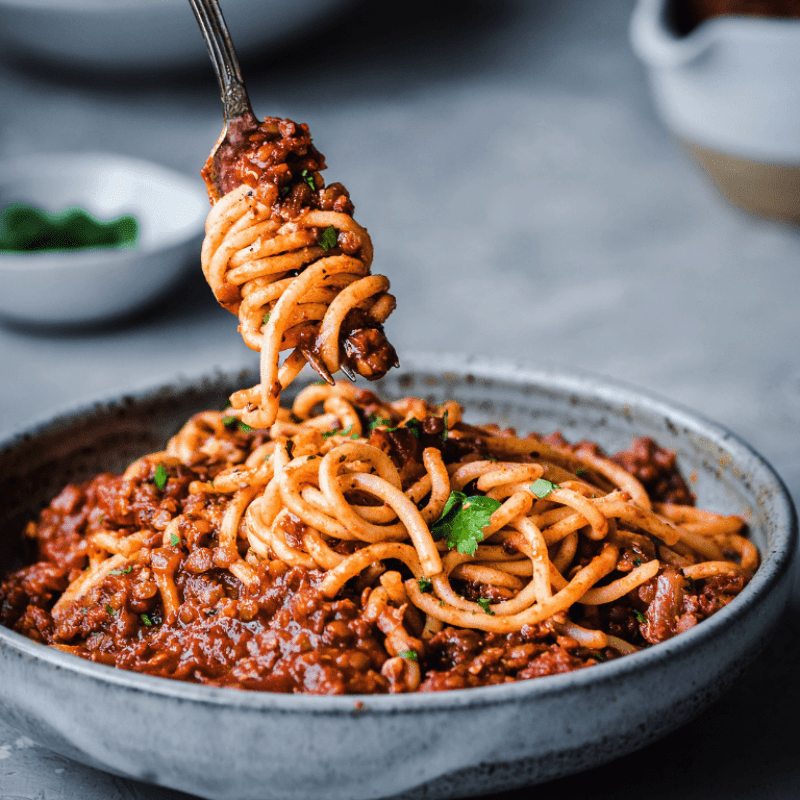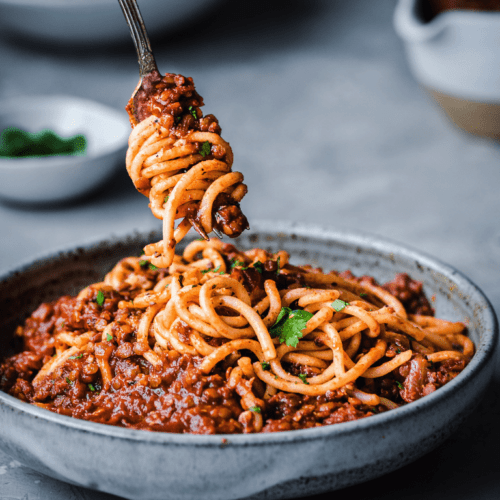 This 10-Ingredient Vegan Red Lentil Bolognese is hearty, meaty, and packed with umami but 100% wholesome, vegan, and gluten-free. And it's made with just 10 main ingredients—all pantry staples!
Ingredients
1 ½

tablespoons

olive oil

1

large onion,

diced

4

garlic cloves,

minced

1

teaspoon

dried oregano

1

teaspoon

dried thyme

1 ½

teaspoons

kosher salt,

plus more to taste

Freshly ground black pepper to taste

1

(5.3-ounce/150g) tube or (6-ounce/170g) can of tomato paste

3

cups

(720 mL) vegetable broth*

1

cup

(185g) red lentils, soaked (see step #1)

¼

cup

(32g) walnuts (or pecans), crushed finely

1

(14.5-ounce/410g) can of crushed tomatoes or diced tomatoes

12-16

ounces

(340-454g) egg-free pasta**

(a wide, long pasta such as tagliatelle or fettuccine; or tube-shaped pasta such as rigatoni or penne work best; or gnocchi)

1

tablespoon

high-quality balsamic vinegar***

Flat-leaf Italian parsley,

chopped (optional)
Instructions
Soak the 1 cup of lentils in water for 30 minutes, or up to 60 minutes. Meanwhile, prep all the other ingredients (i.e., chop the onions and garlic, chop the walnuts, etc.)

Heat a 12-inch skillet or Dutch oven on medium-high heat. Add the olive oil, and once it's shimmering, add the onions and season with a pinch of salt. Stir occasionally and cook the onions until a light brown fond starts form on the surface of the pan, about 5 minutes. Add a few spoons of water to deglaze the pan, and stir. Continue cooking the onions, adding more water every few minutes and stirring frequently to prevent burning, until the onions are softened and golden brown, 9-10 minutes.

Add the garlic, thyme, oregano, 1 1/2 teaspoons kosher salt, and pepper to taste. Stir frequently and cook for 60-90 seconds.

Stir in the tomato paste and cook for 2-3 minutes to caramelize, stirring very frequently, until it's darker red in color.

Pour in the broth to deglaze the pan, stirring any browned bits on the bottom of the pot. Add the lentils and walnuts, and stir to incorporate. Heat until the mixture comes to a boil, then reduce the heat to medium-low to maintain a rapid simmer for 20 minutes, stirring occasionally.

Add the crushed or diced tomatoes and simmer for another 15-20 minutes, or until the lentils are tender but still al dente, stirring occasionally to prevent burning and sticking. If using crushed tomatoes, you may need to add a little water as you go along to prevent burning and sticking. If needed, lower the heat as needed to prevent burning.

Meanwhile, cook your pasta in a large pot of generously salted boiling water until just al dente. Drain but do not rinse.

Taste the bolognese for seasonings, adding more salt and pepper to taste. Finish with the balsamic vinegar (or sugar)***, and stir to combine.

Add the hot cooked pasta to the bolognese and toss until well coated in the sauce. Garnish with chopped parsley, if using.
Notes
* If you don't have vegetable broth, you can use water, but you'll want to use a bit more salt to season.
** If allergic/intolerant to gluten, use gluten-free pasta.
*** If you don't have a high-quality balsamic vinegar, you can (a) omit or (b) substitute with 1-2 teaspoons of organic brown sugar or coconut sugar (start with just 1 teaspoon, then taste, and add more as needed).