If you've ever craving rustic Italian comfort food, this Vegan Italian White Bean and Pasta Stew is the recipe for you! It's a crossover between a soup and a pasta (a "pasta soup" is probably a better title than "stew" but it sounds silly), and in the traditional Italian style of cucina povera ("peasant cooking" or "poor kitchen"), this recipe is made with affordable everyday pantry ingredients.
It's inspired by the Italian classic pasta e ceci (pasta and chickpeas) and is made with some of my favorite pantry staples. Think whole peeled tomatoes, pasta, and cannellini beans. It's brothy yet thick, saucy and rich, and packed with flavor.
In the mood for even more pasta? I've rounded up 30 of the best vegan pasta recipes from around the web! There are so many great choices, though I'm partial to the Lentil Bolognese. Check it out!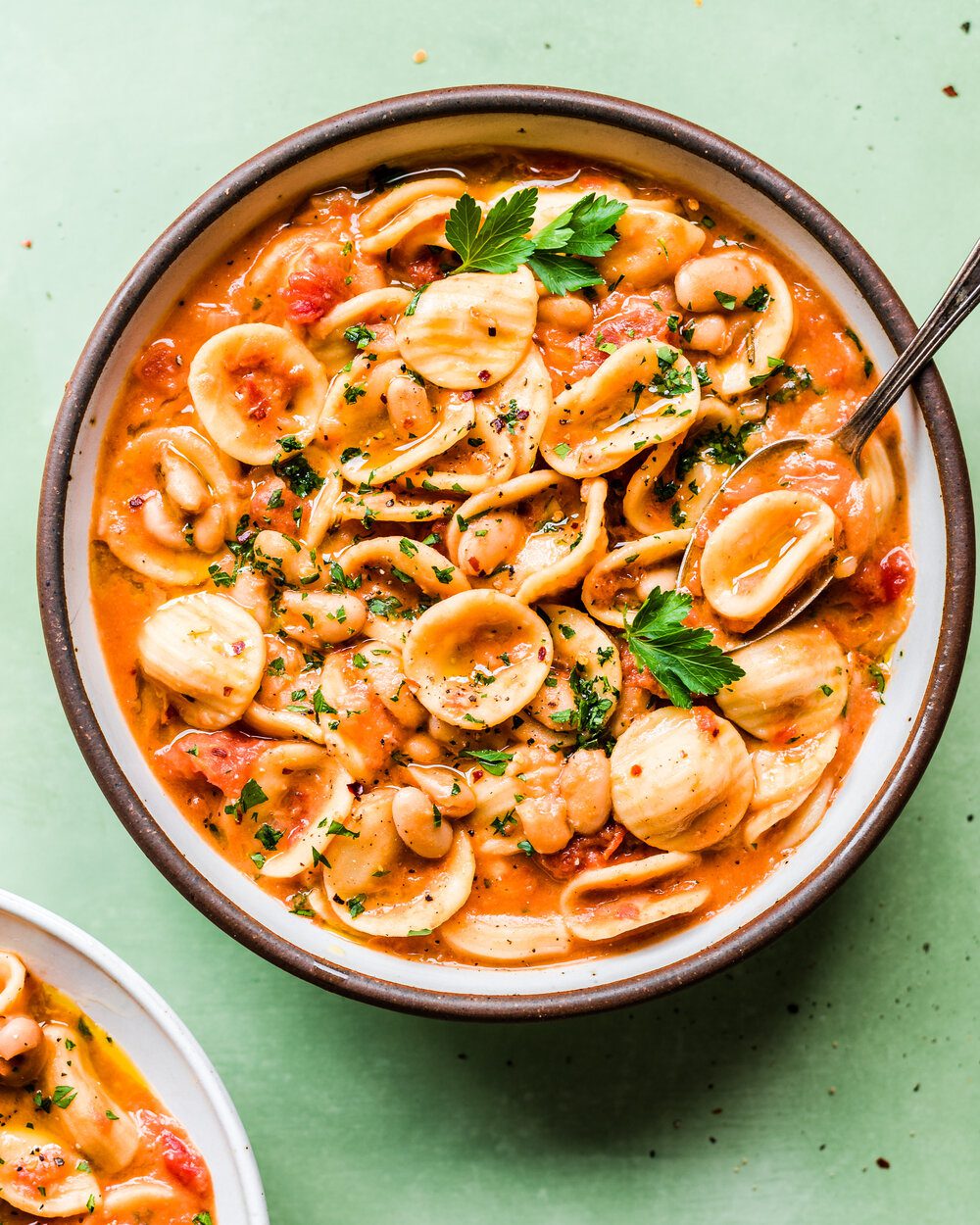 Why you're going to like this Vegan Italian White Bean Stew
Italian comfort food. Just like my Livornese-style stewed beans, this is rustic Italian comfort food at its finest. It's a crossover between a soup and a pasta, and it's brothy, saucy, and creamy. It's the kind of meal that sticks to your ribs but doesn't weigh you down.
Pantry staples. All of the essential ingredients in this recipe are pantry staples (i.e., you might already have all the required ingredients in your pantry).
Budget-friendly. This recipe is made with humble ingredients like canned tomatoes, pasta, and canned, so it's a budget-friendly recipe to add to the rotation.
Wholesome and healthy. Despite being extremely comforting, this recipe is made with wholesome ingredients, and easy to make even healthier if you use whole wheat pasta.
Kid-friendly. Tomato-y pasta reminiscent of spaghetti-Os but way better, this is definitely a kid-friendly meal to make for the whole family.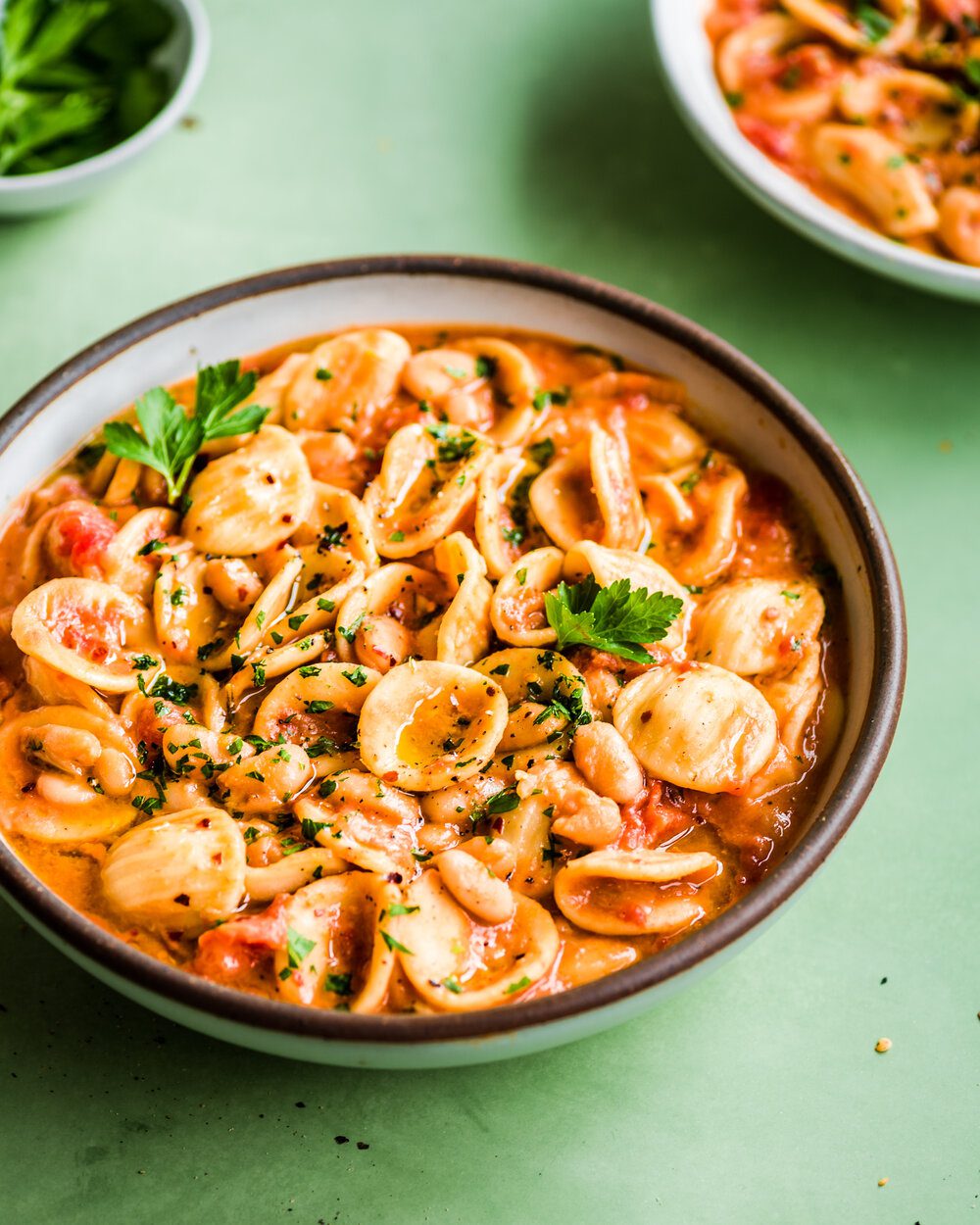 Ingredients and Substitution Notes
In the event you don't have all the exact ingredients on hand, here are some substitutions to try.
Shallots. I love the mild flavor of shallots in this dish, but if you don't have shallots, one yellow onion works just great.
Pasta. Any variety of short pasta works. I used orecchiette, but macaroni, ditalini, tubetti (tiny tube pasta), or other short pasta varieties also work.
Rosemary. This is a non-pantry ingredient, so I've made it optional. It does add a world of flavor that infuses the whole soup with piney-yet-lemony notes. Of course, if you don't have it, try adding a bit of dried rosemary when you add the garlic. Or, if you have fresh thyme, use a few sprigs of fresh thyme (or 1/2 teaspoon dried thyme).
No dried chili pepper? Substitute with 1/4 to 1/2 teaspoon crushed red pepper flakes (depending on how spicy you like it).
Cannellini Beans. I especially love cannellini beans for this recipe because they are extra creamy and therefore make the broth extra creamy (for the same reason, they're great in white bean dip). That said, if you can't find them, other white bean varieties such as navy beans or great northern beans are fine. Or, you can use chickpeas and make this dish more similar to the classic Italian dish, pasta e ceci.
I leave half of the cannellini beans whole and add them to the soup along with the canned tomatoes. The other half of the cannellini beans get pureed with some plant-based milk, lemon zest and lemon juice, nutritional yeast, and miso paste. This puree then gets added into the saucepan with some water, and this liquid becomes the cooking liquid for the pasta.
If you don't have nutritional yeast, you can omit it. Same with miso paste, which is not technically a pantry ingredient but should be because it has an indefinite shelf life in the fridge. Add a bit more salt (or a splash of soy sauce) if you omit the miso paste.
As for the plant-based milk, I like something creamy like unsweetened oat milk or lite coconut milk. Other options include cashew milk or soy milk (unsweetened).
Canned tomatoes. I use whole peeled canned tomatoes in this recipe and crush them by hand. In simple recipes where the quality of ingredients is key, I try to use whole tomatoes (instead of pre-diced or pre-crushed tomatoes) because they're higher quality tomatoes. If you can't find or don't have whole peeled tomatoes, you can use canned diced tomatoes or canned stewed tomatoes (one 14-ounce can).
I crush the whole tomatoes by hand in a bowl. It's a fun excuse to play with your food!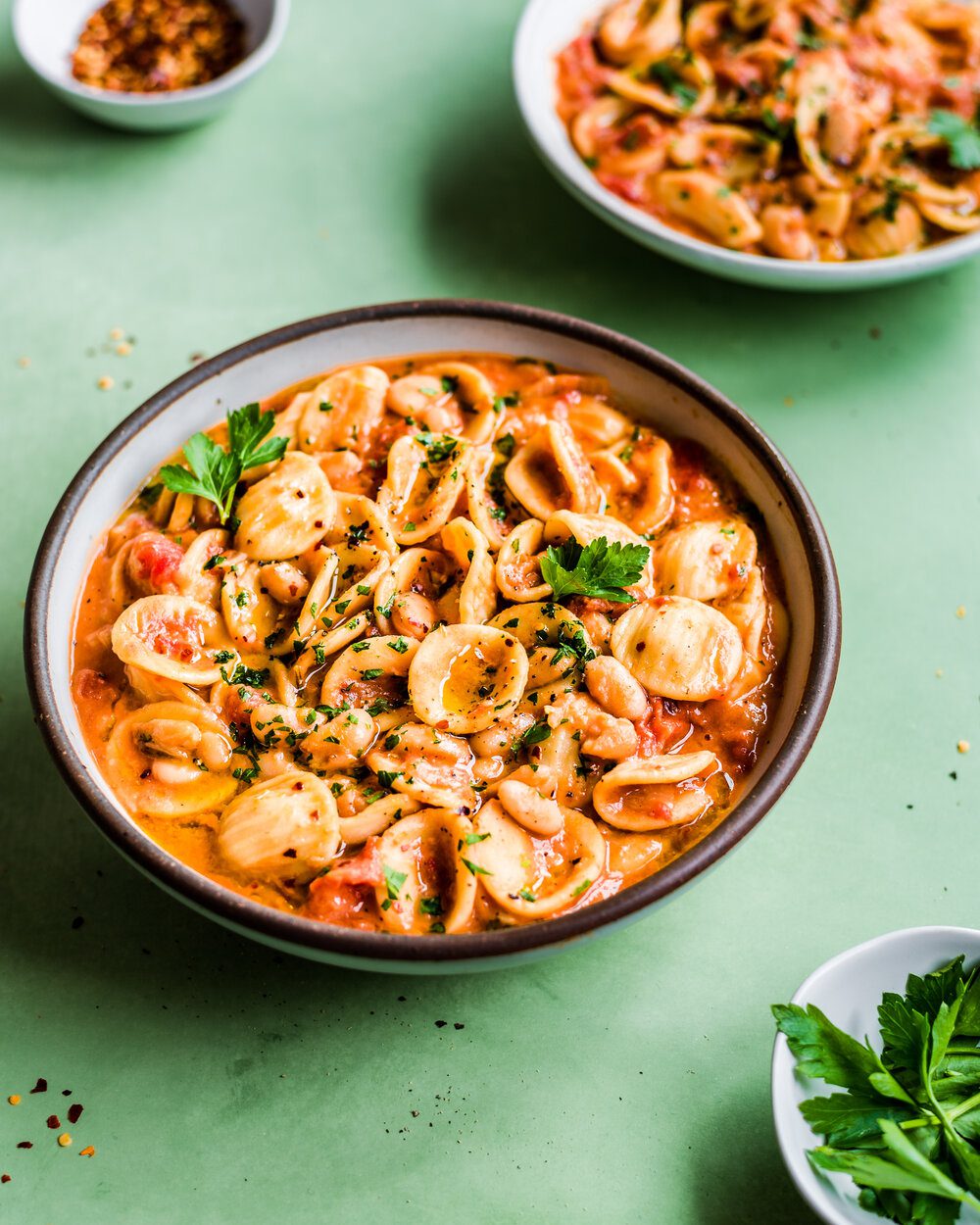 Tips for making this recipe
1. You'll need a medium-sized saucepan for this recipe. I used a 3-quart sized pan, which is large enough to hold all of the ingredients.
2. Use enough extra virgin olive oil at the start of the recipe so that your shallots and garlic turn golden, not browned. Also, I say extra virgin olive oil since, again this is a pretty simple recipe, you'll get the most flavor if you use the best quality ingredients (extra virgin olive oil has a lot more flavor than regular olive oil).
3. Once you add the pasta, the exact cook time will vary depending on the pasta variety you use. I used orecchiette, and the box called for a 12-minute cook time. I found that it took 14 minutes for the pasta to be cooked al dente, so you'll likely want to add 2 minutes to the pasta box cook time. This is because we're cooking the pasta in a very small amount of liquid compared to a typical pot of plain pasta.
4. I like to finish this dish with a drizzle of good extra virgin olive oil, freshly cracked black pepper, and chopped parsley. If you don't have parsley, feel free to omit.
5. This is a dish where a spork would come in handy. The broth is best eaten with a spoon, but it's easier to eat the pasta with a fork. Pick whichever utensil suits your chomping style the best!
6. This dish thickens as it rests, so if you're reheating leftovers, add a bit of water to thin it out.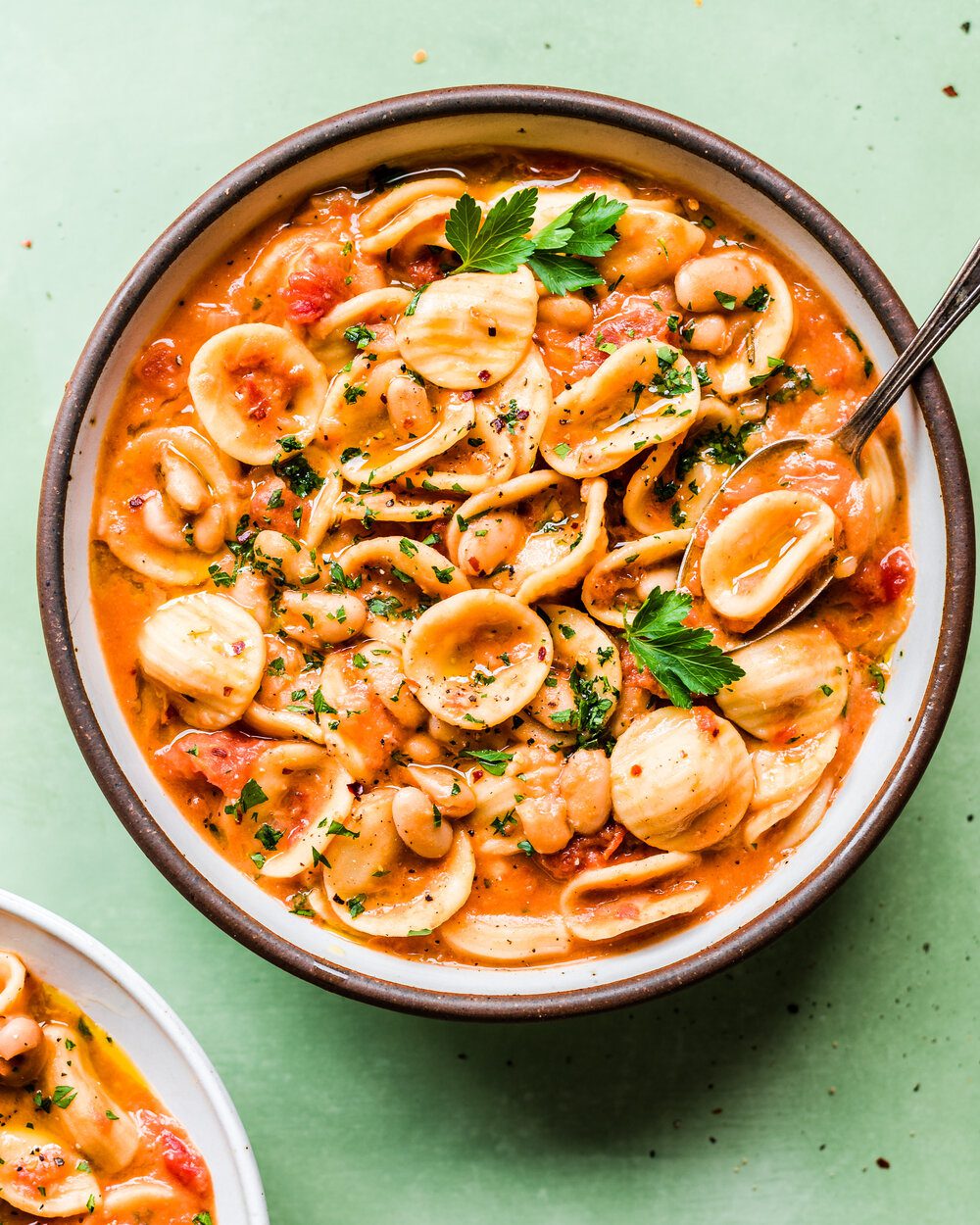 Watch! How to make Vegan Italian White Bean and Pasta Stew
To see exactly how this pasta soup is made (and how I thicken it naturally so that the broth turns silky and creamy), be sure to watch the Youtube video. This is the final recipe in the video and starts around the 9:28 mark.
If you give this recipe a try, be sure to tag me on Instagram with your recreations and please comment with your feedback below!
Vegan Italian White Bean and Pasta Stew
This Vegan Italian White Bean and Pasta Stew is rustic Italian comfort food at its finest. Creamy and saucy and packed with flavor, but also easy and fuss-free. Made with all pantry ingredients, it's budget-friendly and perfect for weeknight dinners.
Ingredients
2

tablespoons

extra virgin olive oil,

plus more for drizzling

3

medium shallots*,

diced

3

garlic cloves,

finely chopped

1

sprig fresh rosemary

(optional but recommended)

1

bay leaf

1

dried red chili pepper

(can substitute with ¼ to ½ teaspoon red pepper flakes)

1

(15-ounce/440g) can cannellini beans, drained, rinsed and divided into 2 equal portions**

1/4

cup

(60 mL) creamy plant-based milk, such as oat milk or "lite" coconut milk

2

tablespoons

nutritional yeast

1/2

of a medium lemon,

zested, then juiced

1

tablespoon

white or yellow miso paste

(optional)**

1/4

teaspoon

kosher salt,

plus more to taste

Freshly cracked black pepper to taste

Half of a

(28-ounce/795g) can of whole peeled tomatoes

3

cups

(720 mL) water

6

ounces

(168g) of short pasta, such as orecchiette, ditalini, macaroni, etc.

Flat-leaf Italian parsley,

chopped (optional; for serving)
Instructions
Crush the whole peeled tomatoes by hand, reserving the juices. Use half of the 28-ounce/795g can.

Bring a medium saucepan to medium heat and add the 2 tablespoons extra virgin olive oil. Once the oil is hot, add the shallots and season with a pinch of salt, cook, stirring often to prevent them from browning, until soft and translucent, about 4-6 minutes. Add the garlic and cook for another 2-3 minutes until soft and golden, again stirring often.

Add the rosemary sprig, bay leaf, and dried chili pepper (or red pepper flakes). Cook, stirring until fragrant, about 30 seconds.

Once the aromatics have cooked down, add the crushed tomatoes and half of the cannellini beans. Season to taste with salt and cook, stirring occasionally, until the tomatoes have thickened slightly and are starting to turn jammy, 6-8 minutes

While the tomatoes are cooking, make the white bean puree. Add the remaining half of the cannellini beans to a food processor. Add the plant-based milk, nutritional yeast, lemon zest, lemon juice, miso paste (if using), 1/4 tsp kosher salt and black pepper to taste. Blend until the mixture is completely pureed and smooth. Taste for seasonings, adding more salt or lemon juice as needed.

Once the tomatoes have cooked down, add the 3 cups (720 mL) water and the white bean puree to the saucepan. Increase the heat to medium-high and bring to a rapid simmer. Add the pasta and cook, stirring every few minutes to prevent it from sticking, until the pasta is al dente and the sauce has thickened, 12 to 16 minutes, depending on your pasta variety. The finished dish should be creamy and soup-like. Remove the chili pepper, rosemary and bay leaf and season with salt and black pepper to taste.

Divide between 2 or 3 bowls and drizzle with more extra virgin olive oil and black pepper on top. Garnish with chopped parsley, if using.
Notes
* If you don't have shallots, use 1 medium yellow onion.
** You'll add half of the beans whole to the soup, and use the other half in the puree.
*** If you don't have miso paste, omit and add a bit extra salt to taste, or a splash of soy sauce or tamari.
**** You'll use only half of the 28-ounce can; reserve the rest for another soup, pasta sauce, chili, or stew. You'll need to crush the tomatoes by hand, and include the juices. If you don't have canned whole peeled tomatoes, you can use 1 (14-ounce) can diced or stewed tomatoes.
---
Calories:
474
kcal
|
Carbohydrates:
79
g
|
Protein:
20
g
|
Fat:
11
g
|
Saturated Fat:
1
g
|
Polyunsaturated Fat:
1
g
|
Monounsaturated Fat:
7
g
|
Sodium:
588
mg
|
Potassium:
585
mg
|
Fiber:
13
g
|
Sugar:
8
g
|
Vitamin A:
261
IU
|
Vitamin C:
15
mg
|
Calcium:
186
mg
|
Iron:
6
mg