Today we're doing 10 Easy Vegan Pasta Recipes! This is healthy comfort food, made easy. Most of these recipes are very pantry-friendly, and they're all easy and straightforward, but extremely delicious!
10 Easy Vegan Pasta Recipes: Healthy Comfort Food
This 9-Ingredient Vegan Caramelized Onion Pasta is bursting with umami from quick-caramelized onions, tomato paste, sundried tomatoes, and a handful of other everyday pantry staples. Very popular with vegans and omnivores alike!
Reader Milena B. says, "Turned out amazing! My husband said at the end of the meal, "flag that one!" Thank you🙏"

Reader Joanne says, "'I/m often underwhelmed when bloggers rave about how good said recipe is/how may times they eat it, etc. Well, I just finished making this, and I seriously can NOT stop eating straight out of the pan! Holy smokes, this is so good!!"

Reader Sammmmmmm says, "Ummmmm…I guess I'm making this for the 2nd time in a weekish???? BECAUSE IT'S THAT GOOD 😋"
This Vegan Italian White Bean and Pasta Stew is rustic Italian comfort food at its finest. A crossover between soup and pasta, it's creamy and saucy and packed with flavor, but also easy and fuss-free. Made with all pantry ingredients, it's budget-friendly and perfect for weeknight dinners.
Reader June says, "Thank you for this recipe..it did not disappoint!…This will be a part of my regular rotation. Really made no mess at all which made my day…Thank you !!!"
The BEST vegan mac and cheese you'll ever taste! Made with wholesome ingredients like roasted pumpkin and cashews, but super creamy and indulgent, this Creamy Vegan Pumpkin Mac and Cheese is vegan comfort food at its finest.
Reader Sam says, "And it was incredible! My non-vegan room mates can attest to that I can now honestly say I prefer vegan mac-and-cheese over the regular kind."

Reader Biota says "Hands down the best mac and cheese I've ever made, and such a bonus that it's made with only clean ingredients!"

Reader Judy P. says, "This is the BEST vegan cheese I have ever made. Thank you so much 😊 I will use it again and again."
This 10-Ingredient Vegan Red Lentil Bolognese is hearty, meaty, and packed with umami but 100% wholesome, vegan, and gluten-free. And it's made with just 10 main ingredients—all pantry staples!
Reader Heidi says, "Best vegan bolognese! Didn't have an onion so I diced celery and sprinkled it with onion powder. Was perfect!"

Reader Néha says, "Made this for my family today, it was delicious! My dad said it was better than the meat bolognese, and it was the perfect quarantine meal with pantry ingredients."

Reader Elise says, "Just made this and it's amazing! I want to eat it with a spoon like soup, it's that delicious."
5. Creamy Zucchini Pesto Pasta
A spin on the classic pesto, this Zucchini Pesto Pasta is made with caramelized zucchini and garlic, pine nuts, basil, and lemon zest and finished with chickpeas and extra caramelized zucchini. Easy, weeknight-friendly, and just 9 ingredients, it's especially delicious in summertime.
Blog reader Shelley says, "This is AMAZING! Honestly the best meal I've made in weeks. It was so balanced and perfect…Some of my family members don't enjoy zucchini, but the finished pesto doesn't have a strong zucchini flavor, and they loved it!!"
Blog reader Gillian says, "This was delicious! I'm drowning in zucchinis from my garden so it was perfect. I used walnuts for the pesto and it worked perfect."
Blog reader Dipti says, "DELICIOUS! I was missing tomatoes and nuts but still tasted amazing! Next time I'm definitely trying it with pine nuts and tomatoes! Thank you for this awesome recipe!"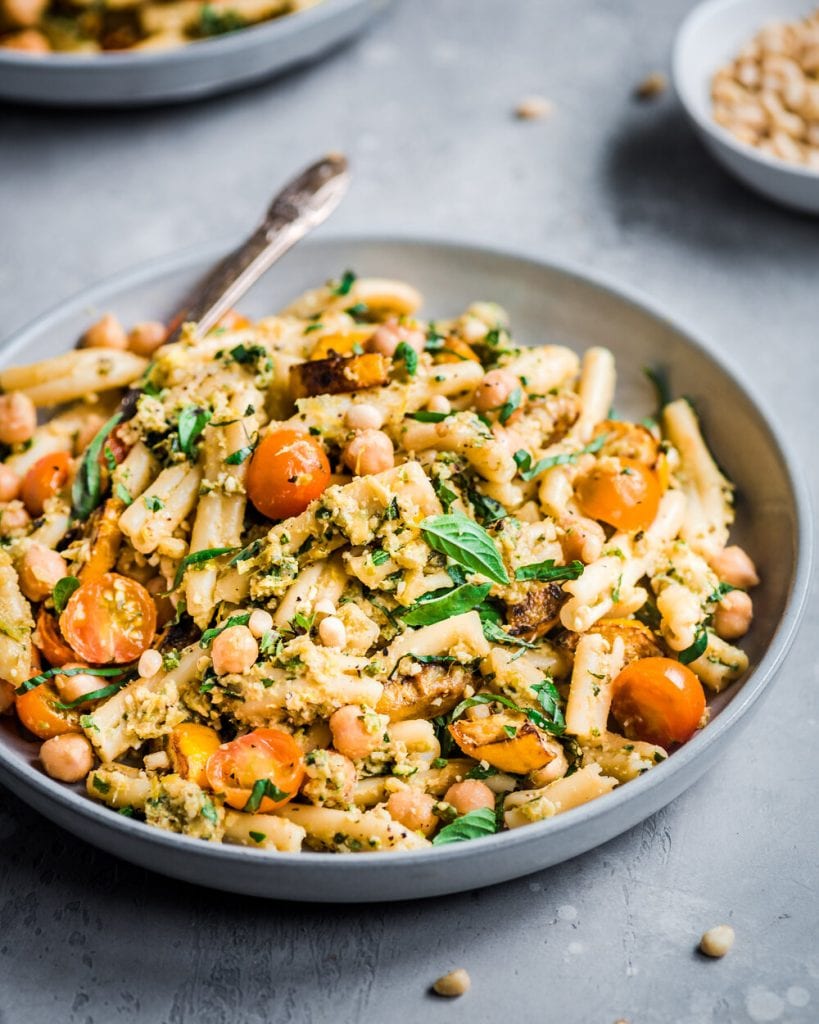 This 10-Ingredient Creamy Vegan Pantry Pasta is made with just a handful of everyday pantry staples and it'll quickly become part of your regular easy weeknight dinner rotation. It's creamy, cheesy, and smoky and indulgent yet healthy crowd-pleasing meal.
Blog reader Sitara says, "Such a tasty and easy recipe to make!! Full of flavour, thank you :)"

Blog reader David M. says, "Made this today and the whole family lived it! So easy and I only had to by 2 or three of the ingredients. Thanks!"

Blod reader Elyse says, "We had no plans for dinner tonight and we're looking for something easy, with ingredients already on hand. This was the perfect option. So full-flavored and a perfect pair with roasted brussels and a glass of wine."
This simple, 10-ingredient Roasted Eggplant Pasta makes a great weeknight vegan dinner. Pasta gets paired with roasted eggplant, zucchini ribbons, a roasted garlic dressing, and gremolata for lots of fresh flavor.
Blog reader Melissa says, "Absolutely stunning recipe!!!!! Was absolutely delicious and will definitely make this again. Thanks!"

Blog reader Kristen says, "So happy I found this recipe! I love eggplant and the way you cook it here is absolutely perfect. The eggplant was gooey and so tender, and it paired really nicely with the light dressing."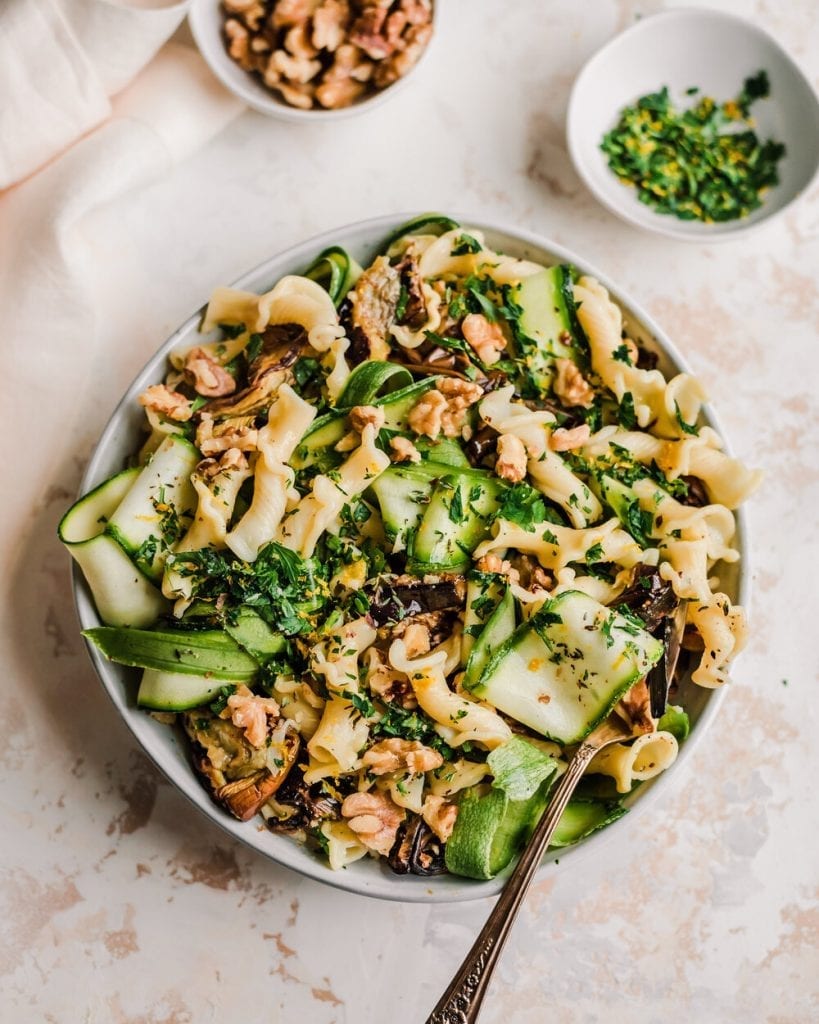 Quick, easy, and foolproof, this creamy avocado pasta is perfect for hectic weeknights. With just a few pantry staples and some ripe avocados, you can have a healthy yet creamy dinner on the table in just 15 minutes.
Blog reader Lindsay says, "Commenting as I eat! Delicious! I mixed broccoli, peas and mushrooms through it and topped with nooch."

Blog reader Sarah G. says, "I made this yesterday for a quick, yet nutrious and filling, dinner on a busy weeknight! My BF and I both loved it!"

Blog reader Su says, "I made this yesterday despite having zero motivation to cook. It came out amazing and tastes even better today! Thank you for this lovely recipe – definitely a keeper :)"
Say goodbye to a sink full of dishes and hello to this one-pot pumpkin pasta! This is the creamiest pumpkin Alfredo pasta ever—you would never even know it's vegan! This one-pot pumpkin pasta is like a hug in a bowl, with warming flavors of pumpkin and nutmeg and woodsy herbs like rosemary and sage.
Blog reader Laurnie says, "This is SO delicious! I was looking for a quick meal that used pantry staples and this was perfect….So filling, warming, and perfect for a cozy night in. Thank you!"

Blog reader Liz says, "This is a great recipe. My husband LOVED it. I'm making it for the second time in a week. We're trying to introduce more vegan meals into our diet and your recipes make it so easy, so thank you!"

Blog reader Sitara says, "I made this today and it's amazing!!! Sooo hearty, flavoursome, creamy and rich. My family loved it and this will definitely be a staple for us now :)"
Reader Diane says, "Hi Nisha, I just made this for the Super Bowl. So simple to put together and the flavors are delish. I made just as your recipes reads and it's perfect as is."

Reader Sam says, "I'd never considered mixing chili and pasta together, and honestly, it works so well! Probably gonna make this recipe over regular chili for a while now."

Reader Kate says, "I made it yesterday at it was delicious! I skipped the corn and tempeh but added bok choy and vegan ground beef imitation that i needed to use up. Now I have a full pot for the whole week :)"
Vegan One-Pot Chili Mac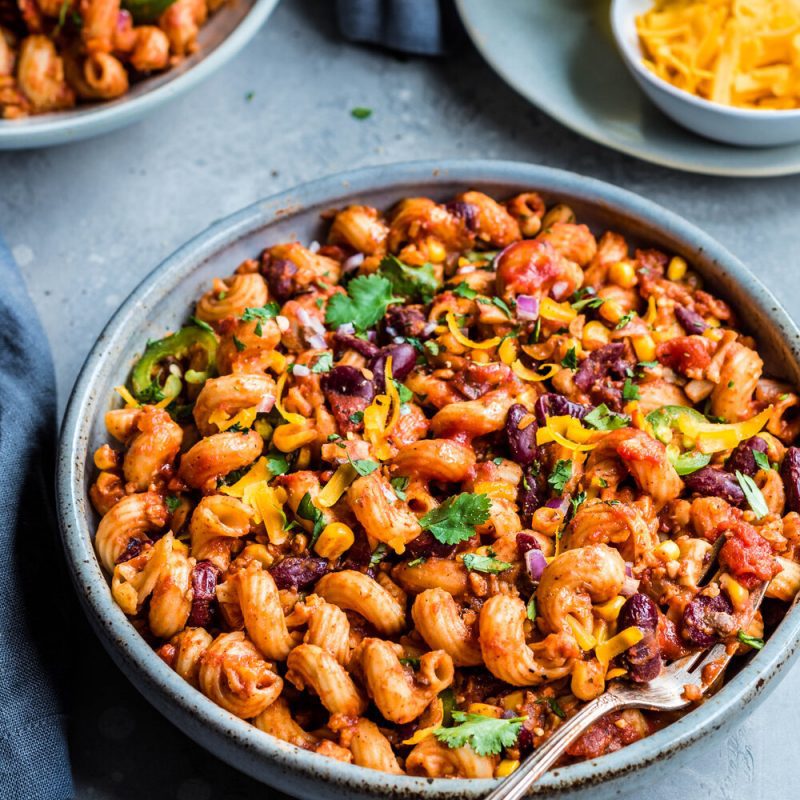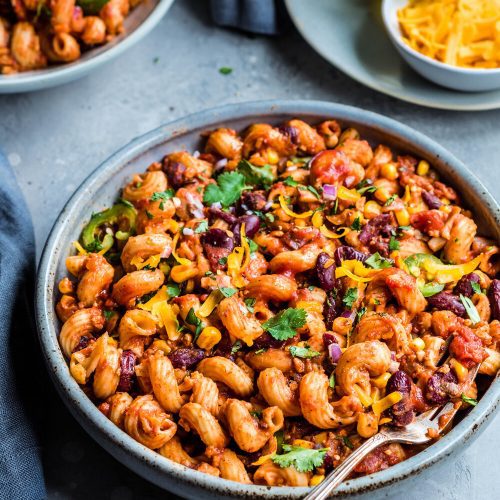 A protein-packed chili meets pasta in this One-Pot Vegan Chili Mac! Easy and quick and made with simple ingredients, this is a perfect hearty weeknight-friendly and budget-friendly dinner! Easy to make gluten-free, soy-free, and oil-free.
Ingredients
1

tablespoon

olive oil*

1

medium yellow onion,

diced

6

cloves

garlic,

finely chopped

8

ounces

(227g) mushrooms, chopped (I use cremini mushrooms)

1

(8-ounce / 227g) block of tempeh, grated or crumbled**

1

tablespoon

chili powder

1

teaspoon

smoked paprika,

regular paprika is also fine

1

teaspoon

oregano

2

teaspoons

cumin

½

teaspoon

cayenne pepper

(optional, for a slightly spicy version)***

1 ½

teaspoons

kosher salt,

plus more to taste

4

cups

(946 mL) vegetable broth

1

(15-ounce / 440g) can pinto, kidney, or black beans drained and rinsed

1

(28-ounce / 790g) can crushed tomatoes, fire roasted

2

tablespoons

tomato paste

1

(15-ounce / 430g) can sweet corn, drained and rinsed

10

ounces

(280g) elbow pasta or cavatappi pasta (gluten-free as needed)

2-3

teaspoons

agave nectar,

maple syrup, coconut sugar, or brown sugar****
Toppings (optional but recommended)
1

cup

shredded vegan cheese

Chopped fresh cilantro

Sliced scallions or diced red onions
Instructions
In a Dutch oven (or a large nonstick soup pot), heat the 1 tablespoon oil (or 1/3 cup water) over medium heat. Once the oil is hot (or once the water is simmering), add the onions and cook for 2 minutes, seasoning with a pinch of salt. Add the garlic, mushrooms, and crumbled tempeh, and cook for 5 more minutes. Add the chili powder, paprika, oregano, cumin, cayenne pepper, and salt. Stir the spices into the vegetables and cook for 1 minute, or until fragrant.

Pour in the vegetable broth to deglaze the pan, scraping up any browned bits on the bottom of the pot.

Add in the beans, crushed tomatoes, tomato paste, corn, and pasta. Stir well to combine.

Bring the mixture to a boil, then reduce the heat to maintain a simmer. Cook for 15-20 minutes, or until the pasta is cooked through.

Season to taste with salt and pepper, and stir in the agave or other sweetener. Taste for seasonings again and adjust accordingly.

If using vegan cheese, sprinkle it all over the top of the chili mac. Cover the lid and let warm through for a few minutes. Allow chili mac to rest at least 15 minutes before serving and top with fresh chopped cilantro and any other desired toppings.
Notes
* See notes on "oil-free" in the blog post for an oil-free substitution.
** See notes on "Tips for this recipe" on how to crumble tempeh.
*** To add more heat, I recommend sautéing some jalapeño peppers or a serrano pepper along with the garlic. I find that this method, instead of just adding more cayenne pepper, yields a more balanced spiciness.
*** The sweetness helps balance the spices and take some of the edges off from the heat.