What better way to welcome spring with open arms than with this Creamy Lemon Asparagus Pasta? It's bright, zingy, packed with herbaceous spring flavors, and beautifully showcases the king of spring, AKA asparagus.
I always associate asparagus with spring, as well as lemon-flavored dishes, so I knew I wanted to share a deeply lemony asparagus recipe. In my internet exploration, I came across this recipe for Spaghetti al Limone with Asparagus from Bon Appétit and instantly knew I wanted to come up with my own version.
The result is a creamy lemon asparagus pasta that's sort of reminiscent of an Italian Spaghetti al Limone but with lots of "Nisha twists" (as some of my readers call them). The flavors are zippy and bright, but the pasta is still creamy and almost indulgent. You'll be surprised that the creaminess comes solely from olive oil (no coconut milk, no cashews, no plant-based cream), starchy pasta water, and walnuts (YEAH, walnuts).
If you're able to safely entertain, this is the dish to serve your guests this spring!
In the mood for even more pasta? I've rounded up 30 of the best vegan pasta recipes from around the web! There are so many great choices, though I'm partial to the Lentil Bolognese during winter and the Vegan Pasta Salad in summer. Check it out!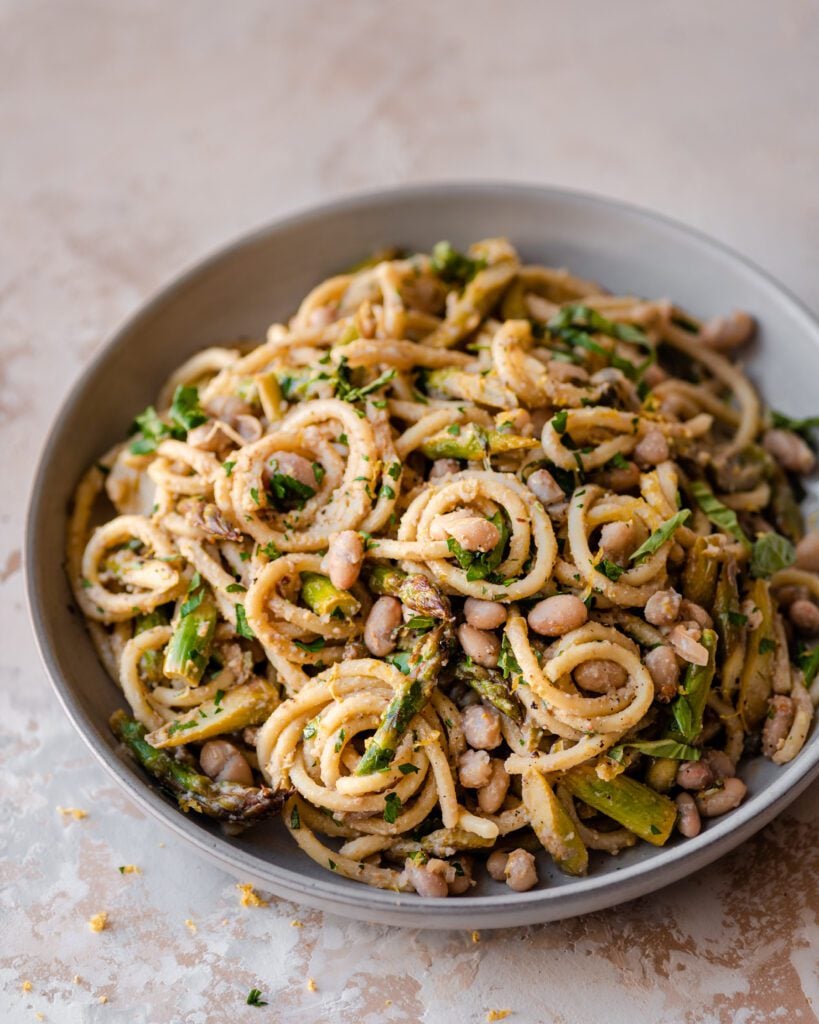 Why you'll enjoy this Creamy Lemon Asparagus Pasta
Perfect marriage of spring flavors. This pasta is lemony (we use the juice and zest of 2 whole lemons!), herbaceous thanks to basil and parsley, zingy from capers and olives (though the latter is optional), and slightly nutty from the crushed walnuts. Plus, it features the king of spring, aka asparagus!
For another made-for-spring dish, be sure to check out my Tomato and White Bean Casserole!
A great use for asparagus. Many people like to roast asparagus to tame its bitterness, but roasting can also make the spears a bit soft and even limp. When asparagus is in season, it doesn't need much to shine because it's at its peak sweetness. In this recipe, it gets lightly pan-fried in olive oil alongside shallots, garlic, and lemon zest. It stays crisp-tender, which is a nice textural contrast with the creamy pasta.
Can't get enough of asparagus? Then you should try my Savory Asparagus Galette for your next weekend brunch!
Gourmet but easy. This is the kind of dish you'd be served at a fancy-ish restaurant but it's pretty simple to make at home! With prep time included, you can get this dish on the table in 45 minutes.
Healthyish but comforting. Like many of my recipes, this recipe tastes comforting and perhaps even indulgent, but it's made with fairly wholesome ingredients! Unlike many cream-based pastas, it's naturally creamy from the emulsification of the olive oil-based sauce + pasta water.
How to cut asparagus
Most of us have been taught that to cut asparagus, you bend it until it snaps. And the bottom portion that snaps off is too woody and tough to eat. WRONG!
The bend and snap method results in wasting more good asparagus than needed. Don't get me wrong – asparagus does need to be trimmed. Just not that much. The tough woody usually start starts below that natural snapping point.
Instead, use your eyes to see where the asparagus look like they're starting to get tough, about an inch or two up the ends. Then, you can slice a big batch of them in one fell swoop. This is the technique that the fine people over at Serious Eats also recommend.
Or, if you want to be more precise, you can slice each asparagus spear for this recipe. And once your knife starts to feel some tension, you know that this particular spear has hit its tough end.
Replicating a vegan version of Spaghetti al Limone
As mentioned earlier, this pasta was inspired by Spaghetti al Limone, a classic pasta dish from Italy, particularly popular in lemon-growing regions of the country such as Sicily and Sorrento & the Amalfi Coast. My version uses spaghetti, but some versions also use linguine or fettuccine. I also add in asparagus and a few other ingredients, so it's kind of a loose inspiration.
The main ingredients that make Spaghetti al Limone rich and creamy are extra virgin olive oil, parmesan cheese, and starchy pasta water. Some versions also add heavy cream. Suffice to say that the classic version is not vegan.
To replicate the nutty, briny, salty, and umami flavors that parmesan cheese brings in Spaghetti al Limone, I rely on crushed walnuts, nutritional yeast, capers, and olives.
First, crushed walnuts. Flavor wise, walnuts are a fantastic plant-based source of umami. And to mimic the texture of parmesan cheese, I finely grind the walnuts (a spice grinder like this works best, but a food processor also works). This helps the walnuts cling to the olive oil sauce similar to how parmesan cheese does.
Second, to add more umami and subtle cheesy flavors, I mix the ground walnuts with nutritional yeast. This mixture gets poured on top of the hot pasta, lemon sauce, and asparagus. Along with the pasta water, the walnut-nutritional yeast mix helps creamify the pasta and helps the sauce cling to the pasta. It also brings a fabulously nutty and slightly cheesy taste.
Third, to add in a layer of saltiness and brininess, I rely on capers and Castelvetrano olives. They both add a briny flavor that's slightly sharp and slightly briny without being overpowering in this dish. Not all olives are created equally though. I use Castelvetrano olives, which area firm and meaty yet buttery, and a little salty but also a little sweet.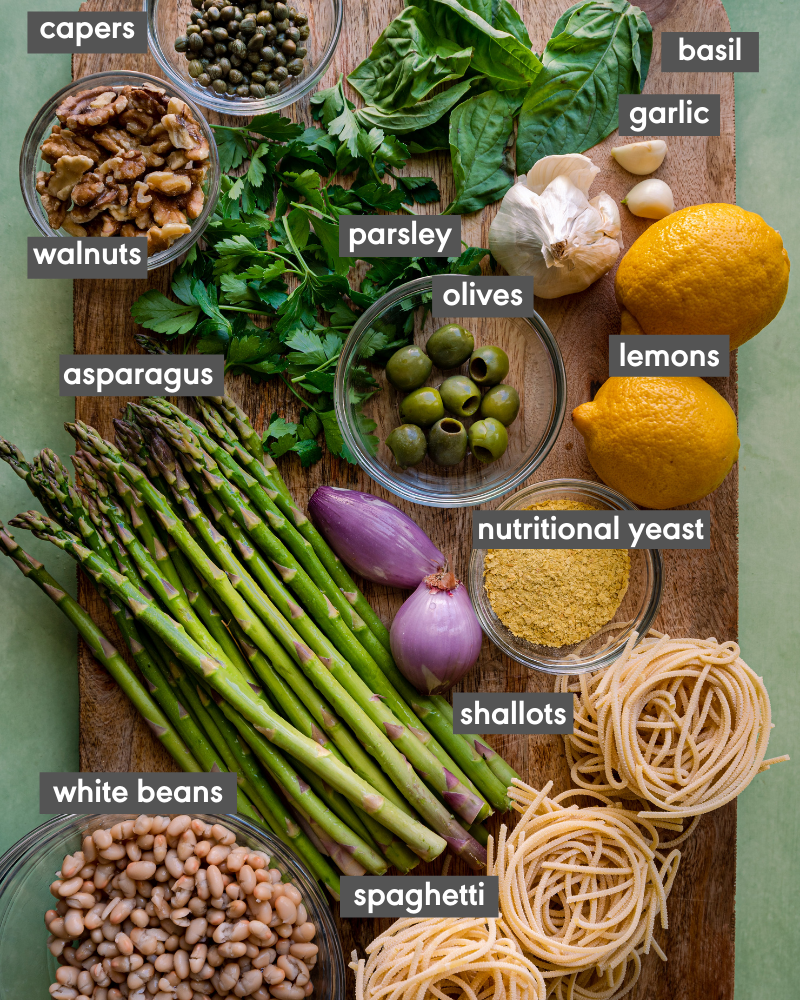 How to make Vegan Lemon Asparagus Pasta
Trim the asparagus and discard the tough woody ends. Slice each asparagus spear deeply on the diagonal into pieces (about 1/2 to 1 inch).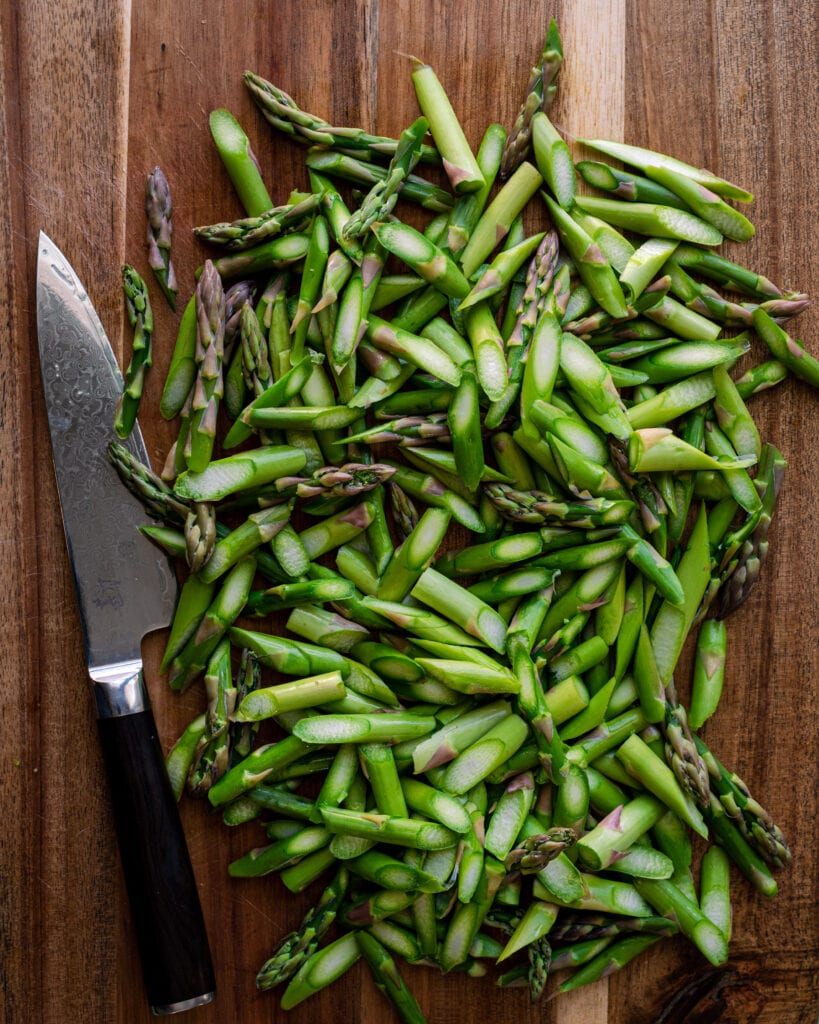 Make the Lemon Sauce. Juice the two lemons into a jar. Add the Dijon mustard, extra virgin olive oil, and salt/pepper. Shake vigorously until emulsified. Or, whisk all the ingredients together in a bowl.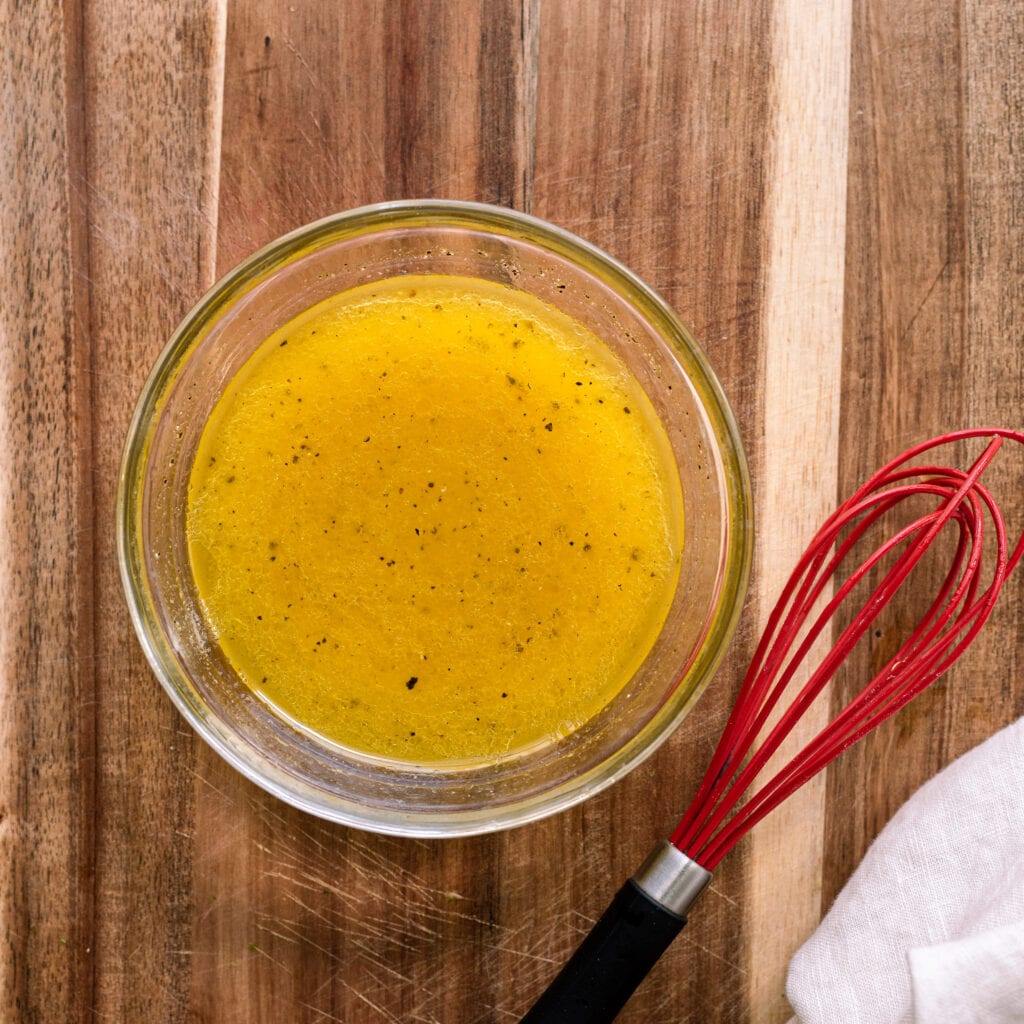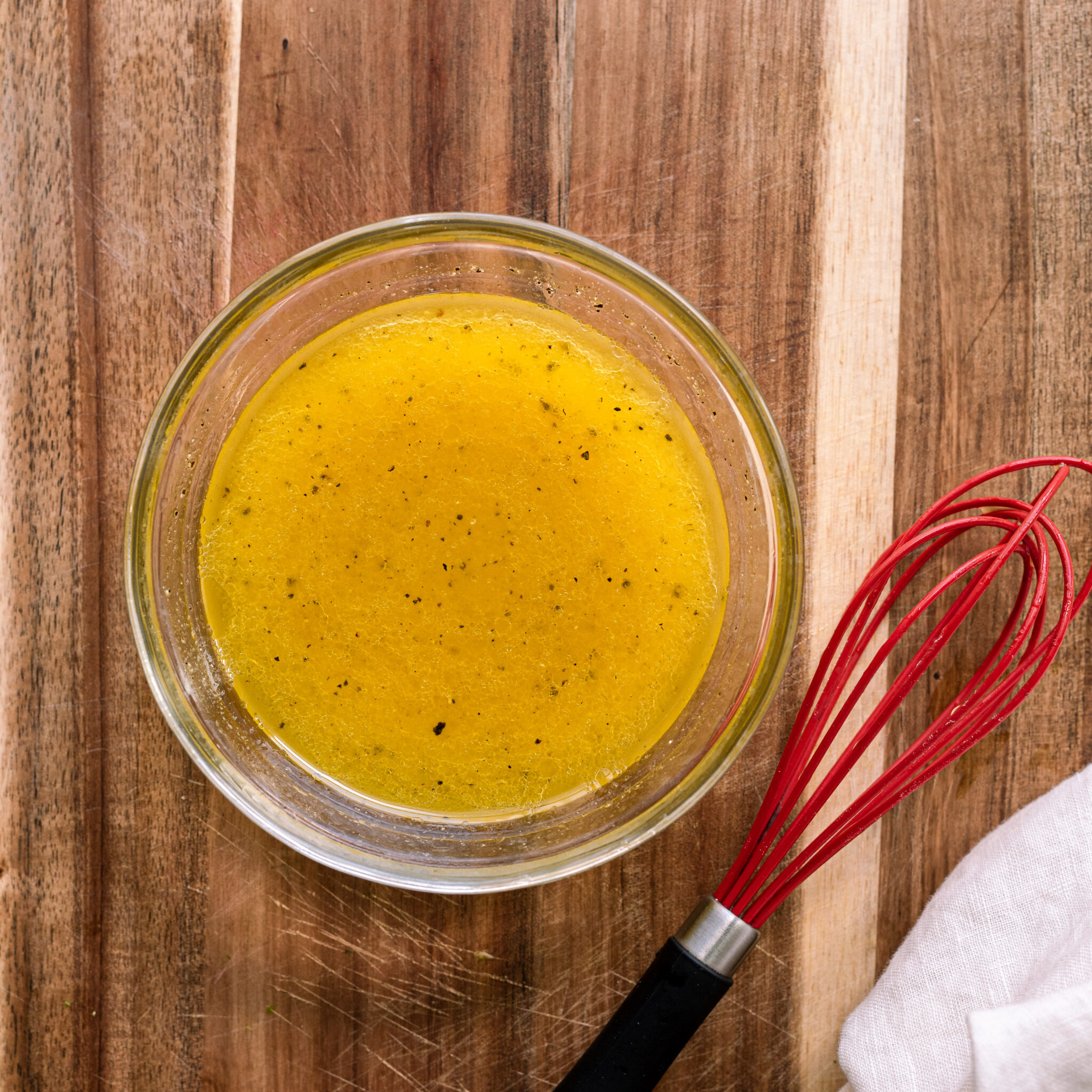 Heat a bit of extra virgin olive oil in a 12-inch sauté pan (or Dutch oven). Cook the sliced shallots and garlic cloves until golden. Add the red pepper flakes (if using) for 30 seconds.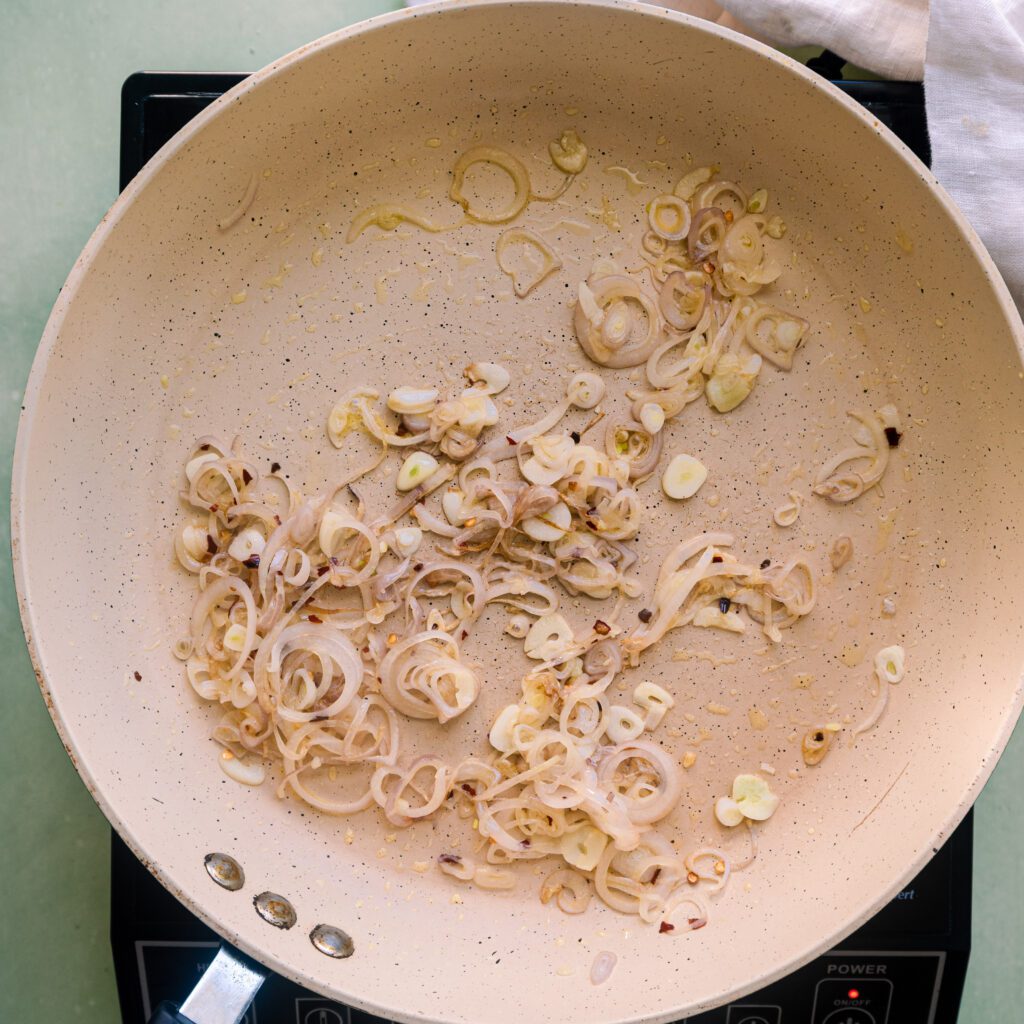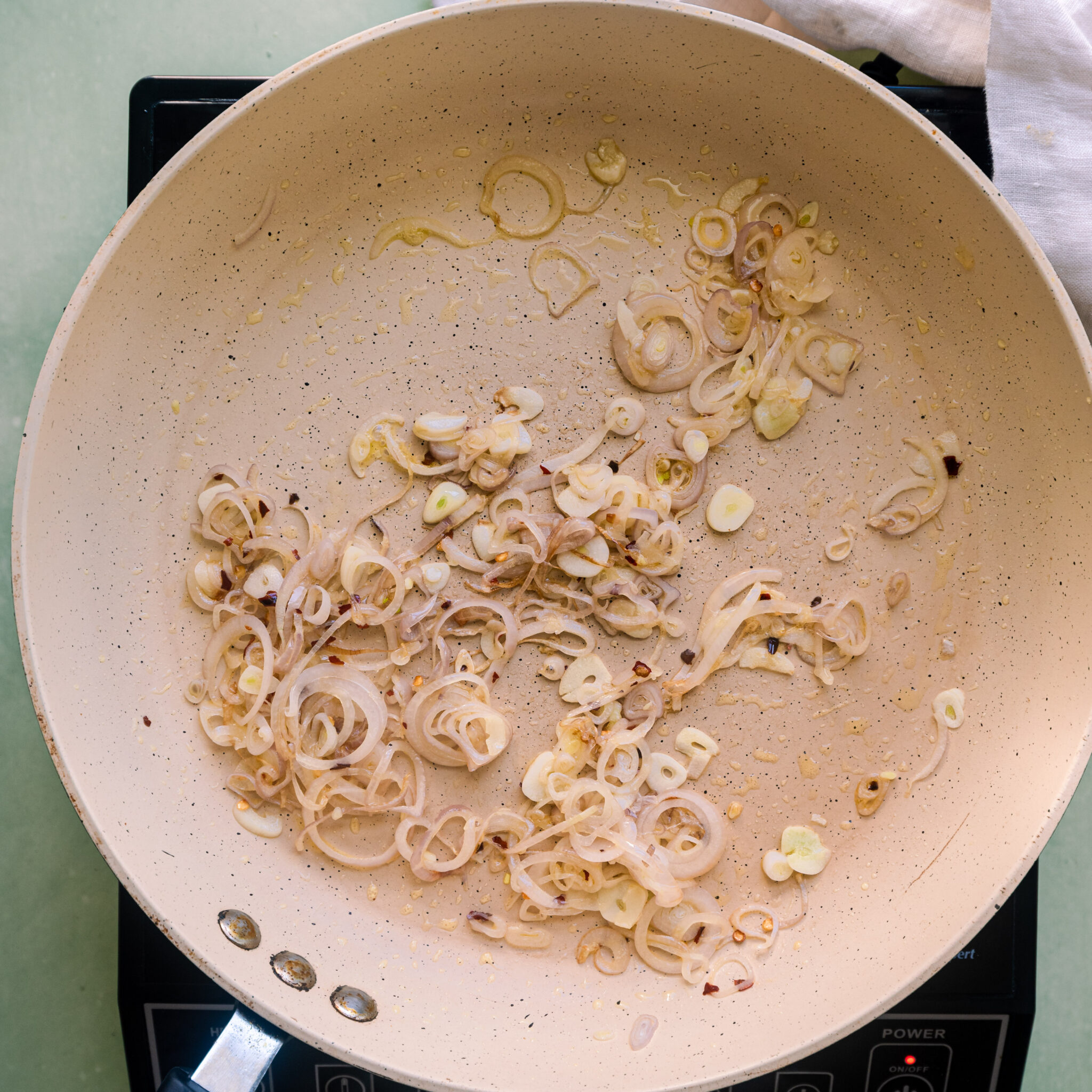 Add the sliced asparagus and half of the lemon zest (from one lemon).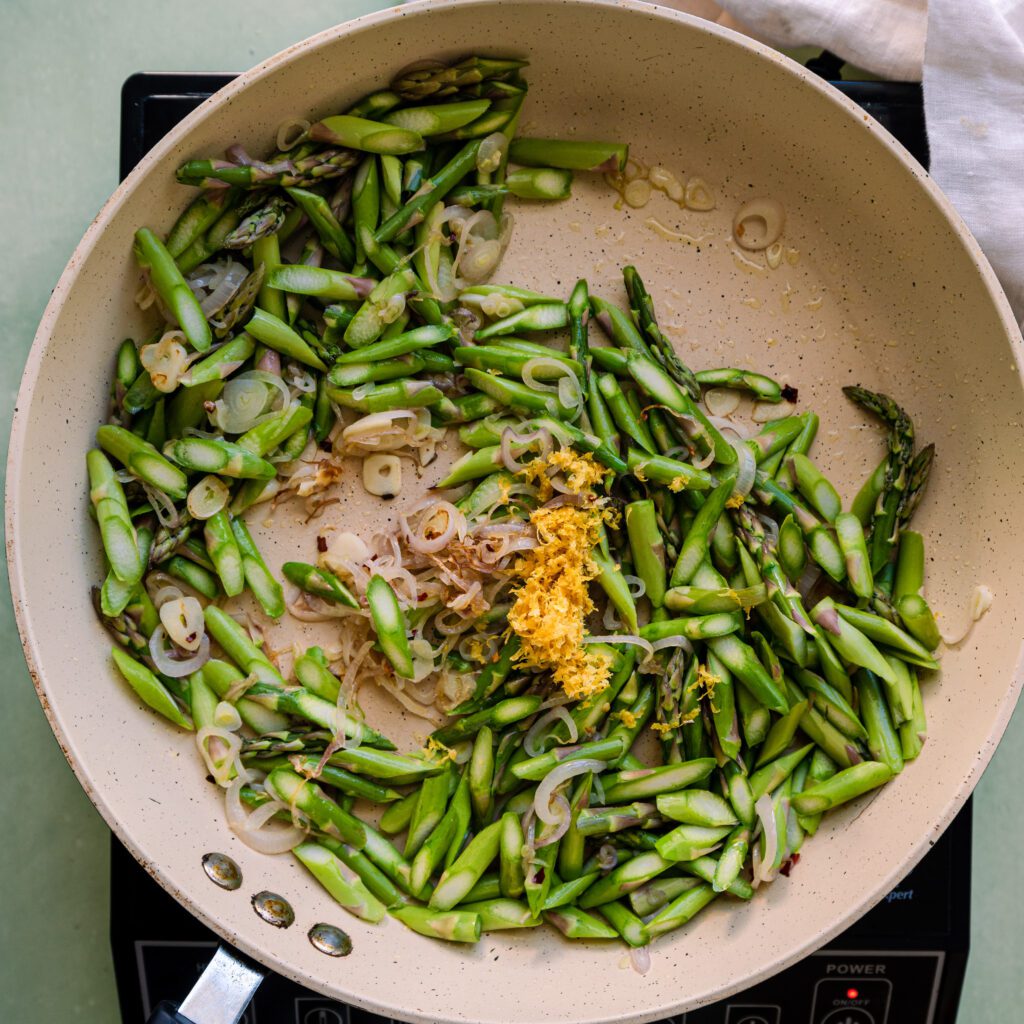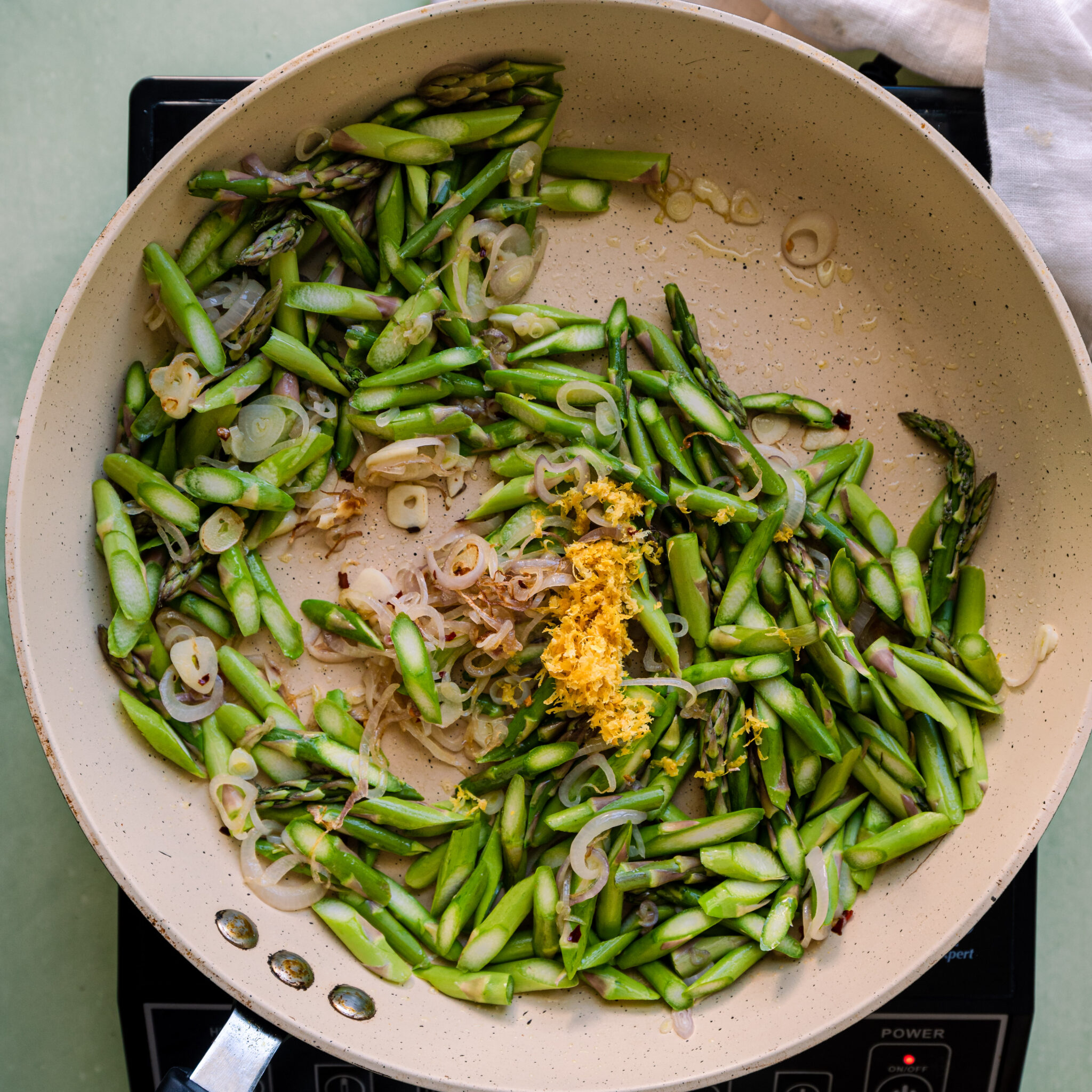 Cook for 3 minutes, until asparagus is crisp-tender. Take off the heat and let sit until the pasta is ready.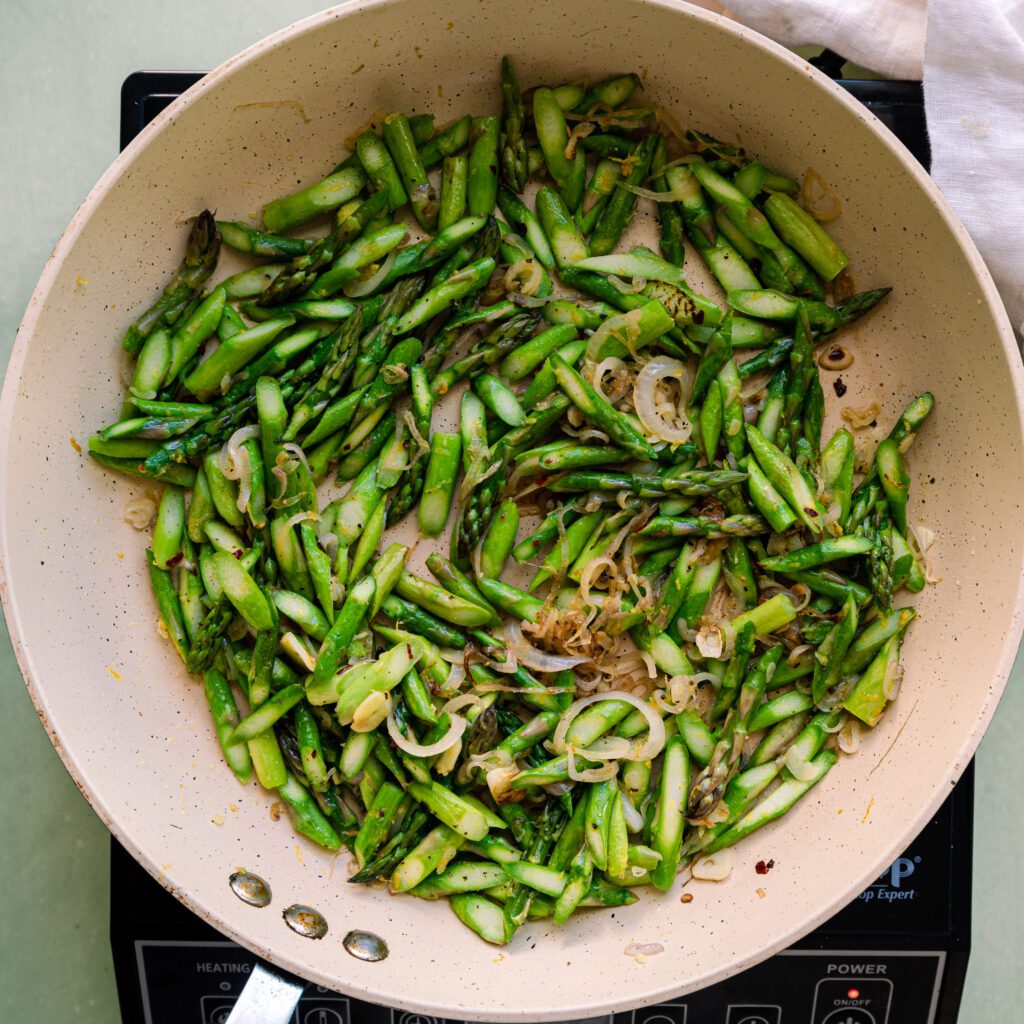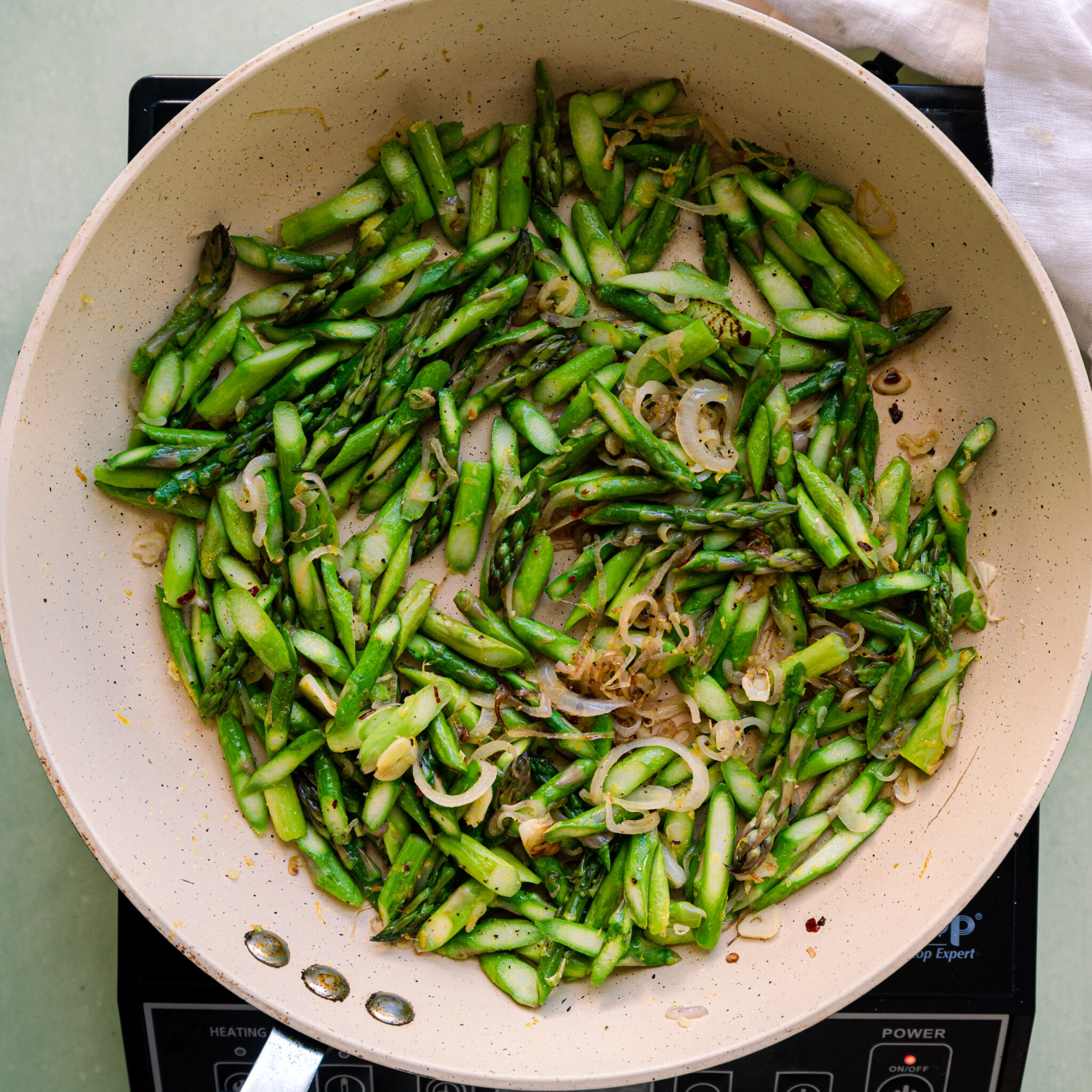 Cook the pasta in a pot of boiling salted water. While cooking, prepare the rest of the ingredients. Chop the basil and parsley, slice the olives, crush the walnuts, rinse and drain the white beans (if using).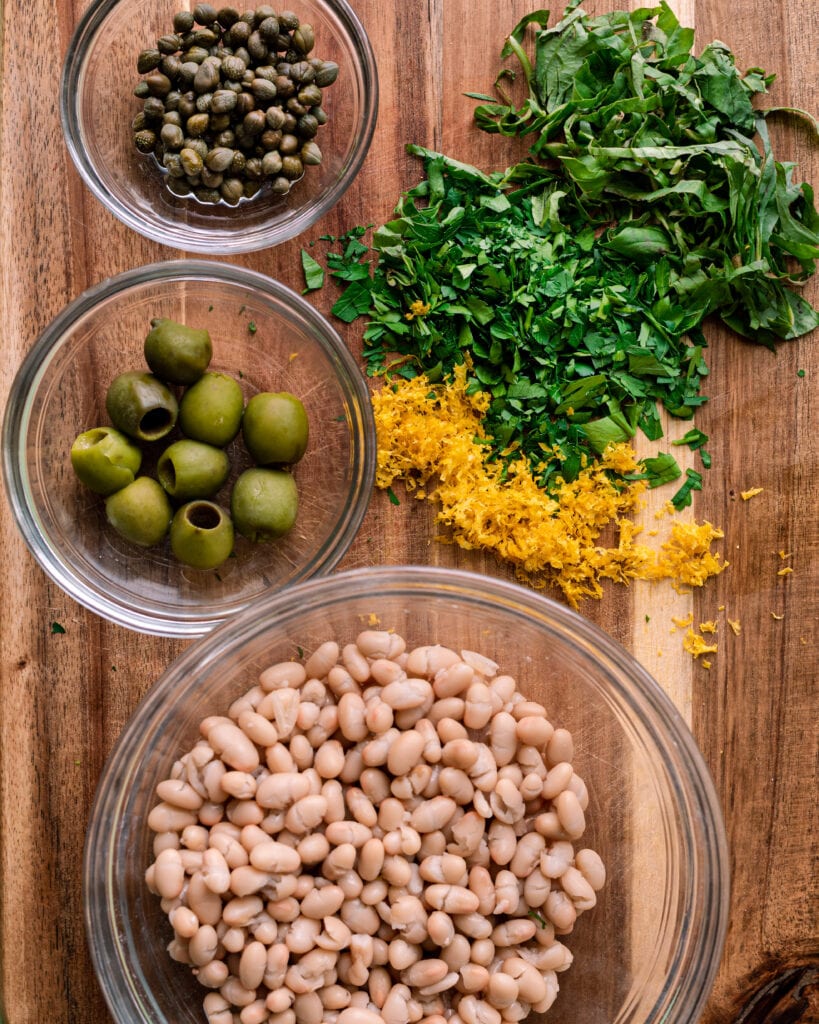 Once the pasta is just al dente, reserve up to 1 cup of the cooking water, then drain (do not rinse!). Transfer the hot cooked pasta and Lemon Sauce to the pan with the asparagus.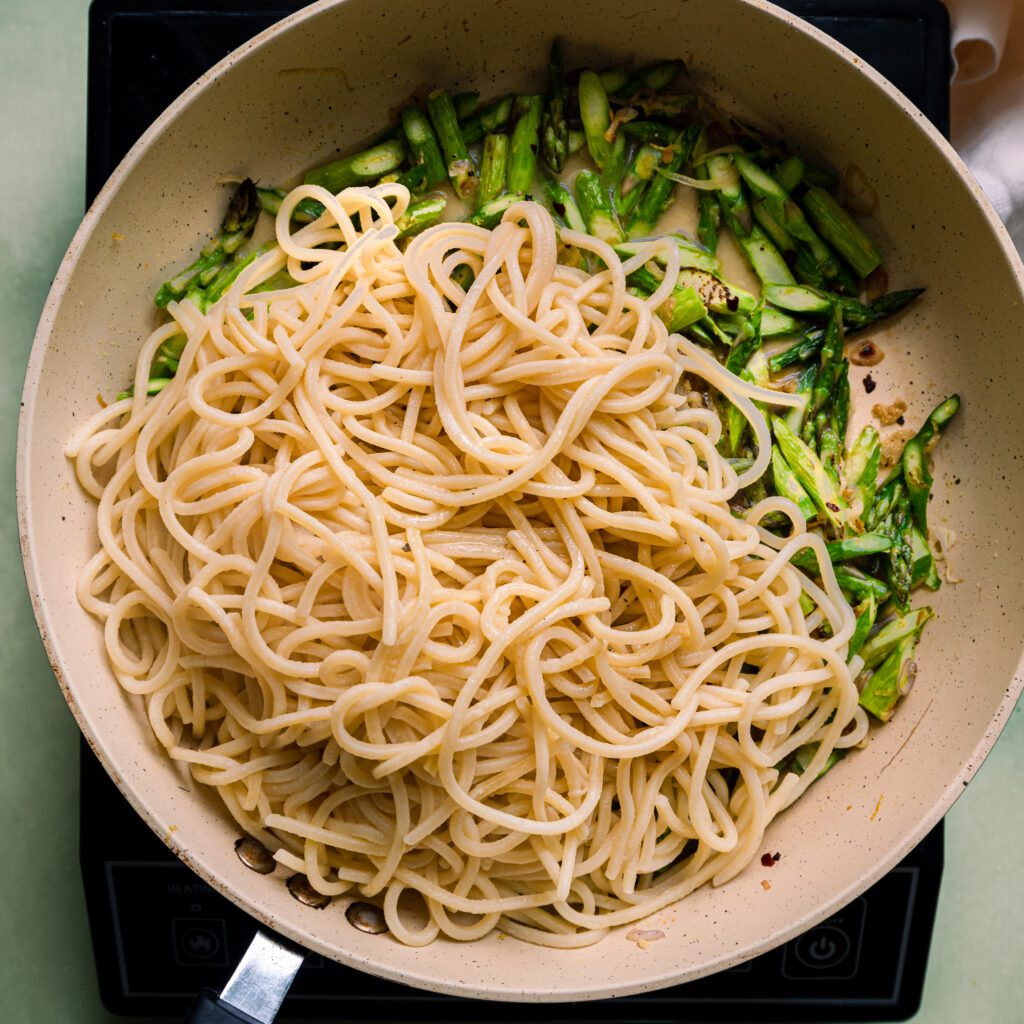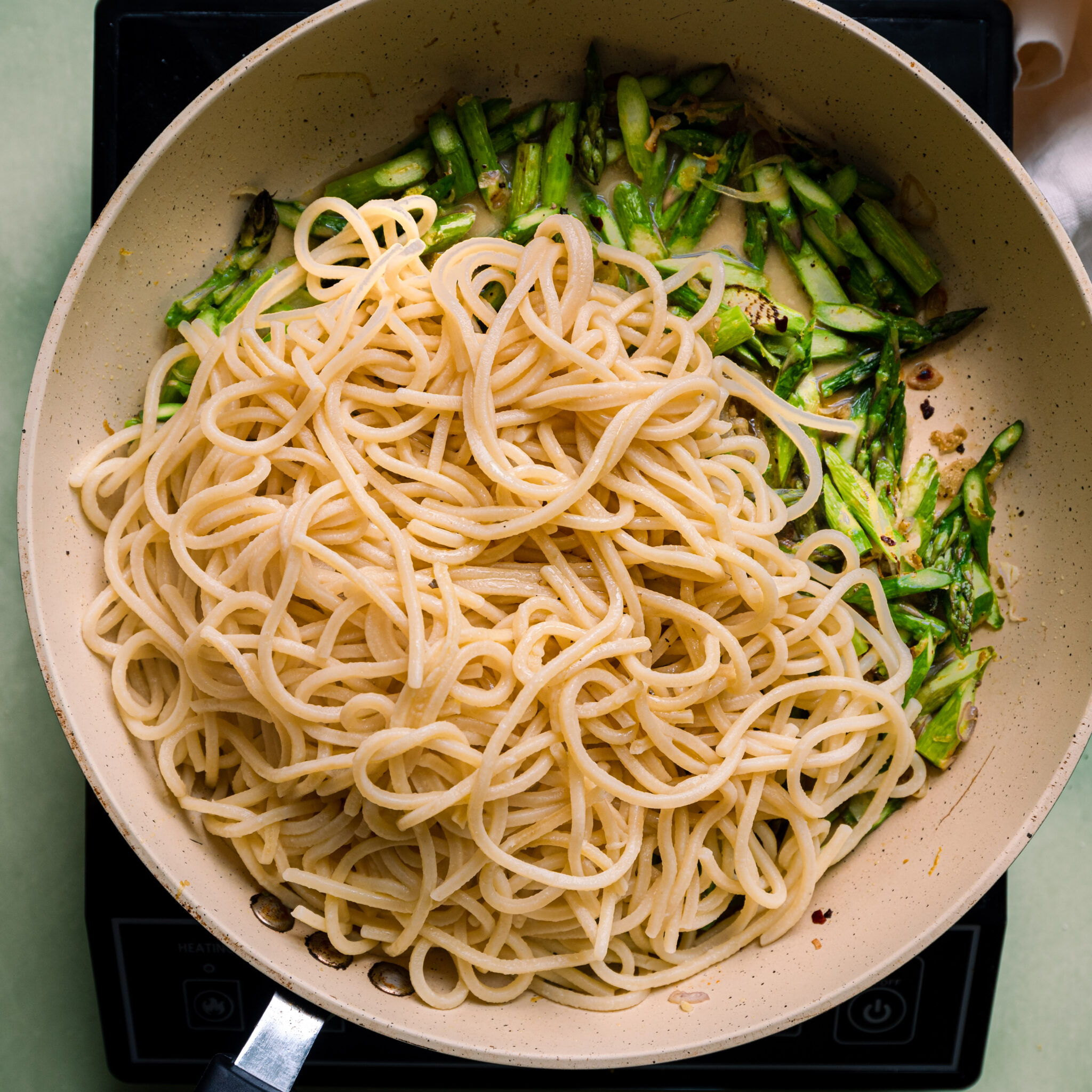 Add the crushed walnuts and nutritional yeast.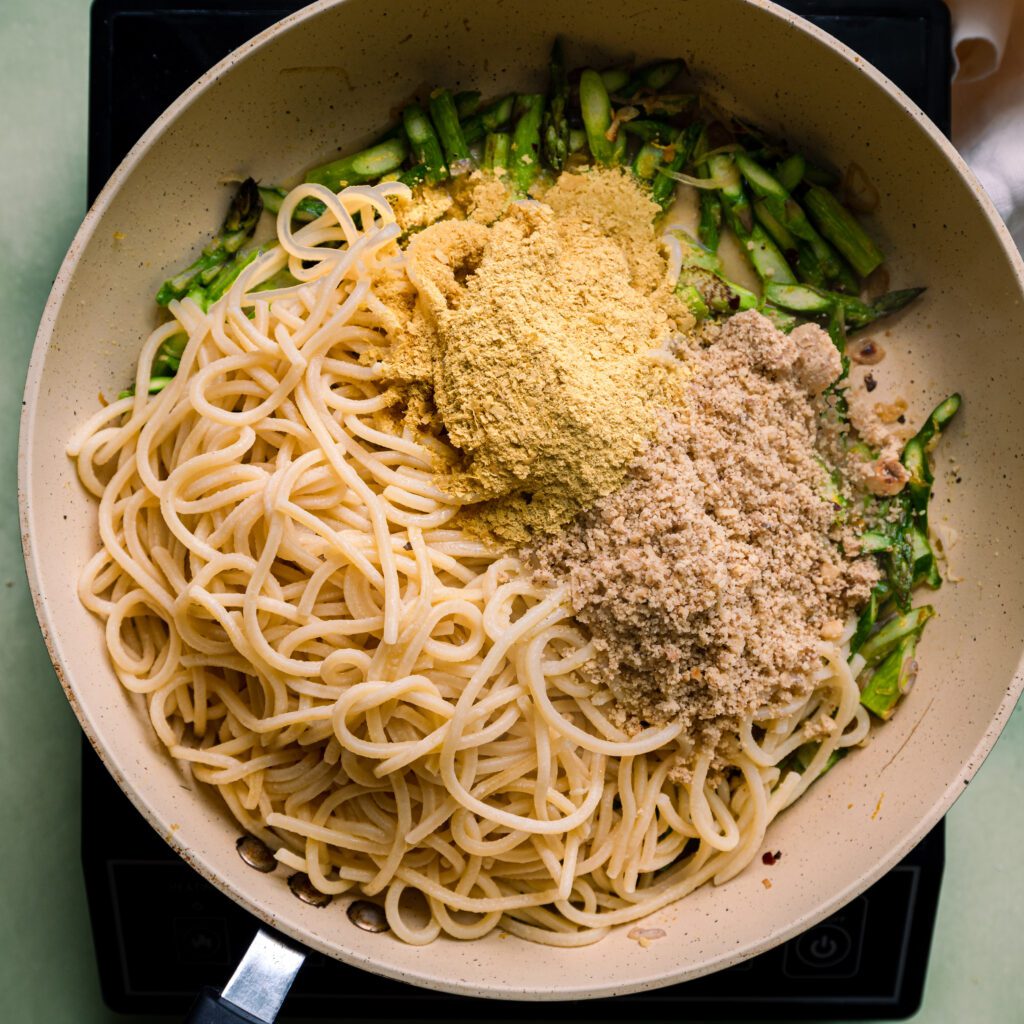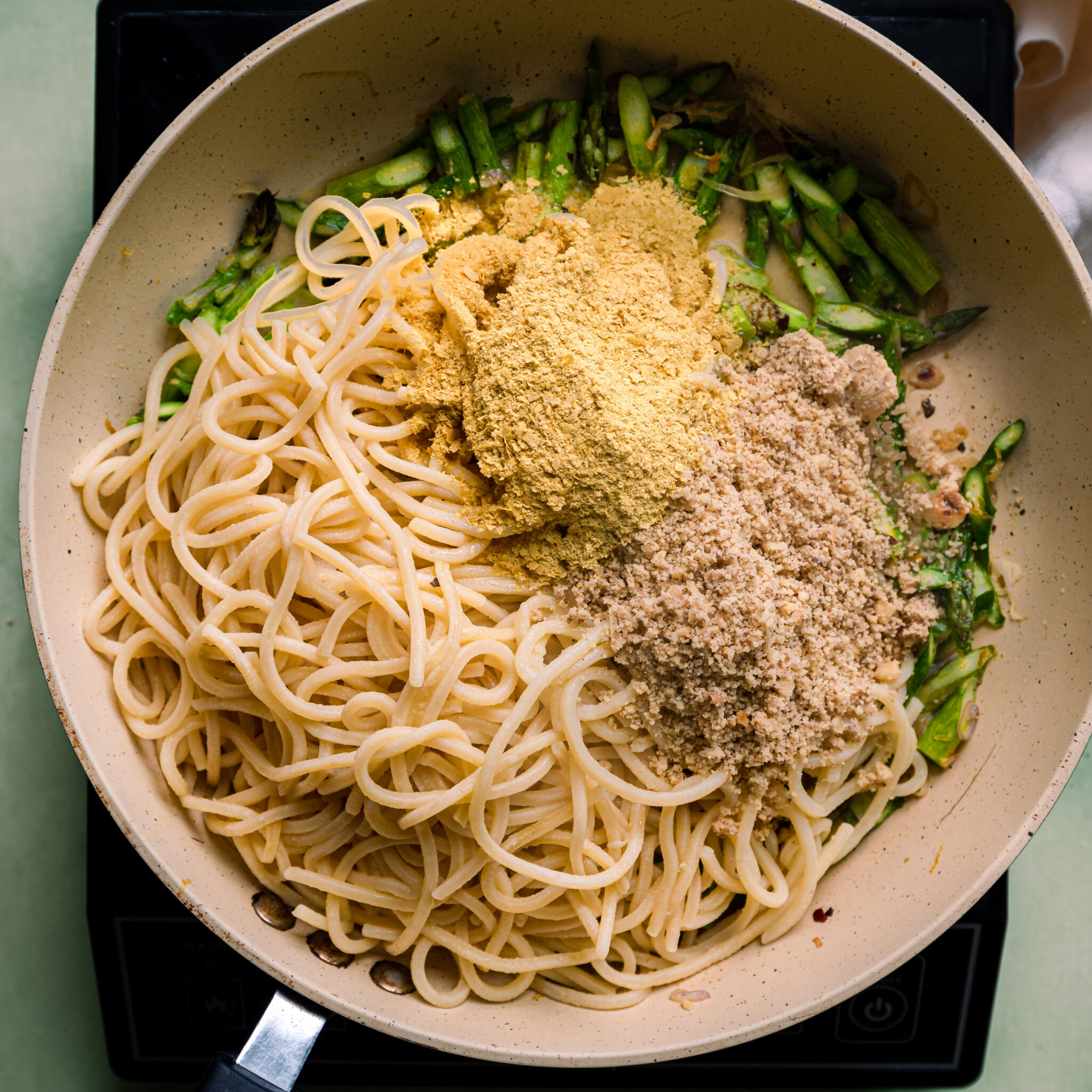 Pour in 1/2 cup (120 mL) of pasta water and return the pan to medium-high heat. Use tongs to toss the mixture quickly and vigorously, until emulsified and creamy. Add more pasta water as needed.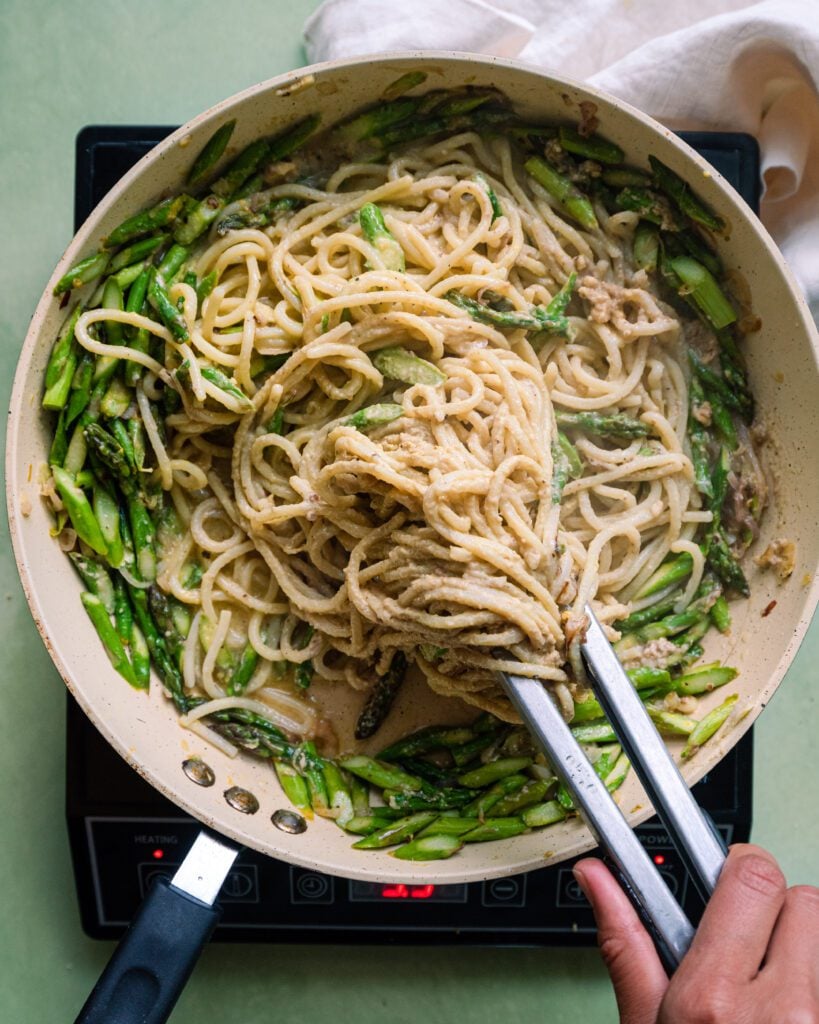 Add the remaining ingredients – basil, parsley, capers, olives, remaining lemon zest (from one lemon), and white beans (if using).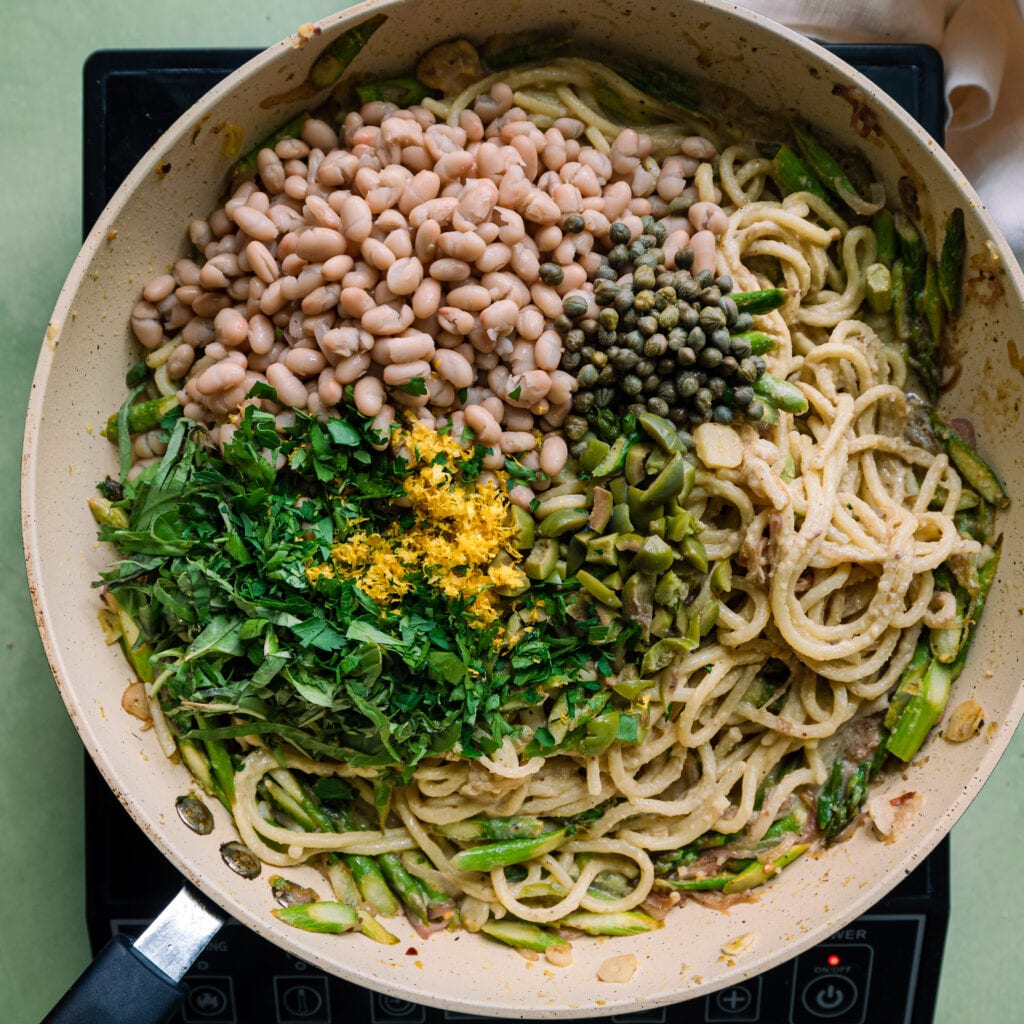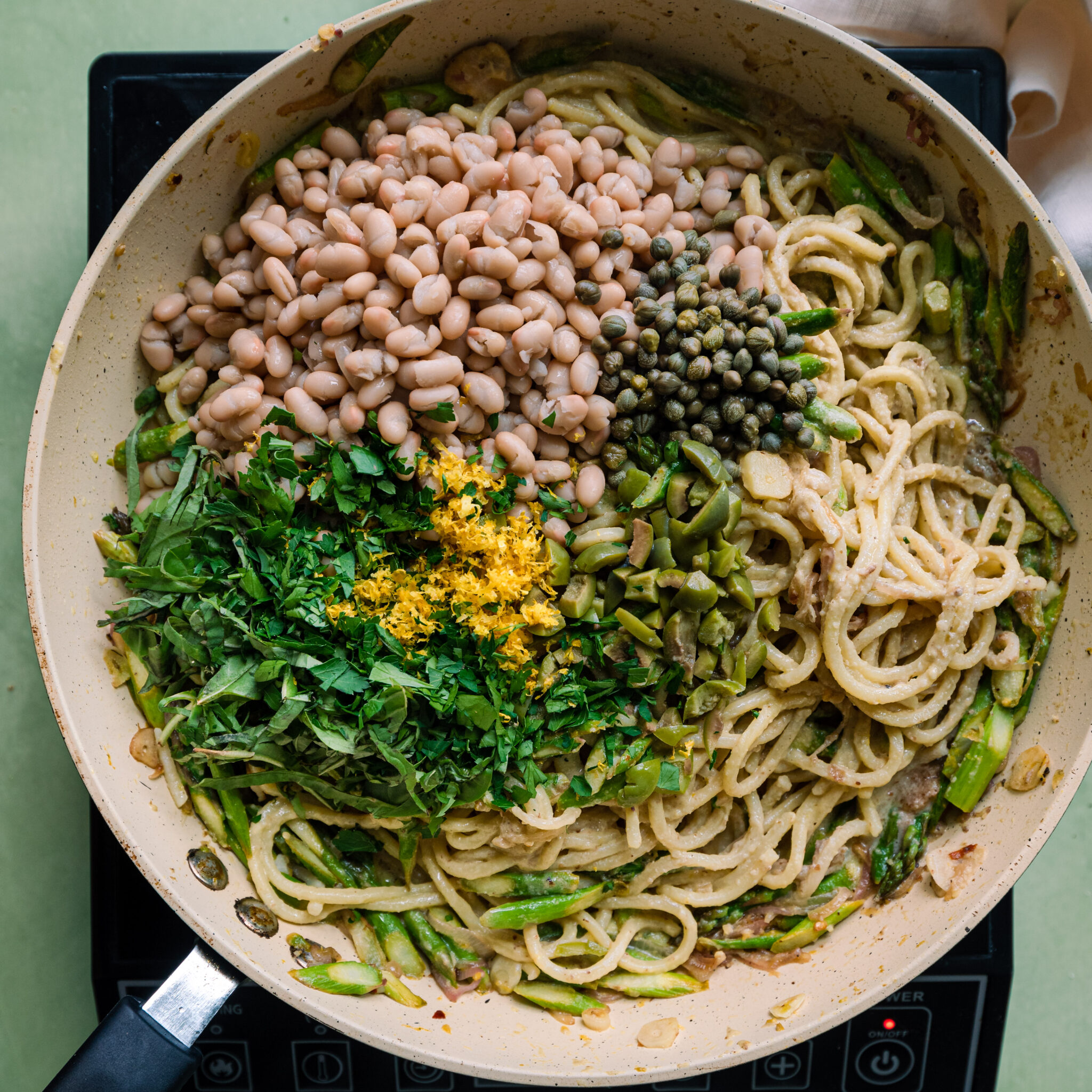 Toss again to combine and briefly cook. Serve warm.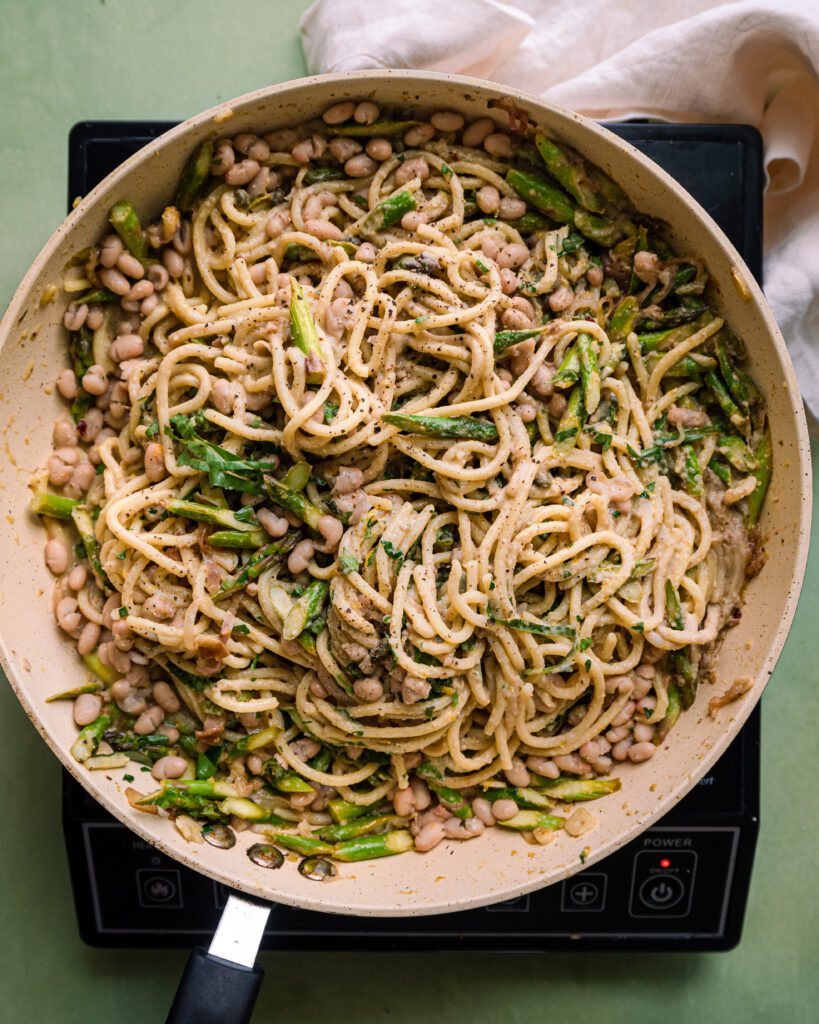 Tips for making this vegan lemon pasta
Since we're using the zest of two whole lemons, I recommend using organic lemons (if available). Otherwise, be sure to scrub them clean before zesting. You're looking for medium-large sized lemons that are heavy for their size. To zest lemons, I recommend using a microplane, but if you don't have one, check out this article on how to zest a lemon without a grater.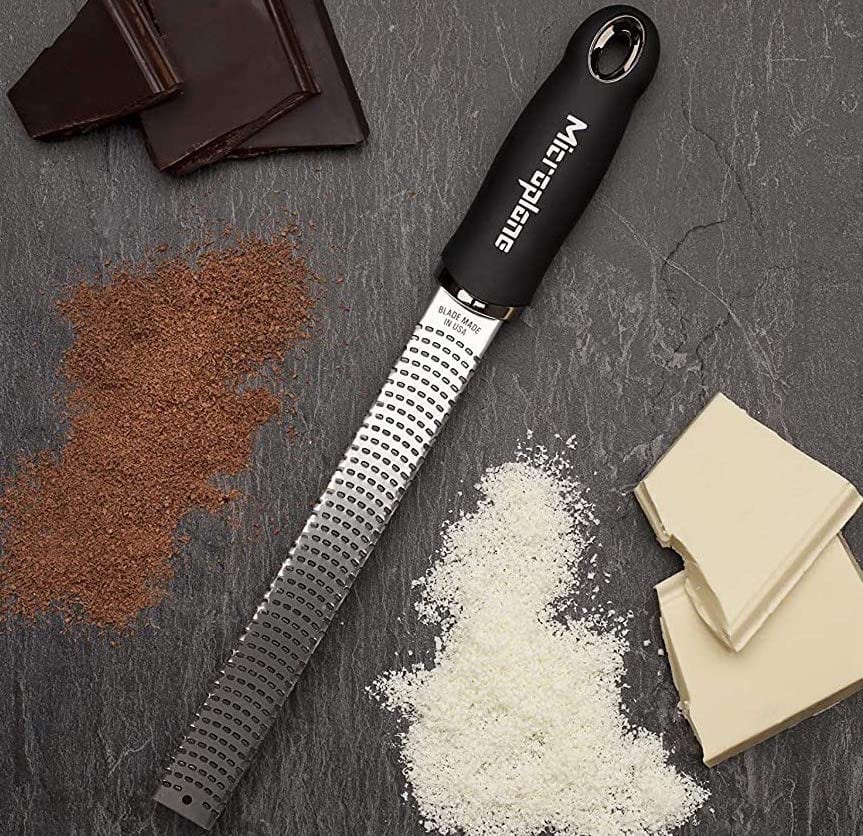 This is the microplane I use (and love) for zesting all kinds of citrus. It gets the flavor peel off while leaving the bitter white pith behind.
Don't use too much water to cook the pasta and salt the pasta water generously. In a recipe where olive oil and pasta water contribute to the creaminess of the dish (as opposed to cream), you need very starchy pasta water. This helps emulsify the sauce into a smooth, satin-like consistency.
To achieve this, use a bit less water to cook the pasta than you might typically use. For 10 to 12 ounces (285-340g) of pasta, that translates to about 9 cups (~2.1 liters/quarts) of water. Also, generously salt the pasta water – about 2 to 3 teaspoons kosher salt (use less if using table salt or sea salt) to ensure the pasta itself has flavor from within.
If you want to learn more about ideal ratios for water and salt when cooking pasta, I found this article from Food 52 fascinating.
Cook the pasta until just al dente! Otherwise, the finished texture might be a bit overdone, as the pasta will continue to cook in the lemon sauce for a few minutes.
Use a good-quality extra virgin olive oil, as it's the primary ingredient in the sauce. Good quality doesn't need to be expensive though (I used the California Olive Ranch extra virgin olive oil – a great olive oil for everyday use).
When cooking the shallots, garlic, and asparagus, use a large 12-inch frying pan with relatively deep sides, or a Dutch oven. All of the pasta and mix-ins will be added into this pan at the end, so you need a large enough pan.
For the creamiest and sauciest texture, enjoy this pasta shortly after making it. That's not to say the leftovers aren't tasty. They are. But this dish is the most luscious when eaten on day one.
The recipe includes white beans (navy beans) as an optional mix-in. They're there to bulk up the dish and protein, but the dish is still quite satisfying without them.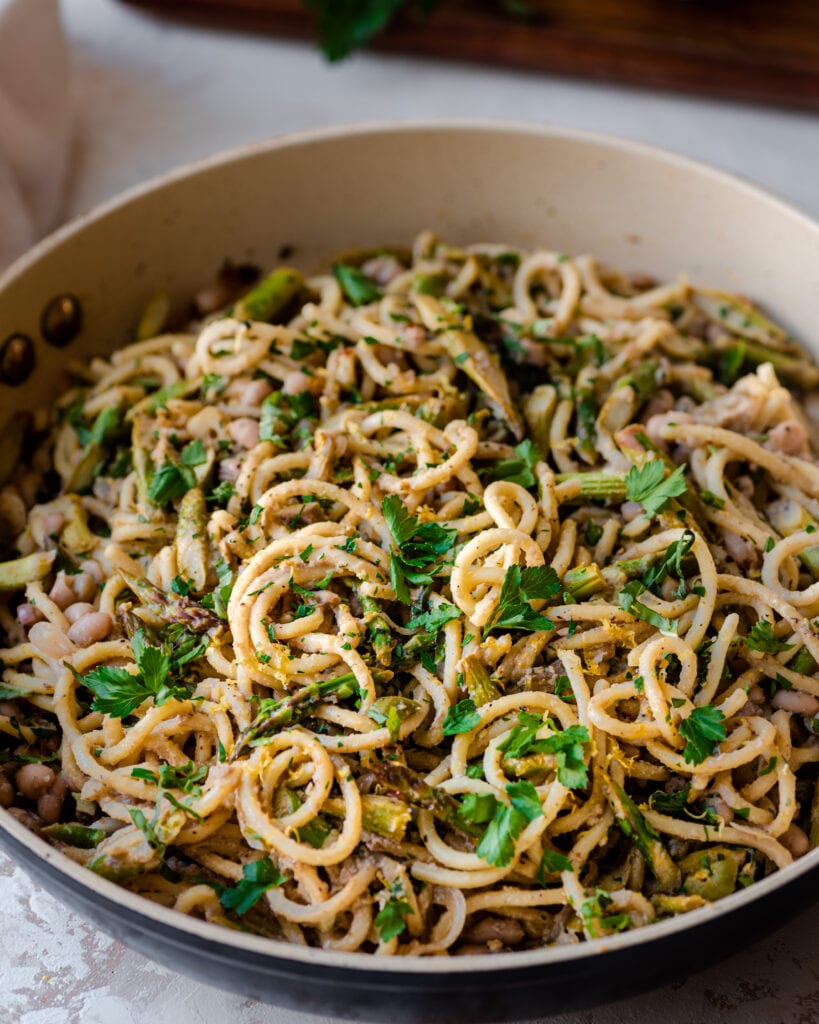 Ingredient Notes and Substitutes
Not a fan of olives? Just leave them out. And consider adding 1 extra tablespoon of capers for a little more of a briny/salty bite. Butttt, Castelvetrano olives have been described as something like "the olive for people who don't like olives."
Or if you like olives but not sure where to buy Castelvetrano olives? You can find them at many grocery stores (Sprouts, Vons, Whole Foods, Walmart), as well as Mediterranean or Italian grocery stores or a good deli, or online. And if you still can't find them, try Picholine olives. I buy pitted olives to make it easy to slice, but if you can't find pitted olives, here's how to easily pit olives.
For the pasta, spaghetti is more classic, but you can also use linguine. Because I am a bit bougie when it comes to food, I sprang for this Italian spaghetti alla chitarra. It's a variety of pasta from the region of Abruzzo, also known as "guitar spaghetti" because it's typically pressed into long, square-shaped strands using a stringed chitarra (Italian for "guitar") pasta cutter. I absolutely love the texture of this pasta but regular spaghetti or linguine will be just fine :)
Frequently Asked Questions
Can I use gluten-free pasta?
I haven't tried using gluten-free spaghetti myself, but if you are gluten-free, keep a few things in mind. (1) gluten-free pasta tends to get mushy, so you'll really need to ensure you stop cooking the pasta once it's just al dente; (2) gluten-free pasta tends to be more absorbent, so you may want to add more pasta water (up to 1 full cup).
Check out this post for more tips on cooking gluten-free pasta (use a big saucepan and more water than if using regular pasta).
What should I serve this lemon asparagus pasta with?
If you add the white beans to this recipe, this is a complete meal on its own (perhaps only more complete with a crispy glass of white wine).
If you omit the beans, it's still quite satisfying, but you can serve the pasta along with a salad (a Caesar salad or simple mixed greens work well). Or on the side of blanched or roasted vegetables, such as broccolini/broccoli. For a protein option, a simple white bean salad works great (mix cooked or canned/drained/rinsed white beans with a bit of good-quality extra virgin olive oil, lemon juice, salt, and pepper).
How do you store leftovers?
Store in an airtight container in the fridge for 3 to 4 days. The pasta is best shortly after making, when the sauce is creamy and satiny. I actually prefer leftovers cold over warmed up. If you want to reheat, heat the leftovers in a skillet over medium-low heat. Add a splash of water as needed to thin and toss frequently. If needed, perk the pasta up with some fresh lemon zest and/or juice.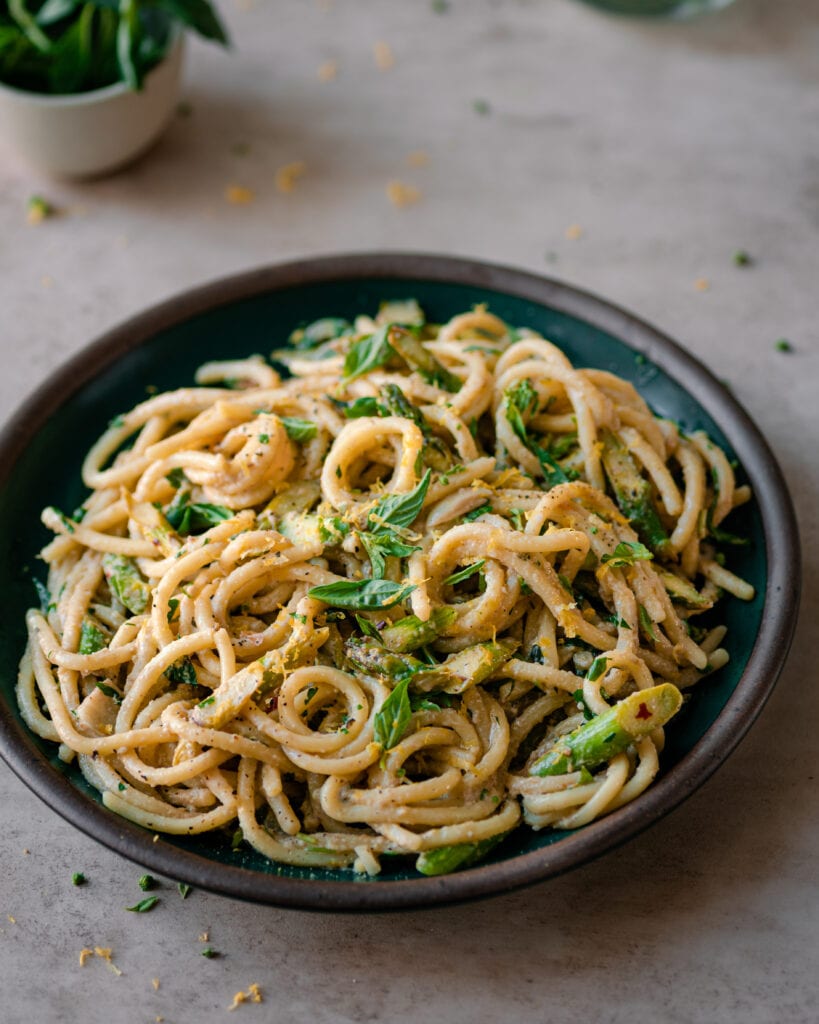 Creamy Lemon Asparagus Pasta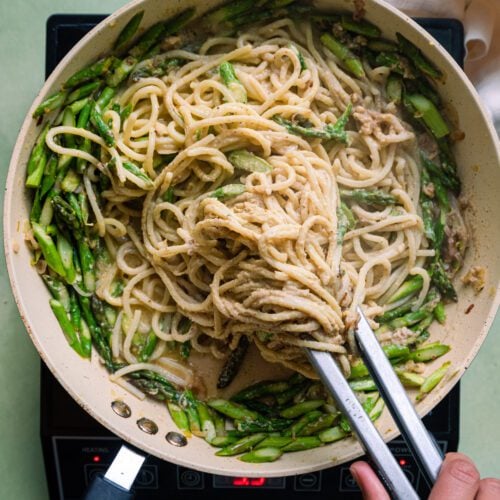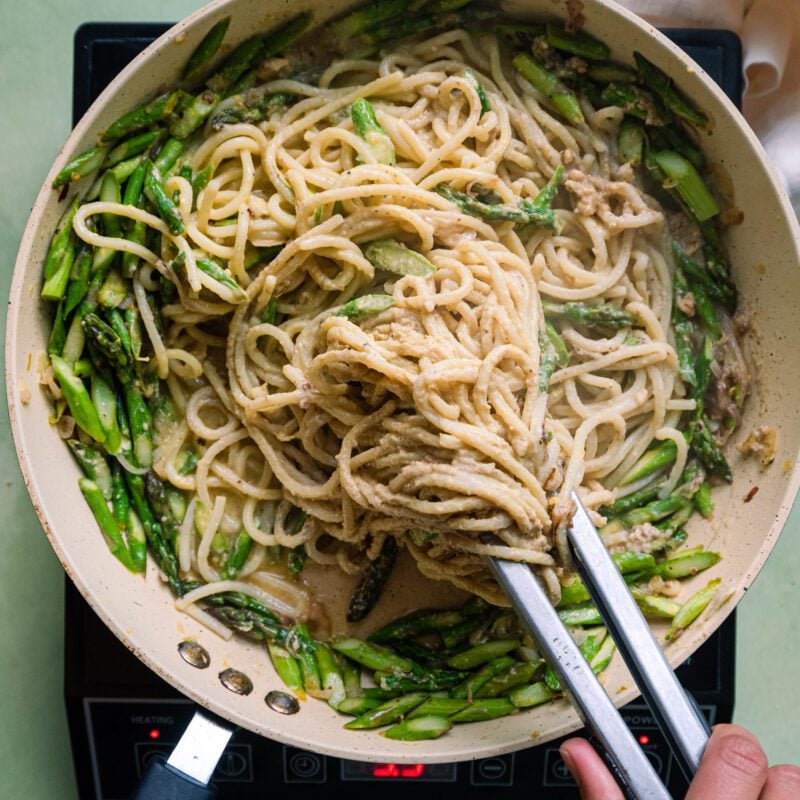 This Creamy Lemon Asparagus Pasta is a vegan spin on Spaghetti al Limone bursting with zippy and bright spring flavors. It's features crisp-tender asparagus, fresh herbs, and a citrusy olive oil sauce that's naturally creamy (no cream or flour). Easy but gourmet and perfect for spring entertaining! 
Ingredients
10 to 12

ounces

of spaghetti,

bucatini, linguine, or fettuccine

2

medium-large lemons*

Extra virgin olive oil

Kosher salt

Freshly cracked black pepper

1

teaspoon

Dijon mustard

2

medium shallots,

thinly sliced

4

garlic cloves,

thinly sliced

¼

teaspoon

red pepper flakes

(optional)

1

bunch

of asparagus (about 14 ounces),

sliced thinly on the diagonal into 1-inch pieces**

½

cup

(60g) toasted or roasted walnuts***,

finely crushed

3

tablespoons

nutritional yeast

½

cup

(6-7g) Italian flat-leaf parsley,

(leaves and tender stems), chopped

½

cup

(7-8g) fresh basil leaves,

slivered

2

tablespoons

capers,

drained

¼

cup

(30g) Castelvetrano olives, sliced in half

(7 to 9 olives)****

1

can of navy beans or other white beans

rinsed and drained (optional)
Instructions
Bring a large pot of water to a boil for the pasta.

Tip: Don't use too much water, otherwise the pasta water won't be very starchy. I recommend about 9 cups (~2.1 L) of water for 10 to 12 ounces of pasta. Once the water is nearly boiling, add a generous amount of salt (2 to 3 teaspoons of kosher salt).Add the pasta and once it returns to a boil, cook according to the package directions, stirring occasionally, until just al dente. Drain the pasta, reserving 1 cup of the pasta cooking liquid.

Zest the lemons and divide the zest into two piles (you'll get about 1 tablespoon zest per lemon). Set aside.

Meanwhile, make the Lemon Sauce. Add the juice from both lemons (about 6 tablespoons) to a mason jar. Add ¼ cup (56g) extra virgin olive oil, Dijon mustard, and season with 1 teaspoon kosher salt and black pepper to taste. Shake until emulsified.

No jar? Just whisk all the ingredients in a bowl until emulsified.

Cook the asparagus. Meanwhile, heat 1 ½ tablespoons extra virgin olive oil in a 12-inch sauté pan or Dutch oven over medium heat. Once warmed, add the shallots and garlic. Cook for 2-3 minutes, until the garlic is just golden, stirring frequently to prevent burning. Add the red pepper flakes (if using) and cook for 30 seconds.

Add the asparagus pieces and one half of the lemon zest. Season with a few pinches of salt and pepper. Cook for 3 minutes until the asparagus is crisp-tender. Remove from heat and set the pan aside until the pasta is done.

Add the hot cooked pasta and the Lemon Sauce to the asparagus mixture, along with the crushed walnuts and nutritional yeast. Add ½ cup (120 mL) of the reserved pasta water. Return the pan to medium-high heat. Use tongs to vigorously toss everything together, shaking the pan as you go, adding more pasta water as needed, until the sauce is emulsified and clings to the pasta.

Add the remaining half of the lemon zest, basil, parsley, capers, olives, and white beans (if using). Toss again and briefly cook for 1 minute. Sprinkle with a final pinch or two of salt and black pepper before serving. Serve warm.
Notes
This recipe is inspired by Spaghetti al Limone with Asparagus from Bon Appétit. 
* The lemons should feel heavy for their weight. If you can't find lemons that are medium-large, buy an extra third lemon to ensure you get enough zest and juice. 
** To see how to trim and slice asparagus, watch the video in the "how to cut asparagus" section. 
*** To toast raw walnuts, just add to a dry skillet over medium heat and cook, stirring occasionally, until a bit browned and fragrant, 4 to 5 minutes. You can also use raw walnuts, but you'll get more flavor from toasted. 
*** If your olives are already pitted, slice them in half. If they have the pits inside, here's how to remove the pits. 
---
Calories:
485
kcal
|
Carbohydrates:
61
g
|
Protein:
17
g
|
Fat:
21
g
|
Saturated Fat:
3
g
|
Polyunsaturated Fat:
7
g
|
Monounsaturated Fat:
11
g
|
Sodium:
641
mg
|
Potassium:
663
mg
|
Fiber:
10
g
|
Sugar:
5
g
|
Vitamin A:
705
IU
|
Vitamin C:
26
mg
|
Calcium:
93
mg
|
Iron:
4
mg