Tahini Pasta is not only super easy to make but also wholesome, delicious, and customizable! Pasta and broccoli are cooked together before being coated in a creamy lemon tahini sauce. Finish it off with lemon zest and basil for lots of freshness, and dig into this refreshing 30-minute meal.
The best part is you can make this tahini pasta for family dinners, healthy lunches, or even on Sunday meal prep. It's that easy!
Table of Contents
1. Why this recipe works
2. Ingredient notes
3. Step-by-step instructions
4. Tips for making this recipe
5. Frequently Asked Questions
6. Recipe card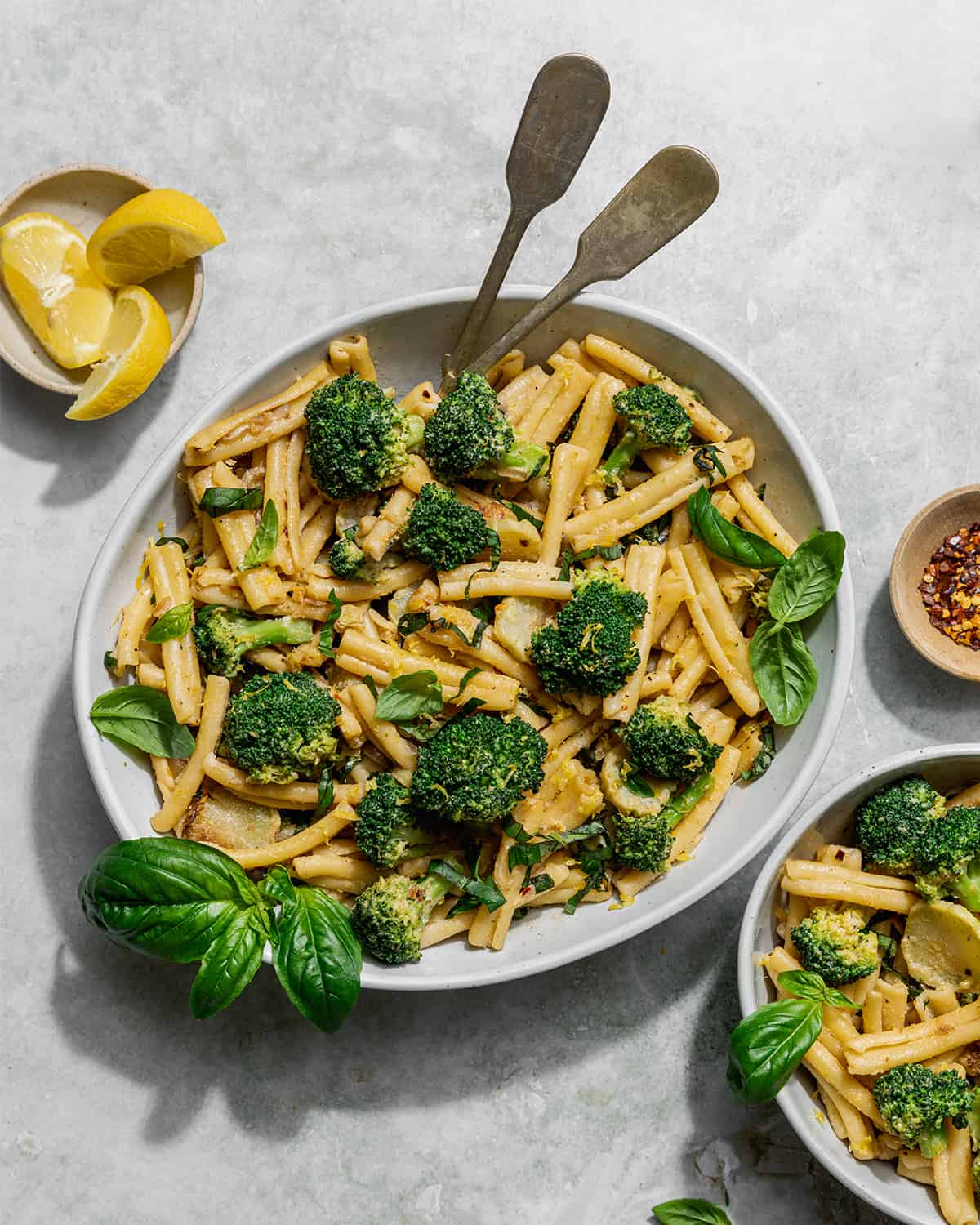 Why this recipe works
Tahini makes for a not-so-average pasta sauce.
The base of this pasta sauce is tahini, along with olive oil and pasta water. You won't find any coconut milk, cashews, nuts, or even plant-based cream here! The three ingredients work together to form a creamy and dreamy nut-free pasta sauce with a luscious mouthfeel.
Tahini-based sauces are easy to make without oil, but when they're tossed with pasta, the pasta tends to dry out. Adding just a tablespoon of olive oil keeps the pasta saucy and provides the sauce with a smoother texture.
It's brightened with lots of lemon.
Lemon and tahini are great pals. Since tahini can be slightly bitter on its own, freshly squeezed lemon juice adds the requisite acidity for balance, lemon zest brightens up the flavors. Goodbye bitterness, hello vibrance!
This is a back-pocket recipe for busy nights.
This pasta has all of the ingredients for the perfect back-pocket recipe: a simple ingredient list, endless possibilities for customization, and it's ready in less than 30 minutes. Add it to your list of reliable dinner recipes along with my 15-Minute Chili Garlic Noodles, Chickpea Tacos, Charred Broccoli & Za'atar Chickpeas, and 10-Ingredient Pantry Pasta.
Wholesome but indulgent.
Tahini is made from sesame seeds, which are packed with anti-inflammatory heart-healthy antioxidants, plus healthy fats, calcium, and a decent amount of protein. Add some broccoli, and you've got a plant-powered meal. At the same time, tahini is rich and creamy, making this pasta taste indulgent. The best of both worlds!
Ingredient notes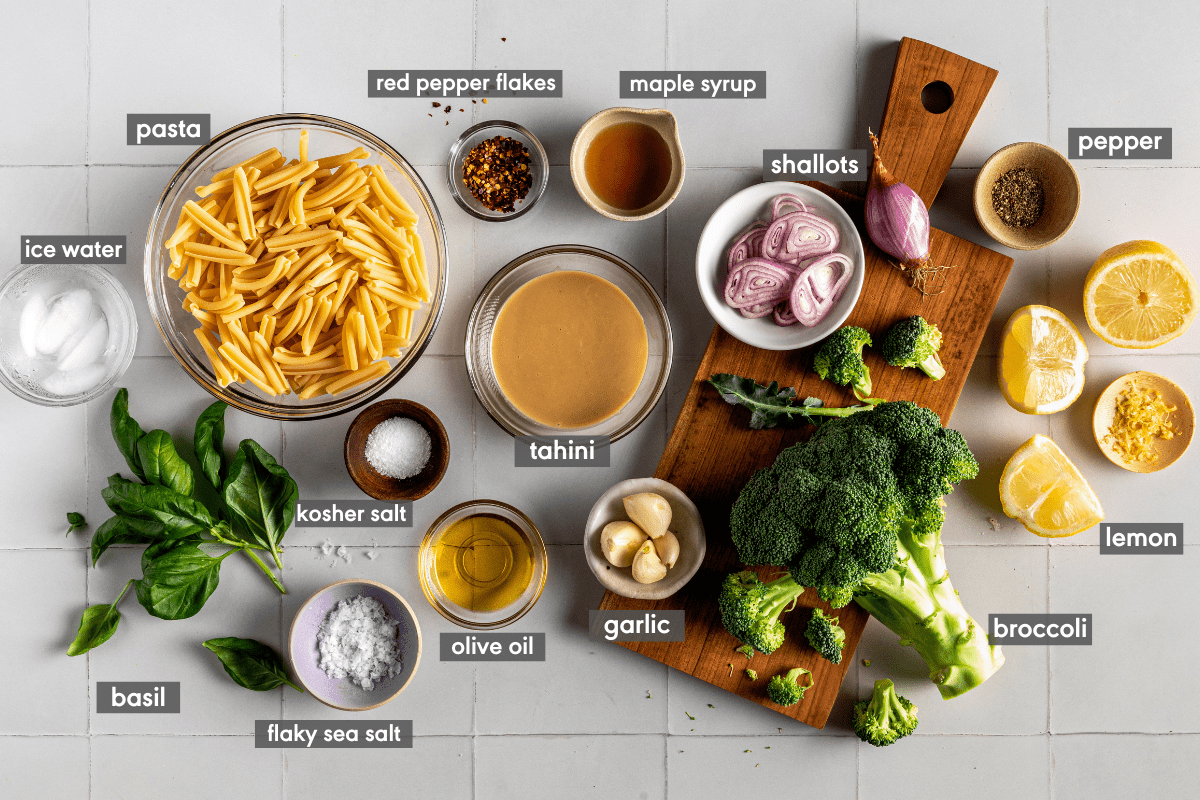 Medium-sized ridged pasta. The tahini sauce is the star of this recipe, which is why you want to use short to medium-sized ridged pasta. The ridges scoop up the sauce in every nook and cranny, ensuring you get a burst of the nutty and lemony flavors in every bite. Cavatappi, fusilli, penne rigate, or casarecce are all great options.
Broccoli. Both the broccoli florets and the stalk add substance to this recipe. Yes, broccoli stalks are just as delicious as the florets! Please don't toss them. Just be sure to shave the outside of the broccoli stalk first, as the skin can be quite woody.
Tahini. This is a smooth, luxurious seed butter made from ground sesame seeds. It's a must-have ingredient in homemade hummus, turns decadent brownies into healthy treats, and gives dressings for potato salad and roasted vegetables a creamy texture and complex flavors.
You can find tahini at most grocery stores these days, as well as online and Middle Eastern grocery shops.

Make sure you use (1) a brand of tahini that's creamy, smooth, and nutty in taste, and (2) that you like the taste of the tahini!

Avoid using (1) bottom-of-the-jar crusty bits of tahini and (2) refrigerated tahini, as it can become very thick and is much harder to whisk.
Maple syrup. Just a touch will add balance to the nutty and tart tahini lemon sauce. Agave nectar will work just as well.
Lemon. The acidity of the lemon juice and zest cut through the subtle bitter flavors of the tahini. Without it, the sauce would be unbalanced and not as complex. In other words, don't skip the lemon!
Shallot and garlic. Sautéed shallots and garlic give this pasta a savory depth of flavor, as well as a little extra texture.
Basil. Adds so much lovely fresh flavor! If basil isn't in season, use a mixture of flat-leaf parsley and dill.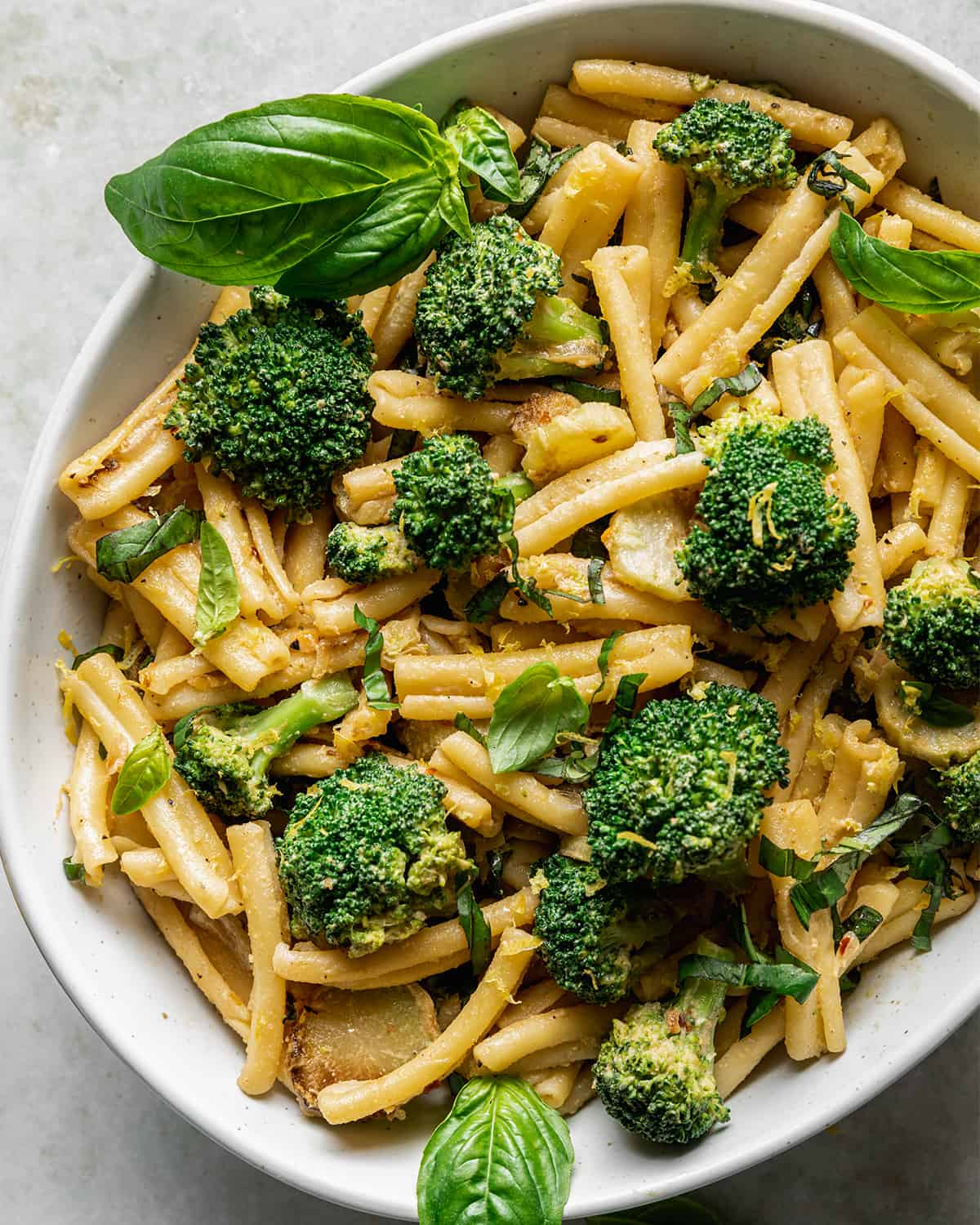 Step-by-step instructions
Prepare the broccoli stalks by shaving and discarding the outer layer. Slice the stems into coins and set them aside. Cut the crowns into florets, not too big or small.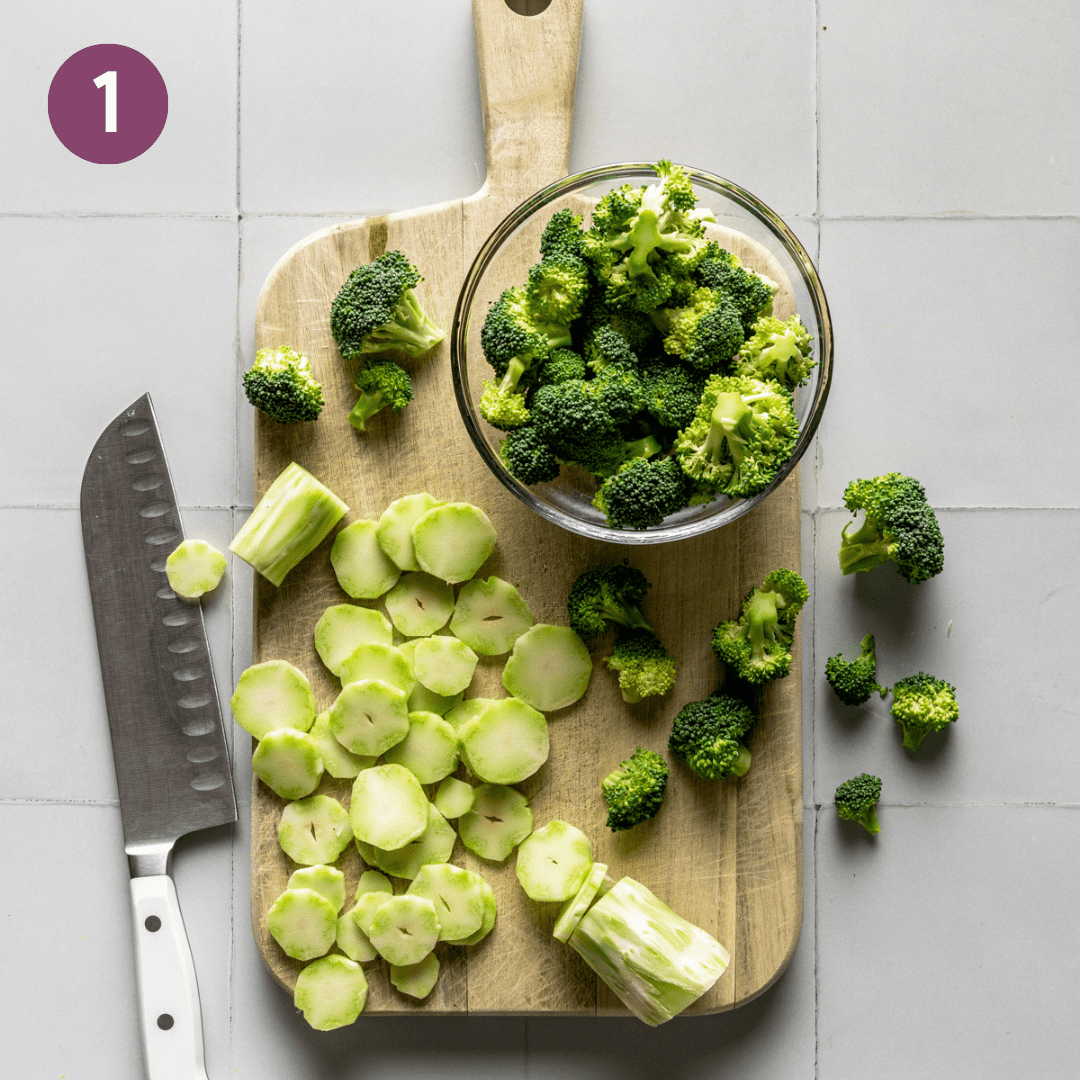 Cook the pasta and broccoli florets. Bring a pot of water to a boil. Add the pasta and cook according to the package's minimum time for al dente.
When the pasta is 3 minutes away from being done, add the broccoli florets. Cook until the pasta is barely al dente (tender with a slight chew) and the florets are bright green. Reserve 1 cup of pasta water, then drain.
Make the tahini sauce. Whisk the tahini, olive oil, lemon juice, maple syrup, lemon zest, salt, and pepper together until thick. Stream in ice water until the sauce is creamy, yet pourable.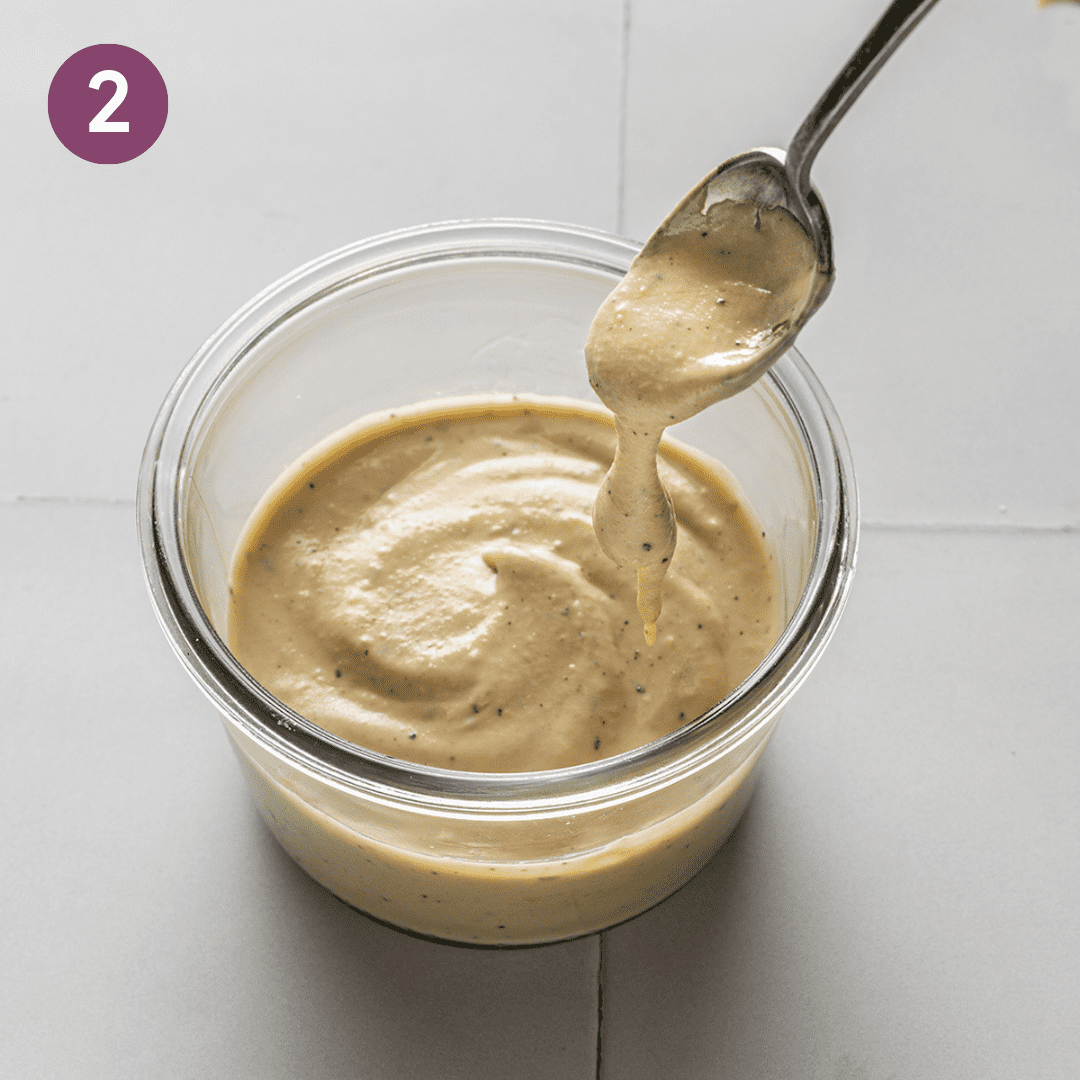 Heat some olive oil in a deep skillet and add the broccoli stems. Cook for 2 minutes, then add the shallots and garlic. The shallots should be golden and the stems bright green when they're done. Finish with the red pepper flakes.
To assemble the pasta, add the drained pasta and broccoli to the skillet with the broccoli stem-shallot mixture. Pour in the tahini sauce and some of the reserved pasta water.
Toss the pasta, broccoli, and sauce until everything is well coated. Finish by stirring in the basil topping. Season with salt, pepper, and lemon juice to taste, then serve.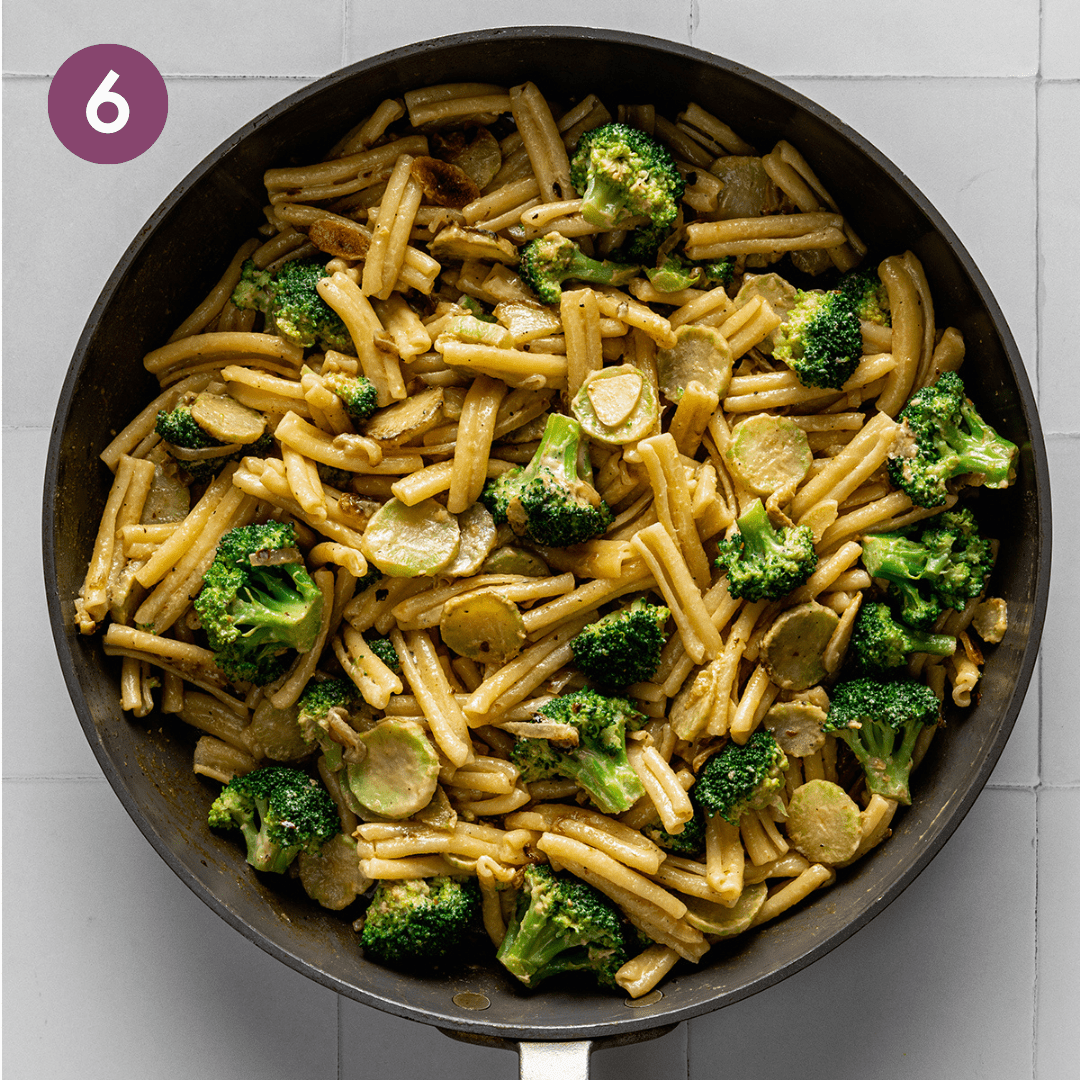 Tips for making tahini pasta
Use the tahini at the top or middle of the jar.
The tahini at the top or middle will be smooth, runny, and easier to work with overall. The stuff at the bottom of the jar will be stiff, making it harder to whisk and emulsify.
Don't add the ice water all at once.
Instead, add 1 tablespoon into the sauce at a time to achieve a perfectly pourable consistency. The amount of water needed will depend on your brand of tahini.
Always save your pasta water!
Scoop out about 1 cup of pasta water right before you drain it. Write this tip down on a post-it and keep it in a safe place in your kitchen! It's easy to forget.
Pasta water is the starchy secret behind creamy and smooth pasta sauces. Pouring a little into the skillet with the pasta and tahini will (1) distribute the sauce more evenly; (2) help the pasta absorb the sauce; and (3) add more flavor.
Customize the mix-ins.
Not a broccoli fan? Swap it for asparagus or green beans (cut into 1-inch pieces). Alternatively, add shaved zucchini ribbons or sweet summer tomatoes as you're assembling the pasta.
To make it a heartier main course, add a can of white beans or chickpeas to the broccoli-shallot mixture and briefly cook. Or, add vegan feta and finely chopped toasted walnuts when it's time to assemble. All of that plant-based protein and fiber will keep you full for hours.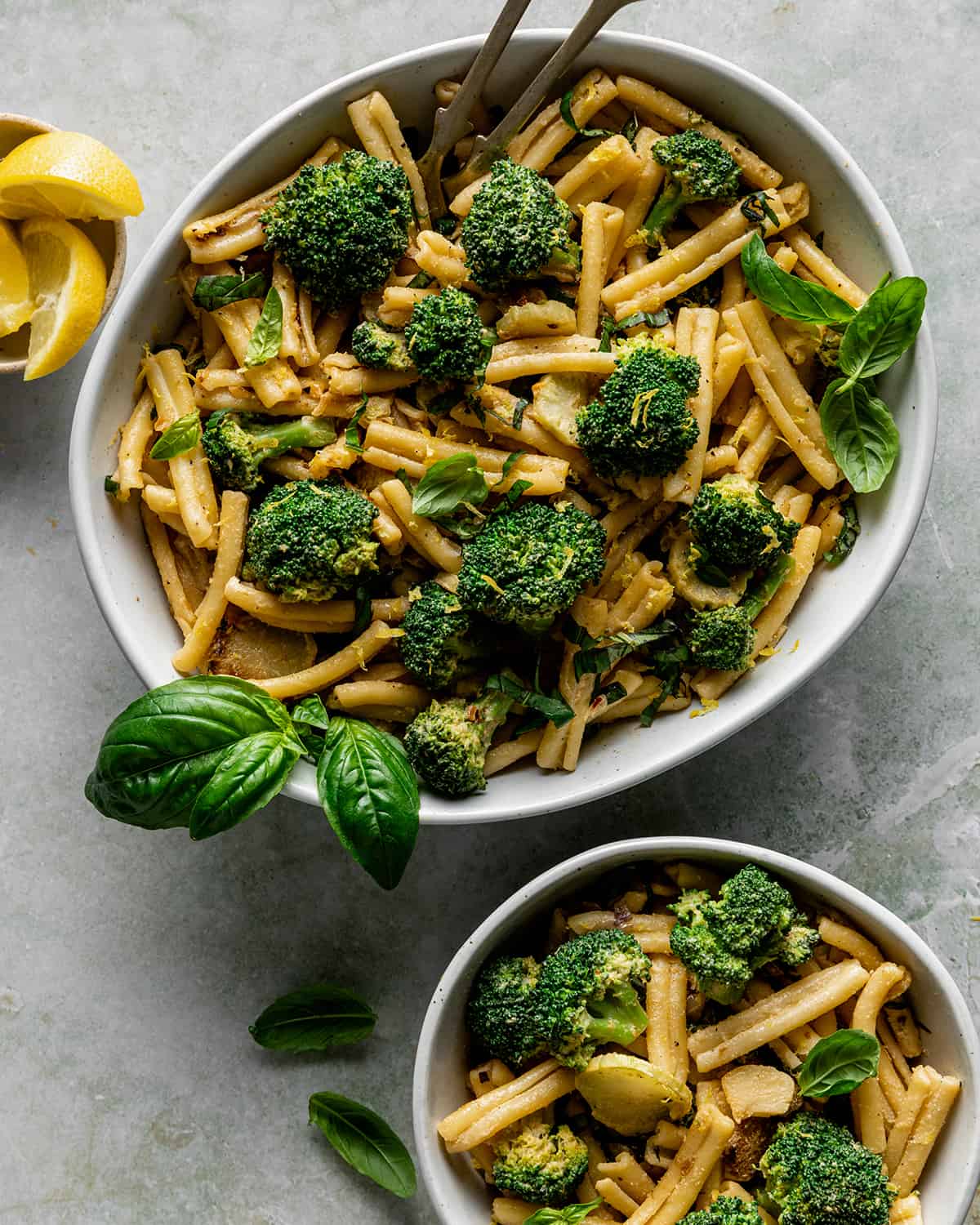 Frequently Asked Questions
Can this recipe be made gluten free?
I haven't tested this recipe with gluten free pasta noodles, but you could use your favorite ridged gluten-free pasta instead. Since gluten-free pasta cooks differently and varies based on the ingredient (e.g., corn, rice), your pasta water may not be as starchy. If so, the pasta water may not be as useful in bringing the sauce together and helping it coat the pasta.

If that's the case, you may want to thin out the sauce with some vegetable broth before combining it with the pasta. I've heard from gluten-free readers that Jovial organic brown rice pasta makes for starchy pasta water. 
Can you make tahini sauce ahead of time?
Yes, you can make the tahini sauce 3 to 4 days ahead of time. Whisk the sauce ingredients together and keep it in an airtight container in the fridge. 

The sauce will thicken as it sits, so set it out at room temperature before using and give it another good stir before adding it to the pasta. You may also need to thin it out with a splash of water.
How should I store leftover tahini?
In your pantry. Once refrigerated, it thickens quite a bit, so it won't have the runny consistency you're looking for. But if you need to store it for more than 6 months, transfer it to the fridge and let it come to room temp before using it in this recipe or similar tahini sauces.
My tahini separated. What should I do?
If your tahini has separated (dry thick part on bottom, oil on top), just add it to a food processor and blend until it returns to a creamy and uniform consistency.
How long does this tahini pasta last?
The leftovers will last for 3 to 5 days when stored in an airtight container in the fridge. I recommend serving the leftover pasta chilled or at room temperature instead of heating it up.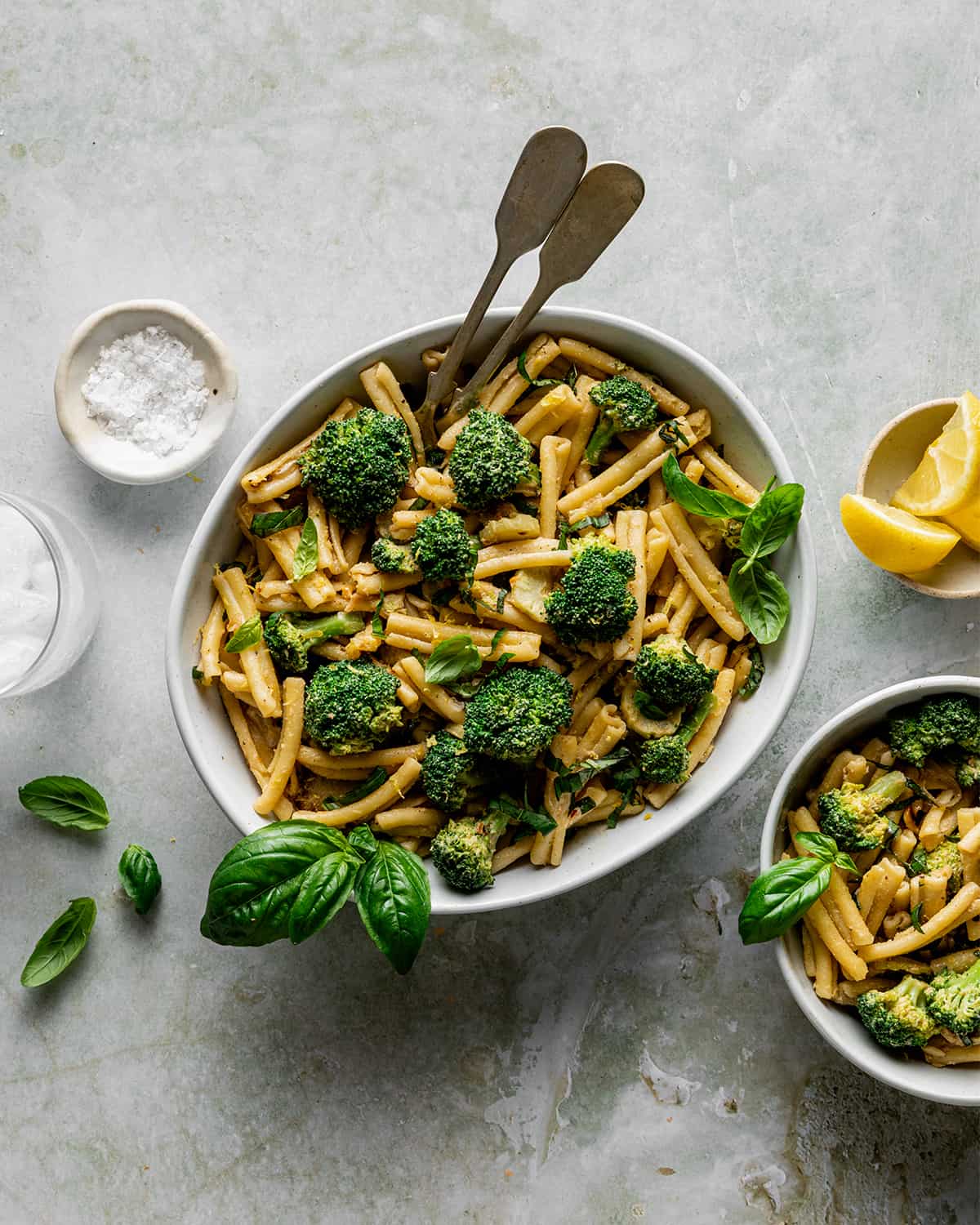 More easy vegan pasta recipes
If you love this Tahini Pasta as much as we do, please be sure to leave a rating and review below :) And as always, I love seeing your remakes on Instagram!
Tahini Pasta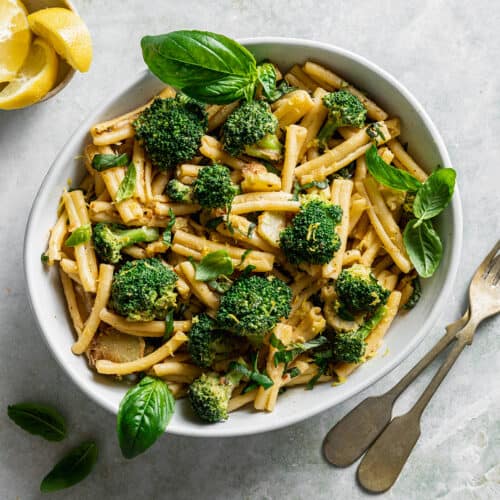 This 30-minute tahini pasta is rich, comforting, and ultra-creamy! Pasta and broccoli are dressed in a lemon tahini sauce before being mixed with garlic, shallots, and basil. The subtle nutty flavors and burst of fresh lemon make this a perfectly balanced vegan dinner the whole family will love.
Ingredients
8

ounces

(227g) medium-sized ridged pasta,

such as cavatappi, fusilli, penne rigate, or casarecce

Kosher salt and freshly cracked black pepper

10

ounces

(285g) of broccoli

1/3

(75g) cup tahini, well-stirred*

1

tablespoon

extra virgin olive oil

1

large lemon

½

teaspoon

maple syrup

or agave nectar

Ice water to thin

2 ½

tablespoons

extra virgin olive oil

1

large shallot,

thinly sliced

4

garlic cloves,

thinly sliced

½ to 1

teaspoon

red pepper flakes

(½ teaspoon is mild)
Topping
1

cup

(16g) fresh basil leaves,

slivered

Reserved lemon zest

Heaping ¼ teaspoon flaky sea salt
Instructions
Use a peeler to shave the outer fibrous layer of the broccoli stalks. Slice off the bottom inch or so of the stalk that is very tough. Then thinly slice the stalks into coins and set aside. Cut the crowns into florets (not too big or too small).

Cook the pasta. Bring 8 cups (2.1L)** of water in a saucepan to a boil. Once the water is nearly boiling, add a tablespoon of kosher salt. Add the pasta, and once it returns to a boil, start the timer and cook according to the package's minimum time for al dente pasta, stirring occasionally.

About 3 minutes before the pasta timer is done, add broccoli florets (not the stems). Cook until the pasta is barely al dente (a little undercooked is okay) and florets are crisp-tender and bright green. Scoop out 1 cup of pasta water, then drain the pasta and broccoli (do not rinse).

While the pasta water is heating up or pasta is cooking, make the sauce***. Zest the lemon with a microplane or citrus zester, then juice the lemon. In a small or medium bowl, whisk together the tahini, olive oil, 2 tablespoons of the lemon juice, maple syrup, ½ teaspoon kosher salt, and a generous amount of pepper. Add a pinch of the lemon zest but save the rest for topping.

Whisk until the sauce is well-combined and thick. Stream in ice water and keep whisking until creamy but pourable (about 4 tablespoons).

Meanwhile, make the topping: combine the slivered basil with the reserved lemon zest and the flaky sea salt.

While the pasta is cooking, heat the 2 ½ tablespoons of olive oil in a deep sauté pan over medium-high heat. Once hot, add the broccoli stems with a few pinches of salt. Cook for 2 minutes, then add the shallots and garlic, and cook for another 2 to 4 minutes, until broccoli stems have some color and shallots are golden. Add the red pepper flakes and cook for 30 seconds.

Assemble the pasta. Add the hot cooked pasta and broccoli to the shallot-broccoli stem mixture, along with the tahini sauce and ¾ cup (180 mL) pasta water. Keep the pan over medium-high heat and use tongs to vigorously toss everything together, until the sauce is emulsified and clings to the pasta, and the pasta is al dente, about 2 minutes. If needed, add a bit more pasta water to bring everything together.****

Take the pasta off the heat. Stir in most of the basil topping and toss to coat. Taste, adding more salt or pepper to season and a bit of the remaining lemon juice, if desired.

Just before serving, garnish with remaining topping.
Notes
* It's important for the tahini to be smooth and runny (don't use the bottom of the jar). My recommended tahini brands are Soom Foods, Baron's, Beirut Tahini Sesame Paste, and Seed & Mill.
***If using a bulkier pasta shape like rigatoni, you'll want to use a bit more water, about 10 cups (2.3 L).
*** You can also make the tahini sauce 3 to 4 days in advance and store in the fridge. 
***If adding a can of chickpeas or white beans, add them along with the broccoli-shallot mixture.
---
Calories:
338
kcal
|
Carbohydrates:
51
g
|
Protein:
10
g
|
Fat:
11
g
|
Saturated Fat:
2
g
|
Polyunsaturated Fat:
1
g
|
Monounsaturated Fat:
7
g
|
Sodium:
33
mg
|
Potassium:
428
mg
|
Fiber:
5
g
|
Sugar:
4
g
|
Vitamin A:
836
IU
|
Vitamin C:
73
mg
|
Calcium:
69
mg
|
Iron:
2
mg
Recipe: Nisha Vora / Rainbow Plant Life | Photography: Rosana Guay