Last week I shared a Crispy Zucchini and Corn Casserole that you all have been loving, so I figured it was time for another zucchini recipe! It's zucchini season, after all, and I know many of you have oodles and zoodles of zucchini waiting to be used (did you see what I did there with zoodles??)
This Creamy Vegan Zucchini Pesto Pasta feels and tastes gourmet, but it's easy enough for a weeknight dinner and requires less than 10 ingredients. And the leftovers are extremely delicious!
Before we get to the recipe, if you are looking for more seasonal recipes to make before summer ends, check out my round up of 45+ seasonal recipes to make this August!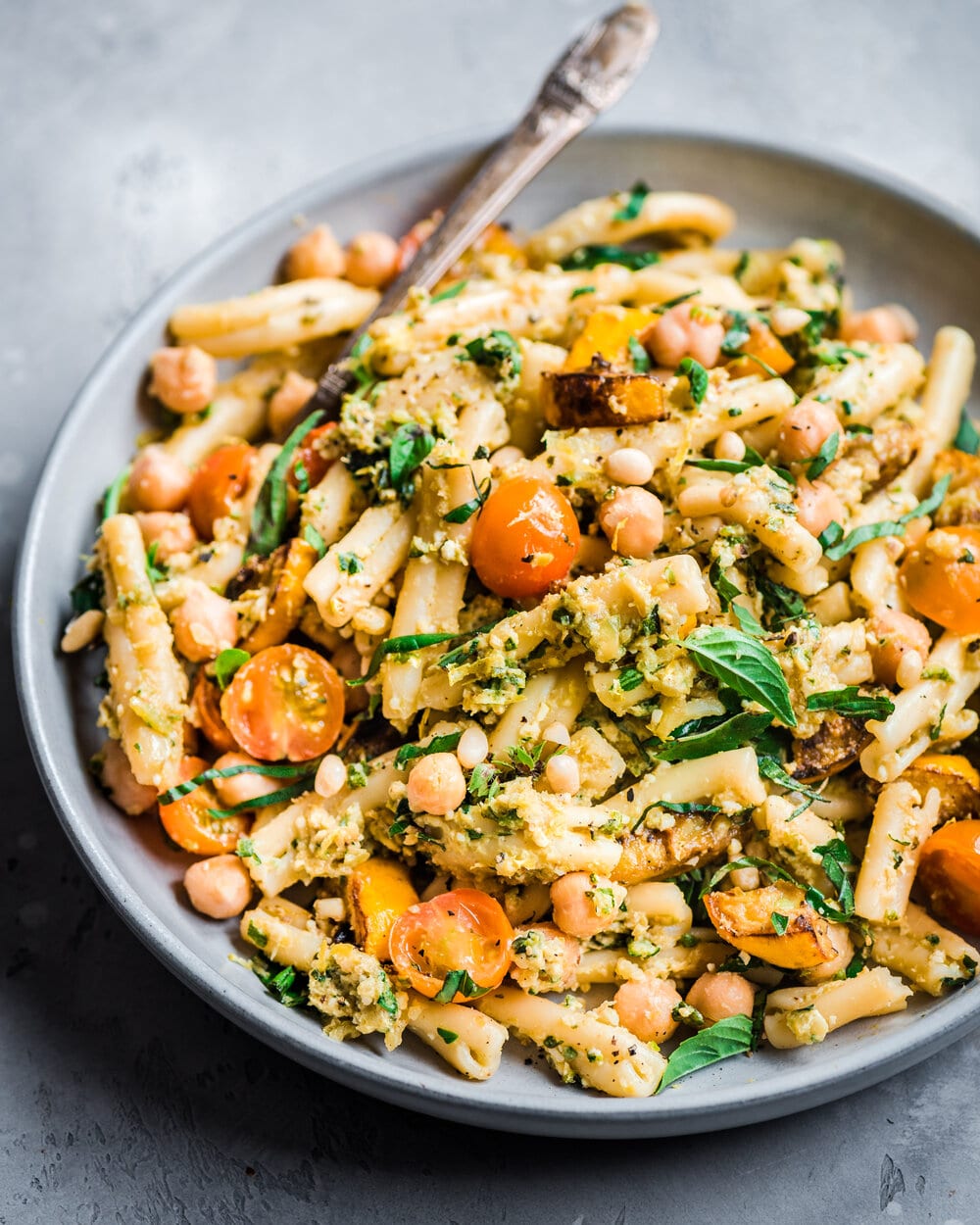 This zucchini pesto pasta has been a weeknight staple for us during the last month, and along with my zucchini casserole, it has converted Max from zucchini-skeptic to serious zucchini-appreciator (I might even go as far as to say zucchini-lover).
I came up with this recipe on a whim when I found myself with too much zucchini. I love making caramelized, jammy zucchini/squash in a cast iron skillet, and often pair it with pasta and a simple olive oil-balsamic vinegar dressing, but I recently had too much caramelized zucchini for the amount of pasta I had made. So I figured I could turn the jammy zucchini into a creamy sauce!
The other ingredients I reached for were in this sauce included basil (I buy copious amounts in summer), pine nuts, and lemon zest—ingredients, I typically use in pesto. Hence, zucchini pesto!
It's creamier than classic pesto thanks to the jammy zucchini, and there's no need to stream in olive oil as you would in classic pesto, since the zucchini gets cooked in a generous amount of oil. And instead of raw garlic, the pesto gets extra flavor from the caramelized zucchini.
It's really quite a delightful, flavorful dish that requires just 9 ingredients! It's perfect for zucchini season and if you have leftovers, they are very delicious the next day.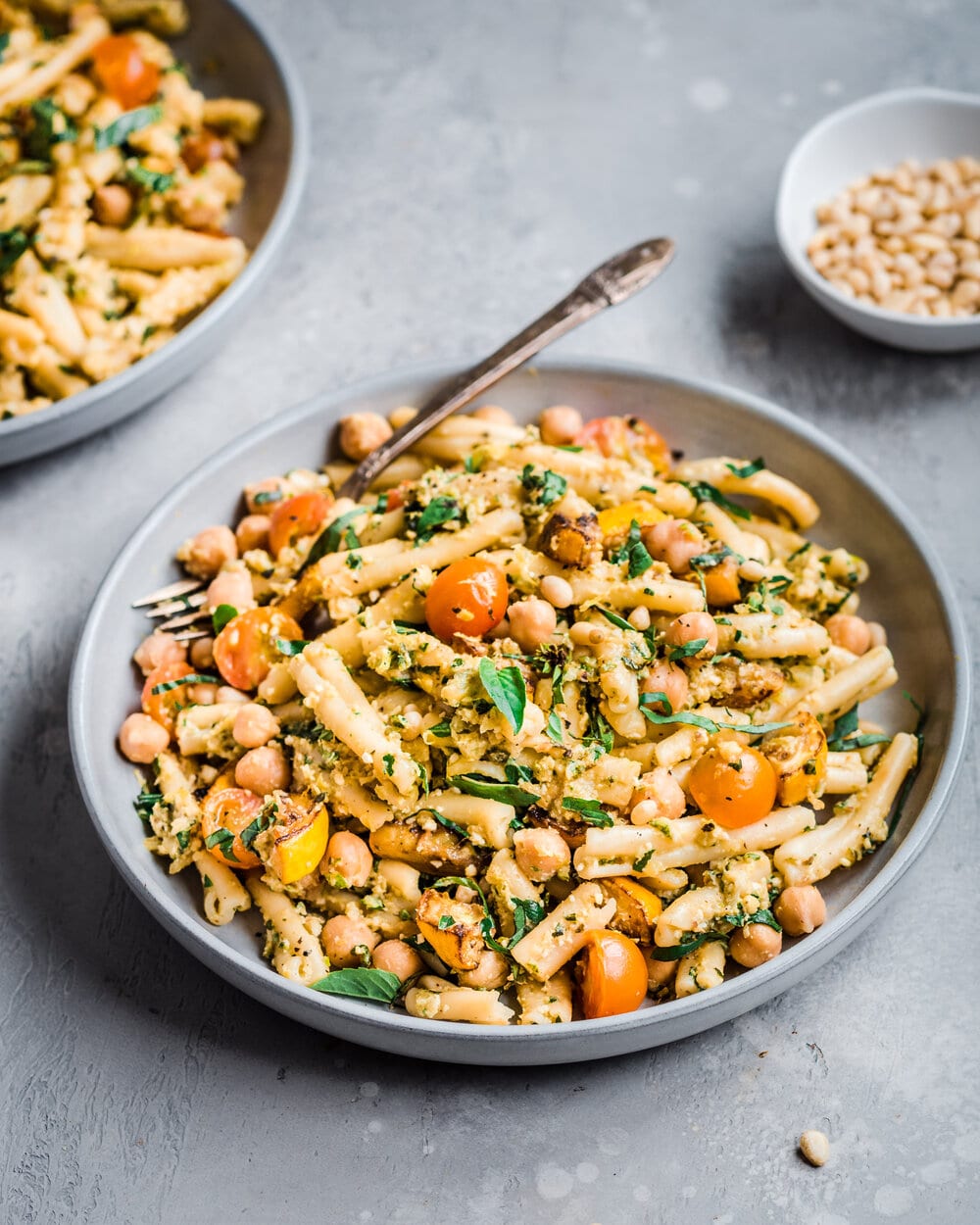 Why you'll like this recipe
Creamy pasta! Who doesn't like a creamy pasta? The mixture of jammy zucchini, buttery pine nuts, and pasta water make this a creamy yet healthy pasta!
Weeknight friendly. Though there are a few components of this recipe, it's easy to make and requires just 9 ingredients. Plus, caramelizing the squash is mostly a hands off process once it's cooking on low heat, so you can multitask and get dinner on the table in 40 minutes (prep time included).
Peak seasonal ingredients. This recipe features late-summer zucchini or summer squash, cherry tomatoes, and basil, and the flavors are zesty, fresh, and fun!
The best of zucchini. Zucchini can get a bad rep for being bland and watery, and to be fair, that reputation is often merited. Especially, out-of-season zucchini that's been sitting on the supermarket shelf for weeks. But, in-season, locally-grown zucchini that's been cooked in olive oil and garlic until jammy and caramelized? Now that is DELICIOUS.
And if you've got lots of zucchini to use up and are looking to impress, these Greek Zucchini Fritters are a must-make!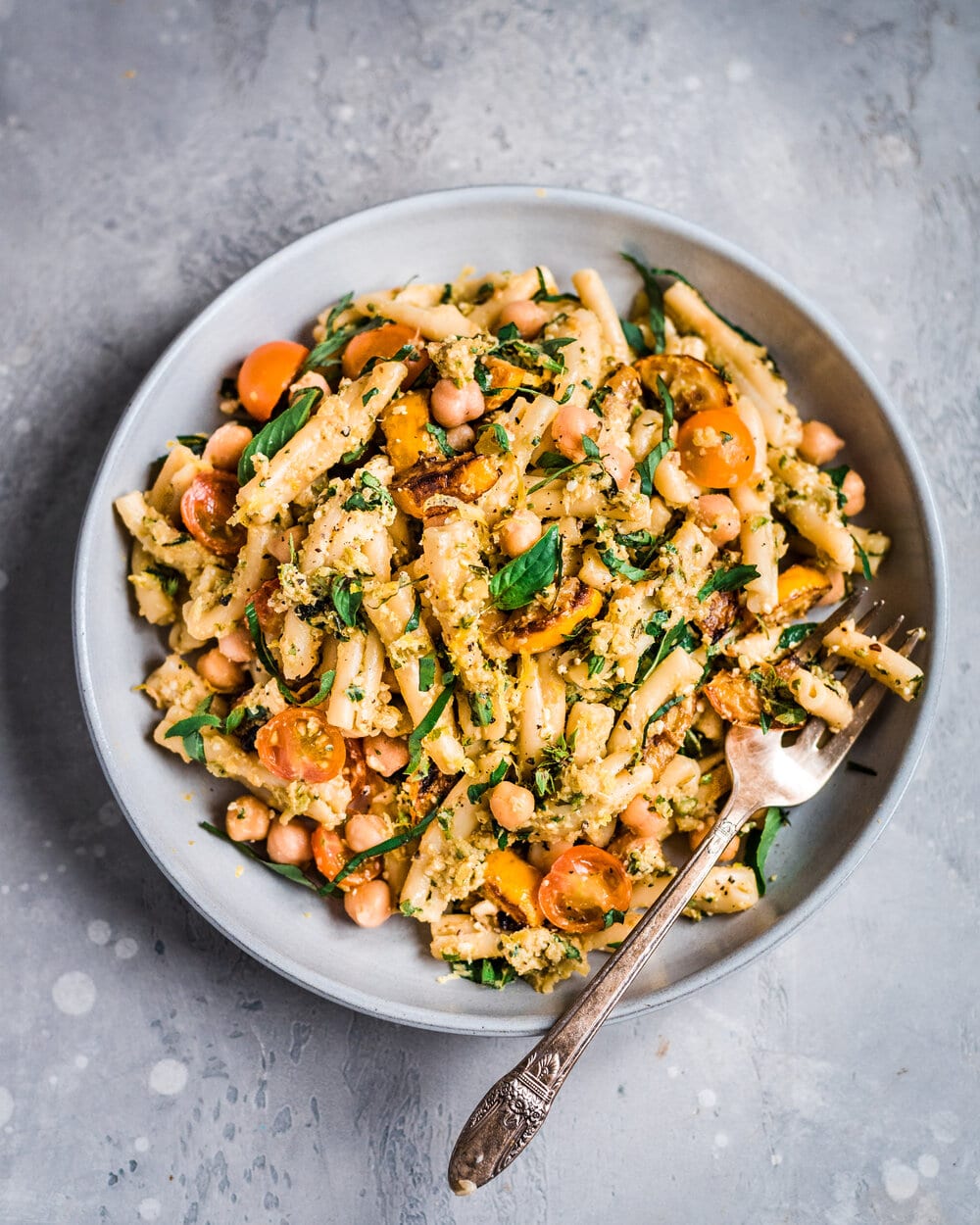 How to Make this Creamy Vegan Zucchini Pesto Pasta
First, make the jammy zucchini.
Cut your zucchini (and/or summer squash) lengthwise into quarters, then slice crosswise into chunks. Heat up a large cast iron skillet cook over medium-high heat with a generous amount of olive oil. Once hot, add the zucchini, season with salt, and cook for 4-6 minutes until it's got a light char on it.
Then, add some thinly sliced garlic cloves and toss frequently for 2-3 minutes.
Turn down the heat to low and cook the zucchini for another 15ish minutes, stirring occasionally, until it is beautifully browned all over and soft and jammy in texture.
Set aside 1/3 of the zucchini (this will be added to the pasta at the end) and use 2/3 of it for the zucchini pesto.
While the zucchini is cooking, prep the rest of the dish.
Cook your pasta in salted boiling water.

Make the basil-garlic topping: chiffonade the basil and mince the garlic, toss together (like a gremolata, but without lemon zest).

Blitz the pine nuts in a food processor to start on the zucchini pesto.

Slice your cherry tomatoes and drain your chickpeas (if using canned chickpeas).
Once the zucchini has been caramelized, make the zucchini pesto. To the blitzed pine nuts, add approximately 2/3 of the caramelized zucchini (no need to be super precise), basil, and lemon zest. Blend until pureed but still slightly chunky. Taste for seasonings, adding a pinch of salt as needed.
Finally, assemble the zucchini pesto pasta.
When draining the pasta, be sure to reserve 1/2 – 1 cup of the cooking water. Toss the zucchini pesto with the hot cooked pasta, and add pasta water as needed to help emulsify the sauce and bring it together.
Top the pasta with the reserved jammy zucchini, chickpeas, sliced cherry tomatoes, and basil-garlic topping. Toss to combine, and season to taste.
Tips for making this Creamy Vegan Zucchini Pesto Pasta
If you don't have a large (12-inch) cast-iron skillet, you'll want to either (a) use a large nonstick skillet or (b) cook the zucchini in batches (though that will obviously increase the cook time). If you try to cram all the zucchini into a smaller pan, it won't brown evenly and some of it will steam.
If you do have a large cast iron skillet, I recommend using because it has the perfect heat distribution, which results in beautifully caramelized, browned yet soft zucchini. That said, it's not the end of the world if you don't have one.
When making the zucchini pesto, don't forget that you're adding just 2/3 of the caramelized zucchini to the processor. Set aside 1/3 of the zucchini to add to the finished pasta.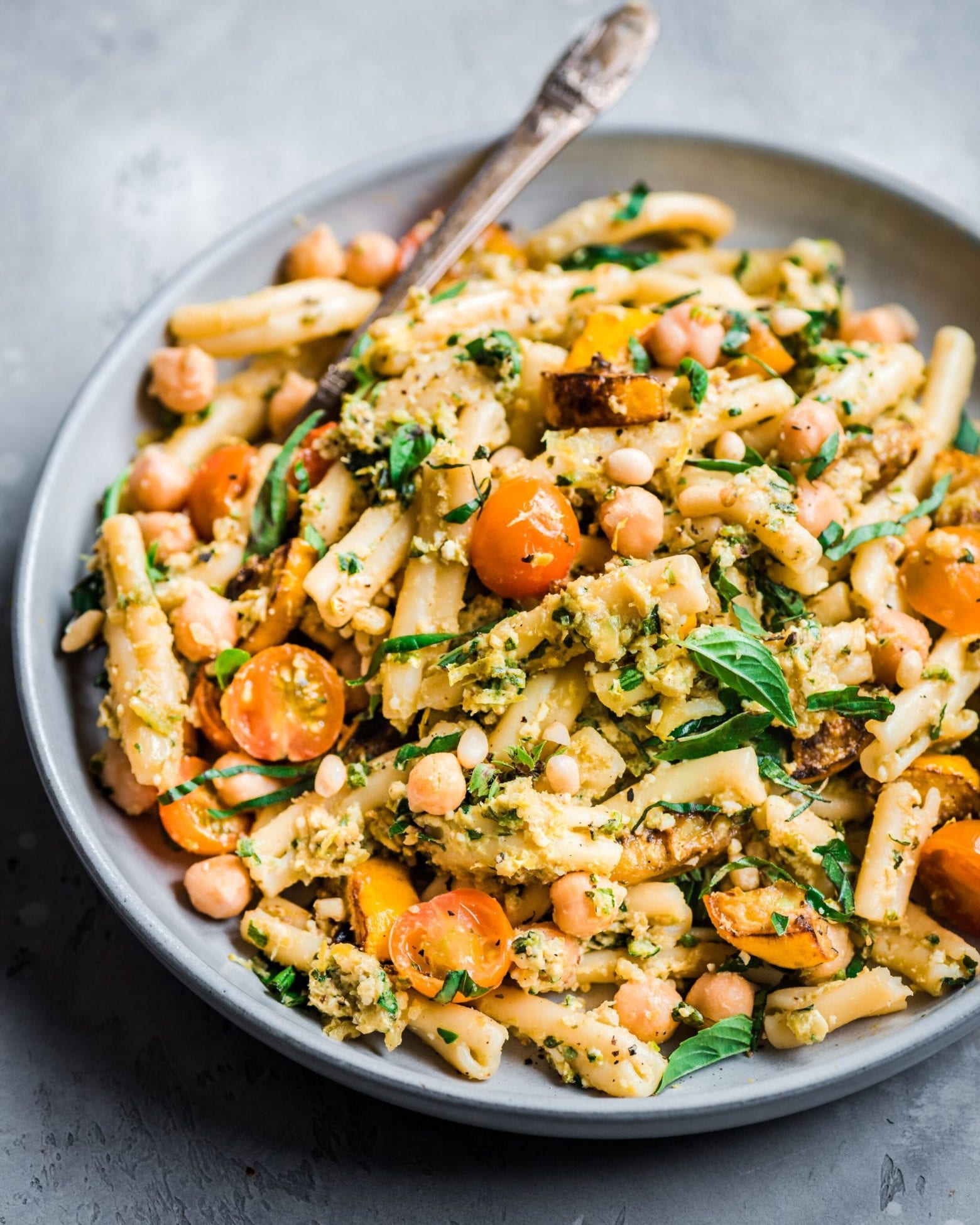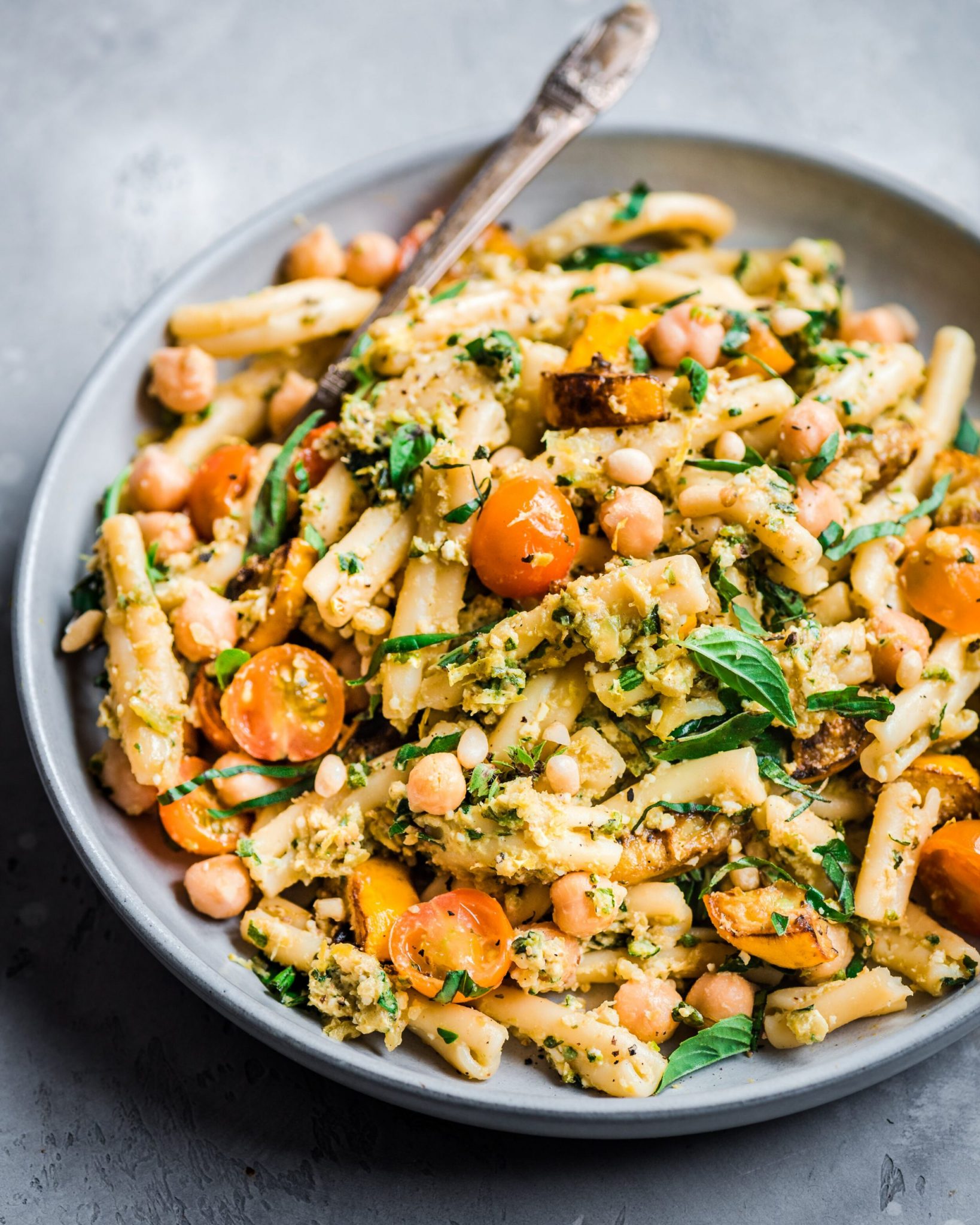 Substitutes for this Creamy Vegan Zucchini Pesto Pasta
For the zucchini pesto, if you don't have pine nuts, pistachios work just as well. I've made this recipe with both and they're both very tasty.
As you can see from the photos, I used zucchini for the pesto and caramelized summer squash as the topping. They are the same. You can use both, or just one or the other.
If you're gluten-free, use your favorite gluten-free pasta.
I add the chickpeas to round out this meal with a primary protein source, but they are not essential. Or you can substitute them with white beans or lentils or your favorite protein source.
If you give this Creamy Vegan Zucchini Pesto Pasta recipe a try, be sure to tag me on Instagram with your recreations and please comment with your feedback below!
Creamy Vegan Zucchini Pesto Pasta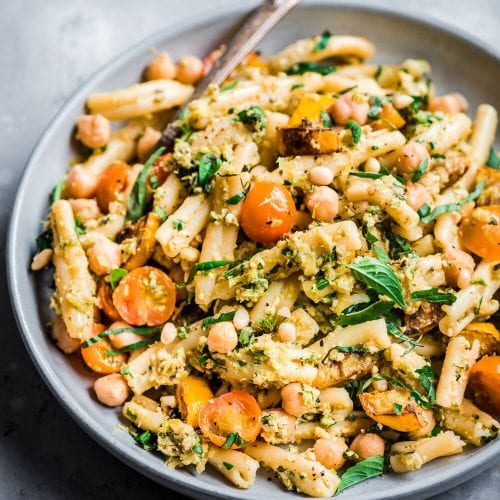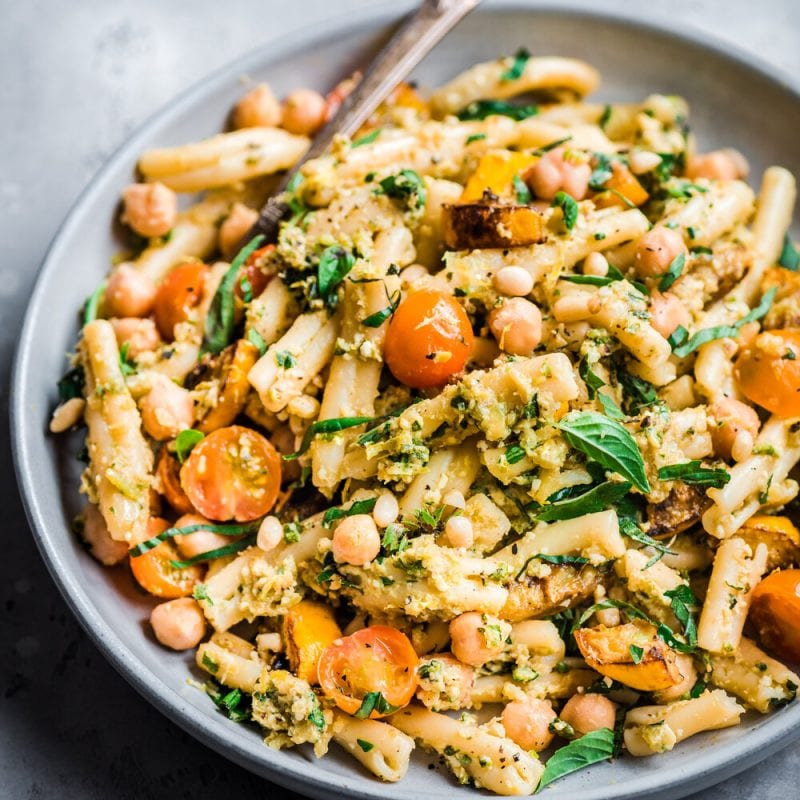 A spin on the classic pesto, this Creamy Vegan Zucchini Pesto Pasta is made with caramelized zucchini and garlic, pine nuts, basil, and lemon zest and finished with chickpeas and extra caramelized zucchini. Easy, weeknight-friendly, and just 9 ingredients, it's a delicious summer dinner idea!
Ingredients
1 ½

pounds

(900g) zucchini or summer squash (about 4 small-medium)

2 1/2 - 3

tablespoons

extra virgin olive oil,

plus more for finishing

Kosher salt to taste

7

garlic cloves,

divided

1/4

tsp

red pepper flakes,

optional

12

ounces

(340g) pasta of choice (use gluten-free pasta as needed)

1/3

cup

(45g) pine nuts or pistachios

1/2

of a medium or large lemon,

zested

1

cup

fresh basil leaves,

divided

1/2

cup

(80-100g) cherry tomatoes or grape tomatoes, sliced in half or quarters

1

can

(15-ounce/440g) chickpeas, drained and rinsed
Instructions
Prep the vegetables. Cut each zucchini lengthwise into quarters, then crosswise into chunks (not too thinly; see the photos in the blog post for reference). Slice 6 of the 7 garlic cloves thinly (but not paper thin). Leave the remaining garlic clove whole.

Caramelize the zucchini. Heat the olive oil in a large cast iron skillet over medium-high heat. Once the pan is hot, add the zucchini or summer squash and season with kosher salt to taste (I used a heaping 1/2 teaspoon kosher salt). Cook the zucchini, tossing occasionally, until browned in spots, 4-6 minutes.

NOTE: for pan alternatives, see the "Tips" section in the blog post.

Add the 6 thinly sliced garlic cloves to the zucchini. Cook for another 2-3 minutes until the zucchini just starts to break down, stirring frequently to prevent the garlic from burning. Reduce heat to low and continue cooking until zucchini is soft and jammy, 15-20 minutes, stirring just occasionally. Stir in red pepper flakes at the end, if using.

Meanwhile, cook the pasta in salted boiling water according to the package instructions until al dente. Before draining, reserve a few ladles of pasta water.

Meanwhile, make the basil-garlic topping. Finely mince the 1 remaining garlic clove. Chiffonade 1/2 cup of the basil and toss with the minced garlic to combine. Set aside.

Make the Zucchini Pesto. Meanwhile, add the pine nuts or pistachios to a food processor and blitz until you have a very fine crumb. Transfer about 2/3 of the caramelized zucchini to the food processor (reserve the remaining zucchini for finishing the pasta). Add the lemon zest and the remaining 1/2 cup of the basil and blend until the pesto is pureed but still a little chunky. Taste for seasonings, adding a pinch of salt as needed.

Assemble the Pasta. Transfer the hot cooked pasta to a serving bowl. Top with the zucchini pesto, and toss to combine, adding a few spoons of pasta water as needed to emulsify the mixture until the pesto coats the pasta. Add the reserved caramelized zucchini, sliced cherry tomatoes, and chickpeas and toss again. Sprinkle with the basil-garlic topping and toss again. If desired, drizzle with a final splash of extra virgin olive oil. Taste for seasonings, adding additional salt as needed. Store leftovers in an airtight container for 2-3 days.
---
Calories:
539
kcal
|
Carbohydrates:
76
g
|
Protein:
16
g
|
Fat:
20
g
|
Saturated Fat:
2
g
|
Polyunsaturated Fat:
6
g
|
Monounsaturated Fat:
10
g
|
Sodium:
320
mg
|
Potassium:
945
mg
|
Fiber:
6
g
|
Sugar:
9
g
|
Vitamin A:
901
IU
|
Vitamin C:
54
mg
|
Calcium:
82
mg
|
Iron:
3
mg