As a child, stuffing was my least favorite part of Thanksgiving. All the other young'ns at school raved about how much they loved stuffing, but in my tiny head, I was like "ya'll crazy, this tastes like turkey vomit." Since I was the only brown kid in class, I assumed that stuffing was a food for white people and kept my mouth shut.
If you don't want to read my ramblings on stuffing, head to the recipe video over here.
Later I realized a few things. One, I was eating boxed Stovetop stuffing, which is made with garbage ingredients and therefore tastes like garbage. And two, the reason stuffing tasted like turkey vomit to me was that it was being cooked inside of a turkey's arsethole, which is not that dissimilar from turkey vomit.
Then I started making my own stuffing from scratch (I definitely did not shove it inside of a turkey's buttocks) and surprise surprise, I started to love stuffing. You can check out the video I made over on Youtube here.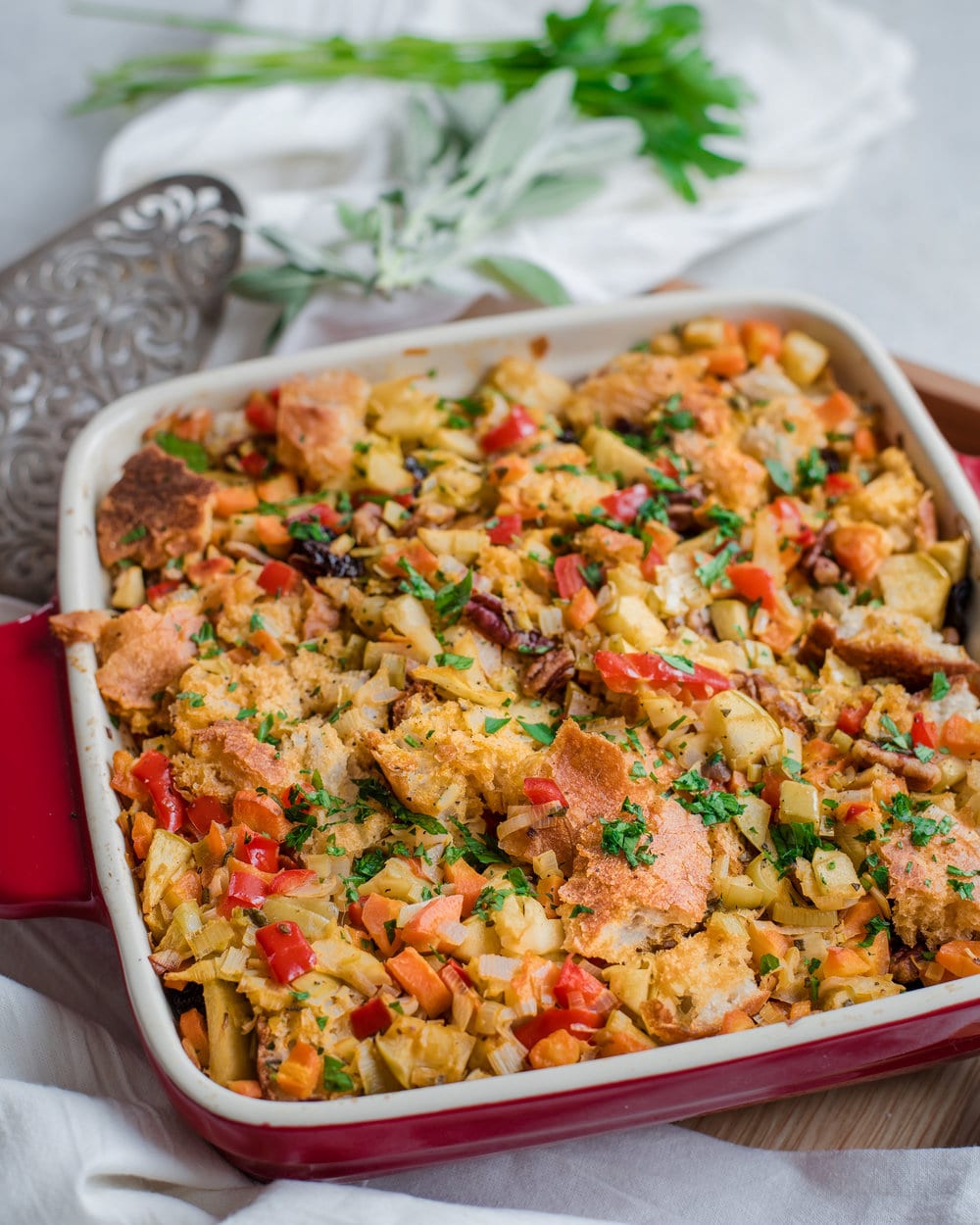 This classic stuffing recipe is super easy to make and you can customize it however you like. It's traditional to use celery in stuffing, but I sort of hate celery, so I used a bell pepper instead. If you can't find leeks, simply use onions instead. And feel free to get fancy with the bread, and use any day-old fresh bread you like. But don't omit the sage or garlic – they're going to make your kitchen smell fantastic, like you bottled up Thanksgiving dinner and turned it into a scented candle. If that doesn't sound appetizing, just trust me.
Another great thing about this recipe is that you can prepare most of it in advance. Once you finish cooking the vegetable mixture, let it cool and then store it in an airtight container in your fridge. Simply cover the casserole pan with the bread pieces, dried cherries and pecans with aluminum foil. When you're ready to bake the stuffing, just pour the vegetable mixture on top of the bread and add a few splashes of vegetable stock to keep things moist.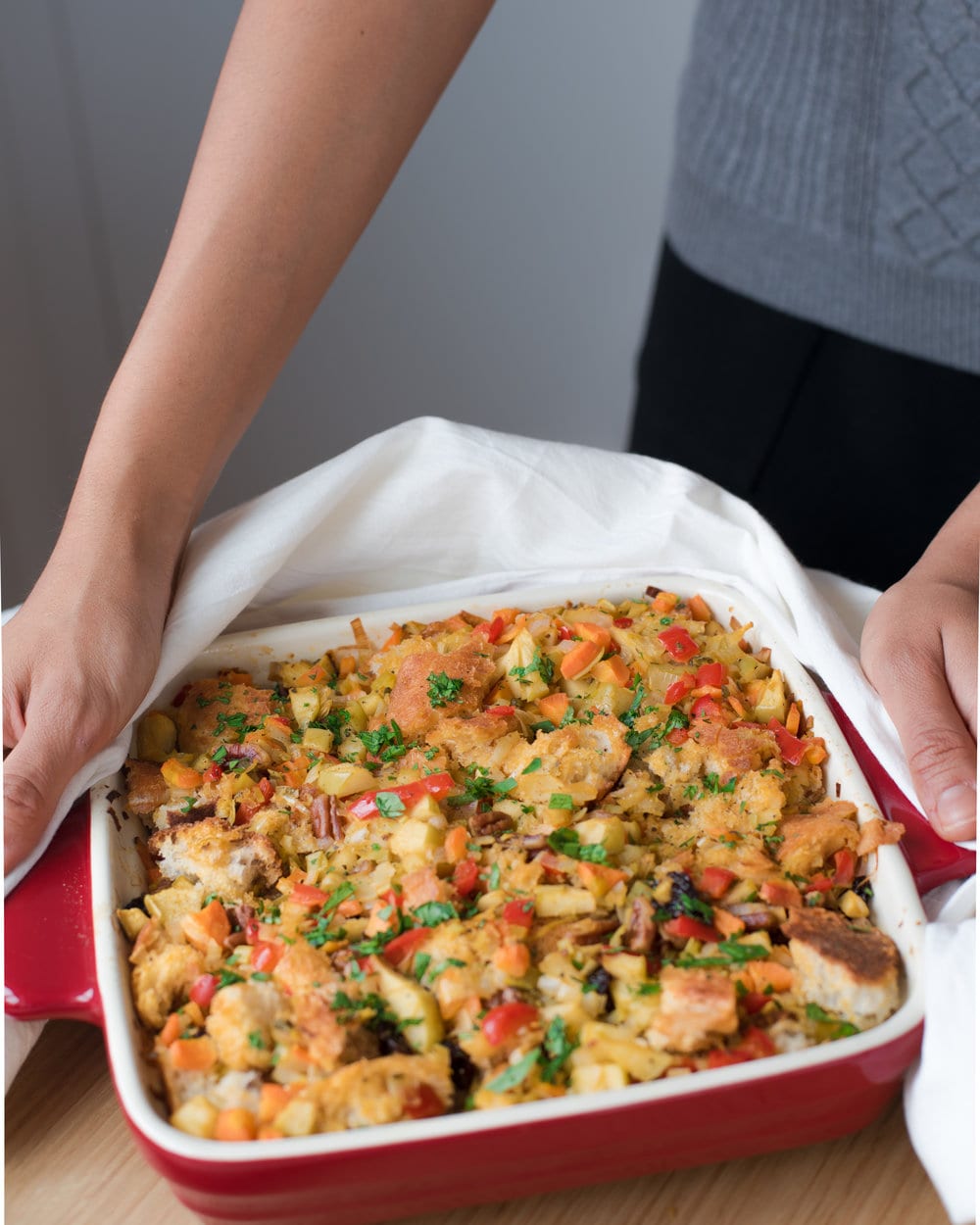 If you love this classic vegan Thanksgiving stuffing as much as we do, please be sure to leave a rating and review below :) And as always, I love seeing your remakes on Instagram!
Classic Thanksgiving Stuffing (Vegan)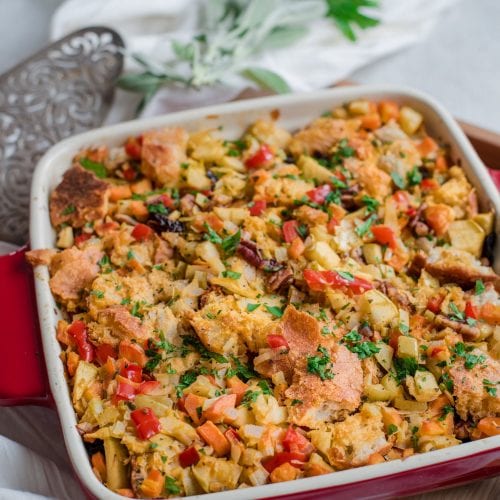 Classic Thanksgiving stuffing, veganized! Just as good as the original but 100% vegan and cruelty-free. A simple recipe that you can make ahead for a healthy, delicious, and stress-free Thanksgiving!
Ingredients
2

tablespoons

vegan butter

2

tablespoons

olive oil

1

tablespoon

fresh sage,

finely chopped

2

leeks,

white and light green parts only, diced

1

carrot,

diced

1

small bell pepper,

diced

1

Granny smith apple,

unpeeled and chopped

2

cloves

garlic,

minced

1

cup

vegetable broth,

plus extra ½ cup as needed

1

loaf of day-old French bread or other bread (approximately 6 cups),

cubed

¼

cup

dried unsweetened cherries

½

cup

pecans,

toasted

Salt and pepper to taste

Minced parsley for garnish
Instructions
Preheat the oven to 350ºF or 175ºC.

Heat a deep skillet or saucepan over medium heat, then add the vegan butter and olive oil.

Once melted, add in the sage, leeks, carrot and bell pepper and cook for 3-5 minutes.

Once the leeks are translucent, add the garlic, chopped apple and a generous amount of salt and pepper.

After the apples have cooked for 2 minutes, pour in the vegetable broth and season with more salt and pepper as needed. Saute the mixture for 1 to 2 more minutes.

While the vegetable mixture is cooking, chop or tear the bread into approximately 1/2-inch squares and place in a 9×9 inch casserole dish. Add the dried cranberries and pecans to the bread and spread evenly.

Pour the vegetable mixture over the bread and spread evenly.

Cover the pan tightly with aluminum foil. Bake for 30 minutes, stirring the stuffing halfway through cooking to help meld the flavors.

Remove the foil and bake for an additional 10-15 minutes until the stuffing is golden brown and crisp on top.

Remove and let cool 5 minutes. Top with minced parsley.
---
Calories:
277
kcal
|
Carbohydrates:
38
g
|
Protein:
7
g
|
Fat:
12
g
|
Saturated Fat:
2
g
|
Polyunsaturated Fat:
3
g
|
Monounsaturated Fat:
6
g
|
Trans Fat:
0.01
g
|
Sodium:
335
mg
|
Potassium:
199
mg
|
Fiber:
4
g
|
Sugar:
9
g
|
Vitamin A:
2218
IU
|
Vitamin C:
16
mg
|
Calcium:
58
mg
|
Iron:
3
mg