I am pretty sure I started off a recent blog post by talking about the cold weather, but yesterday was FRIGID . The temperature hovered between 5°F and 12°F, and with the wind factored in, the "real feel" temperature was well into the below 0° temps.
I can't remember experiencing cold like this in NYC in the 6+ years I've lived here (my legs went numb after a 5-minute walk), so naturally, my body was craving warming comfort food. And when I say craving, I mean that in the biological sense of the word, like when a hunter gatherer who has just spent days trekking through the snow is craving a warm fire and hearty stew (essentials for survival), not in the cutesy way when it's 3 P.M. at the office and I am "craving" a chocolate chip cookie.
Enter this Creamy Vegan Polenta with Wild Mushroom and Tomato Ragú! I wish I could serve everyone a bowl of this rich, cozy comfort food on a cold winter day. It is quite literally a hug in a bowl that will warm your soul and make you feel happy on the inside.
The good news is that despite being a luxurious dish, this dish is vegan (of course) and gluten-free! I add some richness with a big of vegan butter here and there, but it is totally optional. According to my polls on Instagram, so many of you are interested in more gluten-free savory recipes, so this one is just for you!
First, let's talk polenta. For the longest time, I refused to make polenta. "Refuse" is a bit dramatic, I suppose, but I had heard so many rules surrounding the right techniques—"rain in the grain," use only an authentic Italian variety of corn, stir only with a wooden spoon—that I figured it wasn't worth entering this dogmatic territory.
To my great surprise, polenta is actually really easy to make! Sure, you can't entirely ignore it while it cooks on the stove, but you don't have to constantly stir it. And you can use the time it takes to cook the polenta (about 45 minutes) to prep and cook the wild mushroom and tomato ragú.
When it comes to buying polenta, you can use cornmeal that is labeled "polenta," but you don't have to. An easily available option is to buy an product that's labeled medium grind cornmeal or coarse grind cornmeal. I don't advise using packages advertised as "instant polenta" or packages that list a cook time of 5 minutes. They tend to be made from precooked polenta that's then dried and processed and don't have as much body or that deep corn flavor. Also, finely ground cornmeal tends to get pasty during cooking, so I'd steer clear of that as well.
The most important key to good, creamy polenta is nailing the liquid:polenta ratio. I like using a 4 1/2:1 ratio, but you can use a tiny bit more liquid if you want a slightly looser texture. Traditionally, polenta is made with water, and my recipe calls for using mostly water, but to give it even more luxurious creaminess, I substitute 1 cup of the water with 1 cup of "lite" coconut milk. If you'd like, you can substitute some or all of the water with vegetable broth to give it a more savory taste.
To take this polenta over the top, I add two star ingredients: nutritional yeast and vegan butter. The nooch brings a welcome cheesy flavor (plus lots of vitamins and minerals), and the vegan butter brings, well, a buttery flavor. If you don't want to use vegan butter, you can omit entirely or use olive oil instead.
While the polenta cooks, you can get started on your wild mushroom and tomato ragú. I used wild mushrooms because they are the star of the sauce, so I wanted maximal flavor, but ordinary cremini mushrooms or button mushrooms will also work.
The key to developing deep flavors in this ragú is to allow the onions and mushrooms to brown a bit. No need to constantly toss them. A little browning is good for the veggies! Once they're nice and golden, you'll add some cherry tomatoes until they start to burst, along with some marinara sauce and white wine. If you don't have marinara sauce, canned or jarred tomato sauce will work just fine. The white wine brings a welcome acidity, adding a splash of freshness to this otherwise rich dish. Oh, and if you're into the vegan butter, you can melt in a tablespoon at the end.
That's about everything you need to know about this wildly delicious, comforting Creamy Vegan Polenta with Wild Mushroom and Tomato Ragú. If you make it, be sure to let me know what you think in the comments below!
Creamy Vegan Polenta with Wild Mushroom and Tomato Ragu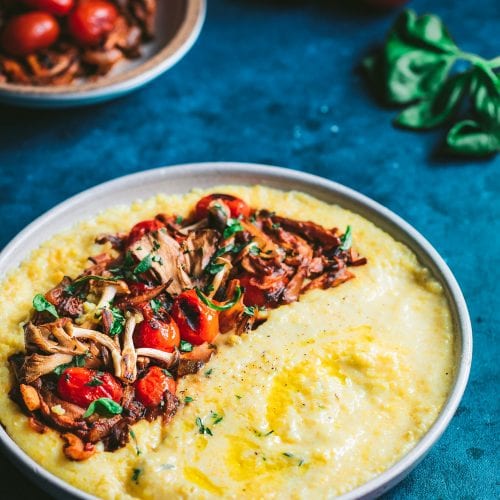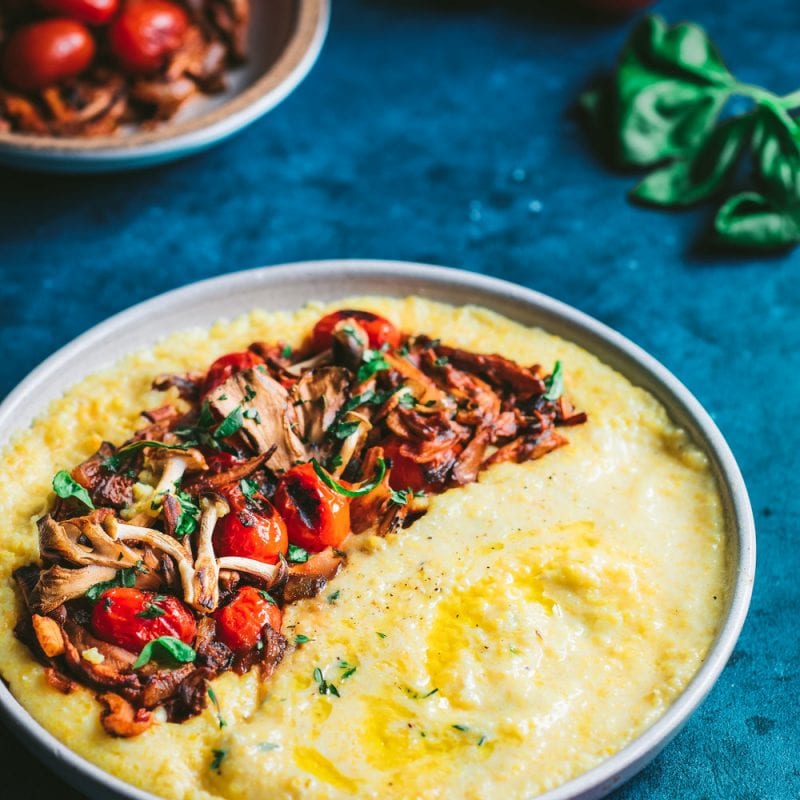 This Vegan Creamy Polenta is buttery, silky cold-weather comfort food that will warm your soul. Paired with a rich, umami-packed ragu made of wild mushrooms and cherry tomatoes.
Ingredients
Polenta
1

cup

(~132g) polenta, medium grind cornmeal, or coarse grind cornmeal (see notes above)

1

cup

(~240mL) lite coconut milk

3 1/2

cups

(~825ml) water

¼

cup

(~20g) nutritional yeast

3

tablespoons

vegan butter

(optional)

Kosher salt and freshly black pepper,

to taste
Wild Mushroom and Tomato Ragú
2

tablespoons

extra virgin olive oil

1

yellow onion,

diced

12

ounces

(~340g) mixed wild mushrooms, sliced

1 1/2

tablespoons

fresh thyme leaves,

divided

1

pint

(~275g) cherry tomatoes

½

teaspoon

freshly ground black pepper

1 1/4

teaspoons

kosher salt

1/2

cup

(~120g) marinara sauce of choice (or tomato sauce)

½

cup

(~120mL) dry white wine, such as Pinot Grigio or Sauvignon Blank

1

tablespoon

vegan butter

(optional)
Instructions
Polenta
In a medium or large saucepan, add the lite coconut milk and water. Bring to a gentle boil, then gently whisky in the cornmeal gradually and stir together.

Bring the mixture to a boil and stir frequently. Allow to boil, and as soon as the polenta begins to spatter, lower the heat. Continue to cook, stirring frequently with a wooden spoon or silicone spatula, until the polenta begins to pull away from the side of the saucepan and is very thick, about 45 minutes.

Add the nutritional yeast and vegan butter (if using), and stir. Season with salt and pepper to taste. If the polenta starts to clump, whisk vigorously until the clumps are gone.
Wild Mushroom and Tomato Ragú
Once the polenta is on the stove, prepare the ragú. Heat the 2 tablespoons olive oil in a large 12-inch nonstick skillet over medium heat. Add the onion and cook for 5-6 minutes, or until lightly browned.

Add the mushrooms and fresh thyme leaves, and cook, stirring occasionally, until the mushrooms are golden, about 5-6 minutes.

Add the cherry tomatoes, black pepper, and 1 1/4 teaspoons kosher salt. Cook until the tomatoes burst, about 6-7 minutes. If the tomatoes or mushrooms start to burn, lower the heat. Pour in the marinara sauce and stir to coat the vegetables.

Pour in the white wine and bring the mixture to a simmer. Cook until the wine is mostly reduced, about 5 to 6 minutes. If desired, turn in the vegan butter and stir in until melted.
---
Calories:
367
kcal
|
Carbohydrates:
47
g
|
Protein:
10
g
|
Fat:
14
g
|
Saturated Fat:
5
g
|
Polyunsaturated Fat:
2
g
|
Monounsaturated Fat:
6
g
|
Trans Fat:
1
g
|
Sodium:
981
mg
|
Potassium:
797
mg
|
Fiber:
4
g
|
Sugar:
7
g
|
Vitamin A:
1055
IU
|
Vitamin C:
37
mg
|
Calcium:
44
mg
|
Iron:
3
mg