This Creamy Vegan Pumpkin Mac and Cheese is the ultimate comfort food—it's warm, creamy, and cheesy. It's a metaphorical hug in a bowl. And every time I eat it, I am transported back to my parent's kitchen table, where my mom would serve us macaroni and cheese nearly every Saturday afternoon.
Sure, it was the boxed variety made with neon orange processed cheese powder, but it was made with love, and that's what counts. Plus, this was the 90s, and nobody knew anything about nutrition.
If you're skeptical about a macaroni and cheese recipe without actual cheese, rest assured, you won't be disappointed. This vegan version is way better than any dairy-laced version I remember from my pre-vegan days. Even if you're avoiding refined carbs like pasta (sad), I still recommend making this cheeze sauce because it's outrageously delicious and versatile.
You can drizzle it over roasted veggies, or better yet, sweet potato fries for grain-free nachos. You can spread it on a crusty hunk of bread (there I go again with carbs) or toss it with spiralized veggie noodles for a light yet creamy dinner. Or, if you love pasta but are gluten-free, just toss it with your favorite gluten-free pasta.
Cooking Tips + Ingredient Rundown
Now that I've professed my love for this pumpkin cheese sauce, let's talk ingredients. This vegan mac and cheese recipe starts with pumpkin, no surprise there. Or butternut squash. I've tried this recipe with both, and they work great. Red kuri squash would also be a great option.
While you can definitely use canned pumpkin purée if you're in a hurry and want to devour some mac and cheese immediately (I get it, it happens), I really recommend using whole pumpkin or squash. The pumpkin/squash gives the sauce the most beautiful golden color and brings a rich earthiness.
For pumpkins, you're looking for the smaller sugar pumpkins or pie pumpkins, not the huge pumpkins that kids use to carve creepy faces on Halloween. The sugar pumpkins have a lot more flavor than the carving pumpkins. I used a very small sugar pumpkin that weighed about 2 1/2 pounds, but if you can't find such a tiny one, use whatever you can find and then measure out 1 1/2 cups of the purée.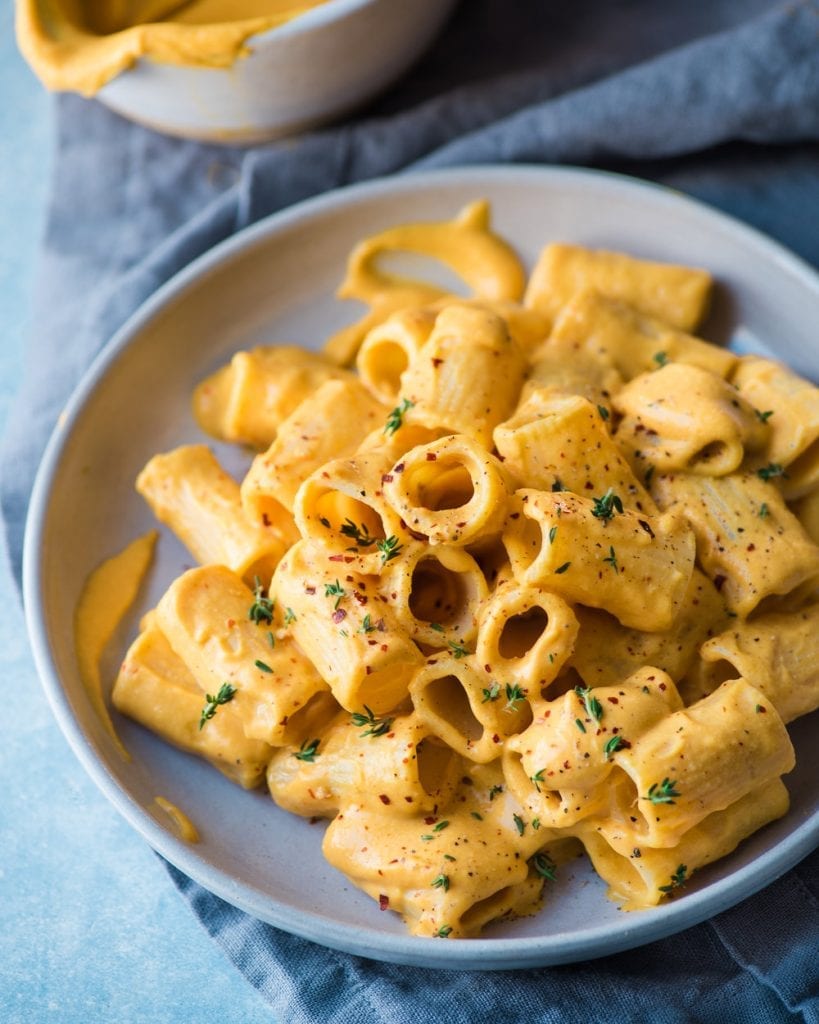 Since you're not serving the pumpkin whole and instead using it in a sauce, the flesh should be very soft and nearly falling apart. Once it's fully cooked, you can easily scoop out the flesh and discard the skin. If you're using butternut squash, follow the same procedure.
If you don't have a pressure cooker, I recommend roasting the pumpkin or squash in the oven. Roasting vegetables adds maximal flavor and is ordinarily my go-to way to cook vegetables, but this sauce is already bursting with so much flavor so steaming/pressure cooking is totally sufficient here.
As for the rest of the ingredients, each ingredient is designed to impart the flavor and/or texture associated with traditional macaroni and cheese.
Regarding taste, the dry mustard powder, for instance, adds a nice sharp tanginess without being overwhelming. The nutritional yeast, of course, is the secret ingredient to vegan cheesy goodness, and as you can see, my recipe doesn't skimp on it. A lot of vegan cheese recipes call for using just a few tablespoons, but to get maximal cheesiness, this recipe uses a half cup. Plus, those flakes are packed with B vitamins, including Vitamin B12, which is otherwise lacking in plant-based foods.
Then there's the miso paste, which imparts that irresistible and indescribable savory flavor and mouthfeel, replicating the umami found in dairy-based cheese. I recommend a light flavored white or yellow miso pate, which won't overpower the other ingredients. If you taste the sauce and find it needs a little more umami, add a bit more miso paste and blend away.
And I can't complete this blog post without talking about this pumpkin cheese sauce's creamy texture. Cashews bring the luscious, rich creaminess that characteristic of any good mac and cheese. If you forget to soak the cashews overnight, don't fret—you can do a quick soak by submerging the cashews in boiling water for one hour.
The sauce gets more creaminess from canned lite coconut milk. I use the "lite" variety because the full-fat makes the sauce too thick. You can also use a carton-style plant-based milk, but I recommend something thicker than standard almond milk, such as cashew milk, soy milk, or oat milk. Be sure to buy unsweetened mylk because nobody wants a slightly sweet, vanilla-infused mac and cheese.
Once you've cooked the pumpkin or butternut squash and have all your cheese sauce ingredients ready, just whiz everything up in the blender. It really helps to have a high-powered blender like a Vitamix or Ninja to complely pulverize the cashes. If you don't have one of these bad boys, be sure to blend your sauce for several minutes and check to make sure it's completely smooth (no one wants to bite into a piece of cashew when eating mac and cheese).
Regarding the pasta, you can use any pasta you like, including traditional macaroni shells, but I prefer a bigger, heartier pasta like rigatoni.
More delicious pasta recipes
Ready for even more delicious pasta recipes?
That's all I have to say about this recipe, so I really hope you enjoy this Creamy Vegan Pumpkin Mac and Cheese! And if you make it, be sure tag me on instagram!
Creamy Vegan Pumpkin Mac and Cheese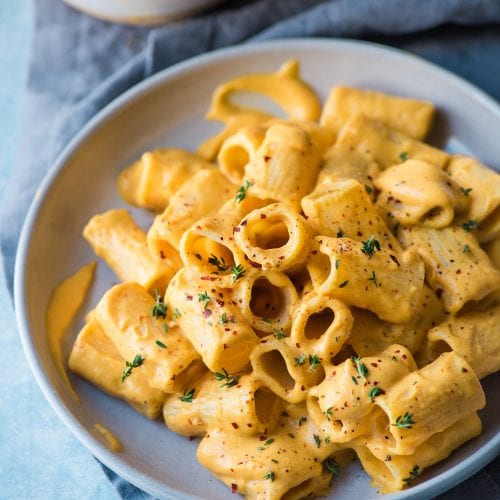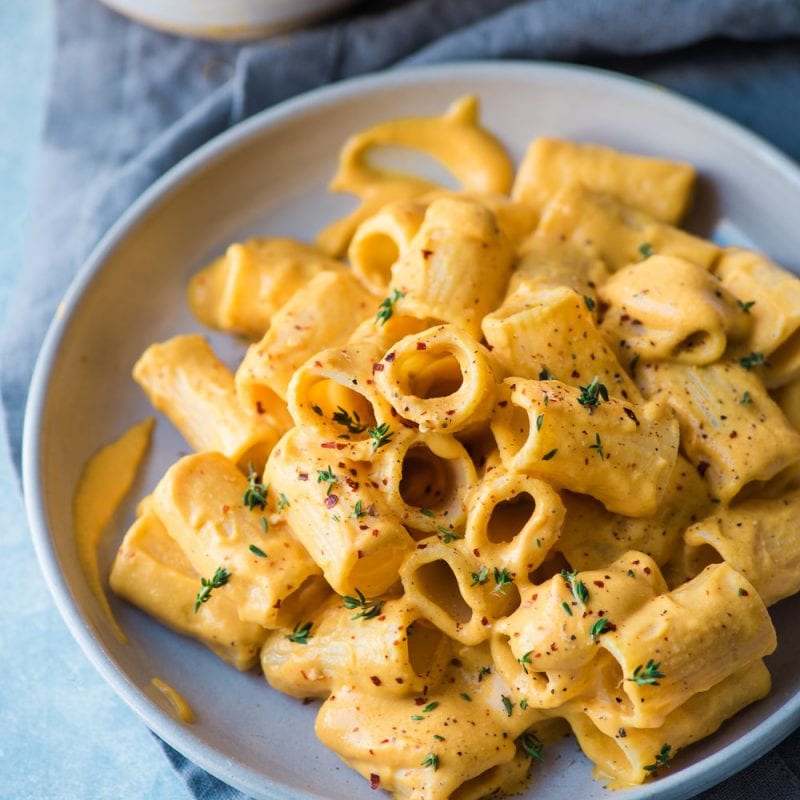 The BEST vegan mac and cheese you'll ever taste! Made with wholesome ingredients like roasted pumpkin and cashews, but super creamy and indulgent, this Creamy Vegan Pumpkin Mac and Cheese is vegan comfort food at its finest.
Ingredients
1

small sugar pumpkin

(aka "pie pumpkin"), or 1 small butternut squash (about 2 1/2 pounds or 1 kg)*

Olive oil or avocado oil,

for roasting

1/2

cup

(~60g) raw cashews, soaked in cool water overnight or for 1 hour in boiling water**

1/2

cup

(40g) nutritional yeast

1

teaspoon

dry mustard powder

(optional but adds a nice sharp tangy flavor)

1

teaspoon

garlic powder

1/2

teaspoon

onion powder

1/4

teaspoon

smoked paprika

1/4

teaspoon

freshly grated nutmeg

(can substitute ground, but the flavor is much better with fresh)

1 ½

teaspoons

kosher salt + more to taste

Freshly cracked black pepper to taste

1

tablespoon

mellow white or yellow miso paste

1

tablespoon

tapioca flour or cornstarch

2

tablespoons

fresh lemon juice

1

cup

(240mL) canned "lite" coconut milk***

10

ounces

(280g) of rigatoni pasta, medium-sized macaroni shells, or pasta of your choice
Instructions
To cook the pumpkin or butternut squash in the oven, use a very sharp knife to slice the pumpkin or butternut squash in half, then scoop out the seeds and stringy bits using a spoon. If the vegetable is too thick or hard to cut, pop it in the microwave for 60-90 seconds to soften. For roasting, follow step 2; for steaming, follow step 3.

To roast the pumpkin or butternut squash in the oven, preheat the oven to 425°F (or 218°C). Drizzle the pumpkin or squash halves with a bit of olive oil or avocado and season with salt and pepper. Place the halves, flesh side down, on a parchment paper-lined or aluminum foil-lined baking sheet. Roast in the preheated oven for 30-40 minutes until completely tender and lightly browned (pumpkin should take about 30 minutes; butternut squash closer to 40 minutes). Once the pumpkin or squash is cool enough to handle, scoop out the flesh and discard the skin.

To steam the pumpkin or butternut squash in an Instant Pot or pressure cooker, pour 1 cup of water into the inner cooking pot and lower a compatible steamer rack or the trivet that comes with the Instant Pot into the inner pot. Place the pumpkin or squash halves in the basket or on top of the trivet, close the lid, and pressure cook at high pressure for 12-14 minutes. Once the timer is up, perform a quick pressure release by manually releasing the steam valve. Once the pumpkin or squash is cool enough to handle, scoop out the flesh and discard the skin.

While the squash is cooking, bring a large saucepan of water to a boil and salt generously. Cook the pasta according to the box directions until al dente and drain in a colander.

Measure out 1 1/2 cups of the roasted or steamed pumpkin or butternut squash flesh. Reserve the rest for another use, such as a curry, soup, or side dish.

In a high-powered blender, add the 1 1/2 cups of the pumpkin or squash flesh. Add in the soaked and drained cashews, nutritional yeast, mustard powder, garlic powder, onion powder, paprika, nutmeg, 1 1/2 teaspoons kosher salt, black pepper to taste, miso paste, tapioca flour or cornstarch, lemon juice, and lite coconut milk. Blend until the sauce is completely smooth and creamy, about 1-2 minutes. Taste for seasonings and adjust accordingly, adding more salt as needed, more miso paste for more umami, or more lemon juice for more acidity.

Return the cooked and drained pasta back to the saucepan and add the cheese sauce. Heat over medium heat until the sauce is well combined with the pasta and warmed through. Season the mac and cheese to taste.
Notes
* While I recommend roasting the pumpkin for the best flavor results, if you are using canned pumpkin, you'll need 1 1/2 cups puree (which is slightly less than one 15-ounce can).
** If you don't have a high-powered blender, I recommend soaking the cashews overnight.
*** You can also make "lite" coconut milk by mixing 2 parts water with 1 part of canned full-fat coconut milk, then measuring out 1 cup (240 mL) of the mixture.
---
Calories:
521
kcal
|
Carbohydrates:
85
g
|
Protein:
19
g
|
Fat:
14
g
|
Saturated Fat:
5
g
|
Polyunsaturated Fat:
2
g
|
Monounsaturated Fat:
5
g
|
Sodium:
610
mg
|
Potassium:
1374
mg
|
Fiber:
6
g
|
Sugar:
11
g
|
Vitamin A:
24200
IU
|
Vitamin C:
29
mg
|
Calcium:
87
mg
|
Iron:
5
mg