So, instead of vowing to cut out sugar completely (that tactic never works), I've decided to instead focus on having healthy treats on hand. This Healthy Chocolate Chia Mousse is just one of those treats. But with its creamy texture and richness, you'd never know it was made with healthy ingredients! Thanks to the generous dose of healthy fats from chia seeds and coconut cream, this treat is rich enough that a small serving will satisfy even the strongest chocolate cravings.
In addition to this being a rich yet healthy treat, it's also an incredibly easy dessert to make. All you need is 5-10 minutes and a blender! Plus, it's easy to customize. For instance, you can add a little melted dark chocolate to make this mousse even richer; can omit the espresso powder and add cinnamon instead; or give it a mint twist by substituting the vanilla extract with peppermint extract. Bonus: you can also make it in advance and store it in the fridge for several days so you can satisfy those nightly dessert cravings and still feel good about your diet.
Finally, you might be wondering why I call this a chia mousse, instead of a chia pudding. The answer is this dessert has a texture more similar to mousse than to standard chia pudding. And that's because whenever I talk about chia pudding on Instagram, the biggest complaint I hear is related to the texture of chia pudding. For some people, the texture is too viscous or gelatinous, or worse yet, slimy.
Luckily, I have a secret to improving this controversial texture, a secret that has converted more than one chia pudding-hater into a chia pudding-fan. My secret is to simply blend the chia pudding in a blender! Blending breaks down the chia seeds and gives the pudding a uniform and creamy texture, more similar to a chocolate mousse than to a chia pudding.
If you try out this Healthy Chocolate Chia Mousse, drop a comment below with your feedback and tag me on Instagram!
Healthy Vegan Chocolate Chia Mousse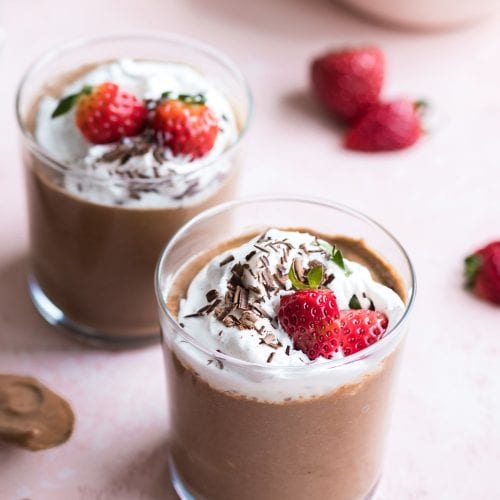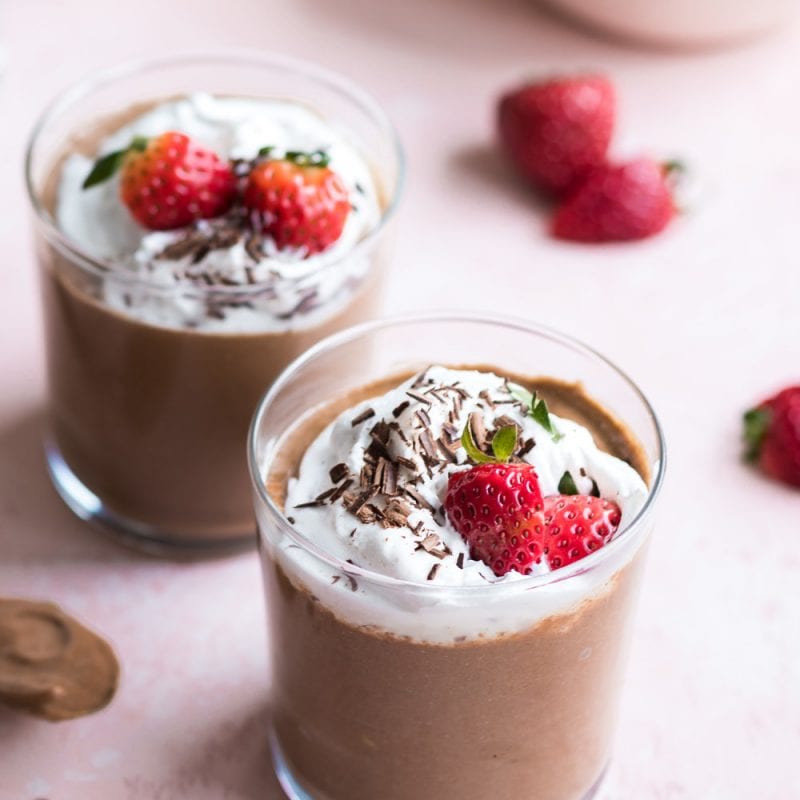 This Chocolate Chia Mousse is creamy and satisfying but 100% vegan, gluten-free, and healthy. With a double dose of healthy fats and lots of antioxidants, it's a healthy breakfast option that'll keep you full all morning.
Ingredients
1/2

cup

chia seeds

2

cups

oat milk or other plant-based milk

1/2

cup

coconut cream

(from a 13.5-ounce can of full-fat coconut milk)

1/3

cup

unsweetened cocoa powder or raw cacao powder

1/4

cup

pure maple syrup

1

teaspoon

ground espresso powder,

optional but brings out the flavor of chocolate

1

teaspoon

vanilla powder or vanilla extract

Toppings: coconut whipped cream

fresh fruit, shaved dark chocolate
Instructions
Mix together the chia seeds and oat milk in a large bowl and stir well. Allow to rest for 5 minutes, and then whisk again to prevent clumping.

Scoop out the solid white cream from the can of coconut milk (you should get about 1/2 cup, or slightly more, from a 13.5 ounce can of full-fat coconut milk). Reserve the liquid part for another use, such as smoothies or a curry.

Pour the chia pudding into a high-powered blender and add the coconut cream, cocoa powder, maple syrup, espresso, and vanilla. Blend until all of the ingredients are thoroughly combined and the mixture is thick, creamy, and fairly smooth.

Transfer the chia mousse to a jar and refrigerate for at least 1 hour. When ready to serve, add desired toppings and enjoy.
---
Calories:
227
kcal
|
Carbohydrates:
27
g
|
Protein:
5
g
|
Fat:
13
g
|
Saturated Fat:
7
g
|
Polyunsaturated Fat:
3
g
|
Monounsaturated Fat:
1
g
|
Trans Fat:
1
g
|
Sodium:
43
mg
|
Potassium:
272
mg
|
Fiber:
8
g
|
Sugar:
14
g
|
Vitamin A:
172
IU
|
Vitamin C:
1
mg
|
Calcium:
228
mg
|
Iron:
3
mg