Get your decadence on with this impossibly rich and silky smooth Vegan Chocolate Mousse! Its creamy yet light-as-air texture is going to make your friends and family wonder how you did it. Spoiler alert: it's an easy recipe made with a short list of simple ingredients.
The only way to make this low-stress dessert even better is with a dollop of raspberry compote on top. This citrusy and tart companion is the perfect complement to the rich sweetness of chocolate and dates in the mousse.
If you've tried my luxe Vegan Hot Chocolate, then you're sure to fall for this sultry chocolate mousse. It's perfect for holidays, special celebrations, or whenever the chocolate cravings hit.
Table of Contents:
1. Why this recipe works
2. Ingredient notes
3. Step-by-step instructions
4. Tips for making this recipe
5. Frequently Asked Questions
6. Recipe card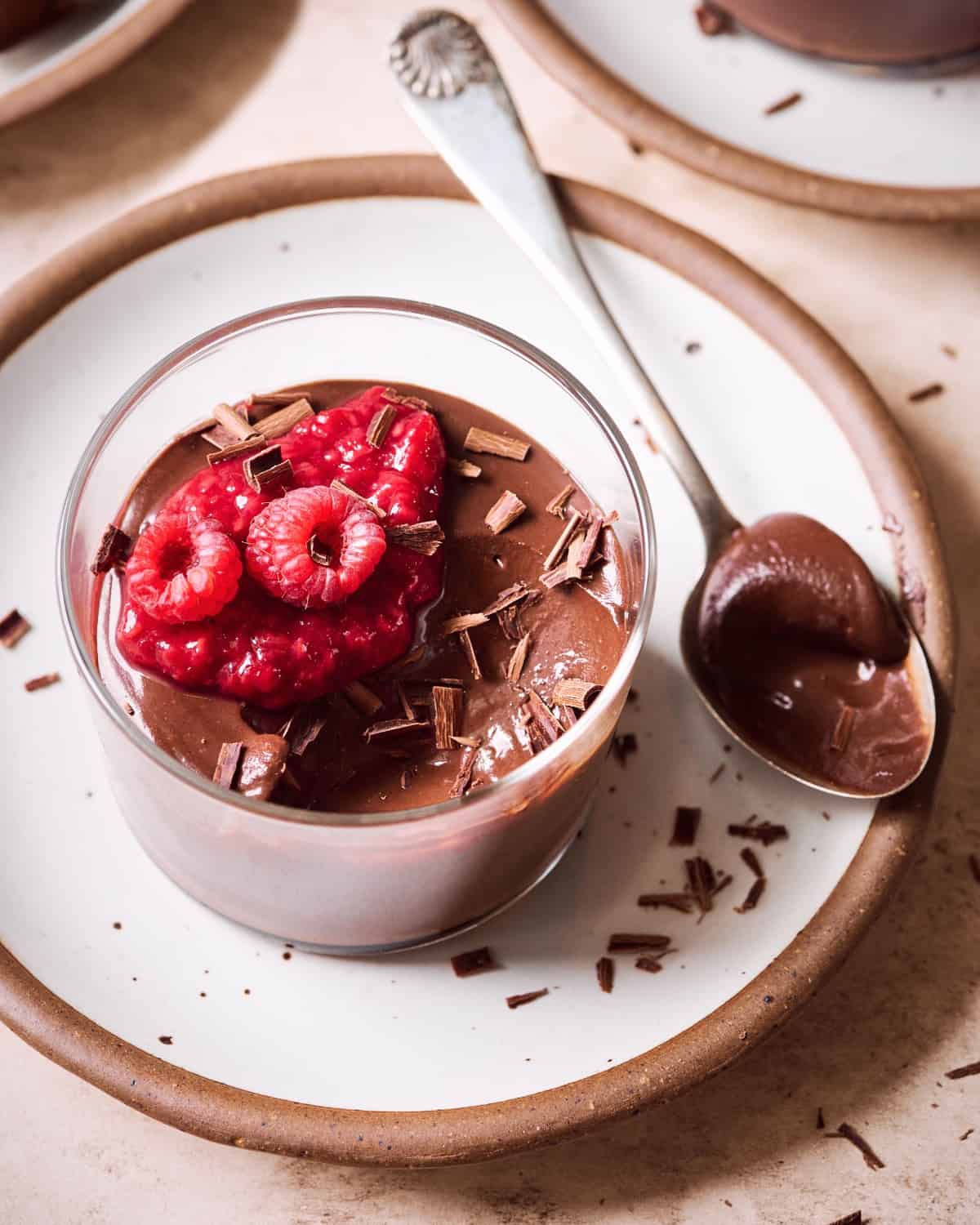 Why this recipe works
It melts in your mouth.
There are three key ingredients that give this vegan mousse a rich, melt-in-your-mouth feel: (1) silken tofu; (2) melted dark chocolate; (3) Medjool dates
Here's how they work: (1) The tofu is soft, yet dense, which helps the mousse taste light and sturdy without needing gelatin or agar agar; (2) melted dark chocolate tastes incredible and adds rich body; and (3) blended Medjool dates lends a velvety luxuriousness.
PS: I know tofu in desserts may sound odd, but you absolutely don't taste it (the flavor is so neutral). Instead, just think of this recipe as a vegan dessert with a few tricks up its sleeve.
Perfect for chocolate lovers.
You'll taste nothing but the best chocolate flavors here thanks to a mix of Dutch process cocoa powder + melted dark chocolate.
I specifically recommend using Dutch process cocoa powder because the acidic flavor from the cocoa beans is washed away. Unlike natural cocoa powder, you have an ingredient with a pure chocolate flavor with a rich brown color. You can read more about the wonder that is Dutch process cocoa powder over at Sally's Baking Addiction.
Simple as can be!
I just love how simple this dessert is. A couple natural sweeteners and everyday ingredients is all you need to make this over-the-top vegan mousse recipe. Plus, a blender does most of the work!
Unlike many vegan chocolate mousse recipes made with avocado, my version will stay fresh in your fridge for almost a week. It's a quick treat you can tuck away in the fridge and forget about while you focus on dinner and appetizers for your guests.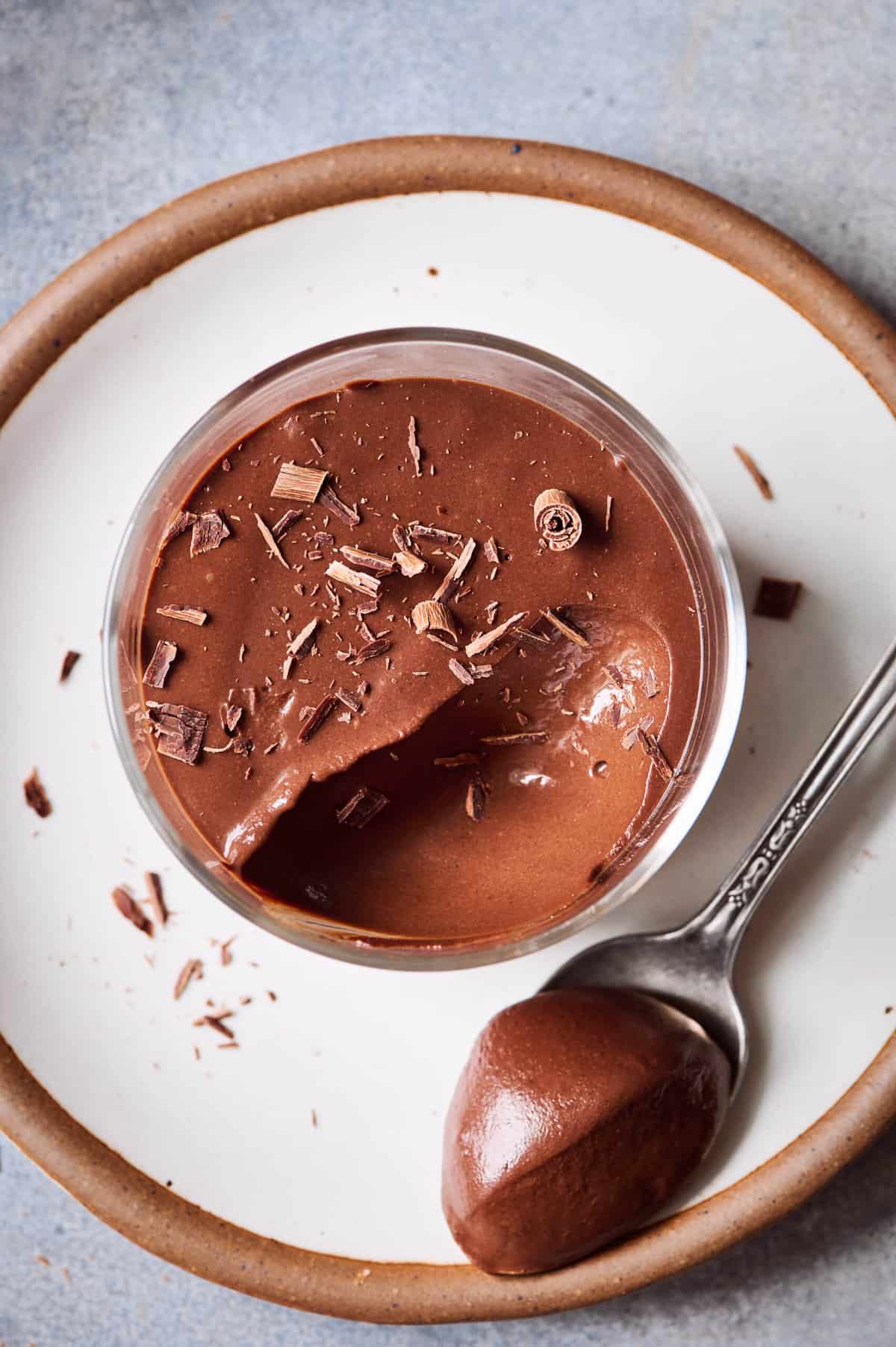 Ingredient notes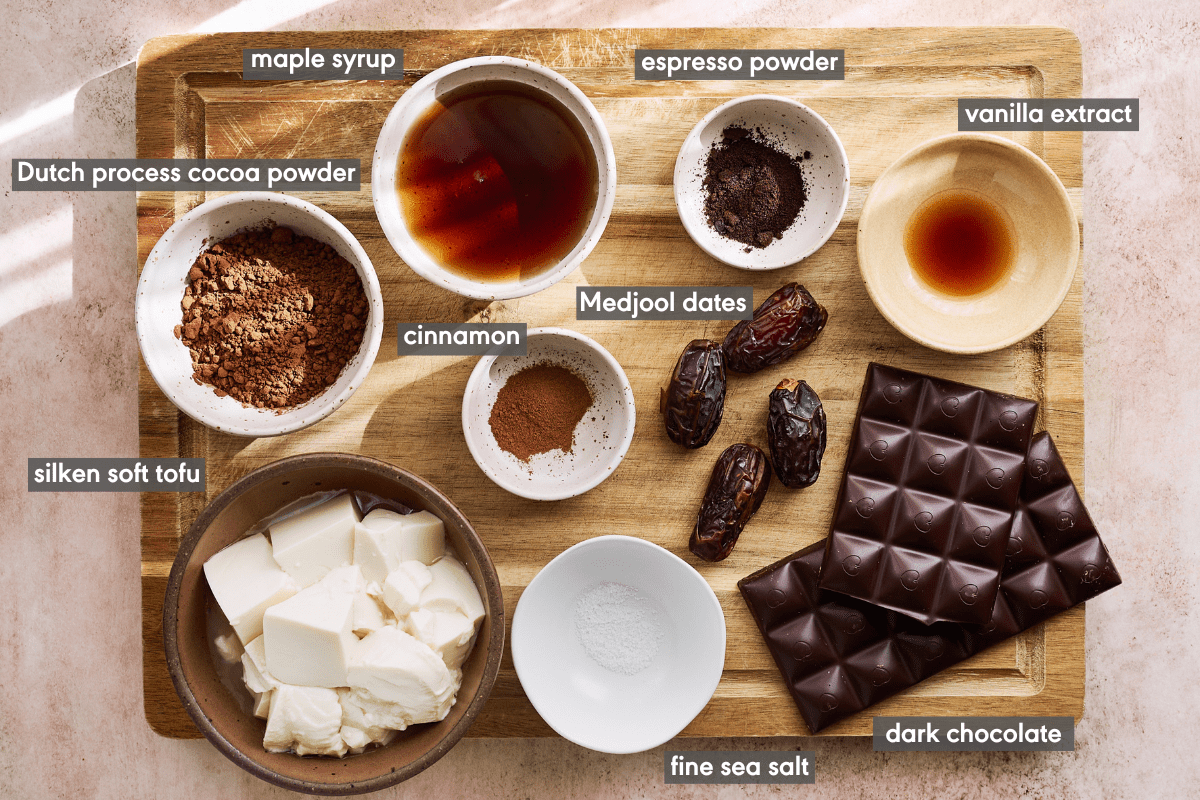 Dark chocolate. The better the quality of dark chocolate, the more luxurious your mousse will taste.
Tip: I like to use a 70% to 75% dark chocolate bar. Anything lower (e.g., 65% cacao) will make this mousse too sweet IMO. If all you have is <70% chocolate, start with less maple syrup (more deets in the Tips section).
Dutch process cocoa powder. Another secret behind the rich, chocolatey flavor. Dutch process cocoa has been alkalized, leaving no trace of acidity like the kind found in natural cocoa powder. The end result is cocoa powder that tastes smooth, mild, and pure in chocolate flavor.
Shopping Tip: Read with this article from Serious Eats. They tested the best Dutch process cocoa brands to help you find one with the right flavor, color, and richness.
Substitute: You can use raw cacao powder or natural cocoa powder (e.g., Hershey's cocoa powder). It'll be delicious but the flavor won't be as chocolatey.
Medjool dates. Softened dates are blended in with the chocolate mousse filling to give it a rich body and a naturally sweet taste. They're the exact reason why my Salted Chocolate Cream Tart achieves its fudge-like texture.
Silken tofu. Blended silken tofu becomes surprisingly creamy! No one will even know you made a dessert with tofu.
Shopping Tip: Silken tofu is sold in two sections of the grocery store: (1) in packaged blocks in the refrigerated section with the other blocks of tofu and (2) in shelf-stable aseptic packages (affiliate links). If using the latter, choose boxes that say silken "soft" for the best results.
Espresso powder. A little espresso powder goes a long way in chocolate desserts! It's how I get my Best Vegan Brownies to taste mega chocolatey and it makes every sip of Vegan Hot Chocolate extra heavenly.
Substitute: You can skip the espresso powder if you don't have any, or use instant coffee powder instead. Feel free to use decaf if you aren't into caffeine, or skip entirely.
Raspberries. Both fresh and frozen raspberries can be used to make homemade raspberry compote. Technically, it's optional, but it takes the mousse over the top!
Tip: If you end up with leftover compote, store it in an airtight container for up to 2 weeks in the fridge. It's a lovely topping on more than chocolate mousse, such as chocolate cake, vegan pancakes, or paired with vegan yogurt for breakfast.
Substitute: Raspberries and chocolate are the perfect pairing, but you can make the compote with strawberries or blackberries instead.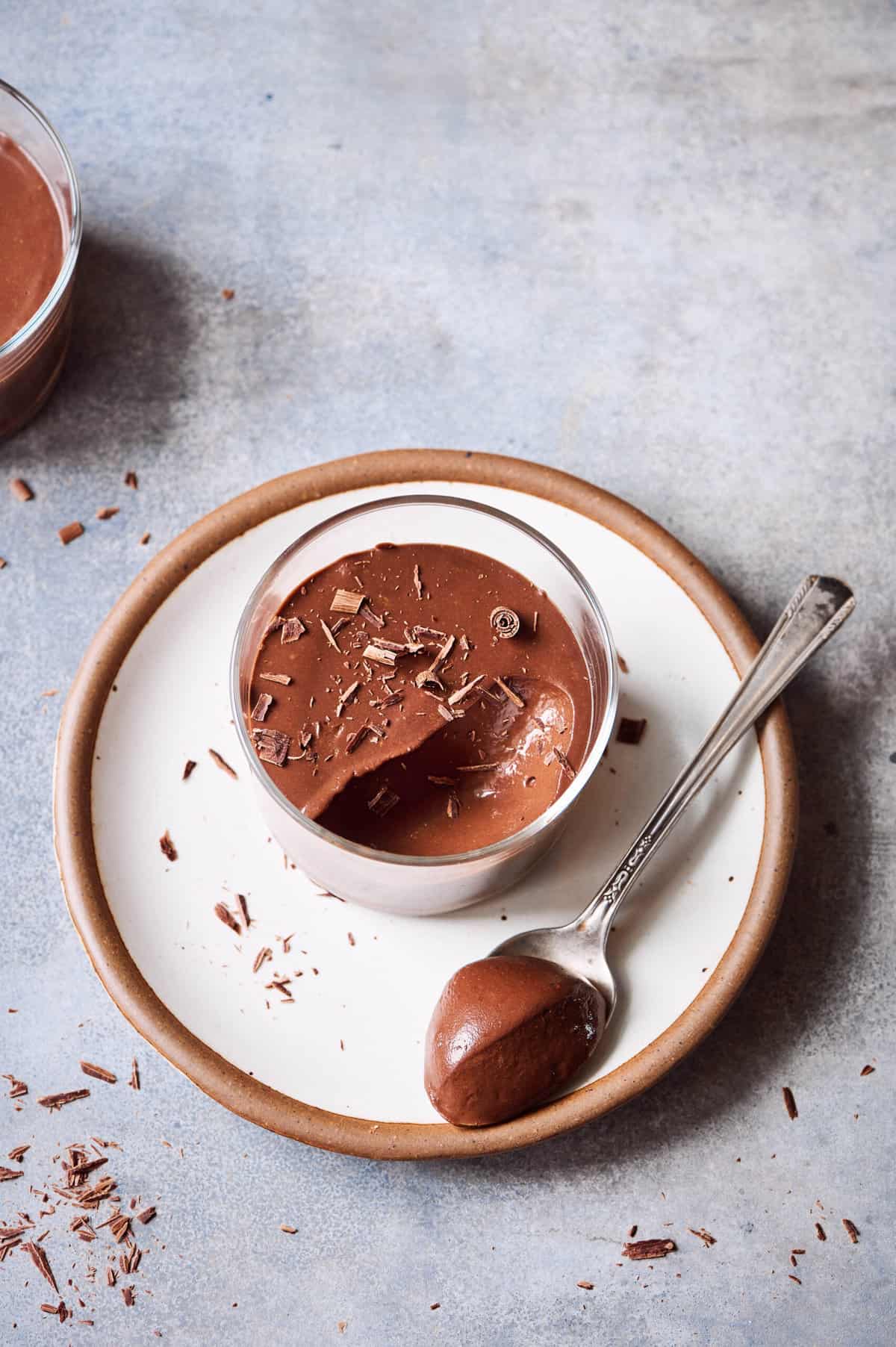 Step-by-step instructions
Melt the dark chocolate using a double boiler on the stove or in the microwave. Whisk in the espresso powder once smooth, then set it aside to cool.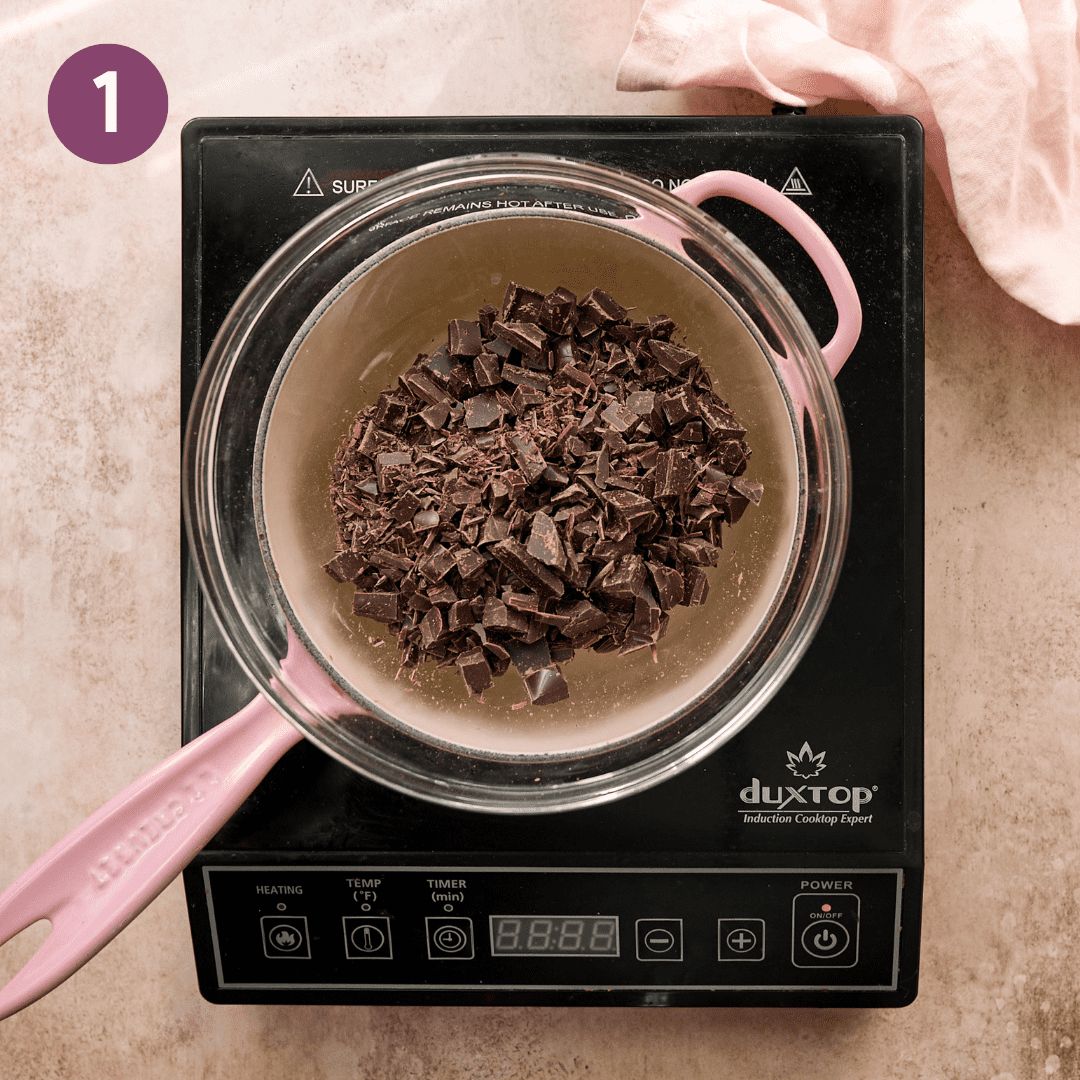 Meanwhile, soak the dates in boiling water to help them soften.
Add the rest of the mousse ingredients to a blender or food processor. Blend until the dates are pulverized and the cocoa is incorporated.
Next, pour in the melted, cooled chocolate. Blend again until smooth and creamy, scraping down the sides as you go.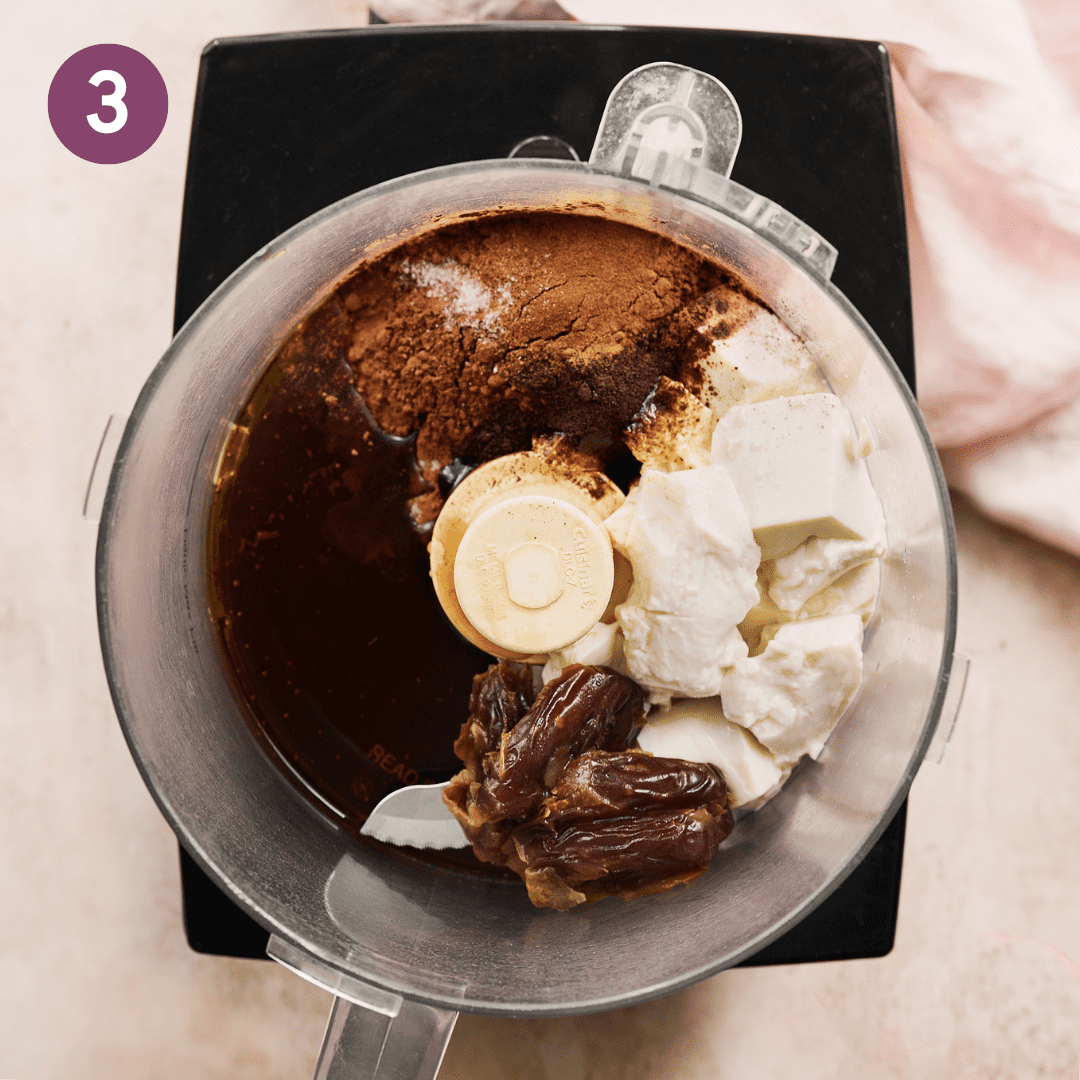 Once the mousse is creamy and totally smooth, divide it between your small ramekins. Chill in the fridge for at least 1 hour.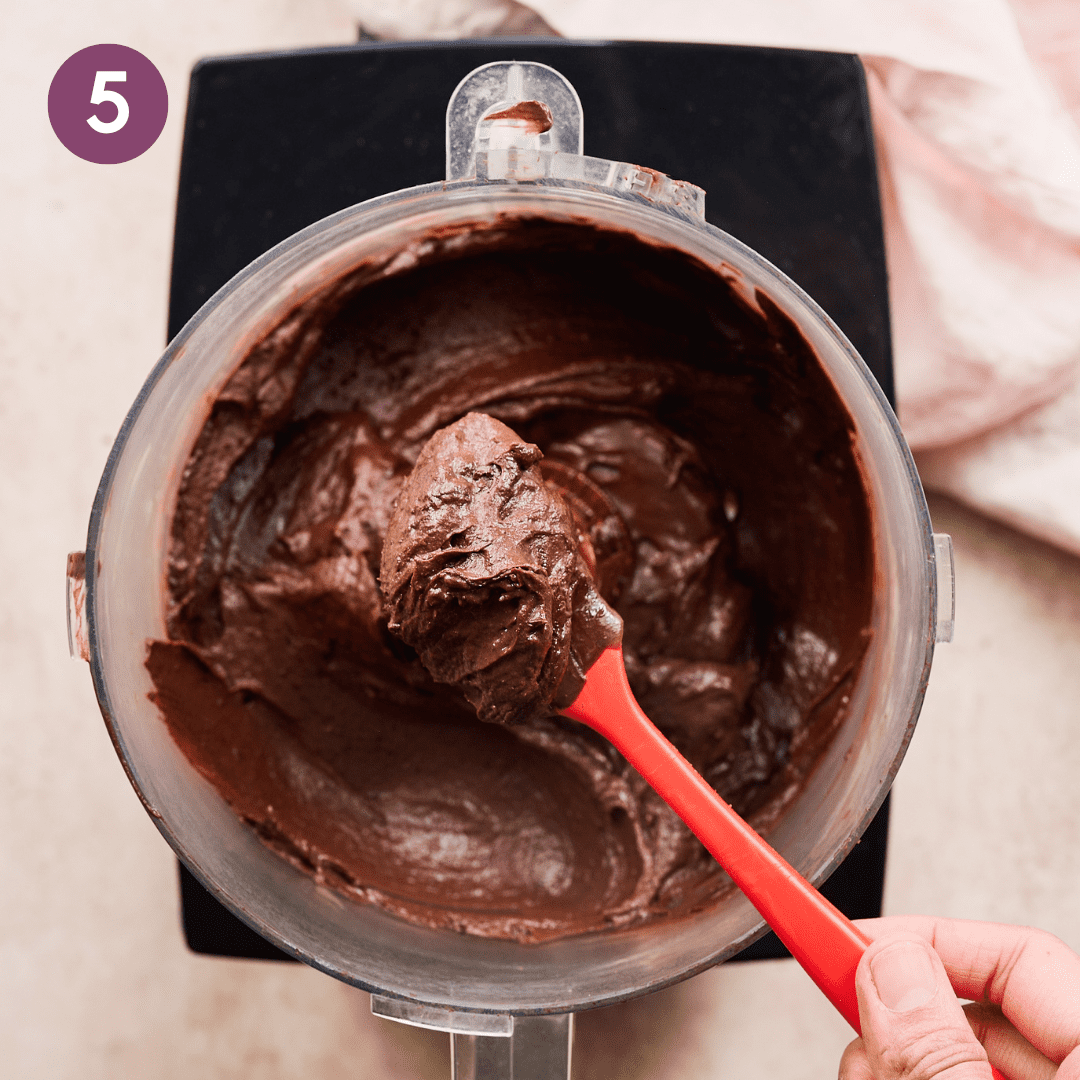 Work on the raspberry compote while you wait or make ahead of time. Combine the raspberries and the rest of the ingredients in a saucepan over medium heat. Keep stirring while it bubbles.
Reduce to a simmer and cook until the consistency is thick and jammy.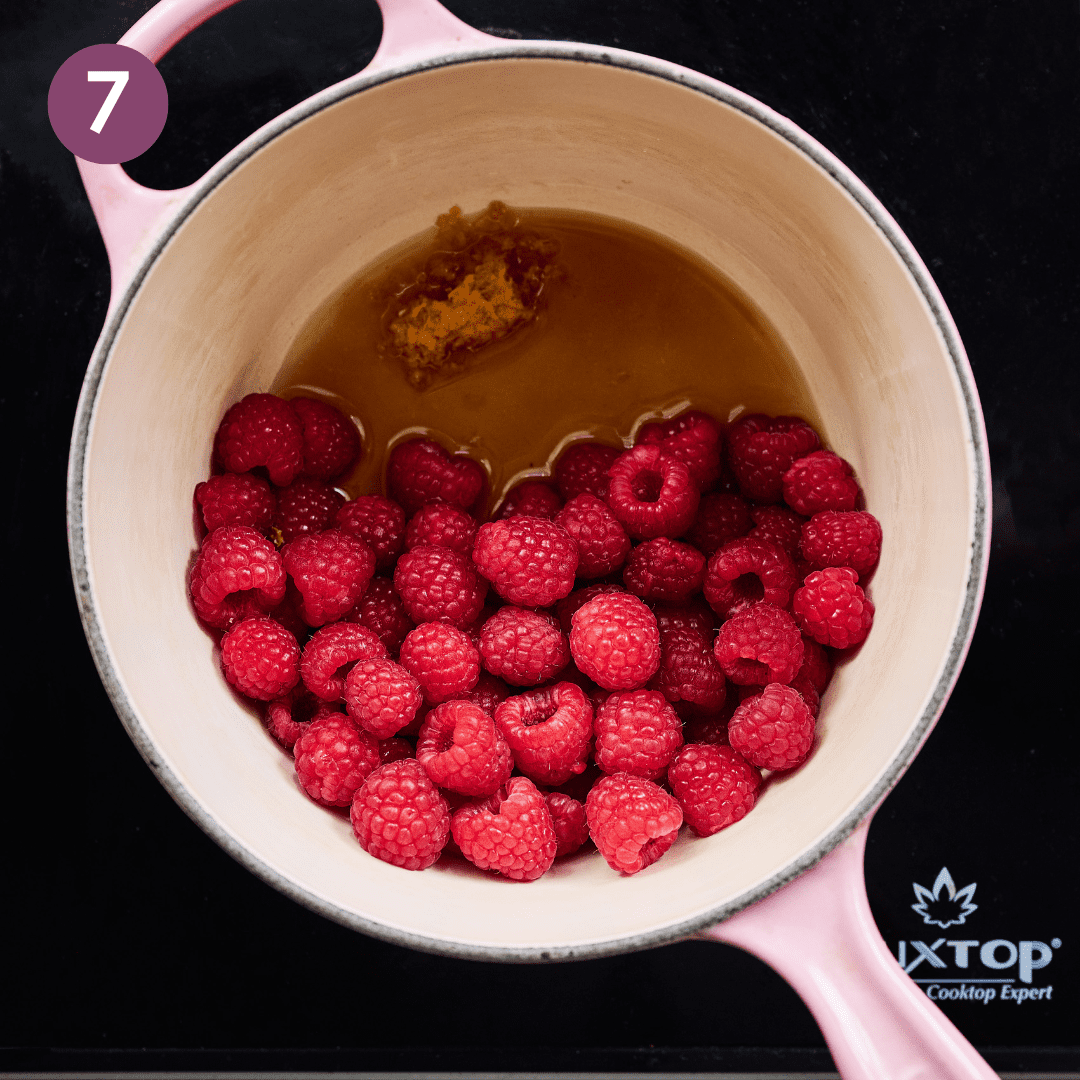 Set the compote aside to cool at room temp or in the fridge. Top chilled mousse with raspberry compote and enjoy.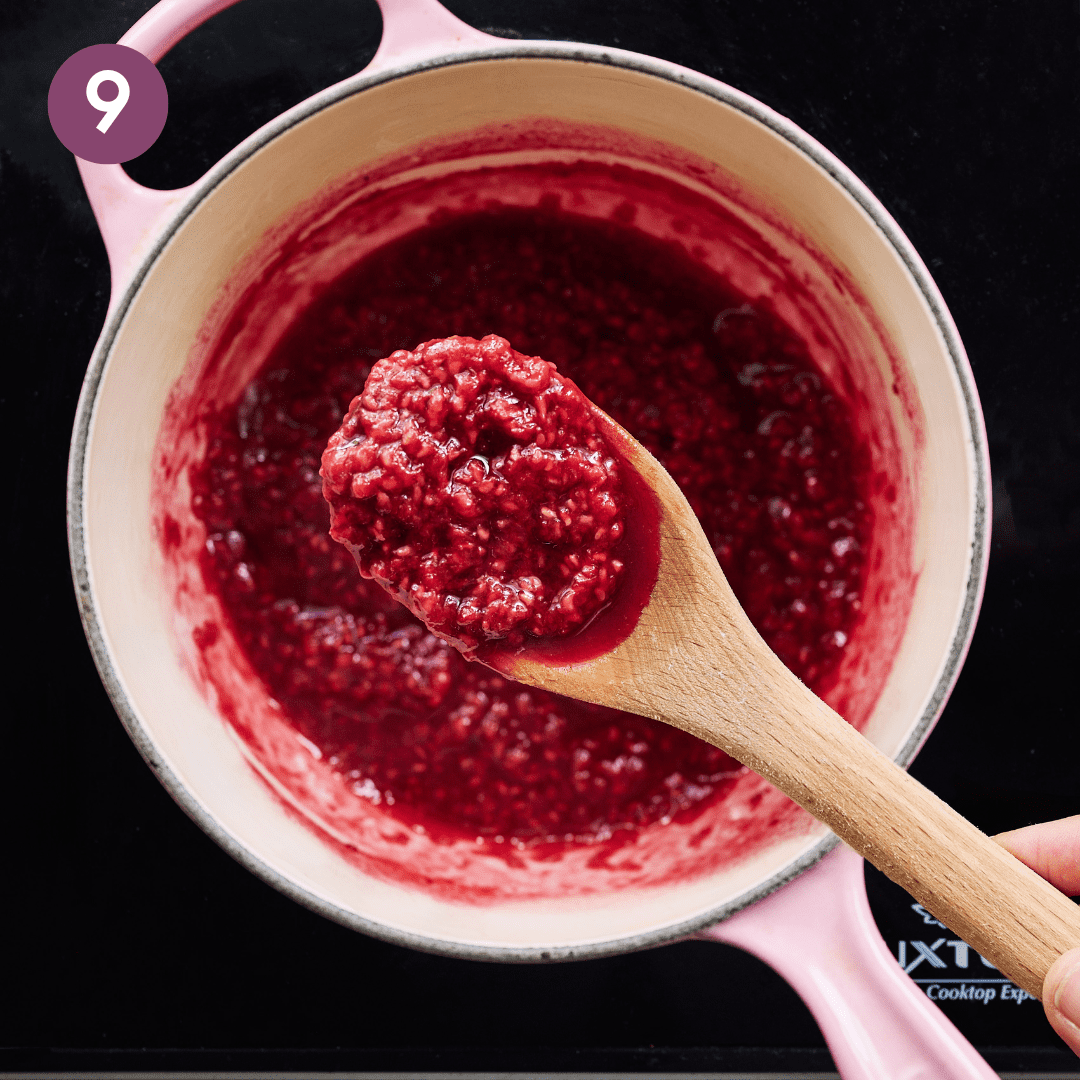 Tips for making this recipe
The right chocolate makes all the difference. I recommend using a dark chocolate bar that's 70% or higher in cacao content. Any lower and the mousse may taste too sweet.
Do you only have 65% or lower dark chocolate at home? Start with 1 to 2 tablespoons of maple syrup. After you add in the melted chocolate, taste and add more sweetener as needed.

If you prefer less sweet desserts, use chocolate in the 80% to 85% range.
Use silken tofu. You can buy silken tofu in a package in the refrigerated tofu section or in shelf-stable boxes (the most common brand is Mori-Nu).
Do not use refrigerated blocks of tofu labeled "soft tofu" like this. They have less moisture than silken tofu, and in our tests, it ended up thickening the mousse into a hard consistency.
Blend, blend, blend! Blend the mousse mixture really well, especially if using a food processor instead of a high-powered blender. And scrape down the sides as you go.
The texture should be silky smooth by time you're done, without any clumps or tiny bits of unblended dates or cocoa. When blended properly, you'll achieve that light and super creamy texture rather than dense or thick.
Sifting the cocoa powder into the food processor will help you avoid lumps if using a food processor.
The raspberry compote takes this over the top. It's optional, but I highly recommend serving the mousse with it. A dollop on top really takes this mousse to the next level, adding a complex acidic and tart flavor profile that so beautifully accents the rich chocolate mousse. Guaranteed it will make your taste buds sing.
Plus, the compote requires just 4 ingredients, is easy to make, and stays fresh in the fridge for 2 weeks. Try the leftovers on waffles, pancakes, oatmeal, yogurt, ice cream, and more!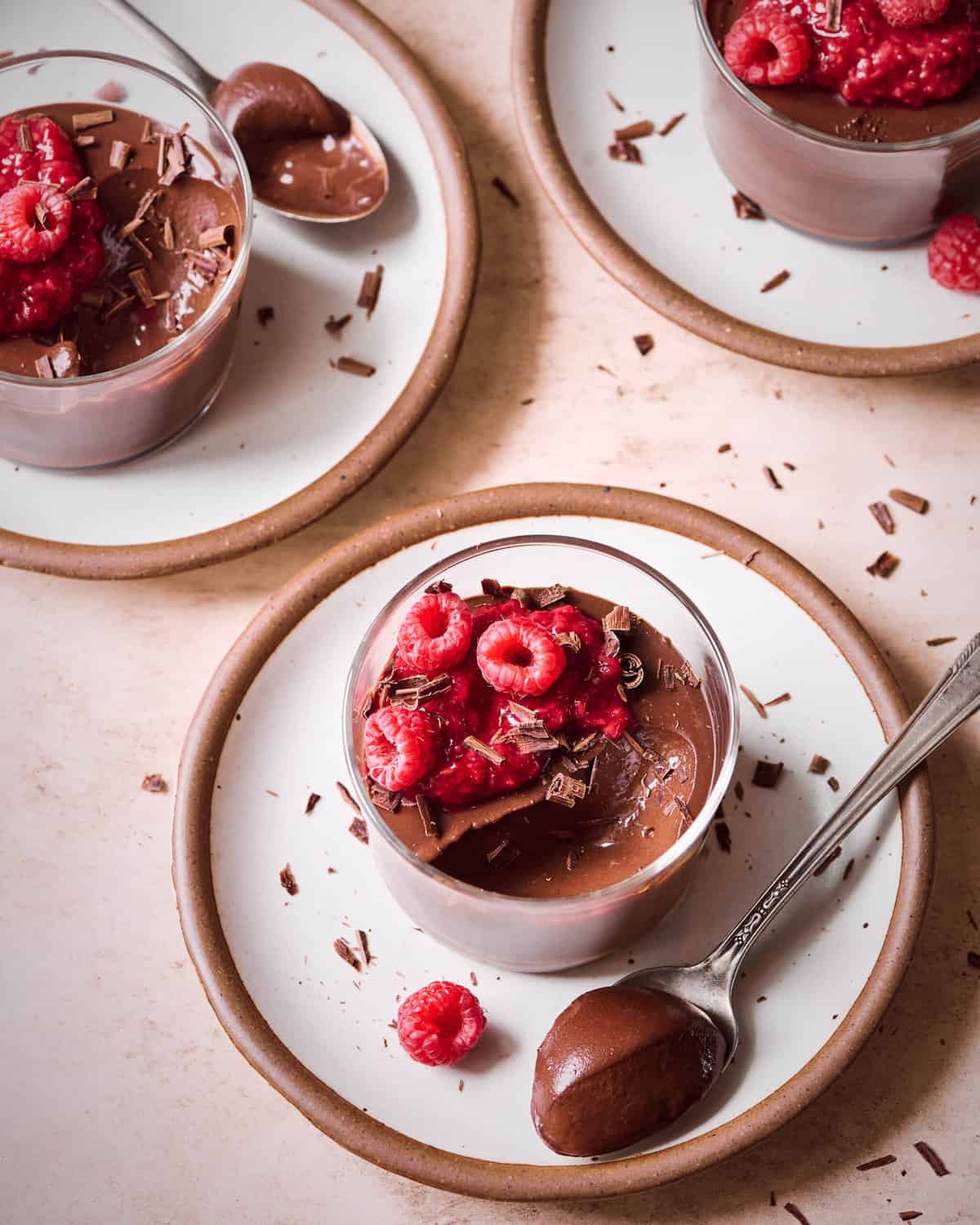 Frequently Asked Questions
Can you use chocolate chips or chunks?
Yes, chocolate chips can be used in place of dark chocolate bars or bittersweet baking chocolate bars. Just know that (1) chocolate chips are typically made with lower-quality chocolate and have a somewhat tacky consistency when melted and (2) it can be pretty hard to find dark chocolate chips.
Is there a substitute for tofu?
I'm afraid not. Tofu in vegan mousse is key for its silky smooth, creamy, and light texture. While avocado could be a good substitute, we haven't tested it and it would significantly shorten the shelf life.
Can I make this mousse ahead of time?
Yes! It stays good for 5 to 6 days, so feel free to store it covered in the fridge until you're ready to serve.
How many does this serve?
It really depends on how much dessert you want! This mousse is surprisingly rich, so a little goes a long way. You could stretch this out to 8 servings if you want or divide it between 4 dessert cups for a more substantial treat.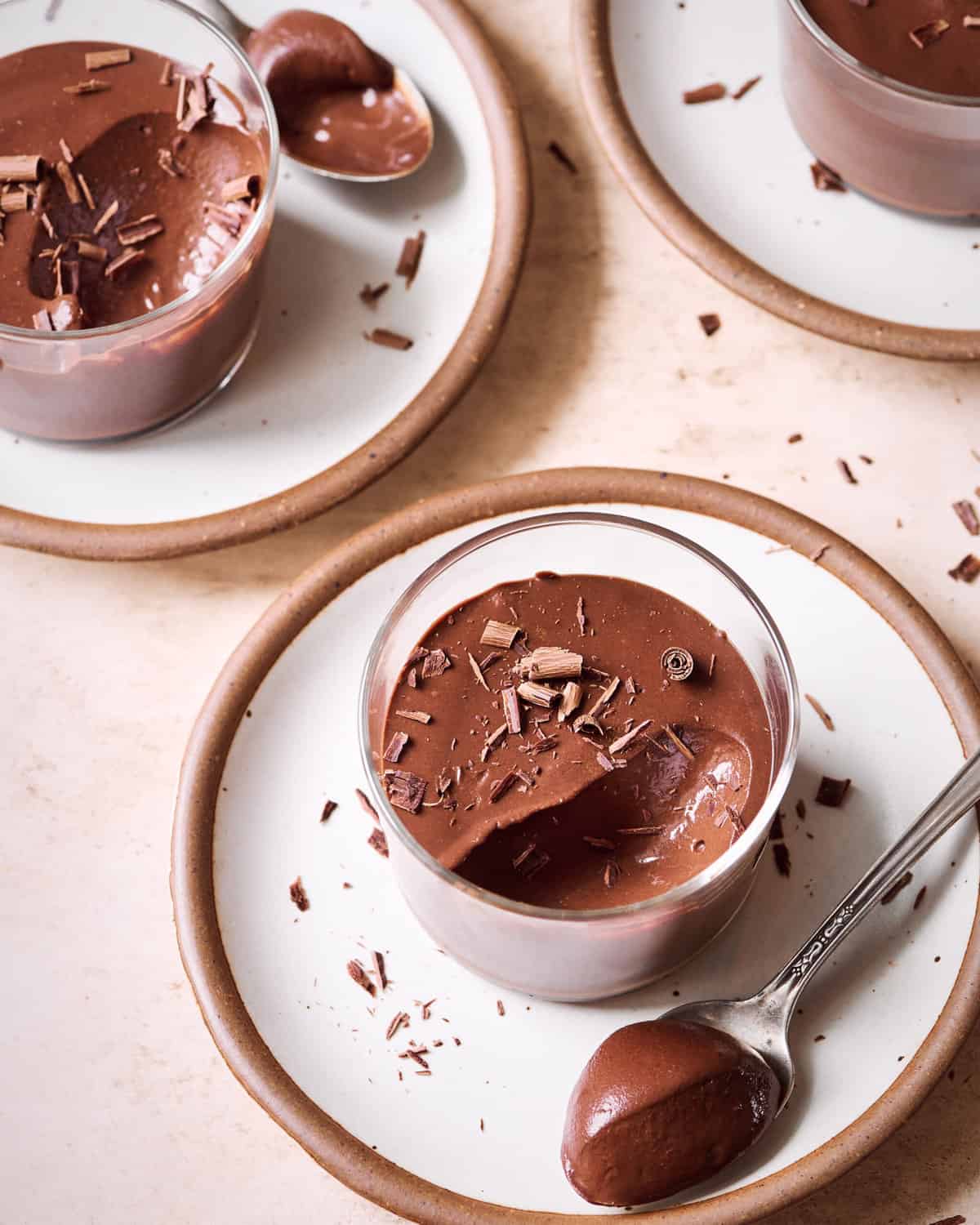 If you love this Vegan Chocolate Mousse as much as we do, please rate and review the recipe with your feedback below! It's always very much appreciated :)
Vegan Chocolate Mousse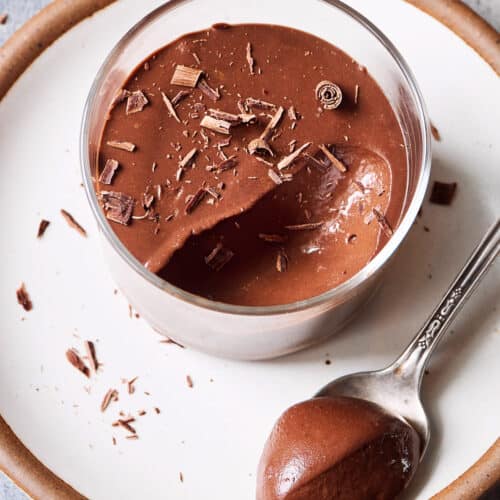 It's divine, simple, and velvety smooth… It's Vegan Chocolate Mousse! This luxurious and rich dessert comes together in no time using some seriously chocolatey ingredients and is served with homemade raspberry compote on top.
Ingredients
Chocolate Mousse
5

ounces

(140g) good-quality dairy-free dark chocolate (70 to 80%), chopped*

1

teaspoon

espresso powder

(omit if caffeine-free)

12

ounces

(340g, about 1 ½ cups) silken soft tofu**

2

soft Medjool dates

¼

cup

(80g) pure maple syrup

¼

cup

(24g) Dutch process cocoa powder***

1

teaspoon

vanilla extract

¼

teaspoon

ground cinnamon

(optional)

½ to ¾

teaspoon

fine sea salt
Raspberry Compote (optional but recommended)
2

cups

raspberries,

fresh (248g) or frozen (210g)

2

tablespoons

maple syrup

½

tablespoon

orange zest

1

tablespoon

freshly squeezed orange juice

1

teaspoon

vanilla extract

Fine sea salt
Instructions
Melt the chocolate in a double boiler or in the microwave. To assemble a double boiler, grab a heatproof bowl that can be nestled into a saucepan—it should hover above the bottom of the pan. Fill the pan up with a few inches of water. Keep the water at a rapid simmer. Place the chocolate in the bowl and whisk frequently until melted, making sure no water comes near the chocolate. Whisk in the espresso powder once smooth, then set it aside to cool.To melt in the microwave: Chop chocolate into small pieces and heat in the microwave on high power in 30-second intervals, stirring after each round.

Meanwhile, cover the dates with freshly boiled water. Soak for 15 minutes, then drain and remove the pits.

If using refrigerated tofu, scoop it out of its package and measure out 12 ounces. Do not pat dry or try to remove excess water.

In a food processor or high-powered blender, add the tofu with about 3 tablespoons of water that has accumulated; if not enough water has accumulated, add 3 tablespoons of filtered water.

Add the dates, maple syrup, cocoa, vanilla, cinnamon (if using), and ½ teaspoon sea salt. Blend really well until the dates are fully pulverized and the cocoa has been mixed in, scraping down the sides as you go.

Now add the melted, cooled chocolate and blend until completely smooth and creamy, scraping down the sides as you go. Taste, adding more salt to taste (I like adding an extra ¼ tsp salt for that sweet-and-salty flavor). Divide amongst 6 to 8 ramekins or small dessert glasses and chill for at least 1 hour to thicken (don't store all of it in one big container, as it seems to thicken it more).

Meanwhile, make the raspberry compote: In a saucepan over medium heat, combine the raspberries, maple syrup, orange zest and juice, vanilla, and a pinch of salt. When the mixture starts to bubble quickly, stir almost continuously for 2 to 3 minutes until the berries break down and start to thicken. Simmer for 10 minutes, until thickened and jammy. Let come to room temp or chill in the fridge.

To serve, rest the mousse at room temp for a few minutes. To serve, add a few spoons of compote on top of each mousse.
Notes
General Notes
The portions may seem small, but this mousse is very rich. The n

utrition facts include the raspberry compote.
Ingredient Notes 
* I don't recommend using lower than 70% cacao dark chocolate; otherwise, the mousse can be too sweet. If you don't have anything lower than 70%, start slowly with the maple syrup, just 1 to 2 tablespoons; add the melted chocolate, blend, then taste, and add more sweetener as needed.
** Silken tofu comes in two forms: (1) in the refrigerated section next to the other blocks of tofu; (2) in shelf-stable section aseptic packages (the most common brand is Mori-Nu).
Do not use refrigerated blocks of tofu labeled "soft tofu" like this. They have less moisture than silken tofu, and in our tests, it ended up thickening the mousse into a hard consistency.
*** You can use natural cocoa powder or raw cacao powder, though the mousse might have a slightly less chocolatey flavor.
---
Calories:
212
kcal
|
Carbohydrates:
27
g
|
Protein:
5
g
|
Fat:
10
g
|
Saturated Fat:
5
g
|
Polyunsaturated Fat:
1
g
|
Monounsaturated Fat:
0.4
g
|
Sodium:
150
mg
|
Potassium:
389
mg
|
Fiber:
5
g
|
Sugar:
18
g
|
Vitamin A:
20
IU
|
Vitamin C:
6
mg
|
Calcium:
42
mg
|
Iron:
2
mg
Recipe: Nisha Vora / Rainbow Plant Life | Photography: Megan Morello