One of my springtime luxuries are fresh lilacs, so I thought I'd share how to make lilac sugar! The indescribable aroma of lilacs–sweet, floral, heady, intoxicating–cannot be overstated. Not to mention, they are absolutely beautiful and so darling. And the color makes me so happy.
And since they have a limited season (just about a month), I figured I had to incorporate them into a springtime recipe. Because lilacs are edible, in case you didn't know that!
Making lilac sugar is incredibly easy. The most difficult parts are (1) having the patience to pluck the individual blossoms from the stems and (2) waiting a few days for the lilacs to infuse the sugar.
The only ingredients you need are cane sugar or granulated sugar, lilacs, and a jar!
And you simply alternate layers of sugar with lilac blossoms (no stems) and leave it in a jar for a few days. Store the jar away from light and humidity in a dark, dry place. You need to shake up the jar at least once a day to help the lilacs evenly disperse, but that's about ti!
Note: If you are strictly vegan, be sure to use organic cane sugar, as many store-bought varieties of regular white sugar are not vegan because they are processed with bone char. Unfortunately, there's no way to know if a regular store-bought sugar is processed this way, so you can be sure to avoid this by buying an organic variety.
This lilac sugar is lovely in baking, and it paired phenomenally in this Vegan Lilac Lemon Cake (truly the best cake I've ever tasted), but you could also use this lilac sugar in cookies, cupcakes, or muffins! I think lilac sugar pairs particularly well in lemon and citrus desserts since lilacs have their own citrus undertones.
Lilac sugar is also an excellent way to sweeten your tea, if you prefer a little sweetener in your tea. It's absolutely magical in chamomile tea and hibiscus tea (the flavor pairing is harmonious), but I imagine it would be lovely in any delicate herbal tea.
You can also use lilac sugar as a body scrub. Mix about 2 parts lilac sugar with 1 part coconut oil and work it into a lather on your skin. For a true at-home spa experience, turn off the lights in your bathroom, light a few candles, and turn on some relaxing instrumental music (I love Enya for this kind of thing). Use the lilac sugar as a body. You can also mist steamy shower walls with a bit of lavender essential oil for a complete aromatherapy experience.
Making lilac sugar is incredibly simple and therapeutic, so I hope you give a try!
How to Make Lilac Sugar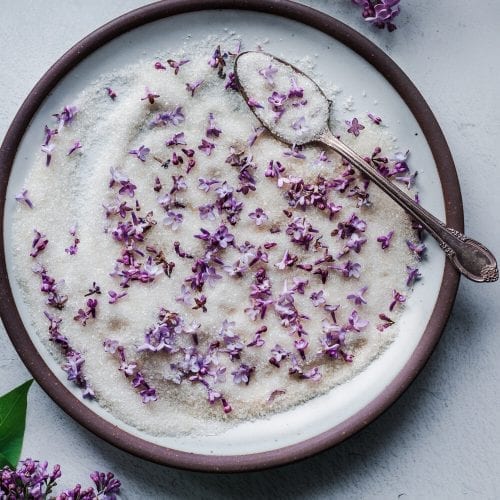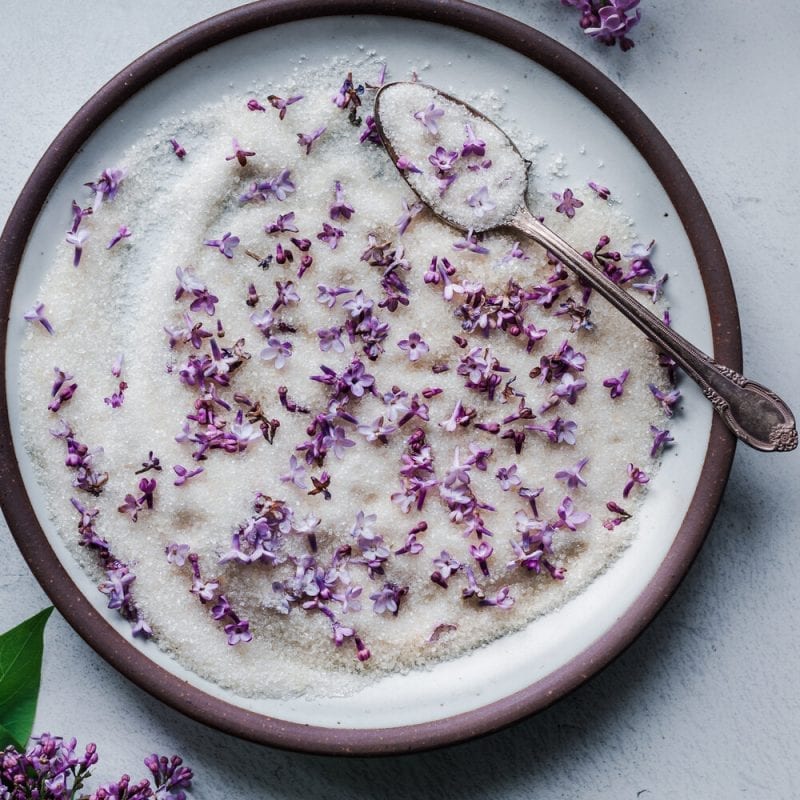 How to make Lilac Sugar for baking! Make the best out of lilac season with this easy lilac sugar. Use it in baking to add a heavenly citrus-floral aroma, swap it for sugar to sweeten your tea, or turn it into a luxurious body scrub!
I've included rough proportions here, but you can really use as much sugar and lilacs as you'd like. Use in baking, as in this Vegan Lilac Lemon Cake, in tea, or mix with coconut oil for a body scrub.
Ingredients
1

cup

(190g) organic cane sugar or granulated sugar

1/4 to 1/2

cup

of lilac blossoms

1

glass jar
Instructions
Shake your bunches of lilacs to make sure there aren't any small bugs hiding in there (I found a neon green bug in mine. It was actually kind of cool but of course, you don't want those in your sugar).

Delicately remove individual lilac blossoms from the stems. This take a few minutes but is very therapeutic. Play some calming music or turn on your favorite podcast.

Fill your jar with about 1/4 of the sugar. Then add a large handful of lilac blossoms. Repeat in layers with the sugar and lilac blossoms.

Seal the jar and shake it up to help evenly disperse the lilacs. Store the jar a cool, dry, dark place away from light and humidity, for at least 2 days, or up to 1 week. Make sure you shake the jar at least once a day to help evenly distribute the lilacs amongst the sugar.

The sugar will get a little damp from the lilacs, so after a few hours or the next day, I like to dump the lilac sugar out on a parchment paper-lined tray or flat surface for an hour or so. That way the sugar dries up and loses the excess moisture. Return the lilac sugar to the jar and give it a shake.

After at least 2 days or (or up to a week), pluck or sift out out the flowers. You can use it in recipes, in tea, or as a body scrub!
---
Calories:
48
kcal
|
Carbohydrates:
12
g
|
Fat:
0.04
g
|
Sodium:
0.1
mg
|
Potassium:
0.3
mg
|
Sugar:
12
g
|
Calcium:
0.1
mg
|
Iron:
0.01
mg