One of my absolute favorite parts of springtime are lilacs. The aroma is indescribable. Sweet, floral, heady. Truly intoxicating, in a good way.
Not to mention, they are absolutely beautiful and so darling. And the color makes me so happy. And since they have a limited season (just about a month), I figured I had to incorporate them into a springtime recipe. Because lilacs are edible, in case you didn't know that!
I have decorated cakes with lilacs before, but I have never incorporated them into an actual recipe. Until now. And I gotta say, making this Vegan Lilac Lemon Cake was the best decision I've made during these last two strange months.
If you're looking for a more traditional lemon layer cake, this new Vegan Lemon Cake is out of this world!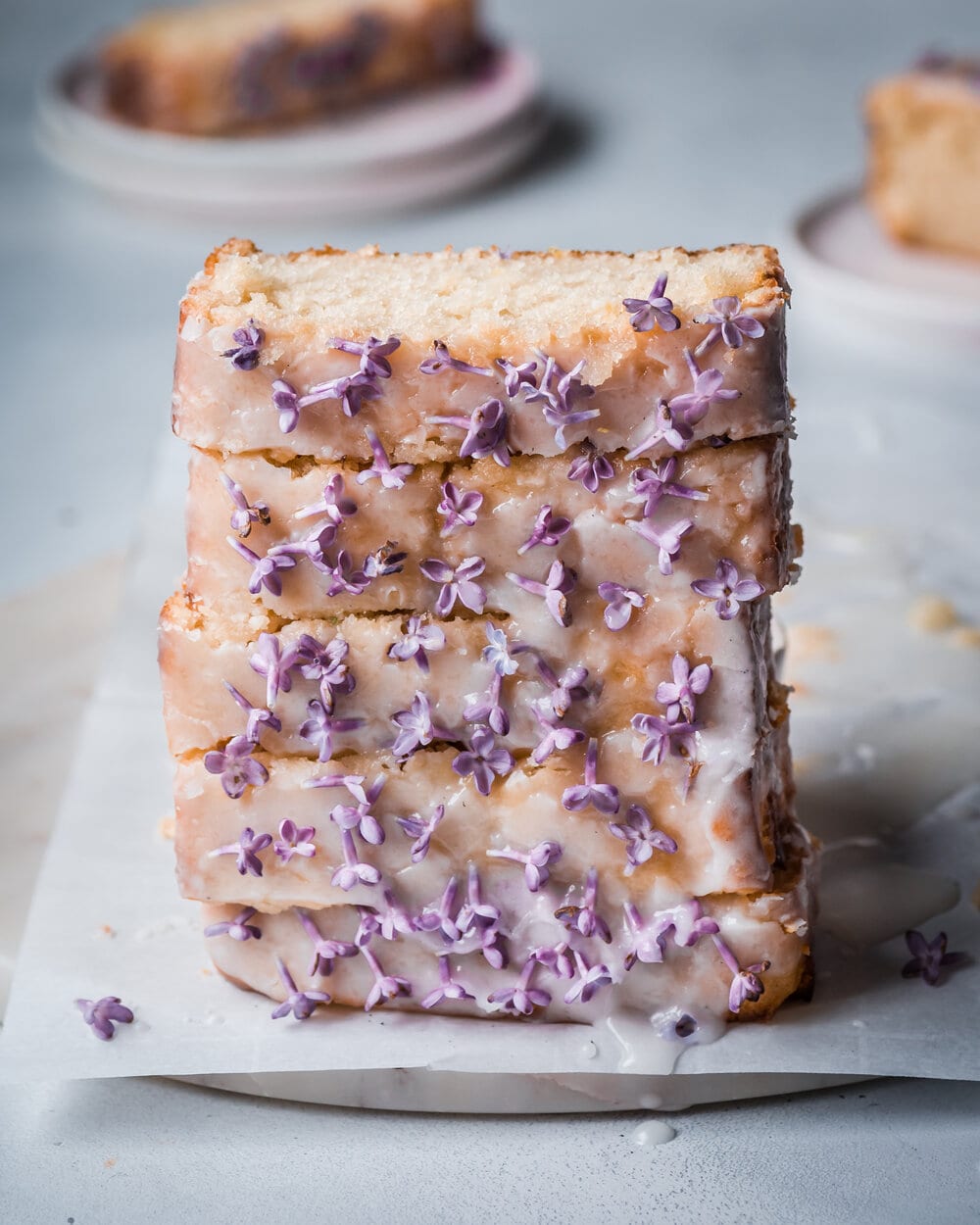 I thought about making an infused lilac syrup, but I wasn't sure that would work in a cake, so I decided to make lilac sugar.
There's a short blog post here on How to Make Lilac Sugar and it's really quite simple. All you need is a jar, lilac flowers, and cane sugar or granulated sugar!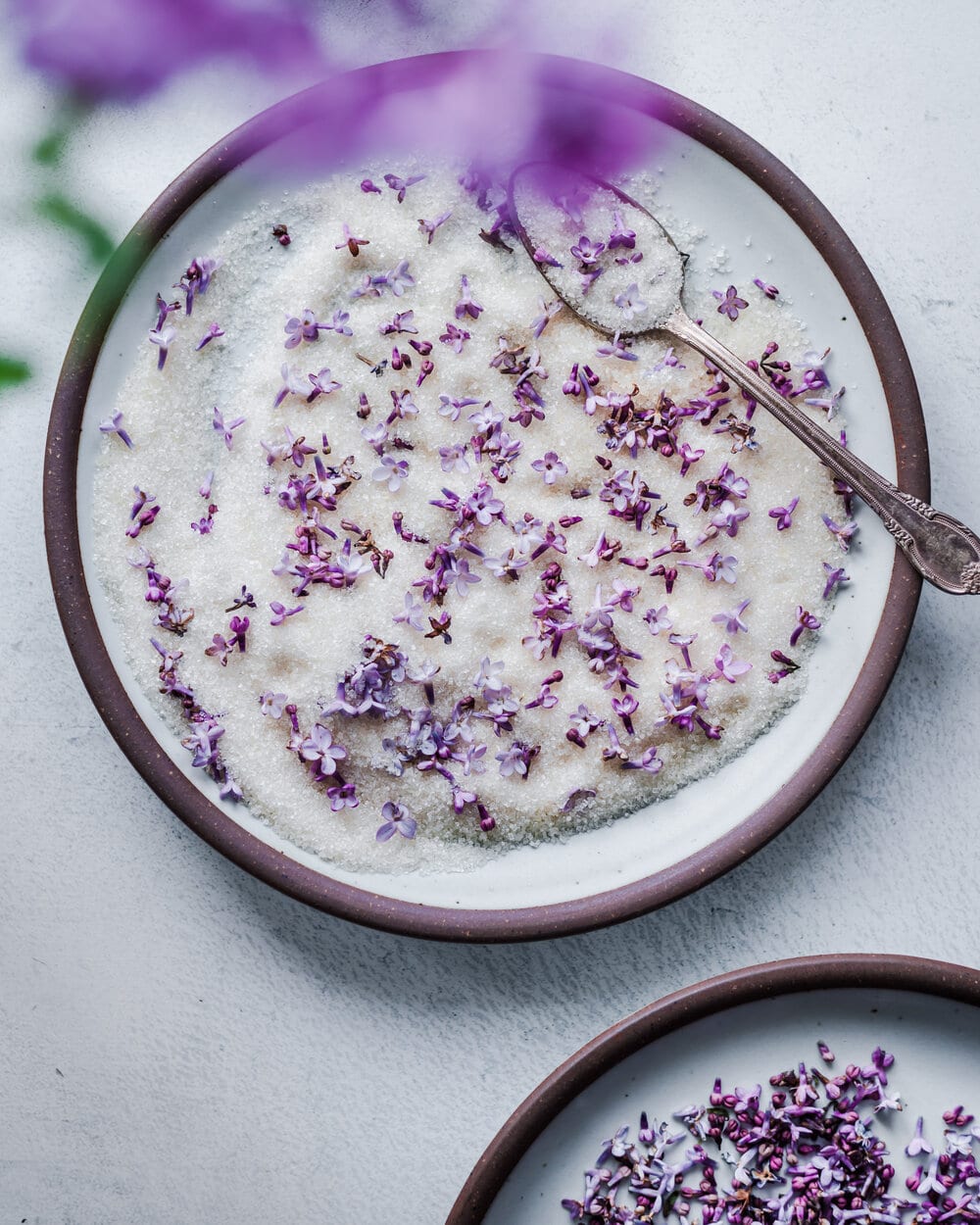 This is actually my absolute favorite cake now, and I am not exaggerating in the least. Don't let the fact that it's in a loaf pan deter you from thinking this is a cake. It's just as cake-like as any three-layer cake. In fact, Max said this was the best cake I had ever made (and he's been the prime beneficiary of my cake-baking over the last 10 years).
The texture is light and tender (and I didn't even use cake flour!) yet extremely buttery, the flavors are sweet yet tart and tangy so it's not overpoweringly sweet like some cakes, and of course, it's so pretty! And the unique infusion of lilac sugar – it is such a treat. I don't know how to describe it aside from subtle yet heavenly floral citrus flavor, and it's quite unlike anything you've ever tasted before!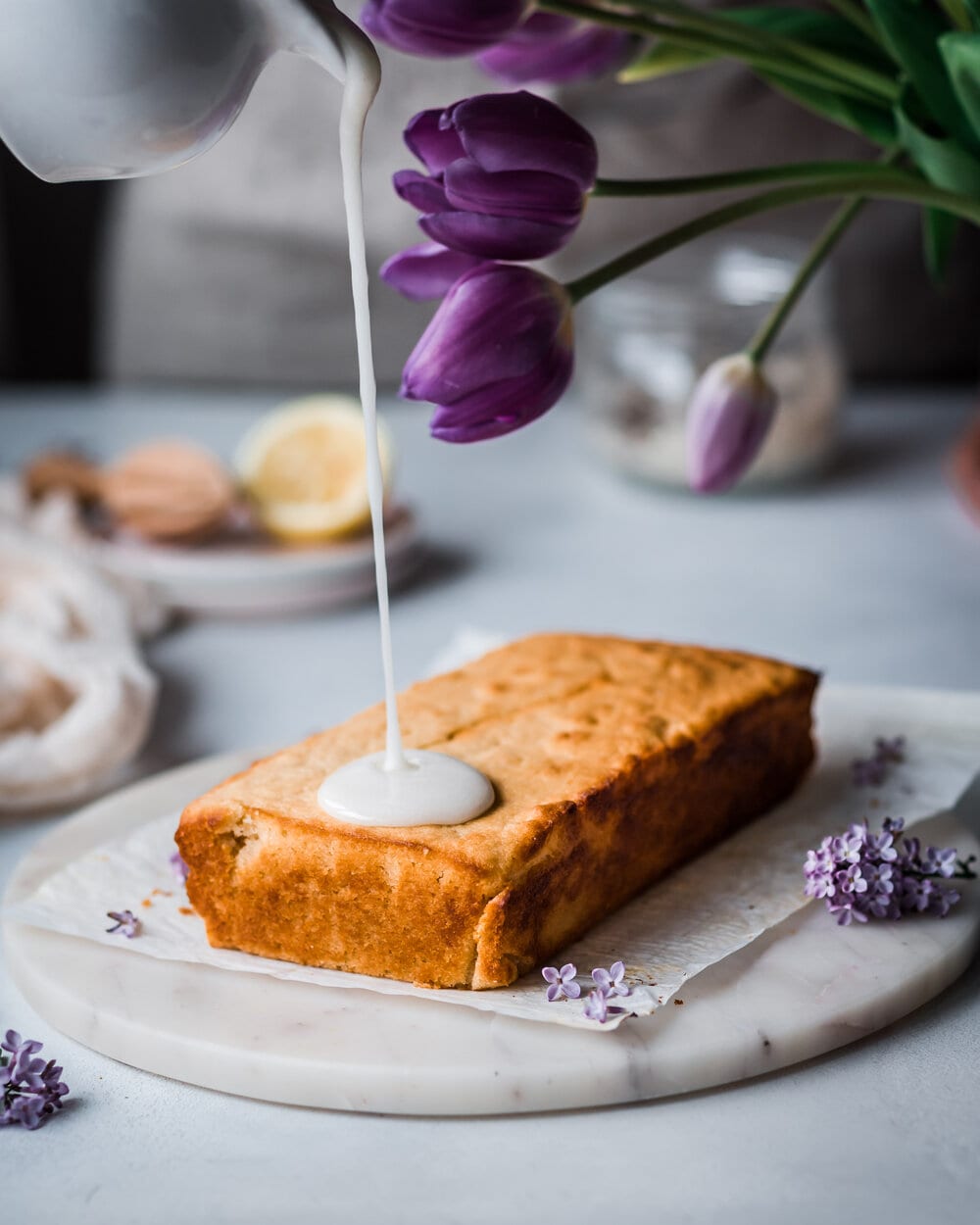 Ingredient Rundown
Vegan Butter
I wanted this cake to be light and lemony since it's springtime, but I also wanted it to feel a little indulgent. Typically, with cakes, oil lends a lighter, more even crumb, whereas butter brings more flavor and richness but also some heaviness.
But, since I use dairy-free vegan butter that's typically made with a blend of oils, it doesn't bring the same heaviness that traditional butter sometimes does.
The combination of vegan butter with oil in this recipe lends a texture that is light and tender, but also rich and flavorful. When you take the cake out of the oven, it should be nicely golden brown on top, and when you slice into the cake, you'll notice that the texture is a cross between a light feathery cake and a pound cake.
I don't really know how else to describe this magical cake but it's truly amazing. Light and tender yet buttery and rich!
Oil
As I mentioned earlier, I use a mix of vegan butter and oil in this recipe. Any oil should work in this recipe. I used sunflower oil, but if you want a more distinct flavor, you could try a high-quality, fruity extra virgin olive oil, which pairs beautifully with the lemon juice (just as it might in a lemon vinaigrette).
Lilac Sugar
If the light and tender yet buttery texture is the first star of the show, the second star of the show is the lilac sugar. Are you allowed to have two stars in one show (in one cake)? I think so.
The lilac sugar ever so delicately perfumes this whole cake with subtle yet pungent floral-citrus overtones that highlight the lemon flavors in this cake. It is truly the most unique and delicious cake I have ever made, so if you can get your hands on some lilacs and wait a few days to make the sugar, it is highly worth it.
Lemon Juice + Lemon Zest
This is a lemon cake, so we're using a lot of lemon juice and the zest. 1/4 cup lemon juice and 1 tablespoon lemon zest to be precise. The result is a zingy lemon cake that's perfectly tart yet sweet.
Also, please use FRESHLY SQUEEZED lemon juice. Since this is a lemon cake, you must use fresh lemon juice to get that lovely, bright lemon flavor; no plastic bottles of juice!
The lemon juice gets mixed into the plant based milk, forming something akin to vegan buttermilk. Along with the aquafaba (see below), it helps bring a lot of lightness to this cake.
Note: if you taste the raw batter, it might taste too lemony, but once it's baked with the sugar, it all comes together.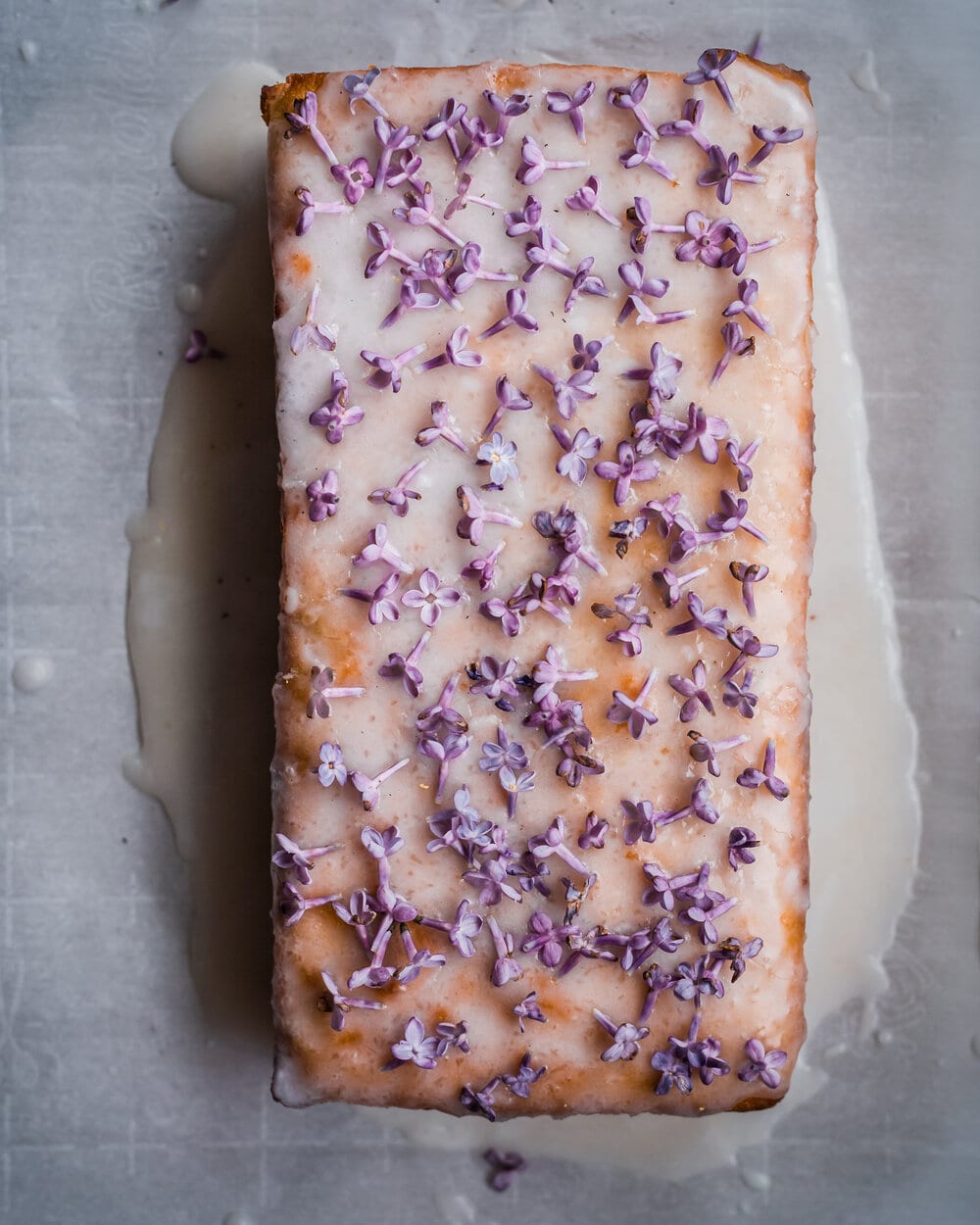 Aquafaba
The type of vegan egg substitute you use should depend on the type of baked good you're making and your desired texture. I have a whole blog post on the topic of vegan egg substitutes in baking (including a handy dandy infographic) if you'd like to learn more!
With a cake, I want the texture to be airy and light, so I like to rely on aquafaba, which is simply the liquid leftover from cooked chickpeas.
When you lightly whip aquafaba, as is done in this recipe, it turns foamy and light, which then helps to create a light and fluffy texture and gives a nice lift to cakes.
All-Purpose Flour
While I love making cakes with cake flour, as it yields the the lightest texture, I don't have any cake flour during this weird lockdown time, and to be honest, the other aforementioned ingredients make this cake so light and tender that it's not needed.
I haven't tested this recipe with anything besides all-purpose flour, so I can't be of too much help here.
If you typically avoid gluten but can tolerate it (i.e., you're not allergic or seriously intolerant), make this cake recipe as written! I promise your taste buds will thank you. That said, if you are allergic to gluten and still want to make this cake, a 1:1 gluten-free all purpose baking flour is your best bet.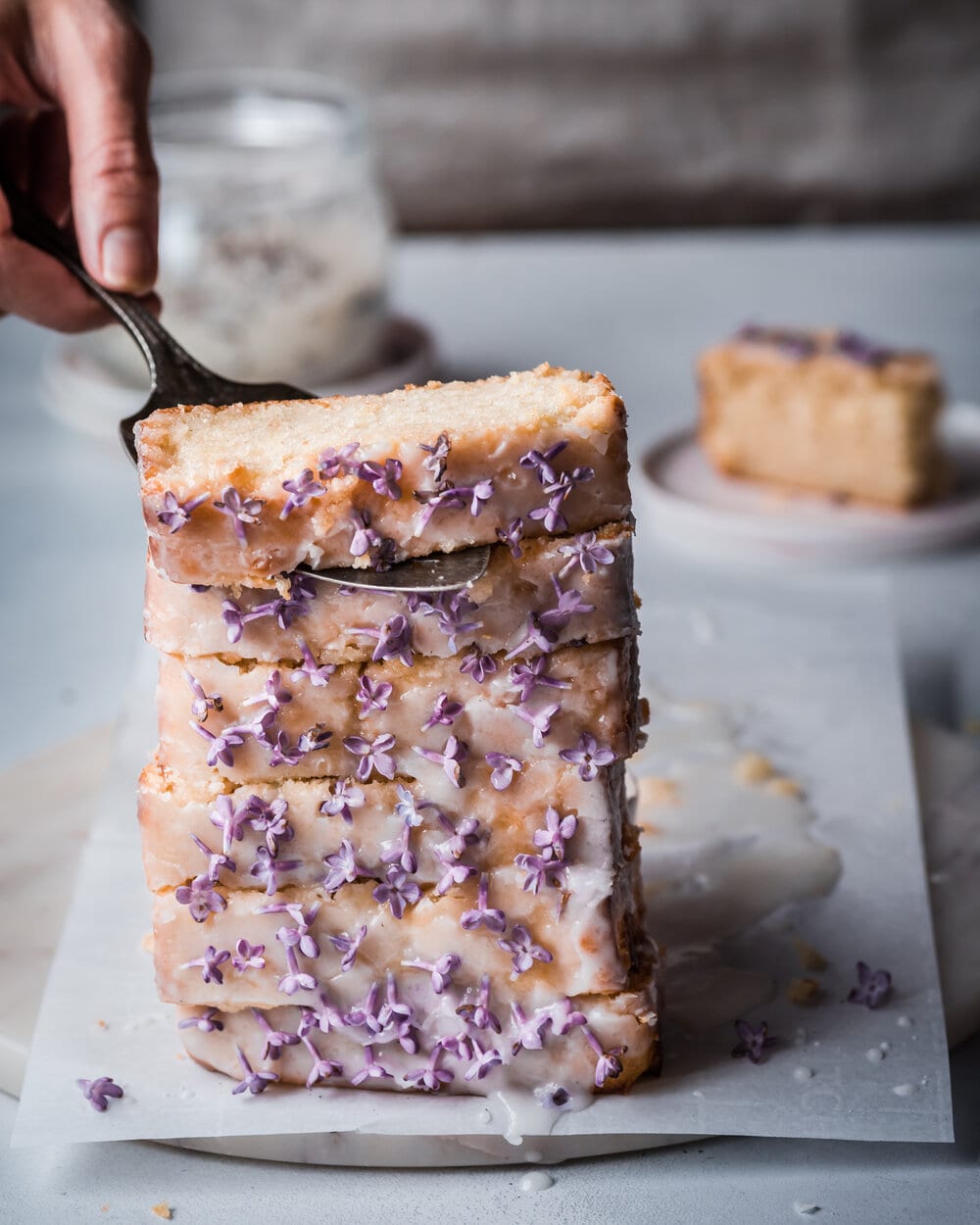 Tips for Making this Vegan Lilac Lemon Cake
Zest the lemons, then juice them!
In recipes that call for lemon zest and juice, as in this recipe, remember to zest your lemons first before juicing them.
No overmixing!
When mixing the dry and wet ingredients, be sure to not overmix! Mix until the batter is just combined, and it's okay if there are light traces of unmixed flour remaining.
I use an electric mixer on low speed (since I already use it for the aquafaba), which I find makes me less tempted to over-mix than if I were using a whisk and needed to exert more effort.
The directions instruct you to add the dry ingredients to the wet ingredients in two batches. During the second batch, I switch from the mixer to a silicone spatula so that I don't overbeat the batter.
Don't over-flour it!
This recipe calls for 1 3/4 cups all-purpose flour, but the more important part is to weigh or measure your flour properly. As you might have seen in my fan-favorite Banana Bread recipe and Youtube video, I am a strong proponent of using a digital scale for all baking purposes, as it yields the most exact results.
I am just going to repeat the advice here again :)
But if you don't have a digital scale, please, DO NOT SCOOP YOUR FLOUR STRAIGHT OUT OF THE BAG. This always results in getting too much flour in your measuring cup, and too much flour = dry cakes.
Instead, use the spoon and level method. Spoon your flour out of the bag/jar into the measuring cup until almost full, then use a butter knife to level it off.
If you think I'm being overly cautious, I have tested this numerous times using a digital scale. Usually, when you scoop 1 cup of flour straight out of the bag/jar, you're actually scooping closer to 1 1/4 cups in grams. This makes a difference in baking!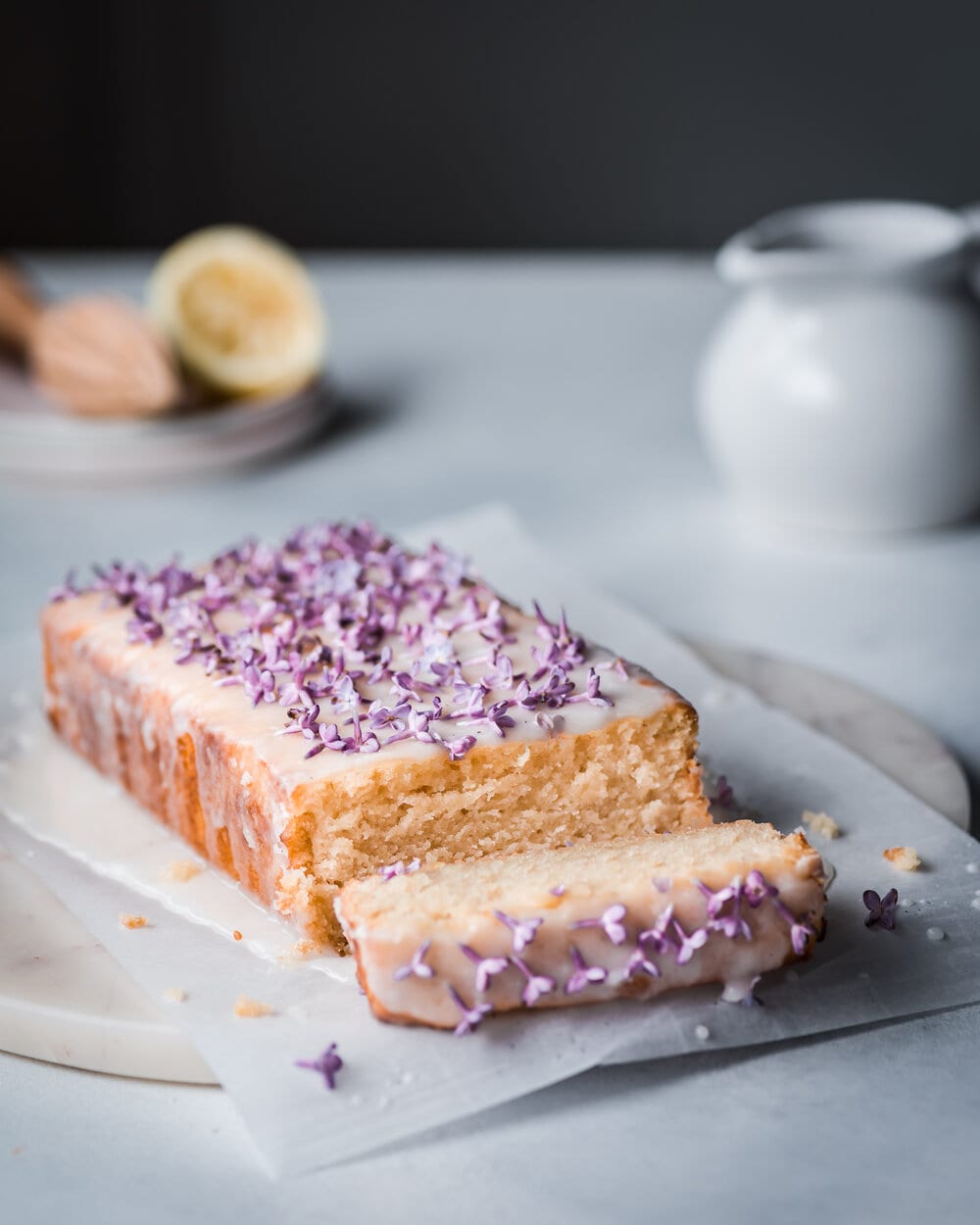 Substitutes for this recipe
Lilac Sugar
The lilac sugar does take a few days to rest, so if you want to make this recipe as written, you'll need to plan this out a few days in advance. If you just really want to make this cake ASAP without the lilac sugar, just use regular cane/granulated sugar. You won't have that lovely subtle aroma from the lilacs, but it'll still be a delicious, bright and zingy lemony cake. And you can still decorate it with lilac flowers (which are edible!).
OR, if you have dried lavender flowers, lavender extract, or culinary lavender, you could potentially turn this into a lavender lemon cake. I haven't tried this myself, but the interwebs abound with lavender lemon cakes, so that is an option. I'd fold in about 1 tablespoon dried lavender flowers or just a few drops of lavender extract into the cake batter.
Lemon Glaze
The glaze makes this cake extra pretty and tasty, and requires just three ingredients. But if you are limiting your sugar intake, go ahead and omit the glaze.
The glaze calls for coconut yogurt because I absolutely love the way the tangy coconut yogurt pairs with the lemon. But if you don't have coconut yogurt, I recommend substituting with a tablespoon or two of plant-based milk.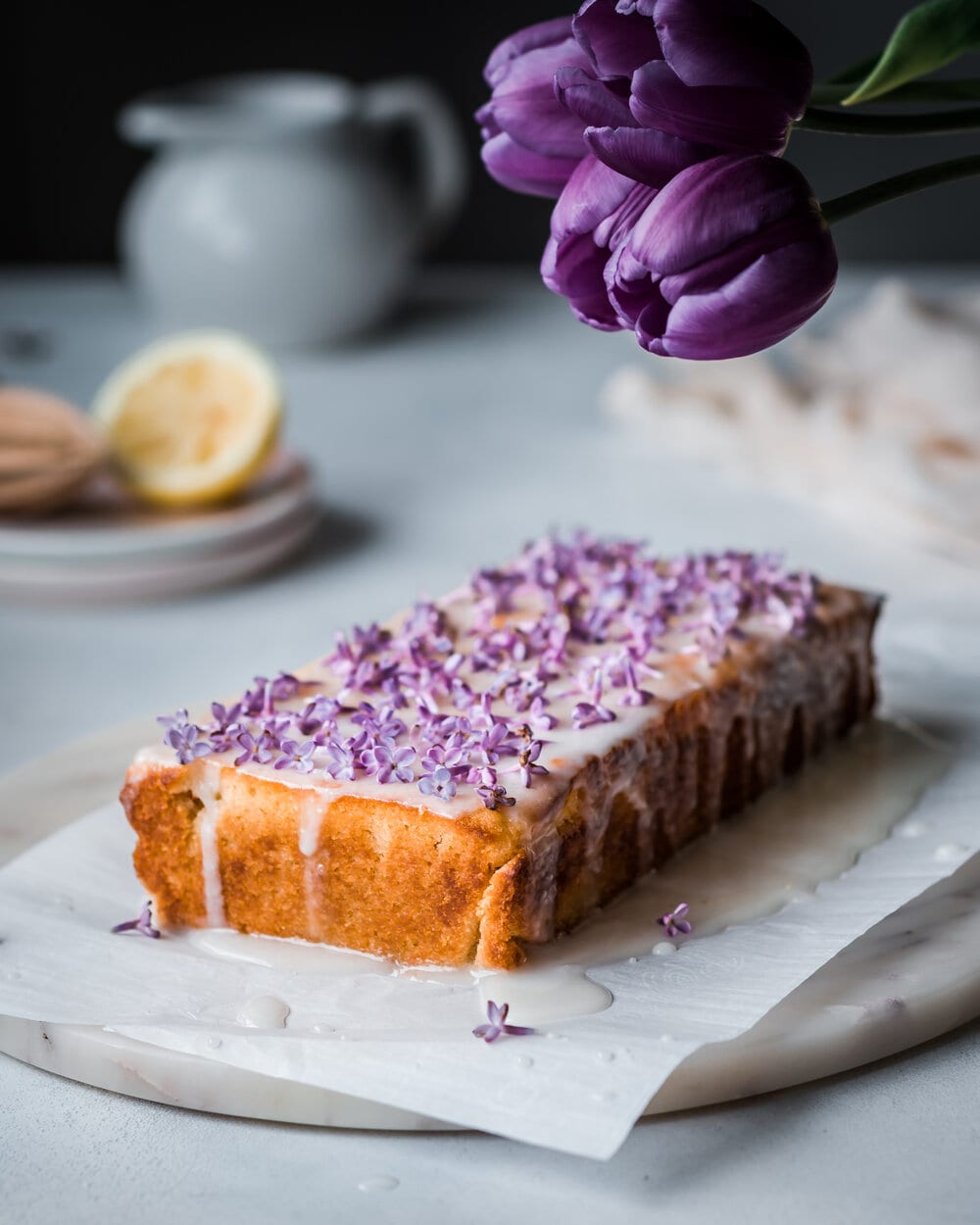 If you give this Vegan Lilac Lemon Cake recipe a try, be sure to tag me on Instagram with your recreations and please comment with your feedback below! And enjoy this little video :)
Vegan Lilac Lemon Cake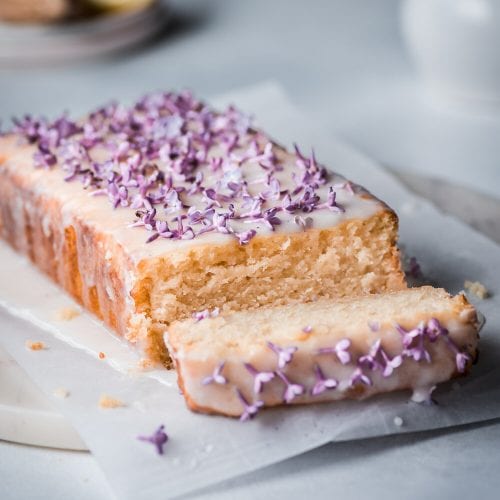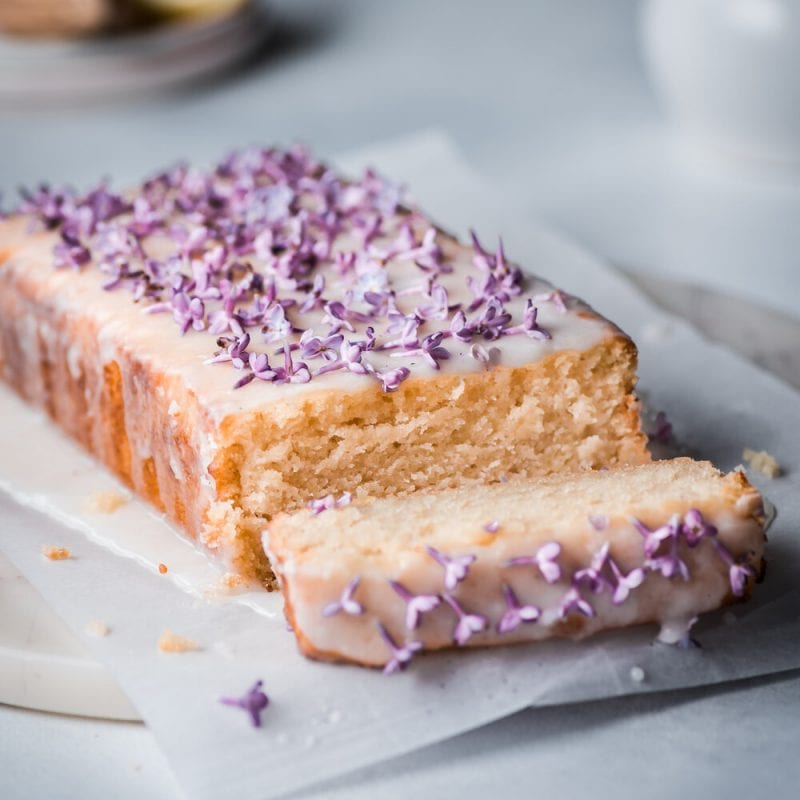 This Vegan Lilac Lemon Cake is the most flavorful and delightful cake for spring! Lemony and bright, light and tender yet buttery, it's the best of both worlds. Includes instructions on how to make lilac sugar.
Ingredients
1/2

stick vegan butter (56g or 1/4 cup),

softened at room temperature

120

mL

(1/2 cup) unsweetened plant-based milk (I used oat milk), at room temperature

60

mL

1/4 cup lemon juice

60

mL

(1/4 cup) aquafaba (the liquid from a can of chickpeas)

56

g

(1/4 cup) neutral-tasting oil such as sunflower oil, or extra virgin olive oil

120

g

(1/2 cup + 1 tablespoon) Lilac Sugar (or organic cane sugar)

1/2

tablespoon

pure vanilla extract

1

tablespoon

lemon zest

(1 medium-to-large lemon)

210

g

(1 3/4 cups) all-purpose flour

1/4

teaspoon

baking soda

1

teaspoon

baking powder

1/4

teaspoon

fine sea salt

Toppings

(optional): Lemon Glaze (recipe below) and lilac flowers
Instructions
Take the butter out of the fridge to soften and take the plant-based milk out of the fridge to come to room temperature.

Preheat the oven to 350°F/175°C. Line a 9x5-inch (23x13 cm) or 8x4-inch (20x10 cm) loaf pan with parchment paper.

Zest the lemon(s) to get 1 tablespoon of zest (1 medium-to-large lemon). Set aside.

Make the vegan buttermilk. Combine the plant-based milk and lemon juice and stir. Set aside to curdle.

Prepare the aquafaba. Pour 1/4 cup liquid from a can of chickpeas into a small bowl. With a handheld electric mixer (or stand mixer), beat the aquafaba on medium speed until it's foamy throughout, 45-60 seconds.

Cream the wet ingredients. Add the softened butter, oil, and Lilac Sugar to a large bowl. Using the mixer, beat until the ingredients are well incorporated and starting to get fluffy, 60 seconds or so. Add in the vegan buttermilk, whipped aquafaba, vanilla extract, and lemon zest. Mix until just combined, 15-20 seconds.

Whisk together the dry ingredients. Add the flour, salt, baking soda, and baking powder to a medium bowl and whisk well to ensure the leaveners will be evenly distributed throughout the cake.

Add half of the flour mixture into the butter-sugar mixture, beating on low speed until just combined, taking care to not over beat. Add the remaining flour mixture and beat until mostly smooth, then switch to a silicone spatula to finish combining. Once the cake batter is mostly evenly combined, stop mixing! Overmixing can cause the cake to become dense or dry. The batter should be fluffy and a bit bubbly at this point.

Pour into the prepare loaf pan, and smooth the batter out on the top using a silicone spatula.

Bake for 35-45 minutes until a toothpick inserted into the tops/center comes out clean and the top is golden. If the top starts to brown early, loosely tent it with foil. I baked mine for exactly 40 minutes, and it was perfect.

Transfer cake to a wire rack and cool for 15-20 minutes. Then use the parchment paper handles to lift the cake out of the pan and onto the wire rack. Once cooled, drizzle with the lemon glaze. If desired sprinkle some lilac flowers (shake them first to make sure there are no bugs hiding) on top.
Notes
I include lilac flowers as a topping on the cake primarily for presentation. When ready to serve, I pick most of them off, as eating too many raw flowers at once will detract from the taste/texture of the cake. The flavor of lilac will come through with the lilac sugar.
---
Calories:
216
kcal
|
Carbohydrates:
30
g
|
Protein:
2
g
|
Fat:
10
g
|
Saturated Fat:
1
g
|
Polyunsaturated Fat:
2
g
|
Monounsaturated Fat:
7
g
|
Trans Fat:
1
g
|
Sodium:
171
mg
|
Potassium:
41
mg
|
Fiber:
1
g
|
Sugar:
13
g
|
Vitamin A:
25
IU
|
Vitamin C:
3
mg
|
Calcium:
45
mg
|
Iron:
1
mg
Lemon Glaze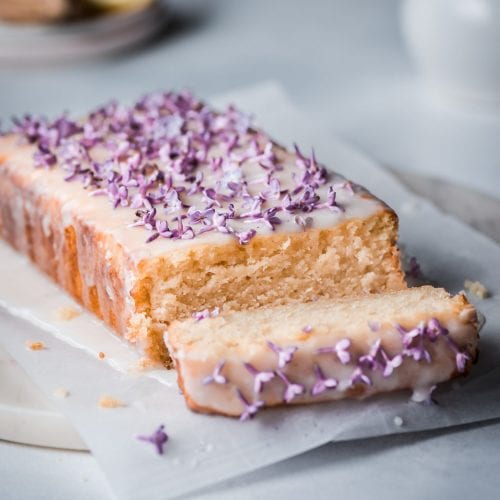 Ingredients
120

grams

(1 cup) organic powdered sugar

2

tablespoons

coconut yogurt

1

tablespoon

lemon juice,

plus more as needed
Instructions
Mix together all ingredients in a small bowl with a whisk until you have a thick yet pourable glaze texture. If you want it to be thinner, add more lemon juice (or a spoon of plant based milk). If you want it to be more lemony, add a bit more lemon juice or some lemon zest.
---
Calories:
49
kcal
|
Carbohydrates:
12
g
|
Protein:
1
g
|
Fat:
1
g
|
Saturated Fat:
1
g
|
Sodium:
1
mg
|
Potassium:
2
mg
|
Fiber:
1
g
|
Sugar:
12
g
|
Vitamin A:
1
IU
|
Vitamin C:
1
mg
|
Calcium:
4
mg
|
Iron:
1
mg
Lilac Sugar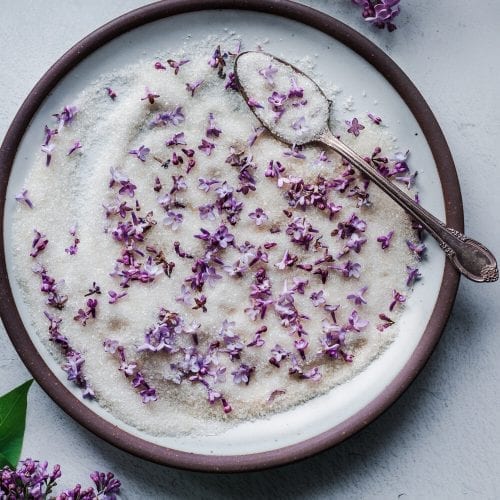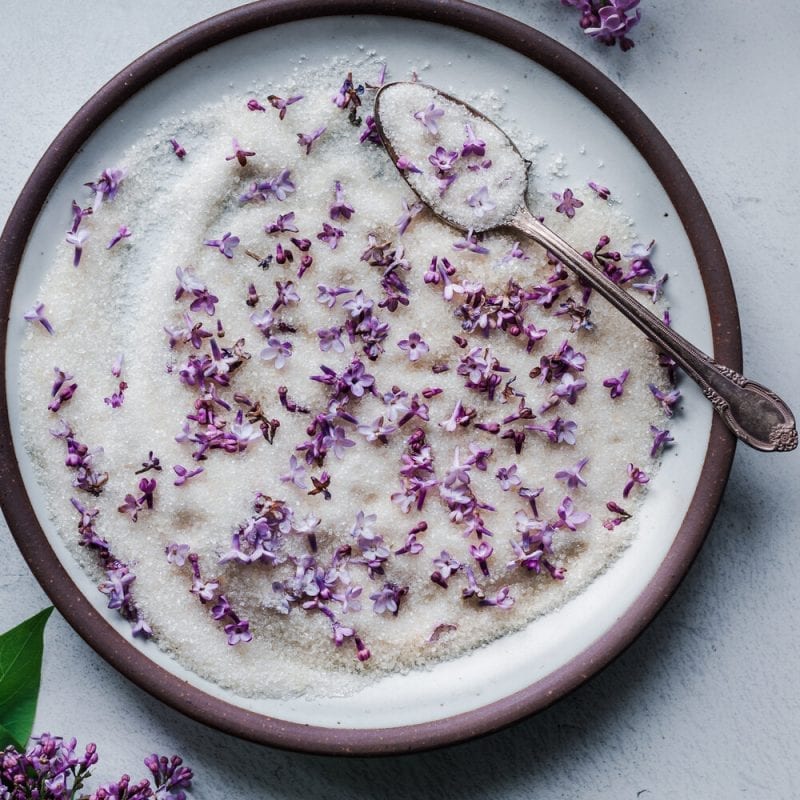 Make the best out of lilac season with this easy lilac sugar. Use it in baking to add a heavenly citrus-floral aroma, swap it for sugar to sweeten your tea, or turn it into a luxurious body scrub!
Ingredients
1

cup

(190g) organic cane sugar or granulated sugar

1/4 to 1/2

cup

of lilac blossoms

1

glass jar
Instructions
Shake the lilac bunches to make sure there aren't any small bugs hiding in there. Then delicately remove individual lilac blossoms from the stems.

Fill your jar with about 1/4 of the sugar. Then add a large handful of lilac blossoms. Repeat in layers with the sugar and lilac blossoms.

Seal the jar and shake it up. Store in a cool, dry, dark place for at least 2 days. Make sure you shake the jar at least once a day to help evenly distribute the lilacs amongst the sugar.

The sugar will get a little damp from the lilacs, so after a few hours or the next day, I like to dump the lilac sugar out on a parchment paper-lined tray or flat surface for an hour or so. That way the sugar dries up and loses the excess moisture. Return the lilac sugar to the jar and give it a shake.

After at least 2 days or (or up to a week), pluck or sift out out the flowers. You can use it in recipes (as this cake), in tea, or as a body scrub!
---
Calories:
48
kcal
|
Carbohydrates:
12
g
|
Fat:
0.04
g
|
Sodium:
0.1
mg
|
Potassium:
0.3
mg
|
Sugar:
12
g
|
Calcium:
0.1
mg
|
Iron:
0.01
mg