This cake is bursting with warming flavors from the gingerbread spices, which contrast really deliciously with the tart-sweetness of the pomegranate glaze. And it is beautiful and elegant enough to serve as the centerpiece/dessert on your holiday table!
One thing to keep in mind is that this cake is quite large. A 10-inch Bundt cake pan (affiliate link) holds up to 12 cups (a 9-inch Bundt cake pan holds up to 10 cups), and this recipe calls for nearly 3 cups of flour. So, yes, it makes A LOT of cake, which is perfect for the holidays because (a) you likely have more mouths to feed than ordinary, and (b) everyone likes extra cake during the holidays (because calories don't count during the holidays)!
If you take a look at the ingredient list and are thinking, "wow that seems like a lot of X ingredient," don't be alarmed. For one, as I just mentioned, this recipe makes a lot of cake batter. And two, the key to a seductively delicious and rich gingerbread cake is not skimping on the spices. I've seen so many gingerbread dessert recipes that contain a paltry amount of ginger/cinnamon/allspice/etc., and I am appalled. Okay, appalled is a bit strong, but I really do think the key to an excellent gingerbread cake is generously sprinkling in those warming winter spices.
Another key to success with this cake is to use a generous amount of molasses, which is essential to achieving the deep, robust flavor characteristic of gingerbread. While I love blackstrap molasses for its health benefits, I don't recommend using it here because the recipe calls for a rather large amount (a half cup), and that much blackstrap molasses will give the cake a distinctively bitter taste. I use a plain unsulphured molasses like this. The other sweetener in this cak eis brown sugar. I typically use light brown sugar, but if you are looking for even more rich molasses-like flavor, you can use dark brown sugar.
Regarding the other ingredients, this is a pretty simple cake recipe made with readily available ingredients. I used almond milk and sunflower oil, but you could easily use another plant-based milk (I don't recommend using anything too thick or it will weigh down your batter) and another neutral oil of your choice. You could even use olive oil, but I recommend sticking to one that has a neutral, light taste.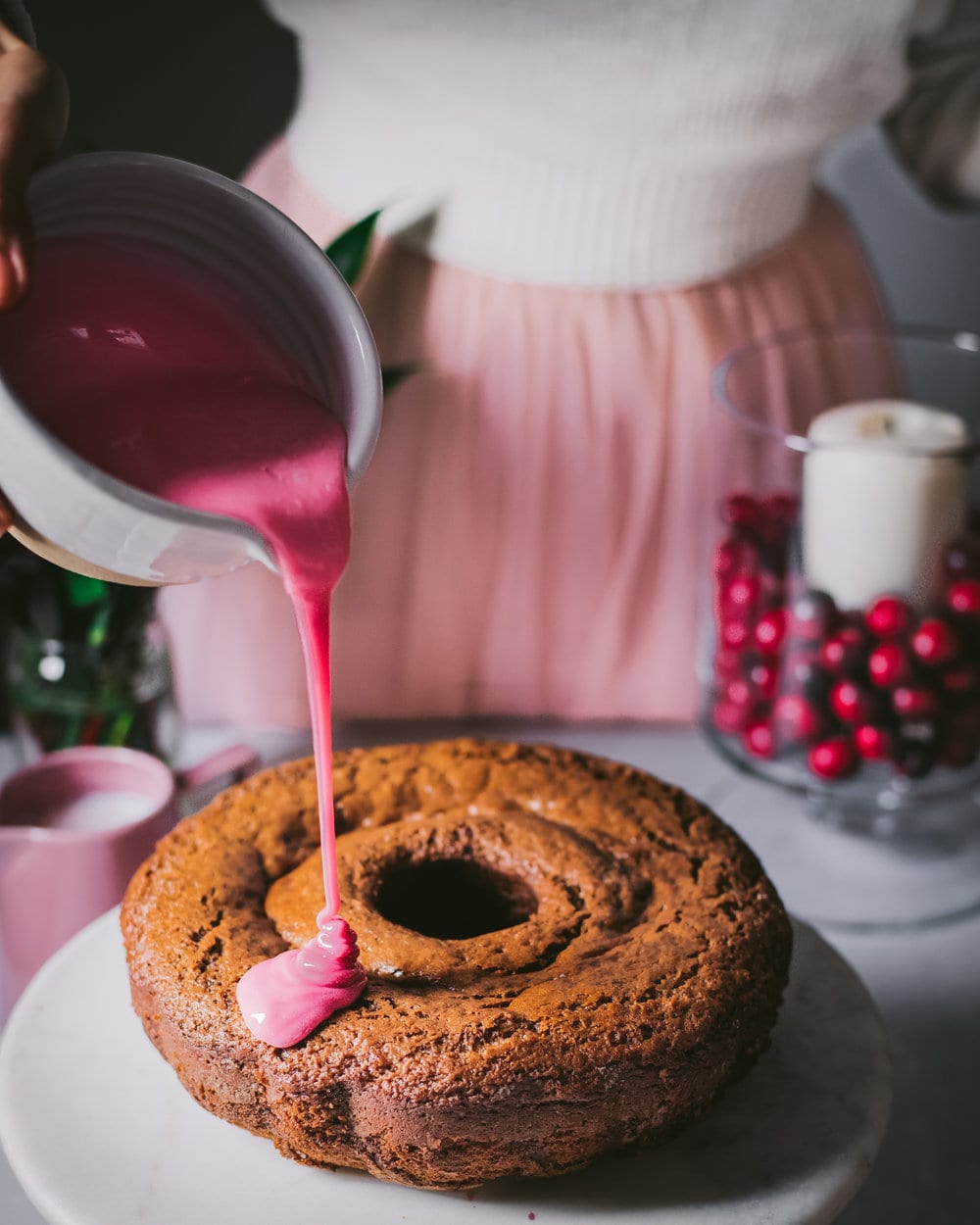 Now for the pomegranate glaze, which I adore. I use freshly squeezed pomegranate juice from a whole fruit to get the most beautiful pink color. If it juicing a pomegranate sounds too time intensive, not to worry, as you need just a few tablespoons of the juice. An easy way to juice whole pomegranate seeds is to place them in a zip-top, resealable bag, smooth out the air bubbles, and then crush the seeds with a rolling pin or some other heavy instrument. Then, open the seal of the bag at one corner and carefully pour the juice into a bowl with a fine mesh sieve sitting on top, straining the juice into the bowl and leaving behind the seeds. You can of course buy bottled pomegranate juice, but the color won't be as lovely and 100% pure pomegranate juice can be very pricy.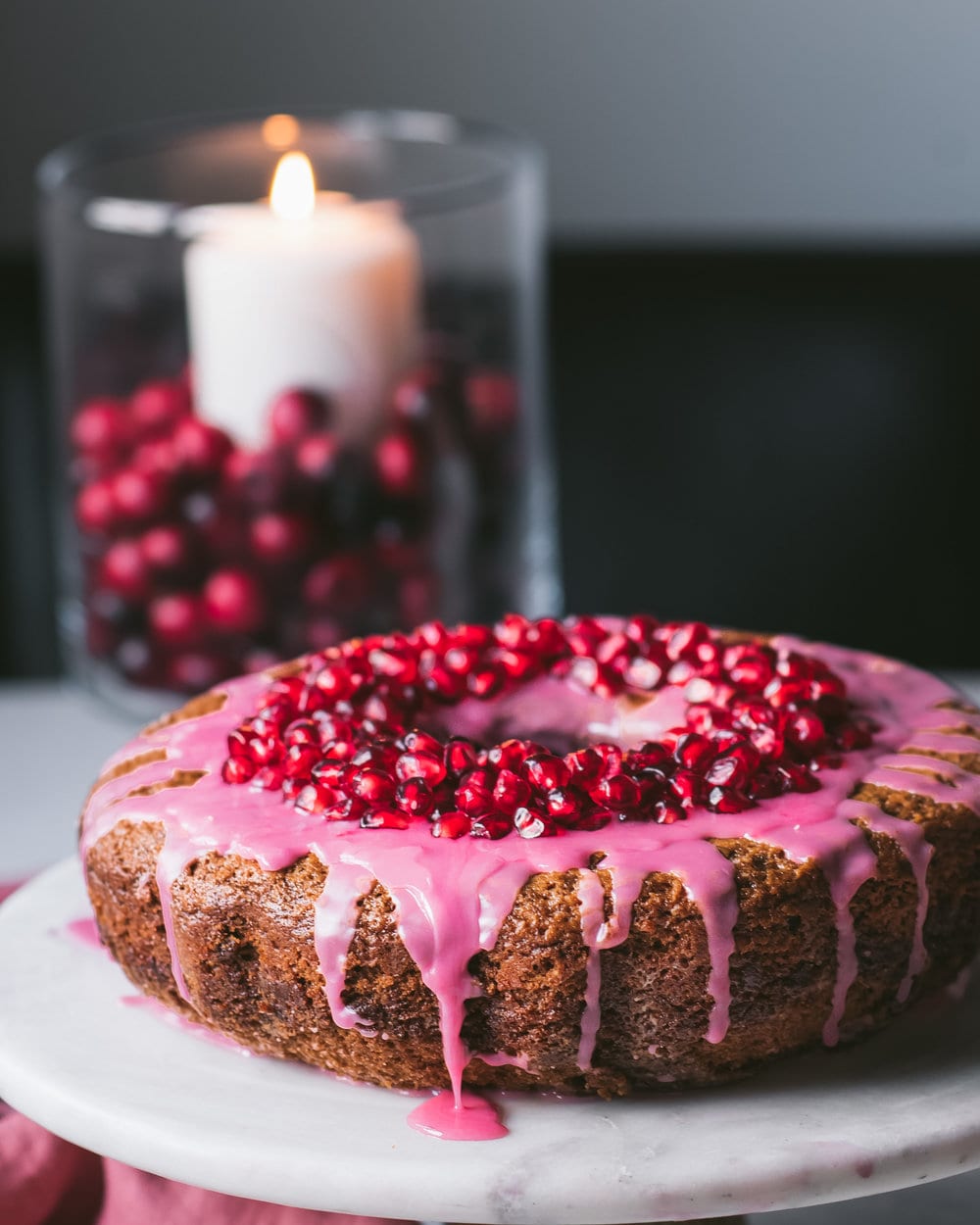 Since the glaze is rather sweet, you can cut back on the amount of brown sugar in the cake if you are trying to limit your sugar intake (up to half, if you desire). And for the final topping, use up those leftover whole pomegranate seeds for a nice crunch, a bite of fresh juiciness, and a beautiful presentation.
Finally, if you don't have a Bundt pan, you can still make this delicious cake. You can use either (a) two round 8-inch cake pans or (b) two 8 1/2 x 4 1/2-inch loaf pans (affiliate links), both of which have a volume of 6 cups, which is half the volume of one 12-cup Bundt pan. Of course, the cakes will be less tall than a Bundt cake, so you'll need to reduce the bake time (keep yourself planted in the kitchen and start checking for doneness at 25 minutes).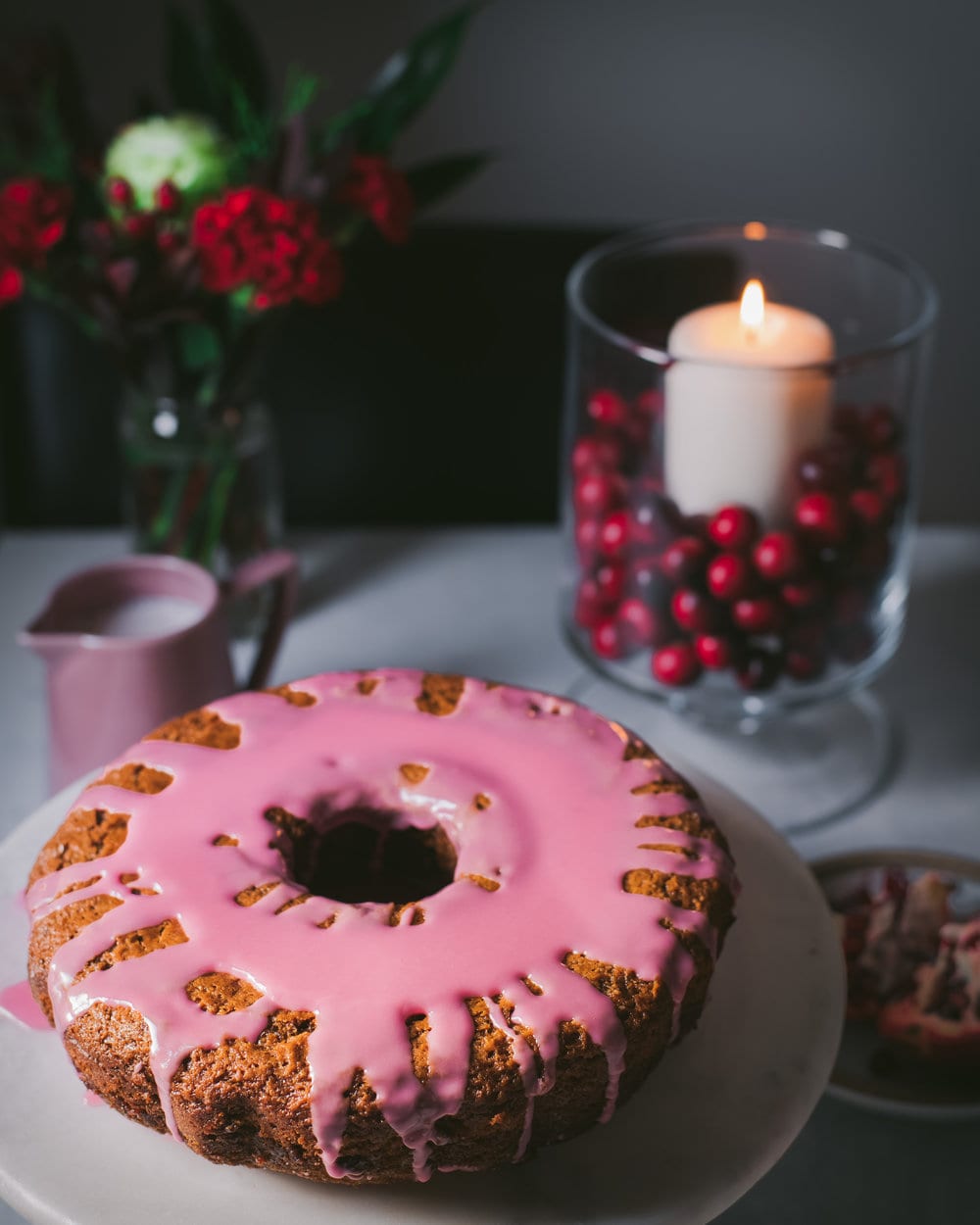 If you try this Pomegranate Glazed Gingerbread Bundt Cake, be sure to leave a comment below and tag me with your creations on Instagram! Wishing you all a wonderful, safe, and relaxing holiday!
Pomegranate Glazed Gingerbread Bundt Cake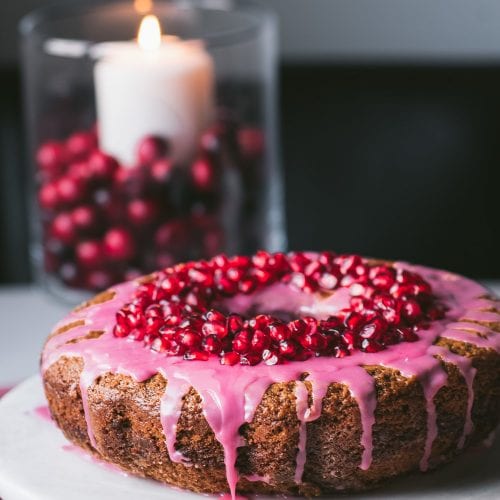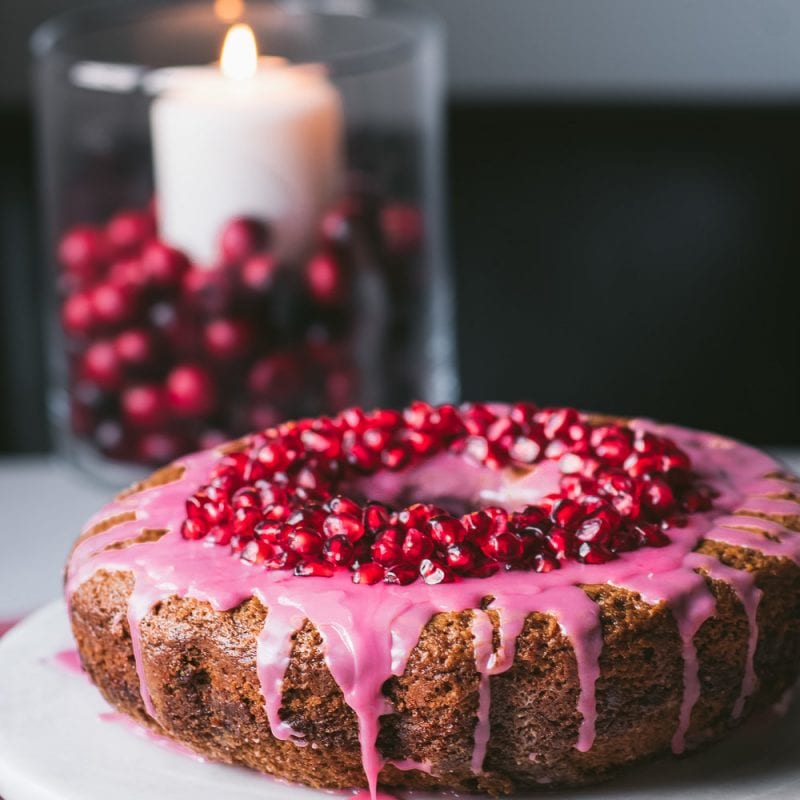 I am REALLY excited to share this recipe with you! It is the marriage of two winter flavors that I adore: gingerbread and pomegranate. So, say hello to this Pomegranate Glazed Gingerbread Bundt Cake!
Ingredients
Cake Ingredients
2 3/4

cups

(330g) all-purpose flour

2 1/2

teaspoons

baking powder

1/2

teaspoon

baking soda

1/2

teaspoon

fine sea salt

2 1/2

teaspoons

ground ginger

1/2

teaspoon

ground allspice

1

teaspoon

ground cinnamon

3/4

teaspoon

ground nutmeg

Heaping 1/4 teaspoon ground cloves

1

cup

(240 mL) unsweetened plant-based milk (such as almond milk, oat milk, or soy milk)

3/4

cup

(180mL) sunflower oil (or other neutral oil)

1/2

cup

(120mL) unsulphured molasses (not blackstrap)

1

cup

(192g) organic brown sugar, packed

1 1/2

teaspoons

pure vanilla extract
Pomegranate Glaze Ingredients
2

cups

(240g) organic powdered sugar

4

tablespoons

freshly squeezed pomegranate juice + more as needed for color and texture

1

tablespoon

freshly squeezed lemon juice
Instructions
Cake Directions
Preheat the oven to 350°F/175°C and position the oven rack in the middle of the oven.

Generously grease a 10-inch (12-cup) Bundt cake pan (or a 9-inch, 10-cup Bundt cake pan) with a neutral oil, cooking spray, or vegan butter, and sprinkle with flour and dust off any excess flour. You want to make sure you really grease the pan well; otherwise, you will have trouble inverting the cake and some of the cake might stick to the bottom of the pan.

In a large bowl, sift together the flour, baking powder, baking soda, salt, ginger, allspice, cinnamon, nutmeg, and cloves.

Make a well in the center of the flour mixture and then add the almond milk, oil, molasses, brown sugar, and vanilla.

Using an electric mixer on slow speed, combine the dry and wet ingredients until you have a smooth, thick batter, scraping down the sides of the bowl with a rubber spatula.

Pour the cake batter into the greased Bundt pan and smooth the surface with a rubber spatula. Bake the cake in the preheated oven for 40-45 minutes, until the cake is firm and springs back when touched. If you are using a 9-inch (10-cup) Bundt pan, you will likely need to bake the cake for an additional 5 minutes.

Allow the cake to rest until it is cool enough to touch. Then, carefully invert it onto a cooling rack. Then drizzle with the Pomegranate Glaze and serve.
Pomegranate Glaze Directions
Place the powdered sugar in a large bowl. Add the lemon juice and then the pomegranate juice, one tablespoon, at a time, whisking until smooth and thick. The glaze should be glossy in appearance and the texture should be sticky and pourable. If it is too thin, whisk in more powdered sugar. If it is too thick, add more pomegranate juice.
---
Calories:
423
kcal
|
Carbohydrates:
72
g
|
Protein:
3
g
|
Fat:
14
g
|
Saturated Fat:
1
g
|
Polyunsaturated Fat:
1
g
|
Monounsaturated Fat:
12
g
|
Sodium:
270
mg
|
Potassium:
282
mg
|
Fiber:
1
g
|
Sugar:
49
g
|
Vitamin A:
1
IU
|
Vitamin C:
1
mg
|
Calcium:
126
mg
|
Iron:
2
mg