Stop what you're doing and make this Taco Bell Copycat Vegan Crunchwrap Supreme. I assume that you might be planning to do so (since you're reading this blog post), but really, it's essential that you make this recipe.
In the 2 weeks since I first tried this recipe, I have made it 5 times. I think that is a record for me since I am always testing new recipes for the blog (and now my second cookbook!).
The main reason I have made it so often is that Max is *obsessed* with these crunchwraps. I've never seen him obsess about food in this way before. I guess I should be flattered, but it is also mildly annoying when he comes into the kitchen every day and asks "Hey, what are you making? Are you making me a crunchwrap?"
Table of Contents
1. What is a Crunchwrap Supreme?
2. How to Veganize This Recipe
3. Ingredients in Vegan Taco Meat
4. How to make Vegan Taco Meat
5. Assembly Instructions
I actually made them for the first time while filming a Youtube video, so I hope you check out the video. It's full of tips on what worked (and didn't work) and lots of laughs.
What is a Crunchwrap Supreme?
A crunchwrap supreme is one of Taco Bell's most popular dishes.
In short, it's a bunch of taco fillings + a crispy tostada shell wrapped up in a giant flour tortilla, then griddled until golden and crispy on the outside and soft and gooey yet crunchy on the inside thanks to the tostada.
It's been described as a "gift from the fast food gods" and the "best thing on Taco Bell's menu", so I had to make a vegan version at home.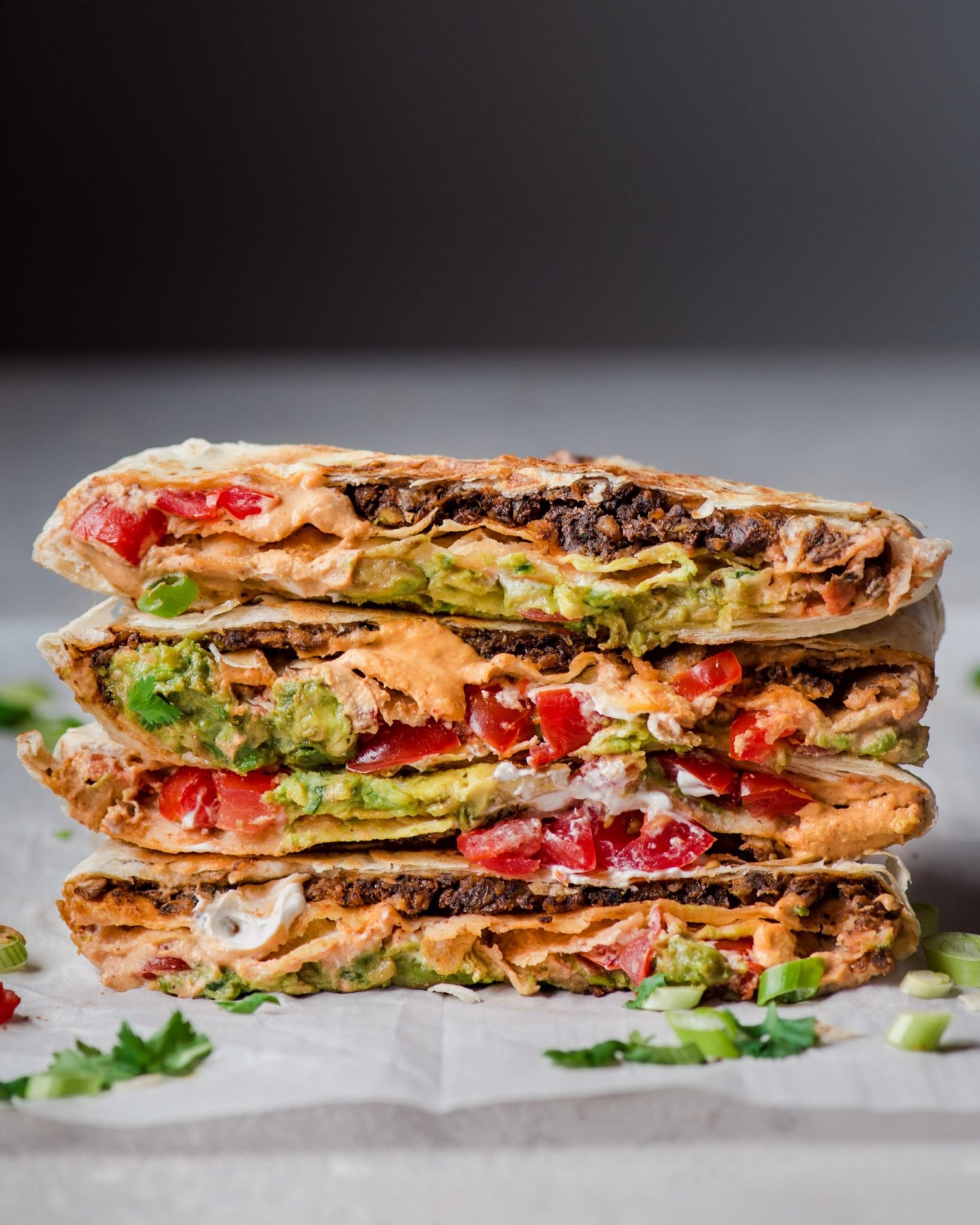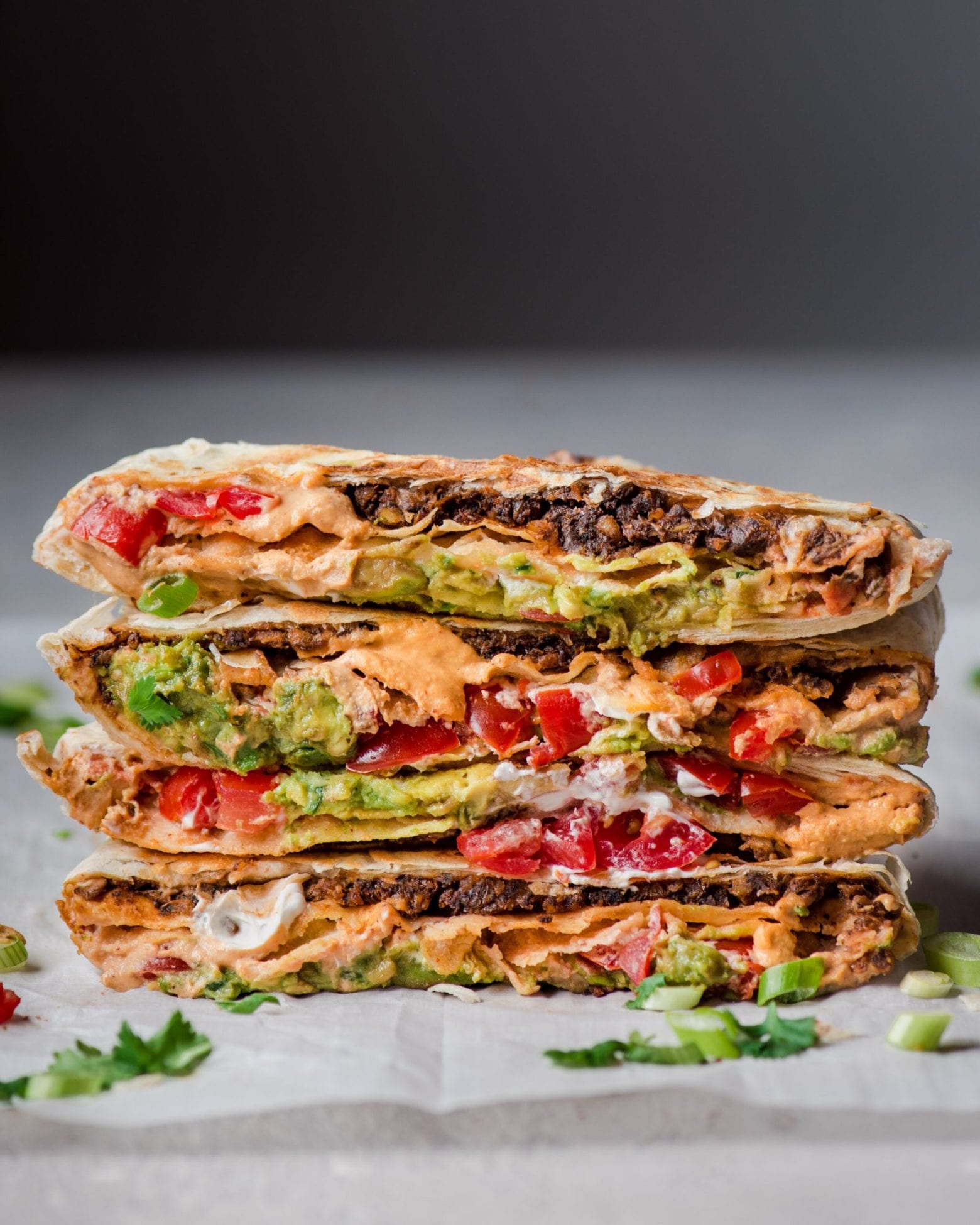 How to Veganize This Recipe
Ground Beef → Vegan Taco Meat
A traditional Taco Bell Crunchwrap Supreme is made with ground beef. And initially, I thought about just using a store-bought vegan meat substitute, such as soyrizo or Beyond Meat. But, I decided to develop my own homemade taco meat because (1) it felt like cheating to use a store-bought meat substitute in this recipe and (2) I wanted the challenge of making a taco meat recipe, since I've never made anything like it.
I'm just going to toot my own horn and say that I think this vegan taco meat is *fantastic." It's really rewarding to be able to make your own taco meat at home (more info on the actual recipe in the next section), but if you prefer to keep things quick, you can use store-bought vegan beef crumbles such as this or soyrizo.
Nacho Cheese Sauce → Vegan QUESO
This vegan queso tastes like a hybrid between queso sauce and nacho cheese sauce, and is the perfect cheeze for this recipe (and for quesadillas, tacos, and burritos).
Best of all, it's so easy and quick to make. All you need to do is blend up a handful of ingredients in a blender!
If you want the cheese sauce to taste even more nacho-cheese like, I recommend adding (1) pickled jalapeños and (2) pickled jalapeño brine. I used 2 tablespoons of each, and it really takes the cheese sauce over the top.
Note: if you have my cookbook, The Vegan Instant Pot Cookbook, my Queso recipe would be fantastic in here too!
Sour Cream → Vegan Sour Cream
As I mention in the Youtube video, I think the best vegan sour cream is from Tofutti. It tastes *just like* traditional sour cream but even better.
If you can't find Tofutti sour cream or prefer to avoid highly processed foods, I've included a vegan sour cream recipe below. The base for my sour cream recipe is (1) cashews and (2) coconut yogurt. The cashews make the sour cream extremely creamy and thick, and the coconut yogurt brings that characteristic tang that is essential in sour cream. I've made sour creams without coconut yogurt before, and I have to say, the addition of coconut yogurt makes it much more realistic.
The other ingredients are lemon juice, white vinegar, salt, garlic powder, and water.
My vegan sour cream recipe is delicious and works just as well in this recipe as the store-bought vegan one. But to be honest, when I make these crunchwraps for Max and I to just enjoy, I use the store-bought sour cream since it's one less component for me to prepare :)
Given all the flavors and components in this vegan crunchwrap supreme, you can't actually taste the difference between a crunchwrap made with my sour cream and a crunchwrap made with Tofutti sour cream. Which is to say – whichever option you use, it will be delicious.
The Fixings: Lettuce, Tomato, Guacamole, Salsa, and Cilantro
The rest of the fixings in a crunchwrap supreme (lettuce, tomatoes, salsa) are vegan so there's no need to "veganize them."
That said, my version includes three extras that are not part of Taco' Bell's classic crunchwrap supreme. First, guacamole, because guac makes everything better. I made a version of these without guacamole, and while it's still very delicious, I do like it better with guac. Two, salsa. I'm kind of surprised Taco Bell doesn't add salsa since it's an easy and cheap addition, but you can really taste the salsa in this recipe so I love it. And three, cilantro, for a little fresh herbaceous flavor.
Tortilla and Tostada
What makes the crunchwrap genius is the combination of a (1) a soft flour tortilla and (2) a crispy tostada shell. This is what makes it taste a hard taco shell wrapped in a quesadilla/burrito.
I make my own tostadas because I find store-bought tostadas to be quite bland (or perhaps, it was just the brand I bought). Luckily, it is *so easy and quick* to make your own tostada shells. All you need to do is brush some soft corn tortillas with oil and bake them in the oven for 10 minutes until nicely browned and crispy.
Note: if you don't want to make your own tostadas and can't find store-bought tostada shells, feel free to substitute with. a handful of tortilla chips.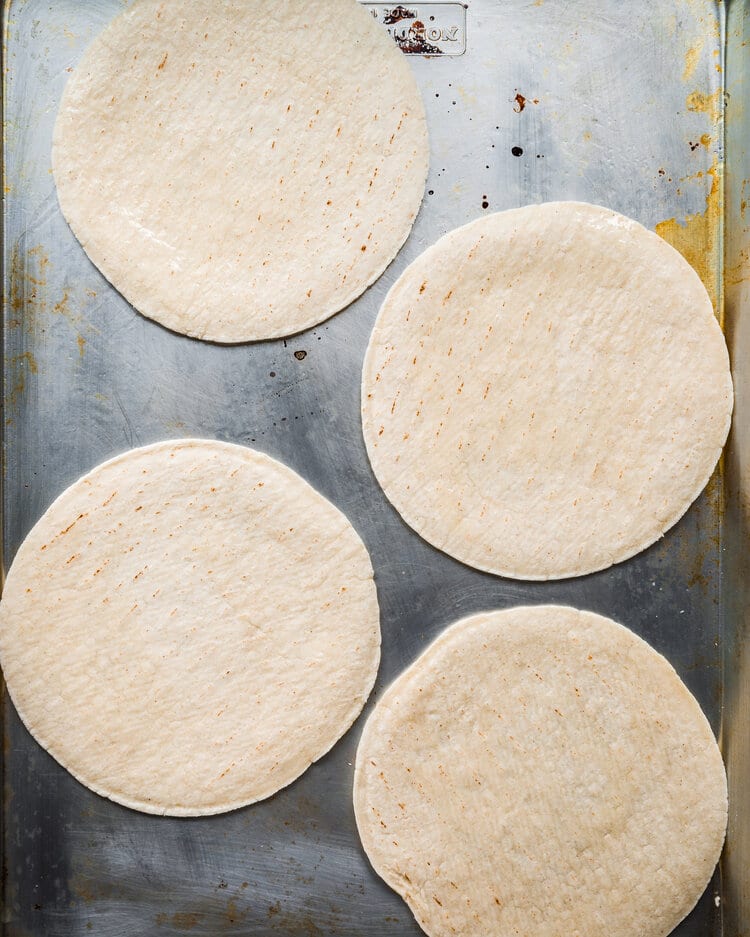 Ingredients in Homemade Vegan Taco Meat
The base for this ground meat is actually very healthy. It consists of lentils, mushrooms, onions, and walnuts.
Lentils. I used green lentils, but you could also use brown lentils.
Cremini mushrooms and yellow onion. The mushrooms bring a nice earthy and slightly meaty flavor. No need to cook the mushrooms or onions separately before adding them to the ground meat mixture.
Walnuts. I love adding walnuts because they add a surprisingly meaty, chewy texture and yet another source of umami in addition to the mushrooms. Since we are trying to mimic the taste of meat, the more umami the better!
The remaining ingredients help bring flavor to the taco meat. They include nutritional yeast (more umami), taco seasoning (a must in a Taco Bell recipe), ground flaxseed meal (helps to bind the ingredients together), smoked paprika (for a slight smoky taste, always helpful when trying to mimic meaty flavors), and salt/pepper.
There are two other flavoring ingredients that are optional. They're not common ingredients so I kept them optional, but they significantly increase the "beefy" taste of this taco meat.
First, porcini mushroom powder. It adds so much savory goodness (hello, more umami!) in a concentrated form. I buy mine on Amazon, and use it whenever I want to punch up the volume in a savory dish (it's also excellent in homemade vegetable broth). Here is another alternative mushroom powder that is sometimes sold at Whole Foods, and Trader Joe's has one as well (though it's not as potent as the one I used in this recipe).
Or, if you have dried mushrooms at home, you could also put those in a food processor or spice grinder and pulverize until they're finely ground up.
And the second optional ingredient is vegan beef broth seasoning. This seasoning powder is typically mixed with water to create vegan beef broth, but I just use the powder in this recipe. The seasoning truly smells like beef, so if it's important for you to replicate the taste of beef in this recipe, I recommend getting this product.
I personally don't need my taco meat to taste like beef (I never liked beef much, even before going vegan), but I wanted to develop a crunchwrap supreme recipe that tastes as close to the original Taco Bell one as possible. Just kidding. My version is WAY better than Taco Bell's. It might just be in the Top 5 of the most delicious things I've ever eaten.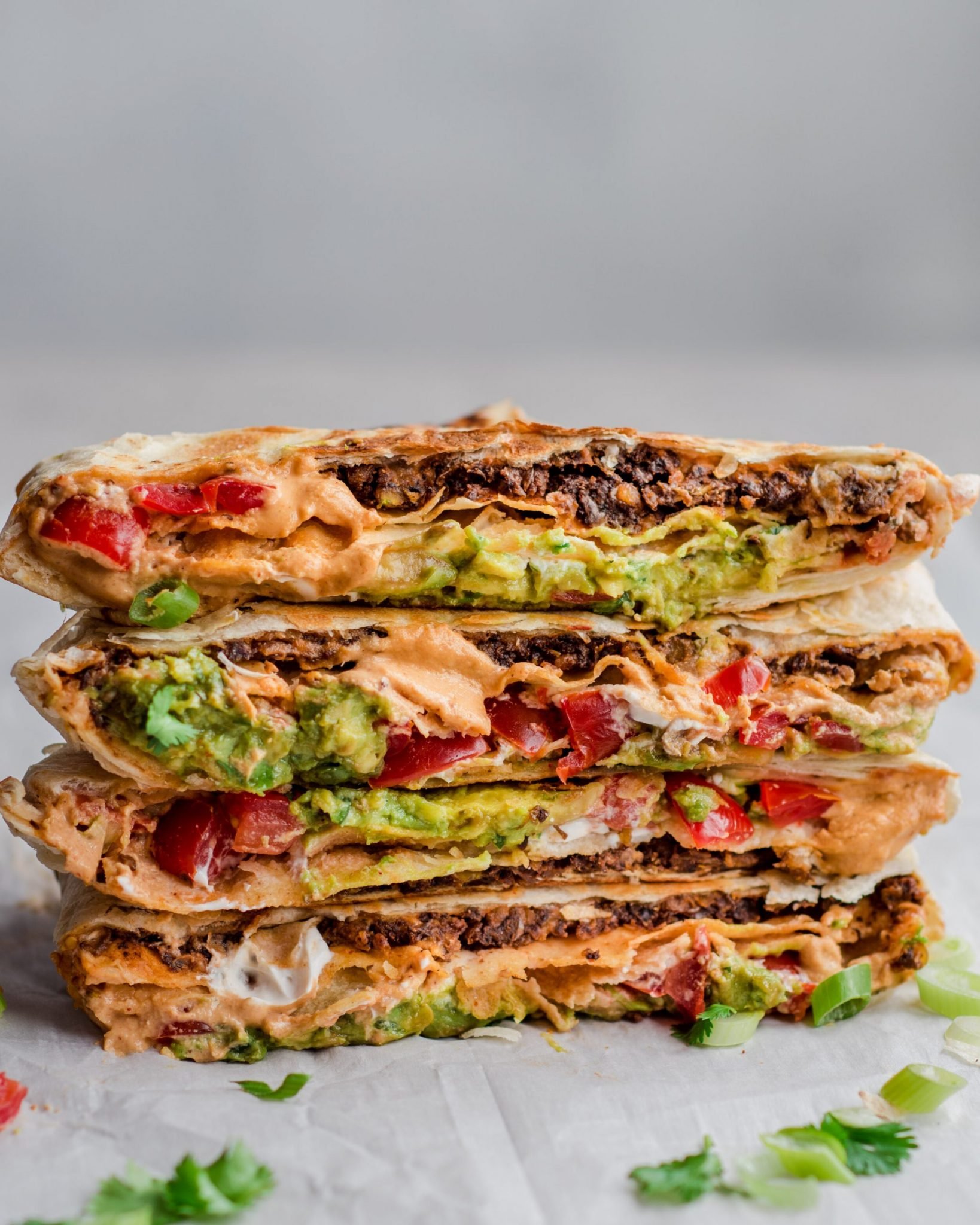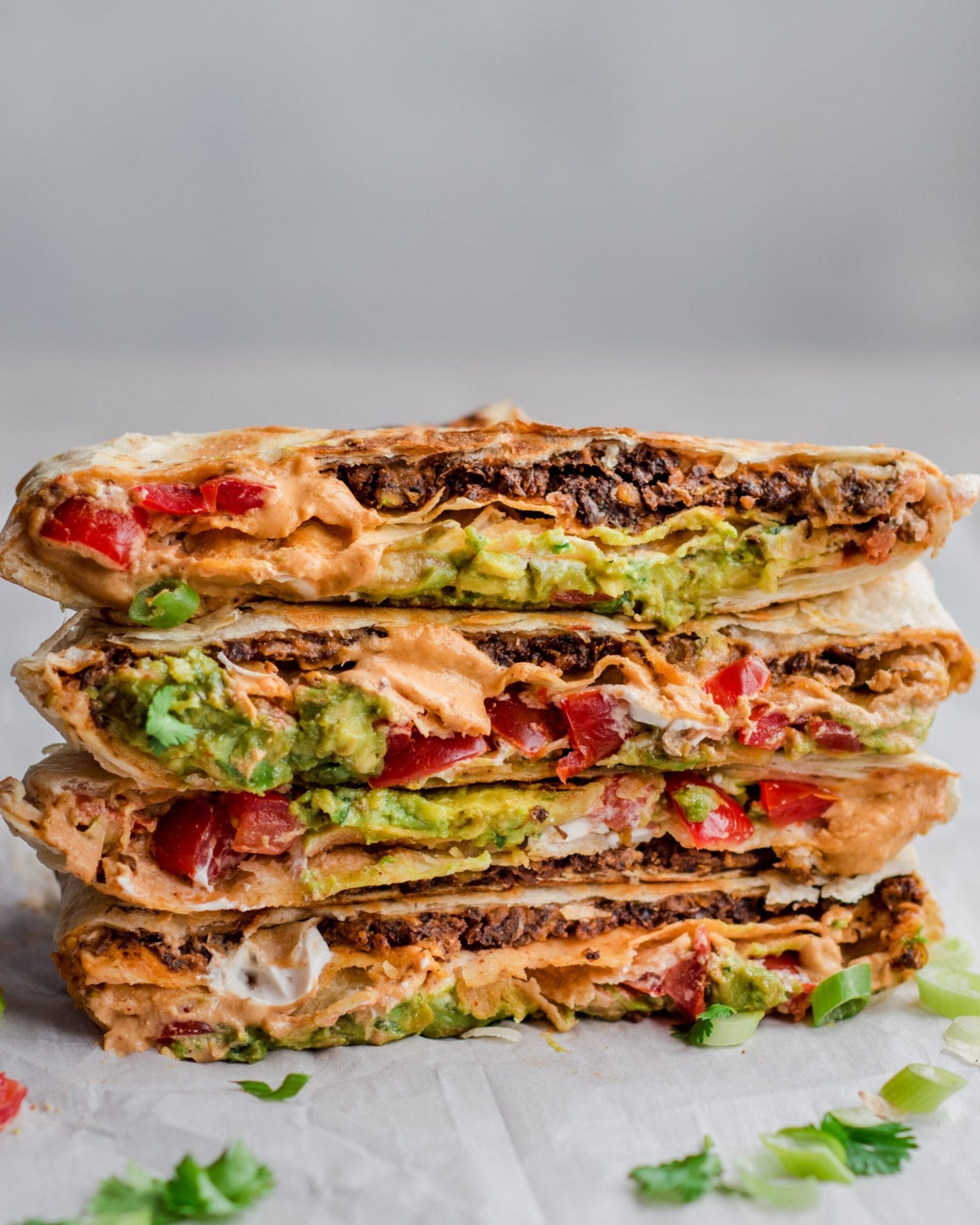 How to make Vegan Taco Meat
First, you'll need to cook the lentils. The key is to slightly undercook the lentils. This helps the lentils retain some texture, which is key in making a ground beef substitute. If you fully cook the lentils, the texture of the taco meat will be softer and won't brown up as well.
The cooked lentils will get mostly (but not fully) pureed in the food processor. Watch the video at the 03:07 mark to see the desired texture of the blended lentils.
Meanwhile, toast the walnuts to bring out their nuttiness and temper the bitterness. Then, add the walnuts to the food processor (first take out the lentils and them to a large bowl) and quickly blend until you have a fine crumb. Add the mushrooms and onions to the walnut crumbs and blend until very finely chopped up. Watch the video at the 04:00 mark to see the desired texture.
Then remove the walnut-mushroom-onion mixture from the food processor and add it to the large bowl with the pureed lentils. To that bowl, add the remaining taco meat ingredients and fold with your hands until you get a slightly sticky mixture that comes together.
Do not add the remaining ingredients to the food processor and just blend everything together. This will overwork the mixture and cause it to become too sticky. It is important to fold in these ingredients by hand.
Once you have a mass that comes together, it's time to cook the taco meat in batches. Break up the taco meat with your fingers into small chunks and add them to a lightly oiled skillet. Cook for 4-5 minutes, breaking up the taco meat further into small crumbles, until it's lightly browned.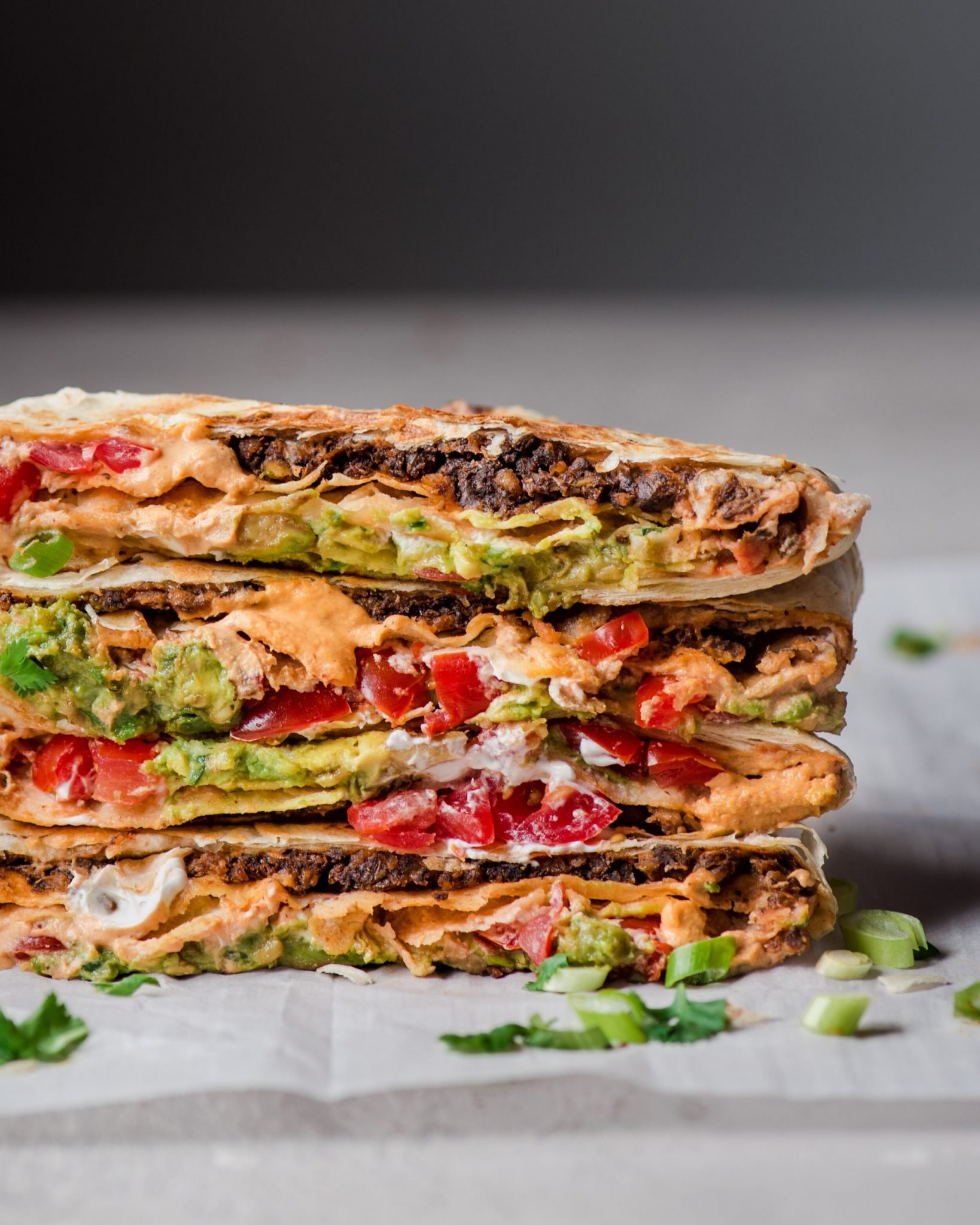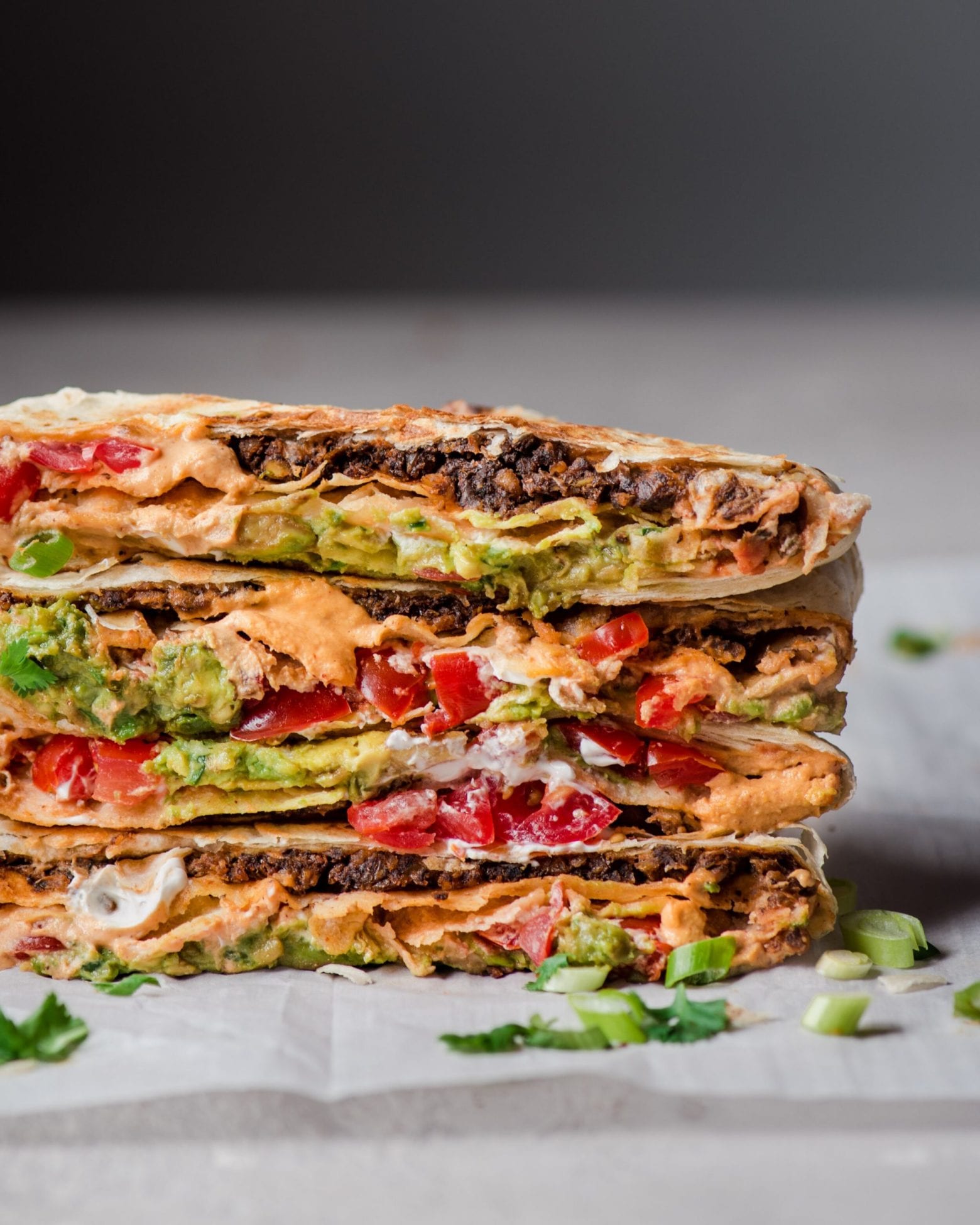 Assembly Instructions
First, assemble all of your components. This is the order in which I layered my components.
Large Flour Tortilla
Vegan Queso

(spread it out in a circle in the middle in roughly the same size as the tostada shell, but leave a generous border)

Vegan Taco Meat

(add on top of the cheese sauce)

Tostada Shell

(add on top of the taco meat)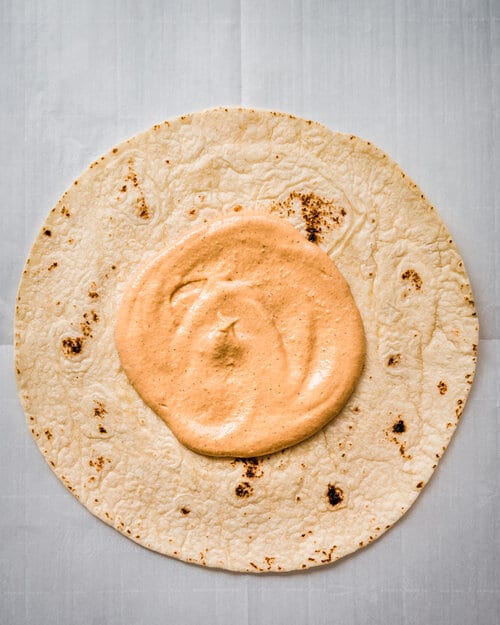 Vegan Sour Cream

(spread on top of the tostada shell; it's actually easier to spread the sour cream on the tostada separately before adding the tostada on top of the taco meat; place sour cream side up.)

Tomatoes

(on top of sour cream)

Salsa

(on top of tomatoes)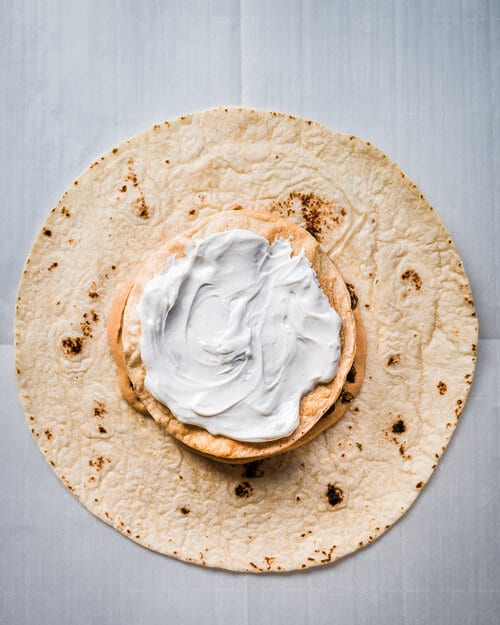 Lettuce

(on top of salsa)

Guacamole

(on top of lettuce)

Cilantro

(on top of guacamole)

Extra tortilla wedge

(on top of cilantro; instructions below)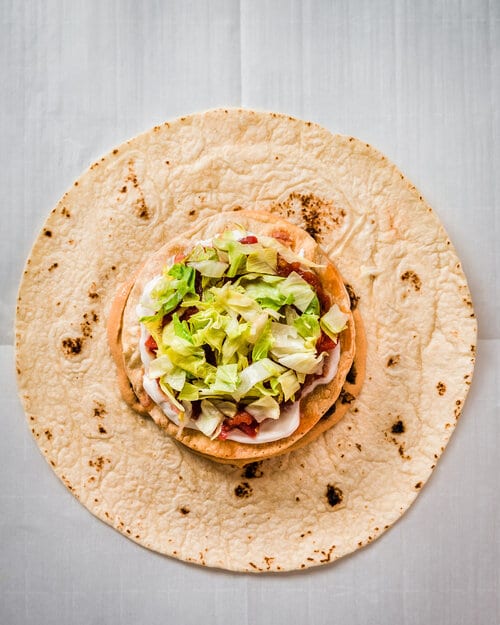 The ideal size of a flour tortilla for a crunchwrap is 12 inches. Unfortunately, I've never seen such large tortillas at grocery stores, only at restaurants. The largest size I've been able to buy are 10-inch tortillas like this. It's large enough to fold the crunchwrap around in 6 folds, but the tortilla isn't large enough to fully fold over the fillings in the center.
This dilemma requires a little McGuyvering, but luckily it's simple. Take an extra flour tortilla and cut it in half, then cut each half in half, so you end up with four triangular wedges (see the fourth photo above). Use that triangular wedge to cover up the taco fillings in the center before folding over the main flour tortilla over the taco fillings.
If this sounds confusing, I recommend watching the Youtube video at the 14:39 mark.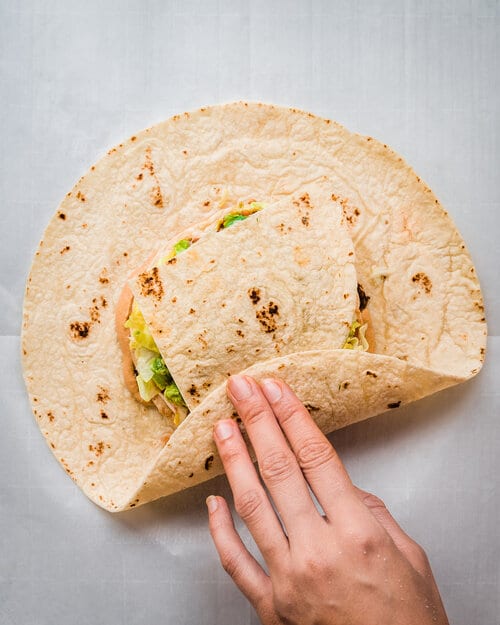 Finally, heat up a skillet over medium heat with a small amount of oil and cook the crunchwrap supreme (seam side down). After it's golden and crispy, flip and cook it on the other side. Voilà, that's it!
PRO TIP: Exercise restraint and adding only a moderate amount of fillings to your wrap. An overstuffed crunchwrap might fall apart when you fry it.
I do recommend eating your Crunchwrap Supremes shortly after you make them because the longer they sit, the softer the tostada shell will get. It's still tasty, but you miss out on the quintessential crunchiness that makes a crunchwrap supreme.
That's all you need to know about this Vegan Crunchwrap Supreme! If you make it, please leave a comment below or on Youtube with your feedback! And of course, tag me with your remakes on Instagram!
The BEST Vegan Crunchwrap Supreme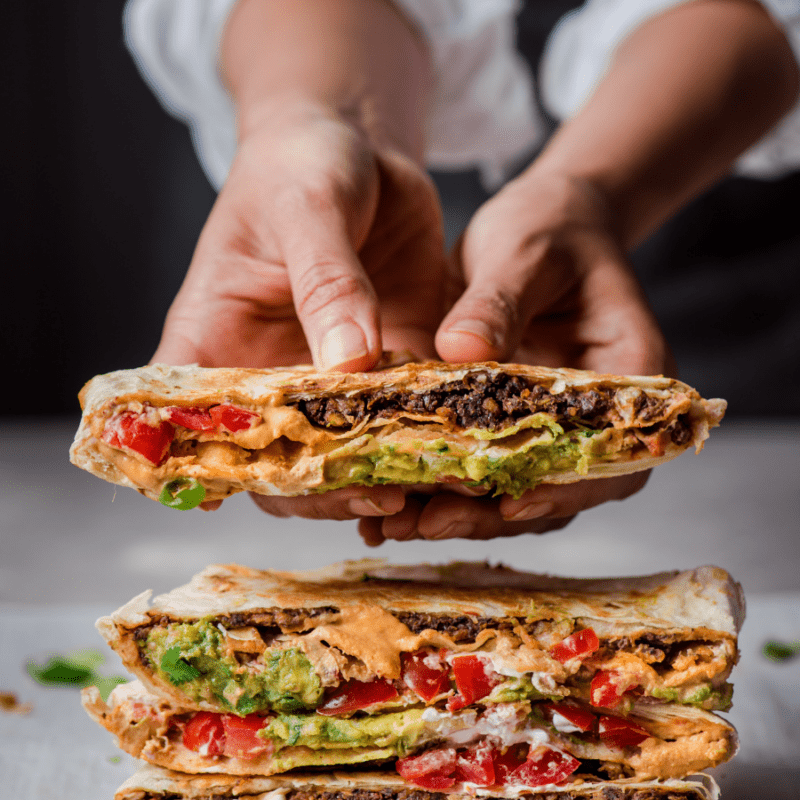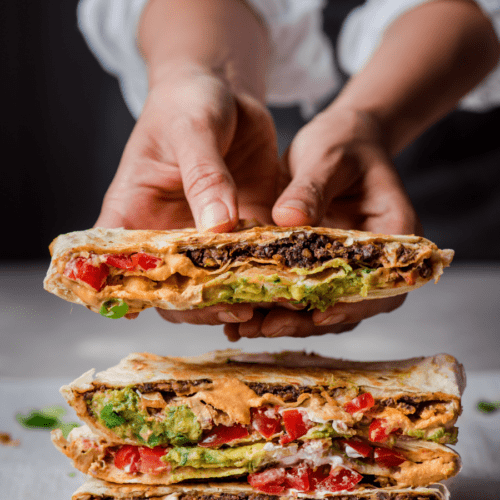 Just like the Crunchwrap Supreme from Taco Bell but VEGAN! Layers of vegan nacho cheese sauce, homemade vegan taco meat, sour cream, guacamole, crispy tostadas, and more! The most unbelievably delicious copycat fast food recipe you will ever taste!
Ingredients
10-inch burrito-size flour tortillas

Vegan Taco Meat (recipe below)
Vegan Nacho Cheese Sauce (recipe below)
Tostada Shells (store-bought, or homemade recipe below)
Vegan Sour Cream (store-bought, or homemade recipe below)
Guacamole (recipe below)

Chopped tomatoes

Salsa of choice

Shredded iceberg lettuce

Cilantro leaves
Instructions
Place a flour tortilla on a flat surface. Reserve an extra tortilla and cut it into four wedges – you'll use it to patch up the bottom of each crunchwrap (most burrito-size tortillas are not large enough; see notes and photos in blog post).

NOTE: if you're just making one crunchwrap, you can use your tostada shell to cut out a round of the flour tortilla of the same size and use it to patch up the bottom of the crunchwrap (this is the prettier option but more wasteful if you're making more than one crunchwrap).

Add all of the fillings, but do not overstuff or overfill! Spread out a layer of the Vegan Nacho Cheese Sauce in the middle, in roughly the same size as the tostada shell, but leave a generous border. Add some of the Vegan Taco Meat on top, spreading out to the border of the cheese sauce.

Spread some Vegan Sour Cream onto a Tostada Shell. Place the tostada shell on top of the vegan ground beef, sour cream side face up.

Top the sour cream with a small handful of chopped tomatoes, followed by a few spoons of salsa, a small handful of shredded lettuce, a few spoons of the Guacamole, and a few cilantro leaves. Place one of the extra tortilla cut-wedges on top of the fillings.

To fold, start with the bottom of the flour tortilla and fold the edge up over the center. Continue this process, for a total of 6 folds (like a hexagon) and press down to ensure the tortilla doesn't unfold.

NOTE: If your flour tortillas are dry, I recommend briefly microwaving them in a damp paper towel to add some moisture, as dry tortillas will start to unfold.

Cook the crunchwraps. Heat a skillet with a bit of oil over medium heat. Add a crunchwrap, seam-side down and cook for 2-3 minutes, until the surface is golden brown. Flip and cook for another 2-3 minutes until the second side is golden-brown. Take off the heat, slice in half, and enjoy!
---
Vegan Taco Meat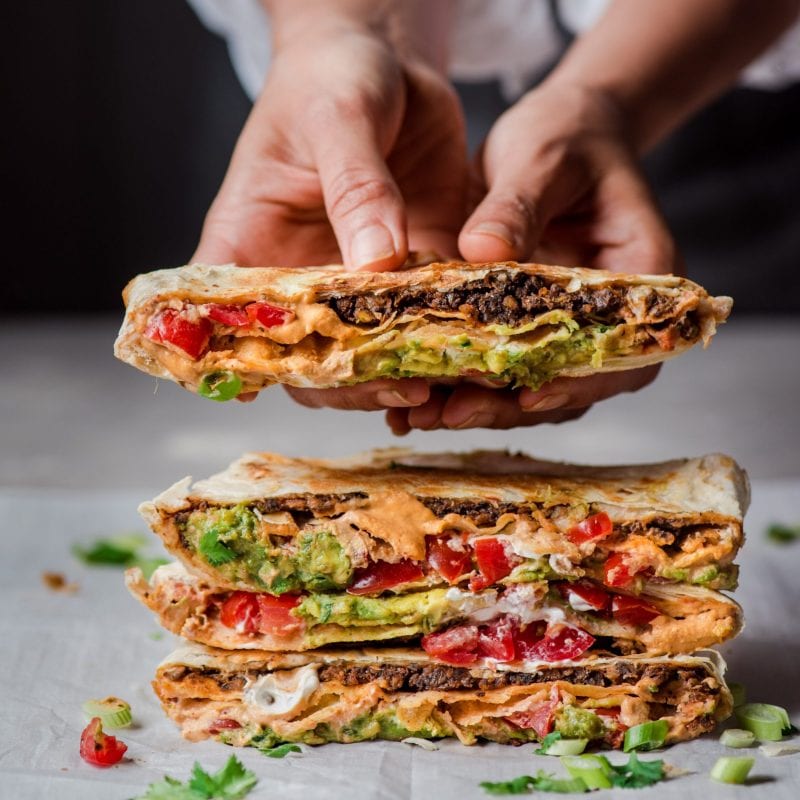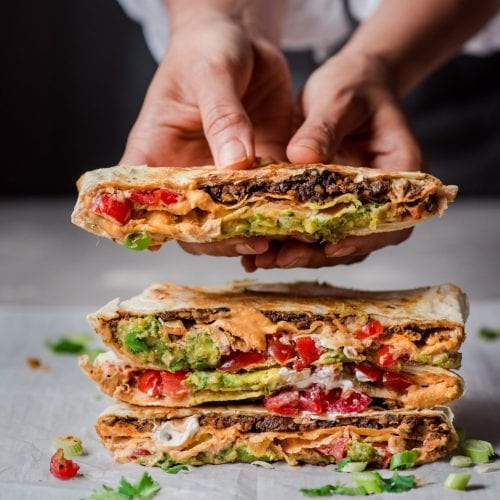 Ingredients
⅔

cup (180g)

green lentils or brown lentils

8

ounces (227g)

mushrooms

stems removed very roughly chopped

½

of a

small-medium yellow onion

very roughly chopped (~75g once chopped)

¼

cup (28g)

walnuts

toasted

1

tablespoon

flaxseed meal

3

tablespoon

nutritional yeast 

1

teaspoon

kosher salt

plus more to taste

freshly cracked black pepper

to taste

1

teaspoon

smoked paprika

2-3

tablespoon

taco seasoning

(start with 2 tablespoons)

½

teaspoon

porcini mushroom powder add more as desired (optional but adds a concentrated pack of umami)

2

teaspoon

vegan beef broth seasoning (optional but really makes this taco meat taste like beef)

olive oil or oil of choice

for cooking
Instructions
Cook the lentils. Bring some water to a boil in a saucepan and lightly salt the water. Once boiling, add the lentils. Reduce the heat to a simmer and cook the lentils for just 8-10 minutes. The point is to slightly undercook the lentils: they should be mostly cooked but not fully cooked with a distinct bite, as they'll get cooked later and the taco meat will get mushy if fully cooked. Drain the lentils thoroughly. 

Transfer the cooked lentils to a food processor and blend a few times, followed by a few pulses, until the lentils are partially blended with a few pieces still intact. Transfer the lentils to a large bowl and set aside. Wipe out the food processor bowl.

NOTE: Watch the Youtube video at the 03:07 mark to see the desired texture of the blended lentils.

While the lentils are cooking, toast the walnuts. Add to a dry skillet over medium heat and toast for 5 minutes until they smell toasty and are darker in color.

Back in the food processor, add the toasted walnuts. Blend briefly until you have fine crumbs, but don't over-process, or it will start to turn into walnut butter. Add chopped mushrooms and onions to the food processor and blend a few times, followed by a few pulses until they are very finely chopped.

NOTE: Watch the video at the 04:00 mark to see the desired texture.

Make the taco meat filling. Add the walnut-vegetable mixture to the bowl with the blended lentils. Then add the flaxseed meal, nutritional yeast, salt, pepper, smoked paprika, taco seasoning, porcini mushroom powder (if using) and beef broth flavoring (if using). Use your hands to mix the taco meat until the mixture comes together with your hands. It should easily come together but not be very sticky. If the mixture is too sticky, add a few tablespoons of all-purpose or gluten-free flour and toss to combine.

Cook the taco meat. Heat a large (12-inch) nonstick skillet over medium/medium-high heat with a tablespoon of olive oil. Once hot, add about 1/3 to 1/2 of the mixture to the pan (do not overcrowd) and break the taco meat up with a wooden spoon or angled spatula into as small pieces as you can. Cook for 4-5 minutes, or until browned and slightly crispy. Repeat with remaining taco meat.
---
Calories:
147
kcal
|
Carbohydrates:
18
g
|
Protein:
10
g
|
Fat:
5
g
|
Saturated Fat:
1
g
|
Polyunsaturated Fat:
3
g
|
Monounsaturated Fat:
1
g
|
Sodium:
258
mg
|
Potassium:
446
mg
|
Fiber:
9
g
|
Sugar:
2
g
|
Vitamin A:
252
IU
|
Vitamin C:
3
mg
|
Calcium:
23
mg
|
Iron:
2
mg
Vegan Nacho Cheese Sauce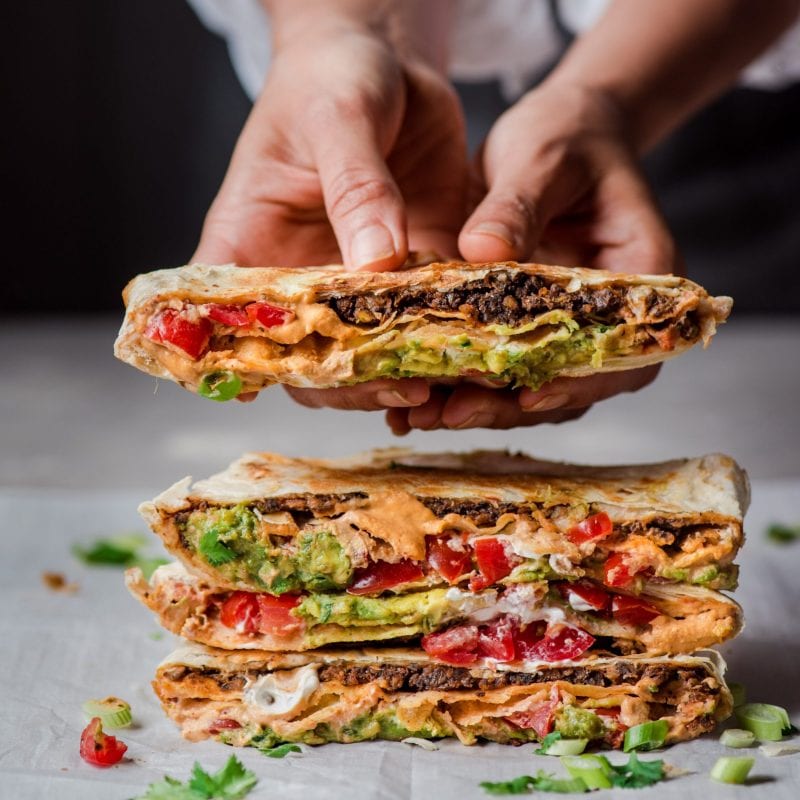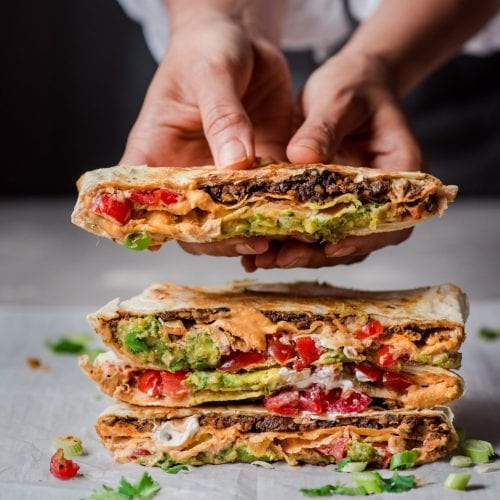 This makes a decent amount of cheese sauce; you'll have plenty to make at least 8 crunchwraps. Use leftovers in quesadillas, tacos, nachos, or burritos. It'll stay good in the fridge for at least 5 days.
Ingredients
1

cup

~120g raw cashews, soaked overnight (or soaked in boiling water for 1 hour)

1/2

cup

~112g vegan unsweetened plain yogurt (I used this one)

1/2

cup

~120g salsa of choice

2

tablespoons

water

1

teaspoon

ground cumin

1/2

teaspoon

chili powder

1/2

teaspoon

smoked paprika

1

teaspoon

kosher salt

2

tablespoons

nutritional yeast

2

tablespoons

pickled jalapeños + 2 tablespoons pickled jalapeño brine,

optional but what gives this a distinct nacho taste
Instructions
Drain the soaked cashews and pat dry. Add the cashews, along with the remaining ingredients, to a high-powered blender. Blend until thick, creamy, and smooth.
---
Calories:
90
kcal
|
Carbohydrates:
7
g
|
Protein:
4
g
|
Fat:
6
g
|
Saturated Fat:
1
g
|
Polyunsaturated Fat:
1
g
|
Monounsaturated Fat:
3
g
|
Sodium:
236
mg
|
Potassium:
160
mg
|
Fiber:
1
g
|
Sugar:
2
g
|
Vitamin A:
178
IU
|
Vitamin C:
2
mg
|
Calcium:
27
mg
|
Iron:
1
mg
Homemade Tostada Shells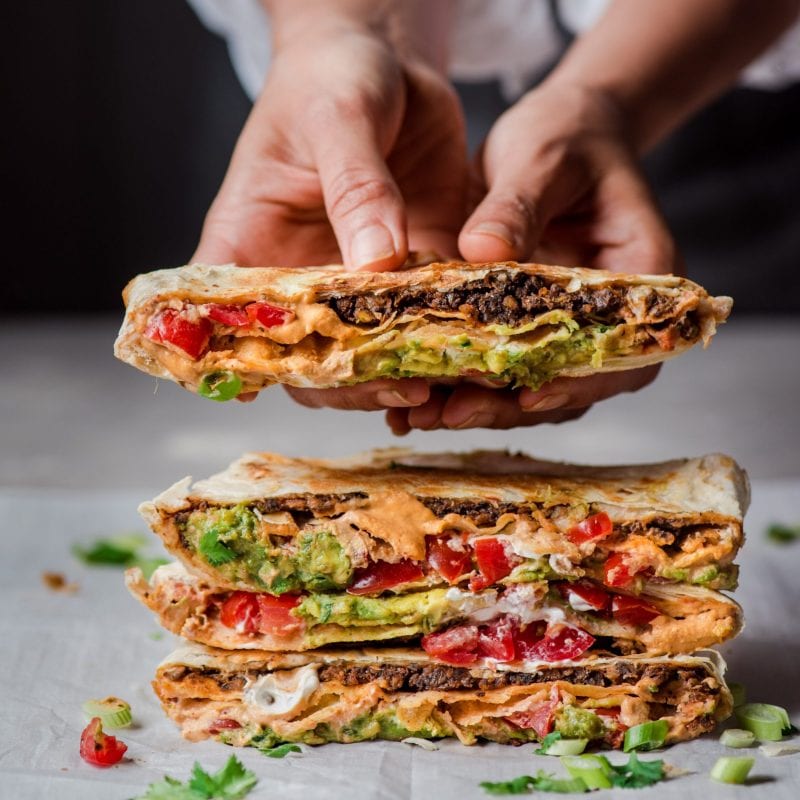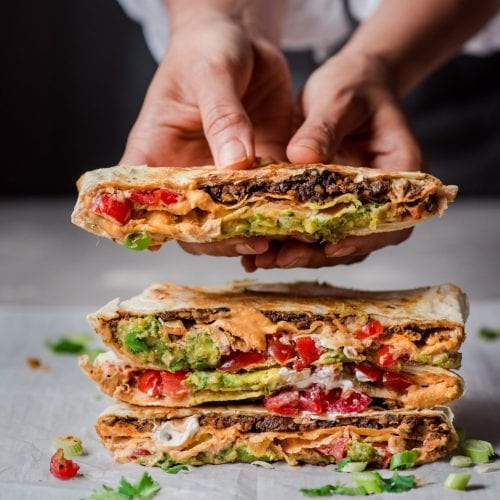 Homemade tostada shells are so easy to make and are way fresher and tastier than store-bought tostadas.
Ingredients
6 to 8

Soft corn tortillas

Neutral-flavored oil of choice
Instructions
Preheat the oven to 400ºF/200ºC.

Lightly brush soft corn tortillas with oil. Spread them out in a single layer on large baking sheets (I can fit about 5 on a half sheet pan)

Bake for 4-5 minutes, then flip the tortillas and bake another 4-5 minutes until the tortillas are crispy and lightly brown. Use immediately.
---
Homemade Vegan Sour Cream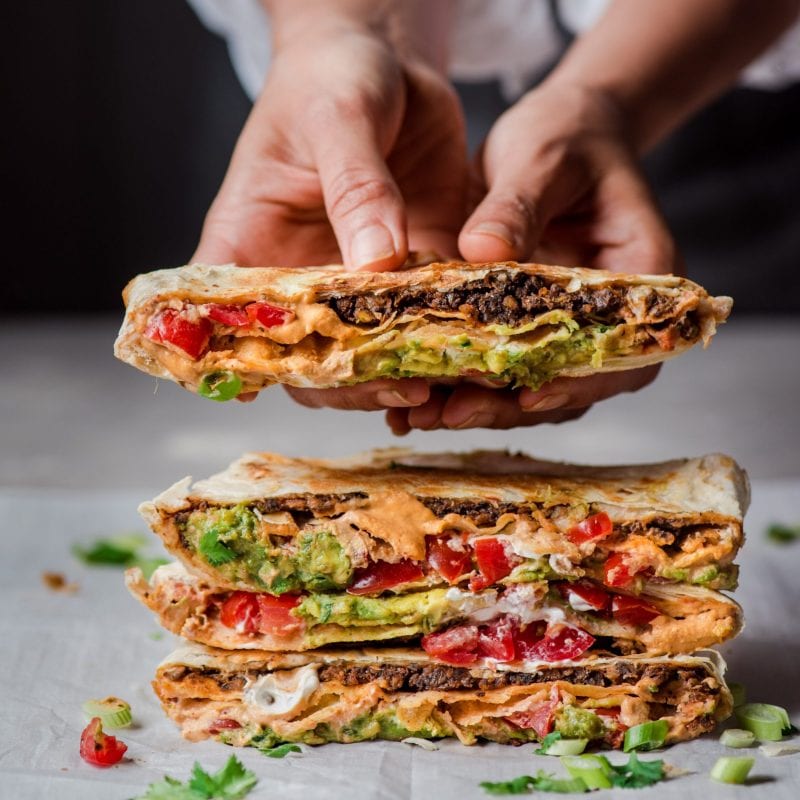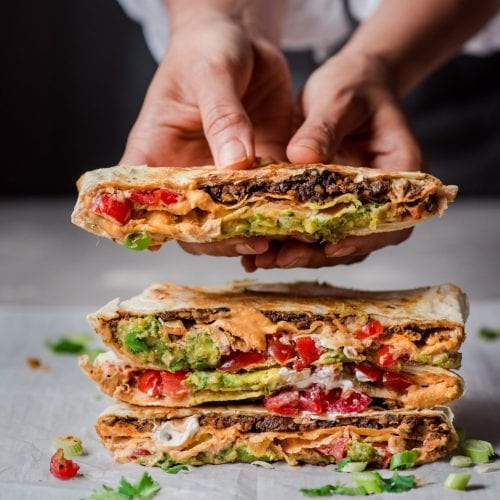 A simple but delicious vegan sour cream made using just 5 ingredients! Made with more wholesome ingredients than store-bought options and couldn't be easier!
Ingredients
1

cup

(130g) raw cashews, soaked overnight or for 8 hours*

21/2

tablespoons

freshly squeezed lemon juice

1/2

teaspoon

white vinegar

1/2

cup

~112g coconut yogurt (I used this one)

Heaping 1/4 tsp sea salt

plus more to taste

1/2

teaspoon

garlic powder

3-4

tablespoons

water

more as needed
Instructions
Add all of the ingredients except for the water to a high-powered blender and blend until smooth and creamy, scraping down the sides frequently. Then add a tablespoon of water, at a time, until you the sour cream comes together and the cashews are fully pulverized.

Taste for seasonings, adding more salt, lemon juice, or vinegar as needed.

Refrigerate before using.
Notes
*I recommend soaking the cashews overnight, if you can, instead of in boiling water for 1 hour, because it really softens them up. There isn't much liquid in this recipe, so even when you're using a fancy blender like a Vitamix, having really soft cashews will make it easier to blend.
I also recommend refrigerating this sour cream before using, as it significantly improves its taste.
---
Guacamole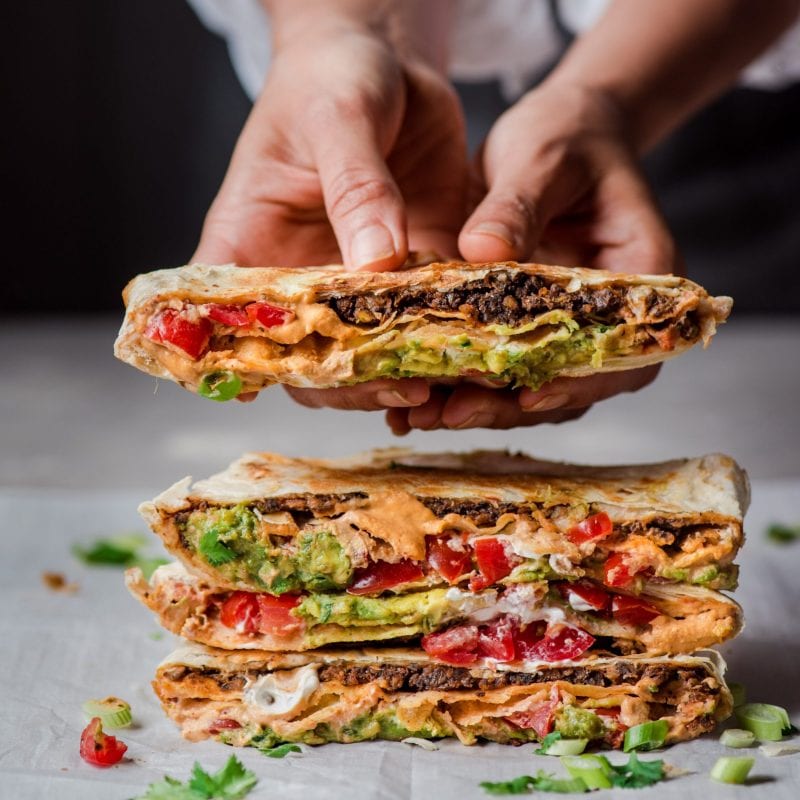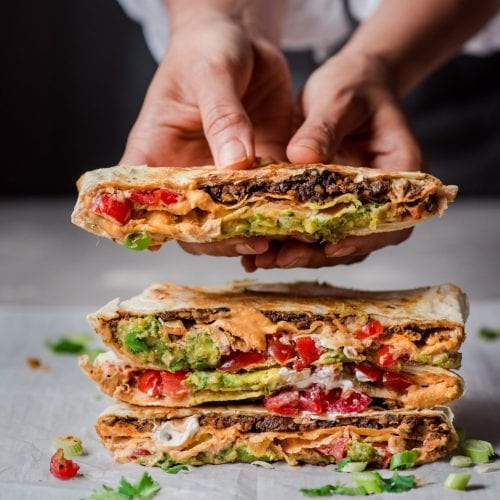 An easy but tasty guacamole recipe! This recipe makes quite a lot of guacamole, so feel free to halve the recipe depending on how many crunchwraps or nachos you're making.
Ingredients
3

ripe avocados

1

large juicy lime

juiced

1

jalapeño

diced (or add a pinch or two of cayenne pepper)

2

garlic cloves

crushed

1/4

cup

fresh cilantro

chopped

Kosher salt or sea salt to taste
Instructions
Scoop out the avocado flesh into a bowl. Squeeze the lime juice on top. Add the jalapeños, garlic, and cilantro, and mash everything up with a fork until smooth but there are still some rough avocado chunks. Season to taste with salt.
---
Calories:
99
kcal
|
Carbohydrates:
6
g
|
Protein:
1
g
|
Fat:
9
g
|
Saturated Fat:
1
g
|
Polyunsaturated Fat:
1
g
|
Monounsaturated Fat:
6
g
|
Sodium:
35
mg
|
Potassium:
306
mg
|
Fiber:
4
g
|
Sugar:
1
g
|
Vitamin A:
133
IU
|
Vitamin C:
10
mg
|
Calcium:
10
mg
|
Iron:
1
mg