I am going to start things off by saying this is THE BEST SUMMER DESSERT EVER. I have made it three times in the last 8 days, which is absurd because I am moving in less than 3 weeks and I should really be using my spare time to pack and not bake.
But, that's how good this Vegan Brown Butter Peach Cobbler is. A rich cobbler batter gets swirled with vegan brown butter, then topped with fresh summer peaches and juicy blueberries coated in a warming sugar-and-spice mixture. The result is a texture that is sticky and caramelized on top, yet fluffy and tender on the inside. It feels like part peach cobbler, part cake in the best way possible.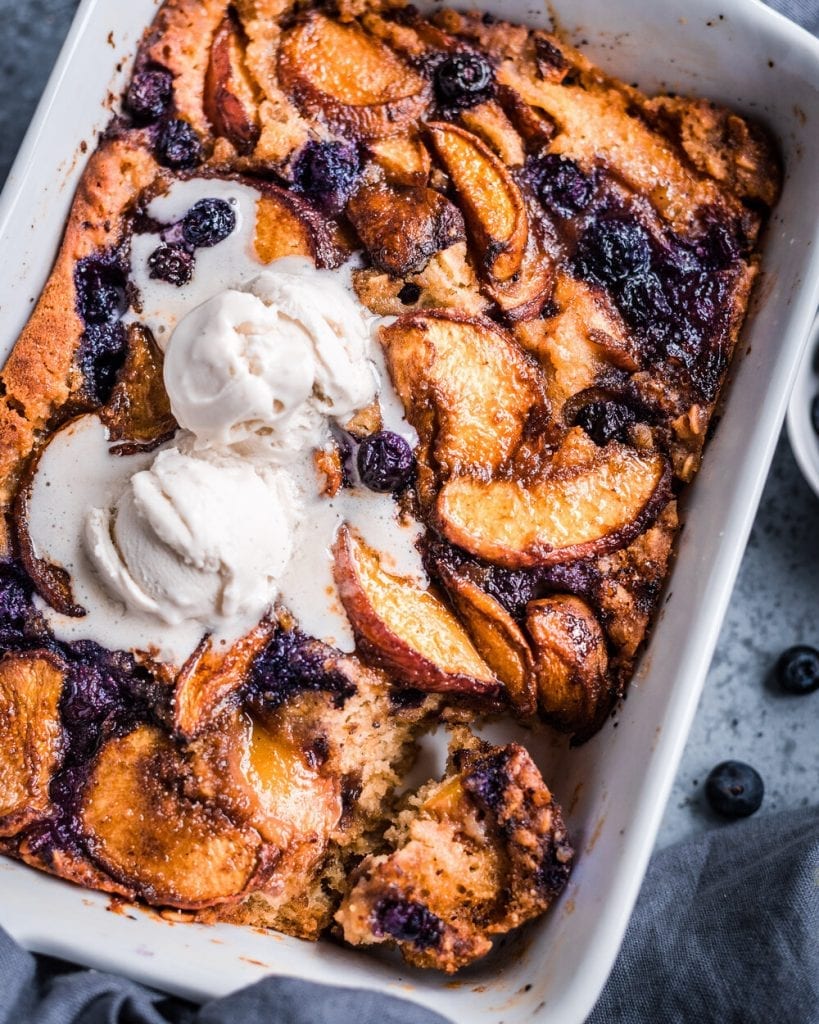 Why you're going to LOVE this Vegan Brown Butter Peach Cobbler
Texture, texture texture. This vegan peach cobbler has the best of texture worlds. The brown butter bubbles up in the oven, and transforms the cobbler batter into a sticky, caramelized cake with edges and bits that are almost crunchy. Meanwhile, the inside of the cake is fluffy, tender, and melts in your mouth.
Pure Decadence. This is the most decadent dessert you can imagine (hello, brown butter)! Imagine the most buttery, most indulgent cake ever. This is it! I promise no one will ever guess this peach cobbler is vegan, which means it's the perfect dessert to bring to an event, whether it's a potluck, barbecue, or any other socially distanced summer gathering.
Easy to make. While this recipe might sound complicated or challenging, it's actually very easy and quick to prepare. Especially with the handy step-by-step photos and video instructions. No pastry dough required, the cobbler batter simply involves whisking together a few ingredients (flour, sugar, milk), and it's 10 times easier than making pie! But just as tasty as pie, if not tastier.
Summer heaven. Peaches are at their peak right now, and this is such a fantastic way to enjoy them. Peaches get married with coconut sugar, cinnamon, ginger, cardamom, and fresh nutmeg for delightfully warm and rich flavors.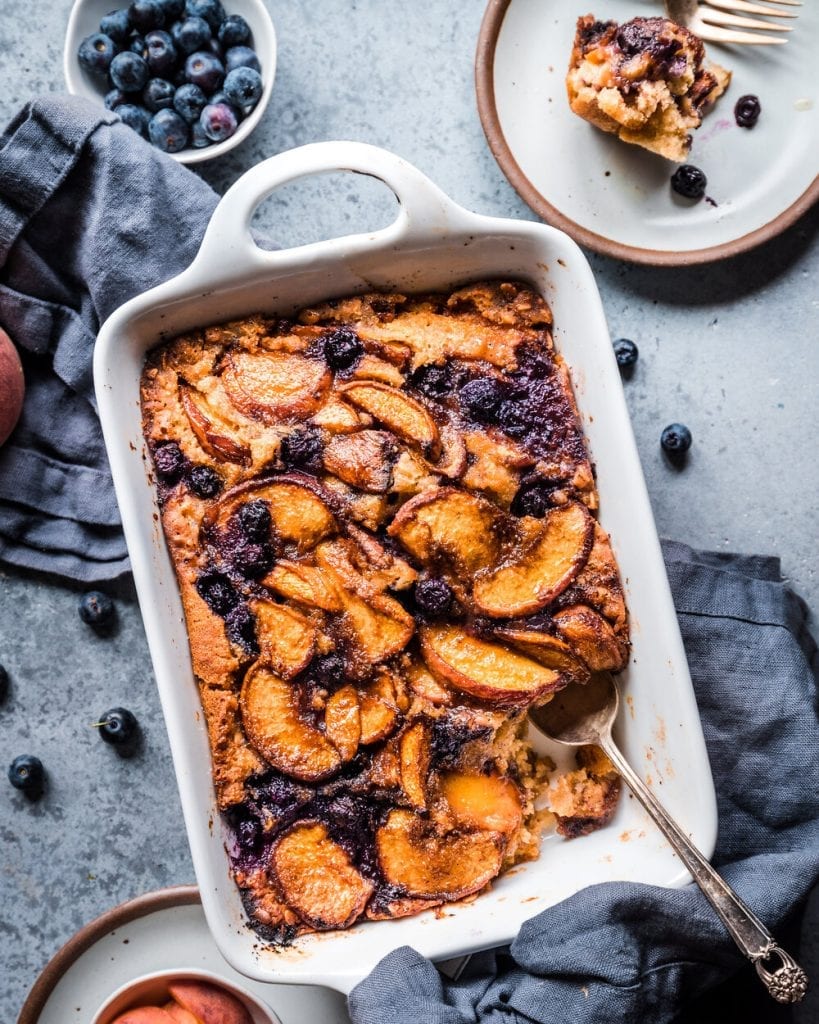 Ingredient Rundown
Vegan Butter
While vegan butter doesn't brown in the same exact way as dairy-based butter because it lacks milk solids, it does get browner and richer in flavor.
After vegan butter is toasted for several minutes, it becomes noticeably deeper, richer, and toastier in flavor, which makes the cobbler so incredibly delicious and packed with flavor. Plus, once you start browning the butter, an intoxicatingly nutty aroma will waft throughout your kitchen.
This recipe calls for a generous amount of vegan butter (10 tablespoons, to be precise), but I already told you it was decadent!
Peaches. This is a peach cobbler! You want to use ripe but slightly firm peaches so they don't totally disintegrate during baking.
Blueberries. Technically this is a blueberry-peach cobbler, but if you don't have blueberries, don't let that detract you from making this. You could also substitute them with blackberries or raspberries.
Coconut Sugar and Spices. The peaches and blueberries macerate with coconut sugar, cinnamon, ginger, cardamom, and nutmeg. I like using coconut sugar (or brown sugar) instead of white sugar since it pairs beautifully with these warming spices. The cardamom is optional, but if you can, use freshly grated nutmeg. It makes a difference, I promise.
All-Purpose Flour. All-purpose-flour brings the structure to this cobbler. If allergic to gluten, a gluten-free all purpose flour (with xanthan gun) should work well.
Rolled Oats. Oats aren't traditional in a cobbler, but I love the subtle texture they bring to this rustic cake/cobbler hybrid.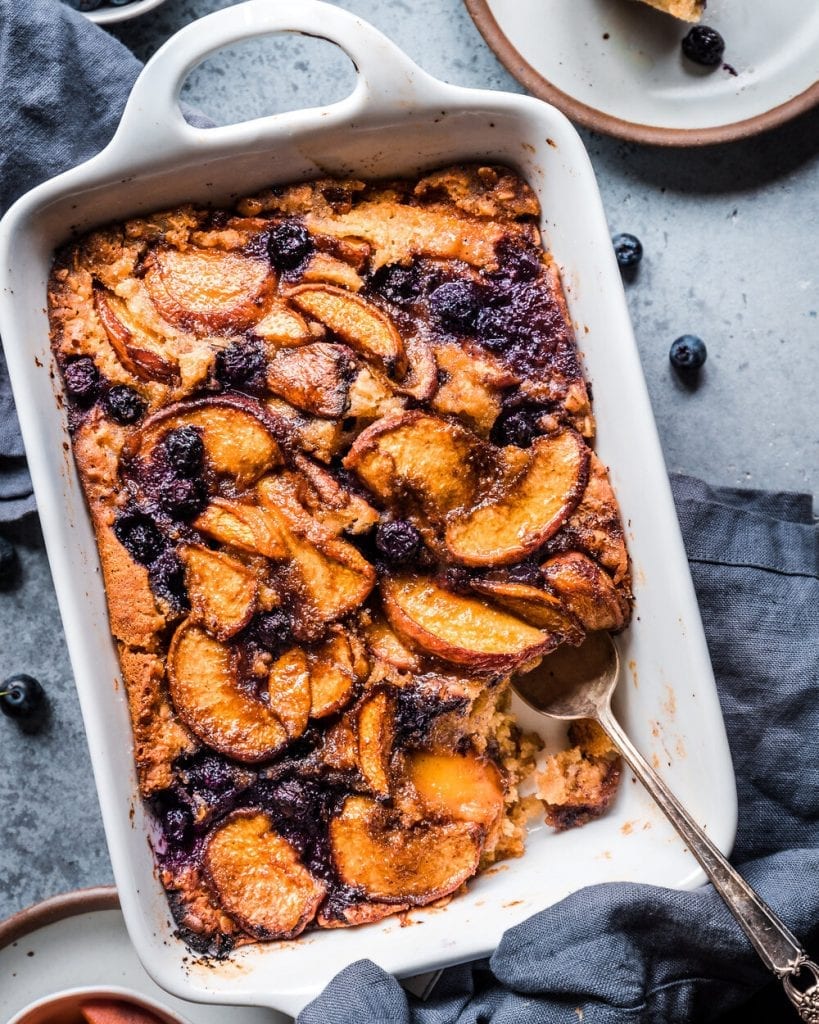 How to Make Brown Vegan Butter
Browning vegan butter is fairly similar to browning regular butter! All you need is a skillet and vegan butter.
First, slice your vegan butter into even sized pieces. I sliced them into ~1 tablespoon pieces. Even-sized pieces means the butter will cook evenly.
Second, heat a skillet (a cast iron skillet or stainless steel skillet works great) over medium heat. I like using a cast iron skillet because it keeps this a one-pan recipe.
Next, add your vegan butter pieces, and once they're melted, stir the butter frequently. Frequent stirring is important for even browning and to prevent burning. Also, frequent stirring or swirling the pan allows you to see your browning progress. The butter will start to foam after several minutes, and then shortly afterwards, it will become this beautiful amber-golden brown color. You'll also start to smell that toasty, nutty aroma.
Finally, as soon as the butter is browned, take it off the heat to stop it from overcooking.
Step by step instructions
Slice your peaches into 1/4 to 1/2 inch thick slices. Mix in some blueberries, and toss in the coconut sugar, cinnamon, ginger, cardamom, and nutmeg. Gently toss (don't smash the peaches) and let the mixture macerate for 30 minutes. This softens the peaches but also helps the fruit absorb the flavors of the sugar and spices.
Then, make the cobbler batter. This part is remarkably easy! Just whisk together the flour, oats, sugar, salt, and baking powder. Then whisk in the oat milk and extracts and mix until thickened and well-combined.
Now comes the fun part! Using a ladle or measuring cup, dollop the batter in blobs on top of the brown butter. The cobbler will eventually swirl into the brown butter. Ladling, instead of pouring all of the batter on top of the browned butter at once, helps the butter swirl and mix into batter.
Finally, gently spoon the peach-blueberry mixture on top of the brown butter cobbler mixture. In the photos below, I just randomly spooned the fruit on top. In the video, I neatly arranged the peach slices in a row.
Guess what? They both tasted delicious. I couldn't tell the difference lol.
Bake the cobbler at 375°F/190°C for 45-50 minutes, turning the pan 180° halfway through to ensure even browning (most ovens are hotter in the back). The cobbler is done when it is bubbling around the edges and deeply golden brown on top.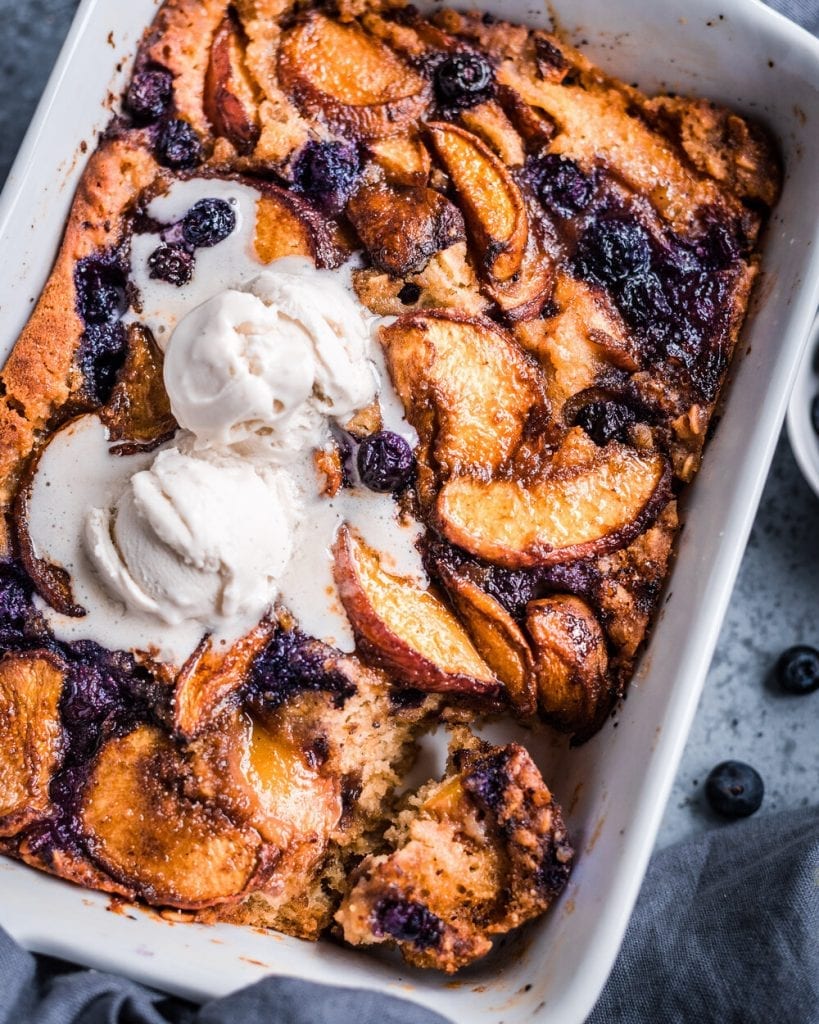 Tips for making this Vegan Brown Butter Peach Cobbler
Keep an eye on the browning butter. You can't just walk away from the kitchen when you're browning butter. You need to keep your eyes on the pan to ensure the butter browns evenly and doesn't burn.
Adjust the sugar amount as needed. If your peaches are very sweet, you can slightly reduce the amount of sugar in the cobbler batter.
Adjust the salt, as needed. Many vegan butters have salt added, but if your vegan butter doesn't have salt in it, slightly increase the amount of salt.
Use a cast iron skillet if you have one. You get maximal caramelization and the most delightful sticky, crunchy edges. It's still great in other pans, though. I used a deep 2-quart pan in these photos and it worked wonderfully. A 3-quart pan also works, but will produce a thinner cake.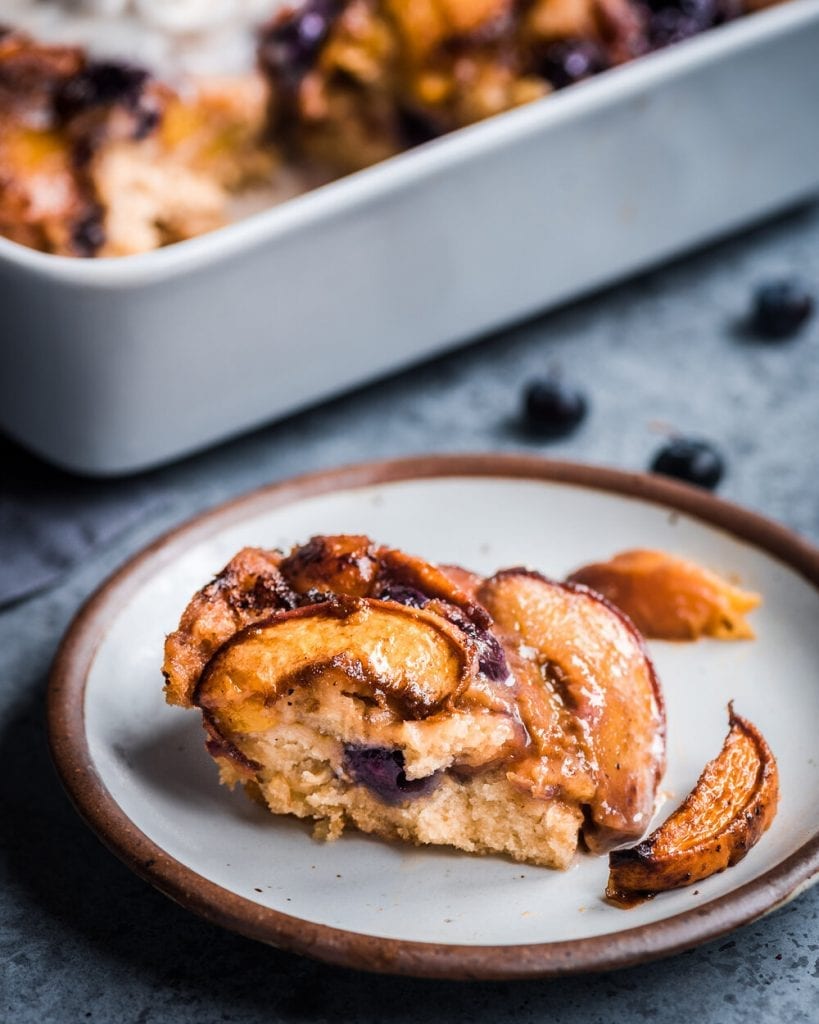 Substitutes for this this recipe
No coconut sugar for the peach-blueberry filling? Brown sugar works the same.
While this is a peach cobbler, in the event you have nectarines instead of peaches, I'm sure this would be an equally delicious nectarine cobbler.
No blueberries? Substitute with blackberries or raspberries.
If peaches are no longer in season, you can try making this with frozen peaches. One reader who did so recommends defrosting the peaches a bit and pat somewhat dry before mixing with the spices and blueberries.
PS: There is no substitute for the vegan butter in this recipe! This is a BROWN BUTTER peach cobbler, not a coconut oil peach cobbler or olive oil peach cobbler. Just saying.
Watch! How to make Vegan Brown Butter Peach Cobbler
If you give this Vegan Brown Butter Peach Cobbler recipe a try, be sure to tag me on Instagram with your recreations and please comment with your feedback below!
Vegan Brown Butter Peach Cobbler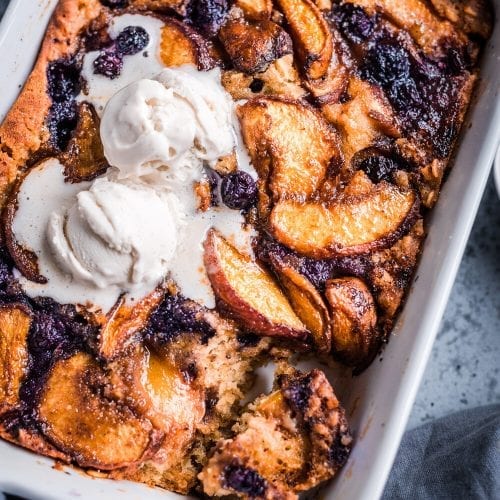 A delicious twist on the classic Southern peach cobbler. Peaches and blueberries get swirled with vegan brown butter and cobbler, making for a cake that's sticky and caramelized on the outside yet fluffy and tender on the inside. It's truly the best vegan peach cobbler!
Ingredients
1

pound

(454g) ripe but relatively firm peaches

1/2

cup

(75-85g) fresh blueberries

1/3

cup

(45g) brown sugar or coconut sugar

1

teaspoon

ground cinnamon

1/4

teaspoon

nutmeg

(I recommend freshly grated nutmeg)

Scant 1/2 teaspoon ground ginger

2

pinches

of ground cardamom

(optional)

10

tablespoons

(140g) vegan butter*

1 1/2

cups

(180g) all-purpose flour

Scant

2/3

cup (60g)

old-fashioned rolled oats

1

cup

(200g) organic cane sugar

1/4 - 1/2

teaspoon

kosher salt

(the range is based on saltiness of your butter; I used a heaping 1/4 teaspoon or scant 1/2 teaspoon; use less if using sea salt instead)

2

teaspoons

baking powder

1 1/3

cups

(320 mL) full-fat oat milk***

1 1/2

teaspoons

pure vanilla extract

1/4

teaspoon

pure almond extract

(optional)

For serving: vegan vanilla ice cream

(optional)
Instructions
Arrange a rack in the middle of your oven and preheat it to 375°F/190°C.

Cut the peaches in half and remove the pits, then cut the peaches into 1/4-1/2 inch thick slices (3/4 cm - 1 1/4 cm). Transfer the peaches to a medium or large bowl. Add the blueberries, coconut sugar, cinnamon, nutmeg, ginger, and cardamom (if using), and toss gently to combine. Set aside for 30 minutes to allow the fruit to absorb the flavors.

Brown the butter. Heat a large cast iron skillet (11- or 12-inch) over medium heat. Add the vegan butter to the pan, and use a spatula to spread it across the sides of the pan. Once it's melted, foamy, and at a bubble (it should take 2 to 3 minutes), heat for another 2 minutes, stirring frequently to prevent burning, then take the pan off the heat.

See note below on alternative pan sizes.**

Make the cake. In a medium or large bowl, combine the flour, oats, cane sugar, salt, and baking powder. Whisk in the oat milk and vanilla extract and almond extract (if using) until well combined.

Using a ladle or measuring cup, ladle the batter on top of the brown butter in the pan. Ladling, instead of pouring all of the batter on top at once, helps the butter swirl and mix into batter. Top the cobbler with the peach-blueberry mixture.

Bake the cobbler for 45-50 minutes, rotating the pan 180° halfway through to ensure even browning, until the top is deeply golden brown and bubbling.

Transfer to a wire rack to cool for 10 minutes, then serve warm. If desired, scoop some vegan vanilla ice cream on each slice before serving.
Notes
* I have tried this recipe with Country Crock Plant Butter, Earth Balance original buttery sticks, and Miyokos salted butter. All work well. 
** If you don't have a cast iron skillet, brown the butter in another skillet first. It will take a bit longer if not using a cast iron pan, about 5 to 8 minutes. As soon as it's done, pour it into a baking dish: you can use a 2-quart or 3-quart pan (I used a 2-quart pan in these photos). If using a 2-quart pan, ensure it's relatively deep; otherwise, the filling might rise too high. 
*** Do not use a light or low-fat milk. I like Oatly's original or full-fat milk, or Califia extra creamy oat milk. Soy milk would probably work too, but I haven't tried it. 
---
Calories:
298
kcal
|
Carbohydrates:
52
g
|
Protein:
4
g
|
Fat:
10
g
|
Saturated Fat:
2
g
|
Polyunsaturated Fat:
3
g
|
Monounsaturated Fat:
4
g
|
Trans Fat:
1
g
|
Sodium:
260
mg
|
Potassium:
165
mg
|
Fiber:
2
g
|
Sugar:
31
g
|
Vitamin A:
753
IU
|
Vitamin C:
4
mg
|
Calcium:
105
mg
|
Iron:
2
mg