No exaggeration, this is the best vegan or vegetarian chili you will ever try. Thanks to a few key techniques, this baby has layers of complex flavors and an incredible velvety texture. 
Most vegan chili recipes have you take so many shortcuts that you end up with a bowl of bean soup dressed up with some chili powder. But if you're willing to follow the steps in this recipe, you'll be rewarded with an authentic bean chili unlike any other.
In this post:
1. 5 Secrets for the best vegan chili
2. Step-by-step instructions
3. How to make homemade chili powder
4. Tips for making this chili
5. Frequently Asked Questions
6. Video Walkthrough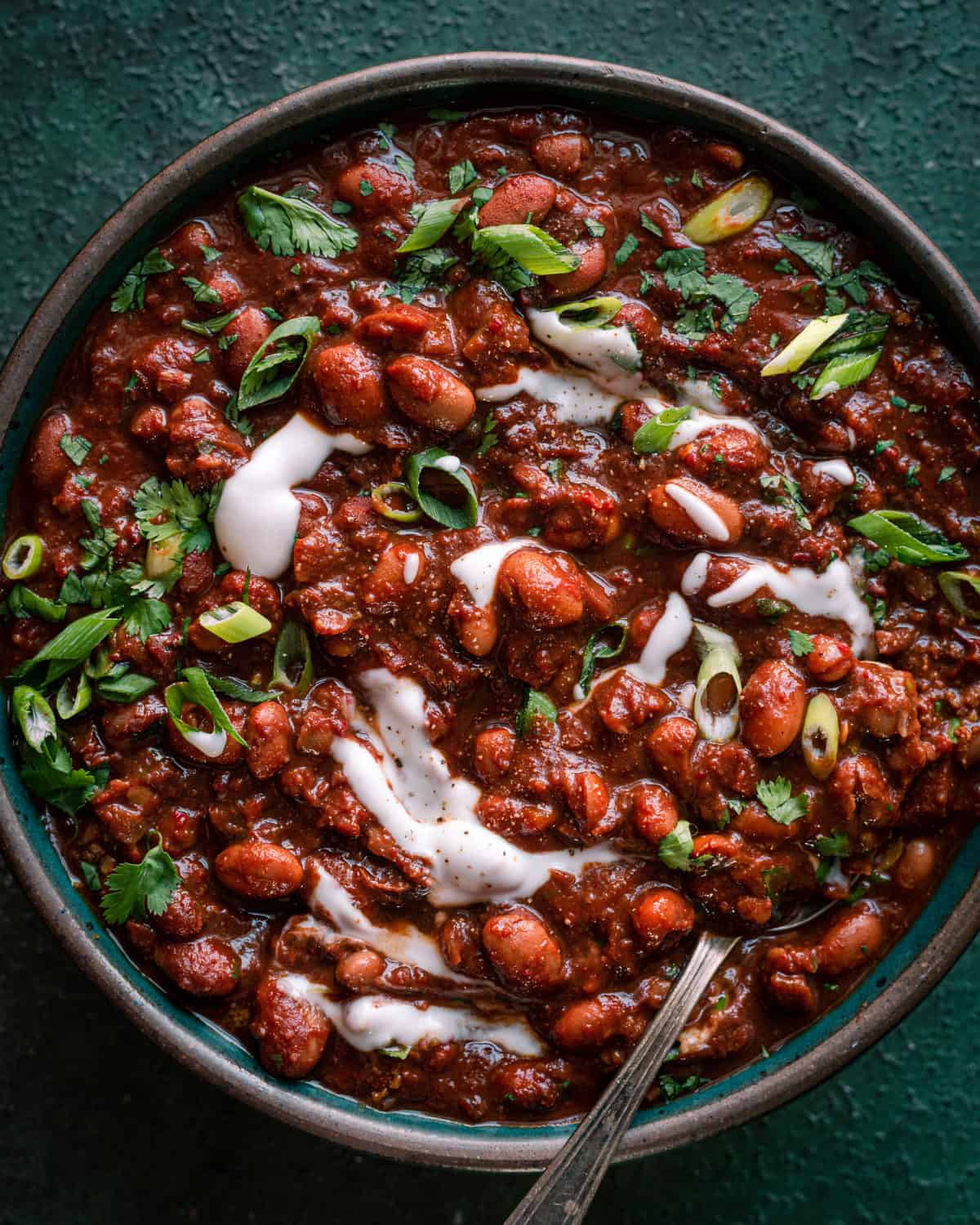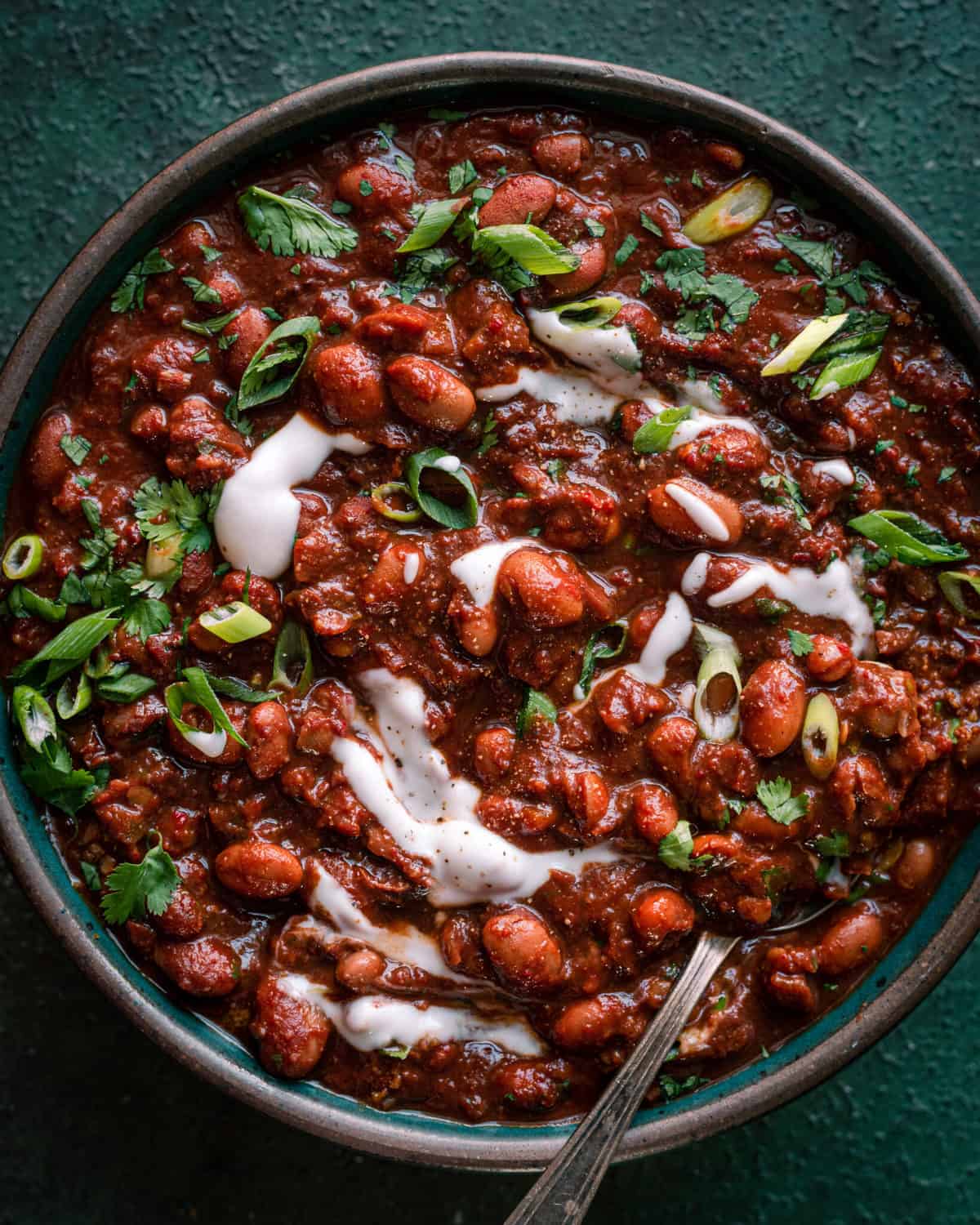 5 Secrets to Incredible Vegan Chili
1. Start with real chile peppers.
You might be tempted to use store-bought chili powder when making chili, but here's why that's a mistake (except in limited circumstances…more on that below!). Whole dried chile peppers, which are used to make homemade chili powder, add so much complexity in taste, the kind you can never achieve with store-bought chili powder.
Many dried chile peppers carry notes of fruit, berries, chocolate, coffee, and/or raisins, adding layers of rich flavors. And when you layer homemade chili powder with fresh jalapeños and canned chipotle peppers, you get layer upon layer of complementary warming flavors: smoky, fruity, grassy, all in one bowl of chili.
If you don't want to take my word for it, listen to what professional chefs say:
"A bowl of chili starts with chiles."

Texas-born chef Ben Berryhill for Fine Cooking
"The best thing you can do to up your chili game is to leave those jars of pre-ground chili powder on the shelf. Starting your chili with real, honest-to-goodness whole dried chilies will save you money, while adding layer upon layer of complex flavor that you never thought was possible."

J. Kenji López-Alt for Serious Eats
"I think a lot of people really aren't aware of how much natural sugar exists in [dried chile] peppers…it's almost like having dried fruit in your dishes. So definitely [using dried chile peppers] is a much better way to make this dish than with chili powder 'cause you won't get that sweetness in a chili powder."

Rick Martinez for Bon Appetit
Plus, it only takes about 10-15 minutes to make chili powder, and it will stay fresh for 6 months. Which means you can make a killer chili whenever the mood strikes.
Note: Instructions for my homemade chili powder are in the second recipe card at the bottom of this post. While I think it's worth making your own chili powder, I have tested this particular recipe with store-bought chili powder and it's still great (because this recipe uses many other "secrets"/techniques to amp up the flavors).

If using pre-made chili powder, I recommend ancho chili powder (made from just ground ancho chile peppers). It's more flavorful than the standard chili powder, which is a blend of seasonings.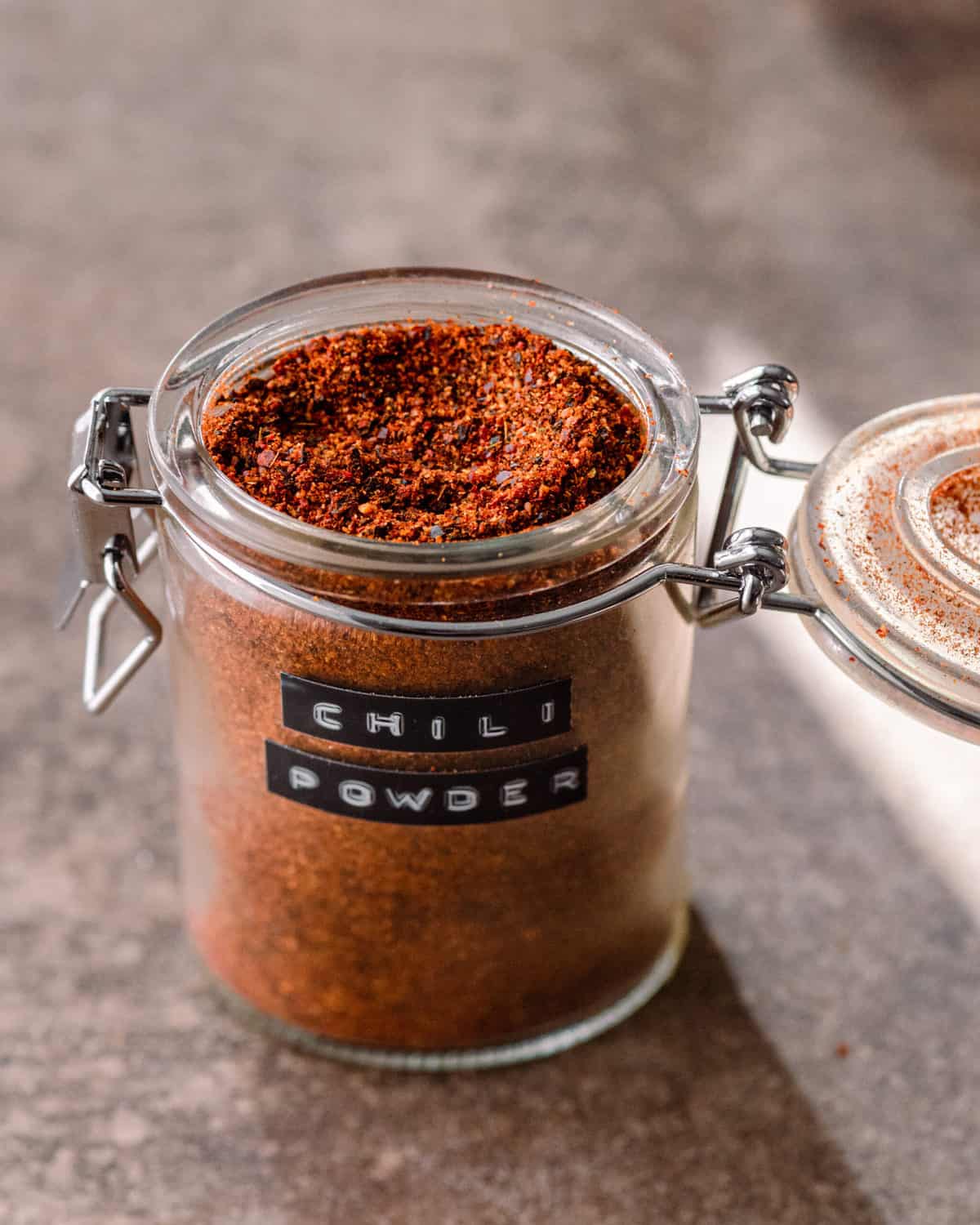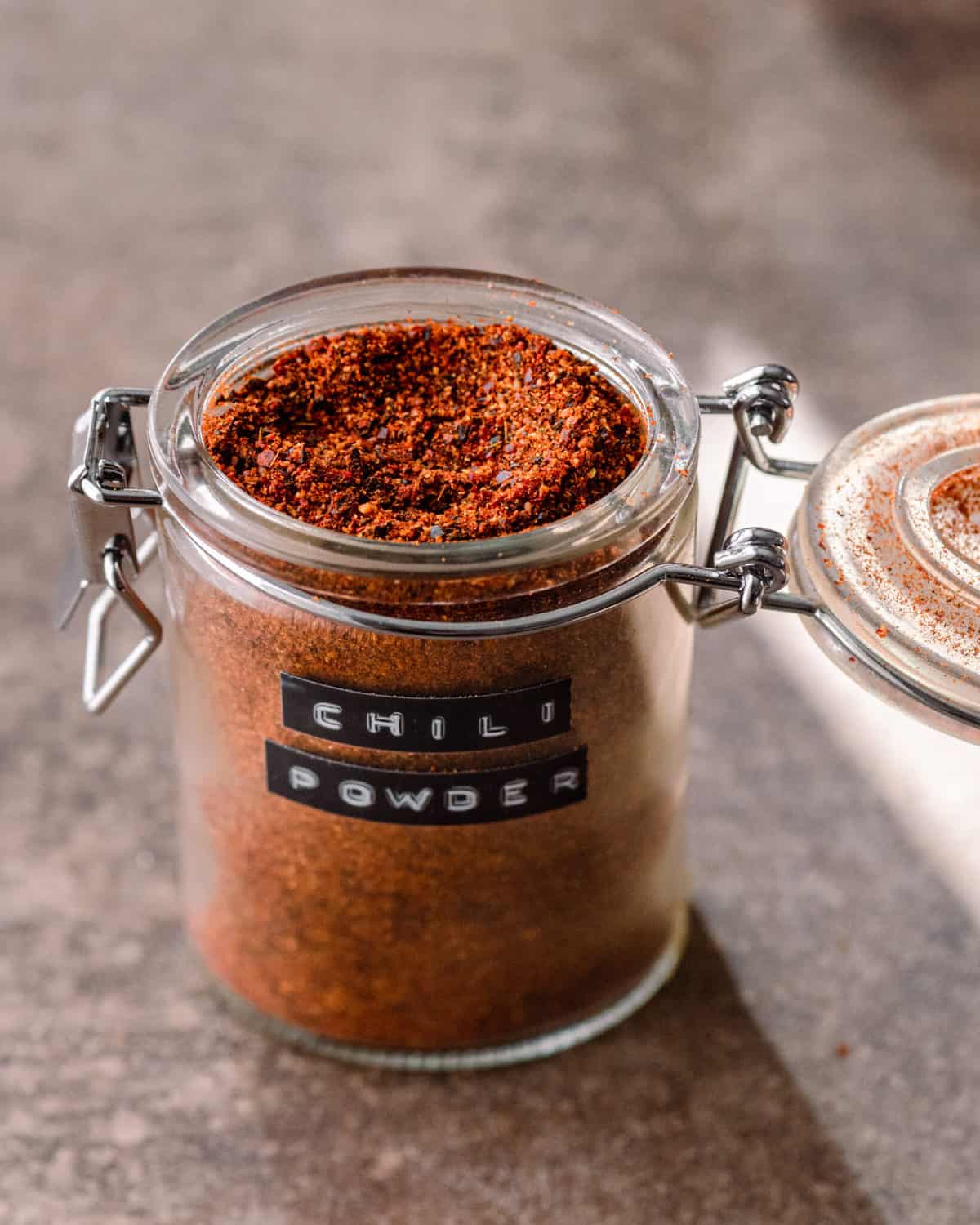 2. Toast the spices
There are two reasons you should always toast your ground spices rather than just plopping them into liquid.
First, many spices are bitter when uncooked (taste a pinch of ground cumin or oregano, and you'll know what I mean). As a result, your final dish ends up with bitter notes.
Two, when you toast spices first (in a bit of oil, usually after or along with the aromatics), you draw out their essential oils. This heightens the spice's true flavor, so that you actually taste a hint of cumin or oregano in your final dish.
Takeaway: Always toast your ground spices (e.g., chili powder, cumin, oregano) before adding the liquid (e.g., vegetable broth) to draw out their flavor. The toasting will happen quickly, in about 30 seconds.
3. Boost the umami
Traditional chili has a ton of natural rich savory flavor from the meat. To add savory notes to vegetarian chili, it's necessary to add in a little extra umami. In this chili, I do that in three ways.
First, cook tomato paste for a few minutes. This caramelizes it and unleashes the natural umami found in tomatoes, especially a concentrated form of tomato.
Second, add soy sauce, which lends a potent form of plant-based umami and saltiness that salt alone can't bring.
Third, use whole peeled canned tomatoes and crush them by hand (they have more pure tomato flavor and no additives, compared to pre-diced or pre-crushed tomatoes).
Note: If you have vegan Worcestershire sauce on hand, it would be a great sub for the soy sauce.
4. Add some richness and body
Classic chili recipes are very rich, but many of the vegetarian chili recipes I tried online were more loose, like soup. To ensure my chili is very rich, I rely on a few ingredients.
First, red wine, which intensifies all the aromatics, spices, and chili peppers in a way that vegetable broth alone cannot. Also, it adds to the rich body of the chili (you'll notice as the wine deglazes, the mixture becomes SO jammy). While beer is more traditional in chili, every time I've made chili with beer, it ends up too bitter for my taste.
Second, cocoa powder. It sounds funky, but lots of chili recipes actually add a small amount of dark chocolate or cocoa powder. Chocolate not only adds depth of flavor but also accentuates the fruitiness of the dried chili peppers.
Third, instead of using only pinto beans, I add in one can of navy beans. Since they're so small, they partially disintegrate during simmering, which naturally thickens the chili.
Finally, masa harina, AKA Mexican corn flour. When stirred in at the end, it thickens the chili even more, gives it a velvety texture, and a nice subtle corn flavor. This chili recipe is already quite thick, so I'd say this ingredient is optional.
Takeaway: Chili should be rich both in taste and texture. Red wine, cocoa powder, and masa harina all contribute to that.
5. Slow simmering is key for texture and flavor
Many chili recipes (including a few of my old recipes!) tell you to simmer for just 30 minutes. You can get a good chili this way (if the other tips are followed), but chili is designed to be a slow-simmered dish.
This is because the flavors of chili always improve with a long, slow simmer. Slow simmering also contributes to a thicker, more unctuous consistency, so that every bite has the same flavor and texture (check out that velvety texture in the photo below!).
Takeaway: Gently simmer this chili for 1 1/2 hours (or up to 2 hours) for maximal flavor and the most luxurious texture.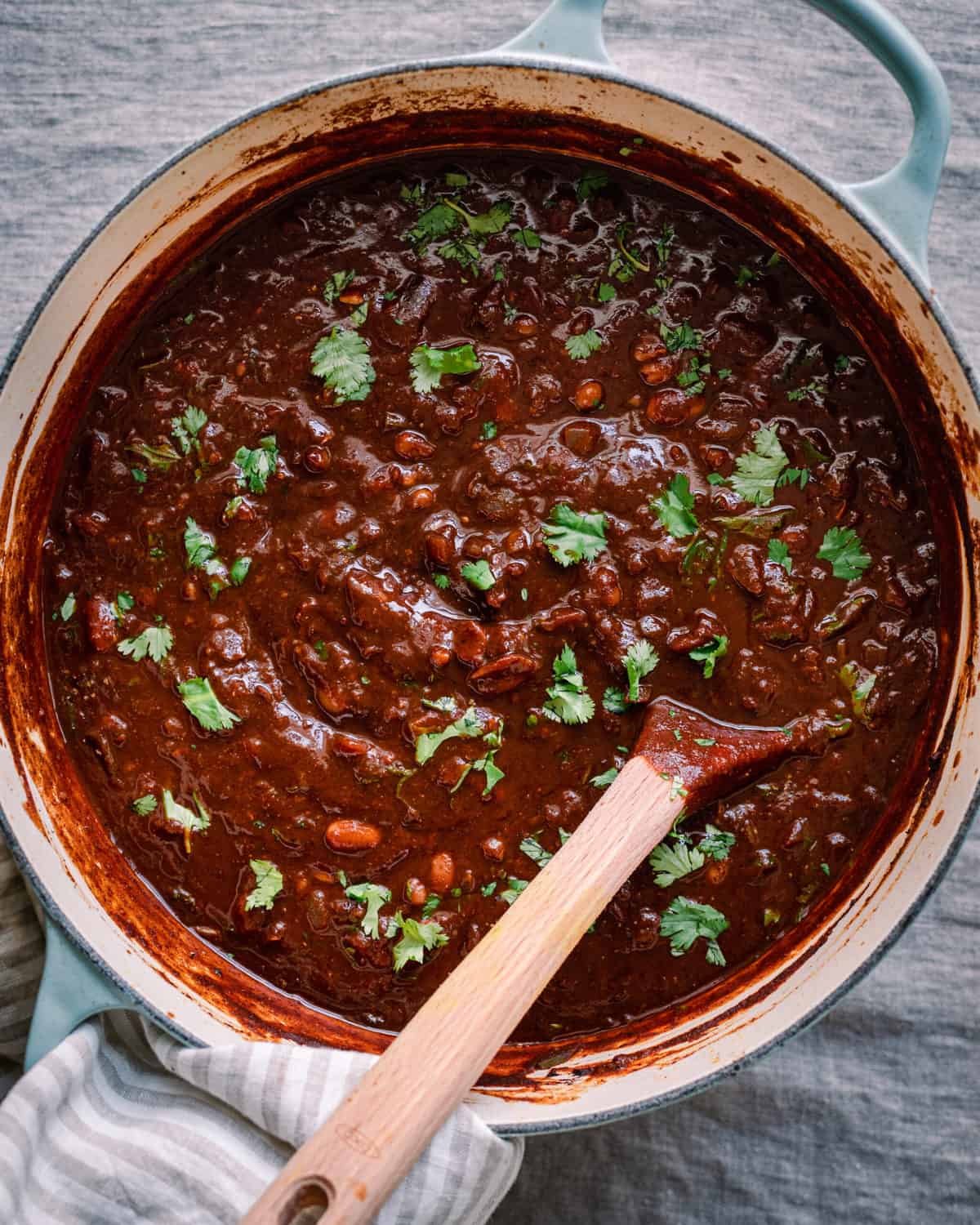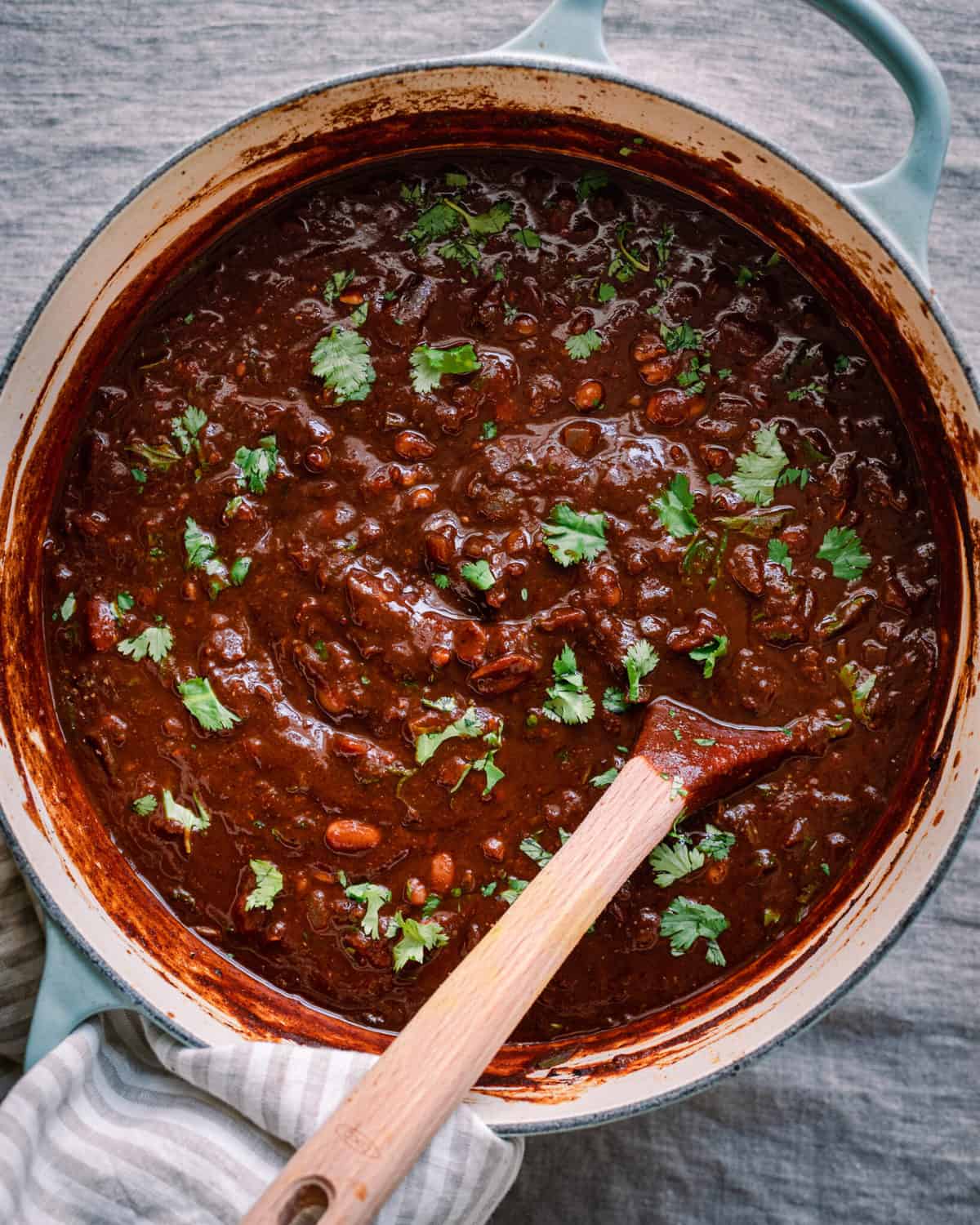 Step-by-step instructions
Gather your ingredients!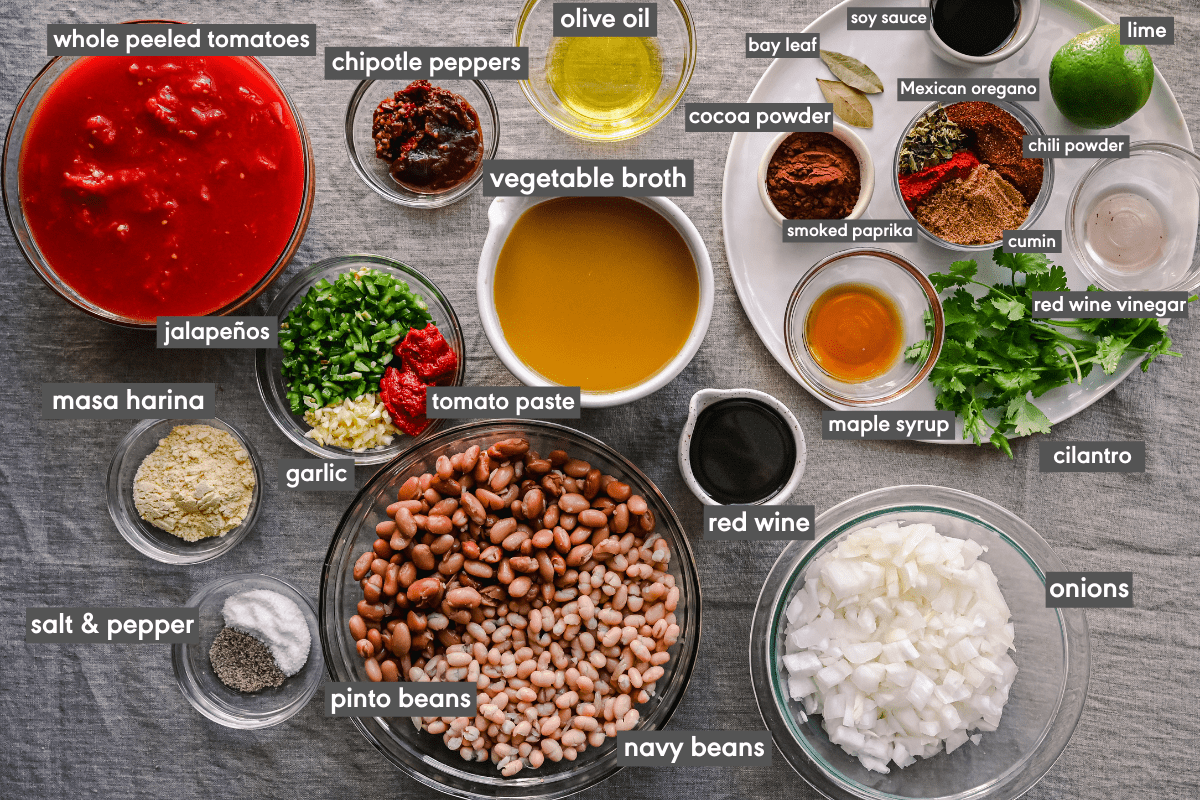 Heat the olive oil in a Dutch oven or large soup pot over medium-high heat. Add the onions with a pinch of salt. Cook until nicely golden brown, about 10 minutes.
Add the garlic, jalapeños, and tomato paste. Cook for 2-3 minutes, or until the tomato paste darkens.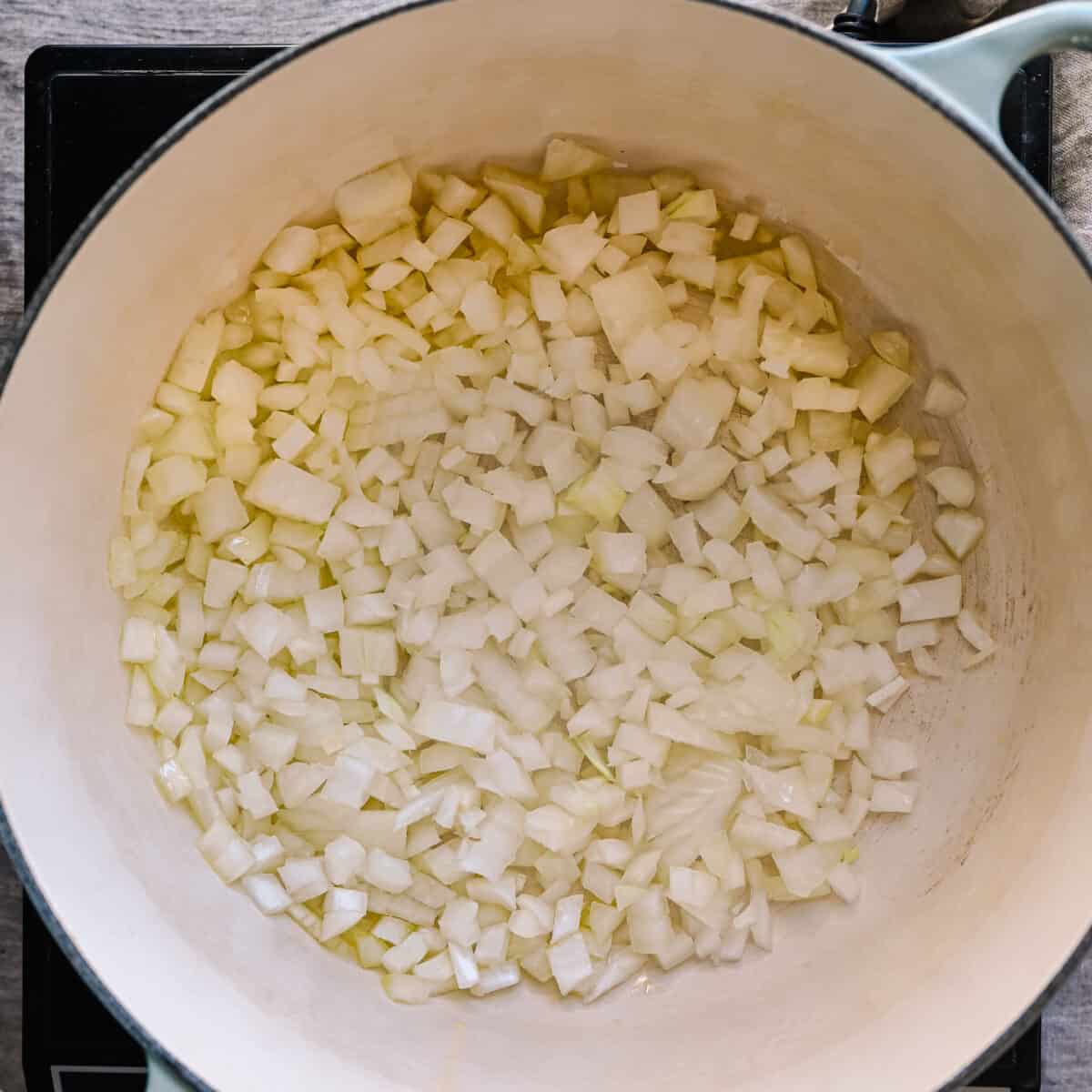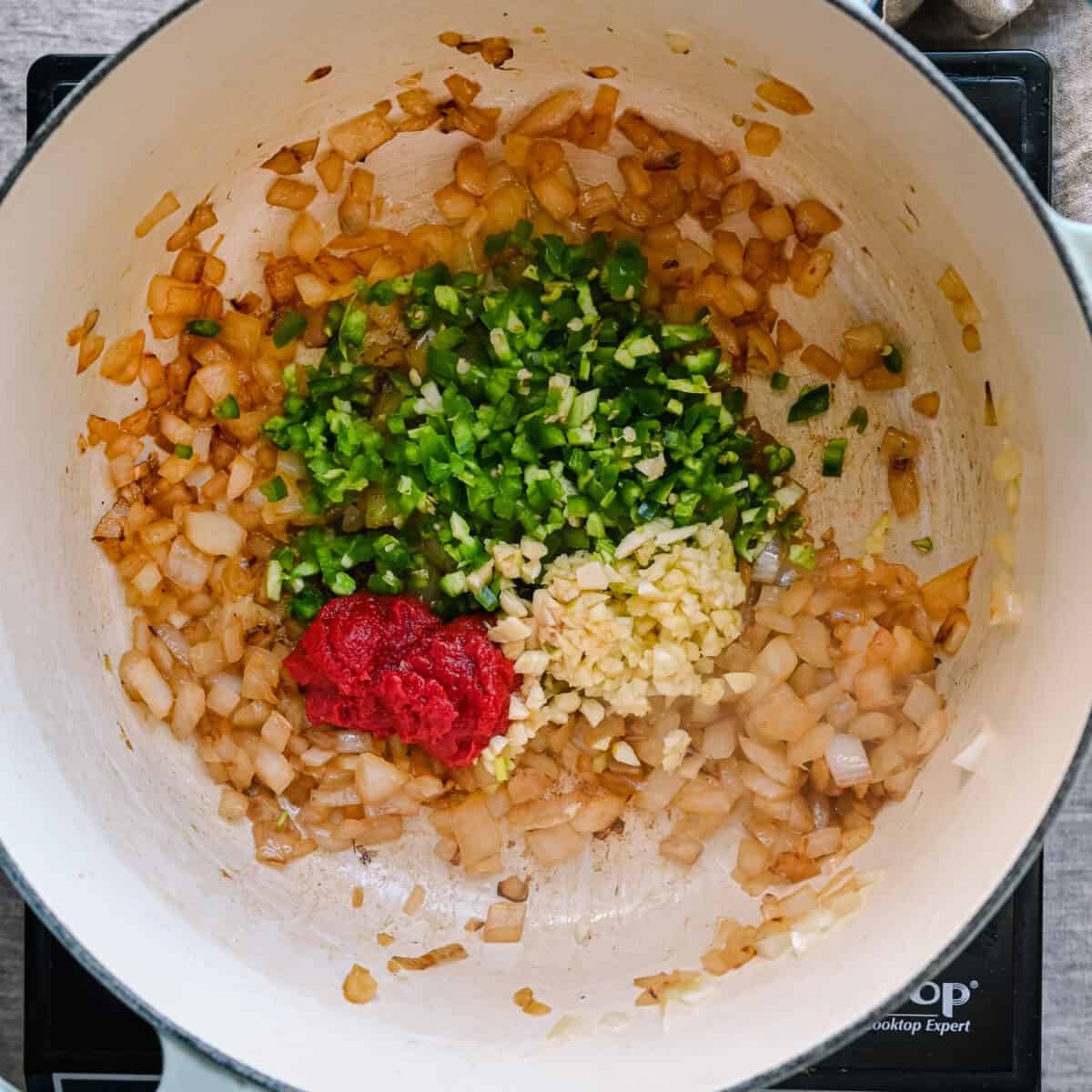 Add the chili powder, cumin, smoked paprika, and Mexican oregano and stir vigorously for 30 seconds (for homemade chili powder, see the next section)
Deglaze the pot with the red wine, scraping up the browned bits.
Add the vegetable broth, and scrape up any additional browned bits. Add the pinto beans, navy beans, chipotle peppers in adobo, bay leaves, salt & pepper, cocoa powder, maple syrup, and soy sauce. Crush the tomatoes and add in.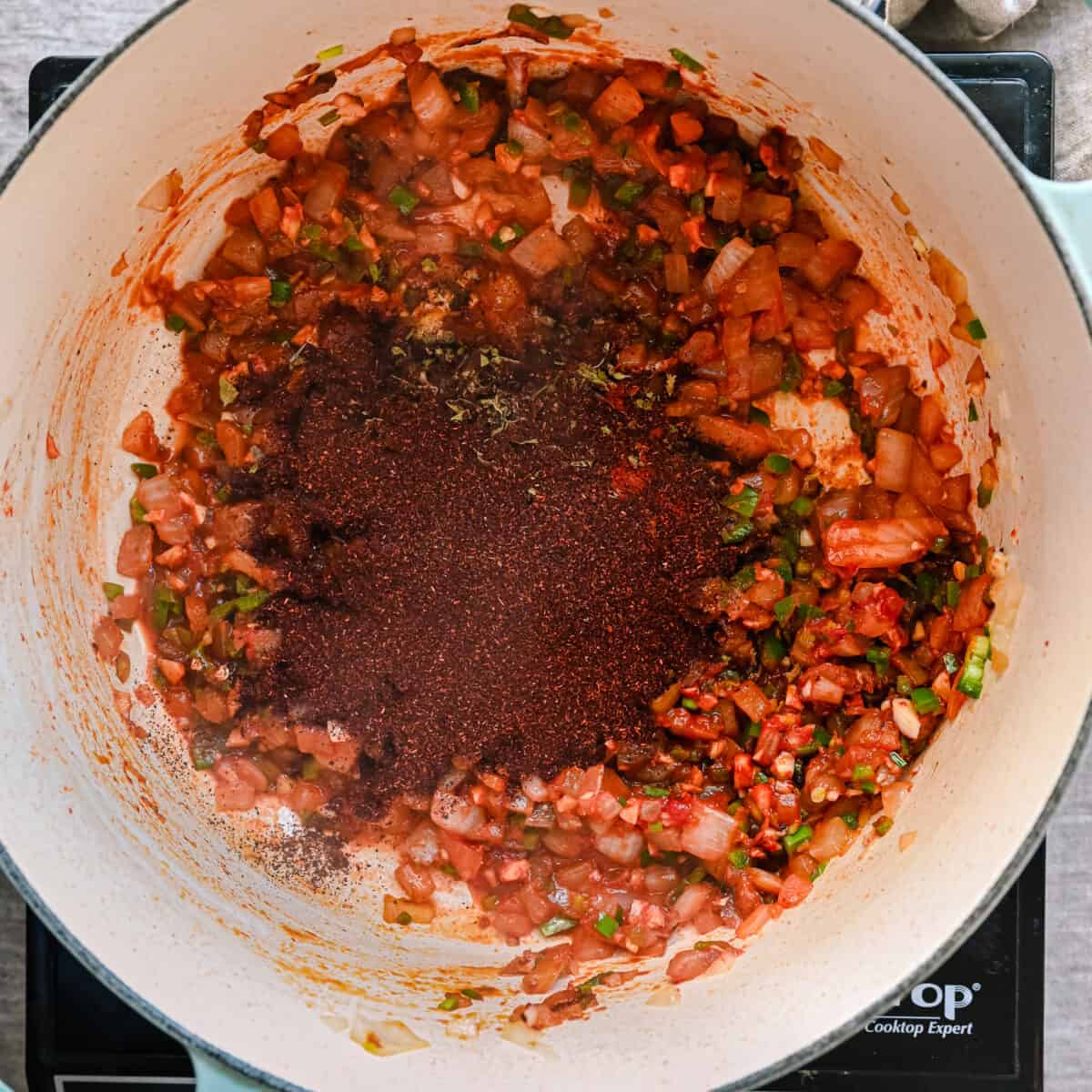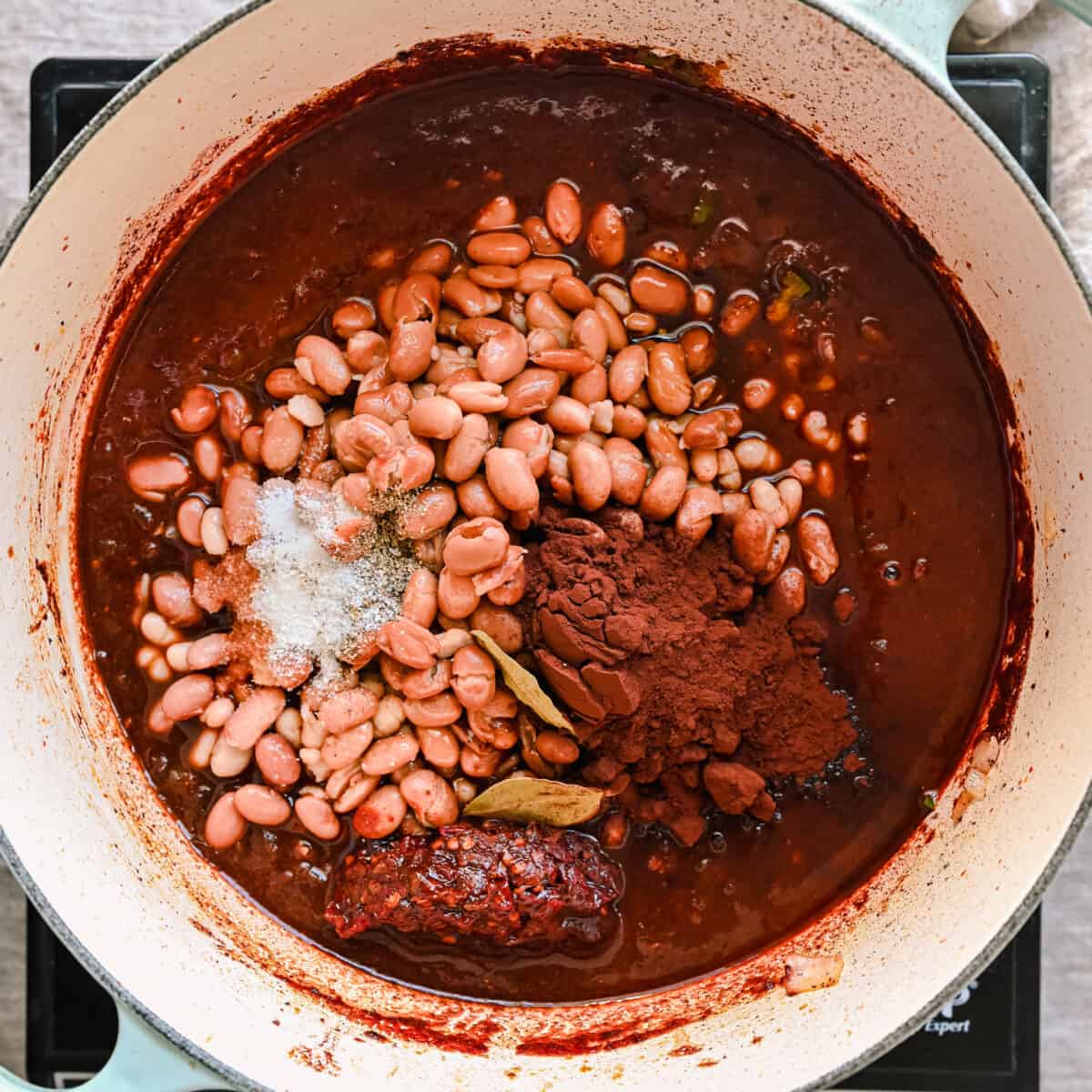 Bring the chili to a boil, then reduce to a gentle simmer. Simmer for 1 1/2 hours, stirring every 10 minutes, until thick and velvety.
Stir in the masa harina, if using, and simmer for 3 minutes, until further thickened.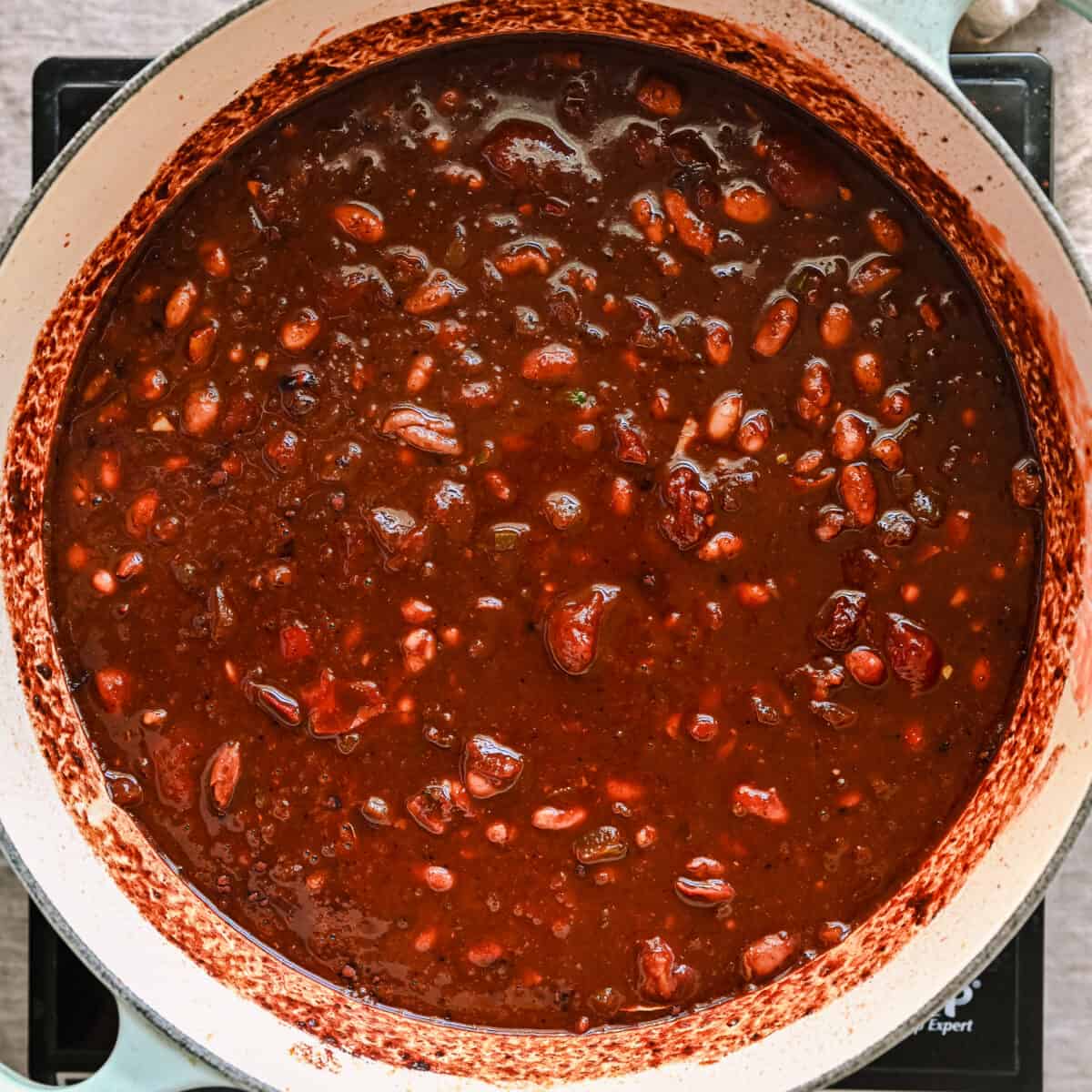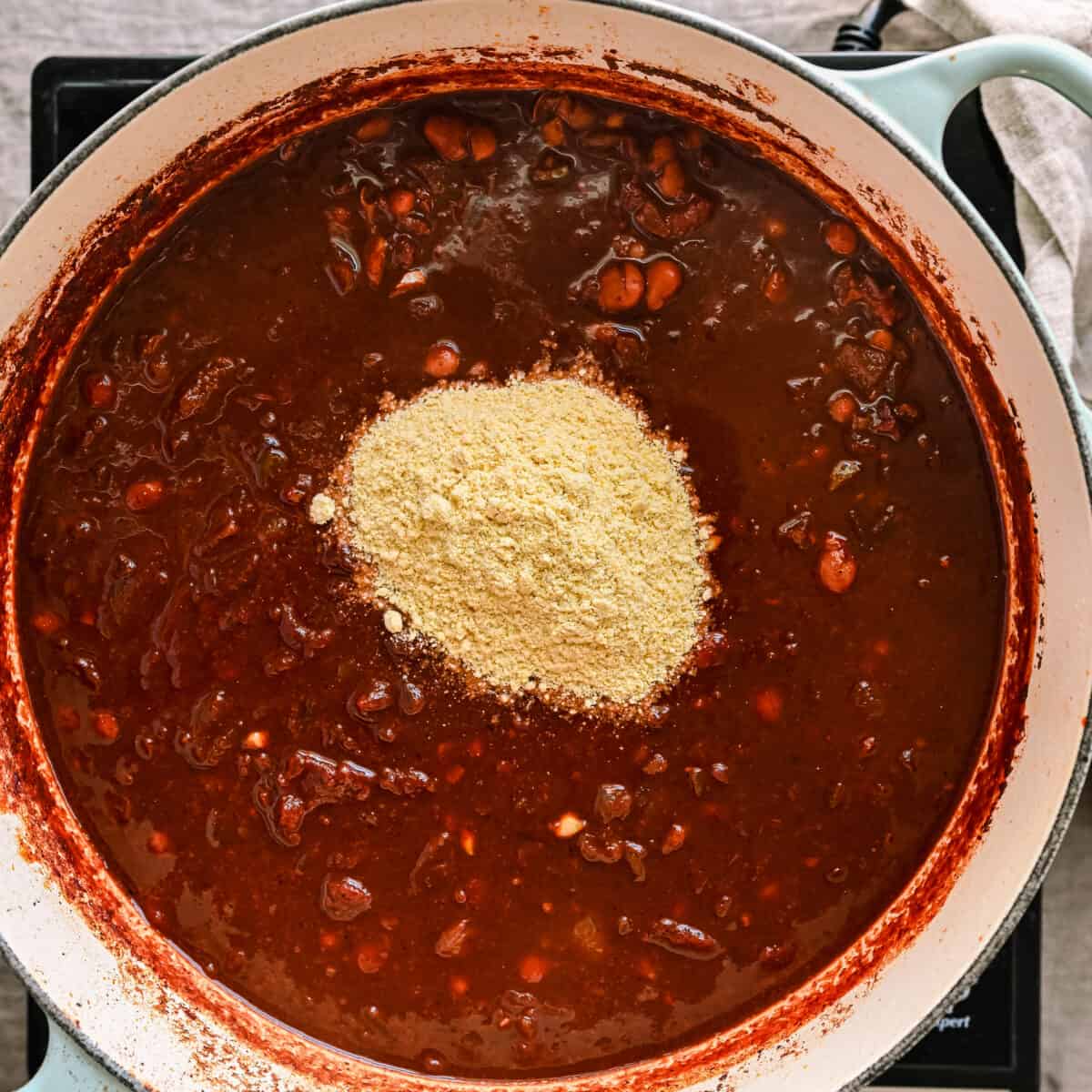 Add the cilantro, lime juice, and vinegar. Taste, adding more maple syrup or lime juice as needed. Season with salt and pepper.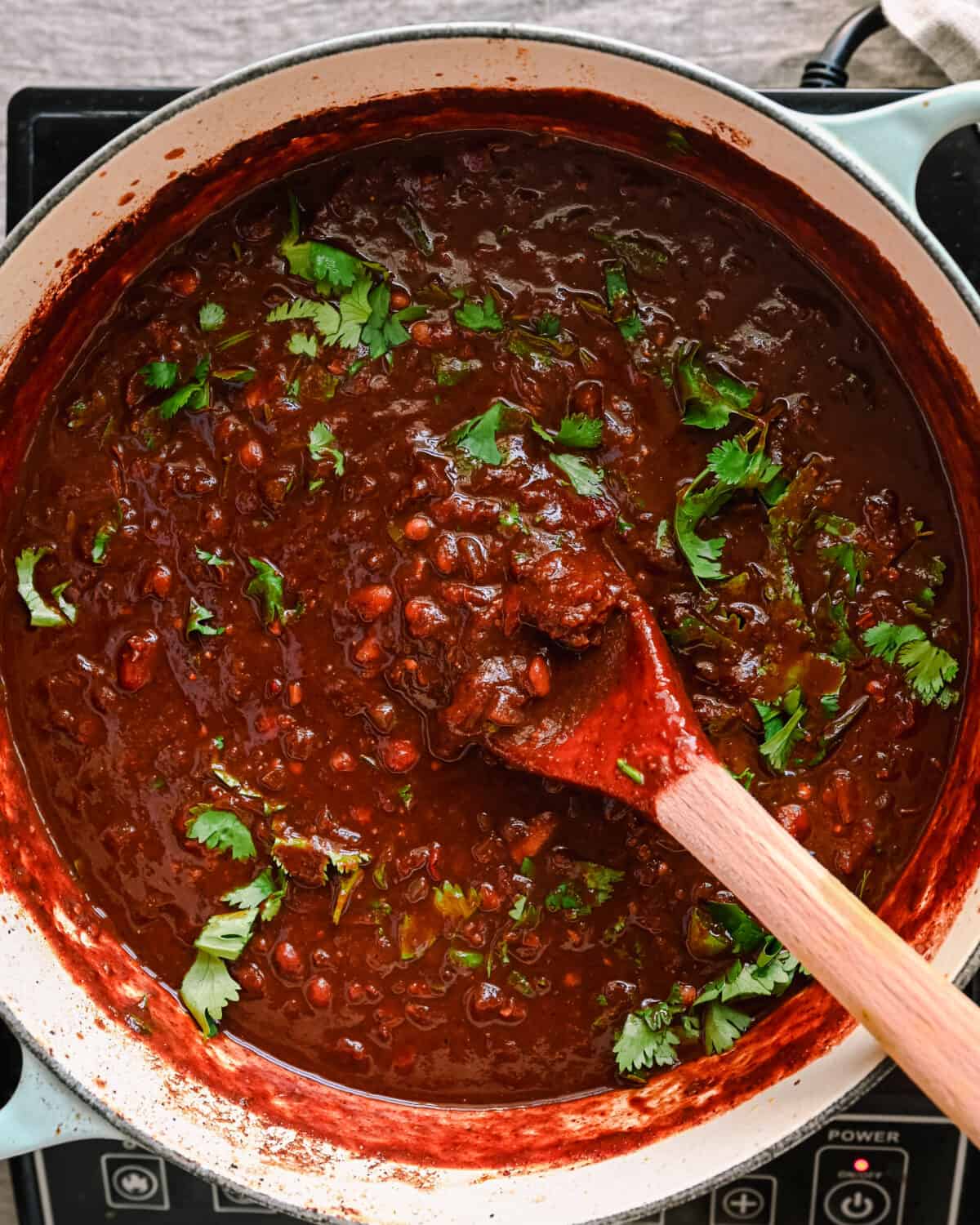 How to make homemade chili powder
I highly recommend making your own chili powder. It might seem daunting, but I promise it's actually quite simple. If you're unable to do this, substitute with store-bought ancho powder and check out the notes in the recipe card.
Where can I buy dried chili peppers?
You can find a variety of dried chile peppers at Mexican grocery stores, some standard grocery stores such as ALDI, as well as online. If buying online, I recommend the chili peppers from the brand Ole Rico. They are super fresh and have a much softer texture (an indicator of freshness) than other dried peppers I've tried. They also sell a three-pack of the exact variety of chili peppers I use in my chili powder! (affiliate link).
How to select dried chile peppers for chili powder
For complex yet balanced flavors, I use three different chile peppers. Check out the graphic below for the flavor profile, heat level, and substitutes for each chile pepper.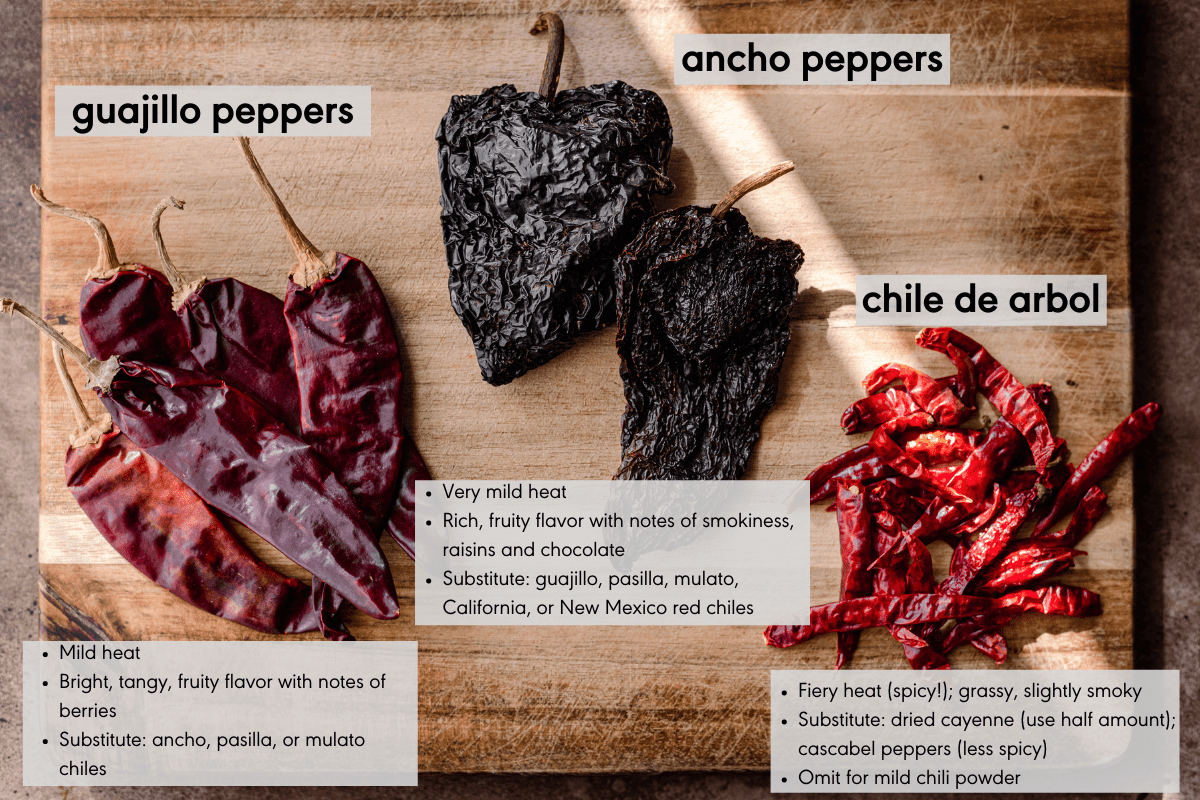 Tip: You can tailor the spiciness with the amount of chile de arbols you add. Omit entirely for a mild chili powder (same heat level as a store-bought chili powder). Add 2 peppers for a moderate heat, or up to 5 peppers for a spicy, spicy(!) heat.
Tips for working with chile peppers
First, open up the peppers to remove the seeds and membranes (they're bitter). I find it's easiest to gently tear open the peppers with my hands, but some people use kitchen shears. Be sure to wash your hands afterwards (or wear food-safe gloves if you have sensitive skin).
Second, toast the peppers. It releases their natural oils and reinvigorates them, giving the chili powder (and final chili) more complex flavors. We tested this recipe with untoasted chile peppers and it was good, but lacked some of the warm depth of flavor and tasted overall lighter and less complex.
When toasting the peppers, watch them closely and cook very briefly, maybe 1 minute per side. If they blacken or scorch, they get bitter. Small peppers, like chile de arbol, don't need much time–maybe 20-30 seconds per side.
Allow the chilies to cool before grinding them. You'll need a spice grinder (affiliate link), a high-powered blender like a Vitamix, or a food processor. Grind the peppers with the toasted whole spices until pulverized. Add in your pre-ground spices, blend again, and that's it!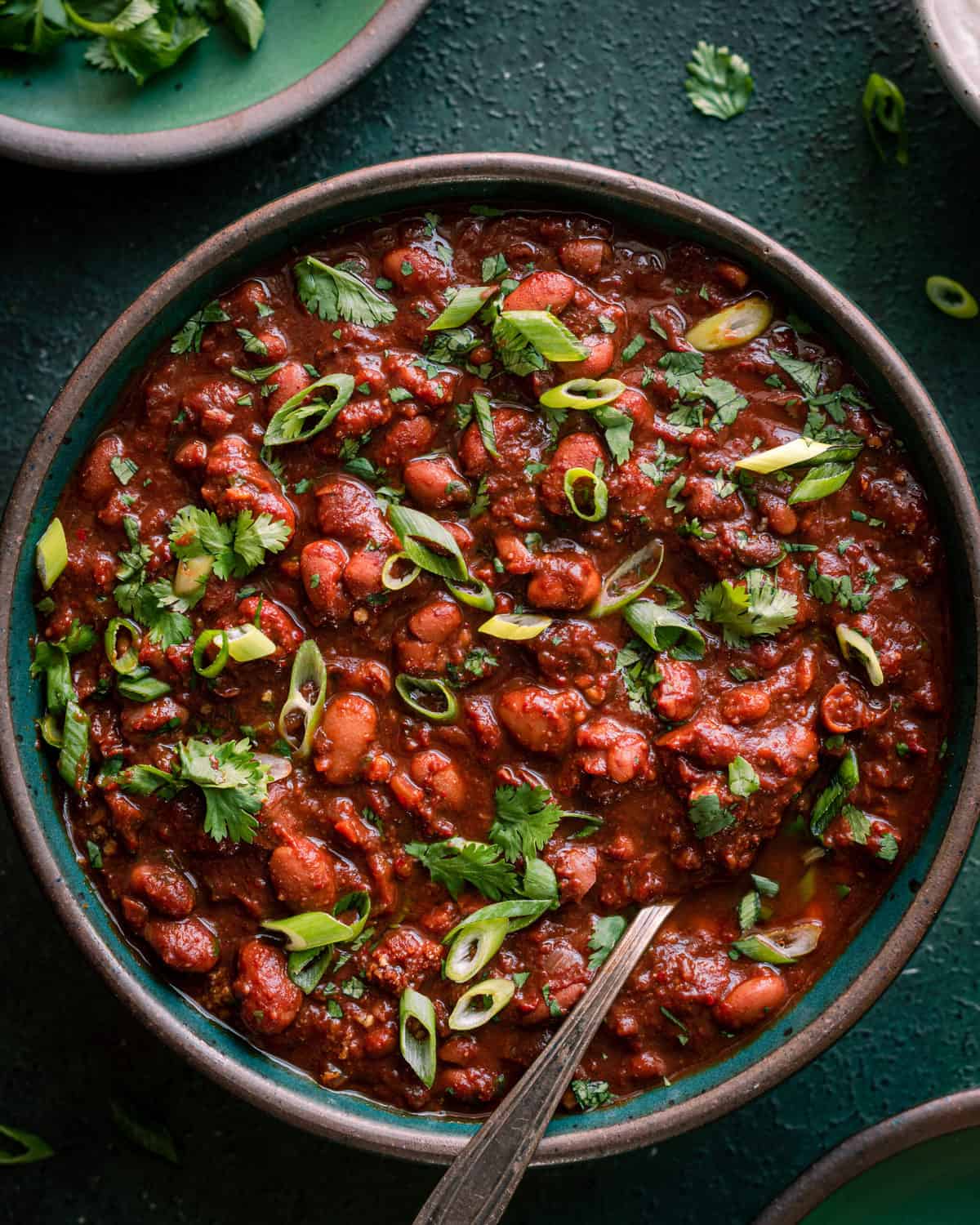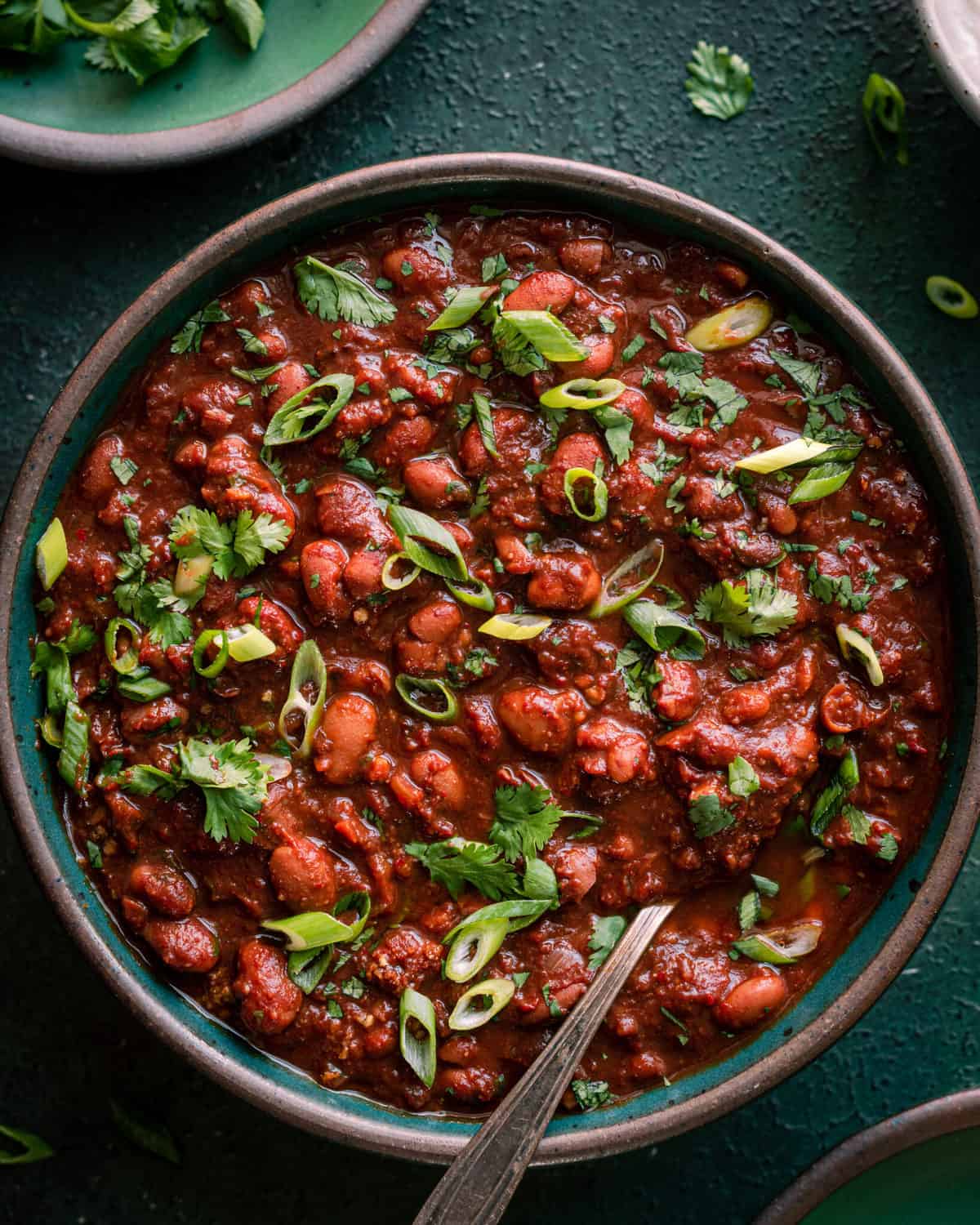 Tips for making this recipe
Balance the flavors:
A great chili should have "a rich, complex chile flavor that combines sweet, bitter, hot, fresh, and fruity elements in balance."

J. Kenji López-Alt, Serious Eats
The reason I add maple syrup to my chili is that it sweetness balances both the spiciness and bitterness inherent in chile peppers. I finish the chili with lime juice and vinegar because sour flavors also mellow bitter tastes; they also enhance the umami found in soy sauce and tomatoes.
It's critical to taste the chili after it's simmered to see what flavors it needs more or less of. If you use a store-bought ancho chili powder, for instance, your chili might be slightly less bitter. So you won't need as much less lime juice or maple syrup to balance it out.
Chili always tastes better the next day.
When chili rests overnight, the chili powder and spices have a chance to meld with the other flavors so you end up with a chili that has more harmonious flavors.
Adjust the heat to your tolerance.
As y'all probably know, I like my food very spicy. Here's what I add to my chili, but this will be too spicy for most folks: 2 jalapeños (with membranes); 2 chipotle peppers in adobo + 1 tablespoon adobo sauce; and for the homemade chili powder, I add ~ 3 chile de arbol peppers.
If you don't love spicy food as much as I do, here are different ways to scale back on the heat.
Jalapeños: use one pepper and remove the the membranes (I wouldn't omit the jalapeños entirely).

Chipotle peppers in adobo: use just 1 chipotle pepper and 1 teaspoon adobo sauce.

Homemade chili powder: omit the spicy chile de arbol peppers (or use just 1 to 2 of them).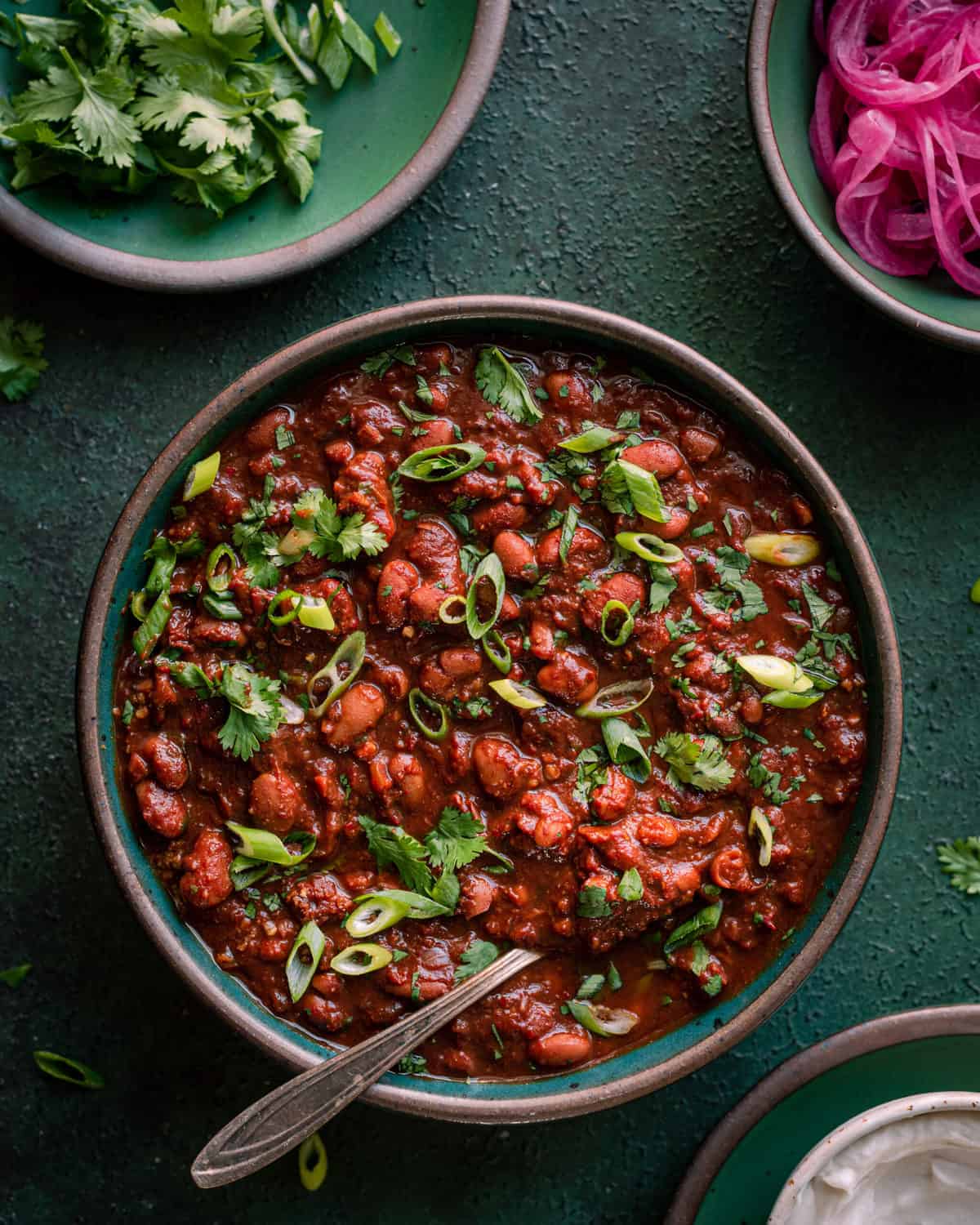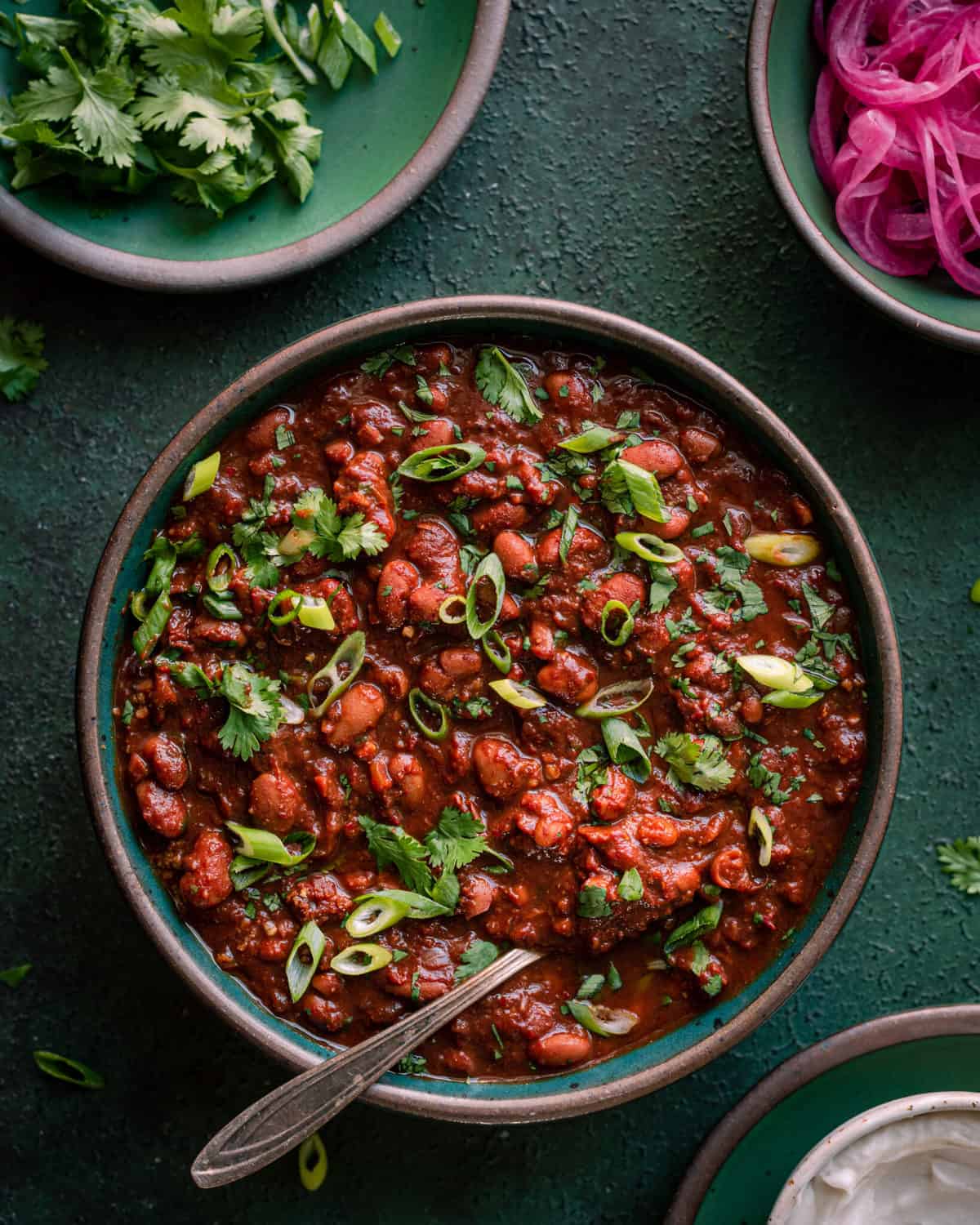 Frequently Asked Questions
Can I add vegan ground meat to this chili?
Sure! I prefer a bean-based chili without any faux meat, but adding vegan ground meat is a great option if you want to add a more traditional meaty texture or taste. We tested this recipe with Impossible Meat's plant-based ground burger.

Option 1: Cook the onions until lightly browned, about 6 minutes. Add in your vegan ground meat and break it up with a wooden spoon. Cook until it's starting to brown, 8 to 10 minutes, adding a splash of water as needed to deglaze. Proceed with the rest of the recipe.

Option 2: Brown the vegan ground meat in a separate pan, then add it to the chili when you add the beans.
I don't drink wine – can I omit it?
The alcohol does cook off, but if you don't drink any alcohol, you can try replacing the red wine with 1/2 cup (120 mL) of red grape juice (no added sugar variety).

Or just deglaze with more vegetable broth. I'd suggest the best vegetable broth you can find. Imagine Organic is my favorite for store-bought veggie broth (rich and flavorful). For more deeply savory notes, you can try these "vegan chicken" or "vegan beef" broth powders (they are quite salty, so use less than the jar calls for) (affiliate links).

Your chili will have less complexity and body without the red wine, but it will still be good if you omit it!
How should I serve this chili?
With your favorite toppings, obviously! The toppings you choose help bring more balance to the final dish. For instance, vegan sour cream (I like Kite Hill or Tofutti brands) and avocado are great for cooling down the heat. Extra lime wedges and pickled onions bring a nice tanginess (find my recipe in the recipe card below). Cilantro and scallions offer a fresh contrast. Tortilla chips, obviously, add a nice crunch!

If you like adding a vegan cheese to your chili but don't love store-bought shredded vegan cheese, a spoon of this Vegan Queso stirred in would be really good!

To stretch this chili further, serve it alongside warm corn tortillas (char the tortillas by placing them directly over a gas burner for ~20 seconds per side). Or, scoop over a bed of rice.

It's also INCREDIBLE with my homemade cornbread, which adds the perfect slight sweetness to this chili.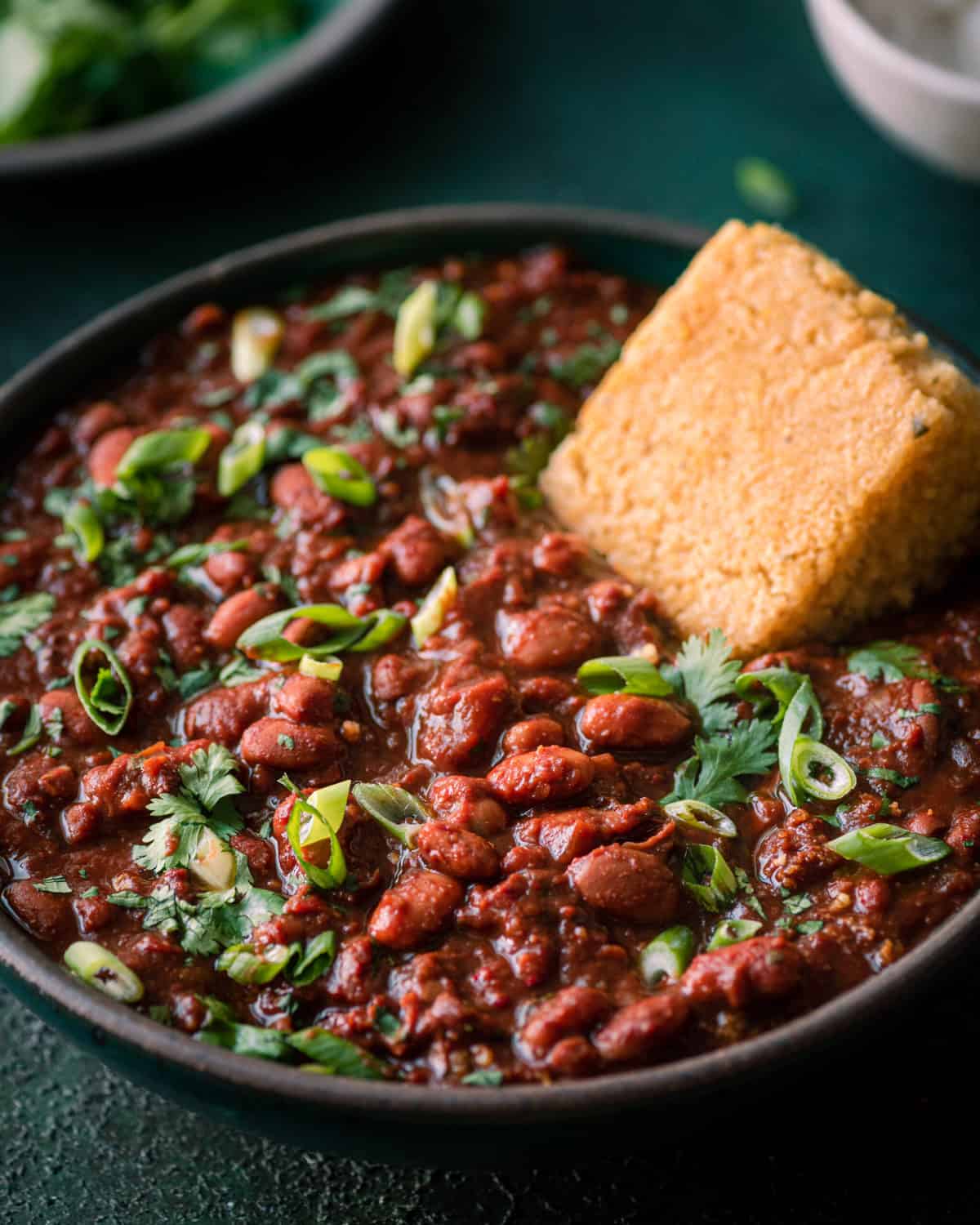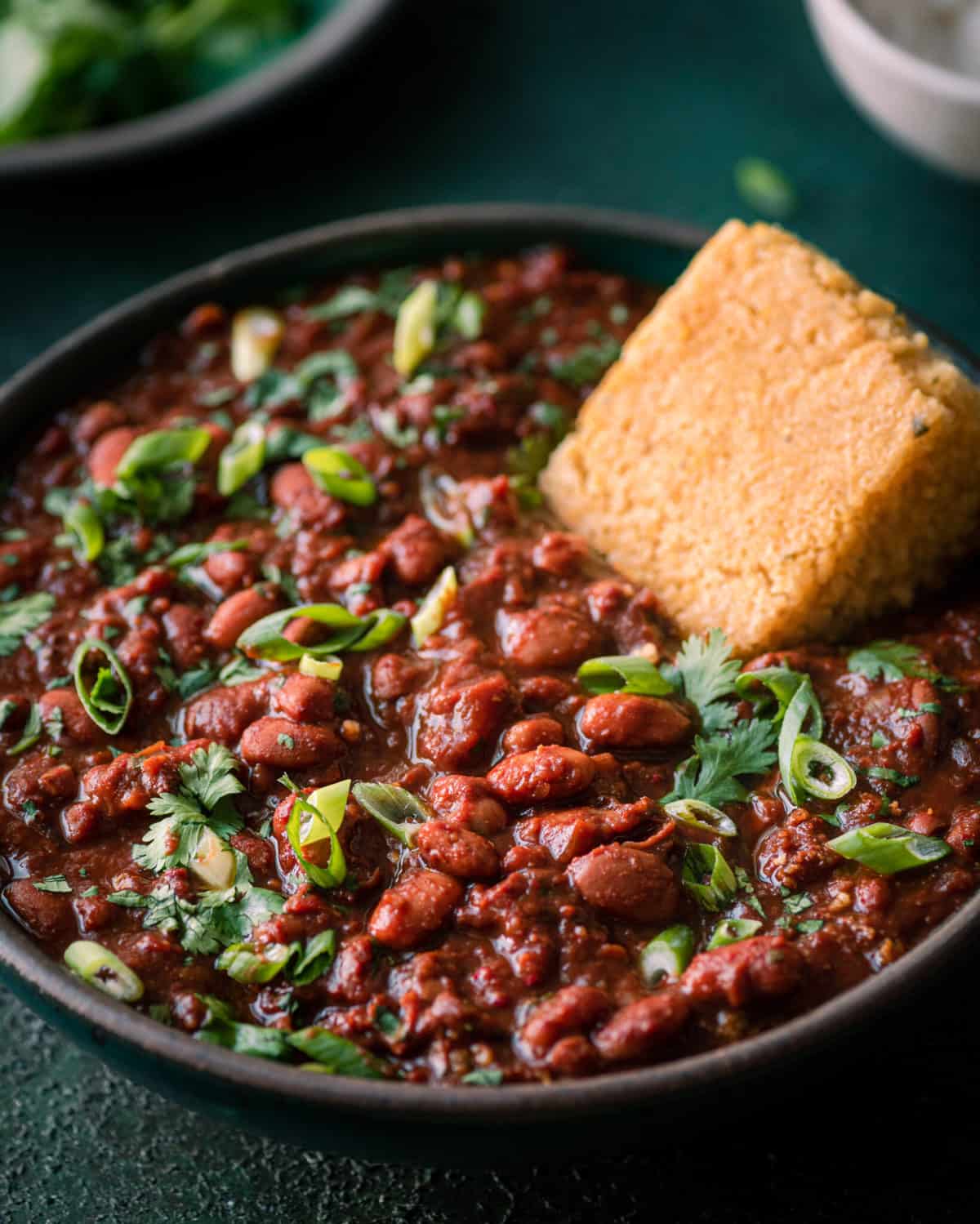 How do you store homemade chili powder? How long does it last?
In a glass jar in a dark place, like your pantry. When stored this way, it'll stay good for 6 months!
How do you store and reheat this chili? Can you freeze it?
Simply store in an airtight container in the fridge for 5 to 6 days. You can reheat on the stove (my preference) or microwave.

And yes, chili freezes great for 3-4 months. I prefer to freeze it individual-sized portions (it defrosts much more quickly). These Souper Cubes in 1-cup or 2-cup portions are great for that (affiliate link)!
Can I make this oil-free?
There is really very little to no fat in this recipe besides the oil. I actually tried this recipe with half the amount of oil and it was less rich and harmonious in flavors. That's because fat is an excellent carrier of flavor! The oil also enables the onions to get nicely golden brown and allows the full depth of flavor to be released from the spices.

I understand that some of my readers are oil-free, so if you must skip it, please stir some vegan sour cream or cashew cream in before serving!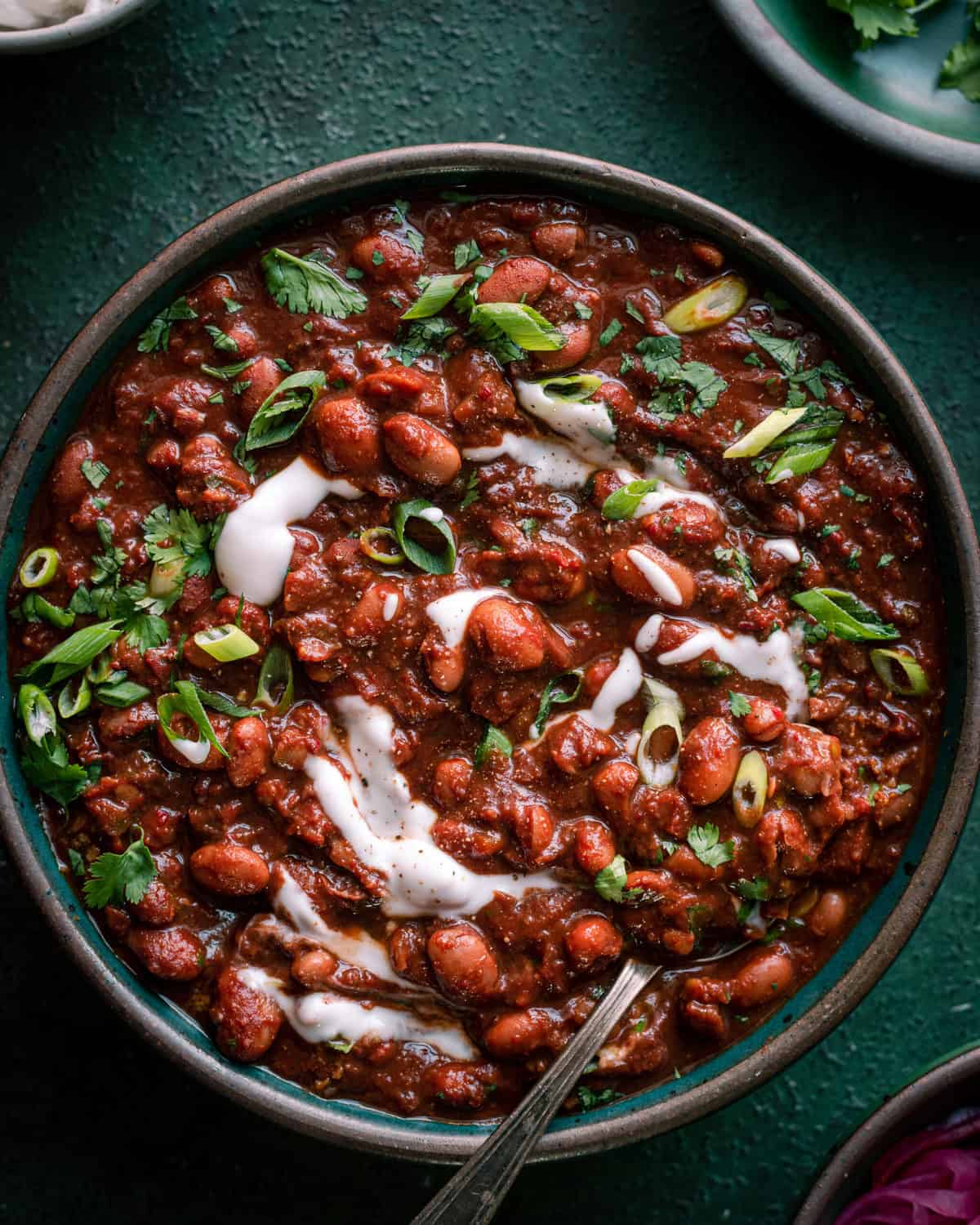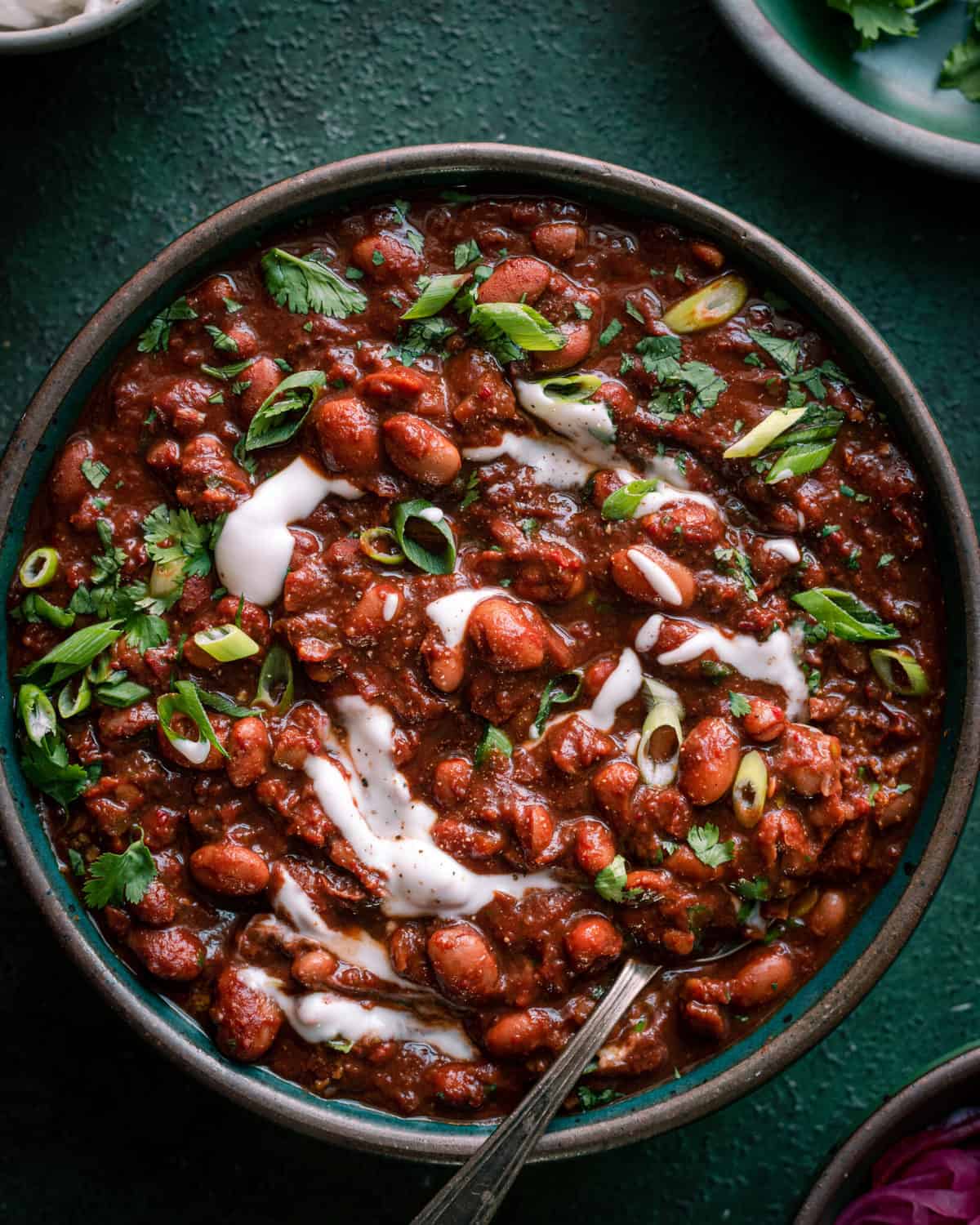 Watch! How to make vegan chili
That's all you need to know about making this incredible vegan chili! If you love this recipe, please rate and review it below!
The Best Vegan Chili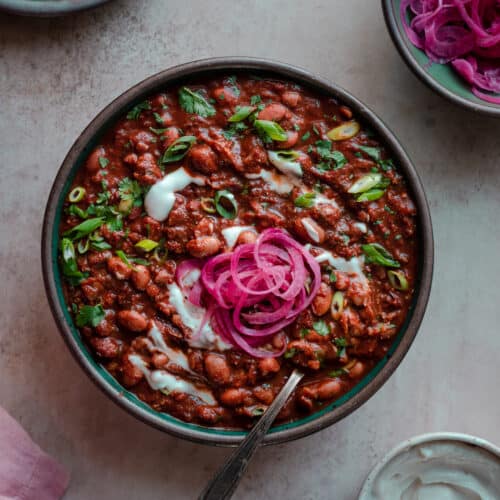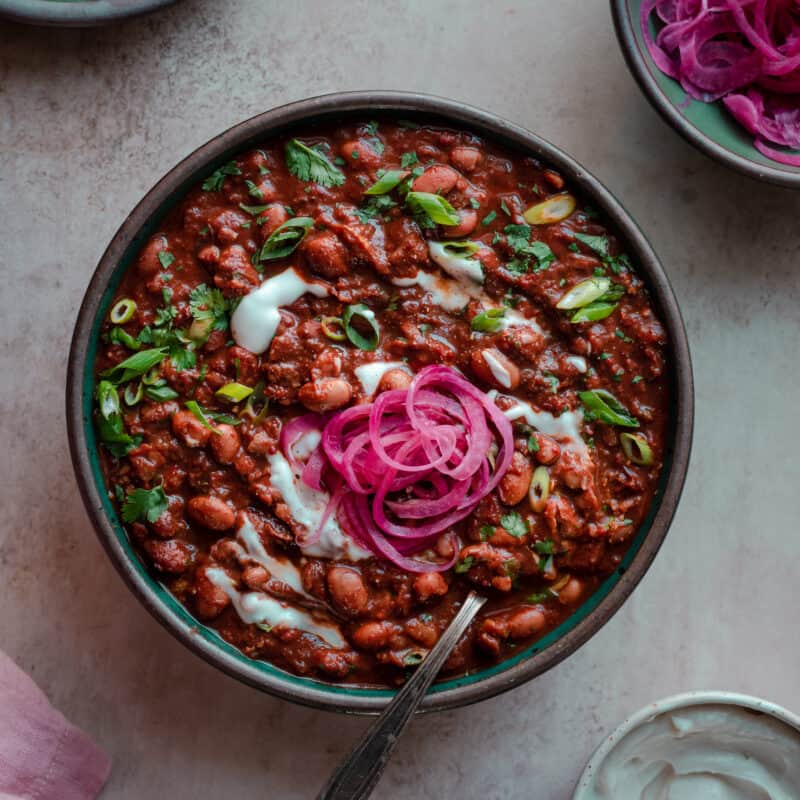 This vegan chili is incredibly rich and velvety and packed with layers of complex flavor, just like a classic chili should be. An easy homemade chili powder and slow simmering take this bean chili over the top.
Ingredients
3

tablespoons

olive oil

1

large yellow onion,

diced

6

garlic cloves,

chopped finely

2

jalapenos,

diced (remove membranes for less heat)

2

tablespoons

tomato paste

4

tablespoons

homemade chili powder

(recipe below), or store-bought ancho chili powder*

1

tablespoon

ground cumin

1 ½

teaspoons

smoked paprika

1

tablespoon

Mexican oregano

(or 2 teaspoons regular oregano or marjoram)**

3/4

cup

(180 mL) dry red wine, such as Malbec, Syrah or Pinot Noir

2

cups

(480 mL) vegetable broth

2

(15-ounce/425g) cans of pinto beans,

drained and rinsed

1

(15-ounce/425g) can of navy beans

(or other small white beans), drained and rinsed

2

tablespoons

cocoa powder

(I prefer Dutch process cocoa powder)

2

bay leaves

1 ½

tablespoons

tamari or soy sauce

if you have vegan Worcestershire sauce, you can use that

2

chipotle peppers in adobo,

chop the peppers + measure out 1 tablespoon adobo sauce**

1

(28-ounce/800g)

can whole peeled tomatoes,

crushed by hand (include juices)

1 ½

teaspoons

kosher salt

plus more as needed

Freshly cracked black pepper to taste

1

tablespoon

pure maple syrup,

plus more to finish as needed***

1 to 1 1/2

tablespoons

freshly squeezed lime juice

1

teaspoon

red wine vinegar

(or apple cider vinegar)

3

tablespoons

masa harina (Mexican corn flour)

(optional)

1

cup

(12g) cilantro leaves and tender stems, chopped
Toppings of choice
Vegan sour cream or diced avocado

Sliced scallions or chopped cilantro

Shredded vegan cheese or Vegan Queso

Quick Pickled Red Onions****
Instructions
Read all the instructions and notes before getting started, especially about moderating the spiciness level.

Heat a Dutch oven or heavy-bottomed saucepan over medium-high heat. Add the olive oil, and once it's shimmering, add the onions and season with a few pinches of salt. Stir frequently and cook the onions until nicely golden brown, stirring occasionally, about 10 minutes. If they start to burn around the edges, stir more frequently and/or add a splash of water.

Add the garlic, jalapeños, and tomato paste, and cook for 2-3 minutes, stirring very frequently, until tomato paste is darker in color. If it starts to dry out, add a splash of water and scrape up any browned bits.

Stir in the chili powder, cumin, paprika, and oregano and stir vigorously for 30 seconds.

Pour in the red wine to deglaze the pot, scraping up any browned bits. Simmer rapidly for 3 to 4 minutes, or until the smell of alcohol has cooked off and it's jammy.

Pour in the vegetable broth, pinto beans, navy beans, cocoa powder, bay leaves, soy sauce, chopped chipotle peppers + adobo sauce, hand-crushed tomatoes + their juices, salt, black pepper to taste, and 1 tablespoon maple syrup. Stir well.

Bring the chili to a boil over high heat, then reduce to a gentle simmer (this is lowest heat on my small burner). Take care to not boil or too rapidly simmer the chili, as it will break down the beans too much.

Cook, stirring every 10 minutes, until thick and velvety and the flavors have melded together, about 1 1/2 hours (or up to 2 hours). Discard the bay leaf.

Stir in the masa harina, if using. Simmer for 3 minutes, until the texture has further thickened.

Stir in 1 tablespoon lime juice, the vinegar, and cilantro. Taste and add more lime juice as needed for tanginess and add up to 1 more tablespoon maple syrup for sweetness to balance any bitterness. Season with salt and pepper, as needed.

Serve with toppings of choice, such as pickled onions, chopped cilantro, sliced scallions, vegan sour cream, avocado, tortilla chips, etc.
Notes
This chili recipe is spicy, so here are ways to moderate the heat.
Jalapeños: remove the the seeds and membranes and/or use 1 pepper instead of 2. Chipotle peppers in adobo: use 1 chipotle pepper + 1 tsp adobo sauce. Homemade chili powder: omit the spicy chile de arbol peppers (or use just 1).
*My homemade chili powder recipe is below. If using store-bought, I recommend an ancho chili powder (simply ground ancho peppers, in contrast to a standard chili powder which has other seasonings and is usually less flavorful). 
*Store-bought chili powder is not spicy, so you might want to make some adjustments: (1) you may not need as much maple syrup or lime juice to balance the flavors in step 8. (2) if you like your chili spicy(!), consider adding 3 jalapeño peppers. 
**Mexican oregano (citrus, bright, floral) is most traditionally used in chili and better suited to Mexican dishes than standard/Mediterranean oregano (bitter, mint, peppery).

 If you don't have Mexican oregano, sub with 2 teaspoons marjoram or standard oregano. 
***Need to clarify that this is just 2 peppers from a can of chipotle peppers in adobo sauce, not 2 whole cans (one reader has done that before in another recipe!!). If you're looking for milder heat, use 1 pepper only and 1 teaspoon of adobo sauce. 
****For quick pickled onions: 
Very thinly slice 1 medium red onion. Add to a large mason jar. 
Mix together freshly boiled water (3/4 cup or 180 mL) with 1/2 cup (120 mL) apple cider vinegar or distilled white vinegar. Add in 1 tablespoon organic cane sugar or maple syrup, stir until dissolved. 
Pour the hot liquid over the onions. Cool to room temperature, at least 30 minutes. 

You can serve now, but I prefer to refrigerate them for a more developed flavor
---
Calories:
352
kcal
|
Carbohydrates:
51
g
|
Protein:
15
g
|
Fat:
10
g
|
Saturated Fat:
2
g
|
Polyunsaturated Fat:
2
g
|
Monounsaturated Fat:
6
g
|
Sodium:
1012
mg
|
Potassium:
920
mg
|
Fiber:
15
g
|
Sugar:
7
g
|
Vitamin A:
2434
IU
|
Vitamin C:
14
mg
|
Calcium:
167
mg
|
Iron:
6
mg
Homemade Chili Powder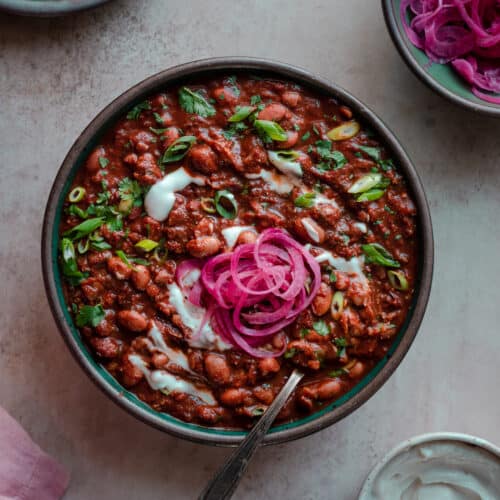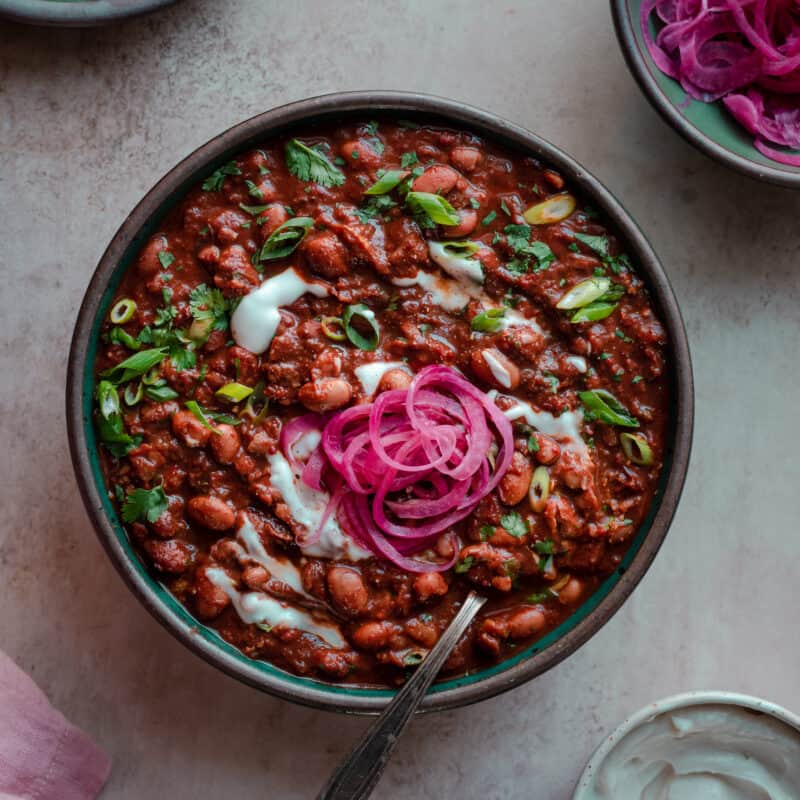 Making chili powder is easier than you think and this homemade chili powder made with three different dried chile peppers and lots of spices is packed with warming flavor. It makes for a much more complex, deeply flavored chili!
Ingredients
4

ancho peppers*

4

guajillo peppers*

2 to 5

chiles de arbol**

2

tablespoons

cumin seeds

1/2

tablespoon

coriander seeds

optional

1

tablespoon

Mexican oregano

(or 2 teaspoons regular oregano or marjoram)

2

teaspoons

garlic powder or granulated garlic

2

teaspoons

onion powder or granulated onion

1

teaspoon

smoked paprika

1/4

teaspoon

ground cinnamon
Instructions
Using your fingers, remove the stem from each chili pepper and gently tear the peppers apart. You can use kitchen shears, but using your hands is easier. Be sure to wash your hands after handling the peppers, or wear food safe gloves if your skin is sensitive.

Once the peppers are open, loosen all of the seeds and any membranes, or scrape them out. This is necessary to minimize bitterness.

Heat a cast iron skillet or other heavy, dark pan over medium heat, but don't heat for too long. Add the larger chilies (anchos and guajillos) in a single layer without overlap. Toast just until fragrant, about 1 minute, maybe 1 1/2 minutes, then flip and toast for 30-60 seconds. Smaller peppers like chile de arbol need 30 to 45 seconds, so I toast those separately.***

Take care not to scorch them or they will taste bitter. Remove and allow to cool completely. Take off the heat and allow to cool.

Add the cumin and coriander seeds to the hot pan. Toast until very fragrant, about 45 to 60 seconds, shaking the pan or stirring frequently to prevent burning, until toasty and aromatic. Remove and allow to cool.

Once cool, add the chile peppers and toasted whole spices to a spice grinder or high powered blender. If using a small spice grinder, tear up the chilies with your hands into smaller pieces and do this in two batches. Blend until the peppers and spices are pulverized.

Add the ground spices (oregano, garlic powder, onion powder, paprika, and cinnamon). Blend until a fine powder has formed. Allow the powder to settle before removing the lid.

Store in an airtight container in a cool, dry place for up to 6 months. Makes 12 tablespoons, enough for 3 batches of this chili recipe.
Notes
*You can sub ancho peppers

with guajillo, pasilla, mulato, or New Mexico red chile peppers. You can sub guajillos with ancho, pasilla, or mulato peppers. The flavors across these peppers aren't all the same but will still yield a good chili powder. 
**Omit chiles de arbol entirely for a mild chili powder. Use 2 chiles de arbol for moderate heat. I typically use 4 or 5. 
***If

 toasting peppers in two batches, lower the heat a bit after the first round because the pan will already be hot.
---
Calories:
51
kcal
|
Carbohydrates:
11
g
|
Protein:
2
g
|
Fat:
1
g
|
Saturated Fat:
0.1
g
|
Polyunsaturated Fat:
0.5
g
|
Monounsaturated Fat:
0.2
g
|
Sodium:
14
mg
|
Potassium:
281
mg
|
Fiber:
4
g
|
Sugar:
5
g
|
Vitamin A:
3523
IU
|
Vitamin C:
4
mg
|
Calcium:
26
mg
|
Iron:
2
mg