Let me introduce you to this Vegan Instant Pot Nectarine Berry Crisp, which is the easiest, flavor-packed and wholesome dessert you make in the summer.
This recipe is adapted from the Peach Raspberry Crisp from my cookbook,The Vegan Instant Pot Cookbook. You can find it on page 307 in the Desserts chapter.
To see how it's made in detail, check out the video below! This recipe starts at the 8:00 minute mark.
Why you'll love this Vegan Instant Pot Nectarine Berry Crisp
No oven needed. A fruit crisp is one of the most quintessential summer desserts, but if you don't want to turn on your oven for an hour and heat up the kitchen, this such a great alternative for summer baking. The fruit filling gets cooked in the Instant Pot and the crisp topping takes just 5-7 minutes on the stove.
Summer perfection. Perfectly ripe, juicy nectarines and blueberry make this easy, simple dessert so full of summer flavor!
Easy and quick. The nectarine-berry filling just requires you to (1) slice nectarines and then (2) dump the nectarines and blueberries in the Instant Pot with some sugar and spices. Pressure cook for just 1 minute! In the meantime, make the crisp topping on the stove – just add oats, flour, sugar, and spices to melted coconut oil and toss until toasty and lightly browned. Add the crisp topping on top of the jammy fruit filling for a deconstructed but equally delicious fruit crisp!
Easy to customize. Check out the section below on Substitutes to tailor this dessert to your tastes and what you have on hand.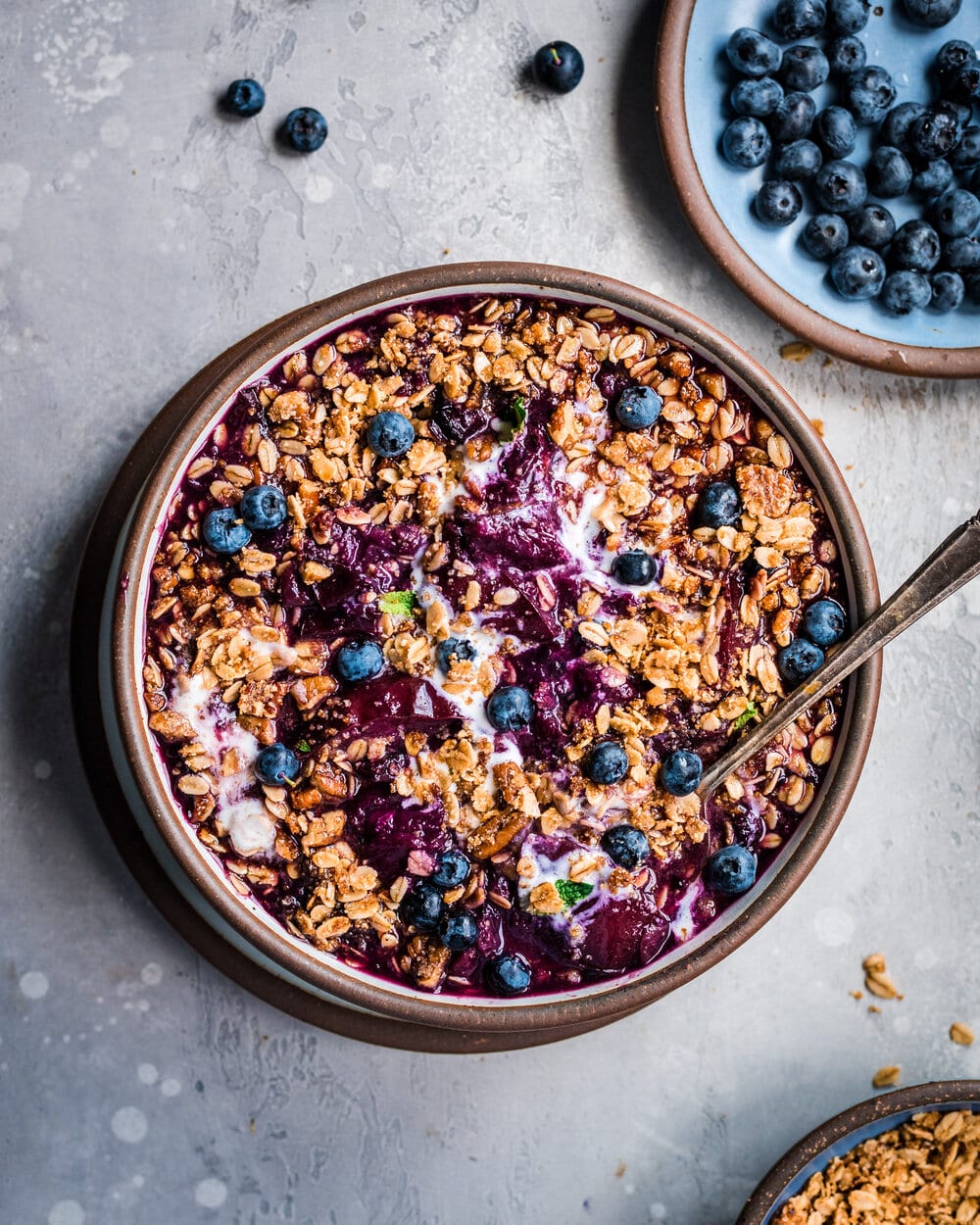 Nectarine Berry Filling: Ingredient Spotlight
Nectarines. This is such a good recipe for summer stone fruit! Of course, you can use peaches if you prefer (the original recipe in my cookbook uses peaches).
Blueberries. Another summer delight that is not only delicious but also lends a beautiful purple color to this fruit filling.
Spices. I use a mixture of cinnamon, ginger, and cardamom because (a) a fruit crisp + cinnamon are good friend; (b) I love the combination of ginger + peaches, and (c) I love the combination of cardamom + blueberries.
Almond Extract. I love how the cherry-almond flavor from pure almond extract pairs with stone fruit.
Cornstarch or Arrowroot Powder. Once the fruit filling is done being pressure cooked, you'll notice that it is quite watery (despite having no added water in this recipe). That's the water content from the fruit. To thicken up the filling, I add in a cornstarch or arrowroot slurry and turn on the Sauté to boil it down for a few minutes. The filling will thicken up within just a few minutes.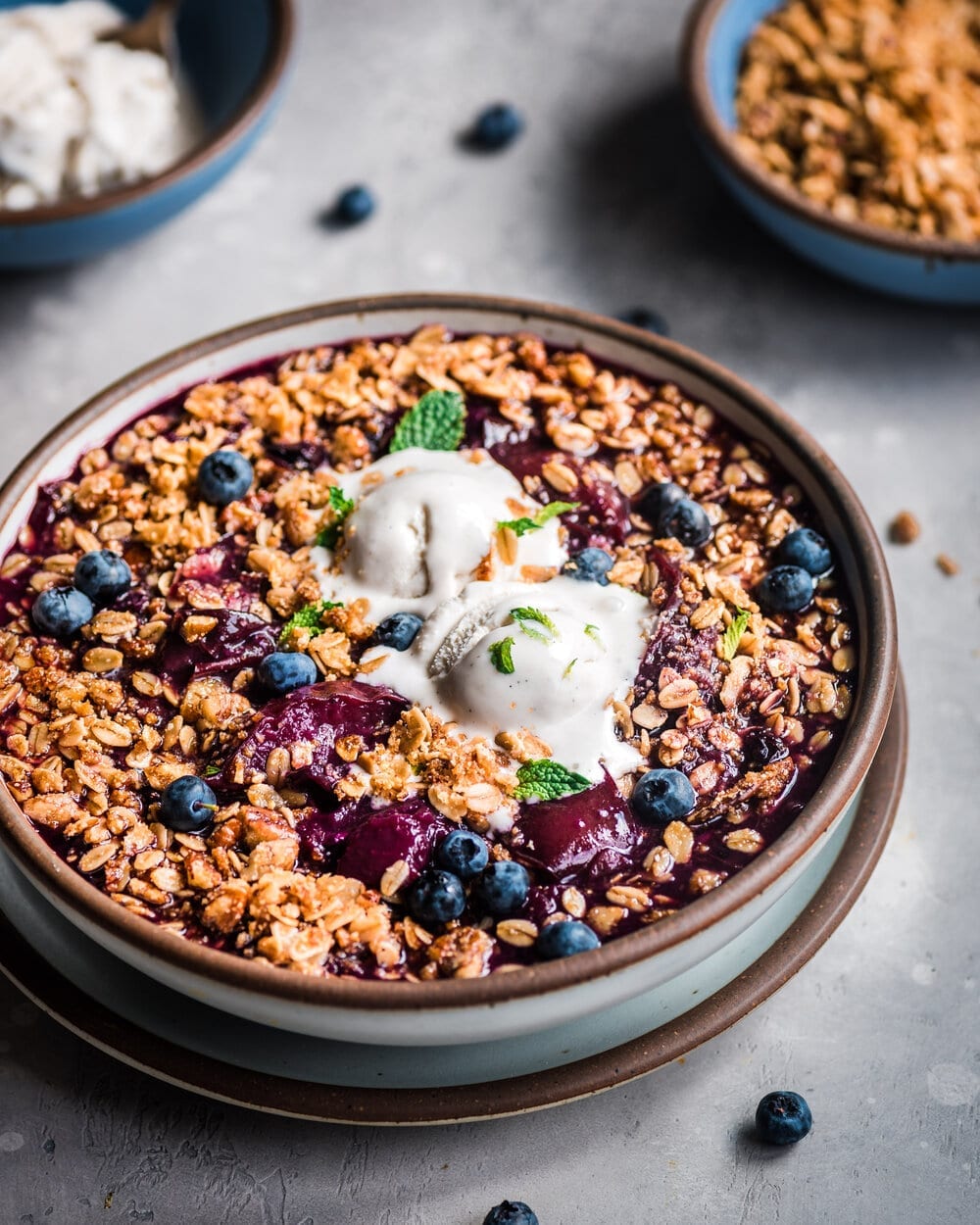 Crisp Topping: Ingredient Spotlight
As I mentioned, this is a somewhat deconstructed crisp, as the filling and crisp don't get baked together in the oven, but it's no less delicious!
Refined coconut oil. I melt coconut oil in a large skillet, and then add the rest of the toppings and stir frequently to prevent burning, until the mixture is lightly browned and toasty. I use refined coconut oil since virgin/unrefined coconut oil has a fairly distinctive coconut taste that I don't want in this recipe. If you wanted to make this a bit more indulgent, you could also use vegan butter, but be sure to keep an eye on it while cooking to prevent burning.
Rolled Oats. A crisp topping typically has oats, and they bring a lovely flaky yet hearty texture.
Almond Flour. To keep this gluten-free, I use almond flour, which pairs perfectly with the oats.
Pecans. I love the butteriness that pecans bring to this crisp.
Organic Brown Sugar. I love the moisture and caramelized flavor that brown sugar brings to this crisp topping (instead of plain white sugar).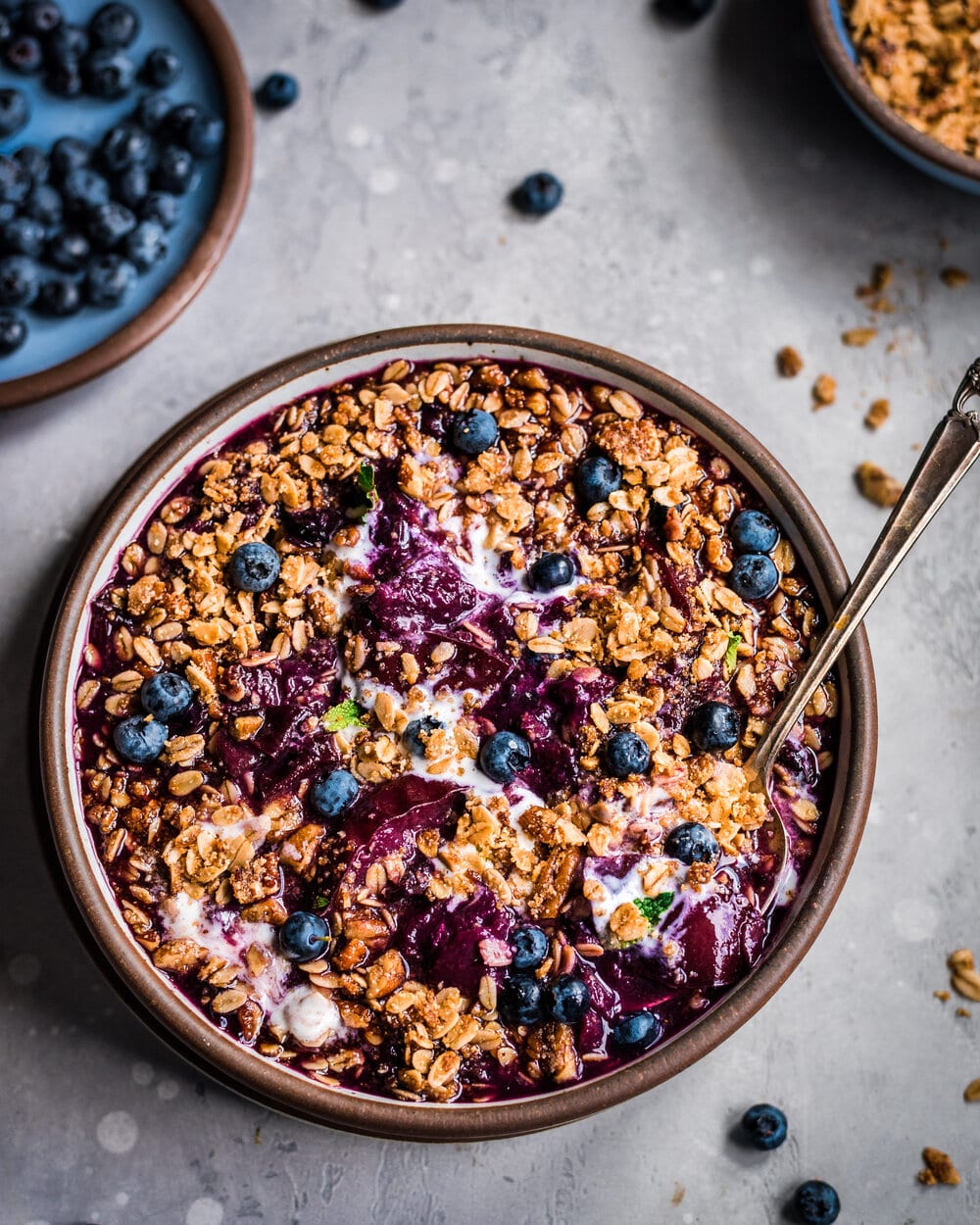 Tips for making this Vegan Instant Pot Nectarine Berry Crisp
Nectarines. To ensure your nectarines don't totally disintegrate under the high pressure of the Instant Pot, here are a few tips: (1) choose nectarines that are slightly firmer than you would chose for snacking; (2) use a serrated knife for clean slices; (3) don't slice them too thinly.
Crisp Topping. Keep an eye on the crisp topping and toss frequently, as it can burn easily. When it's done, spread it out on a single layer on a piece of parchment paper. This helps retain its crispness and also speeds up the cooling process.
To serve. Store the berry filling and crisp topping separately (berry filling in the fridge, crisp topping in an airtight container at room temperature). If you have leftover crisp topping, it makes for an excellent snack or granola replacement. Sprinkle some one vanilla yogurt with berries for breakfast, or on top of ice cream for a sweet treat.
Also, this should be obvious, but this crisp is even better when served with a few scoops of vegan vanilla ice cream!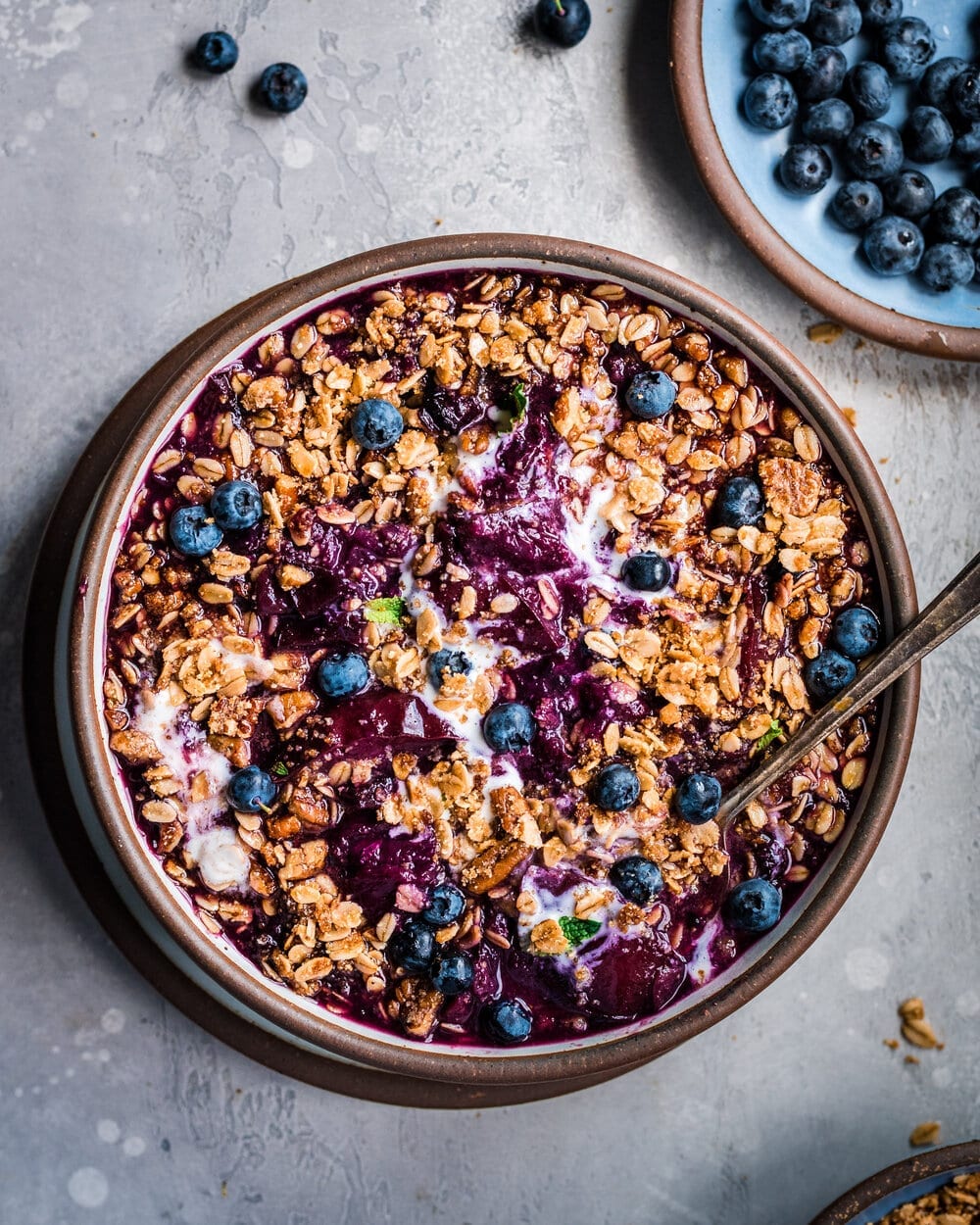 Substitutes for this recipe
Nectarines. Peaches are so good in this recipe (as in the original recipe in my cookbook)! One reader used fresh mango in this recipe and loved it (if you use mango, I highly recommended adding ginger and cardamom).
Blueberries. Feel free to use any berry!
Spices: You can substitute the ginger and cardamom with other spices you like (e.g., nutmeg, mace, allspice, cloves).
Almond Extract. You can sub pure vanilla extract, but double the amount.
Almond Flour. If you're not gluten-free and/or don't have almond flour, you can substitute all-purpose flour (though I think it's better with almond flour).
Pecans. You can easily sub walnuts.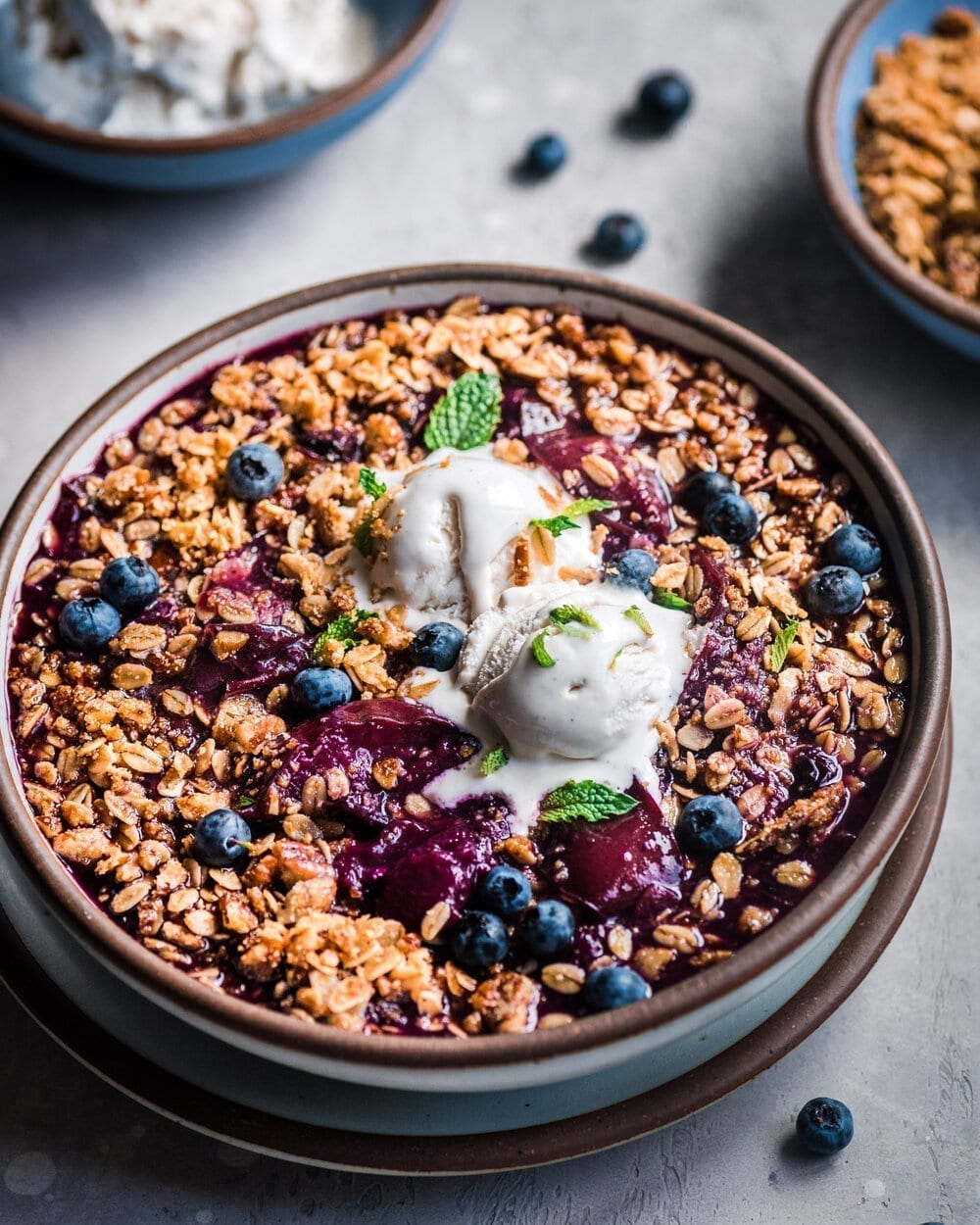 If you give this Vegan Instant Pot Nectarine Berry Crisp recipe a try, be sure to tag me on Instagram with your recreations and please comment with your feedback below!
Vegan Instant Pot Nectarine Berry Crisp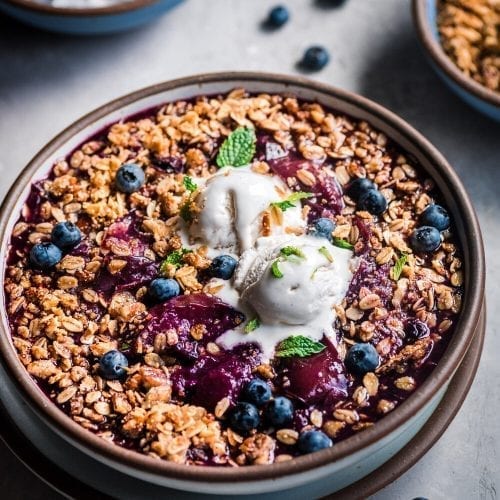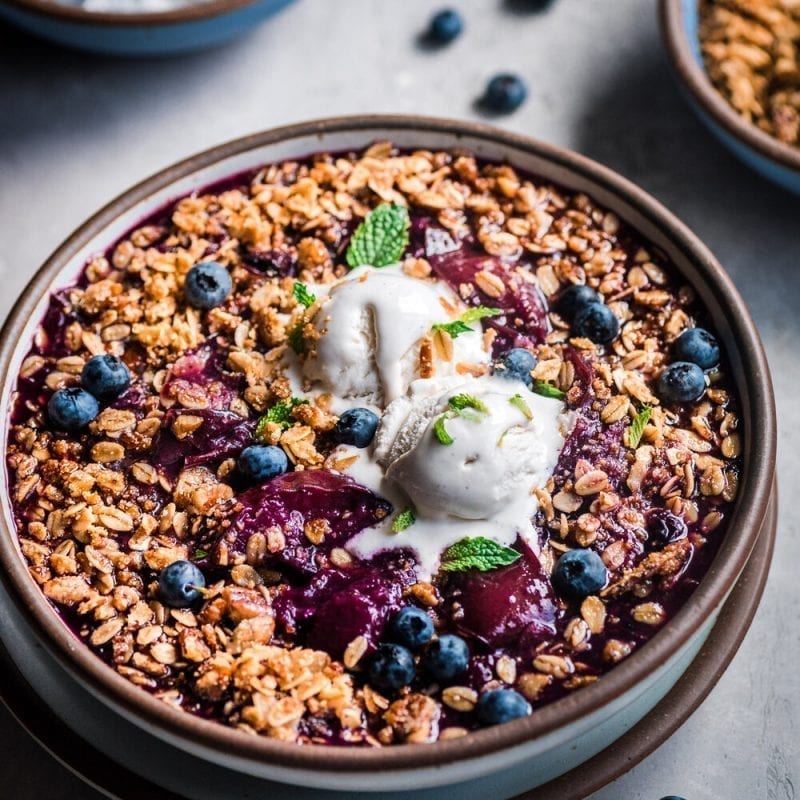 Get your bake on without turning on the oven with this Vegan Instant Pot Nectarine Berry Crisp. It's an easy no-bake dessert recipe made in the Instant Pot. Jammy blueberries and nectarines get cooked in the Instant Pot (just 1 minute) and are paired with a skillet-made crisp topping.
Ingredients
Nectarine-Blueberry Filling
8

firm-ripe medium nectarines

Cooking spray or neutral-flavored oil,

for the pot

1

pint

blueberries

2

tablespoons

organic cane sugar

1

tablespoon

organic brown sugar or organic cane sugar

1/2

teaspoon

ground cinnamon

1/4

teaspoon

ground ginger

1/8

– 1/4 teaspoon ground cardamom

(optional)

Pinch

of kosher salt or fine sea salt

1/2

teaspoon

pure almond extract

(or pure vanilla extract)

1

teaspoon

fresh lemon juice

1

tablespoon

cornstarch or arrowroot powder
Crisp Topping
1/3

cup

refined coconut oil

1

cup

rolled oats

(gluten-free if needed)

1/2

cup

almond flour or blanched almond meal

1/2

cup

pecans,

chopped

1/2

cup

packed organic brown sugar

1/2

teaspoon

ground cinnamon

1/2

teaspoon

kosher salt
Instructions
Leave the nectarines unpeeled and use a serrated knife to slice them into 3/4-inch-thick wedges. You will end up with about 6 cups of sliced nectarines.

Coat the inner pot of the Instant Pot with cooking spray or lightly grease with oil.

Add the sliced nectarines and blueberries to the inner pot. Top with the cane sugar, brown sugar, a pinch of salt, cinnamon, ginger, cardamom (if using), almond extract (or vanilla extract), and lemon juice. Stir gently to coat the fruit.

Secure the lid and set the Pressure Release to Sealing. Select the Pressure Cook setting at high pressure and set the cook time to 1 minute.

Meanwhile, prepare the Crisp Topping: In a large skillet, heat the coconut oil over medium heat. Once the oil is melted and hot, add the oats, almond flour, pecans, brown sugar, cinnamon, and salt. Cook, tossing frequently to prevent burning, until toasted and lightly browned, 5 to 7 minutes. Carefully transfer the crisp topping to a large piece of parchment paper and spread out to cool slightly.

Once the 1-minute timer has completed and beeps, perform a quick pressure release by carefully switching the Pressure Release knob from Sealing to Venting.

In a small bowl, whisk together the cornstarch with 1 tablespoon water until dissolved into a slurry. Open the pot and pour the slurry into the nectarine-blueberry filling. Select the Sauté setting and bring to a boil, stirring gently until the filling has thickened, 1 to 2 minutes.

Transfer the nectarine-blueberry filling to a large serving bowl or individual dessert bowls and sprinkle generously with the Crisp Topping. Serve warm with vegan vanilla ice cream if desired.
---
Calories:
296
kcal
|
Carbohydrates:
42
g
|
Protein:
4
g
|
Fat:
15
g
|
Saturated Fat:
7
g
|
Polyunsaturated Fat:
2
g
|
Monounsaturated Fat:
3
g
|
Sodium:
125
mg
|
Potassium:
333
mg
|
Fiber:
5
g
|
Sugar:
28
g
|
Vitamin A:
406
IU
|
Vitamin C:
11
mg
|
Calcium:
42
mg
|
Iron:
1
mg