This post is sponsored by Country Crock® Plant Butter. All opinions and recipes are my own.
Berry season is in full swing, and I've been very much enjoying the delightful tart yet sweet raspberries from the farmers market, so I figured I had to share a raspberry dessert!
These Vegan Raspberry Crumble Bars are an easy, fuss-free and crowd pleasing dessert that are perfect for summertime and a delicious way to enjoy the peak of berry season.
Why you're going to like these Vegan Raspberry Crumble Bars
Easy to make. You don't need to be an expert baker to bake these crumble bars! The crust gets made in the food processor, they're fuss-free, and don't require any special baking equipment or ingredients.
Sweet yet tart. I love raspberries because of their perfect tart-yet-sweet balance. The filling is sweet but not overly sweet, and it's the perfect summer dessert to pair with vegan vanilla ice cream.
Healthy yet indulgent. The buttery crust and crumble topping make these bars feel indulgent, but they're actually quite light, vegan, and easy to make gluten-free and refined sugar-free.
Ingredient Rundown: Buttery Crust and Crumble
I make a one batch of a buttery oat crumble and use part of it for the crust and the remainder for the crumble topping. The crust gets partially baked before adding the raspberry filling, and it tastes somewhat like a shortbread crust. The same crumble gets sprinkled on top of the raspberry filling, but it tastes more like a buttery streusel crumb.
Vegan Butter
I have made crumble pies and bars with coconut oil, and while they taste pretty good, they are hands down better when made with (vegan) butter.
In this recipe, I use Country Crock Plant Butter to achieve that melt-in-your-mouth tender buttery texture while still keeping it vegan. It's plant-based butter, and trust me, you'll never taste the difference! During baking, the Plant Butter also assists in the browning process in a way that coconut oil can't, bringing that perfectly golden brown color to the crumble topping.
This is the perfect plant-based butter to use when you want to create an indulgent buttery dessert that tastes like the real thing but is 100% dairy-free.
It is important to use cold (vegan) butter in this recipe, as the crust and crumble topping are made similarly to a pie dough. I cut the Plant Butter into small cubes, then stick that back in the freezer to chill. Then you'll add the butter to the dry ingredients and pulse in the food processor (it's very simple!).
Old Fashioned Rolled Oats
The oats add a slight bite that contrasts nicely with the tender buttery feel. Be sure to use old fashioned/rolled oats, not quick oats.
All-Purpose Flour
All purpose-flour brings the structure to this crust and the perfect crumb. That said, I have made these bars gluten-free by using a mixture of oat flour and almond flour. The texture is a lot softer and gooier, and there's less structure to these bars, but they're still delicious.
Coconut Sugar
These crumble bars aren't cloyingly sweet, but they do need a bit of sugar to develop that perfect chewy bite. I used coconut sugar to keep these bars refined sugar-free, but you could easily use organic brown sugar (or even organic cane sugar).
Cinnamon and Ginger
I like the hints of cinnamon and ginger in this crust and crumble topping. They're subtle but pair really nicely with the vanilla and almond extracts in the filling.
Ingredient Rundown: Raspberry Filling
Raspberries and Raspberry Jam
The filling uses both fresh raspberries and raspberry jam, which creates the best of both worlds, texture- and taste-wise. The fresh raspberries bring that characteristic sweet-tart combo I love about raspberries and you get a bite of fresh summer flavor in every bite. The raspberry jam brings a more concentrated sweetness and, of course, a gooey, jammy texture that is irresistible.
Orange Zest and Orange Juice
I am in love with the flavor combination of raspberries and orange. The orange zest is so aromatic and intensifies the flavor of raspberries, allowing their distinct sweet-tart flavor to shine. Please don't think of the orange zest and juice as optional ingredients. They really elevate this dessert and make it special and unique-flavored.
Flour and Cornstarch
To prevent the raspberries and jam from sinking and turning too mushy, I add a bit of flour and cornstarch to the filling.
Vanilla and Almond Extract
Vanilla extract is a no-brainer in any kind of crumble dessert, but I also add a bit of almond extract because I LOVE the flavor combination of vanilla and raspberries. Similar to the orange zest, the almond extract helps concentrate the raspberry flavor and even brings subtle notes of cherries.
How to Make Vegan Raspberry Crumble Bars
What I love about this recipe is that these bars are really easy to make! Simply add your dry ingredients (flour, oats, sugar, baking powder, cinnamon and ginger) to a food processor until the oats are mostly ground up. Then add your cubed cold vegan butter and pulse until you have a crumbly dough.
Spread about 2/3 of that dough into the bottom of a square baking pan (lined with parchment paper) and press down the dough onto the bottom and edges of the pan. Partially bake the dough to help firm it up.
Then evenly dollop the raspberry filling on top of the crust, followed by spoons of the raspberry jam on top. Sprinkle the remaining dough on top of the jam, and bake until it's perfectly golden brown.
You can serve the bars once they've cooled, but to ensure the bars solidify into true bar form, I refrigerate them for a few hours. If you don't mind crumbly gooey bars, go ahead and skip the refrigeration step.
When you bite into these bars, you'll taste gooey, jammy berry goodness sandwiched between a firm-yet tender buttery base and a sweet streusel topping. Yes, they are as delicious as this sounds!
Tips for making these Vegan Raspberry Crumble Bars
Keep the butter cold. Keeping the (vegan) butter as cold as you can is important for a tender buttery crust. If the butter is too warm it will make it hard to work the dough. Only once you've blended your oat-flour mixture, remove the Plant Butter from the freezer and add it to the food processor.
Adjust the sugar amount as needed. If your raspberries are very sweet, you can slightly reduce the amount of sugar in the filling. If they are not sweet at all, consider adding a bit more sugar to the filling, or add a spoon or two more of jam. If you are using a reduced sugar variety of jam, consider adding a bit more sugar to the filling to compensate.
Don't overpack the crumble topping. I use an 8×8-inch square pan, so I usually have more crumble topping than necessary (this is less likely to be the case if you use an 9×9-inch square pan).
I am always tempted to use the entire amount because I don't want to waste, but these bars are actually better if you don't completely cover the raspberry filling with the crumb topping. It's more visually appealing when you can see some hints of raspberries poking through the top. Plus, the crumble topping is an addictively delicious snack that you can pour over yogurt or ice cream!
Substitutes for these Vegan Raspberry Crumble Bars
To make gluten-free. To make these bars gluten-free, substitute the all-purpose flour in the crust with a mixture of equal parts oat flour and almond flour. Also, substitute the 1 tablespoon all-purpose flour in the filling with oat flour. Alternatively, you can use a 1:1 all-purpose gluten-free flour, such as this.
If you don't have or use cornstarch, you can use arrowroot powder/flour.
I think you'll get the best texture and flavor with fresh raspberries, but if you don't have access to fresh raspberries or it's not raspberry season, you can use frozen raspberries. But you need to thaw and drain them ahead of time to ensure the bars firm up.
While the raspberries are thawing in a strainer, very gently squeeze them to get excess water out. It's okay if they get a little mushy, as they will get mushy during baking.
To keep these bars refined sugar-free, you can use a raspberry jam that is just fruit conserve. I recommend this one.
If you give these Vegan Raspberry Crumble Bars recipe a try, be sure to tag me on Instagram with your recreations and please comment with your feedback below!
Vegan Raspberry Crumble Bars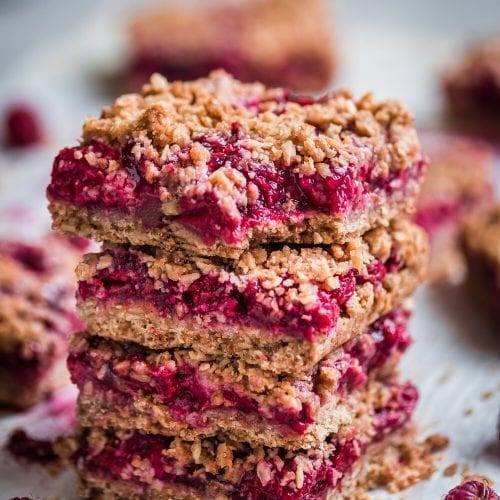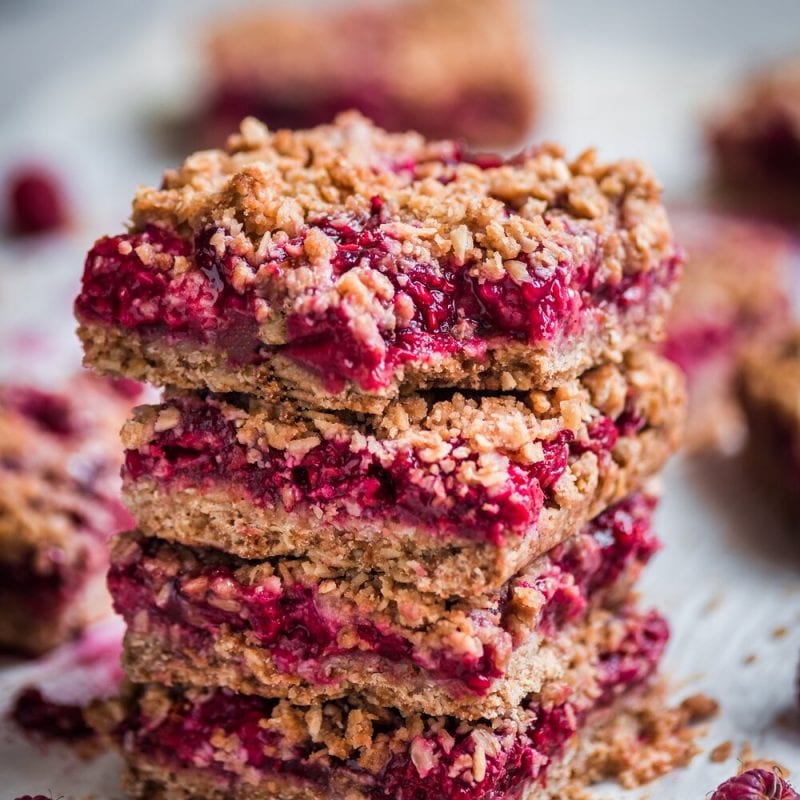 These Vegan Crumble Raspberry Bars have a thick jammy layer of raspberries mixed with raspberry jam nestled between a buttery oat crumble crust and topping! They're vegan and easy to make gluten-free and refined sugar-free.
Ingredients
1

stick

(112g) vegan butter, cubed and chilled in freezer until very firm

1 1/2

cup

(~120-140g) old fashioned rolled oats

1

cup

(120g) all-purpose flour**

6

tablespoons

(50g) coconut sugar (can use brown sugar)

1/2

teaspoon

baking powder

1/2

teaspoon

ground cinnamon

1/4

teaspoon

ground ginger

Pinch

of salt,

about 1/16 teaspoon
Raspberry Filling
12

ounces

(340g) fresh raspberries (2 pints fresh raspberries)

1

medium orange,

zested

3

tablespoons

freshly squeezed orange juice

3-4

tablespoons

coconut sugar

(or brown sugar)***

1

tablespoon

all-purpose flour****

1/2

tablespoon

cornstarch

(or arrowroot powder)

1

teaspoon

vanilla extract

Scant 1/2 teaspoon almond extract

4-5

tablespoons

raspberry jam or preserves*****
Instructions
Cut the Plant butter into cubes. Then place it in the freezer to firm up and chill.

Preheat the oven to 350°F/176°C. Line a 8×8-inch (20×20 cm) or 9×9-inch (23x23cm) baking dish with parchment paper.

Make the crumble dough. In a food processor, pulse together the rolled oats, flour, coconut sugar, baking powder, cinnamon, ginger, and salt until the oats are mostly ground up. Add the cold Plant butter cubes and pulse until you have a crumbly dough that comes together when pressed. Alternatively, you can use a pastry cutter and make the dough in a bowl.

Press 2/3 of the dough into the lined baking pan (I measured out 2/3 of it using a digital scale). Bake in the preheated oven for 10 -12 minutes, or until the base is lightly golden and starting to firm up.

Meanwhile, make the Raspberry Filling. In a medium bowl, gently toss the raspberries with orange zest, orange juice, sugar, flour, cornstarch, vanilla extract, and almond extract until well combined. Dollop the berry filling in an even layer over the baked crust, then spoon the jam on top of the berries. Sprinkle the remaining crumble dough on top as a crumble, leaving a few pockets of raspberry visible.

1. NOTE: If you use an 8×8-inch pan, you might have a little leftover crumble.

Return to the oven and bake for 30-35 minutes, or until the crumble is lightly golden and the berries are slightly oozing.

Remove from the oven and allow to cool to room temperature. If you want the bars to really solidify into true bar form, refrigerate for a few hours before slicing into 9-12 bars. If you don't mind crumbly gooey bars, skip the refrigeration step. Store in an airtight container in the fridge for up to 1 week.
Notes
* If you want to lighten up these bars a bit, you can use slightly less vegan butter. Use 6 tablespoons instead of 1 stick (8 tablespoons). The dough will be too try to stick together, so add 1-2 tablespoons cold water until it comes together.
** To make gluten-free, substitute the 1 cup all-purpose flour with 1/2 cup (50g) oat flour and 1/2 cup (~52g) almond flour. Or, use a 1:1 all-purpose gluten-free flour, such as this.
*** Use more or less sugar depending on your tastes and how sweet your raspberries are.
**** To make gluten-free, substitute the 1 tablespoon all-purpose flour with 1 tablespoon oat flour or all-purpose gluten-free flour.
***** To make refined sugar-free, use a fruit-only jam, such as this one.
---
Calories:
283
kcal
|
Carbohydrates:
43
g
|
Protein:
4
g
|
Fat:
11
g
|
Saturated Fat:
2
g
|
Polyunsaturated Fat:
4
g
|
Monounsaturated Fat:
5
g
|
Trans Fat:
2
g
|
Sodium:
138
mg
|
Potassium:
143
mg
|
Fiber:
4
g
|
Sugar:
15
g
|
Vitamin A:
24
IU
|
Vitamin C:
14
mg
|
Calcium:
36
mg
|
Iron:
2
mg