Out of all the video request I get, the most common one is "What I eat in a day." I find those videos difficult to make for a variety of reasons. What I eat in a day is always changing and is contingent on a variety of factors: am I working at an office or at home? Is it a weekday or a weekend? Is it summer or winter?
BUT, I do make and eat certain types of meals on a (mostly) weekly basis. Hence the "What I Eat in a Week" video! So, hop on over to Youtube to watch the video! If you make any of these recipes, drop me a comment on Youtube!
Watch! What I Eat in a Week!
Meal 1: Stuffed Sweet Potatoes 
Stuffed Sweet Potatoes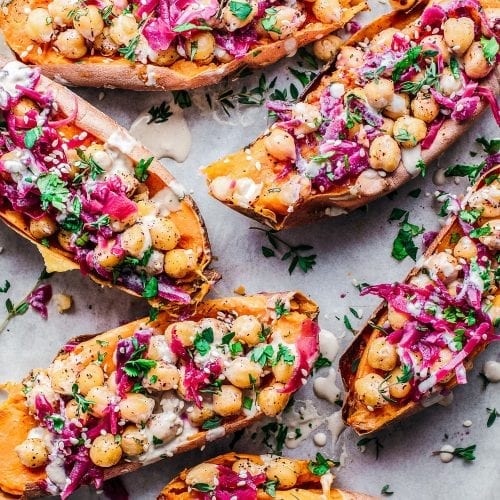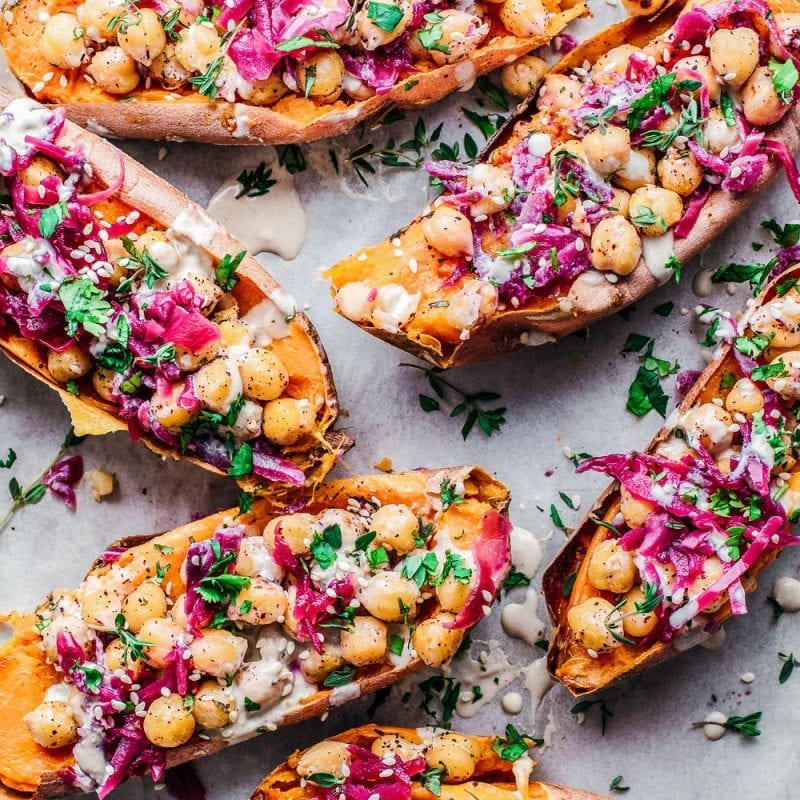 These stuffed sweet potatoes are easy to put together and customize, and make an excellent weeknight dinner or post workout meal. 
Ingredients
4

large sweet potatoes

1

tablespoon

Za'atar Seasoning

(recipe below)

2

teaspoons

olive oil

1

(15-ounce/440g)

can of chickpeas

(or 1 3/4 cups cooked chickpeas)

Juice of 1/2 medium lemon

1/2

cup

sauerkraut (120 g)

4

tablespoons

tahini
Za'atar Seasoning
1

tablespoon

minced fresh thyme

1

tablespoon

toasted sesame seeds*

1

teaspoon

ground sumac

1/4

teaspoon

coarse salt
Instructions
Preheat the oven to 400°F (or 204°C). Prick the sweet potatoes all over with a fork and place them on a baking sheet. Bake for 45-50 minutes, or until the potatoes are fork tender but not falling apart.

Meanwhile, stir together all of the ingredients for the Za'atar Seasoning.

Drain the chickpeas in a colander, rinse with water, and shake the colander to get rid of excess. Then gently pat dry the chickpeas with paper towels.

Heat 2 teaspoons of olive oil in a 12-inch skillet over medium-high heat, and ensure that the entire pan is coated with the oil. Add the rinsed and dried chickpeas in small handfuls and spread them out in a single layer. Let the beans cook undisturbed for 3 minutes. Then use a flat spatula to flip the beans and cook for another 3-5 minutes, or until the beans are browned and blistered.

Stir the Za'atar Seasoning and stir to coat the chickpeas evenly. Squeeze the lemon juice over the chickpeas and then remove from the heat.

Once the potatoes are cool enough to handle, slice them in half and top each potato with the Za'atar Blistered Chickpeas, sauerkraut, and tahini.
Notes
*To toast sesame seeds, add the seeds to a skillet over medium heat and toss occasionally until lightly golden, 3-5 minutes.
---
Calories:
510
kcal
|
Carbohydrates:
88
g
|
Protein:
14
g
|
Fat:
13
g
|
Saturated Fat:
2
g
|
Polyunsaturated Fat:
5
g
|
Monounsaturated Fat:
5
g
|
Sodium:
613
mg
|
Potassium:
1424
mg
|
Fiber:
17
g
|
Sugar:
15
g
|
Vitamin A:
48349
IU
|
Vitamin C:
17
mg
|
Calcium:
193
mg
|
Iron:
5
mg
Meal 2: Cashew Cream Pasta
Cashew Cream Pasta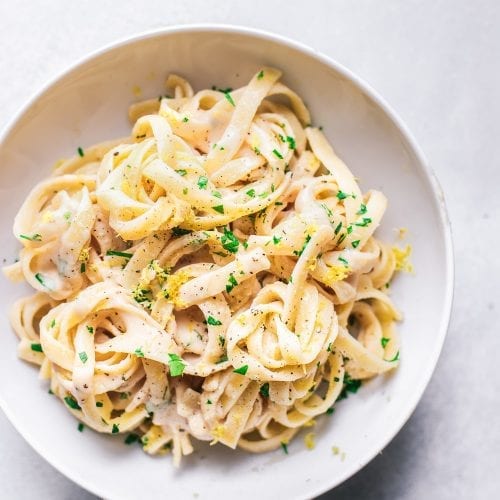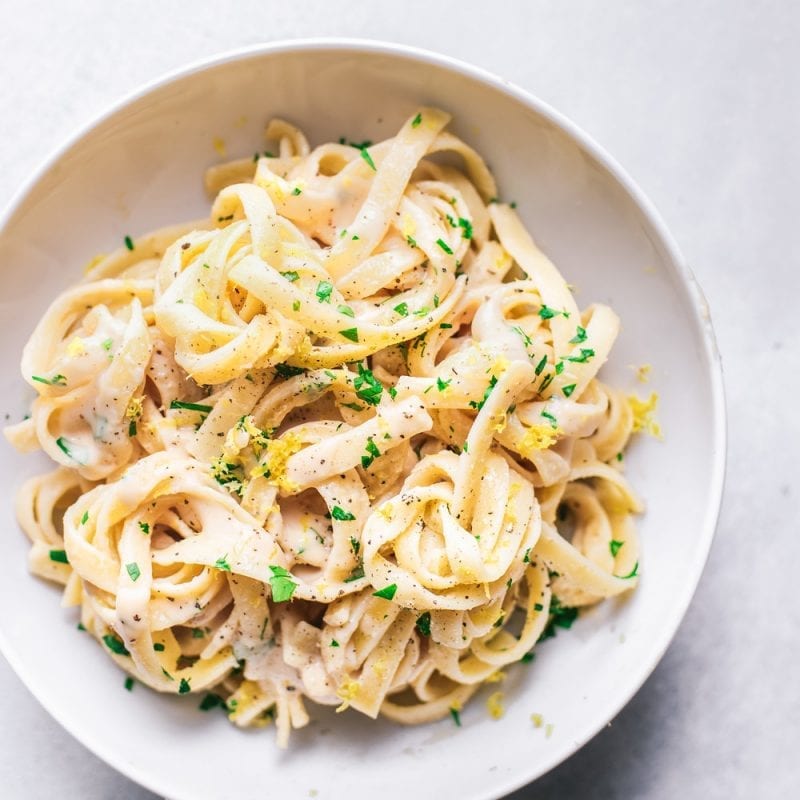 Pasta paired with my favorite condiment--cashew cream--makes for an easy weeknight dinner. It's popular with picky eaters and tastes indulgent but the sauce is made of wholesome ingredients.
Ingredients
12

ounces

pasta of choice (340g)

use gluten-free pasta as needed

16

ounces

shelled organic edamame or chickpeas (454g)

1

pint

of cherry tomatoes (300g)

4

tablespoons

hemp seeds

5

tablespoons

walnuts

1/2

cup

fresh basil (10g),

thinly slivered
Cashew Cream
1

cup

raw cashews (140g)

soaked for 8 hours

½

cup

+ 2 tablespoons plant-based milk (150 mL)

2

cloves

garlic, roughly chopped

1/2

teaspoon

sea salt + more to taste

1/4

teaspoon

freshly cracked black pepper + more to taste

2

tablespoons

nutritional yeast

1 1/2

tablespoon

freshly squeezed lemon juice
Instructions
Bring a large saucepan of salted water to a boil and cook the pasta according to the directions. When the pasta is al dente, ladle out a bit of the cooking water (1/2-1 cup or 120-240 mL is plenty). Drain the pasta in a colander and return it to the saucepan or to a large bowl.

While the pasta is cooking, make the Cashew Cream. Blend all of the ingredients together in a high-powered blender or food processor until smooth and creamy and all cashew bits are pulverized. Scrape down the sides as you go, and add more plant-based milk as needed to achieve your desired texture.

While the pasta is still hot, add in the Cashew Cream and toss to coat. It will likely be very thick, so add in some of the reserved pasta water, a few tablespoons at a time until your sauce is still creamy but thin enough to coat the noodles.

Add in the edamame, tomatoes, hemp seeds, walnuts, and basil, tossing to coat. Serve warm.
---
Calories:
563
kcal
|
Carbohydrates:
63
g
|
Protein:
27
g
|
Fat:
25
g
|
Saturated Fat:
3
g
|
Polyunsaturated Fat:
11
g
|
Monounsaturated Fat:
8
g
|
Trans Fat:
1
g
|
Sodium:
197
mg
|
Potassium:
870
mg
|
Fiber:
9
g
|
Sugar:
7
g
|
Vitamin A:
545
IU
|
Vitamin C:
25
mg
|
Calcium:
129
mg
|
Iron:
6
mg
Meal 3: Spicy Indian Curry 
There's nothing more comforting than a creamy and well-spiced Indian curry during the colder months. I mix it up a lot, but these four are among my regular options:
This Vegan Red Lentil Curry is a fan favorite and the BEST lentil curry you will ever try! It's easy and quick, making it a perfect weeknight dinner! Plus, it's creamy and indulgent but made with wholesome vegan ingredients!
Check out this recipe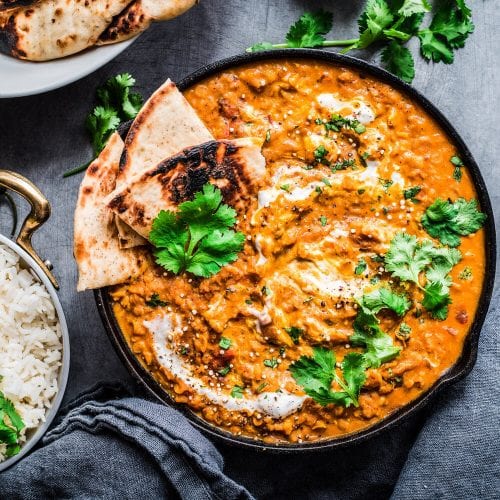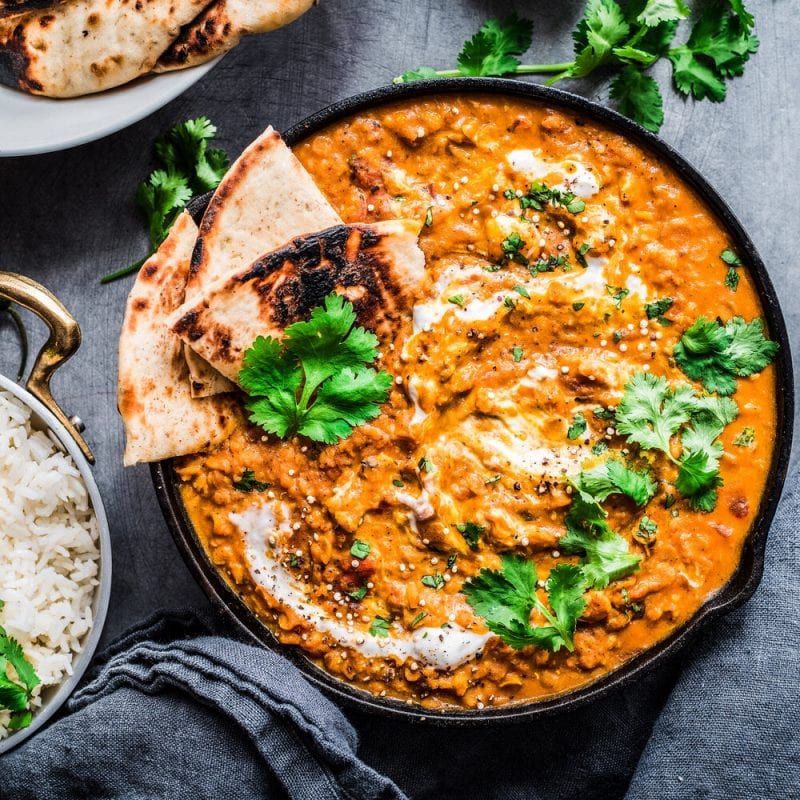 Meal 4: Veggie Grain Bowl
Veggie Grain Bowl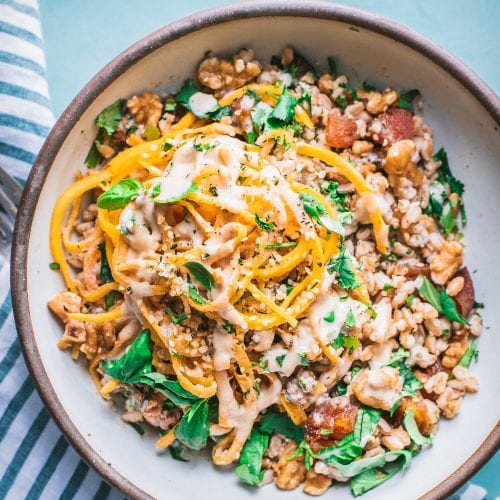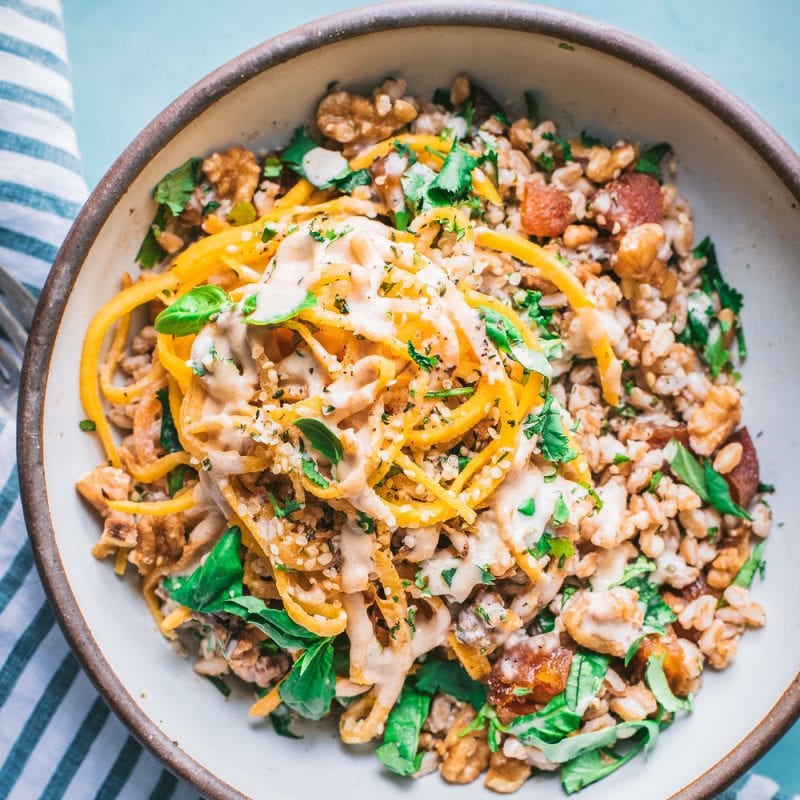 Pair your favorite meal-prepped grain with some veggies, toss in dried fruit for chewiness, nuts and seeds for crunchiness, and herbs for freshness. Bring the grain bowl together with a vinaigrette or sauce. 
Ingredients
GRAINS (1 - 1 1/2 cups)
Farro

Quinoa

Brown rice

Millet

Wild rice

Barley
VEGGIES (as much as you want)
Roasted vegetables

(cauliflower, winter squash, rutabaga, broccoli, carrots, etc.)

Steamed vegetables

(broccoli, asparagus, bok choy, etc.)

Raw vegetables

(bell peppers, shredded carrots or cabbage, cherry tomatoes, etc.)
CHEWY (2-4 tablespoons)
Dried apricots

Golden raisins

Currants

Medjool Dates

Goji berries

Dried cherries or cranberries
CRUNCHY (2-4 tablespoons)
Hemp seeds

Almonds

Walnuts

Pistachios

Peanuts

Sunflower seeds or pumpkin seeds
FRESH HERBS (1 handful)
Flat-leaf parsley

Basil

Dill

Cilantro
DRESSING
Oil-Free Tahini Dressing

Balsamic Vinaigrette
Instructions
Layer your grains into a large bowl. Top with veggies of choice, add your crunchy and chewy elements, top with fresh herbs and toss to combine. Top with one of the dressing options below, or your favorite sauce or dressing.

Oil-Free Tahini Dressing: Whisk together 2 tablespoons tahini, 1 tablespoon apple cider vinegar, salt & pepper to taste, and water to thin out the dressing.

Balsamic Vinaigrette: Whisk together 1 tablespoon extra virgin olive oil, 2 teaspoons balsamic vinegar, 1/4 teaspoon Dijon mustard, 1/2 teaspoon maple syrup, and salt & pepper to taste 
---
Creamy, Fruit-Sweetened Oatmeal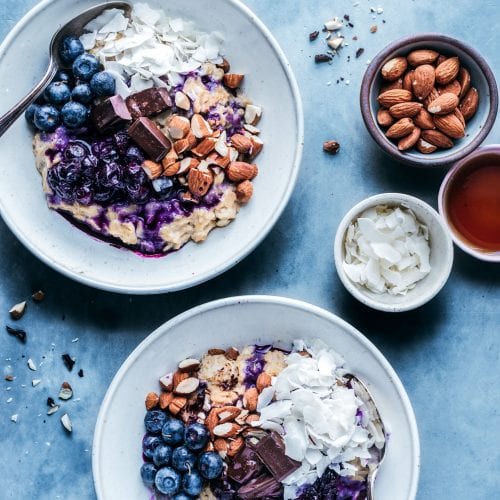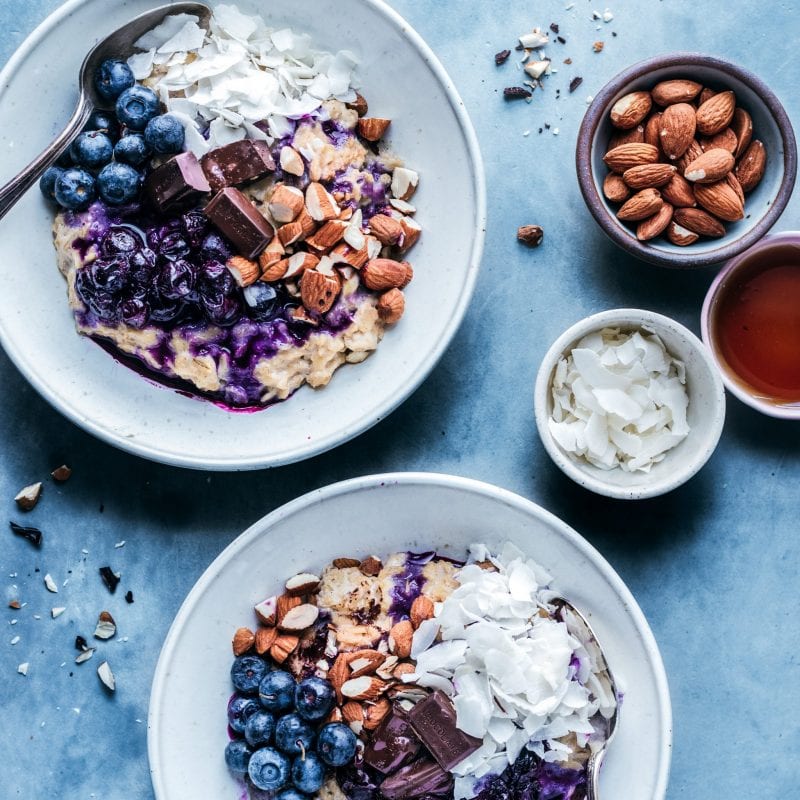 My two secret weapons for oatmeal that actually tastes good: (1) using creamy plant-based milk instead of water and (2) adding in bananas or dates along with oats to sweeten them up. 
Ingredients
1/2

cup

gluten-free rolled oats (45-50g)

1

cup

plant-based milk (240 mL)

(I like oat milk, cashew milk, or soy milk)

A large pinch each of ground cinnamon & ginger

A tiny pinch of sea salt

1

ripe banana,

thinly sliced
Toppings
jam or homemade chia jam

nuts and seeds, dark chocolate

raw or roasted nuts or seeds

(almonds, walnuts, sunflower seeds, pumpkin seeds)

dark chocolate,

chopped
Instructions
Add the plant milk to a small saucepan and bring to a gentle boil. Add the oats, spices, salt, and banana.

Cook, storing occasionally for 5-7 minutes or until oats are cooked through and porridge is very thick and creamy. The bananas will have melted into the porridge.

Serve with warmed up frozen berries or berry chia jam, nuts and seeds, and/or dark chocolate.
---
That's it from me. If you make any of these, be sure to leave a comment below or just tag me on instagram. What are some of the vegan meals you eat each week?