Does indulgence come to mind when you think of lentils? Probably not. But that will all change after your first bite of this vegan Red Lentil Curry!
It's a gourmet-tasting yet weeknight-friendly meal that packs rich and decadent flavors into a simple one-pot recipe. Using pantry staples, like red lentils, coconut milk, aromatics, ground Indian spices, and almond butter, this hearty lentil curry comes together in a snap. One spoonful and you'll understand why it has over 1,800 5-star ratings!
Table of Contents:
1. Why this recipe works
2. Ingredient notes
3. Step-by-step instructions
4. Tips for making this recipe
5. Variations
6. Frequently Asked Questions
7. Recipe card with notes
Why this recipe works
Creamy, dreamy, and flavorful
Red lentils are pros at softening and practically melting into curries, stews, gravies, and soups, and are often used in traditional Indian dals (which this recipe is a loose adaptation of).
This makes them the perfect match for this lentil curry. Unlike green or brown lentils, they take on a heavenly melt-in-your-mouth texture and give the dish its signature smooth texture.
The curry is given a boost of indulgence when full-fat coconut milk and creamy almond butter are added. These two rich ingredients change the dish for the better, transforming it from thin and spicy to a well-balanced, ultra-creamy, and family-friendly meal.
And with a handful of aromatics and a generous dose of ground Indian spices, this lentil curry takes on the classic (and addictive) Indian flavors you know and love.
Deeply nourishing
You may think of this red lentil curry as comfort food because of its ultra-rich and indulgent flavors. However, it's made with wholesome ingredients (which you can find at most grocery stores!).
Red lentils make this a hearty, protein-packed meal. You'll also stay full for hours from the fat in the coconut milk and almond butter. As a bonus, the aromatic trio of garlic, ginger, and turmeric infuses it with antioxidant and anti-inflammatory properties.
So while it may not taste healthy, you can feel good about getting a hefty dose of plant-based protein, vitamins, minerals, and antioxidants in every bite. Head to the FAQ section to learn more about the benefits of this rich and hearty dish.
1,800+ 5-star reviews!
This recipe has been a fan favorite for years, gathering over 1,800 5-star ratings! This is what readers are saying about it:
Dianne says, "This was the most incredible recipe! I absolutely loved it and it came out magnificently!"
Abhik says, "So easy to make and delicious! It's the first curry I've been able to make and definitely going to be one that I make again and again!"
Emily says, "I just made this dish for my family for dinner & it was amazing! Everyone thought it was delicious. It was so quick and easy to make which is super helpful. Also very filling and satisfying. This is definitely going to be a go-to dish for me now!"
Ingredient notes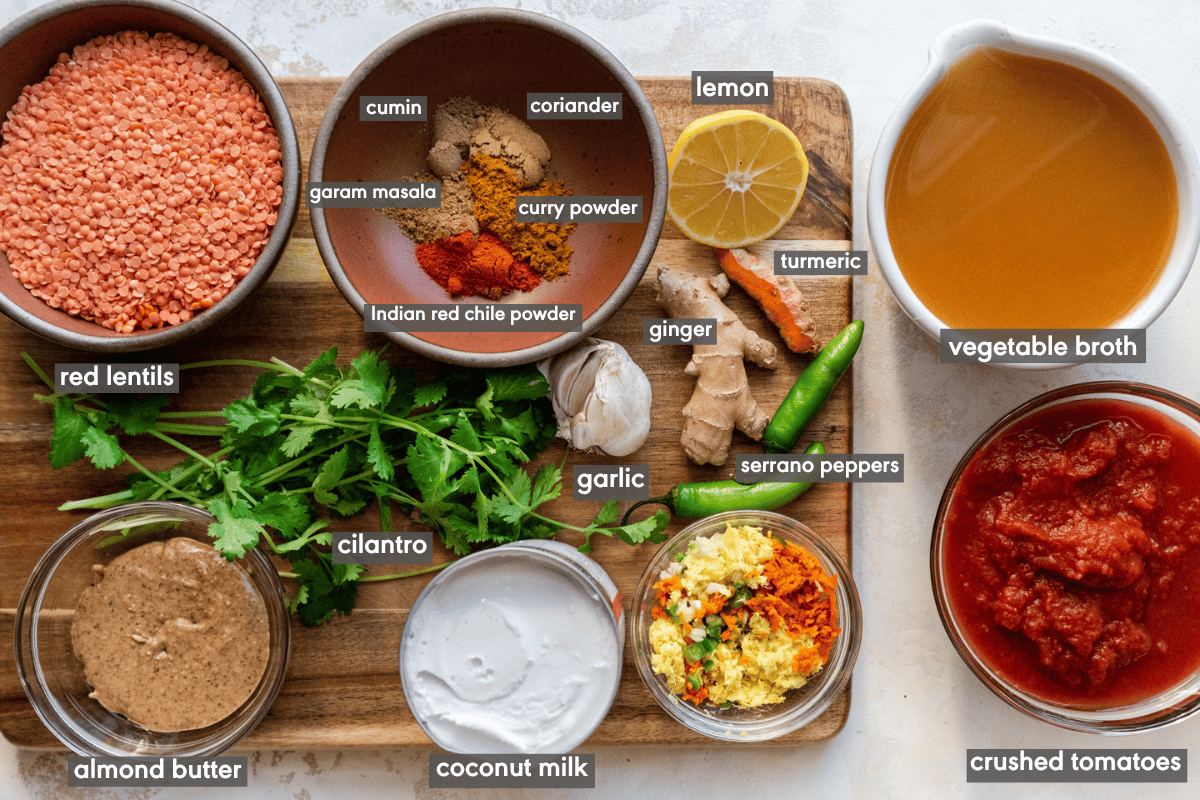 Red lentils
No surprise here – red lentils are the star ingredient! When simmered in a creamy curry, vegan bolognese sauce, or hearty soup, red lentils break down and become super soft. This results in melt-in-your-mouth bites you just couldn't achieve with any other type of lentil.
You can use either regular red lentils or split red lentils to make this recipe. Split lentils are more commonly available in South Asian grocery stores, often labeled as masoor dal. They also tend to cook a bit quicker than whole lentils because their skins have already been removed.
Substitute: Use yellow split lentils (moong dal in Indian grocery stores) instead of red lentils. I wouldn't recommend green or brown lentils, as they don't break down in the same way, so the texture will be different.
Aromatics
The lentils may be the star of the show here but they (and the rest of the curry) would not be anywhere near as flavorful without the Holy Trinity of aromatics: garlic, fresh ginger, and green chiles (serrano or jalapeño peppers). They form the base of endless Indian dishes and curries, including my Chickpea Curry and Vegan Curry with Tofu recipes.
Fresh turmeric
Turmeric is a staple in Indian curries. Compared to dried turmeric, fresh turmeric is 10 times as flavorful and offers an abundance of earthy, peppery, and slightly bitter notes.
Where to buy: You can find fresh turmeric at Indian and South Asian grocery stores, health food stores, and well-stocked grocery stores, like Whole Foods and Sprouts. It looks just like ginger but has bright orange flesh.
Substitute: It's totally fine to use 1 teaspoon of ground turmeric if you can't find it fresh. The curry will still be delicious!
Ground Indian spices
This is a weeknight-friendly lentil curry, which is why we're using ground spices instead of whole. You need a simple blend of cumin, coriander, Indian red chili powder, curry powder, garam masala, salt, and pepper.
The spices are toasted/bloomed in the oiled skillet after sautéing the aromatics, which brings out their hidden flavors and, ultimately, makes your curry much more layered and flavorful.
Substitute: If you can't find Indian red chili powder (lal mirch), you can use 1 teaspoon of regular chili powder instead.
Coconut milk
A can of full-fat coconut milk is stirred in at the end, giving the curry an essential luxurious component. Its creaminess and high-fat content help balance the entire meal and temper the strong spicy, acidic, and tangy flavors. The curry wouldn't be as family-friendly without it.
Substitute: If you are looking for a lighter meal, you can use light-coconut milk, but the curry won't be as creamy. Also, it may be too spicy, so go easy on the green chile peppers.
Almond butter
It may not be a traditional ingredient in Indian curries or dals, but almond butter brings another level of richness to this curry, along with the coconut milk. Plus, its subtle sweet nutty flavor is just lovely and adds that special something. North Indian curries sometimes rely on blended cashews to bring creaminess… so it's not that different, right?
Make sure you use natural smooth almond butter in this recipe. Crunchy almond butter is harder to incorporate and might leave chunks of almond butter behind. Also, avoid flavored almond butter because it has additives, like sugar, oil, salt, and emulsifiers, that will affect the flavors in the curry.
Substitute: Cashew butter would be the next best option, as it's equally creamy and neutral in taste. Peanut butter might overwhelm the other flavors in this dish, but if it's the only option you have, I recommend starting with a smaller amount (1 1/2 to 2 tablespoons, instead of 3) and taste as you go. That said, many users have made it with peanut butter and enjoyed it.
Nut allergy? Use tahini instead of almond butter.
Cilantro and lemon juice
Two finishing ingredients that enliven every bite and add a pop of freshness to the curry.
Step-by-step instructions
Sauté the aromatics. Melt the coconut oil in a large, deep skillet over medium-high heat. Once it's hot and shimmering, add the garlic, ginger, fresh turmeric, and Serrano pepper. Sauté until they're soft and fragrant.
Add the spices and let them toast for up to 1 minute to bring out their hidden flavors.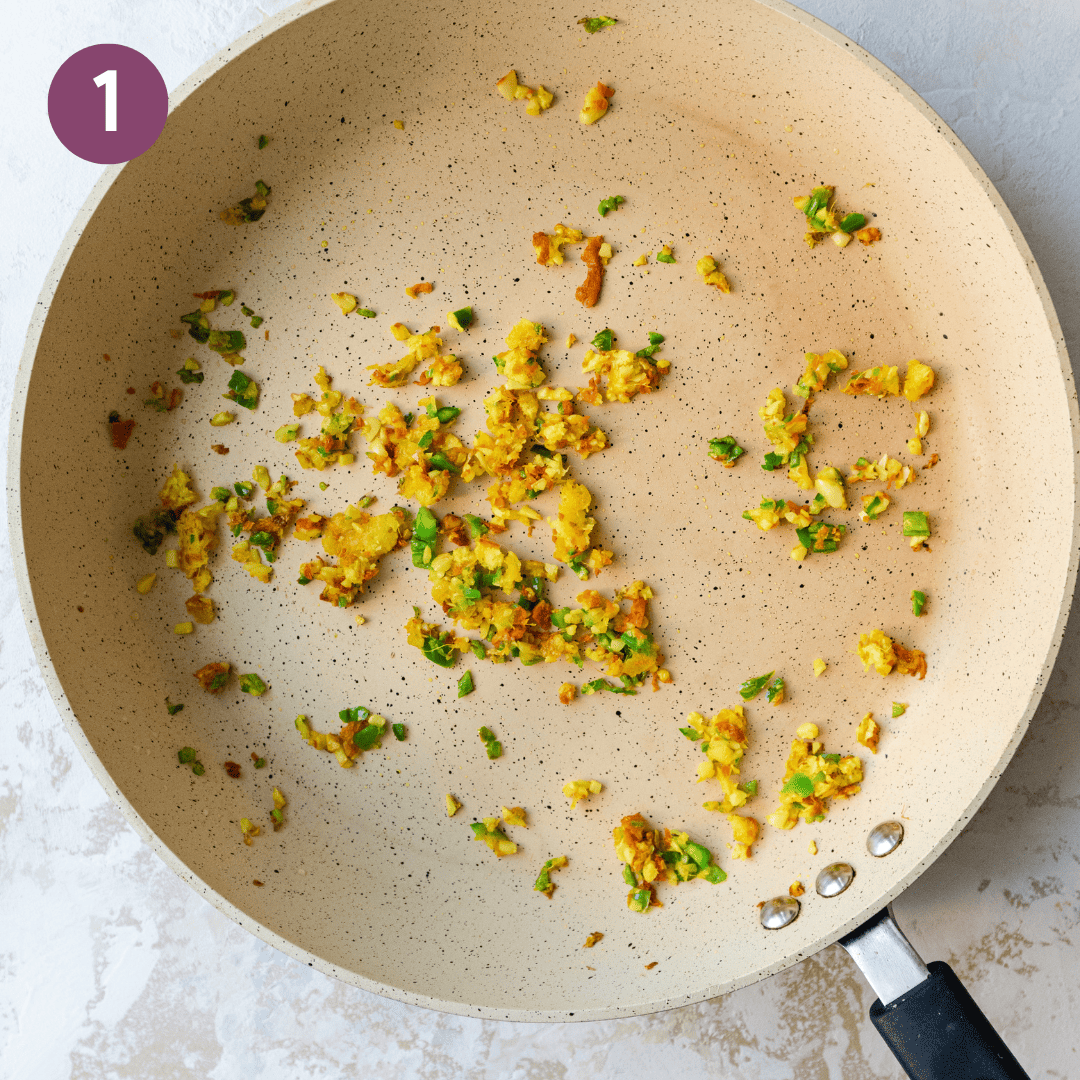 Deglaze the skillet with the vegetable broth, scraping up any browned bits stuck to the bottom. Pour in the lentils and crushed tomatoes next. Stir to combine.
Turn down the heat and cover the pan with a lid. Let the curry simmer until the lentils are mostly softened.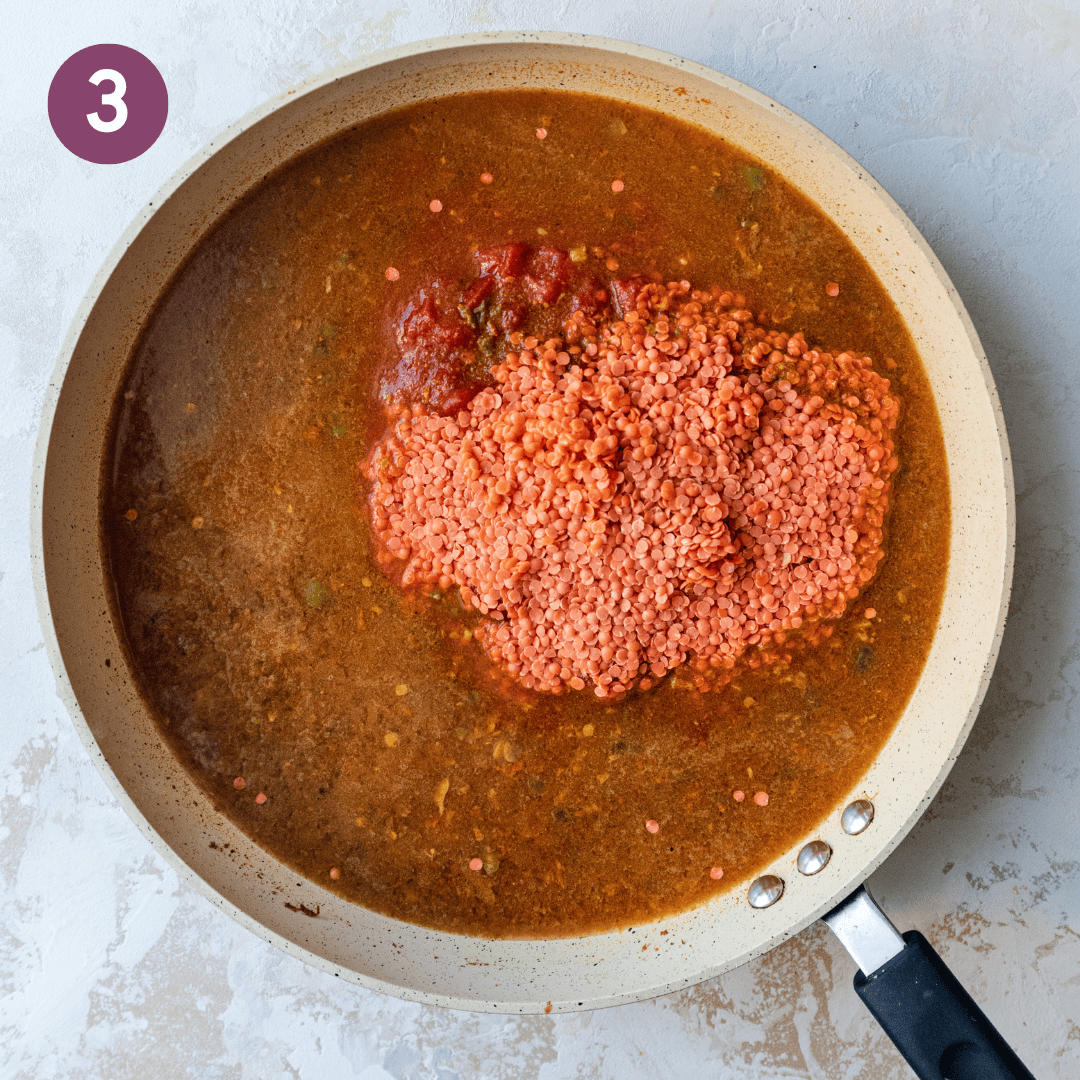 Stir in the coconut milk, almond butter, salt, and pepper. Taste and adjust the seasonings to your liking.
Continue cooking until the curry is thick and creamy.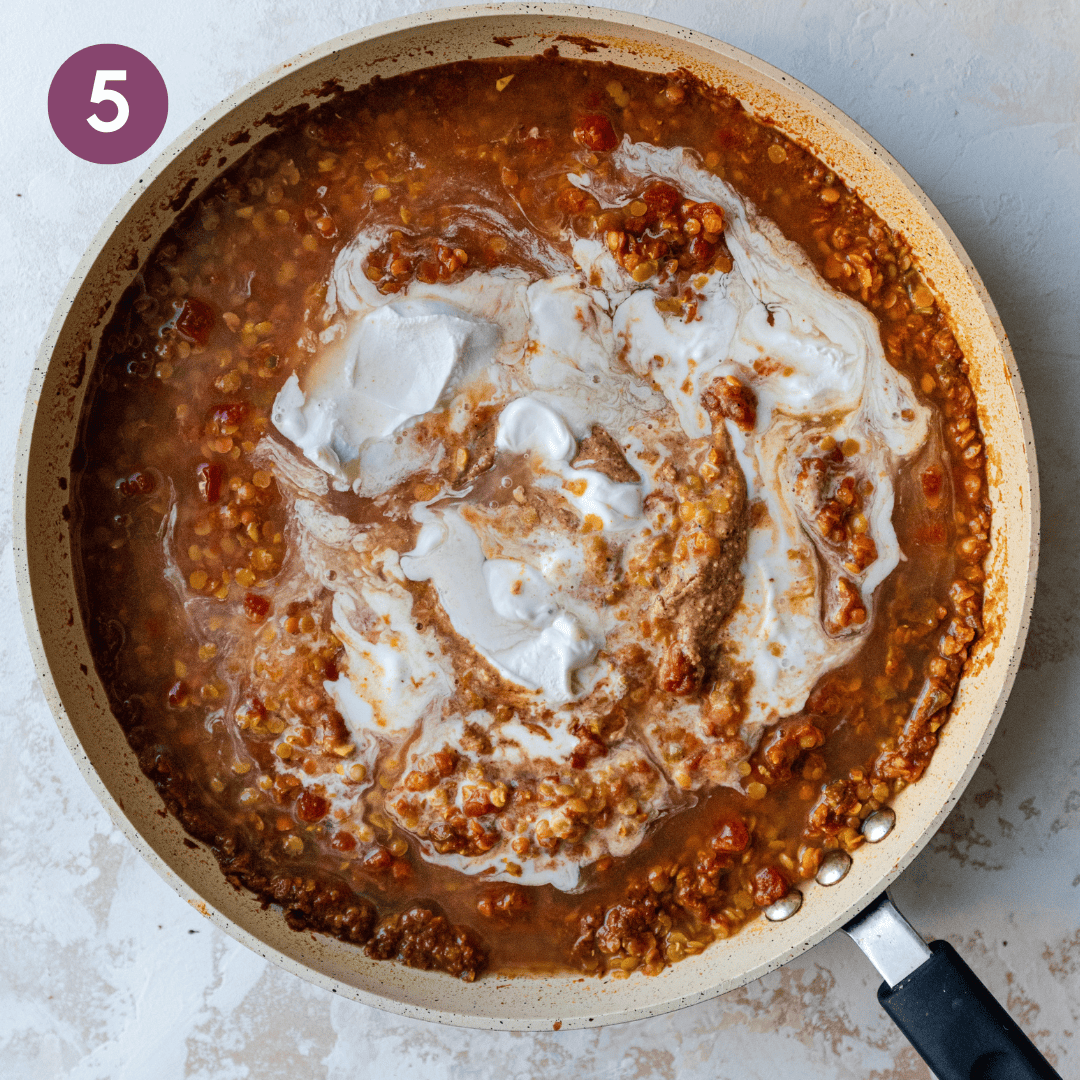 To finish, stir in the lemon juice and cilantro, then turn off the heat. Serve the curry with rice and Indian flatbread, and enjoy!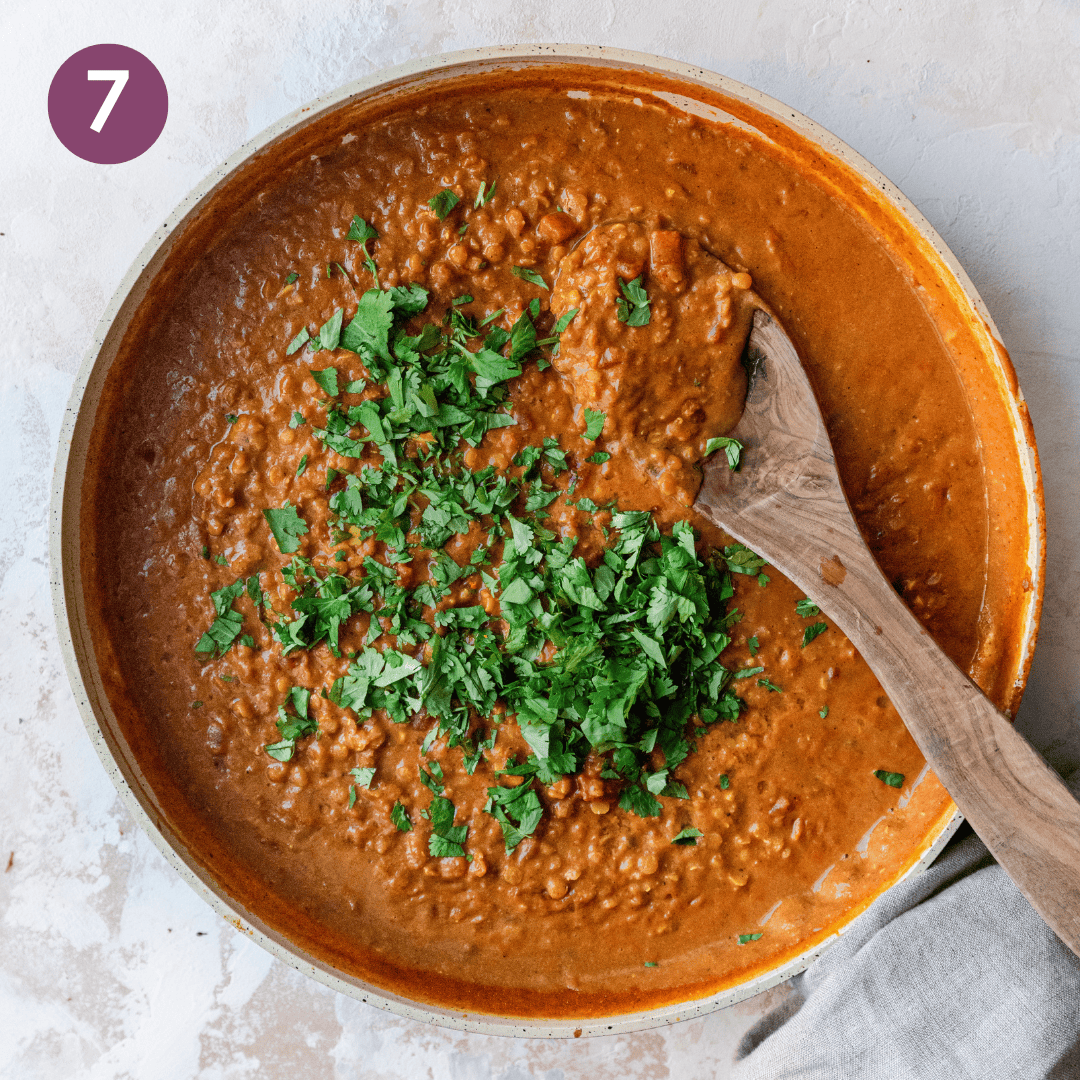 Tips for making this recipe
Rinse and pick through the lentils
There may be small pebbles and specks of dirt in your bag of lentils, so pick through the lentils and rinse them under water before starting this recipe.
Play with the spice level
There are a handful of ways to find your perfect spice level here, whether you love heat or can't tolerate spicy food whatsoever:
No spice: Omit the fresh chile peppers altogether.
Less spice: Use only one Serrano pepper (membranes and seeds removed) or one jalapeño pepper (membranes and seeds intact; jalapeño peppers are less spicy than Serranos).
More spice: Use two serrano peppers with the membranes and seeds intact (this is what I do). It sounds spicy, but the coconut milk does a lot to balance the spices.
Puree the curry
You can give the curry a smoother and ultra-creamy consistency by pureeing about half of the curry with an immersion blender.
The equipment matters
The cook time will vary slightly depending on the type of pan you use and the variety of lentils. The lentils will cook even faster (about 20-22 minutes) if you make the curry in a wide, shallow pan like this (affiliate link). A soup pot or Dutch oven will cause them to cook slower (about 30 minutes).
Also, as mentioned earlier, red split lentils will cook a bit more quickly than standard red lentils.
Variations
There are plenty of ways to customize this curry, either with added veggies or plant-based proteins. Check out the variations below:
Fold in roasted or steamed sweet potatoes, roasted potatoes, or roasted cauliflower when you add the coconut milk.
Add baby spinach or other tender greens in the last few minutes of cooking.
Try sautéing onion and/or a few carrots before adding the garlic, ginger, and turmeric for more dynamic flavors.
Try adding quick-cooking vegetables when you add the coconut milk, like peas, green beans, or mushrooms.
A can of chickpeas will give the curry a ton of protein! Add them in when you add the coconut milk.
Frequently Asked Questions
Can you make red lentil curry in the Instant Pot?
Yes! I have a recipe for how to make this recipe in the Instant Pot in my cookbook, The Vegan Instant Pot Cookbook. The cookbook has 90 more nutritious (and colorful!) recipes you can make easily with the magic of an Instant Pot pressure cooker. It's currently rated at 4.7 stars with over 4300 reviews on Amazon. Check it out!
Is red lentil curry healthy?
The whole foods that make up the ingredients list make this vegan curry a superbly wholesome meal. You'll never know it, though, because of the dangerously delicious and indulgent flavors. 

Red lentils pack this dish full of plant-based protein (about 18 grams per 1 cup), iron, fiber, potassium, and many more vitamins and minerals. Turmeric is also a nutritional superstar with anti-inflammatory and anti-bacterial properties. Its main compound, curcumin, not only blocks damage-causing free radicals in the body but also stimulates the body's antioxidant mechanisms.
What should I serve with this?
The best and easiest way to serve red lentil curry is with a side of white basmati rice, although cooked brown rice or a whole grain like farro or quinoa would be nice as well. A batch of Homemade Vegan Naan is perfect for scooping up the soft lentils and savory gravy, but if you don't have the time, store-bought pita or vegan naan works fine too. Garnish every bowl with cilantro or fresh mint for even more freshness, then dig in.
How do I store this lentil curry? Can I freeze it?
To maintain freshness and the layers of flavors, store the leftover curry in an airtight container in the fridge. It should last for up to 3 or 4 days. The curry freezes well, too.
If you give this Vegan Red Lentil Curry recipe a try, be sure to tag me on Instagram with your recreations and please comment with your feedback below!
Red Lentil Curry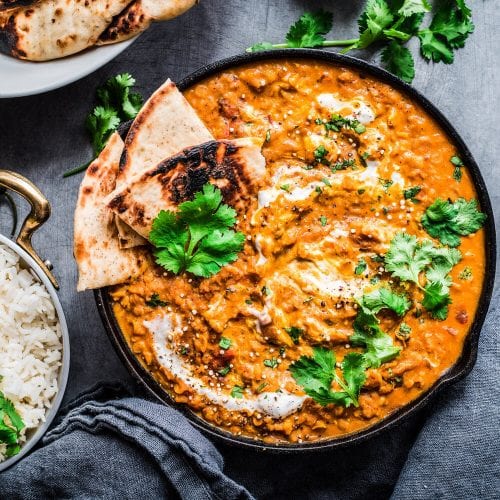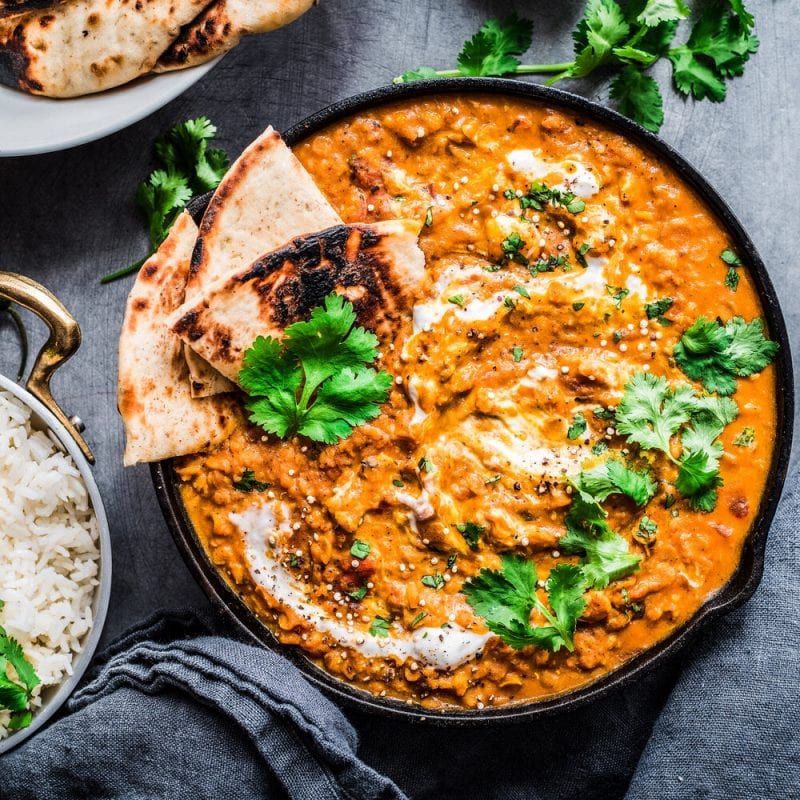 This luxurious, fan favorite Red Lentil Curry will get you truly excited about lentils! It's an ultra-creamy and gourmet Indian-inspired meal made in one pot with pantry staples. Whip it up on a weeknight in 45 minutes!
Ingredients
1

tablespoon

refined or virgin coconut oil,

or a neutral-flavored oil

4

cloves

garlic,

minced

2

inch

piece of fresh ginger,

peeled and minced or grated

1

tablespoon

minced fresh turmeric,

or 1 teaspoon ground turmeric

1-2

serrano peppers, diced

(see recipe note below on spice level)

1

teaspoon

ground cumin

1/2

teaspoon

ground coriander

1/2

teaspoon

Indian red chili powder

(if you only have regular chili powder, which is a blend, use 1 teaspoon)

2

teaspoons

curry powder

1

teaspoon

garam masala

Kosher salt or sea salt to taste

(I use about 1 tsp kosher salt, and add more at the end)

Freshly cracked black pepper to taste

1

cup

(180-190g) red lentils,

or split red lentils (the split variety will cook a bit quicker)

2

cups

(480 mL) low-sodium vegetable broth

1

(14-ounce / 400g)

can crushed tomatoes

(or half of a 28-ounce can)

1

(13.5-ounce/400 mL)

can full-fat coconut milk

3

tablespoons

unsweetened creamy almond butter

1/2

a small lemon,

juiced

1/2

cup

(~8g) fresh cilantro,

roughly chopped

For serving: Basmati or Jasmine rice and Indian flatbread such as roti, paratha, or naan
Instructions
Rinse the lentils in cold water until the water runs clear.

Heat a large, deep skillet or large saucepan over medium-high heat and add the coconut oil. Once the oil is shimmering, add the garlic, ginger, fresh turmeric (if using), and Serrano pepper and cook for 2 minutes, stirring frequently to prevent garlic from burning.

Add the cumin, coriander, chili powder, curry powder, garam masala, salt, and black pepper to taste, and cook for 30 to 60 seconds until fragrant, tossing frequently to prevent burning. If using ground turmeric instead of fresh turmeric, add the ground turmeric now, along the the rest of the spices.

Pour in the vegetable broth, and use a wooden spoon or spatula to scrape up any browned bits on the bottom of the pot. Add in the lentils and the crushed tomatoes and mix well. Reduce the heat to low and cover the pan with a lid. Simmer for 20 to 25 minutes, or until the lentils are cooked through and have mostly softened. If you find that the lentils are not quite soft after 25 minutes, add a few spoons more of broth or water and cook for another 5 minutes.

Remove the lid and stir in the coconut milk, almond butter, along with salt and pepper to taste Continue cooking on low heat, uncovered for 5 to 8 minutes, until the curry has thickened and is creamy.

Finally, stir in the lemon juice and cilantro, and turn off the heat. If you want your lentils to even creamier and more on the puréed side, use an immersion blender to lightly purée the curry.

Serve the curry with rice and/or Indian flatbread and garnish with additional cilantro. Store leftovers in the fridge for 3-4 days.
Notes
If you can't tolerate spicy food whatsoever, you can omit the chili peppers. If you can handle a little heat, use one Serrano pepper (remove the seeds) or one jalapeño pepper (with the seeds), and if you really like things on the spicy side, use two Serrano peppers (with seeds intact).
---
Calories:
517
kcal
|
Carbohydrates:
45
g
|
Protein:
19
g
|
Fat:
32
g
|
Saturated Fat:
22
g
|
Polyunsaturated Fat:
2
g
|
Monounsaturated Fat:
5
g
|
Sodium:
164
mg
|
Potassium:
1113
mg
|
Fiber:
19
g
|
Sugar:
7
g
|
Vitamin A:
474
IU
|
Vitamin C:
22
mg
|
Calcium:
141
mg
|
Iron:
9
mg