When you hear lentils, you probably don't think of decadence. You probably think of healthy, nourishing, and if we're being honest, maybe even boring. But, I'm here to change your perception of lentils with this ultra creamy, ultra indulgent Vegan Red Lentil Curry that comes together in a snap.
This recipe has been a fan favorite for the last 2 years, so I figured it was time to update the blog post and give it a video too!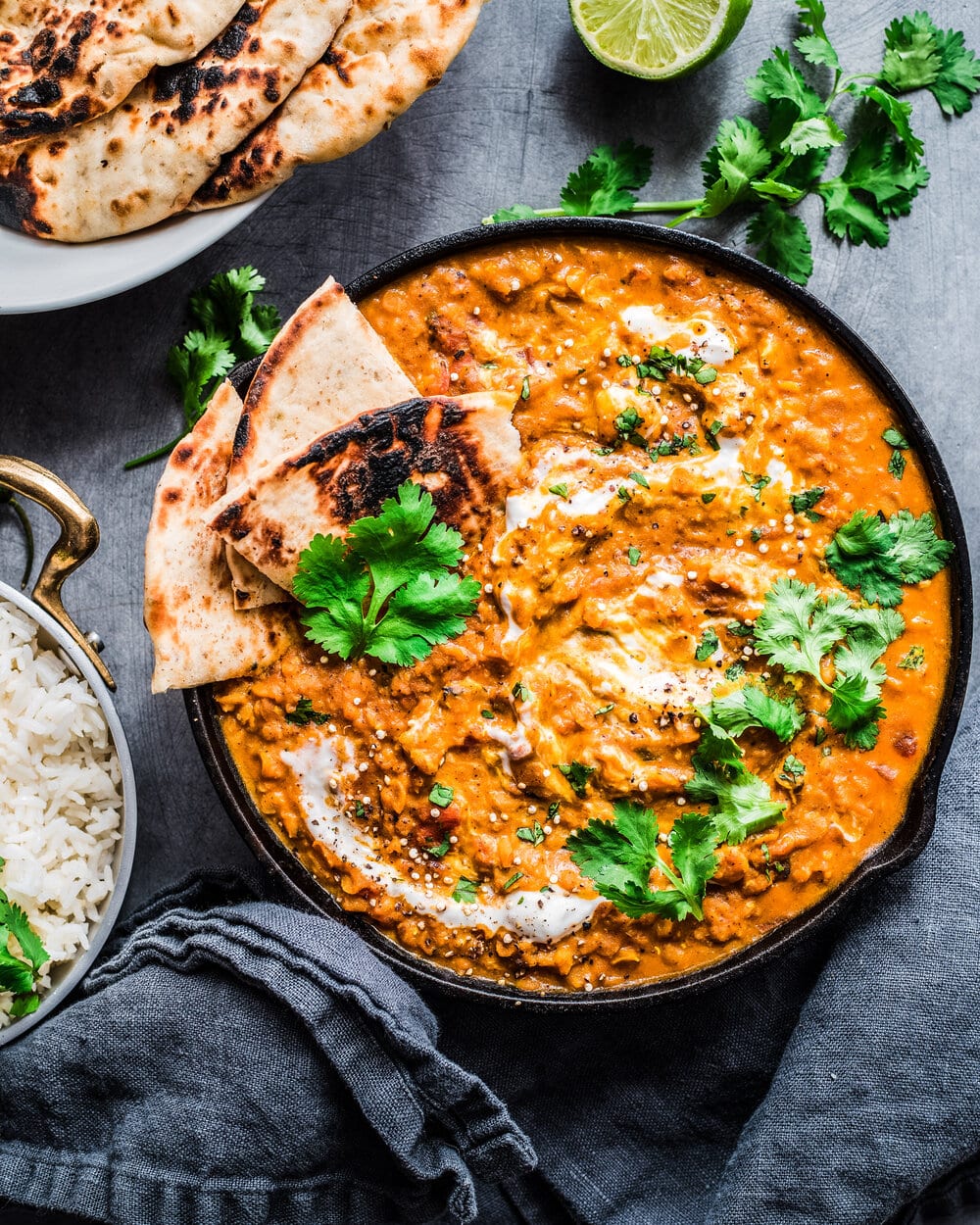 Here's why you'll love this Vegan Red Lentil Curry
Weeknight ready: It's ready in 35-45 minutes so you can easily make it for a weeknight dinner.
Creamy and dreamy: This curry is extremely creamy and indulgent. You can thank the full-fat coconut milk and the creamy almond butter for that.
Flavorful beyond belief: It's packed with flavor thanks to the fresh garlic, ginger, and chili peppers, along with a generous dose of Indian spices.
Nourishing: This red lentil curry might be dangerously delicious and indulgent, but it's also quite nourishing. The garlic, ginger, and turmeric boast tons of antioxidant and anti-inflammatory properties, while the lentils make this a hearty, protein-packed meal. Plus, you'll stay full for hours due to the high content of healthy fat from coconut milk and almond butter.
Ingredient Rundown
Aromatics. This curry starts with fresh ginger, garlic, and green chili peppers to provide lots of those classic Indian flavors. My mom starts most Indian dishes with these ingredients (sometimes, onions too), so you can't go wrong with this trio!
Turmeric. Most Indian lentil curry recipes contain turmeric. And why not? It's a nutritional superstar with anti-inflammatory and anti-bacterial properties. The main active in turmeric—curcumin—not only blocks damage-causing free radicals in the body but also stimulates the body's own antioxidant mechanisms.
I love using fresh turmeric in this recipe. It's earthy and peppery, slightly bitter yet slightly sweet. It looks like ginger but its interior flesh is bright orange. You can find fresh turmeric at Indian and Asian grocery stores, health food stores, and the produce department of stores like Whole Foods and Sprouts.
That said, it's totally fine to use ground turmeric in this recipe! I've made it both ways, and it's always delicious.
Ground Indian Spices. While I love adding some whole spices to my Indian recipes, I wanted to keep this recipe weeknight friendly and very accessible. You'll add the spices after sautéing the aromatics, and they need just 30 to 60 seconds to toast.
Red Lentils. The main ingredient in this recipe are red lentils, no surprise! You can use regular red lentils, or red split lentils. The split variety is more commonly available in South Asian grocery stores, and sold as masoor dal. The split lentils cook a bit quicker than the whole variety because their skins have been removed, but there isn't a huge difference in cook time.
Need another use for those red lentils in your pantry? My 10-Ingredient Red Lentil Bolognese is a must-make (and pantry-friendly!).
Crushed Tomatoes. I prefer to use crushed canned tomatoes (instead of diced tomatoes or fresh tomatoes) because I love their thick, saucy texture in a creamy curry.
Coconut Milk. I use full-fat canned coconut milk in this recipe, and I must say it's an essential ingredient. The creaminess and high-fat content not only makes this curry extremely luxurious, but they are also necessary to balance the spice and tanginess in this curry.
If you taste the curry before adding the coconut milk, you'll notice it is quite acidic (from the tomatoes) and very spicy, almost too spicy to eat. But after the coconut milk cooks down for a few minutes, it transforms into a totally different dish.
Almond Butter. This is my secret ingredient! Almond butter is definitely not traditional in Indian curries, but many North Indian curries do rely on blended cashews to bring creaminess…so it's not that different, right? The almond butter brings another level of richness to this curry, in addition to a subtly sweet nuttiness that is just lovely.
Lemon Juice and Cilantro. My mom finishes many of her Indian dishes with these ingredients—the lemon juice adds a pop of freshness and livens the flavors, as well as helps balance the spices, while the cilantro adds flavor—so I usually finish my curries this way too.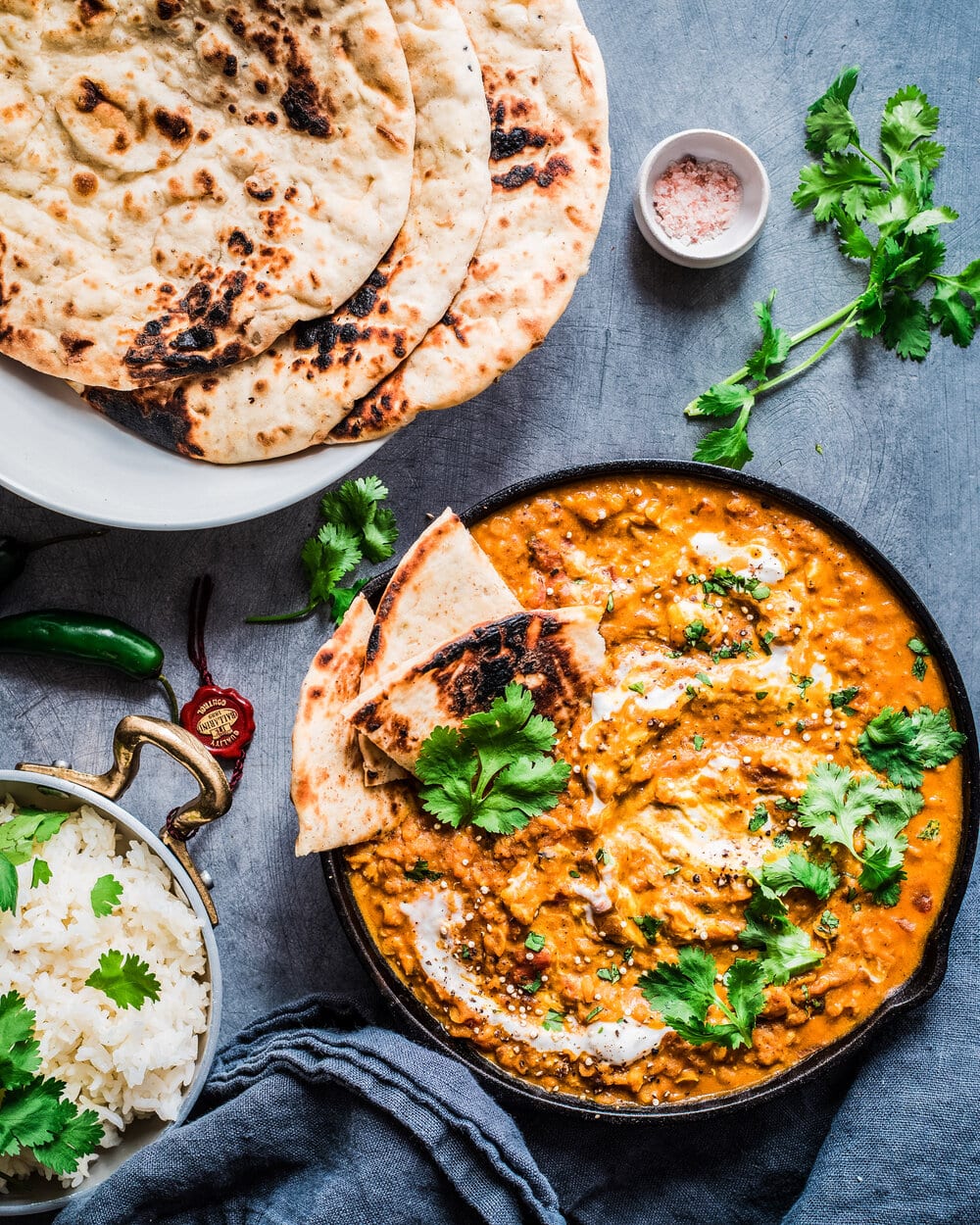 How to make this Vegan Red Lentil Curry
First, gather your ingredients.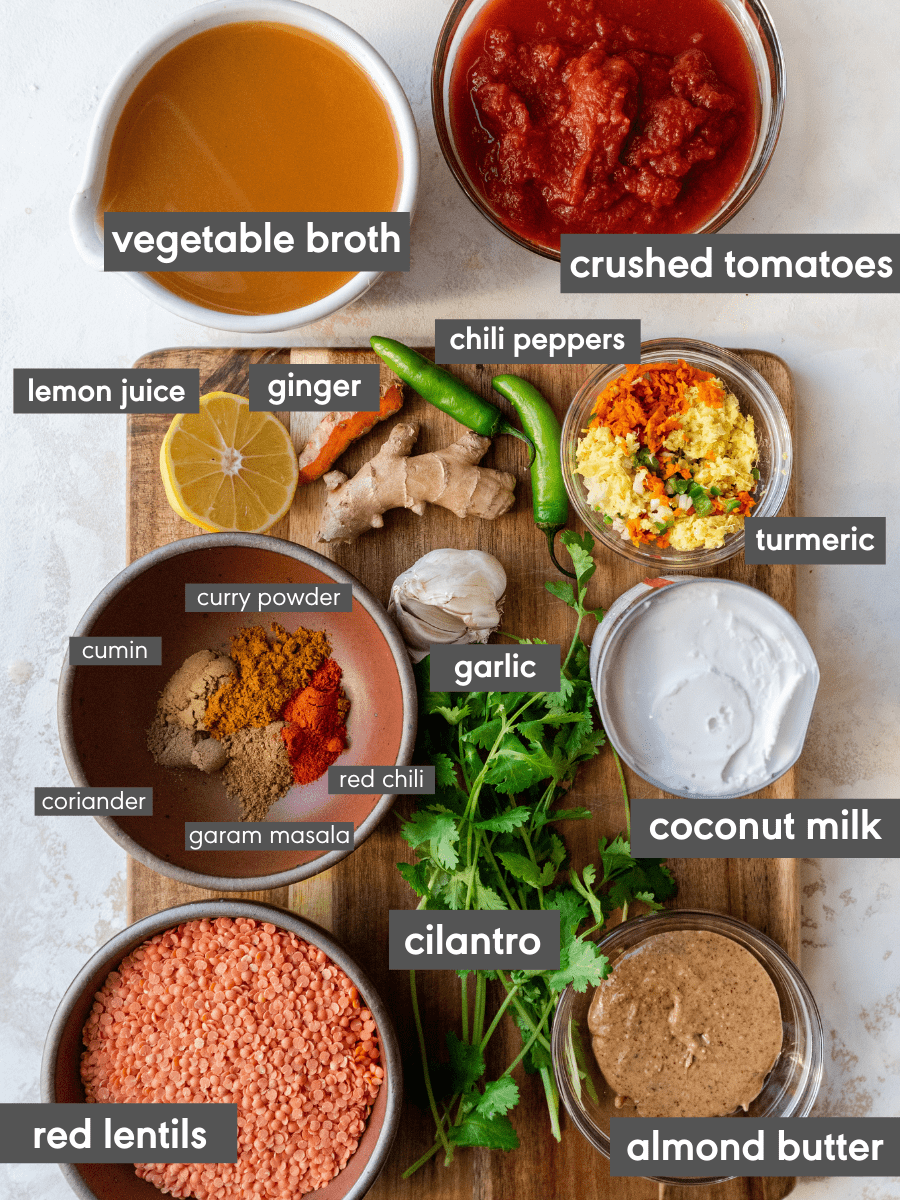 Dice up your ginger, garlic, chili peppers, and turmeric (if using fresh).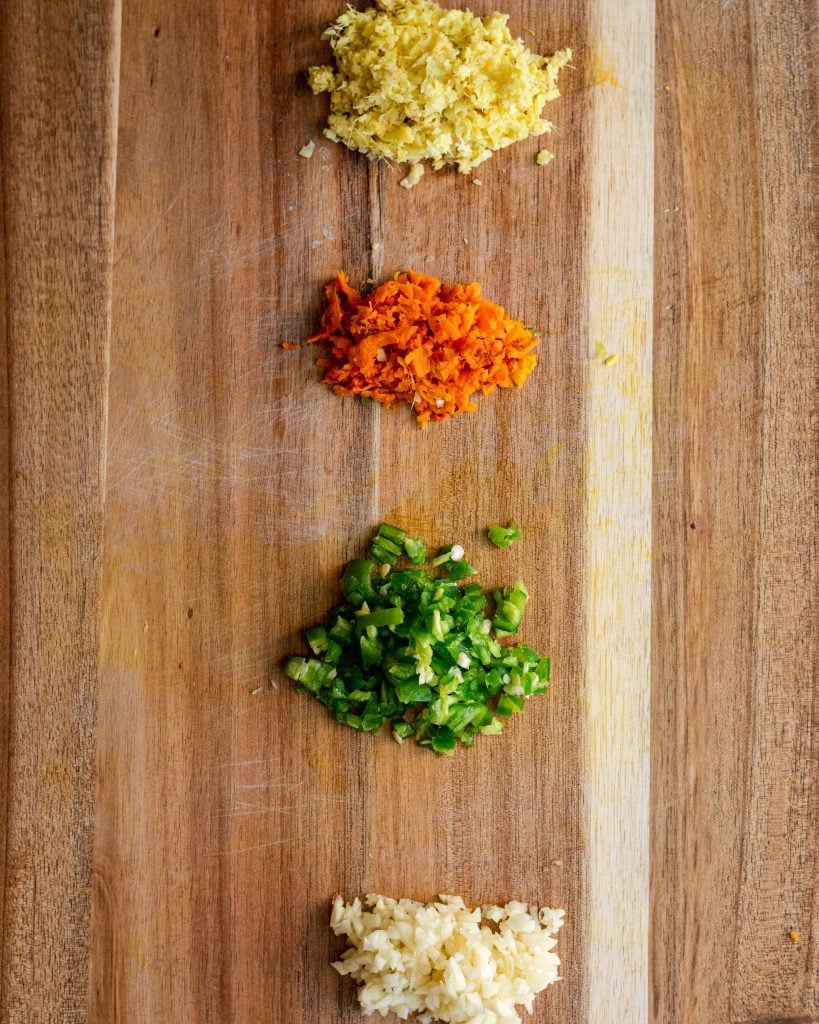 Sauté the ginger, garlic, chili peppers, and turmeric (if using fresh) in hot oil for about 2 minutes, until fragrant.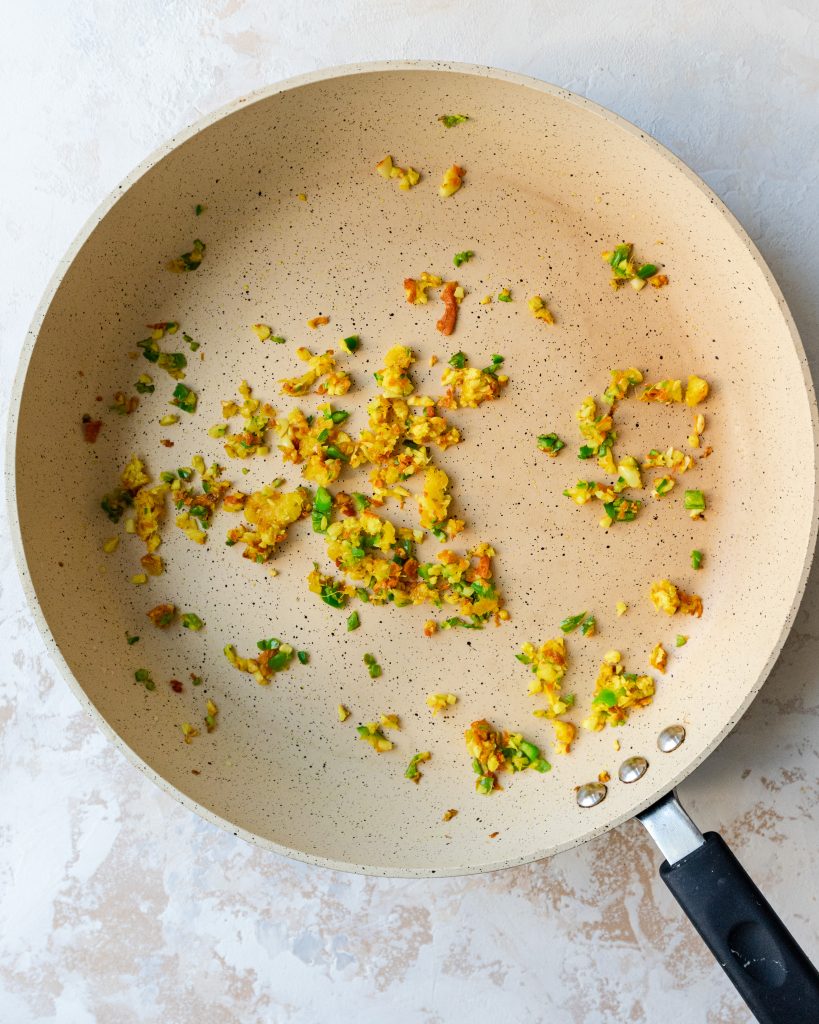 Then, add the ground spices and cook for 30-60 seconds, stirring frequently to prevent burning.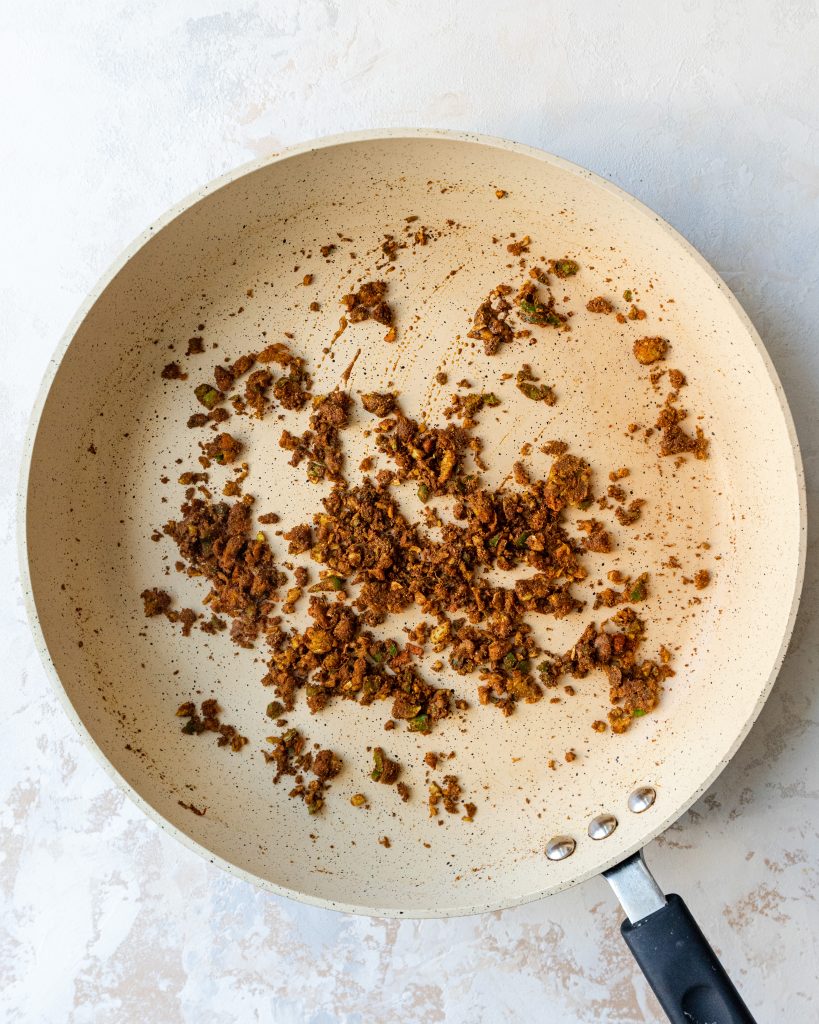 Deglaze with the vegetable broth, then add in the red lentils and crushed tomatoes.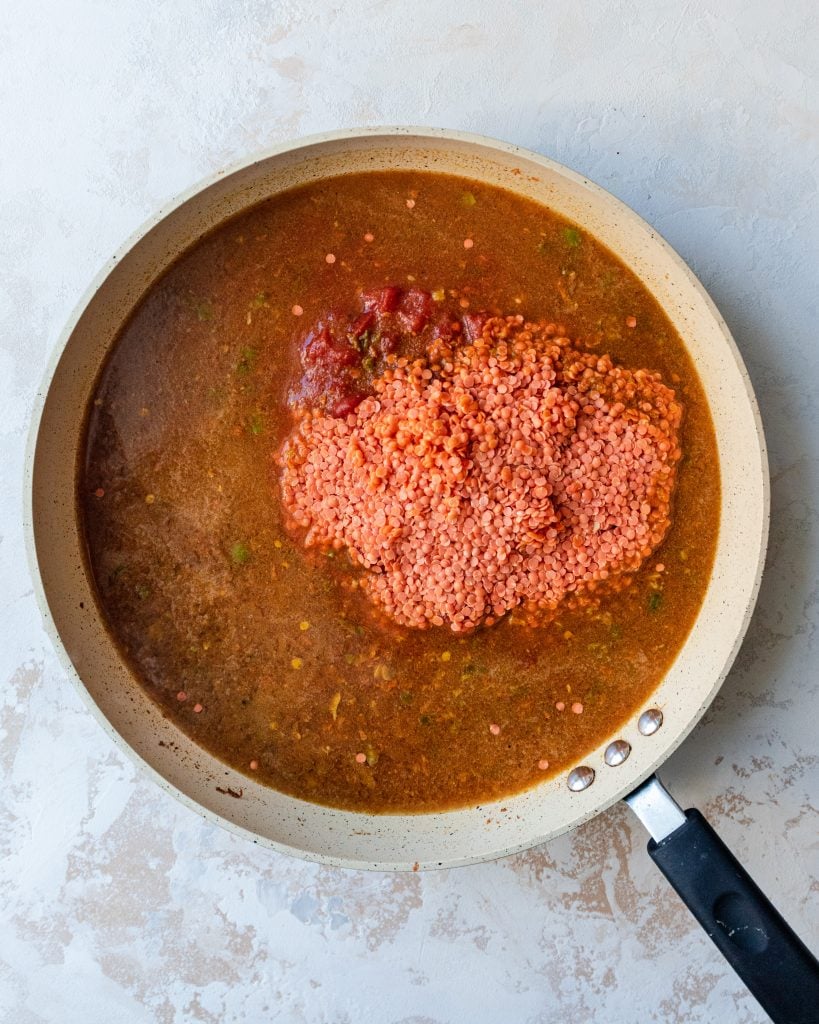 Simmer, covered, for 20 to 25 minutes, or until the lentils are cooked through.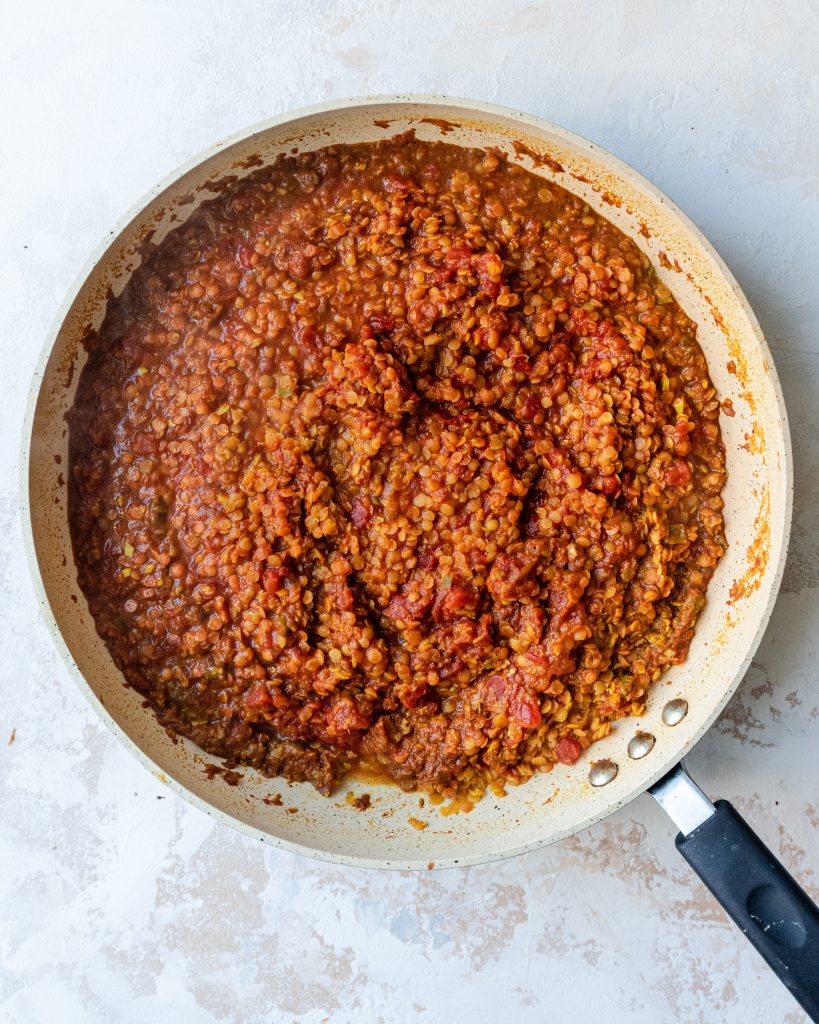 Stir in the coconut milk and almond butter.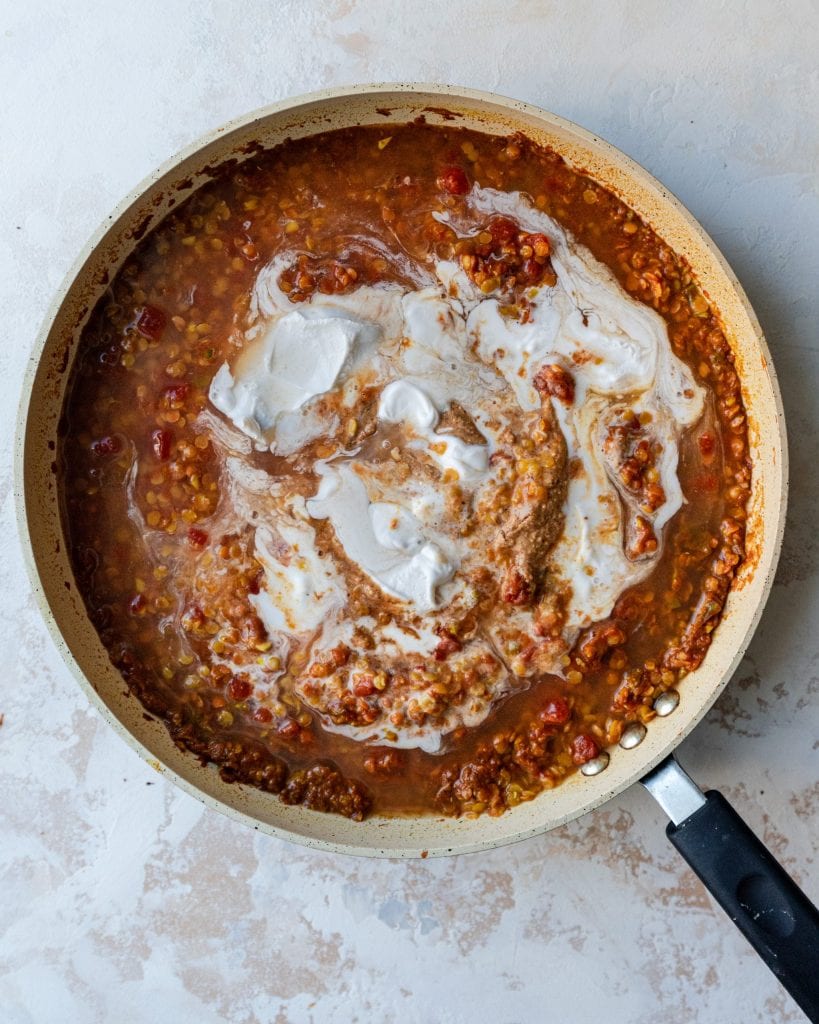 Continue cooking, uncovered, for 5 to 8 minutes, until the curry has thickened.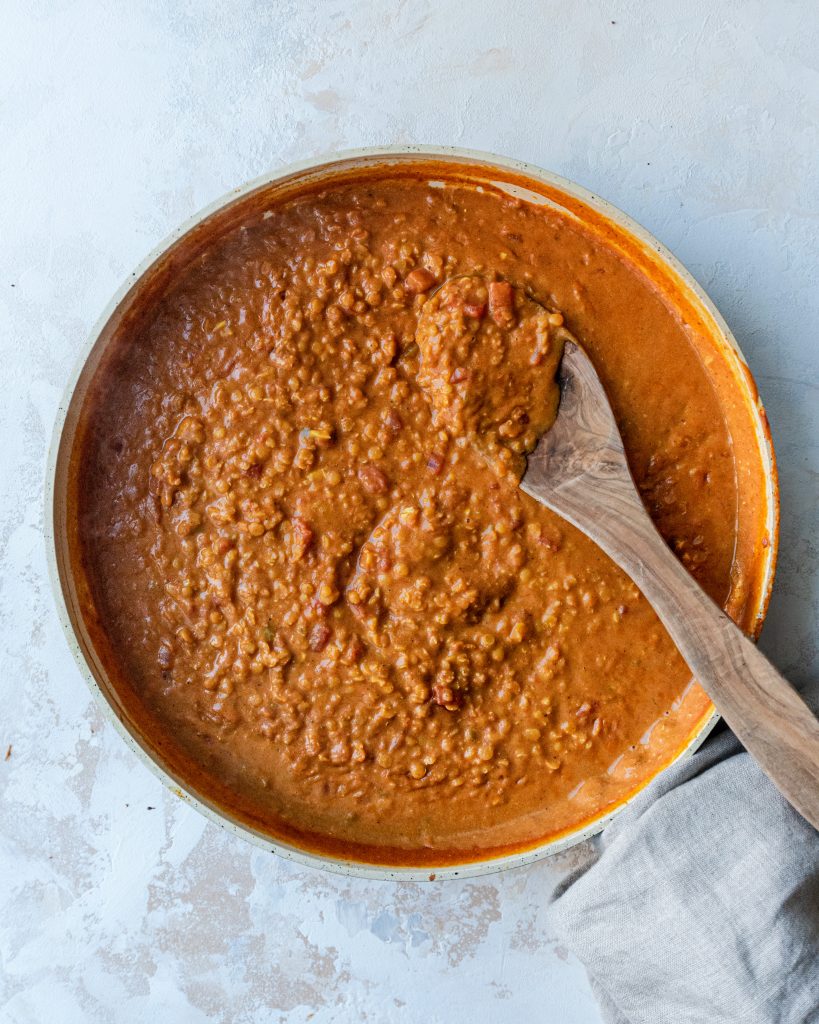 Finally, stir in the lemon juice and cilantro, and season to taste.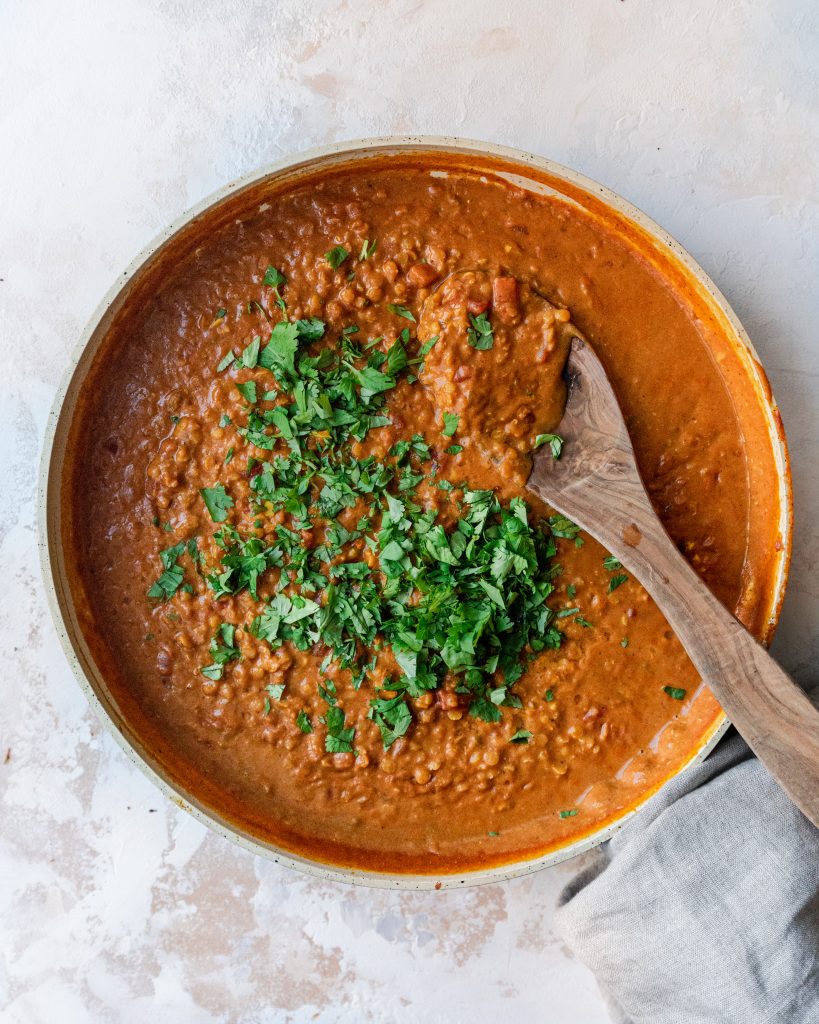 You can also view a web story of me making the the red lentil curry here.
Tips for Making this Vegan Red Lentil Curry
Don't skimp on the garlic and ginger and spices. This is what infuses the dish with tons of flavor!
If you can't tolerate spicy food whatsoever, you can omit the chili peppers. If you can handle a little heat, use one Serrano pepper (remove the seeds) or one jalapeño pepper (keep the seeds; jalapeño peppers are less spicy than Serranos). If you can handle a moderate amount of heat, try one serrano pepper with the seeds intact. And if you really like things on the spicy side, use two Serrano peppers, with seeds intact. This is what I do :)
If you can't find fresh turmeric, just substitute 1 teaspoon ground turmeric and add it with the other ground spices. The easiest way to mince fresh turmeric (and ginger) is by using a microplane or a small cheese grater.
If your can of coconut milk is not mixed well (i.e., the solid cream part is very distinct from the liquid part), you might want to first pour the milk into a large bowl and whisk to break up the clumps. That'll make it easier to whisk the milk into the curry.
Make sure you use smooth almond butter, as it'll be harder to incorporate crunchy almond butter into the curry and you might end up with chunks of almond butter.
The cook time will vary slightly depending on the type of pan you use and the variety of lentils. When I make this in a wide, shallow pan like this, the lentils get softened and cooked through more quickly (about 20-22 minutes) than when I use a soup pot or Dutch oven (closer to 30 minutes). Also, as mentioned earlier, red split lentils will cook a bit more quickly than standard red lentils.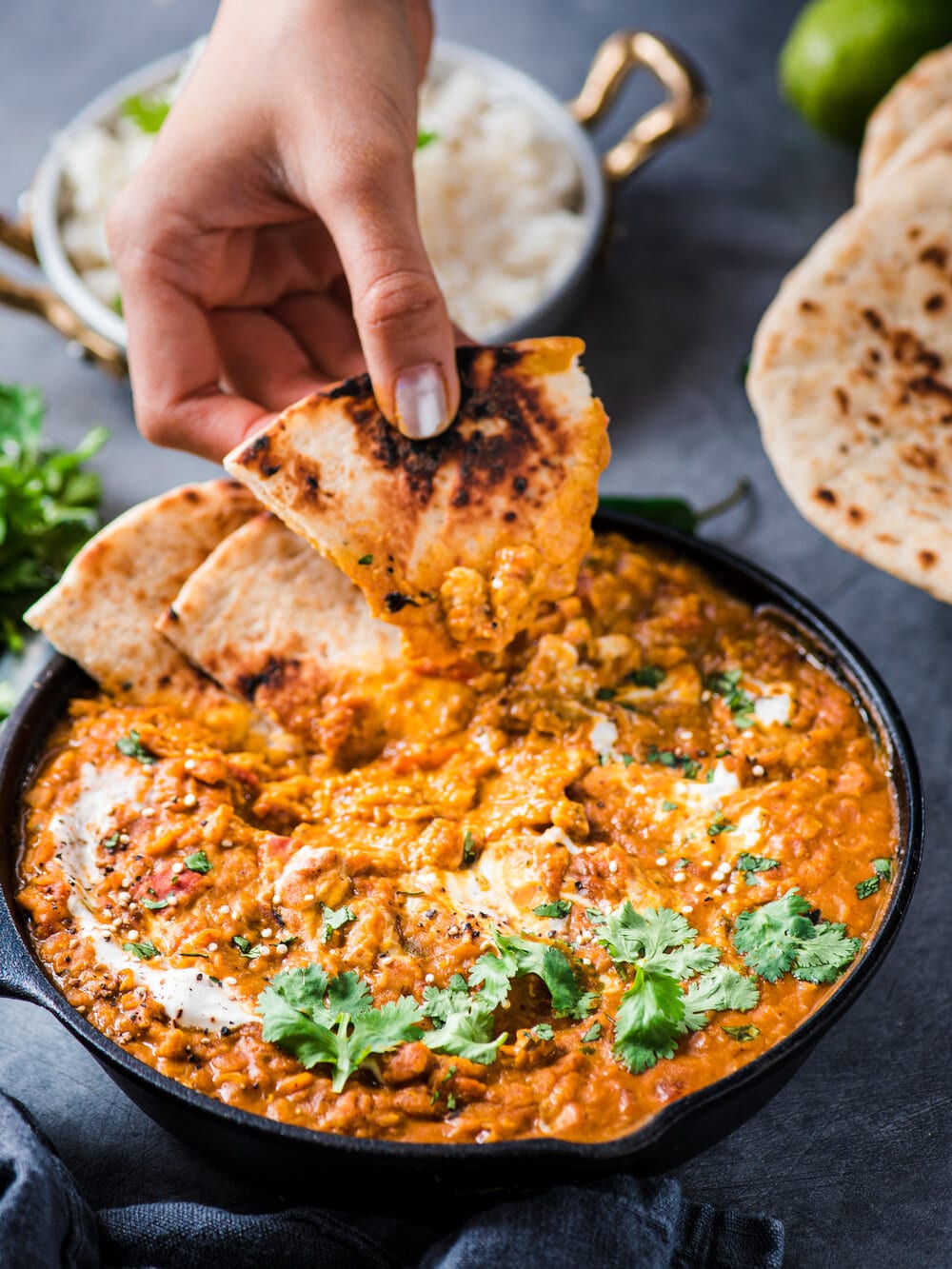 Vegan Red Lentil Curry Recipe Video
Frequently Asked Questions
Can I use another nut butter besides almond butter?
Cashew butter would be the next best option, as it's equally creamy and neutral in taste. Peanut butter might overwhelm the other flavors in this dish, but if it's the only option you have, I recommend starting off with a smaller amount (1 1/2 to 2 tablespoons, instead of 3) and taste as you go. That said, many users have made it with peanut butter and enjoyed it. And for a nut-free option, you can try tahini.
Can I freeze the leftovers?
I've probably only frozen this recipe once because it's my partner's favorite, so he usually eats it within a day or two. That said, it does freeze pretty well, and I've had many readers freeze it with good results.
Can I use water instead of vegetable broth?
Yes! Just add a tad more salt, as needed.
Can I add vegetables to this curry?
Many readers have added sweet potatoes when adding the lentils (I recommend grating them so they melt into the texture-it's so good!), as well as mushrooms or greens like spinach when adding the coconut milk. You could add in quick-cooking vegetables when adding the coconut milk, or for extra protein, you can add in a can of chickpeas at this time.
Can I make Red Lentil Curry in the Instant Pot?
Yes! I have a recipe for how to make this recipe in the instant pot in my cookbook, The Vegan Instant Pot Cookbook. The cookbook has 90 more nutritious (and colorful!) recipes you can make easily with the magic of an instant pot pressure cooker. It's currently rated at 4.7 stars with over 2600 reviews on Amazon. Check it out!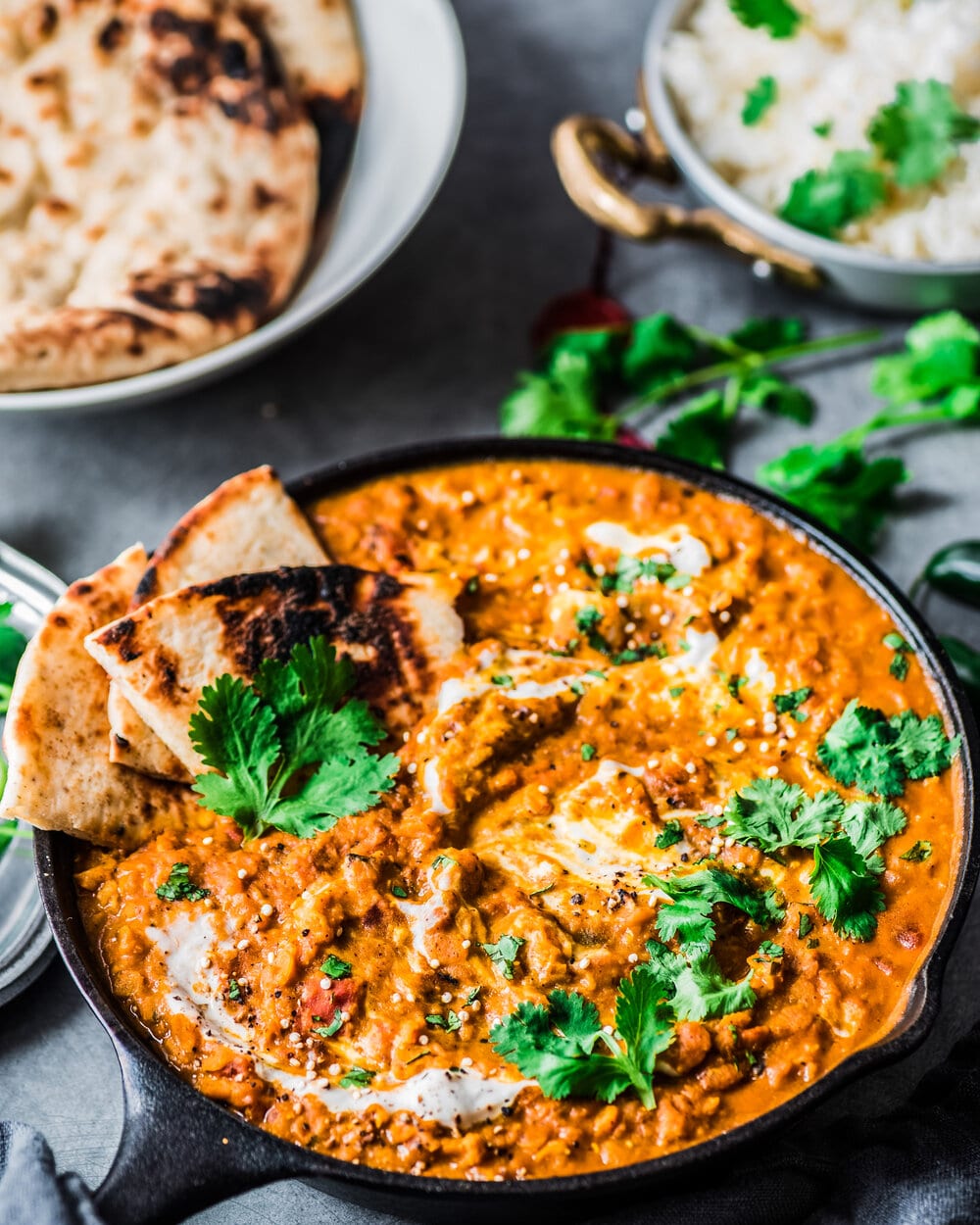 More Recipes You Might Like
In the mood for more curries? Check these out:
And if you're looking for more lentil recipes, well, I have loads of those for you, too!
If you give this Vegan Red Lentil Curry recipe a try, be sure to tag me on Instagram with your recreations and please comment with your feedback below!
Vegan Red Lentil Curry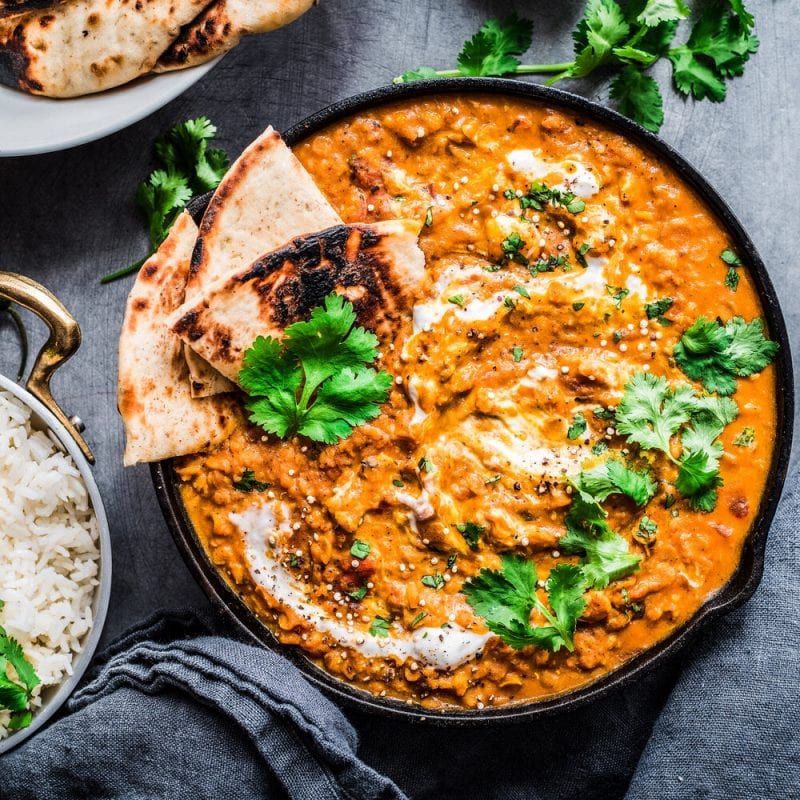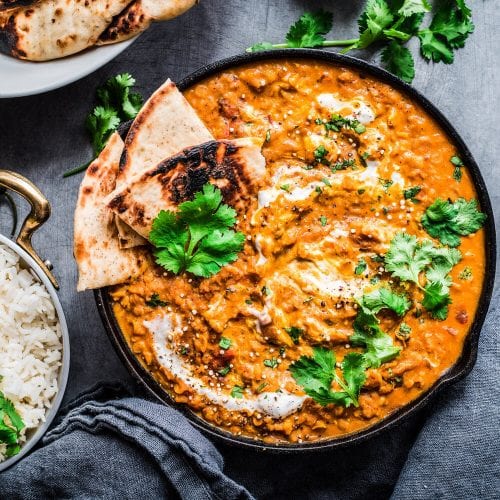 This Vegan Red Lentil Curry is a fan favorite and the BEST lentil curry you will ever try! It's easy and quick, making it a perfect weeknight dinner! Plus, it's creamy and indulgent but made with wholesome vegan ingredients!
Ingredients
1

tablespoon

refined or virgin coconut oil,

or a neutral-flavored oil

4

cloves

garlic,

minced

2

inch

piece of fresh ginger,

peeled and minced or grated

1

tablespoon

minced fresh turmeric,

or 1 teaspoon ground turmeric

1-2

serrano peppers, diced

(see recipe note below on spice level)

1

teaspoon

ground cumin

1/2

teaspoon

ground coriander

1/2

teaspoon

Indian red chili powder

(if you only have regular chili powder, which is a blend, use 1 teaspoon)

2

teaspoons

curry powder

1

teaspoon

garam masala

Kosher salt or sea salt to taste

(I use about 1 tsp kosher salt, and add more at the end)

Freshly cracked black pepper to taste

1

cup

(180-190g) red lentils,

or split red lentils (the split variety will cook a bit quicker)

2

cups

(480 mL) low-sodium vegetable broth

1 14

ounce

(400-425g) can crushed tomatoes

1 13.5-

ounce

(400 mL) can full-fat coconut milk

3

tablespoons

unsweetened creamy almond butter

1/2

a small lemon,

juiced

1/2

cup

(~8g) fresh cilantro,

roughly chopped

For serving: Basmati or Jasmine rice and Indian flatbread such as roti, paratha, or naan
Instructions
Rinse the lentils in cold water until the water runs clear.

Heat a large, deep skillet or large saucepan over medium-high heat and add the coconut oil. Once the oil is shimmering, add the garlic, ginger, fresh turmeric (if using), and Serrano pepper and cook for 2 minutes, stirring frequently to prevent garlic from burning.

Add the cumin, coriander, chili powder, curry powder, garam masala, salt, and black pepper to taste, and cook for 30 to 60 seconds until fragrant, tossing frequently to prevent burning. If using ground turmeric instead of fresh turmeric, add the ground turmeric now, along the the rest of the spices.

Pour in the vegetable broth, and use a wooden spoon or spatula to scrape up any browned bits on the bottom of the pot. Add in the lentils and the crushed tomatoes and mix well. Reduce the heat to low and cover the pan with a lid. Simmer for 20 to 25 minutes, or until the lentils are cooked through and have mostly softened. If you find that the lentils are not quite soft after 25 minutes, add a few spoons more of broth or water and cook for another 5 minutes.

Remove the lid and stir in the coconut milk, almond butter, along with salt and pepper to taste Continue cooking on low heat, uncovered for 5 to 8 minutes, until the curry has thickened and is creamy.

Finally, stir in the lemon juice and cilantro, and turn off the heat. If you want your lentils to even creamier and more on the puréed side, use an immersion blender to lightly purée the curry.

Serve the curry with rice and/or Indian flatbread and garnish with additional cilantro. Store leftovers in the fridge for 3-4 days.
Notes
If you can't tolerate spicy food whatsoever, you can omit the chili peppers. If you can handle a little heat, use one Serrano pepper (remove the seeds) or one jalapeño pepper (with the seeds), and if you really like things on the spicy side, use two Serrano peppers (with seeds intact).