A few weeks ago, I did a poll on my Instagram Stories with the question "What is your favorite muffin flavor?" And I was sort of surprised by the result! I had expected it would be chocolate chip because, well, chocolate. But it was not! The answer was actually a tie between (1) Blueberry and (2) Lemon Poppyseed (the latter being the real surprise).
I like to give the people what they want but I also didn't want to make two batches of muffins, so I decided to make a mashup of these two fan favorites! Hence, these Blueberry Lemon Poppyseed Muffins!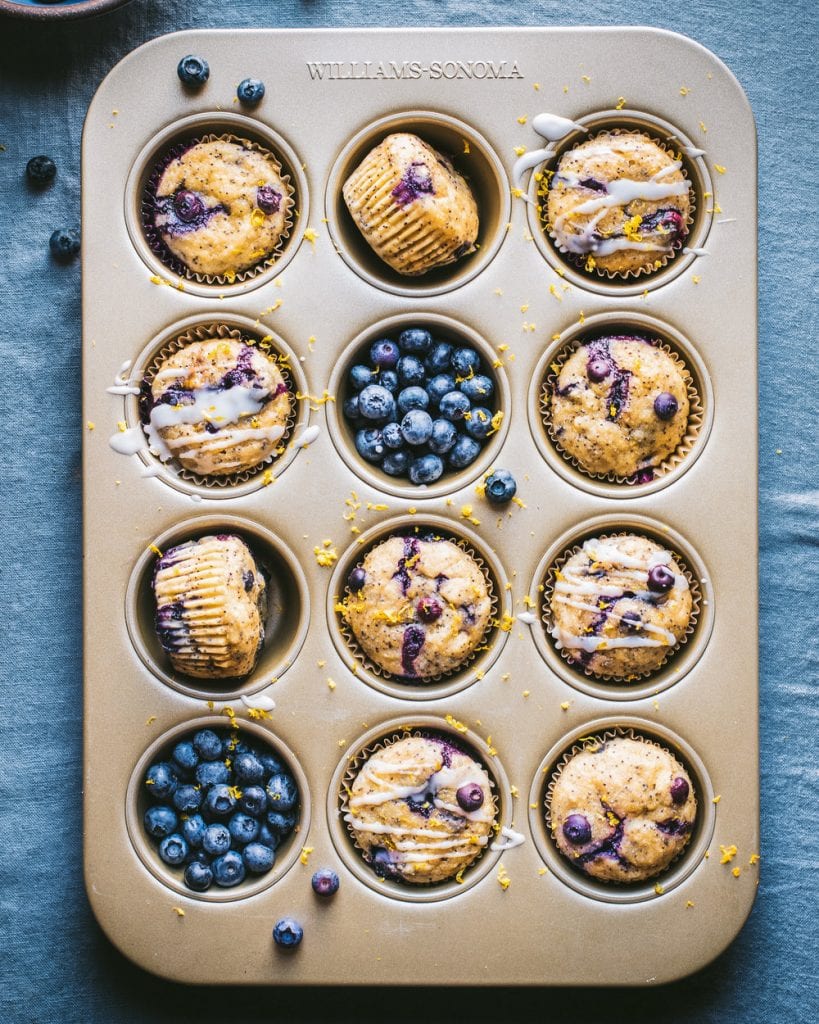 And if you're one of those people whose favorite muffin flavor is lemon poppy seed, then you should (a) make these muffins but also (b) check out my recipe for a Lemon Poppy Seed Layer Cake! It's one of my most popular recipes yet and it's incredibly delicious and decadent.
But back to the matter at hand – these muffins! They are healthy-ish, easy to make, and delicious – what's not to love?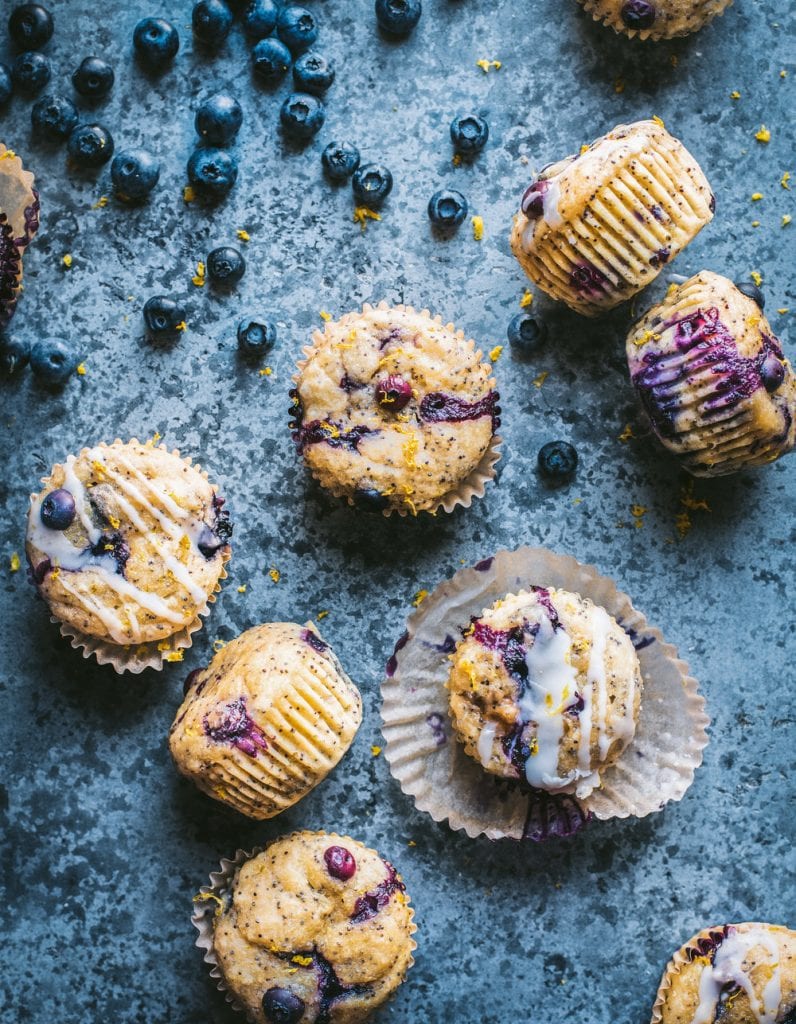 Ingredients and Substitutions
For the dry ingredients, I use a mixture of all-purpose flour and almond flour. The almond flour lends a nice fluffiness, but you can just use more all-purpose flour if you don't have any. If you want to make your own almond flour, here's a guide!
And if you are avoiding gluten, you can substitute with an all-purpose gluten-free flour blend (the texture will be a bit denser). Please do not try using any gluten-free flour you like (I tried making these with just oat flour and they came out incredibly gummy). I recommend something like Bob's Red Mill Gluten-Free 1:1 Baking Flour.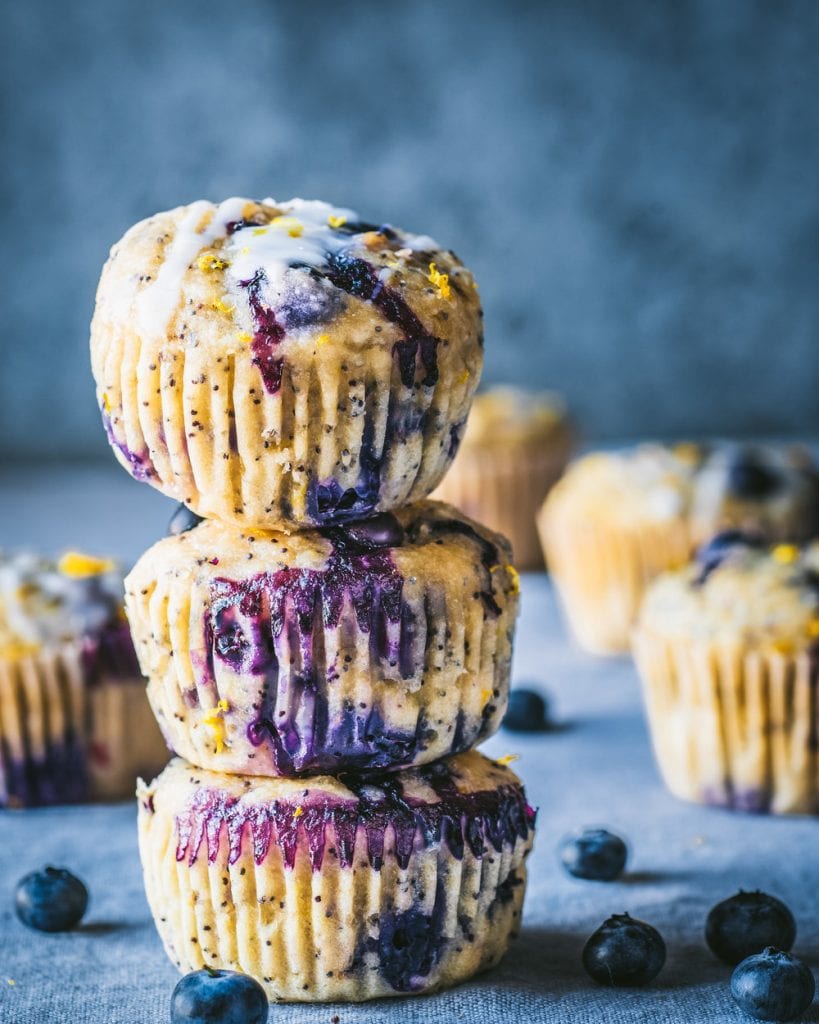 For the liquid ingredients, I use plenty of lemon juice and lemon zest (these are lemon poppy seed muffins after). The lemon zest adds a fresh zingy pop that pairs beautifully with the sweetness of the blueberries.
Just be sure to zest your lemons before you juice them. I've forgotten that many a times, which has resulted me in dashing out to the grocery store midway through baking (or begging Mr. Rainbow Plant Life to do that for me).
After you zest the lemon, you'll mix the lemon juice with some almond milk or other plant-based milk, stir, and set aside. You'll notice that the milk will curdle fairly quickly like buttermilk.
As for the liquid ingredients, the recipe features maple syrup and bananas for sweetness, along with coconut yogurt, coconut oil, and vanilla. For the yogurt, I use So Delicious unsweetened plain coconut yogurt. Be sure to use a relatively thin variety, not a Greek-style or really creamy one, as it will make the batter too thick. If the yogurt feels thick, add a spoon of water to thin it out.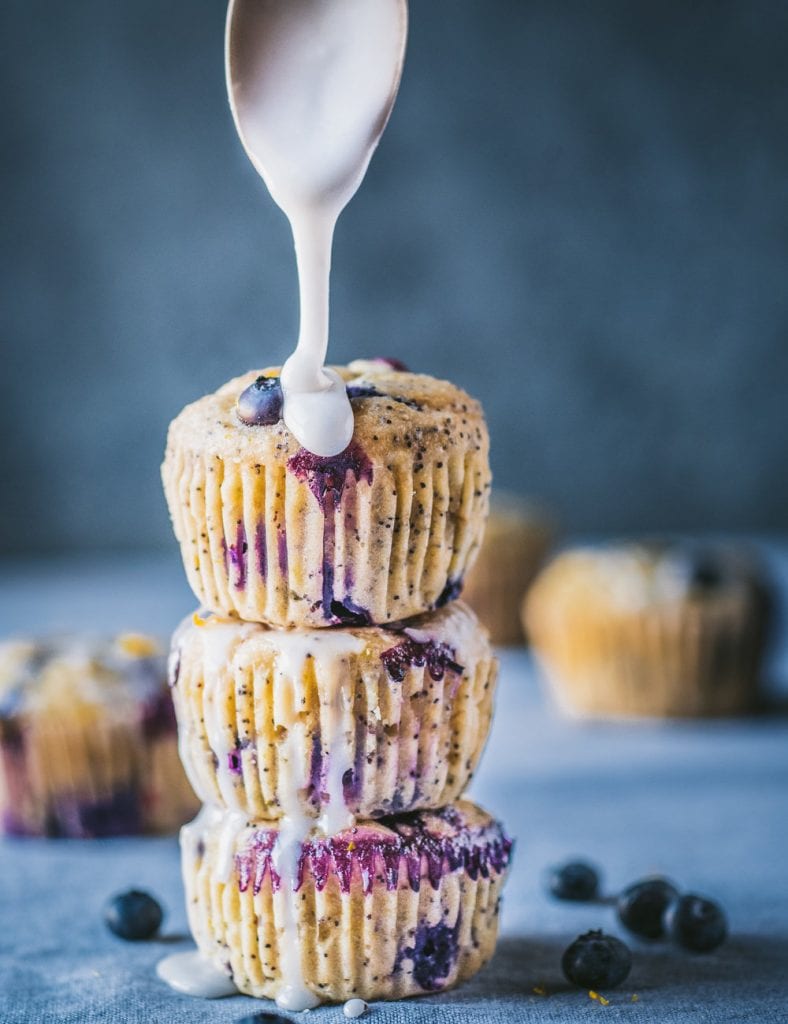 Tips for making light and fluffy muffins
Do NOT overmix the batter
I repeat, do not overmix the batter! You have probably heard this warning before, but that's because it's so true! I made a very similar muffin recipe last year, and they came out a bit too dense. But when I tried them again—the only difference being I mixed the batter less—they came out light and fluffy and perfect!

You really only need 12 big strokes with a wooden spoon for this recipe. And yes, it's totally okay (and even encouraged) for there to be a few pockets of flour that remain unincorporated.
Don't let those blueberries sink
Once you've completed those 12 strokes, gently fold in the blueberries and poppy seeds using a silicone spatula.

To prevent the blueberries from sinking to the bottom and creating soggy-bottomed muffins, I toss the blueberries in a few tablespoons of extra flour before adding them to the batter. How does this work? Well, when you bake fruit, it releases its natural juices, so the extra flour absorbs some of that liquid and keeps the fruit in place. #science
Change up the oven temperature
Preheat your oven to a high temperature (in this case, 425°F/2180°C. Then, before adding the muffin pan to the oven, reduce the heat back to the standard temperature of 350°F/177°C.

This dual temperature system creates lighter, fluffier muffins with taller domes. This is because the higher temperature causes the baking powder to act quickly, creating a burst of steam that lifts the muffin batter and preventing the muffins from spreading out. #scienceagain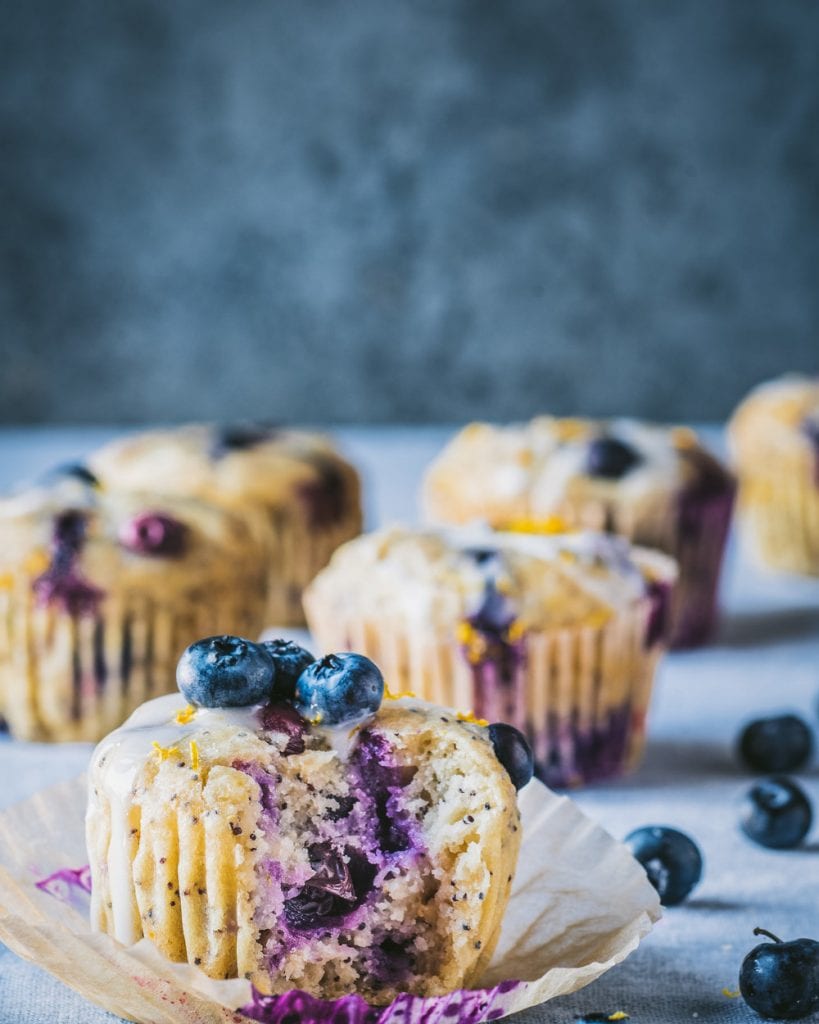 Vegan Blueberry Lemon Poppy Seed Muffins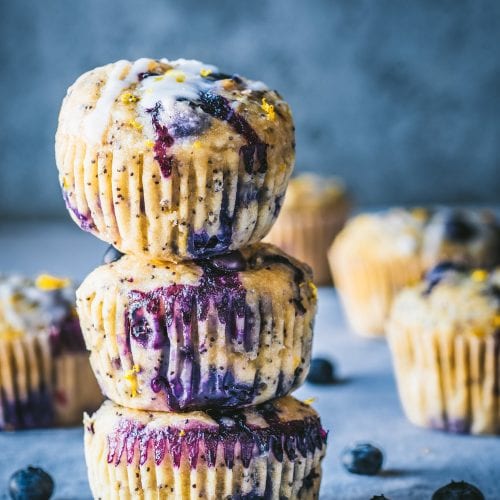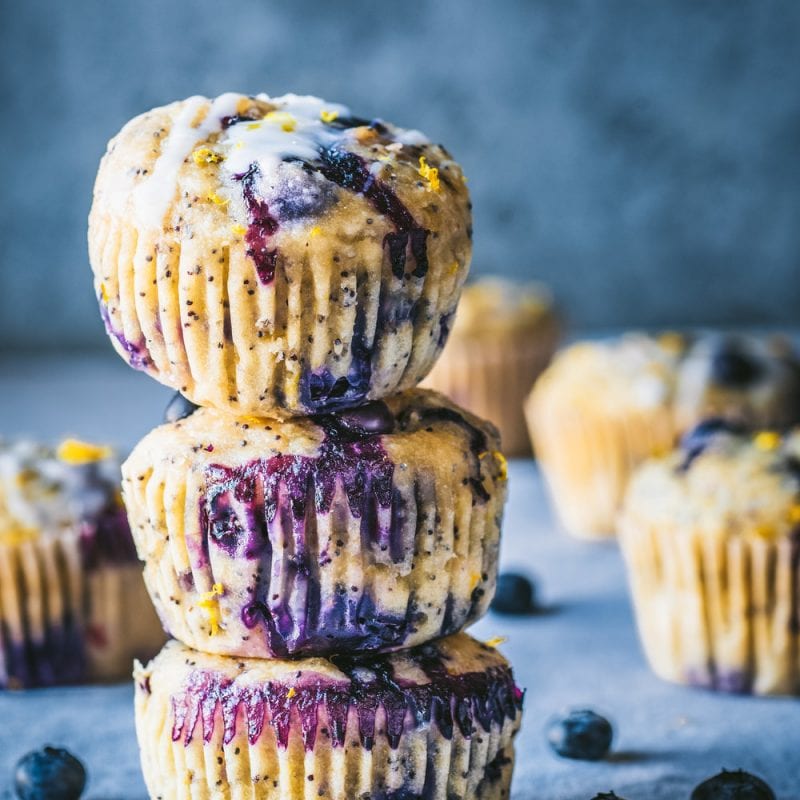 A mashup of everyone's favorite muffin flavors, these Vegan Blueberry Lemon Poppy Seed Muffins are such a delicious treat! Made with wholesome ingredients like coconut yogurt, almond meal, and bananas and packed with lots of bright, zingy flavor.
Ingredients
1

extra-large lemon,

or 2 small lemons

1/3

cup

almond milk or other non-dairy milk

1 1/2

cups

(~180g) all-purpose flour* + 3 extra tablespoons**

2/3

cup

(~75g) almond flour or meal

2

teaspoons

aluminum-free baking powder

1/4

teaspoon

fine sea salt

1/2

cup

coconut yogurt or other non-dairy yogurt***

2/3

cup

pure maple syrup

1

large ripe banana,

mashed

2

tablespoons

refined coconut oil,

melted (or a neutral oil of choice)

1

teaspoon

pure vanilla extract

2

tablespoons

poppy seeds

1

cup

fresh blueberries

For serving

lemon zest and Lemon Icing (below)
Lemon Icing
1

cup

organic powdered sugar

1-2

tablespoons

almond milk or other nondairy milk

Juice of 1/2 lemon
Instructions
Preheat the oven to 425°F/220°C. Line a standard 12-cup muffin tin with liners. I recommend lightly oiling the muffin liners, as there's very little oil in this recipe.

Zest the lemon(s) to get 1 tablespoon of zest, and then juice to get ¼ cup juice. Mix the lemon juice with the almond milk and set aside - it will quickly curdle, like buttermilk.

In a large bowl, combine the 1 ½ cups flour, almond flour, baking powder, and salt. Make a well in the center and then add in the lemon zest, almond milk-lemon juice mixture, yogurt, maple syrup, mashed banana, oil, and vanilla.

Stir the wet ingredients into the dry with a wooden spoon, stirring until they're just mixed - about 12 strokes. The batter should be lumpy and not smooth. Overmixing will cause the muffins to become dense.

Toss together the blueberries with the extra 3 tablespoons of flour.

Using a silicone spatula, fold the poppy seeds and blueberries into the muffin batter.

Using a cookie dough or mini ice cream scoop, dollop the muffin batter evenly into the prepared muffin cups.

Reduce the temperature to 350°F/175°C and bake the muffins for 23-25 minutes, or until a toothpick inserted in the center comes out with just a few crumbs.

If desired, make the Lemon Icing. Whisk together all of the ingredients in a bowl until you achieve your desired consistency. Add more liquid for a thinner glaze. Drizzle a little icing onto each muffin and top with a zest of lemon.
Notes
*To make these muffins gluten-free, substitute an all-purpose gluten-free flour, such as this.
**For rolling in the blueberries to prevent them from sinking.
***Use a relatively thin yogurt, not a thick Greek-style one.
---
Calories:
239
kcal
|
Carbohydrates:
43
g
|
Protein:
4
g
|
Fat:
7
g
|
Saturated Fat:
2
g
|
Polyunsaturated Fat:
1
g
|
Monounsaturated Fat:
1
g
|
Sodium:
116
mg
|
Potassium:
145
mg
|
Fiber:
3
g
|
Sugar:
24
g
|
Vitamin A:
18
IU
|
Vitamin C:
14
mg
|
Calcium:
134
mg
|
Iron:
1
mg