Zingy, sweet, and bursting with lemon and poppy seed flavor, this is such a fun cake for spring and special occasions.
Why you'll love this cake
To be perfectly honest, I am not a huge fan of cake. I know that sounds crazy coming from someone who lives for dessert, but hear me out. Traditional cake is often dry and dense, and not very interesting from a texture or flavor standpoint. I'd take brownies, cookies, tarts, or pies over cake any day.
Except for THIS cake. I would happily bake and eat this cake every day if it wasn't a surefire way to give myself early-onset diabetes. It's light and fluffy, and moist and tender, and is definitely neither dry nor dense. Recently, my friends and I were talking about our favorite cake flavors, and I honestly couldn't name one. I just said chocolate cake because, well, I love chocolate.
I'm happy to report that I now have a definitive favorite cake flavor: Lemon Poppy Seed, all thanks to this insanely delicious cake. Lest you think that I'm the only person obsessed with this cake, let's just say that my partner, who is also a cake-skeptic, ate two (generous) pieces in in a period of seven minutes. Also, I brought a huge 13×9 pan of leftovers to the office, and the entire pan was gone in 15 minutes. So, yeah, this cake is a real crowd pleaser.
Now that I'm done tooting my own horn, let's talk about what's inside this cake! There are three main components to this cake: the Lemon Poppy Seed Layer Cake, the Blackberry Ginger Jam, and the Cream Cheese Frosting. Each layer is sufficiently important to merit its own section.
Layer 1: Lemon Poppy Seed Cake
First, the lemon poppy seed cake. The ingredients for this cake are remarkably simple and minimal: just 9 ingredients (excluding salt). A couple notes on ingredients here. And yes, we're going to geek out on food science for a minute.
This cake calls for baking soda only, no baking powder. if you're a baking aficionado, you may know that recipes that call for baking soda require some sort of acid. That's because the combination of acid and baking soda is what creates carbon dioxide, which then causes the cake to rise. Baking soda is considerably stronger than baking powder, and the generous amount used in this recipe (2 teaspoons) is what's partially responsible for this cake's extraordinarily light and fluffy texture.
If two teaspoons of baking soda sounds like a lot, keep in mind that we are using A LOT of acid – 1/2 cup of lemon juice to be precise. Because this cake uses a relatively high amount of baking soda, you want to make sure you use the full amount of lemon juice. Otherwise, you'll have an excess of baking soda leftover after the reaction, which will lend the cake an unpleasant soapy taste. Also, please use FRESHLY SQUEEZED lemon juice. Since this is a lemon cake, you must use fresh lemon juice to get that lovely, bright lemon flavor; no plastic bottles of juice!
My second ingredient note concerns the extra virgin olive oil. As this is a vegan cake, there will be no butter. Even before becoming I vegan, I preferred baking cakes with oil over butter (or mixing the two) because cakes baked with oil tend to bake up with a lighter, more even crumb and stay tender and moist compared to cakes baked with butter, which tend to dry out more.
If you're curious about the science, it's largely due to two factors. First, oil weighs less than butter, resulting in cakes with a lighter texture. Second, while all oils are 100% fat, most standard butters (at least in the U.S.) are only 80% fat and contain a significant percent of water; that water intensifies the gluten found in flour, resulting in denser, drier cakes.
Lastly, this cake in particular is best made with oil because it should be refrigerated (due to the cream cheese frosting). When butter cakes are refrigerated, they tend to firm up and dry out.
Since the only source of fat in this cake is the olive oil, I do recommend using a high-quality, fruity extra virgin olive oil. The light but buttery, slightly fruity flavor of a good extra virgin olive oil works magically with the lemon juice (just as it might in a lemon vinaigrette).
Layering the cake
Now for something less food science-y and more practical. I wanted this to be a show-stopping layer cake, which is why it has four layers. I waited until the two cakes (baked in 9-inch round cake pans) had cooled to room temperature and then wrapped them in plastic wrap and refrigerated for a few hours. Wrapping and refrigerating cakes makes it easier to slice them in half. To slice them, you'll want to use a long serrated knife (Martha Stewart shows you how it's done). Or you can get back into the food science game and use dental floss to slice the cake in layers. Yes, dental floss.
Admittedly, this whole process requires patience and good knife (flossing) skills. If you want to skip this step, and just make this into a two-layer cake, feel free to leave the two cakes unsliced and lather on the jam and cream cheese frosting.
Layer 2: Blackberry Ginger Jam
What can I say about this Blackberry Ginger Jam? It is so delicious and so easy to make. It's so good that I would recommend making a double batch so you have extra jam to serve with breakfast throughout the week (it'll stay good in the fridge for up to 10 days).
Feel free to use frozen blackberries, but I've started to see blackberries pop up at the grocery store and they have been oh-so-sweet! I love the zingy, slightly spicy notes from the fresh ginger, especially in contrast to the sweetness and richness of the cream cheese frosting.
Layer 3: Cream Cheese Frosting
This last layer, the Vegan Cream Cheese Frosting, is what takes this cake from indulgent to straight out decadent. It is thick and rich, sweet and slightly tangy, like any good cream cheese frosting. It is by no means healthy, so please don't fool yourself into thinking that it is!
If you are looking for a delicious dessert but trying to keep things on the lighter side (relatively speaking), you can omit the cream cheese frosting and the cake + jam combo will still be super delicious. Alternatively, you can make all three layers, but make only half the amount of cream cheese frosting. Another option is to use less powdered sugar in the frosting, as long as you're okay with a runnier frosting.
A few notes to ensure you have a smooth texture and perfect cream cheese taste. First, you'll want to bring your vegan cream cheese and butter to room temperature before mixing them. You can speed up this process by cutting each into small pieces instead of just leaving them on the counter in their packaged containers. Second, you'll want to sift your powdered sugar (after you measure it). This ensures your frosting will be smooth and not have any weird clumps. Finally, my preferred cream cheese for a realistic cream cheese frosting taste is the Tofutti cream cheese. No, it's not healthy, I know. But it tastes just like cream cheese (even better, in my opinion).
Final notes on this cake
As I mentioned earlier, you'll want to store this cake in the refrigerator due to the cream cheese frosting. If you omit the frosting, you can store it at room temperature (be sure to cover it tightly regardless of which method you use).
I used two 9-inch cake pans, and baked these cakes for 32 minutes. If you are using 8-inch cake pans, they will be a bit thicker (less surface area), so you will likely need to bake them for a few more minutes.
If you're looking for a more traditional lemon layer cake, this new Vegan Lemon Cake is an absolute dream with a fluffy, melt-in-your-mouth texture. 
Finally, if you make this Vegan Lemon Poppy Seed Layer Cake, be sure to leave me a comment below and tag me with your creations on Instagram!
Vegan Lemon Poppy Seed Layer Cake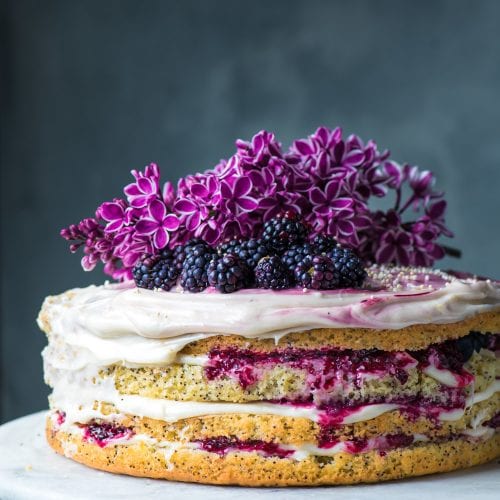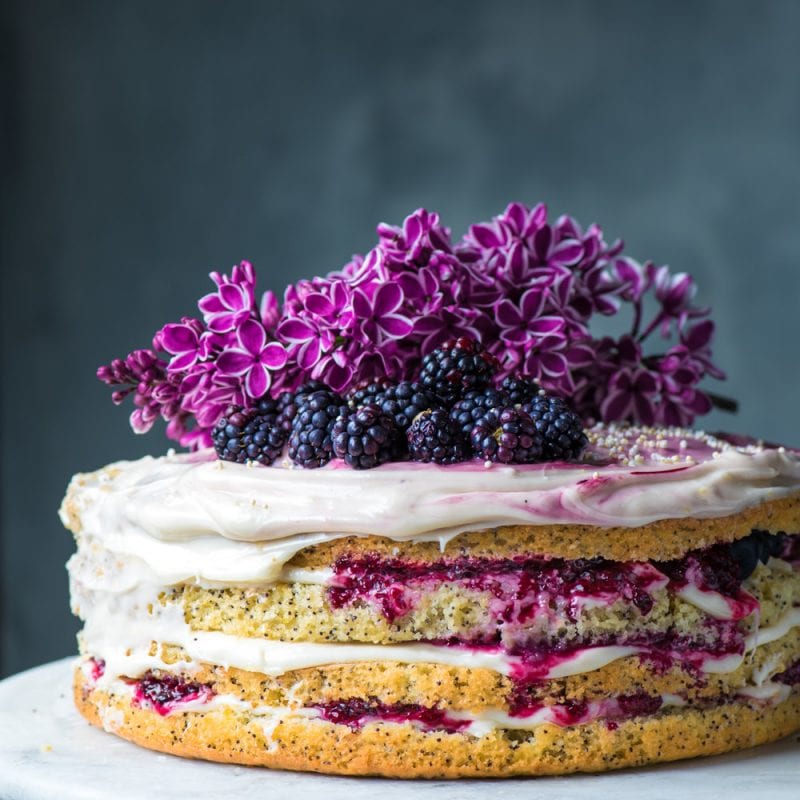 This Vegan Lemon Poppy Seed Layer Cake is light, moist and tender, and a complete show stopper. A fluffy vegan layer cake with layers of tangy blackberry ginger jam and a decadent vegan cream cheese frosting. Perfect for holidays and special occasions!
Ingredients
Lemon Poppy Seed Cake
3

cups

(~380g) unbleached all-purpose flour

2

teaspoons

baking soda

1

teaspoon

fine sea salt

1 1/2

cups

(~280g) organic cane sugar

2

tablespoons

lemon zest

(about 2 medium lemons)

1 2/3

cups

(~400 mL) unsweetened almond milk (for nut-free, use oat milk or soy milk)

1/2

cup

(~120 mL) freshly squeezed lemon juice (about 3 medium lemons)

1/2

cup

(~120 mL) extra virgin olive oil

1 1/2

teaspoons

pure vanilla extract

4

tablespoons

poppy seeds
Blackberry Ginger Jam
3

cups

fresh or frozen blackberries

(~425 - 450g)

1 1/2

tablespoons

freshly grated ginger

(use a bit more for a more prominent ginger flavor)

2

tablespoons

pure maple syrup

2

teaspoons

freshly squeezed lemon juice

2

tablespoons

chia seeds
Cream Cheese Frosting
1/2

cup

(8 tablespoons or ~112g) vegan butter, softened to room temperature

8

ounces

(~227g) vegan cream cheese

1

teaspoon

pure vanilla extract

1

teaspoon

lemon zest

3 - 4

cups

powdered sugar,

sifted
Instructions
Preheat the oven to 350°F (175°C). Grease and line two 9-inch round cake pans (or 8-inch round cake pans) with parchment paper to make removal easy.

Zest the lemons until you get two tablespoons of zest. Then juice the lemons until you get 1/2 cup of lemon juice.

Stir together the almond milk the lemon juice and set aside until it curdles like buttermilk.

In a large mixing bowl, stir together the flour, baking soda, salt, and sugar until really well combined. Pour in the curdled buttermilk, olive oil, lemon zest, vanilla and poppy seeds. Use a large wooden spoon to mix the batter, just until the ingredients are combined. Avoid over mixing the batter, as it can cause the cake to become denser in texture.

Pour the batter evenly between the two pans (I use a kitchen scale to weigh each pan to evenly distribute the batter). Arrange the cakes in the middle rack of the oven and bake for 30-35 minutes until the center is set, and a toothpick inserted comes out with only a few moist crumbs. I baked mine for 32 minutes (you will need to bake them for a few minutes longer if using 8-inch cake pans).

Remove the cake pans from the oven and allow to cool for 10 minutes in the pan, then transfer the cakes to a wire rack to cool completely before inverting them onto the cooling rack.

To make the Blackberry Ginger Jam: Add the blackberries, ginger, maple syrup, and lemon juice to a small saucepan over high heat. Bring the mixture to a boil. After 2-3 minutes, use the back of a wooden spoon or a fork to break down and mash the berries. Cook for 7-10 minutes or until the jam has reduced and thickened a little bit. Remove from the heat and then stir in the chia seeds to thicken. The jam will also thicken as it cools.

To make the Vegan Cream Cheese Frosting: To a large mixing bowl, add the softened butter and cream cheese. Beat on low speed with an electric handheld mixer (or stand mixer) until smooth and creamy. Beat in the vanilla and lemon zest for a few seconds. Gradually add the sifted powdered sugar in 1 cup increments, and mix on low speed until the icing is thick and spreadable. If your frosting is too runny, place the bowl in the freezer for 10-15 minutes.

To assemble the cake: If you are making this into a traditional layer cake, you'll need to slice each cake layer in half, horizontally, so you end up with four cake layers (see notes above underneath "Layering the cake" for tips). Spread 1/4 of the frosting over the first cake layer using a frosting spatula or silicone spatula, then spread 1/4 of the jam on top. Repeat with the remaining three cake layers. If you have any leftover frosting, lightly spread the frosting on the outside of the cake. If you don't want to make this into a four-layer cake, simply add a generous amount of the frosting and jam on top of the first cake, top with the second cake, and then repeat.
---
Calories:
545
kcal
|
Carbohydrates:
96
g
|
Protein:
5
g
|
Fat:
18
g
|
Saturated Fat:
4
g
|
Polyunsaturated Fat:
3
g
|
Monounsaturated Fat:
7
g
|
Trans Fat:
1
g
|
Sodium:
420
mg
|
Potassium:
114
mg
|
Fiber:
4
g
|
Sugar:
73
g
|
Vitamin A:
329
IU
|
Vitamin C:
10
mg
|
Calcium:
99
mg
|
Iron:
2
mg