Memorial Day this year was a bit different than past years (okay, fine, it was A LOT different). We didn't go to a vegan BBQ or potluck, we didn't see friends. Hell, we didn't even leave the apartment all day long. But we managed to bring some measure of festiveness to our apartment.
I made this easy and incredibly delicious Mango Avocado Salsa, and we snacked on it all afternoon with lime & sea salt tortilla chips (an addictive combo), and Max kept the Aperol spritzes flowing.
Sure, margaritas would've been a slightly more traditional combination with salsa and chips, but we don't have tequila at home. And, we love Aperol and had just received a bottle in our recent liquor store delivery. Yes, liquor store deliveries are an occurrence in our lives these days, and I am incredibly grateful for them!
Here's why you'll love this recipe
Better than store-bought salsa. I'll be the first to admit there are some fairly delicious store-bought salsas out there these days, but I still don't think they compare to fresh homemade salsa. The cool, crisp refreshing taste of this salsa is guaranteed to wow your tastebuds.
Almost too easy to make. If you know how to chop up vegetables and fruits, you will have no problem making this salsa! That's all you need to do. Chop and mix.
Easy everyday ingredients. No need to seek out exotic chile peppers or some hard-to-find seasoning. There's 9 main ingredients in this recipe and they're ingredients that are available at every grocery store.
Very Healthy. This salsa is made exclusively with vegetables and fruits from nature (okay, fine…salt and pepper too). Antioxidants, vitamins, minerals, and fiber…it's all in the bag (bowl).
Perfectly balanced. One reason I don't love many store-bought salsas is that some of them are too acidic or too spicy and not well-balanced in flavors. I am a huge fan of spicy food, but there needs to be some semblance of balance in even a spicy salsa. That's what the mango and orange juice bring to this salsa. The sweetness balances the heat from the chile peppers and the sourness of the tomatoes and lime juice.
Refreshing, cooling, and flavorful. Made with sweet mangos, creamy avocado, juicy cherry tomatoes, crunchy cucumbers, sharp red onions, zesty cilantro, tangy lime juice, cool and sweet orange juice, this is the ultimate refreshing summer salsa.
Ingredient Rundown
Mangos. First things first, you must use ripe, juicy mangos. If your mangos are not ripe, or all you can find are stringy and fibrous pale yellow mangos, I'm afraid this salsa won't be that great.
You can use the more commonly available Tommy Atkins mangos (the big ones with green-red skin), but the sweetest mangos are the Ataulfo variety. They're in season between February and August (i.e., right now!).
When shopping for mangos, the real test is how does the mango feel (the color is not a reliable indicator of ripeness). Gently squeeze the mango – if it gives a bit, that means it's ripe and soft.
Unripe mangos must be left at room temperature to ripen; they stop ripening considerably once refrigerated. If you are eager to make this salsa soon and your mangos don't feel ripe, you can speed up the ripening process by placing the mangos in a brown paper bag or wrapped in a newspaper on the counter. This process releases ethylene (an odorless gas that speeds up ripening).
On the other hand, if your mangos appear ripe but you're not quite ready to make this delicious salsa, pop them in the fridge to slow down the ripening process.
Avocado. This is where the delightful creamy factor comes in. There's just something so refreshing about the combination of mangos and avocados. It's very tropical and extremely harmonious.
If you do want to make this salsa ahead of time be sure to add the avocado just before serving to prevent browning. If you plan to keep leftovers, add the avocado only to the amount of salsa you plan to eat; store the rest of the salsa in the fridge without the avocado.
Cherry tomatoes. Since peak tomato season isn't quite here yet, I use cherry tomatoes, which are naturally sweeter than larger tomatoes. Plus, they don't have a watery flesh, as many larger tomatoes do, and that so they don't water down the salsa.
English cucumber. I use the English variety, as it's considerably crunchier than its regular counterpart.
Red onions. I love the sharp, pungent punch and crunch that raw red onions provide in salsa, but if you're not a fan, you can always omit them. Or substitute with diced red/orange/yellow bell peppers!
Jalapeños. This is salsa, so we have to add some heat! You can easily tailor the level of heat to your taste (read the Note in the recipe).
Cilantro. IMO, a homemade salsa is not complete without cilantro. It adds a bright, fresh, subtle citrus flavor and that distinctive Latin-y flavor you associate with salsa.
Lime Juice and Orange Juice. Orange juice is less common in salsa than lime juice, but I promise it works so well here. Along with the sweetness of the mango, it is the perfect sweet complement to the spice and acidity in the salsa.
How to Serve Easy Mango Avocado Salsa
With tortilla chips! This is an obvious one. And if you can find yourself some lime & sea salt tortilla chips, it's truly an irresistible combo.
Taco topper. I originally came up with a similar version of this recipe when I made some Jamaican Jerk Jackfruit Tacos for my cookbook. The cooling nature of the mango and avocado pair *perfectly* with the spicy habanero pepper and Jamaican jerk spices.
Salad base. You can even turn this salsa into a salad. Simply add black beans or chickpeas, corn, and quinoa, and you have yourself a delicious yet healthy summer cookout salad!
Lettuce wraps. If you gravitate towards lighter meals in the summer, try making lettuce cups with your favorite protein and top them with this salsa.
With any fresh Mexican-ish dish! This is such an addictively good salsa that I guarantee it'll be a good addition to any summery, fresh Mexican-ish flavored dish (ceviche, guacamole, etc.).
Tips for making this Easy Mango Avocado Salsa
Bite-sized pieces. Try as best as you can to dice everything into bite-sized pieces. It'll make the salad easier to eat. This last time, I eft the mango in slightly larger chunks than all the other ingredients and I wish I had cut them smaller! Easier to eat.
Tailor to your spice preference. There is variation in heat across jalapeño peppers, with some peppers very mild. If you want a mild salsa, remove the seeds and membranes before chopping the peppers. If you want a spicier salsa, use 3 jalapeño peppers and keep the seeds in. Or use 1 or 2 serrano peppers, which are considerably spicier (or even a habanero pepper for something super spicy!).
Wait to add the avocado. Mix together all of the salsa ingredients except for the avocado. Once the salsa is well combined and you've seasoned to taste with salt and pepper, add the avocado. Be gentle and lightly toss to combine. Don't mash it up, or you'll end up with mango guacamole. Probably tasty, but it's not what we're going for. Then give it a taste and add any more salt/pepper as needed.
If you plant make this salsa ahead of time, wait to add the avocado just before serving. If you plan to keep leftovers, add the avocado only to the amount of salsa you plan to eat that day; store the rest of the salsa in the fridge without the avocado.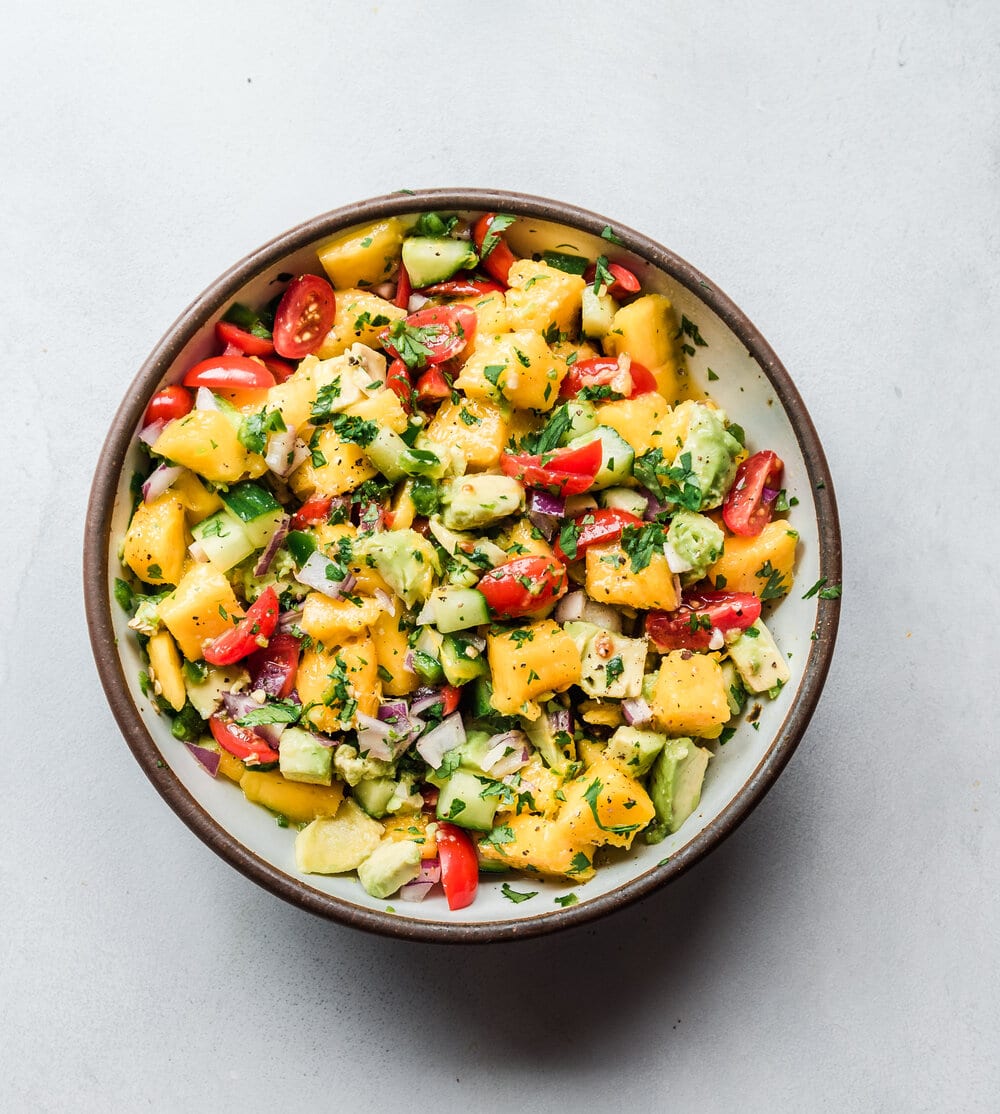 If you give this Easy Mango Avocado Salsa recipe a try, be sure to tag me on Instagram with your recreations and please comment with your feedback below!